Frozen fish in air fryer no breading is the way to go! Flaky tender meat inside with perfect crispiness to the outside. Lemon pepper tilapia or salmon done perfectly in your Cosori or Ninja Foodi. We have a bunch air fryer fish recipes right out of the freezer.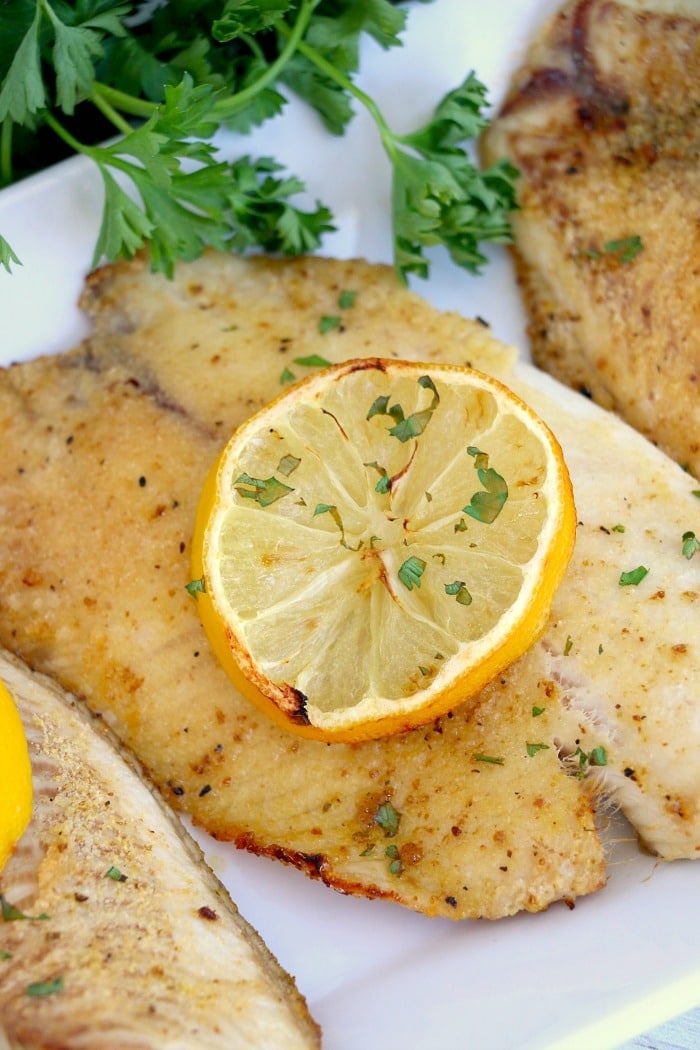 Ready to learn how to cook frozen foods perfectly?? We were on a mission to figure it out, and share them all with you. THIS frozen fish in air fryer recipe turned out great, I think you will agree once you take a bite. Find this and more air fryer recipes here. (originally published 3/20, affiliate links present)
Frozen Fish Air Fryer
We love air fryer fish!! It's easy to cook if it's fresh, but frozen is a bit of a head scratcher, we're here to help you. You won't believe how tender and flaky it turns out even if it starts out rock hard right out of the freezer.
Once you get the hang of this you will be the hero of the day when dinner has been forgotten about until 4pm and everyone is hungry! You can lightly season it so it's flavorful and nobody will ever know it was hard just minutes before.
FIRST – You should sign up for my free newsletter so you get new posts emailed to you twice a week and never miss out on anything! If you love air fryer recipes too, here are some resources to start with: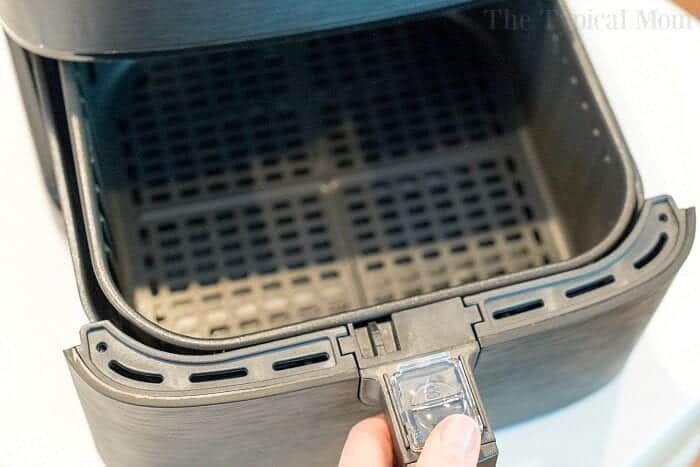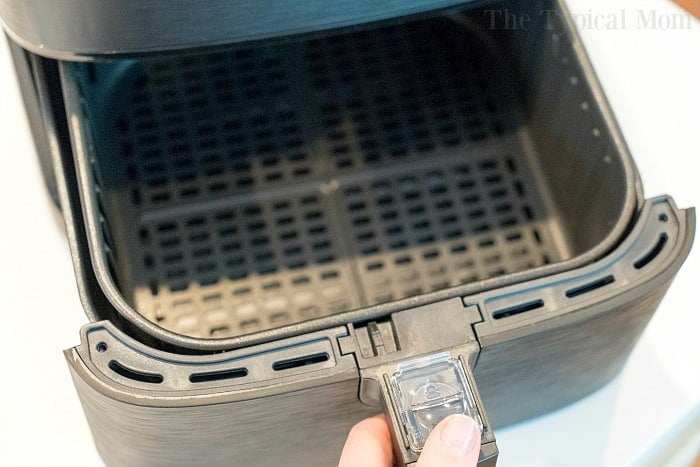 Air Fryer Frozen Fish
You may have never thought this was possible, I didn't before I messed around with this. I had to make sure it would turn out perfect before sharing it with y'all. After a few go arounds it was just right and a hit with even the kids.
First we made air fryer frozen shrimp with a parmesan crust for dinner and they were over the top!
Next on the list was air fryer salmon but it was defrosted, so the next challenge was some air fryer frozen fish. Here. It. Is!
Tilapia was bought from the grocery store in a bag, but you could find halibut just as easily if you preferred that seafood variety. Grab some fresh lemons and parsley while you're there and get to cookin' y'all!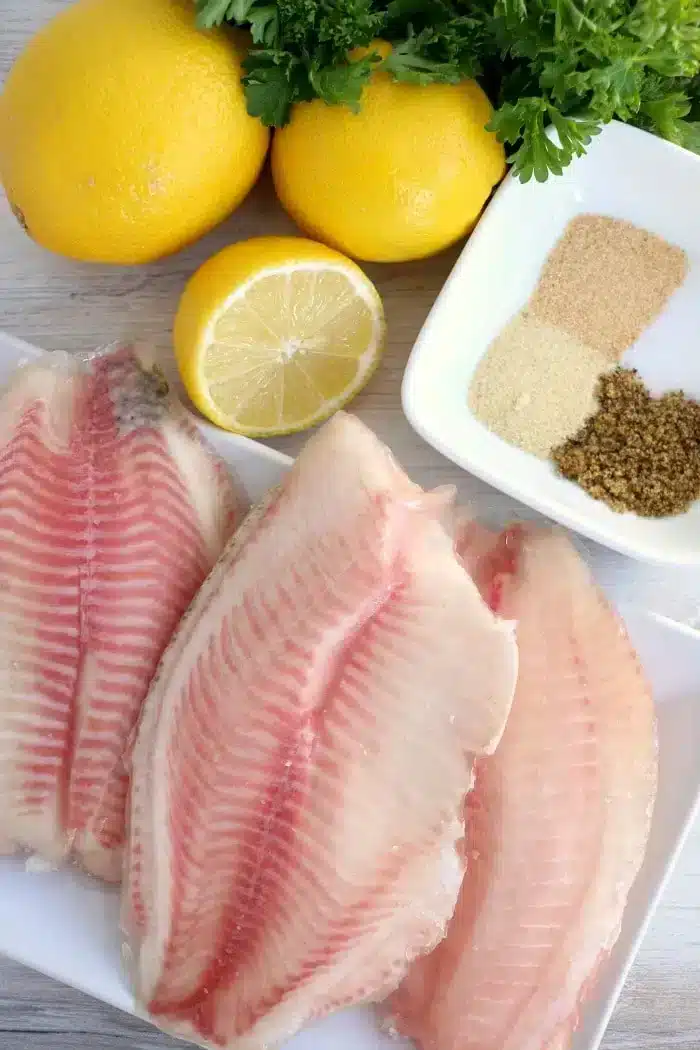 Frozen Fish in Air Fryer No Breading
You can see what we used here. As far as the seasonings go you can really use your favorite ones, or use what's listed in the recipe card below.
That goes for any of our Ninja air fryer recipes in general.
I tend to under-season and add salt and pepper at the end so everyone gets it exactly how they like it.
Now the difference between cooking Instant Pot frozen salmon vs. in your hot air machine is that you'll get a bit of crispy crunch on the outside. It won't be as much as if it were breaded, and that isn't possible if your fish isn't defrosted first but still.
If I had to choose whether I preferred a pressure cooker tilapia, or this method I think I'd opt for this one. Try them both though and decide for yourself.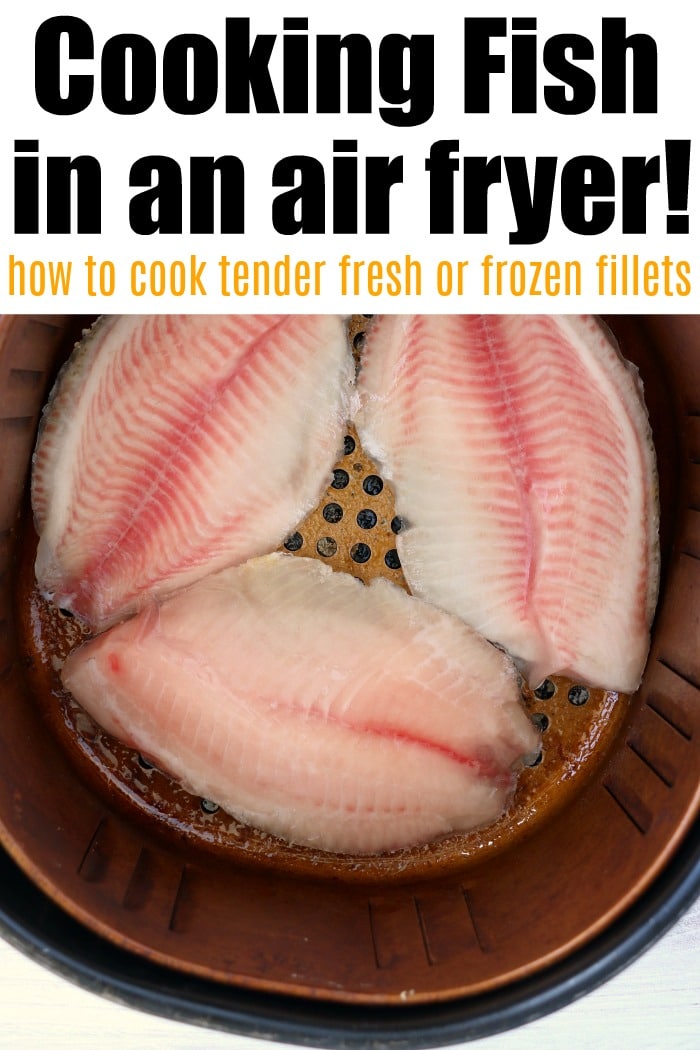 Ninja Foodi Frozen Fish
Now let's answer the question;
Can I cook frozen fish in the air fryer?
The answer is a resounding YeS!! Throwing a batch of air fryer fish sticks in there is SO good too if you want a quick meal.
We have done this with a few of our Instant Pot fish recipes. That is convenient as well if you've forgotten to take your food out.
If you are looking for air fryer Costco recipes this is a good one too. You can buy a bag of frozen salmon for a lot cheaper than the grocery stores and have a healthy meal in no time.
You can see here how yummy it comes out in just 12 minutes.
What color should cooked fish be?
Fish filet should be opaque, not translucent like when it's raw. When cooked perfectly it should break easily into flakes when you nudge it with a fork. If it's still translucent and doesn't flake add a few more minutes.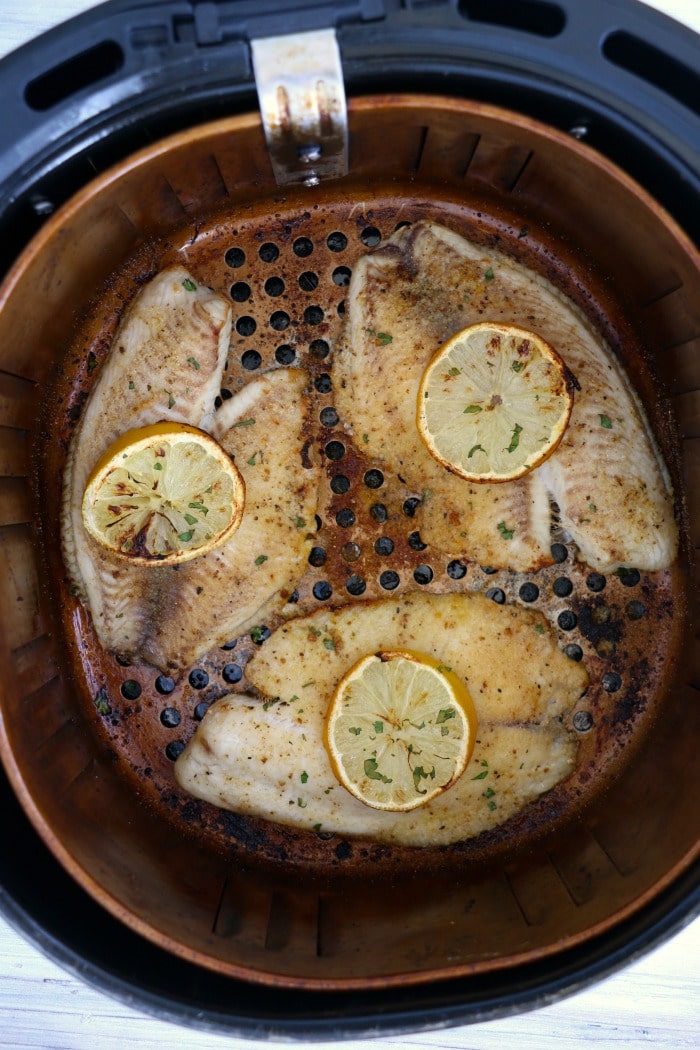 Keep in mind that air fryer cook times will vary according to:
How thick the fillet is
The size of the fish
Type of fish

salmon will take a bit longer
tilapia and halibut are about the same as the recipe card below
air fryer scallops take little to no time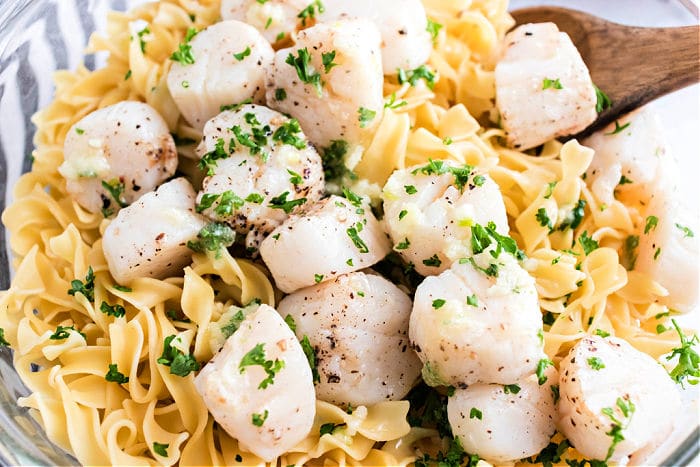 Air Fryer Frozen Fish Fillet
If you do remember to thaw it out, here are directions for air fryer tilapia. You can make fried fish it in just a few minutes with light breading but tons of flavor.
How to cook frozen fish in air fryer
Spray air fryer basket with non stick cooking spray

I like to preheat the air fryer ideally – to 390

Put frozen fish fillets in and use sliced half of lemon to squeeze lemon juice on top
Sprinkle seasonings on top
Place 1 slice of other half of lemon on top of each filet
Close drawer and set to 390 degrees for 12 minutes
Check, add 2 minutes at a time until meat is white and flaky with a fork. Then serve it inside air fryer fish tacos and enjoy!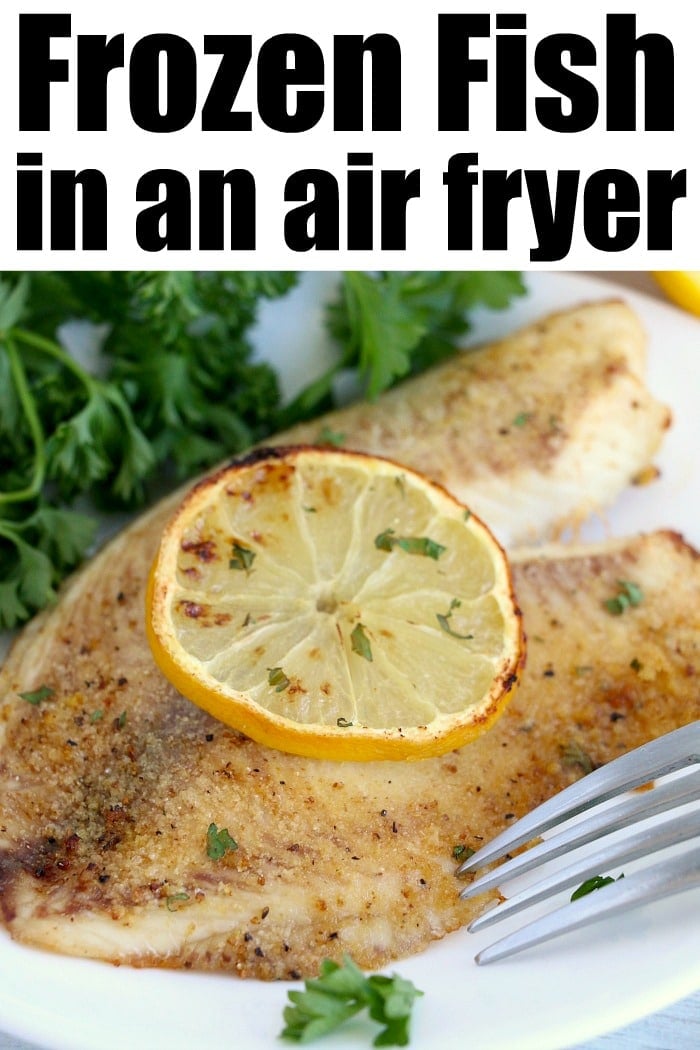 Is air fryer fish healthy?
YES!! It's a way to make each piece lower in fat, calories, and eliminates some potentially harmful elements sometimes found in typically fried foods. If you love deep-fried foods crispiness this is a healthier option to get that same crunch!!
Air fryer side dish recipes
Try air frying zucchini sometime, it is amazing and only takes a few minutes after being sliced and tossed with olive oil.
We do make air fryer hushpuppies with fish in general, all the time.
Air fryer corn on the cob is a healthy option and the kids always love them.
For crispy broccoli with parmesan just set to 400 degrees for a few minutes with 1/4 cup water underneath so it's crunchy but tender too.
If you want to make fish and chips just pair this with frozen fries in the same basket. Serve with a side of tartar sauce and you're set!
Or you can choose the quicker option of cooking air fryer frozen french fries!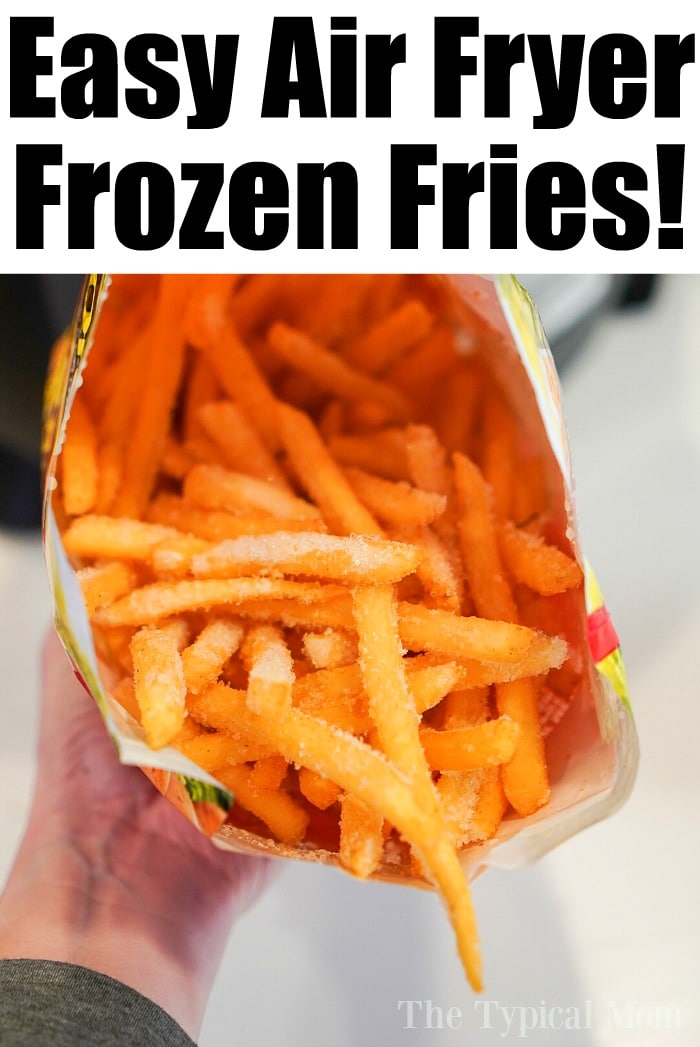 How to Cook Frozen Tilapia
Below is a printable recipe card to keep on hand, or just come back again to get directions to other easy dinners. We always love "seeing" you here on The Typical Mom blog.
After this you'll be ready to air fry everything and be obsessed just like we are.
Even frozen snack foods are better I tell you. My kids won't let me cook frozen chicken nuggets any other way!
And our crispy air fryer fried shrimp is amazing beyond that.
Want to see a few of my favorite things that I am totally obsessed with?? Take a peek and see how many you might already have…twinsies!
Looking for more easy family recipes and tips? LIKE The Typical Mom Facebook page?
Then sign up for my free newsletter, and follow me on Pinterest! 😉
***** If you LOVED this recipe give it 5 Stars below and let everyone know what you thought about it. 😉
Frozen Fish in Air Fryer
Frozen fish in air fryer is the way to go! Flaky tender meat inside with perfect crispiness to the outside. Lemon pepper tilapia or salmon done perfectly.
Instructions
Spray air fryer basket with non stick spray and lay frozen fillets inside, do not overlap them.

Cut lemon in half, lightly squeeze some of one half on to fish and then sprinkle with seasonings. (if you are only doing 2 at a time then only add half of seasonings to top of first batch)

Slice other half of lemon and put a thin slice of fresh lemon on each fillet.

Close basket and set to 390 degrees for 12 minutes, then check. Timing will vary depending on how thick each piece is and how "done" you like your fish to be. Add 2 minutes at a time and check again if you want them to have more time.

Sprinkle diced fresh parsley on top and serve.
Nutrition Facts
Frozen Fish in Air Fryer
Amount Per Serving (3 oz)
Calories 12
Calories from Fat 9
% Daily Value*
Fat 1g2%
Cholesterol 1mg0%
Sodium 292mg13%
Potassium 37mg1%
Carbohydrates 3g1%
Protein 1g2%
Vitamin C 14mg17%
Calcium 7mg1%
Iron 1mg6%
* Percent Daily Values are based on a 2000 calorie diet.