Salmon in the air fryer comes out amazing! With a sweet glaze on top cooking fish in a Ninja Foodi or other brand is easy and a healthy dinner you'll love.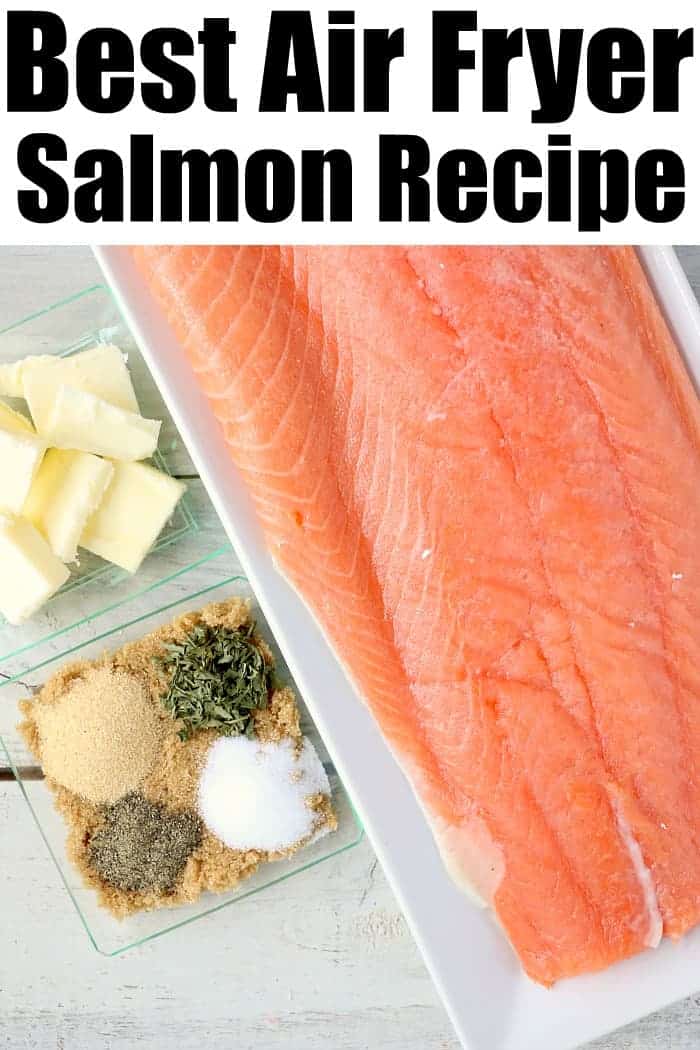 Have you tried salmon in the air fryer yet? I was hesitant at first. It is one of my favorite foods and wasn't so sure it would come out tender like we love it. You should see how well it turned out below! Mind blowing!! Find this and many other easy air fryer recipes here on The Typical Mom.
The wonderful thing about this hot air cooking device is dinner is done fast! We don't just want it done fast though, we want it perfect too. It does both! I've been amazed at just how much I love this method of cooking.
To start with you'll want to buy a nice fillet of salmon. Fresh is always best but occasionally you might need to buy frozen salmon and defrost it.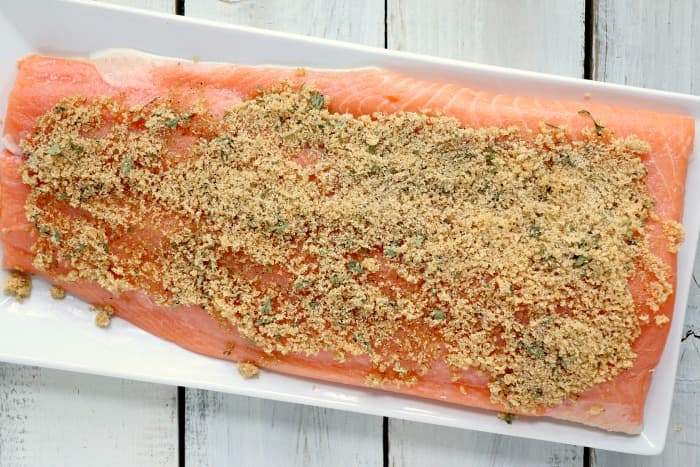 Get out a plate or cutting board so you can prepare it before placing it inside your air fryer basket.
This is what you'll need to make salmon in the air fryer
Salmon fillets
Brown sugar
Salt and pepper to taste
Garlic powder
Pepper
Parsley
Butter
A bit like our oven fried fish method, you need no oil to cook this either. Since there is no breading it won't have a crunchy outside texture. The inside will be flaky and tender just as you'd want it.
Before this, our favorite method was this smoked salmon recipe which is still incredible. If we don't want to wait hours and hours though, this is a close second.
Here is how easy it is to make:
First you'll want to make sure your fillet is defrosted and free from any bones. Obvious but let's take this step by step shall we.
Mix together the ingredients for your dry rub.
Lay your fish on a cutting board and season salmon filet well on the side without skin.
Spray the inside of your air fryer basket with non stick olive oil cooking spray so it's easier to clean later.
Lay your filet inside and put slices of butter on the top
Close your drawer and set to 400 degrees for about 13 minutes or until it's flaky and as done on the inside as you'd like. My husband likes his rather rare while I am closer to well done so cook time will vary.
Remove, slice and enjoy with a side or as is.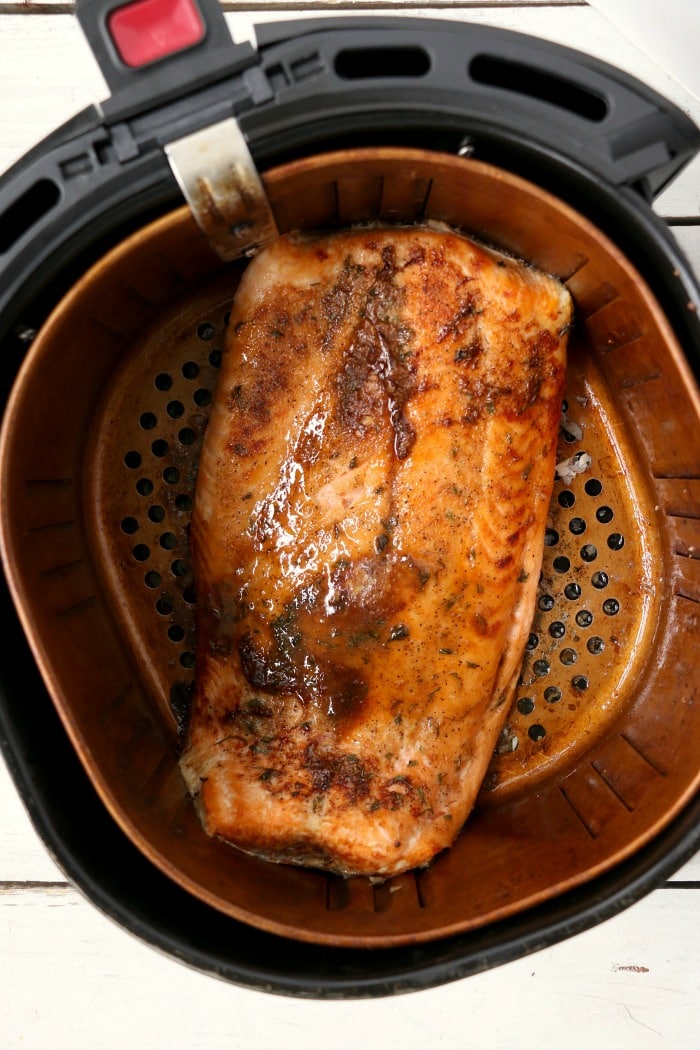 Here's a peek of what air fryer salmon looks like when it's done to perfection.
How long does it take to cook fish in an air fryer?
Typically if you cook at 400 degrees for 10 minutes it is a good beginning. I suggest checking it at this time. Open basket and spray the fish on the side that is facing up if you want the outside super crispy.
For non breaded fish this step isn't necessary. If there is no skin on your piece, then flip and cook other side for 7 minutes.
For this piece there isn't any flipping involved. Just check for doneness and continue cooking 2 more minutes at a time until it is perfectly cooked.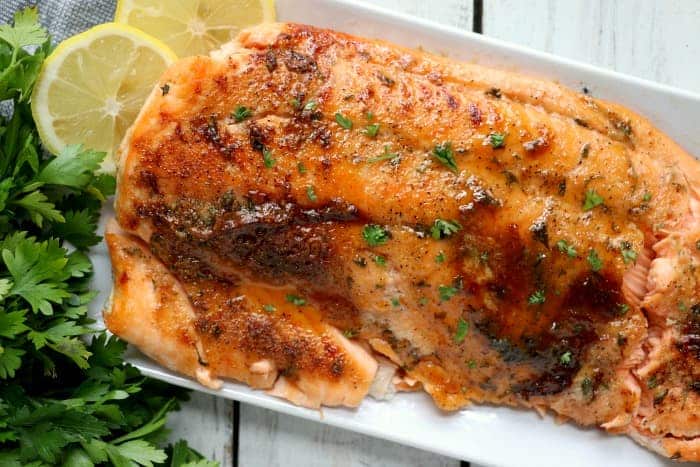 How do you know when salmon is finished cooking?
Salmon will change from translucent (red or raw) to opaque (pink) as it cooks. After 10 minutes of cooking a whole fillet, check for doneness.
Take a sharp knife to peek into the thickest part.
If the meat is beginning to flake, but still has a little translucency in the middle, it is done.
It should not however, look raw.
If salmon is cooked too long the meat can start to turn grey. (you don't want that)
The whole process of prepping and cooking will take approximately 30 minutes start to finish. Cooking in an air fryer has been a game changer for us! Healthy fish recipes take just minutes to make, and pork chops come out nice and tender every time.
What side dishes go with fish?
How long can you keep leftover salmon?
The next day rolls around, and you're left wondering if it's okay to still eat it. YES. Salmon lasts in the fridge for up to 3 days after it has been cooked. Of course it has the best texture and taste the very next day but in case you forget about it you can eat it beyond that.
Add it into tuna casserole! Skip the canned tuna and substitute what you have left over inside this old fashioned favorite of a meal. We've done this with our Instant Pot salmon before.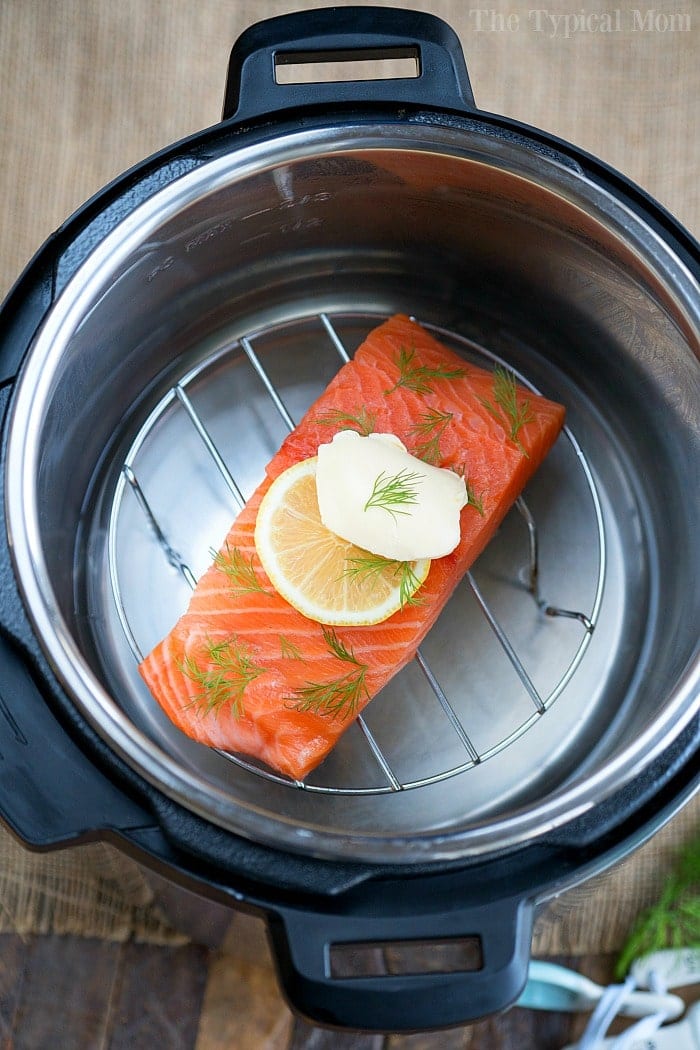 Storing leftover salmon is easy. Just put inside of an airtight container, or we use gallon freezer bags. Once you have your piece(s) inside make a small opening at the zipper closure and suck the air out. This will ensure it stays as moist as possible in the refrigerator until you're ready to eat it.
Other fish recipes you might like:
Use our printable recipe below and let us know what you think in the comments when you make this. I bet it will become a new family favorite like it has for us here. You might make fish lovers out of your kids with this one too!
It is just amazing I tell you my friends!
Salmon in the Air Fryer
Salmon in the air fryer comes out amazing! With a sweet glaze on top cooking fish in a Ninja Foodi or other brand is easy and a healthy dinner you'll love.
Instructions
Mix seasonings together. Place fillet on a cutting board and rub flesh generously with it.

Spray air fryer basket with non stick spray and put piece with skin side down inside.

Cut butter into thin slices and put on top evenly across top of fish.

Close and air fry for 13-15 minutes at 400 degrees or until fish is flaky and as done as you desire.
Nutrition Facts
Salmon in the Air Fryer
Amount Per Serving (2 oz)
Calories 307
Calories from Fat 153
% Daily Value*
Fat 17g26%
Cholesterol 103mg34%
Sodium 523mg23%
Potassium 755mg22%
Carbohydrates 6g2%
Protein 30g60%
Vitamin A 294IU6%
Calcium 25mg3%
Iron 1mg6%
* Percent Daily Values are based on a 2000 calorie diet.