Best baked salmon recipe with dry rub that will knock your socks off!! Fork tender flaky fillet baked in your oven. A healthy tasty dinner.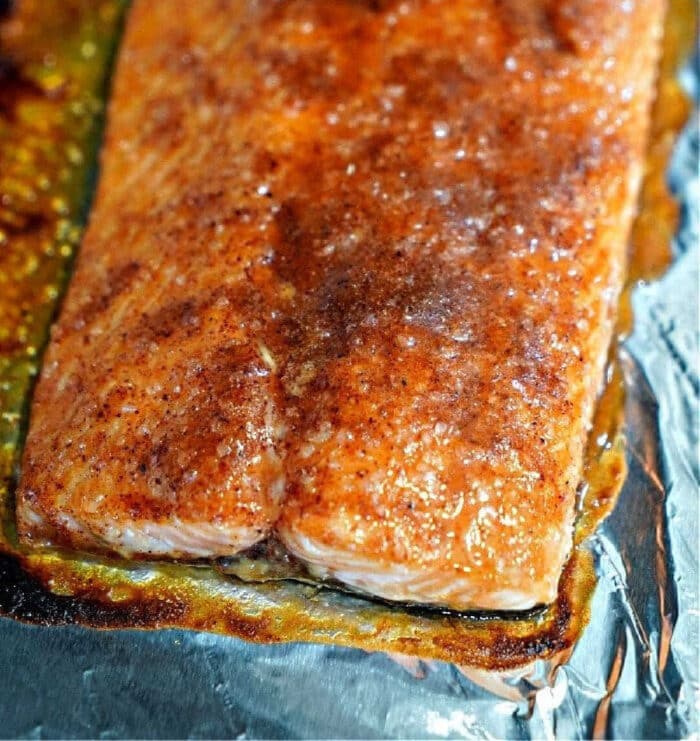 This is the best baked salmon in the oven you'll ever make. In just 12 minutes you too can cook flaky fish with TONS of flavor that's sweet and a bit spicy. Adjust the heat to your liking but bold flavors is where it's at. (affiliate links present, originally published 12/20)
The Best Baked Salmon
We used this same mixture on our smoked salmon recipe years ago. It was so popular we stuck with it and no matter how we cooked it, that is what we used. For a sweet and savory mixture you've gotta' make it just as it states below, don't doubt it. Yes it is right. 😉
I'll share the ingredients for that below.
First you'll need a beautiful salmon filet from the store, or you can order it and have fish delivered to your door too. We've done this during the winter months and it's so handy. I mean when is fish not good to eat? I haven't figured that out as I was born in Hawaii and just can't get enough of anything that once swam. 😉
Salmon with Dry Rub
If you are only cooking half salmon fillet then you could cut the rub in half, or I would make it all and save the rest for another day. Just store it in a baggie so next time you don't have to measure anything.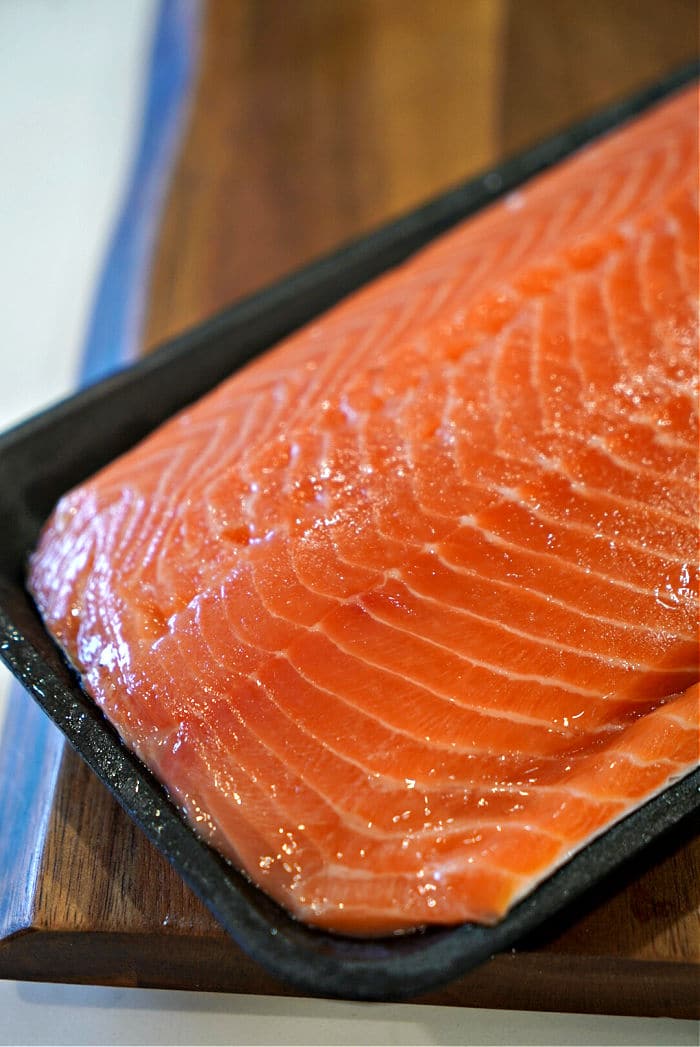 Best Baked Salmon Recipe
I prefer fresh versus frozen and defrosted if possible. The reason is the texture. To me defrosted tends to be a bit softer on the top. If you have a fisherman in the house, right out of the water is over the top amazing! There are
What temp should salmon be cooked?
The internal meat temperature should be 145 degrees F according to the FDA. Keep in mind that it will continue to cook once it is removed so resting for at least 5 minutes once removed is important too.
How long should I keep the salmon in the oven?
I find 12 minutes is absolutely perfect. If you want a bit of crisp on the top, broil it for the last 2 minutes.

Either way creates incredibly tender fish that's fork tender and flavorful.
How do you not overcook salmon?
Timing and temp. are everything. Anything over 15 minutes for a large fillet is going to create a dry grey appearance, you don't want that.

Checking after 12 minutes is ideal, if it's not flaky add a min. more and check again.
Are you supposed to flip salmon in the oven?
No. Whether you leave the skin on (suggested) or remove it, there's no need to flip it to the other side. The most important element to baking salmon in the oven is timing, and this salmon dry rub recipe. If you did try to turn it over it would likely lose all of it's goodness on top.
I also want a bit of crowning on top where the meat is so I want the flesh facing up the whole time. We don't eat the skin so I don't care what the heck that looks like. It's going in the garbage so whatever.
Best Baked Salmon Recipe in the World
Trust me when I say that the dry rub listed below is amazing. Some have questioned the amount of salt or this or that but please just make it as directed. If you just want a light dusting then sprinkle half of it on and you can save the other in a baggie for another batch.
Want really bold flavors, then use all of it and pack it on the top. Lift the filet off the cutting board and just let what falls off be discarded. Not sure which one you'll like best?
Cut your piece in half and do one half light and the other with a heavier hand. Then the next time you'll know which you prefer.
We use this so often that I make a few portions of this and just store it in a small freezer bag. I write on the outside salmon dry rub and then it's ready to go when I find fish on sale. Makes the process faster that way.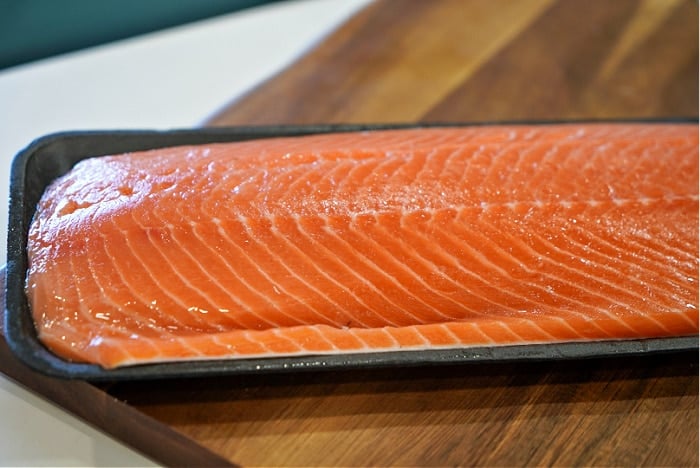 Salmon in Oven
These are the ingredients you'll need to get started:
1 or 2 salmon fillets – I suggest keeping the skin on

I like to take it out beforehand so it's closer to room temperature when starting

Foil, I like the non stick version if you can find it
Baking sheet
Brown sugar will bring out a bit of sweetness
Sugar
Paprika
Chili powder can be adjusted but what's listed will not make it spicy
Garlic powder goes in everything I make basically
Salt and pepper (if you like pepper on all the things)
Could top with a few lemon slices if you like (I typically don't)
This is a favorite sweet and savory mixture that everyone loves. You don't need melted butter or olive oil really. You do want to kinda' blot the top with some paper towels to remove what moisture is on the top. If it doesn't stick then a very light spray of olive oil will be just fine.
It will stick just fine with the moistness of the fish itself. Don't doubt it, just make it!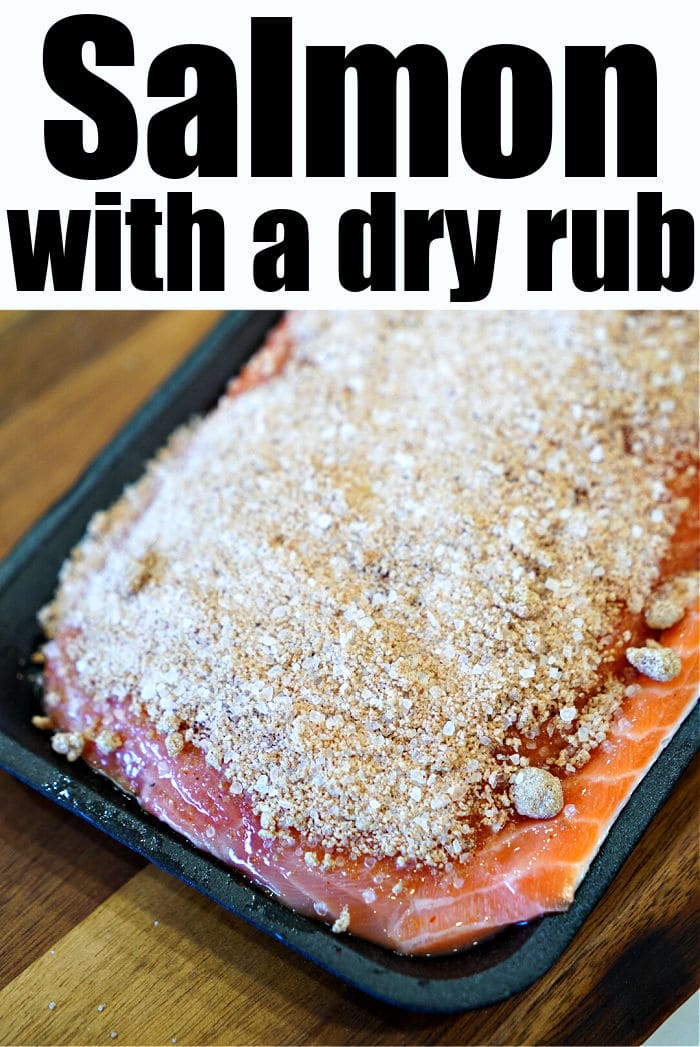 Best Salmon Recipe Oven
Here is an explanation of how you're going to make it but there's a printable version below as well for you. Print it out and keep handy in your recipe book or just come back time and time again. We love to "see you" so don't go anywhere. 😉
Lay fillet on cutting board with salmon skin side down. Preheat oven to 400 degrees F. In a small bowl mix dry rub mixture. Break up any clumps of brown sugar.
Sprinkle on top side of the salmon and gently press down.
Lift up and allow excess to fall off. If you want a really intense flavor.
Now use some plastic wrap to cover and wrap up your coated piece. I like to refrigerate and let it sit for about an hour. If you want it done more immediately you could sit for 15 minutes minimum and up to 4 hours or so for a really intense sweet and savory flavor.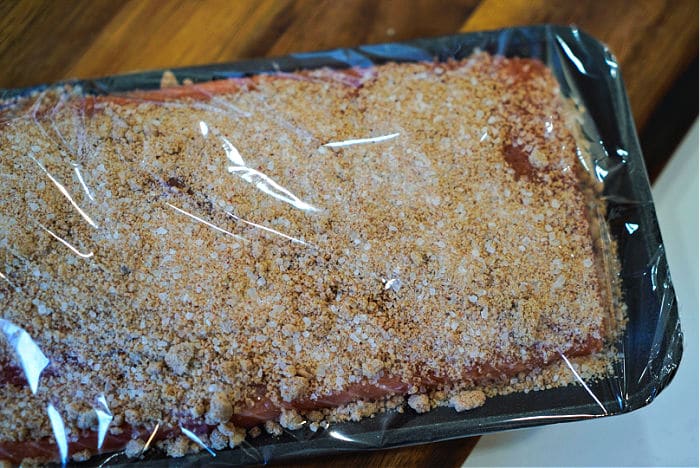 Salmon in Oven Dry Rub
Cover baking sheet with non stick foil. Lay fillet on top. Bake for 10 minutes baking time. Then switch to broil hi for 2 minutes cooking time to crisp the top just a bit.
Just a tip: before switching to broil look to see if there is excess rub that has burned on to the foil on the side of the fish, if so just add a small piece of foil on top of that to cover it so it doesn't smoke when you put it under the broiler.
Allow to rest on baking sheet for 5 minutes before cutting into pieces and serving.
This is what it looks like when it's done. Seriously it is my favorite every recipe, next to having it smoked on our Traeger (using the same rub).
Serve with some roast potatoes with a bit of minced garlic on them and serve! I mean anything goes with this y'all, side salad, mixed veggies, rice, etc…
Fish Baked in Foil
Looking for a few more easy recipes. Of course you are. If you have been following me for any length of time you know that simple is the name of the game if you're a busy family like we are. Here are a few other baked mouthwatering recipes using meat we love:
Of course since we love fish so much we have a lot of other ways to cook this too. In the smoker is shared above.
Another favorite is our air fryer salmon using a great rub as well. It is done much faster considering it takes only 5 minutes to preheat your machine. You'll get more of a crisp on the outside as well. If you're a texture person like I am you might prefer this method over the oven. Try both and see which your tongues prefers.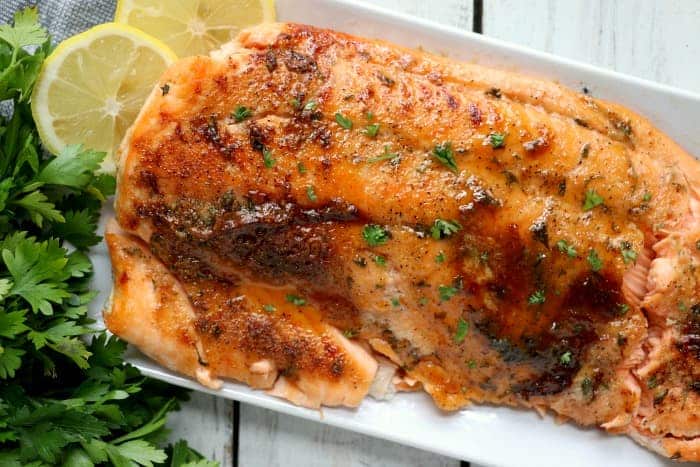 Instant Pot frozen salmon comes out quite well too. It is good to have on hand if you forget to defrost what's for dinner. I am always forgetting that here and there so I keep this "trick" in my pocket for those evenings.
Can I freeze leftover cooked salmon?
I don't know why you would want to but you could. You'd need to ensure it was at room temperature. Then wrap in plastic wrap and then in foil. Alternatively you could put into a freezer bag and suck the air out.
Freeze for up to six months.
When defrosting leave in fridge overnight or submerge into water.
Can you reheat cooked salmon?
We rarely have any leftover but occasionally there might be a small piece. I will flake it into some butter noodles and just stir in to warm. If I am eating as is I'll just put into the microwave in 30 second intervals until warm.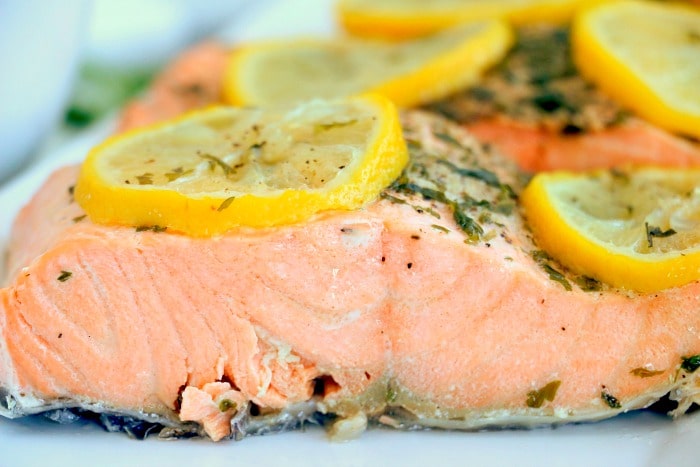 How to Save Leftover Cooked Salmon
The trick to keeping leftover salmon moist is to eat as soon as possible of course. Another is to wrap it tightly so moisture can't escape. The longer it is refrigerated or frozen the more it will change it's texture, not for the good.
Just cut thickest part in half and reheat in the oven for best results. Do not over cook, heat just until warmed and squeeze a bit of lemon juice on top and enjoy. You could use your air fryer too but that will make it crispy on the outside and kinda' dry it out more than you'd like.
You can flake it on top of some rice for a healthy second meal, mix it with a little mayo and enjoy with some crackers, or enjoy as is.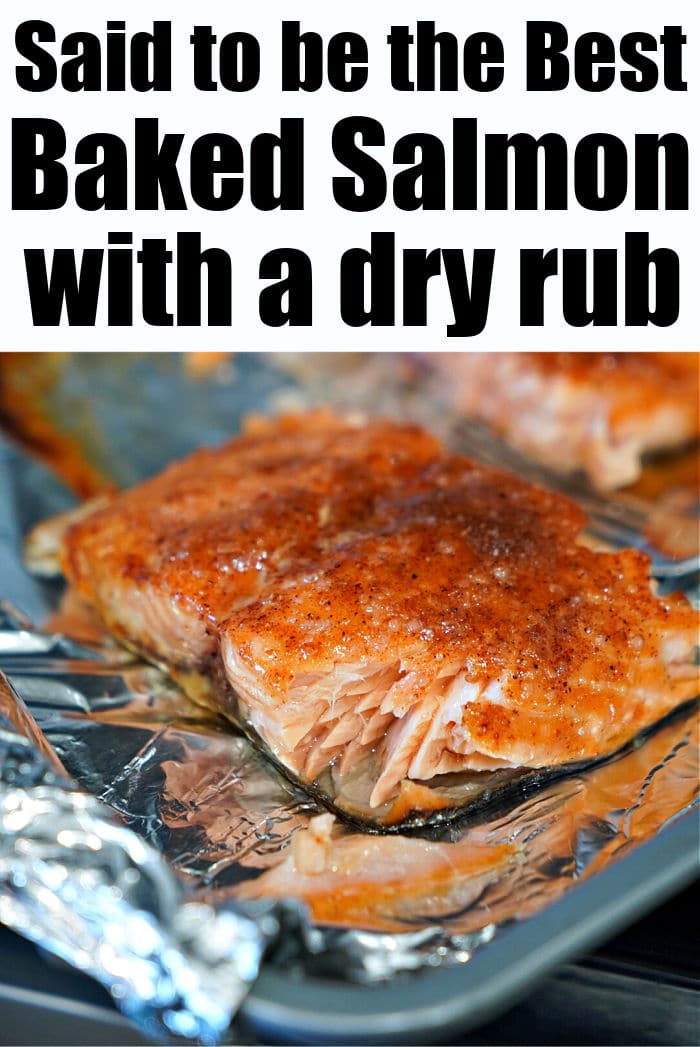 Want to see a few of my favorite things that I am totally obsessed with?? Take a peek and see how many you might already have…twinsies!
Looking for more easy family recipes and tips? LIKE The Typical Mom Facebook page?
Then sign up for my free newsletter, and follow me on Pinterest! 😉
***** If you LOVED this recipe give it 5 Stars below and let everyone know what you thought about it. 😉
Best Baked Salmon
Best baked salmon recipe with a dry rub that will knock your socks off!! Fork tender flaky fillet baked in your oven. A healthy tasty dinner.
Instructions
Lay fillet on cutting board. Preheat oven to 400 degrees F.

In a bowl mix dry rub mixture. Break up any clumps of brown sugar.

Sprinkle it on top of your fish and gently press down. Lift up and allow excess to fall off.

Cover baking sheet with non stick foil. Lay fillet on top.

Bake for 8-10 minutes. (thick fillets I bake for 10)Then switch to broil hi for 2 minutes to crisp the top just a bit. (just a tip: check to see how well done your fish is in the center already, if it's already as done as you'd like it I would skip broil step)

Allow to rest on baking sheet for 5 minutes before cutting into pieces and serving.
Nutrition Facts
Best Baked Salmon
Amount Per Serving (2 oz)
Calories 161
Calories from Fat 45
% Daily Value*
Fat 5g8%
Cholesterol 47mg16%
Sodium 915mg40%
Potassium 433mg12%
Carbohydrates 10g3%
Protein 17g34%
Vitamin A 119IU2%
Calcium 16mg2%
Iron 1mg6%
* Percent Daily Values are based on a 2000 calorie diet.