These are the best baked pork chops with dry rub that's sweet and savory all at the same time! Tender and juicy right out of the oven in 12 minutes, you're gonna' love these.
Wanna' know how to make the best baked pork chops in your oven? I have the secret! Try our pork chops dry rub recipe and in just 12 minutes they'll be the tenderest bites you've ever eaten. (affiliate links present, originally published 1/20)
Easy Baked Pork Chops
I kid you not, it took me THIS long to figure out the perfect temperature and timing to bake perfect pork chops.
Pork chops were NOT my favorite food. Not because they didn't taste good but because I'm a texture person. I could never get them perfectly tender, until now.
Ok so I will give my husband credit for this pork dry rub, it's amazing. He first put a version of it on these smoked bacon wrapped pork chops. I couldn't get enough!
4 Ingredient Oven Baked Pork Chops
Once I got the temperature and timing down pat I went a step further and added this sweet and salty seasoning to make these over the top!
I will never make them another way again. Ever.
I will be honest, I normally just make Instant Pot pork. I rarely ever use my oven for anything, unless it's to bake a cake.
BUT now these oven baked pork chops is the 2nd thing that I love baking in there, hands down.
You can really use bone in or boneless but I prefer with the bones.
I guess it is because typically you can grab them pretty cheap that way, but a bit more work when they're done I guess.
See what is on sale and decide for yourself. Price is usually top on my list other than I prefer organic if there isn't a huge difference in $.
Ok so this is what you're going to need for the seasoning.
I wouldn't stray from the recipe as that is what makes it over the top amazing.
Pork Chop Dry Rub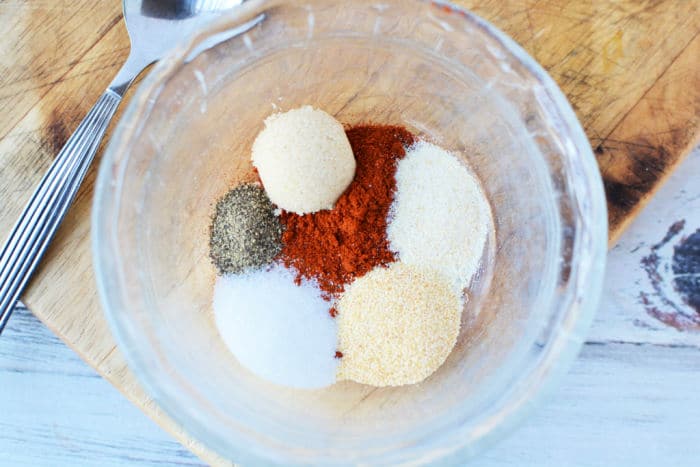 Pork Chop Rub Brown Sugar
4 chops – That is enough for the 5 of us in this house though you could really use as many as you'd like that fits on a sheet pan.
Brown sugar – Gives it a sweetness that everyone in your home will really love.
Paprika – I add to most of my dry rub recipes for meat.
Chili powder – Adds just a touch of heat but I typically say my amounts will give you a just a touch of spicy.
Garlic powder – I mean I can't get enough garlic flavor in everything I cook so there's that.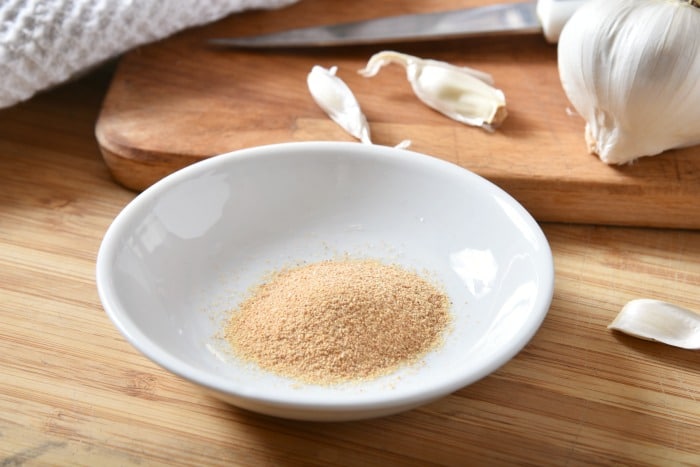 Best baked pork chops
Salt is a must with any great rub of course. We use just enough, don't doubt it.
Butter – Makes these chops really tender with added flavor, I always use salted and never margarine.
Thyme – Is my favorite herb to add to meat if I have it on hand, jarred and dried is just fine.
Oven Baked Bone In Pork Chops
Now these have the bone in. Others have noted below and under my pin that they have used boneless pork chops as well. Using the same rub and timing.
I kid you not, look at all the 5 STAR reviews down below. Use this pork chop dry rub even though you may be skeptical, it is the bomb!! Makes them go from good and tender to OH MY Heavens these are the best!!
Baked Pork Chops with Dry Rub
Baked Bone In Pork Chops
First you're going to want to mix the rub together in a bowl. Leave the butter and thyme aside until you're ready to pop them in the oven.
On a cutting board sprinkle half of your mixture on one side and press down.
Lift up and allow the excess to fall off, then sprinkle the 2nd half on the other side of your 4 pork chops.
Know that if you don't let the excess fall off it may be too much for your taste buds. What sticks will be perfect. If you want to make this often, then make a double batch of rub and put the other half in a ziploc for next time.
Place them on your baking sheet with pats of butter in the middle of each one. You can sprinkle dry thyme on top of that, or leave off.
Preheat your oven to 425 degrees F and put in your pan.
Bake for 12 minutes and then remove and allow to sit for 5 – 10 minutes.
Serve with savory monkey bread and sides and enjoy your tender pork chops

of course you can re season with salt and black pepper when serving if desired
Here they are ready to be pulled out!
What goes good with pork chops?
Of course applesauce comes to mind I bet when you think of a side dish. That isn't the only great one though for sure.
Served with a side of white rice is healthy, cheap, and always a favorite.
Quinoa is gluten free and a healthy option.
What vegetables go well with pork?
We love cauliflower or broccoli. These are the best mixed vegetables we make on a regular basis.
Tips to make pork chops not dry?
Choose bone in pork chops vs. boneless pork chops
You can marinade if you choose, or use a rub like we did here for added flavor
Bring meat to room temperature before cooking is one of the best tips. Just take our your package 30 minutes beforehand.
If you want a little char on the outside start them on the stove in a cast iron skillet with some olive oil (quickly). But bake in the oven using the directions below after that.
Do NOT overcook them!
Let it rest for at least 3 minutes before slicing and serving in a baking dish.
Remember: pork needs to reach an internal temperature of 145 degrees to be safe and remain juicy and tender. Use a meat thermometer for this
After you try this baked pork chops recipe let us know what you think below!
We love air fryer pork chops and this recipe with pork tenderloin too!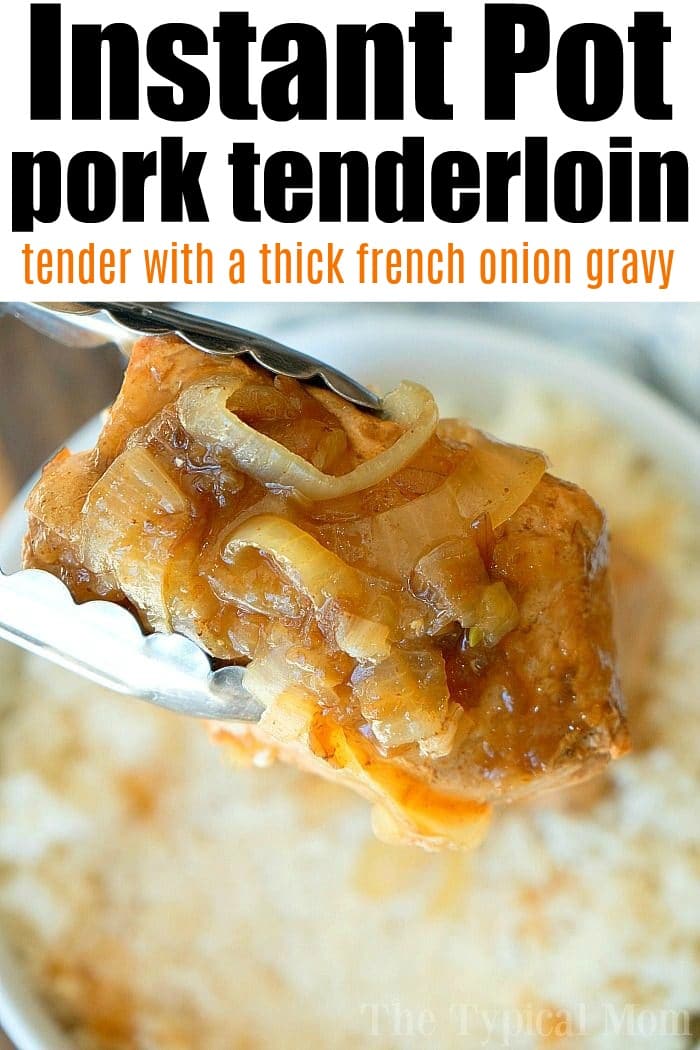 How to cook pork chops
Want to cook them to perfection. Of course you do! Yes you can skip the rub if you choose to use a marinade instead. Or, just season with salt and pepper and follow temp and timing.
All of these pertain to "regular" sizes which would likely be about 3/4″-1 inch. If you only have thicker this is how to cook 2 inch thick Pork Chops.
And THIS is how you cook Ninja Foodi pork chops AND rice together all at once. A great one pot meal.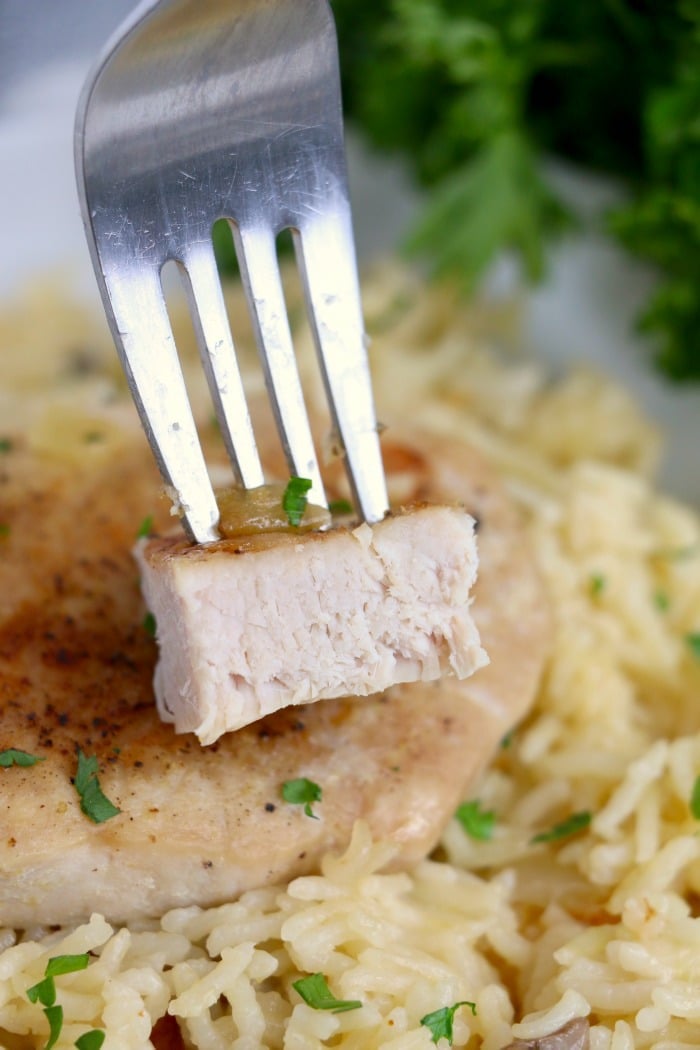 Pork is such a versatile meat but the key is to not over cook, bake, or grill it. It easily dries out and s no good.
How Long to Bake Pork Chops
Baking it at exactly 12 minutes as explained here is key. They must be defrosted, if not instead follow our air fryer frozen pork chops recipe instead.
Another tip is to always allow meat to rest before slicing. I keep mine on the baking sheet for 10 minutes before plating with a side dish like air fryer vegetables or corn casserole.
Next, try the best baked salmon in the oven. You'll love that just as much!
Best Baked Pork Chop Recipe
There are detailed instructions and an ingredient list below in the recipe card but here is a quick step by step for ya'. Mix dry rub ingredients together in a bowl. Use a fork to break up any brown sugar chunks so it is nice and smooth. Lay pork chops on a cutting board. Rub on both sides of the pork. So 1/2 of your dry rub on side facing up.
Then flip each one over allowing excess to fall off and rub remaining rub in bowl on other sides.
Preheat oven to 425 degrees. Put dry rub coated pork chops on baking sheet.
Slice butter into 4 equal sized pieces and lay on top of each piece.
Sprinkle with thyme too.
Bake for 12 minutes, then let rest on pan for 5-10 minutes to maintain juiciness.
We love this recipe. It creates tender pieces of meat with every bite and a TON of whopping flavor. Don't skimp on the seasonings for this one, that is what it makes it so dang delicious. There is a printable recipe below you can refer to, keep in a cookbook or just come back and "see us" when you need it.
Want to see a few of my favorite things that I am totally obsessed with?? Take a peek and see how many you might already have…twinsies!
Looking for more easy family recipes and tips? LIKE The Typical Mom Facebook page?
Then sign up for my free newsletter, and follow me on Pinterest! 😉
***** If you LOVED this recipe give it 5 Stars below and let everyone know what you thought about it. 😉
Best Baked Pork Chops
Best baked pork chops with a dry rub that's sweet and savory at the same time. Tender and juicy right out of the oven in 12 minutes, you're gonna' love this.
Instructions
Mix dry rub ingredients (brown sugar, chili powder, paprika, salt and garlic powder) together in a bowl. Lay pork chops on a cutting board, rub 1/2 dry rub on side facing up.

Flip over allowing excess to fall off and rub remaining rub on other side.

Preheat oven to 425 degrees. Put coated pork chops on baking sheet.

Slice butter into 4 equal sized pieces and lay on top of each chop. Sprinkle with thyme.

Bake for 12 minutes, then let rest on pan for 5-10 minutes to maintain juiciness.
Nutrition Facts
Best Baked Pork Chops
Amount Per Serving (2 oz)
Calories 371
Calories from Fat 135
% Daily Value*
Fat 15g23%
Cholesterol 105mg35%
Sodium 1874mg81%
Potassium 560mg16%
Carbohydrates 29g10%
Protein 29g58%
Vitamin A 471IU9%
Vitamin C 1mg1%
Calcium 32mg3%
Iron 1mg6%
* Percent Daily Values are based on a 2000 calorie diet.