This is by far the best cream corn casserole recipe you will ever make! Made with a sleeve of Ritz crackers and lots of cheddar cheese it's a fabulous vegetable side dish during the holidays or year round. Just throw everything together and bake for a sweet cheesy dish that goes great with ham or turkey.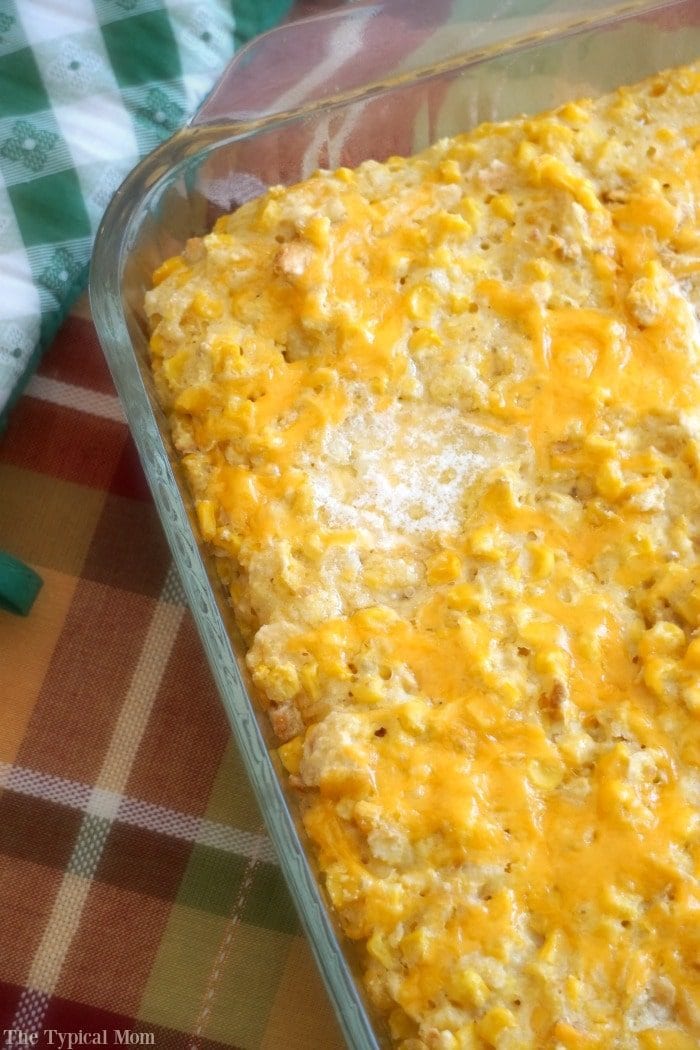 This is the best cream corn casserole recipe! It's so good that we not only make it for sure during Easter, Thanksgiving and Christmas, but serve it year round! Ok so really it was my sister in law who made it first many years ago. Thanksgiving just isn't complete without it so I thought I'd share it with you too. Everyone loved this recipe and it has become my favorite side dish too. It feeds way more than the 5 of us but leftovers the next day are incredible too! It's one of our favorite quick and easy casseroles. (originally published 12/13, affiliate links present)
Our cream corn casserole recipe is on our list of leftover ham recipes too. Dice it up and throw it right into this corn pudding for a hearty meal too.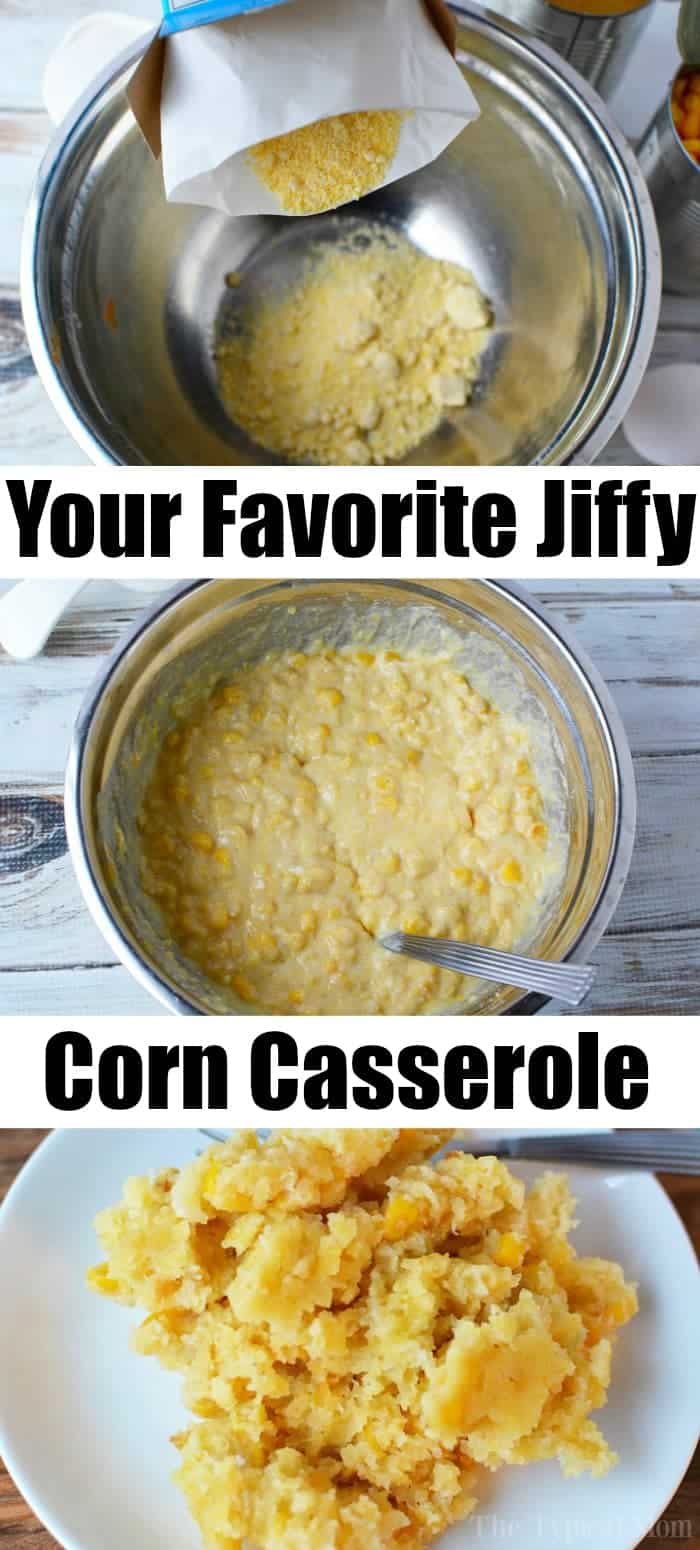 Mix all the ingredients listed together (except 1/4 cup of the shredded cheddar and melted butter). Make sure you drain the 3 cans of corn before adding those in. 😉
If you want a smaller batch of this corn side dish recipe, just cut everything in half when making this creamed corn casserole. I wouldn't recommend double the recipe because it won't cook evenly.
The above is good during Easter, Thanksgiving, or Christmas time though with a group of 8-12 people.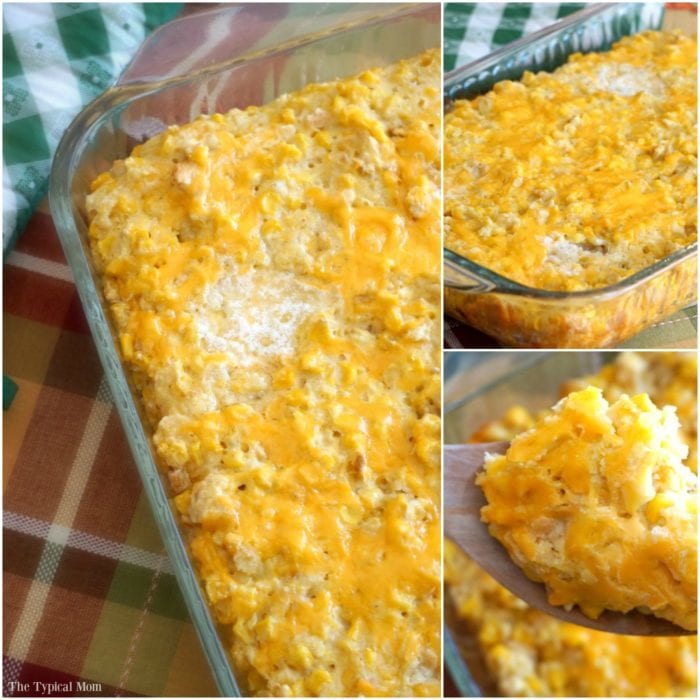 Ok so some call it corn pudding, whatever it's called to you just go with it. I am sure this is what you're thinking about if you've had this cheesy side dish at a relative's house.
Now it's your turn to host the big holiday dinner and you're wondering how they made it. This is it!!
I bet you didn't know there was Jiffy corn muffin mix and Ritz crackers in it huh??!!
Some make it without cheese, but come on you've gotta add shredded cheddar cheese to the top! Wanna make it prettier then just sprinkle some fresh green onions or chives on top. It is the kind of Thanksgiving recipe you can make a bit early and if it sits for an hour with some foil on top it won't hurt.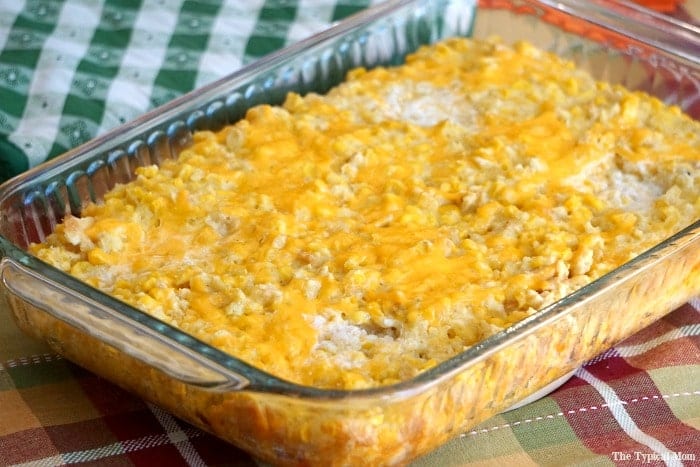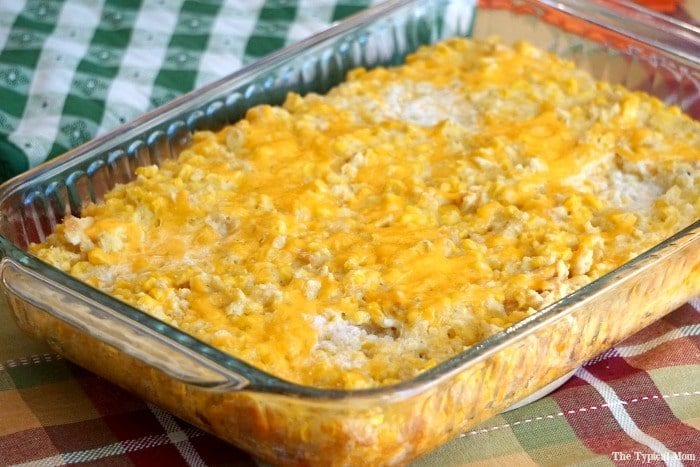 Like I said, you actually use 1 sleeve of Ritz crackers (or generic brand of Ritz) in this. Put them in a gallon storage bag and smash until really small. Then add to your mixture. Kids love helping with this part!
Here is everything you need to make this cream corn casserole recipe with Ritz crackers
Corn muffin mix

If you aren't familiar with the cornbread mix I used you can find the Jiffy corn muffin mix I used here.
If you cannot find that you could try using another cornbread mix that only requires you to add egg and milk and use 8.5 oz. of that. But you should be able to order it using the link above.

Milk
Ritz crackers

I've used wheat thins before but Ritz is better

Cheese – we like sharp cheddar
Butter
Corn

Whole kernel canned regular or sweet corn, not creamed corn.

Eggs
Large bowl
Baking dish – this is mine
Here's a video to show you how to make this easy corn casserole recipe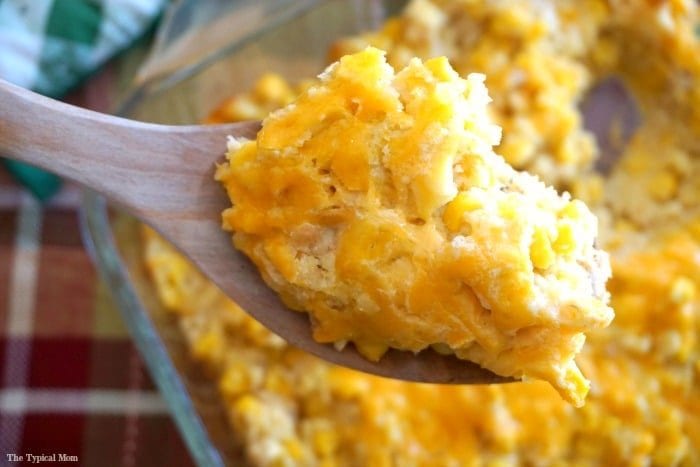 First preheat oven to 350
Mix ingredients
Pour it into your casserole dish. I love this one because it has a top you can pop on to keep warm and transport it .
Use half a stick of butter and slice small slices of that and shove it in the top of the casserole. Then sprinkle 1/4 cup of remaining cheese on top of that.
Bake for about 35 min or until edges look slightly golden brown. The cooking time is important because you don't want to overcook it. You want it moist like corn pudding.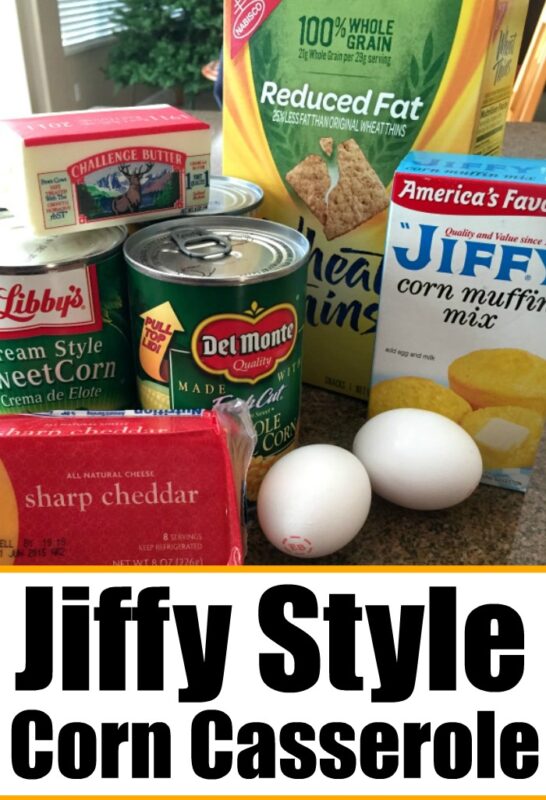 I have made a version of Crock Pot corn casserole but I will tell you it's better in the oven. It doesn't cook as evenly in your slow cooker and the top doesn't get that nice golden crispiness.
I WOULD suggest however that you cook it using this method and then transfer it to your crockpot to stay warm. Especially if you have a large gathering and multiple dishes this can be the way to go!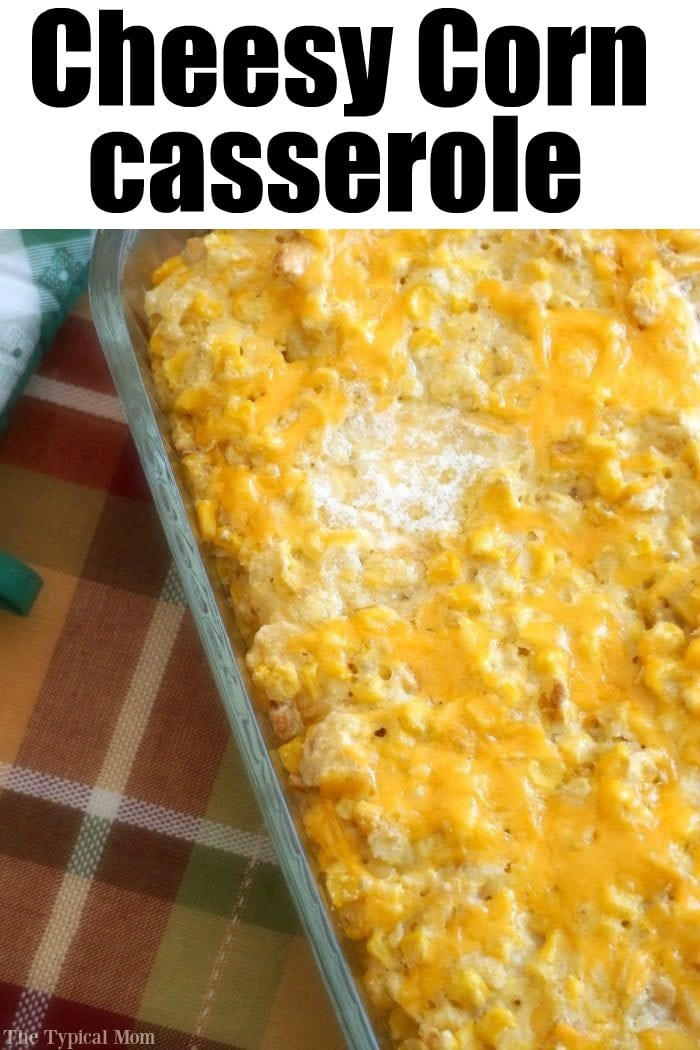 Looking for more easy holiday side dishes?
This makes for the most flavorful, sweet, and creamy cream corn casserole you have ever had. Great for any holiday side dish or just as a side dish for dinner (like I said just half the ingredients for that).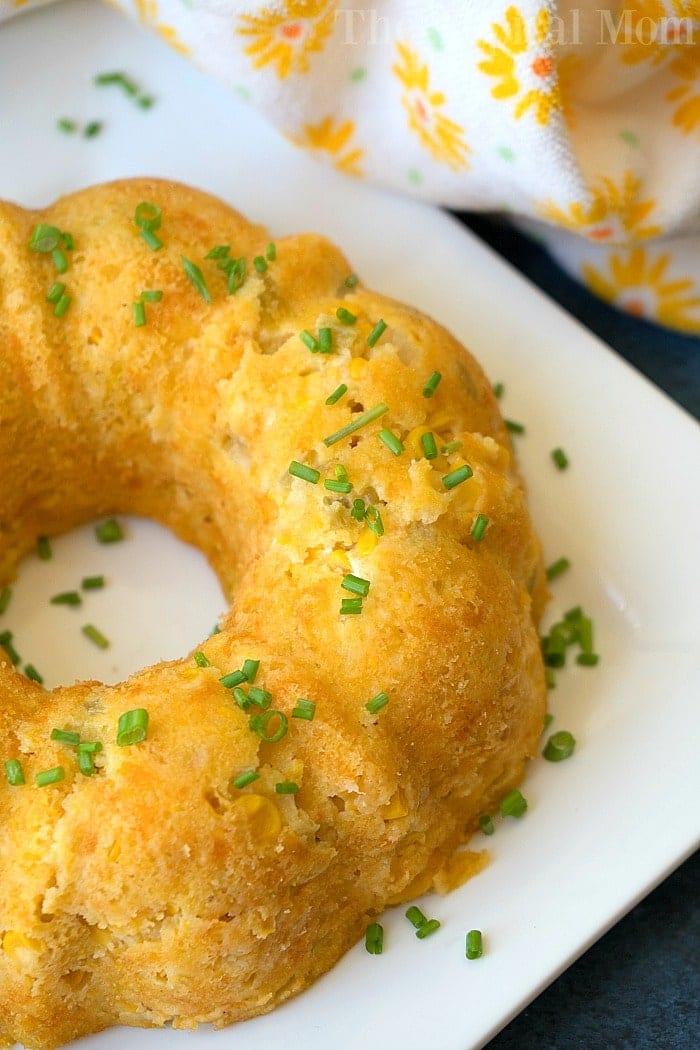 So to answer the question: how can I make canned corn better? THIS recipe is #1 on our list. We have made Instant Pot potato corn chowder with it as well
Is there a substitute for creamed corn?
Let me be honest, no. Not for this dish in particular. If you tried using just canned it won't turn out right. You need that extra liquid in the can to make this creamy, and not dry out. Just go with it. 😉
Is cream style corn the same as creamed corn?

Creamed corn is made from the kernels of fresh, sweet corn, that are cooked down in their own juices. Cream is actually not an ingredient, rather the creaminess is the liquid from the fresh corn thickened with the native starch.
Can you freeze corn casserole?
First off, we've never had leftovers! This is by far my favorite Thanksgiving side dish and it's grown on others too. If you do though, cool to room temperature, remove from your casserole dish and put into an airtight container. Place in freezer for up to a few months.
To reheat cream corn casserole just preheat your oven to 350 degrees. Put into an oven safe dish for about 15 minutes stirring halfway through. You can also do this in the microwave if you wish.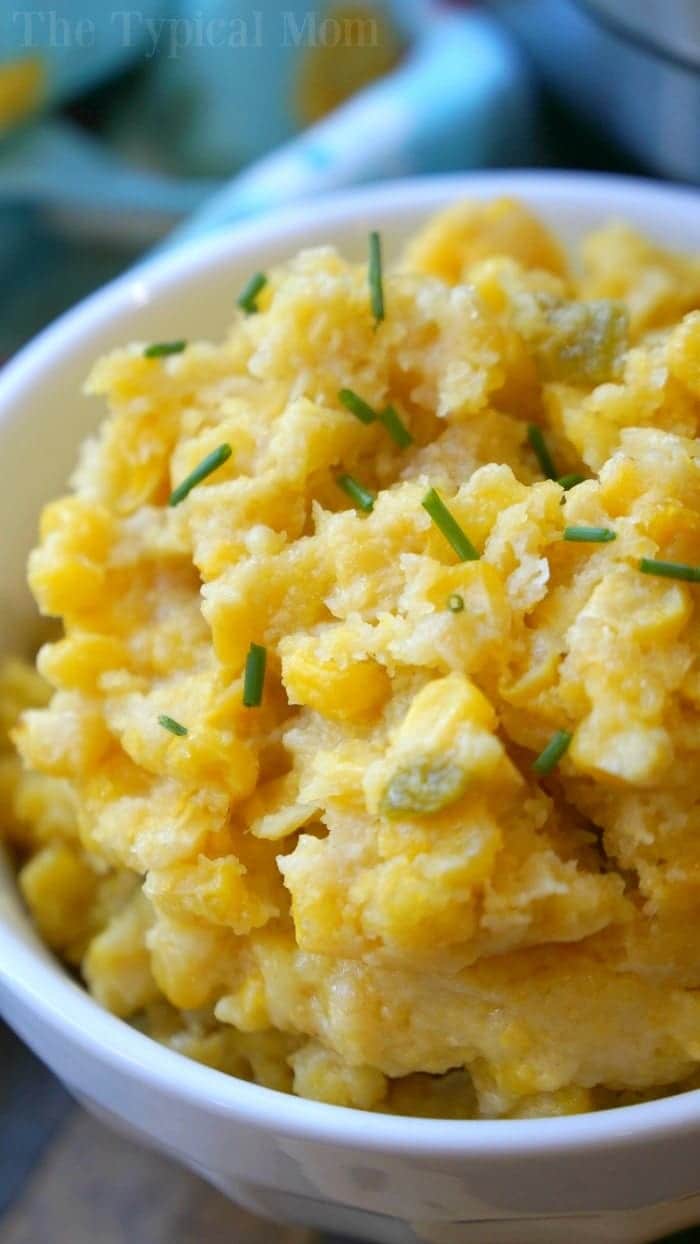 You can serve this straight out of your baking dish with a trivet below, or scoop it out into a bowl like this. I kinda' like leaving it alone because it looks better and you can recover the top and save the leftovers in the fridge.
If you're looking for something new to cook this year, you won't regret this one! Happy Holidays my friends!
Cream Corn Casserole Recipe
I have the best cream corn casserole recipe ever! Just throw everything together and bake for a sweet cheesy side dish during the holidays or all year long.

Instructions
Drain 3 cans of corn.

Smash crackers and add corn, cream corn, milk, eggs, corn muffin mix, and 3/4 c. cheese into a bowl, mix well.

Spoon into sprayed 9x12 pan.

Cut butter into 4 equal pieces, push them slightly into casserole near edges.

Sprinkle remaining 1/4 c. grated cheese on top of casserole.

Put in oven at 350 degrees for about 35 minutes or until edges are browned and middle is a bit firm but still soft.

You don't want to overcook this as it will become dry (still good but we prefer a bit looser consistency overall). Serve warm, great as leftovers too. (Watch video in post to see how I make it)
Video
Nutrition Facts
Cream Corn Casserole Recipe
Amount Per Serving (4 oz)
Calories 450
Calories from Fat 162
% Daily Value*
Fat 18g28%
Cholesterol 73mg24%
Sodium 581mg25%
Potassium 499mg14%
Carbohydrates 65g22%
Protein 13g26%
Vitamin A 885IU18%
Vitamin C 11.2mg14%
Calcium 151mg15%
Iron 2mg11%
* Percent Daily Values are based on a 2000 calorie diet.
Tip: Spray your pan with non stick spray to clean a pot.
Here is the original photo from the first time I posted this recipe, updated pictures above. 😉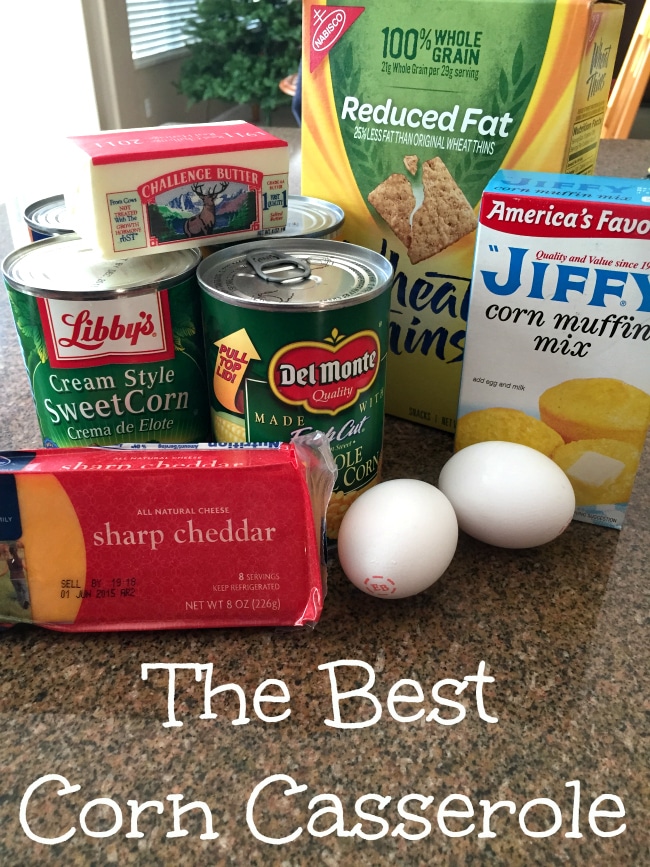 For more easy recipes, tips and free printables please LIKE The Typical Mom on Facebook and follow me on Pinterest! You can also sign up for my free weekly newsletter which is packed with goodies I know you'll love. 😉