Easy Instant Pot beef recipes are here for you to try in your new pressure cooker! Looking for a protein packed dinner your family will love, we have a ton of options here. From cooking fresh to frozen roast in Instant Pot you'll be covered year round.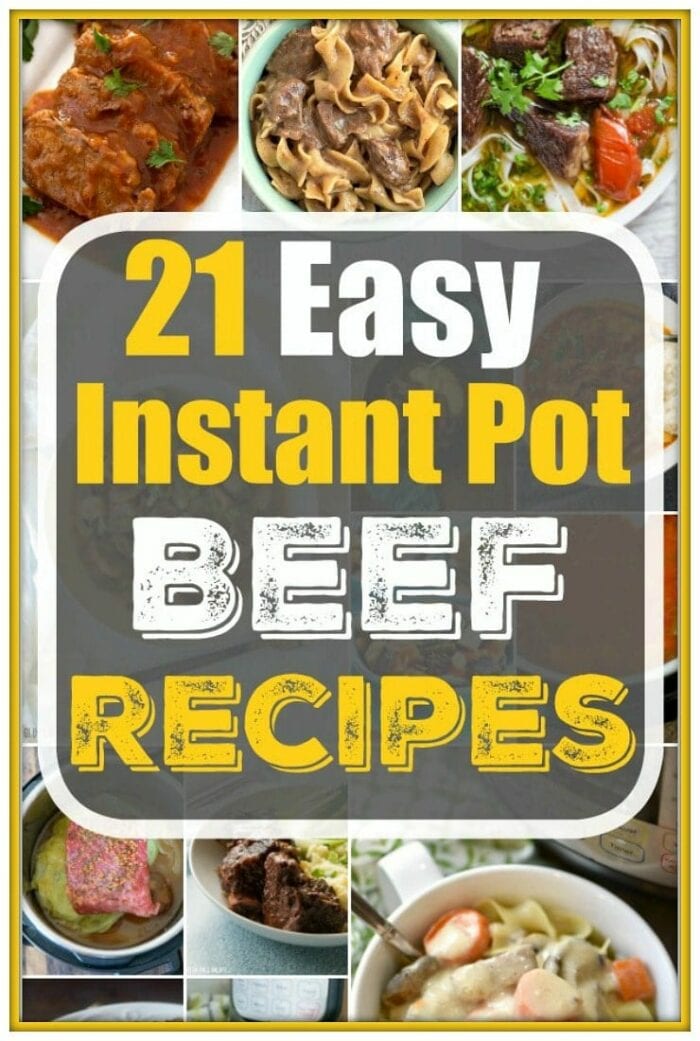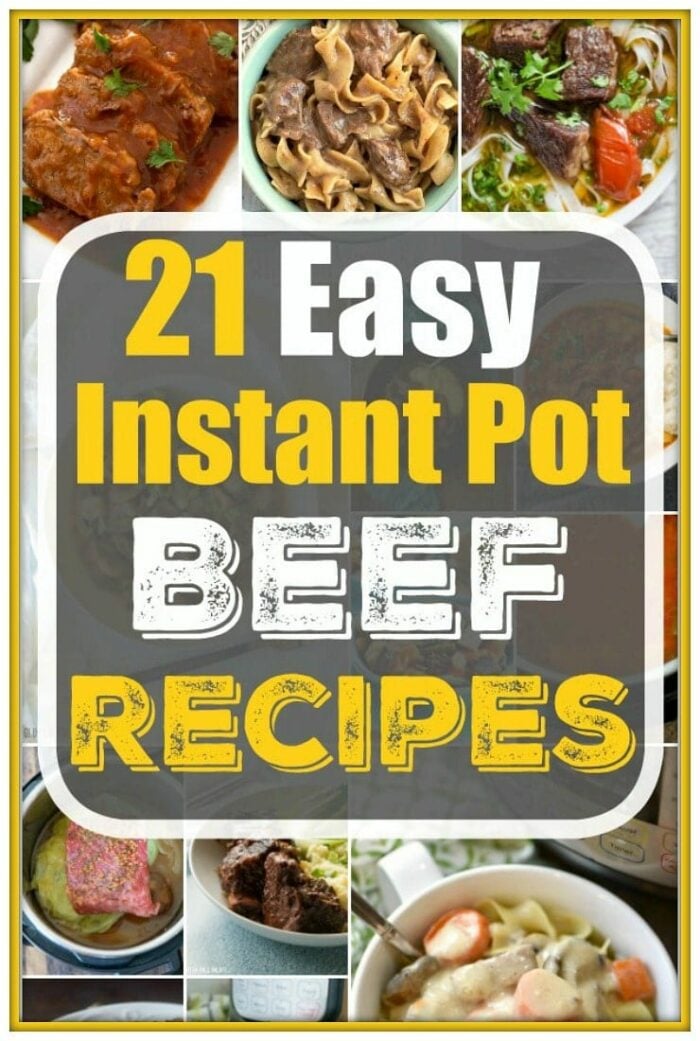 I like to break down these electric pressure cooker recipes into categories and this Instant Pot beef recipes is just one. I have over 101+ easy Instant Pot recipes here on The Typical Mom blog which will keep you busy for a while! (originally published 12/18, affiliate links present)
Ninja Foodi Beef Recipes
You can use a Ninja Foodi or Crockpot Express to make any of these too. It doesn't matter what brand you picked up, all pressure cooker pots have the high pressure function. Of course if you have the dual pot you can also cook Ninja Foodi beef recipes which include air fryer meals too.
Whether you're looking for an easy Mississippi roast Instant Pot recipe, or just how to cook ground beef, we have it all! I am all about simple too so you won't find weird ingredients that are hard to find, just use what is already in your cupboards y'all. Get ready to do a lot of eating together at the dinner table this year.
FIRST – You should sign up for my free newsletter so you get new posts emailed to you twice a week and never miss out on anything! Now let's start with a few basic tips:
Make sure to Bookmark our InstaPot recipes page. We add new ones each week!
Then PRINT this —–> Instant Pot cooking times cheat sheet that will help you understand how long meat, vegetables and beans take to cook in your pressure cooker.
For reference, this is the pressure cooker I have (a 6 quart) and use for all recipe creations.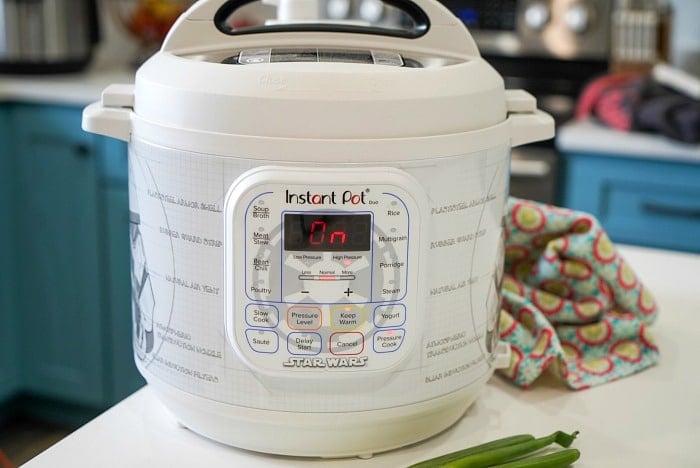 Beef Recipes for Instant Pot
We have a lot of different Instant Pot Ground Beef Recipes to choose from too. This time I wanted to take it a step further and create an Instant Pot beef recipes roundup as well. You see we buy half a cow at the beginning of each year so we have a lot of it on hand. If you have the opportunity to do the same I highly recommend it.
You not only save money on your proteins but it's generally healthier, grass fed, organic, and is the freshest possible. With our delivery I have encountered many cuts I previously had never tried or cooked. This game me an opportunity to cover all the pieces so if you needed help I would have it covered.
I will say that I do not cook with beef a lot. I DO use ground beef quite a bit though, usually in my Instant Pot casseroles. That is something my kids are familiar with so in the beginning I was all about that. As time went on I got more comfortable with my pot and now I think I have cooked it all.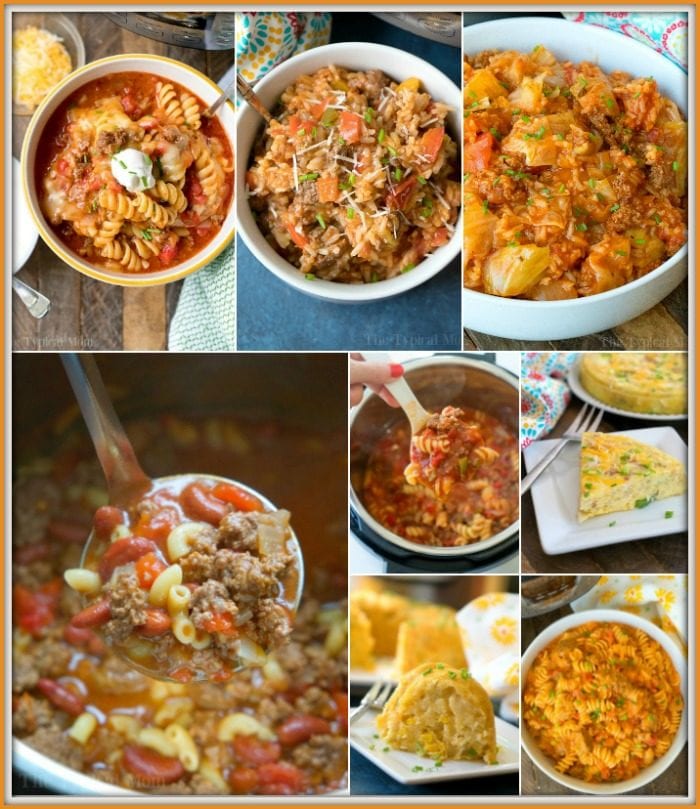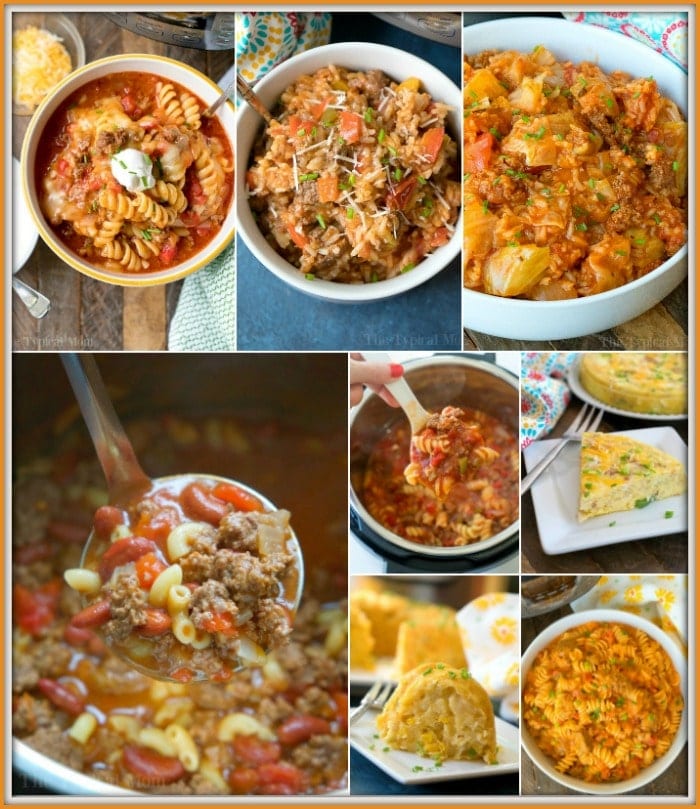 Easy Instant Pot Beef Recipes
For different cuts of beef I refer to this Instant Pot cooking times printable which helps a lot to gauge how long each piece will take. It is a good reference to have on hand. Of course there is a variation depending on how thick and/or large your piece is. You will get a good general idea though and work from there.
Especially if I am creating a new recipe from scratch it's super helpful. You can cook from frozen too though like our Instant Pot frozen tamales recipe. Of course those are already made found in the freezer section but I have gone much further from there.
All you really need for any of these is liquid of some kind so it can steam to tender. Almost all use high pressure and for beef it's suggested to do a natural release vs. quick release of steam.
We will talk about working with fresh or defrosted pieces as well as how to cook frozen beef in this nifty machine. So….here we go. We hope it helps you create yummy and simple pressure cooker beef recipes tonight!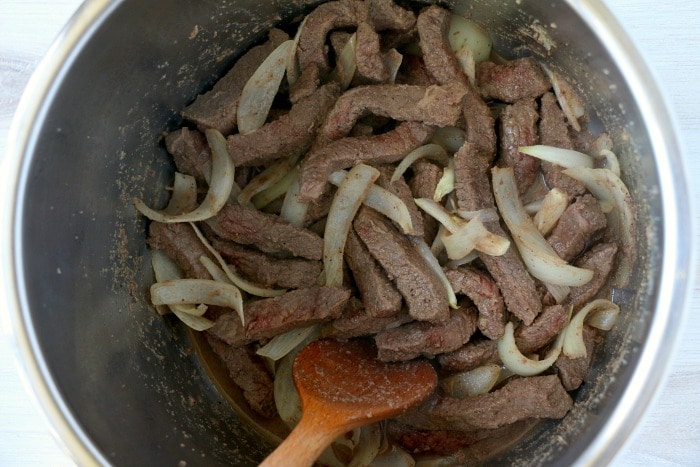 How do you make beef tender in Instant Pot?
To begin with you'll want to season the beef and bring it to room temperature. Use what you love but salt and pepper would be the first givens that shouldn't be skipped. Beyond that there are tons of seasoning blends out there. Some are spicy and others mild. Coat the outsides well so when it is sauteed it sticks nicely.
Keep this in mind for the ultimate result; take it out of the fridge 30 min. before cooking
Set your pot to saute, add olive oil, and brown the beef on all sides so it is no longer pink.

photo below shows you this step
Do you need to brown meat before pressure cooking?
Many wonder this and it is a little bit of a debate. The only real MUST is that you need liquid to cook anything and everything this way. Everything else is basically optional but some tips will make it come out better for sure.
SO no, it is not a requirement. I do like doing it if I have time like in our Instant Pot tri tip but your meal won't be ruined if you don't.

I don't always to make pressure cooker brisket.
Never is it necessary with Instant Pot beef noodle soup.

If you're adding onions like I always do, add them in at this time.
Remove contents, deglaze the pot, and place the beef and vegetables back in.
Follow recipe times and pressure cook until the beef is fork tender.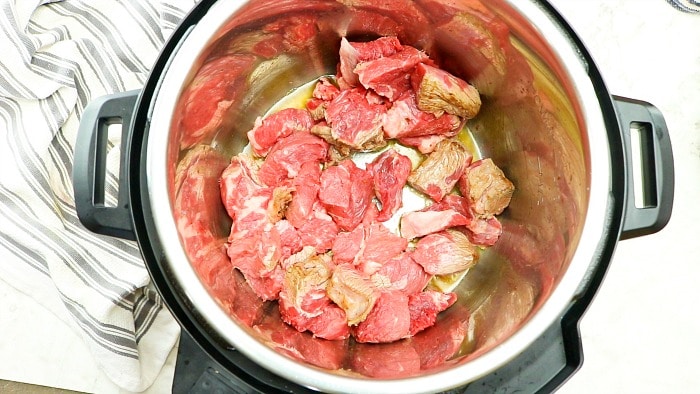 How long do you cook beef cubes in a pressure cooker?
That really depends on the recipe but it is a heck of a lot faster than in the oven I will tell you that much.
First off you will need some sort of liquid for the cooking process. If not your pot will not reach pressure and cooking will cease.

Wine, beer, broth or water can all be used.
I prefer anything over water just because it adds so much more flavor to the overall dish.
Dishes like our easy Instant Pot beef stroganoff recipe with vegetables comes out tender smothered in sauce in just about 20 minutes.
When using tougher cuts like chuck roast like in our beef arm roast recipe it needs closer to 45 minutes to become fall apart delicious. Even thicker like our Instant Pot rump roast it can take a bit more than an hour, but so worth it.
If you need a dish to cook faster consider using stew meat instead of cheaper cuts that have more connective tissue that needs to be broken down. I use this a lot because of this fact and that it is usually so cheap at the store they are almost giving this stuff away.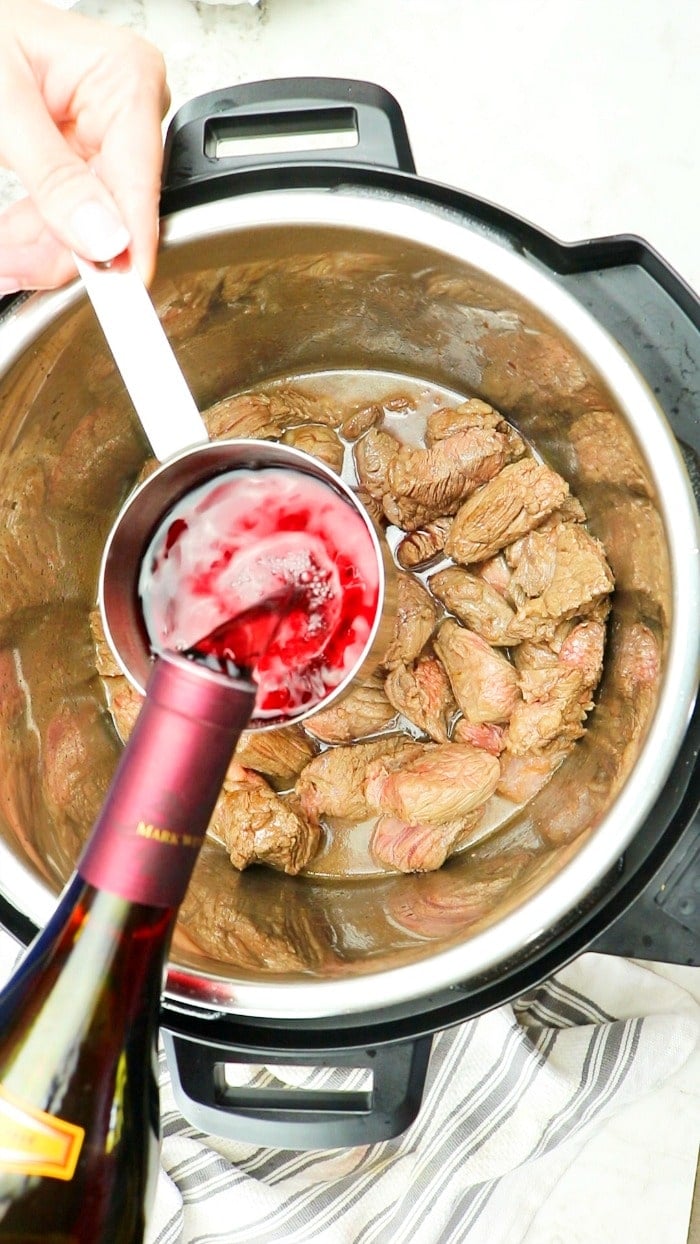 What is the best thing to cook in an Instant Pot?
There are too many to count and I will say that the reason this method is SO good when you have a rather large hunk of meat is it breaks down the connective tissues well. In the case of Instant Pot Mexican pot roast it typically would be tough, not done under pressure. Our most popular dishes are probably:
Tender Pressure cooker beef and broccoli is a complete meal atop a bed of rice. A total winner that my kids say tastes very similar to Panda Express' version. I mean but made at home is a lot cheaper.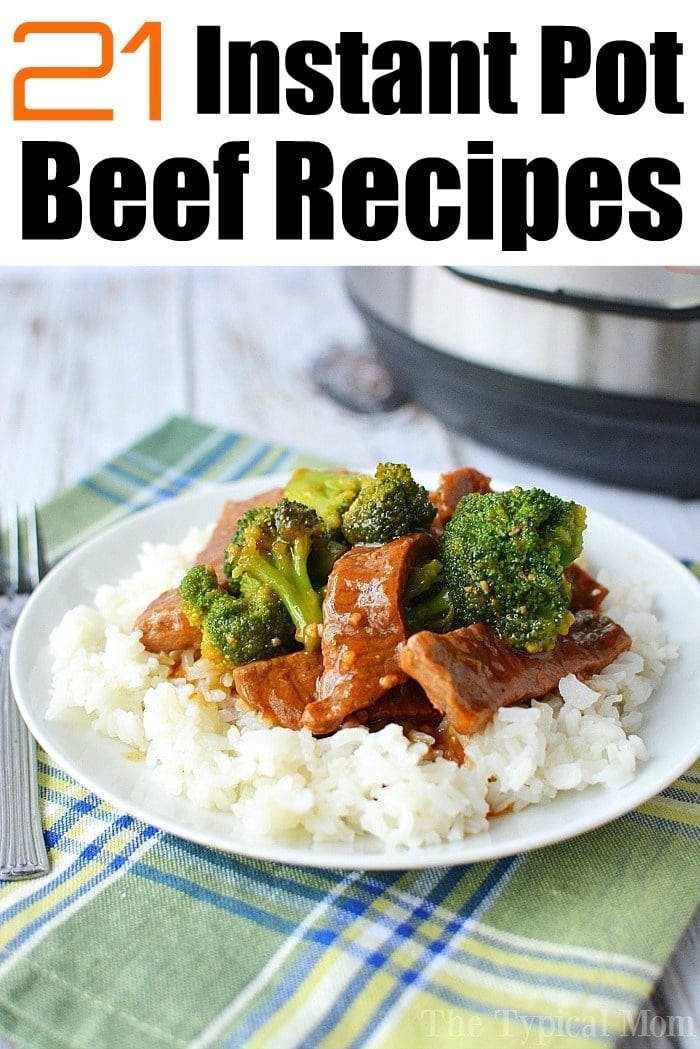 Beef Instant Pot Recipes
I personally prefer to use beef that has been cut instead of a very large piece that takes a long time to cook through. Typically the outsides become more done than the middle and I like consistency. If you are cooking in a gravy or some sort of sauce it will soak in better too if it's smaller in size. Just a thought.
Our Instant Pot beef and broccoli you see here is a great example of a classic original recipe in a quarter of the time. One of my faves. Pressure cooking the meat makes it so tender you can cut the pieces in half with the side of a fork. The sauce gets thick just like at restaurants and can be tweaked to add heat if you like.
If you have a large roast and want shredded beef then cut it into 4 or so equal pieces. We did this for our Instant Pot bbq beef and you can see how fork tender it got.
Instant Pot beef recipe
Let's talk about why I love using this method vs. making a frozen roast in oven or in a Dutch Oven let's say. I mean there are a lot of reasons why but I guess I can narrow it down to just a few at the top of my list;
It cuts down the overall cook time
Beef cooked in a pressure cooker becomes extremely tender. Typically you don't even have to brown the beef, you just throw it in.
Cooking beef and a flavorful sauce together under pressure creates the most amazing flavor in your cut of beef.
Especially when it comes to Instant Pot short ribs, you really need those under high pressure. To break down the membrane and get the protein to pull away from the bone this is the best method ever. I mean making our Crockpot ribs Coca Cola style is a close second but takes all day long.
For large cuts of beef it takes a fraction of time to make shredded beef vs. using your slow cooker all day long.
This pressure cooker beef pot pie soup is pretty amazing too. You can add chunks of vegetables in it like carrots, onions and potatoes too. A complete meal that we love during the snowy months with a side of rolls. Thick and rich with tons of flavor, just like the inside of a pot pie without the crust!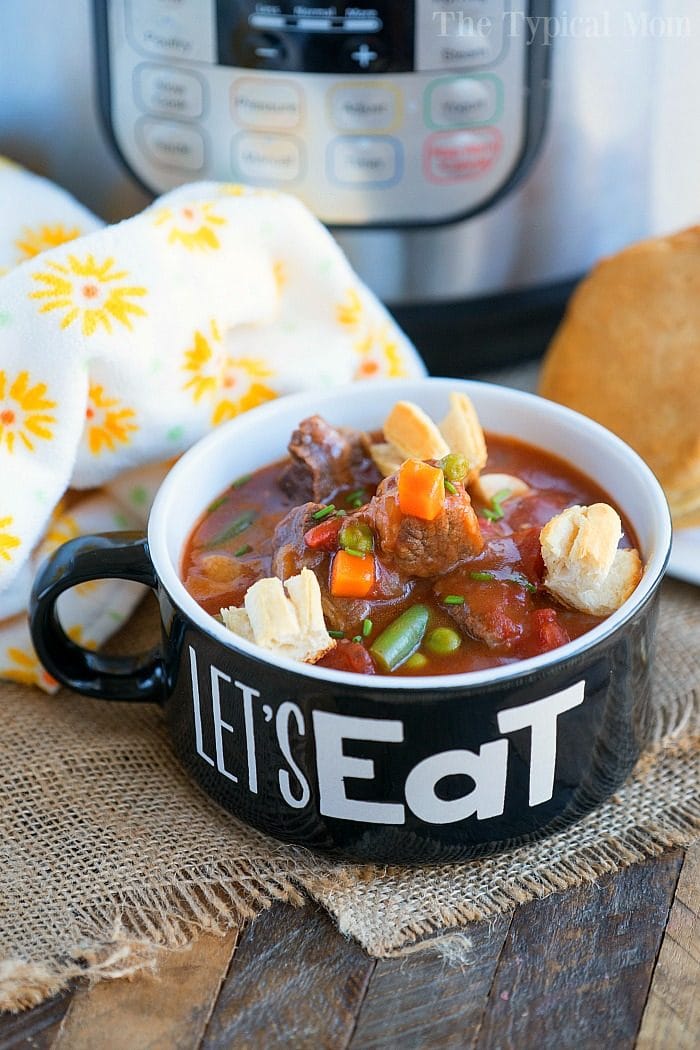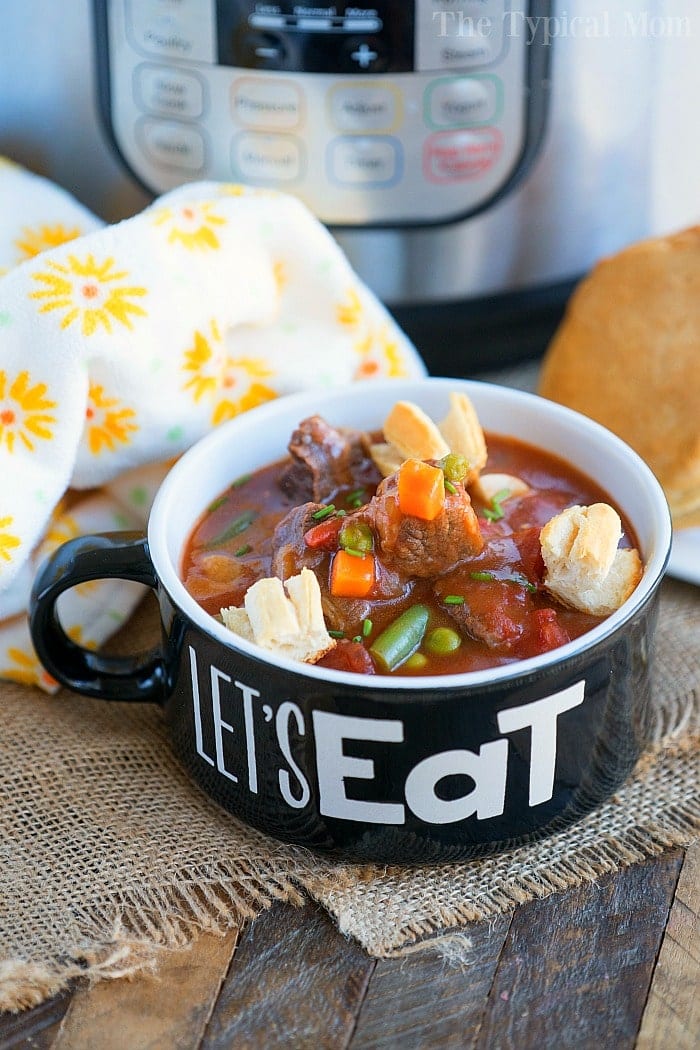 Can you overcook meat in a pressure cooker?
Yes, unfortunately you can and if you do there really is no way to go back! Larger cuts of meat obviously needs a lengthy amount of time for the insides to become as tender at the outsides. For this reason I like to stick to bite size pieces and cook most everything in some sort of broth or sauce.
As you'll see with most of our Instant Pot beef roast recipes they're usually cut into a few pieces to cut down on the cook time and make each bite ultra tender.
Then you can add your favorite sauce(s) or broth and it will become as tender as ever. Look at this Instant Pot Barbacoa beef as an example. The sauce is everything really. Saves well too if you do have leftovers in the fridge.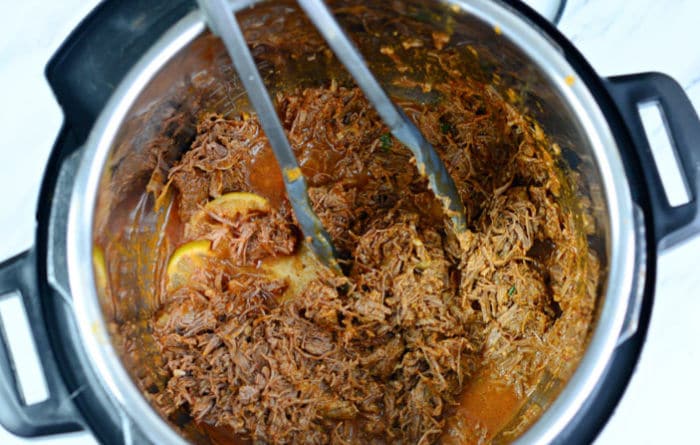 You can even cook a frozen meat in an Instant Pot to perfection too. Believe it or not in most cases there isn't much of a difference. A few minutes occasionally here and there I mean but compared to any other method, surprising non the less. Just follow the recipe and remember that larger cuts need a natural release to maintain juiciness when served.
See here with our Instant Pot beef bourguignon recipe. Pure comfort food I tell you. The classic way would take hours and hours, not with this. You could use either frozen stew meat or fresh or defrosted. Doesn't make a difference either way, just make sure the pieces are separated and not left in a big chunk.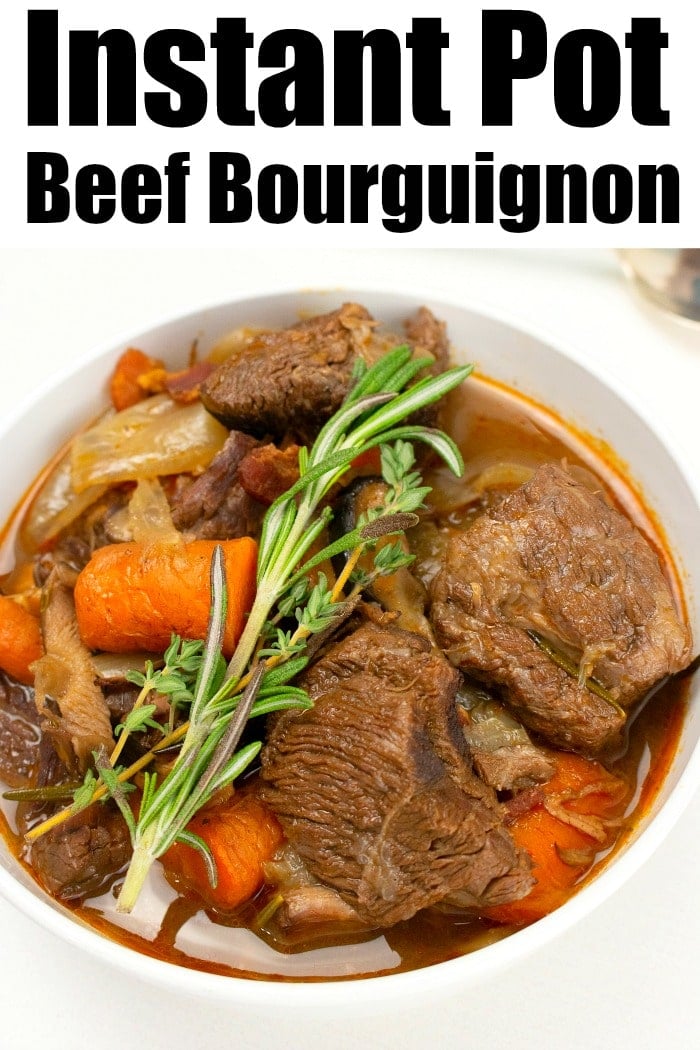 What is the tenderest cut of beef?
The tenderloin is, as its name explains, the most tender cut of beef. Those who don't like marbling of a rib eye and strip loin will enjoy a tenderloin a lot more. The top sirloin is a cut from the loin that offers good flavor in a thick cut.
Keep in mind that the leaner, more tender cuts tend to be the most expensive.
Cheaper cuts like chuck roast may need a longer time to get tender, but can be cut down if sliced into smaller pieces.
Ensuring you naturally release the steam helps tenderize all cuts too.
10 minutes will usually do it. What that means is you don't touch or flip the pressure valve when the pot beeps. Instead you leave it closed until the screen says 10:00 and then you can let it out then. That little bit of time will keep the juices sucked into the protein and not released to make it more dry.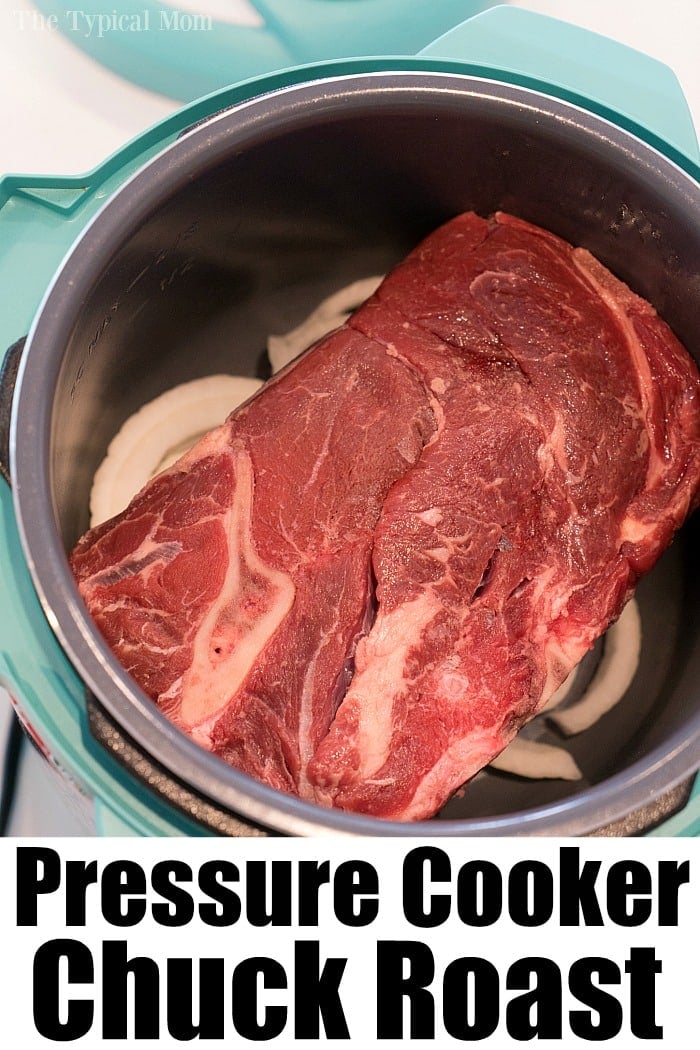 Does quick release make meat tough?
Yes that seems to be the case, especially when it comes to cooking Instant Pot beef recipes. It seems the rapid change in temperature and pressure toughens the meat and draws away moisture you want.
Selecting a natural release of steam cools it down just a bit, and allows the moisture in the meat to remain inside vs. being drawn out and drying it out.
Pressure cooker beef recipes
This pressure cooker roast beef is great sliced and made into roast beef sliders for sure.
InstaPot beef recipes
Pressure cooking really is where it's at in 2019. If you haven't jumped on the bandwagon I hope we've convinced you. Yes Crock Pot recipes are great but really who has time for those in the morning. Let us know which one was your favorite and/or you've made one we should add to our list!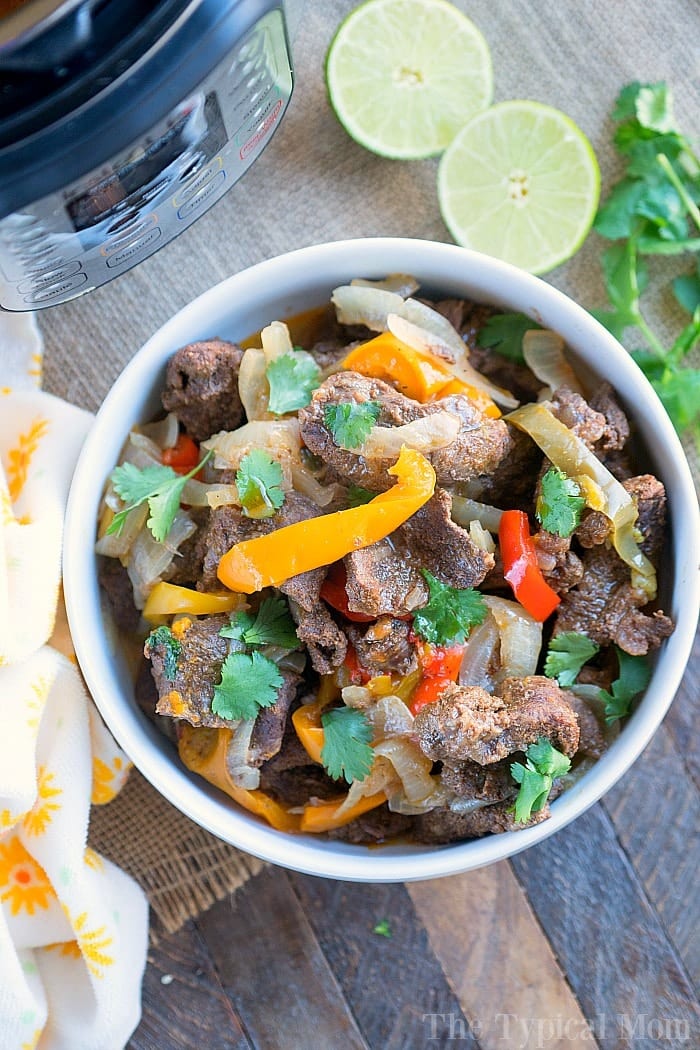 This Instant Pot beef tips recipe rocks can use chuck roast or any cut really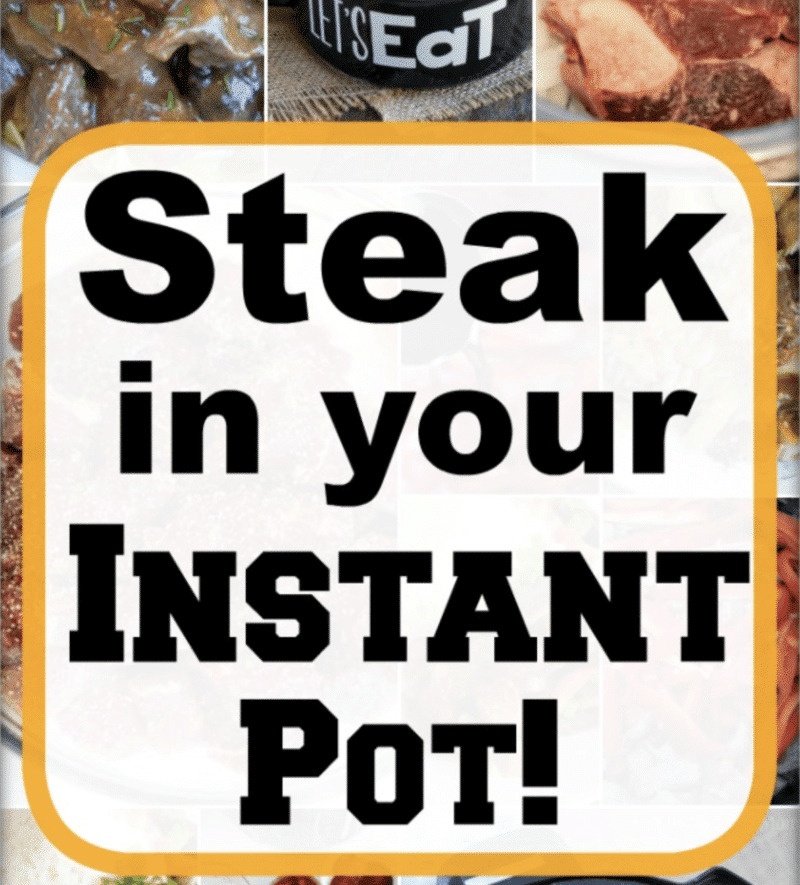 More under 30 minute dinner ideas are on the way right now too!
Pressure cooker mashed potatoes are usually a great side to any of these dishes.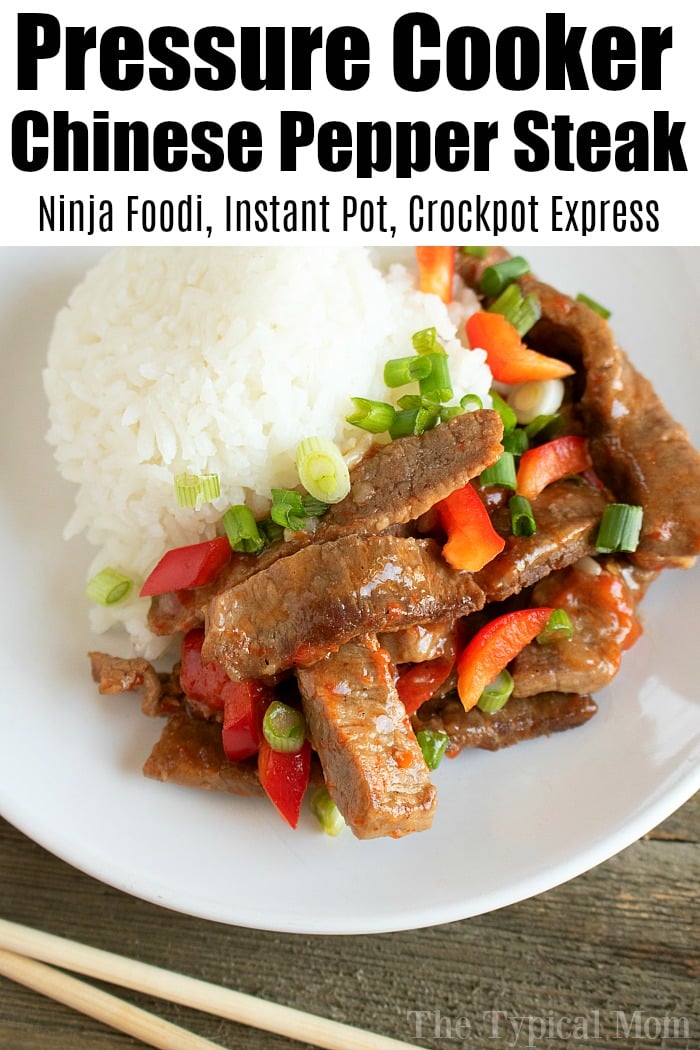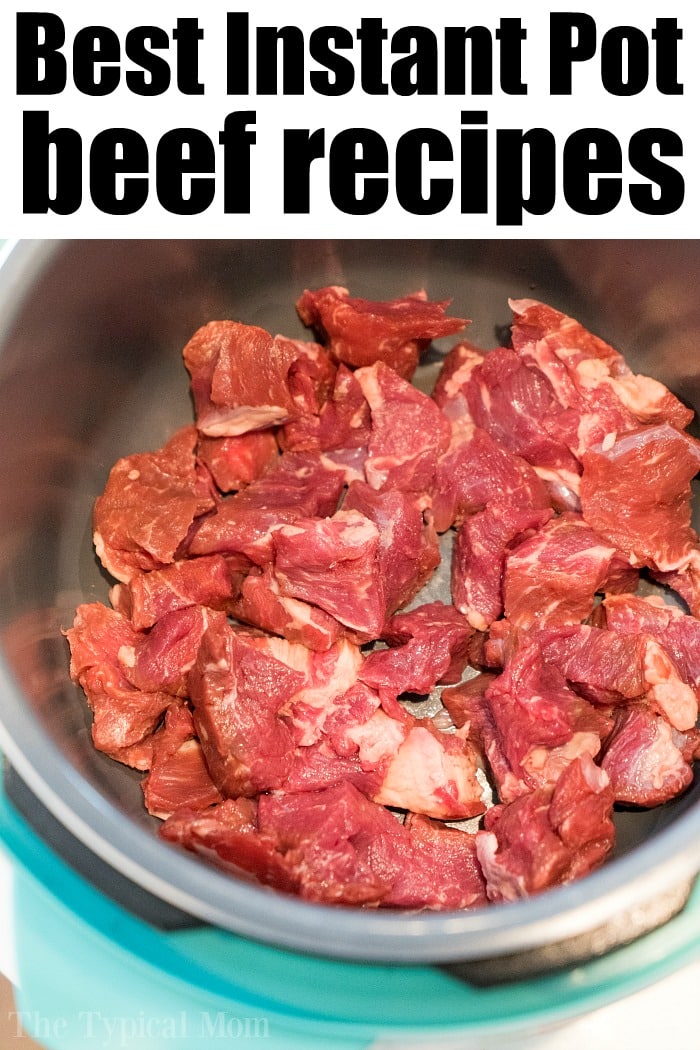 Want to see a few of my favorite things that I am totally obsessed with?? Take a peek and see how many you might already have…twinsies!
Looking for more easy family recipes and tips? LIKE The Typical Mom Facebook page?
Then sign up for my free newsletter, and follow me on Pinterest! 😉
***** If you LOVED this recipe give it 5 Stars below and let everyone know what you thought about it. 😉
Instant Pot Beef Recipes
Easy Instant Pot beef recipes you can make in any pressure cooker or ninja foodi under high pressure. From roasts to ribs, beef with gravy and more.
Instructions
Set pot to saute and add olive oil. Sprinkle chunks of beef with seasonings and brown on all sides until no longer pink. Turn pot off. Remove and add 1/3 cup of your broth to scrape bits of cooked on meat off bottom of pot.

Put meat back in with your broth, onions, Worch. sauce and halved mushrooms.

Close lid and steam valve and set to high pressure for 15 minutes with a 5 minute natural release of pressure. Let out rest of steam and remove lid.

Set pot to saute again. In a bowl whisk together remaining 1/3 cup broth with gravy packet and add that in pot. Allow to bubble and thicken. Turn turn pot off and serve.
Nutrition Facts
Instant Pot Beef Recipes
Amount Per Serving (1 oz)
Calories 423
Calories from Fat 297
% Daily Value*
Fat 33g51%
Cholesterol 107mg36%
Sodium 724mg31%
Potassium 575mg16%
Carbohydrates 3g1%
Protein 27g54%
Vitamin A 3IU0%
Vitamin C 2mg2%
Calcium 38mg4%
Iron 3mg17%
* Percent Daily Values are based on a 2000 calorie diet.