You've got to try this easy crockpot ribs Coca Cola, beer or apple juice recipe. Fall off the bone juicy ribs! Pork ribs in your slow cooker tastes amazing with no effort on your part. A little time in the oven with this dry rub makes them one of our favorite dinners.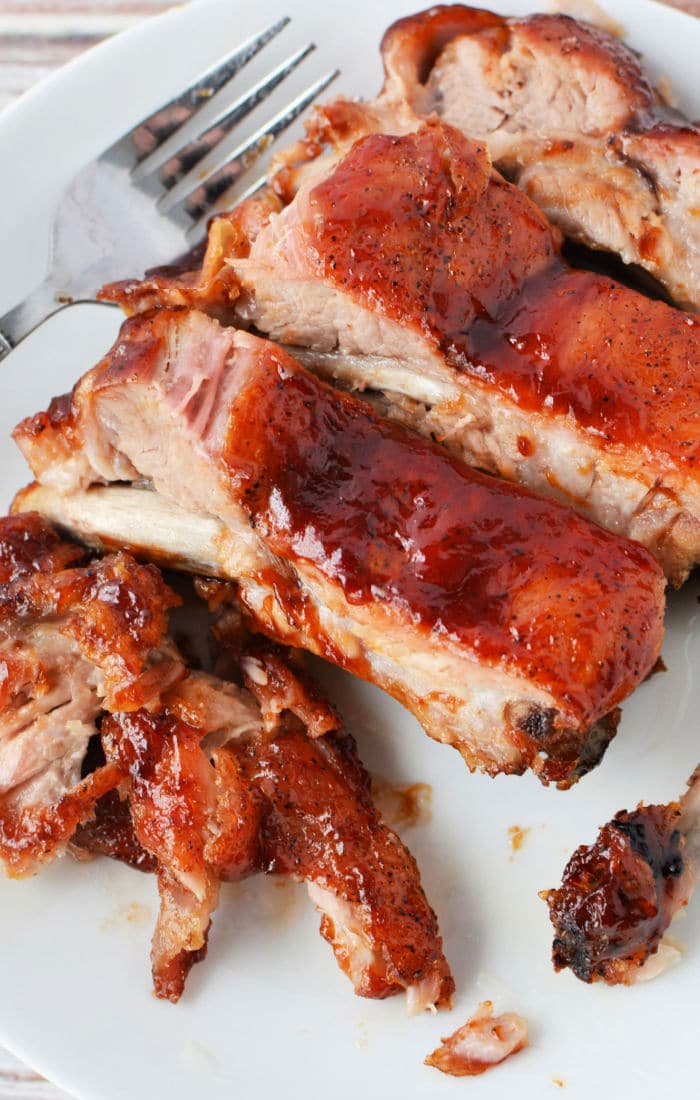 Let me share our recipe for easy crockpot ribs with you! With a schedule like mine (and probably yours too) I love finding and sharing great kitchen "hacks"! A special thanks goes out to Fresh & Easy for sponsoring this post. Here's how you make one of our favorite crockpot recipes. (originally published 10/14, affiliate links present)
Coca Cola Ribs
Ok…..I know I'm not the only one who is super busy! I'm always looking for a good kitchen "hack" that makes my life easier AND creates a meal that everyone loves. 2 ingredient recipes fall into those categories where I can literally throw them in and enjoy once we're back from our day.
If you love pork ribs I will show you a few tips on how to make them as tender as possible. The first tip is to use your slow cooker, that is right. With your favorite classic soda, beer or some apple juice inside they kinda' boil all day long to break down the connective tissues, then you broil with sauce.
FIRST – You should sign up for my free newsletter so you get new posts emailed to you twice a week and never miss out on anything! Let's talk a little bit about slow cooking shall we?? First off I have a few different varieties and I love them all. Each one has an occasion to be used like….
This is my favorite 6 quart programmable one with a locking lid so it's great for bringing to a potluck too.
If you just want to serve a few appetizers you should get this one that sit side by side one another.
I prefer not to use liners, but rather just spray olive oil inside before adding my food for easier cleanups.
Let me give you a peek of my pretty thang I bought recently. It goes with my kitchen so I can just leave it out on the countertop all the time. 😉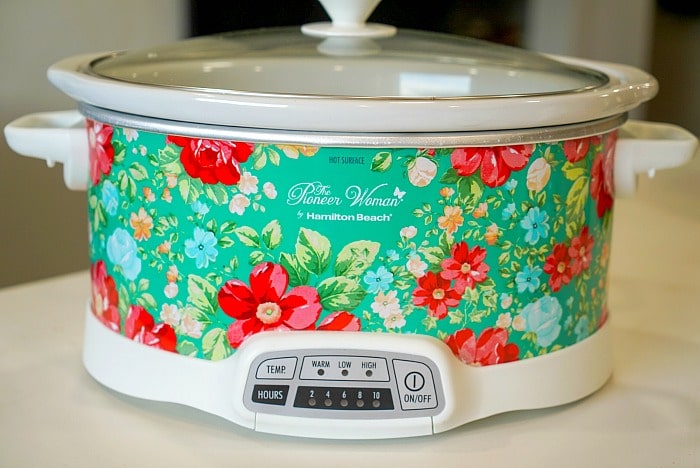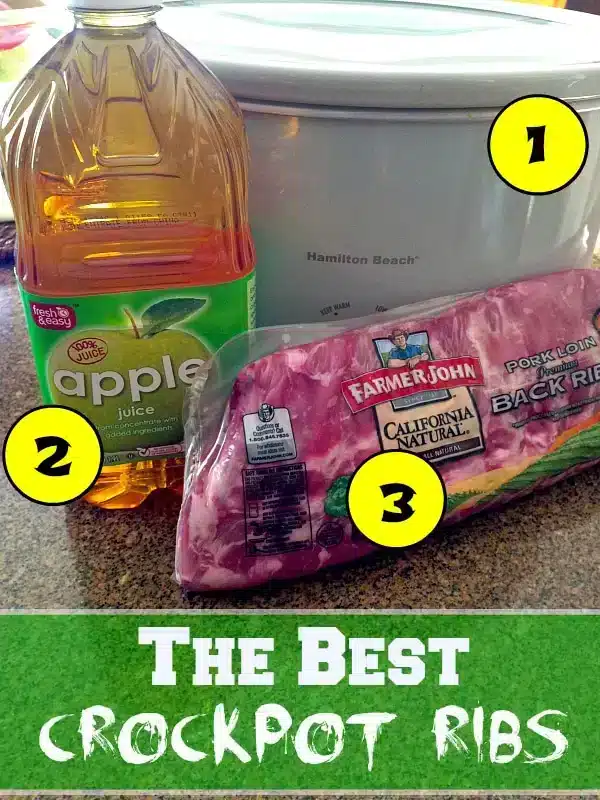 Slow Cooker Ribs Beer
OMG I can taste these already and we haven't even started. As with any of our other recipes there is room to tweak it here and there. You can use any liquid of your choice really. Beer works well like it does with our slow cooker corned beef and cabbage or Coca Cola soda adds flavor too.
If I do use juice I typically buy this variety because it's super yummy and free of artificial colors and flavors. There's an apple cider version you can find in the refrigerated section too. Both are good and work quite well for this recipe.
The cider style leaves more of an applewood flavor to the ribs. Either way though you can't go wrong. So as you may have figured out, the key to this quick and easy meal is the apple juice. Simple kitchen "hack" right??!!!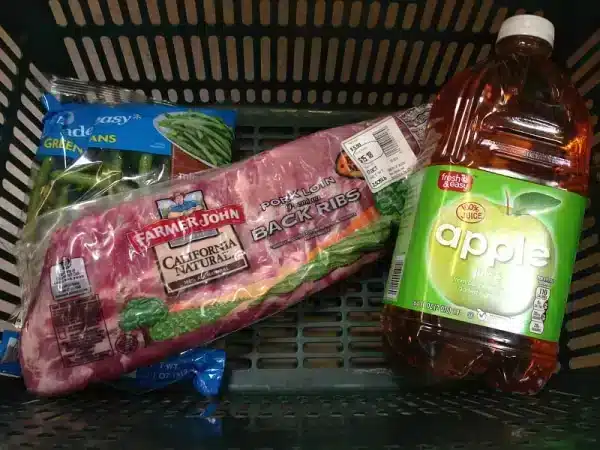 Slow Cooker Ribs and Potatoes
If you ask my kids what they'd choose for dinner, they'd say ribs all day long. Ok, and sushi. I know, totally odd for kids but what can I say…they have expensive and out of the box tastebuds. You could add whole medium Russet or red potatoes into the pot too!
The first thing you'll want to do is remove membrane from ribs so they're as tender as possible. You MUST do this to make them ahhhmazing.
This is the most important step you can do that will just take you about 5 minutes.
If you've never done this, try it this time. I guarantee from then on you will feel and taste the difference and it will be a GAME CHANGER!
Just trust me on this and Do It! 😉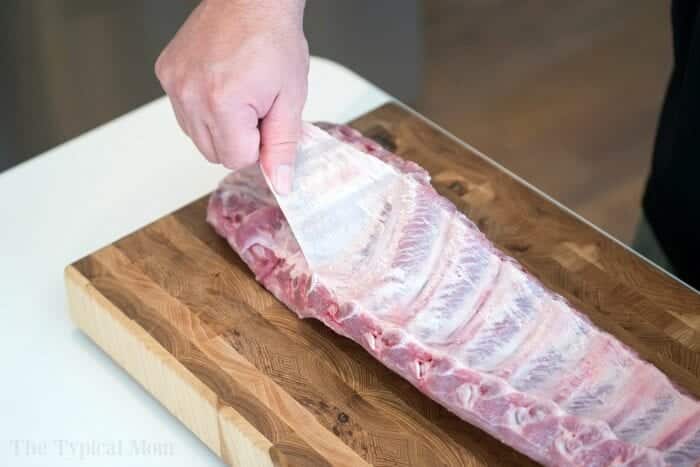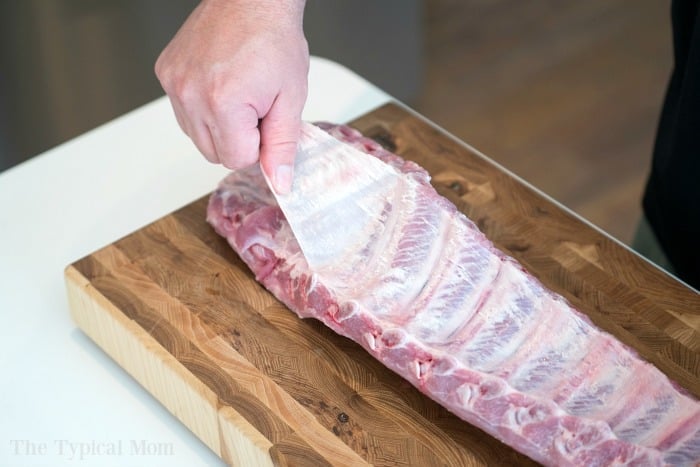 Crock Pot Ribs
Use whatever size fits the amount of food you want to make. It is easy to double and not really need to adjust the timing. There are only 4 of us left at home so one rack is plenty for dinner, with maybe leftovers for lunch the next day.
In the morning, just throw the ribs in your crockpot (I use the largest one I have, the 8.5 quart you can find here is the best)
Then pour apple juice or apple cider on top so that they are fully submerged into that liquid.
Cook ribs on low for 6-8 hours until you can tell they are fall apart tender.

Timing will vary depending on how much meat you put in, how thick they are, and what type of meat you use.
Keep in mind that pork ribs will always become more tender, quicker than beef will.
I only show 1 rack here but if you wanted to double the amount you could as long as your pot is large enough. You will just need more liquid so they're all submerged.
This meal is a perfect kitchen "hack" if you work all day, the majority of the "cooking" is done while you're away!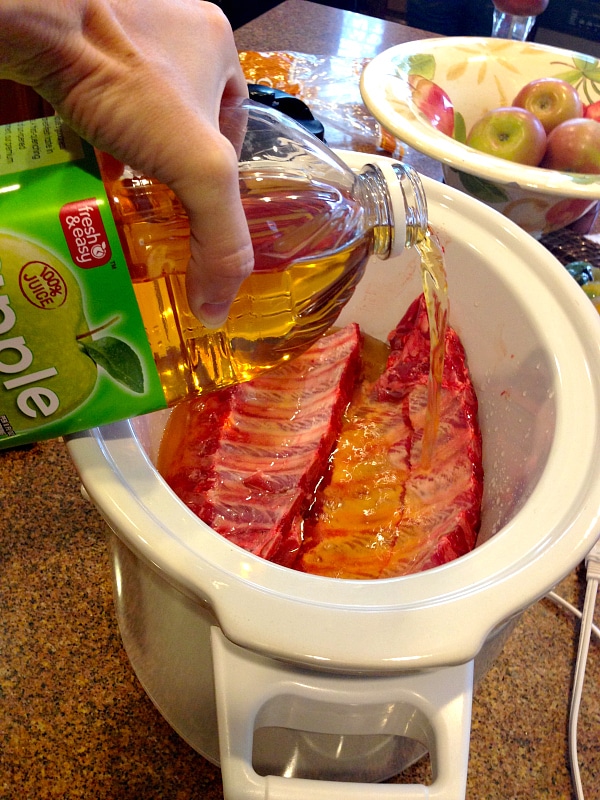 Pork Ribs in Slow Cooker
Ok so I guess you could use beef but I literally never buy that. There is SO much more meat on pork and it gets tender like nobody's business. But as always go with what you love.
When you get home you'll immediately smell the goodness!!
Just turn your slow cooker off, and carefully place the racks of ribs on a baking sheet.

Use tongs and grip as many as possible at a time because they will immediately fall apart as you move them…..yummmmm.

Use the seasonings we suggest below to make a dry rub to sprinkle on OR brush with barbecue sauce generously.

Another option is to keep it simple and lower carb, just sprinkle with salt and pepper and bake. Chili powder will add a bit of heat too.

I put them in the oven for just about 20 min. at 300, or under your broiler for 3-5 minutes. Just until they're the desired crispness for you!
Enjoy!! I threw the bag of green beans in the microwave as our veggie (totally the way to go as they have already snipped the ends off and prepared them. All you do is pop them in and cook for 4 minutes. You can top the ribs off with BBQ sauce if you want.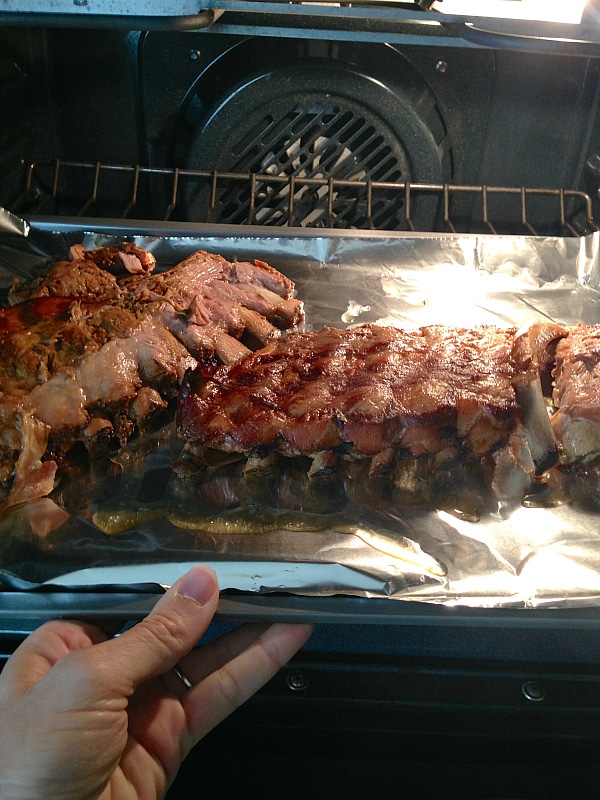 Slow Cooker Coke Ribs
You don't have to buy the name brand either. Cola store brand cans or two liter bottle will do the same thing. My friend swears by using orange soda instead, so just go with it really.
Rack of ribs – we prefer pork

What are the different types of ribs?

Baby back pork ribs don't have as much meat to me

What kind of ribs are the meatiest? Country Style pork ribs are my all time favorite, more meat and very tender
St. Louis isn't my favorite
Pork spare ribs
Baby back beef or short ribs would be at the bottom of my list of choices personally

Apple juice or apple cider
Brown sugar, garlic salt and salt if you want to make a dry rub

We use this method on our barbecue ribs and smoked ribs recipes, everyone raves about those.

OR use barbecue sauce before crisping in the oven
Baking sheet and small bowl of barbecue sauce if you want to crisp them up once they're done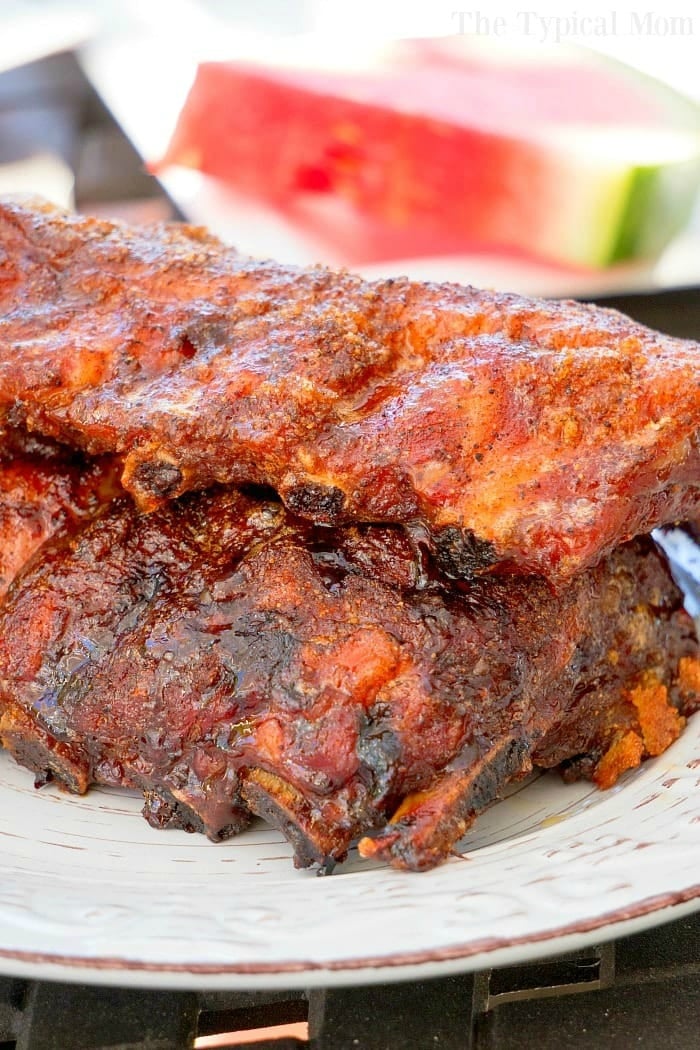 I have a few other easy crockpot recipes as well once you've enjoyed our ribs:
I know, they look amazing right??!! Add more sauce at the end or enjoy as is with some corn on the cob and salad. If you need quicker cook times, try our tender Instant Pot teriyaki ribs recipe or make air fryer ribs. They're both easy recipes and just amazing.
Below you can print recipe and see nutritional facts like saturated fat, etc.. Those will vary according to the weight of your meat and sauce you use though. Get ready for the most amazing fall apart tender meat ever.
Want to see a few of my favorite things that I am totally obsessed with?? Take a peek and see how many you might already have…twinsies!
Looking for more easy family recipes and tips? LIKE The Typical Mom Facebook page?
Then sign up for my free newsletter, and follow me on Pinterest! 😉
***** If you LOVED this recipe give it 5 Stars below and let everyone know what you thought about it. 😉
Easy Crockpot Ribs Coca Cola
Easy crockpot ribs Coca Cola recipe that turns out amazing and is simple to do! These come out super tender cooked all day, then crisped in the oven at the end with a great rub on top.
Ingredients
1

rack

pork ribs

6

c

apple juice

approx., enough to submerge

1/4

c

brown sugar

1

tbsp

salt

depending on taste, adjust

1

tsp

garlic salt
Instructions
Put rack of ribs in large slow cooker. (we remove the membrane first to make them even more tender but that is up to you)

Add enough apple juice so the ribs are as submerged as possible. Put on low and cook for 6-8 hours.

Carefully take out (they will be ready to fall apart) and lay on cookie sheet. Put in oven at 300 degrees for about 20 minutes or until it turns lightly crisp/browned on top of ribs.

*** If you choose to make our dry rub above combine your brown sugar, salt and garlic salt in a bowl and spread evenly on top of your ribs, pat down….then put them in the oven or under your broiler for 3-5 minutes to crisp up. Alternatively you can just brown on bbq sauce before crisping up.
Nutrition Facts
Easy Crockpot Ribs Coca Cola
Amount Per Serving (8 oz)
Calories 324
Calories from Fat 117
% Daily Value*
Fat 13g20%
Cholesterol 83mg28%
Sodium 1242mg54%
Potassium 554mg16%
Carbohydrates 27g9%
Protein 21g42%
Vitamin A 10IU0%
Vitamin C 1.7mg2%
Calcium 45mg5%
Iron 1.2mg7%
* Percent Daily Values are based on a 2000 calorie diet.
Easy Peasy and so Fresh & Easy. 😉 Tell me your secrets…….come on, you know you have a kitchen "hack" too. Please share below, this busy Mama wants to know!