This Instant Pot teriyaki ribs recipe is sweet and spicy all rolled into one. Fall off the bone pressure cooker ribs done in 25 minutes and just amazing! If you love beef or pork ribs but don't have all day to make them perfect use this method, you'll never make ribs another way again.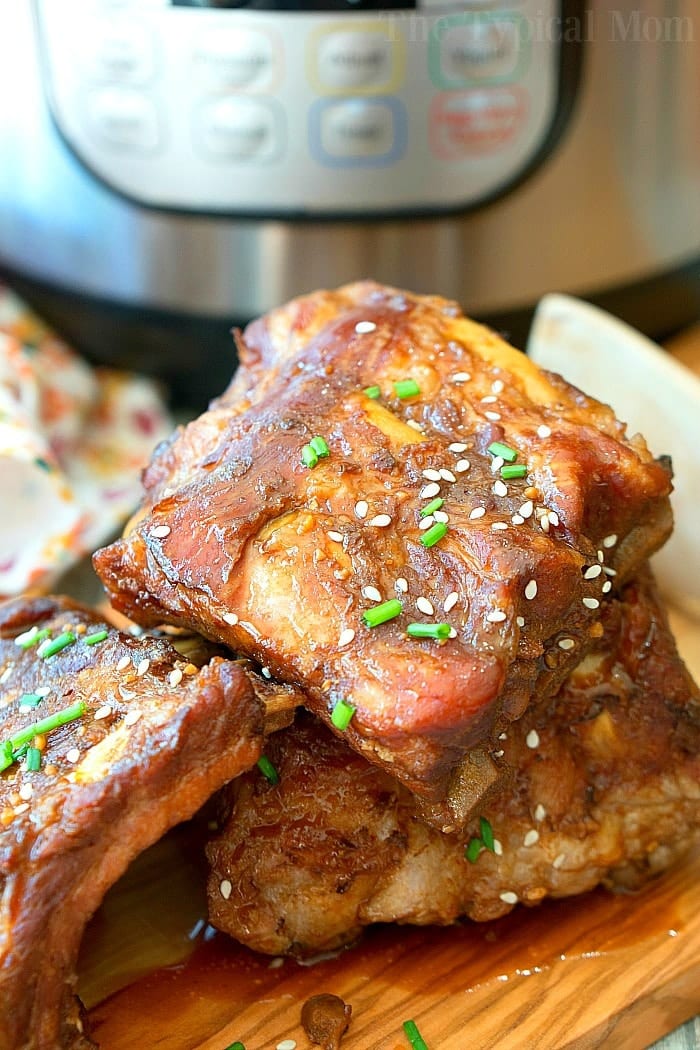 I am a sucker for two things at dinnertime, ribs and anything teriyaki! Combining the two for this easy Instant Pot teriyaki ribs recipe is just heaven I tell you! Definitely on the top of our list of favorite and quick Instant Pot recipes now. (affiliate links present)
Instant Pot Asian Ribs
We love baking teriyaki chicken legs in our oven but this method of cooking is just so much faster. Now we can use the same sauces and flavors we love and have dinner ready in no time. You could use any brand of pot you have. Crockpot Express and Ninja Foodi machines will work just as well.
First thing you'll need to do is remove membrane from ribs so they're as tender as possible. You can see below what it looks like. If you leave it on you won't get them to fall apart or release from the bone as you ultimately want. We will go over this step by step below.
FIRST – You should sign up for my free newsletter so you get new posts emailed to you twice a week and never miss out on anything! Now let's start with a few basic tips:
Make sure to Bookmark our InstaPot recipes page. We add new ones each week!
Then PRINT this —–> Instant Pot cooking times cheat sheet that will help you understand how long meat, vegetables and beans take to cook in your pressure cooker.
For reference, this is the pressure cooker I have (a 6 quart) and use for all recipe creations.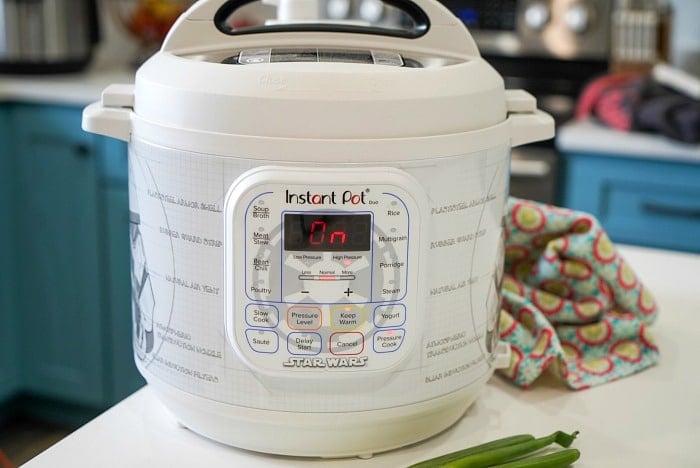 Teriyaki Instant Pot Ribs Recipe
Fall off the bone tender pork ribs with a sweet and spicy teriyaki sauce that you can make right at home with just a few ingredients (way better than the bottled stuff). Here is just how easy they are to make…you'll never wait all day for them to cook in the oven or barbecue anymore
Do you have one of these fancy pressure cookers yet?? Don't be intimidated.
Yes I too left it in the box for a few months after I grabbed this Instant Pot online. I wasn't sure what to do with it, but now it is so easy to sue!
Ninja Foodi Teriyaki Ribs
I've made easy crockpot ribs for years and yes they are great but they take all day…..This is how long to cook ribs in oven at 350 which is definitely a faster method than the first but still does take some time low and slow. If you are in a hurry or don't wan to heat your whole house up by baking them then this is the answer.
This way everything is made so quickly and turns out amazingly well. I first started experimenting with teriyaki recipes when I made these Instant Pot spicy teriyaki chicken thighs. With that I came up with my own killer sauce that I gave a bit of heat to but could use bottled if you preferred.
We will show you how to remove the layer of membrane here which is not a must but highly recommended.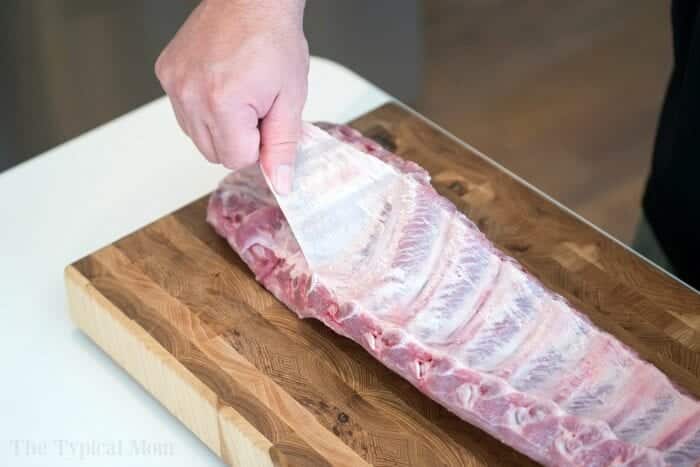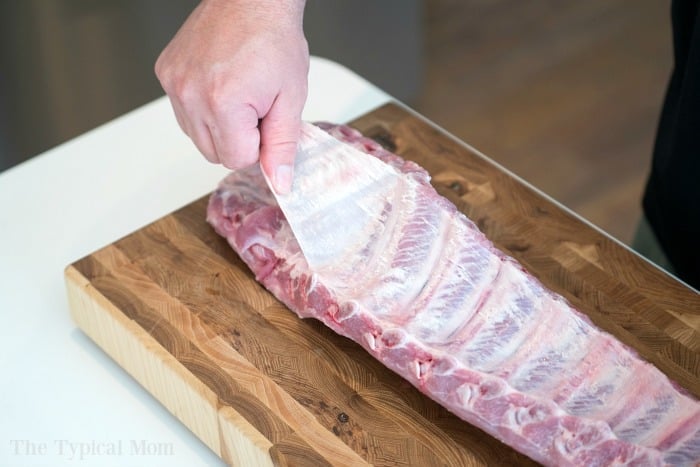 Hoisin Ribs Instant Pot
These were such a hit because I used my homemade teriyaki sauce instead of bottled. I've used soy vay with our Instant Pot teriyaki chicken, but I'd suggest this version.
How many ribs can you fit in an Instant Pot?
I usually just cook 1 at a time but you could fit 2 racks of baby back ribs in my 6 quart. If you cut the racks into pieces, you can more likely fit more than that in your pot, especially in an 8 quart.
How long does it take to cook frozen ribs in an Instant Pot?
As long as your frozen ribs are already cut into smaller sections so they fit, you can use this recipe. With a pressure cook time of 35 minutes you can cook ribs followed by a 15 minute natural release.
Instant Pot teriyaki ribs recipe
This is how to make homemade teriyaki sauce for this and other recipes. Of course you could use a jar of bottled off the shelf too if needed.
Soy sauce
Sriracha
Chopped ginger
Beef broth
Minced garlic is seriously something I add into almost every recipe I create.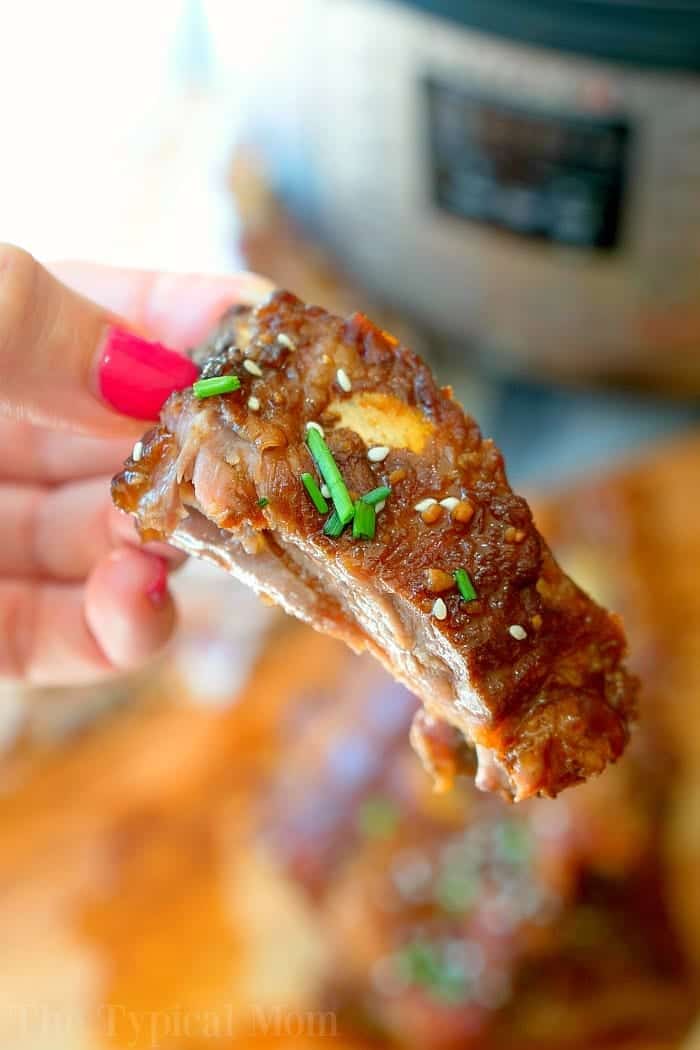 Teriyaki Ribs Recipe
I cut my rack of ribs into smaller pieces to fit into my 6 qt. Instant Pot. I wanted to soak up as much sauce as possible (if you have a larger one you may not need to cut them).
What I did is cut the rack into pcs with 3 ribs on each piece and put them on the bottom trying not to overlap them.
Then I poured the teriyaki sauce I made over the top so they are mostly submerged. If you are doubling the amt. of ribs in this recipe I might make 1.5x the teriyaki sauce so that there is enough liquid for the meat to essentially boil in the juices. How to crisp your ribs: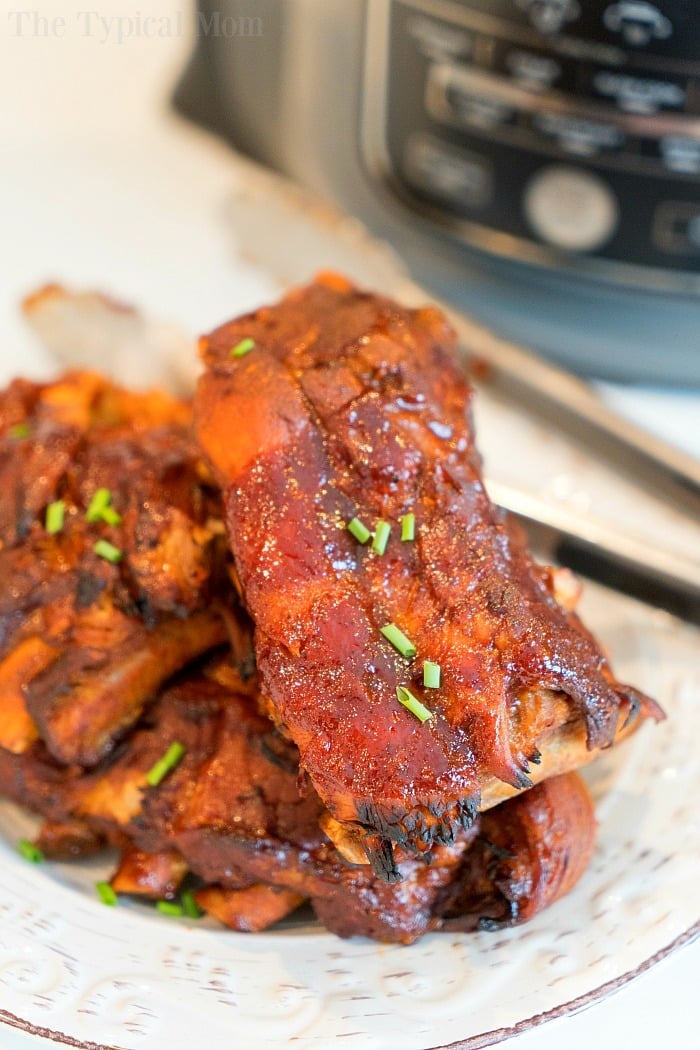 Ribs in Instant Pot
Follow directions below
When done put on a baking sheet
Put under the broiler for 4-5 minutes or until crispy on top for your liking
If you are making Ninja Foodi ribs

place ribs with meat facing up into air fryer basket
pour liquid from pot into a bowl
Close your air fryer lid and set to 390 degrees for about 4 minutes or until they are as crispy as you'd like them. In a bowl whisk together all teriyaki sauce ingredients like brown sugar and hoisin sauce. You can add black pepper too if you like.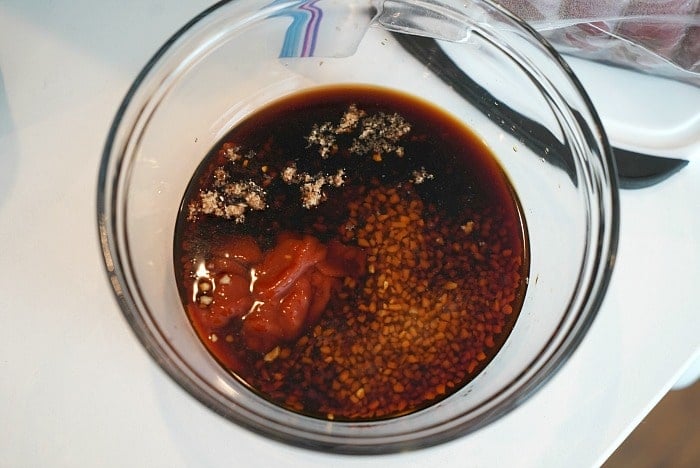 Place ribs vertically in your pot in a circle, or cut into 3-4 ribs each piece and place with end of rib on bottom. Pour sauce over the top.
Close lid and steam valve. Set to high pressure for 35 minutes for 1 rack. Allow for a 10 minute pressure release when done. If cooking Pressure cooker frozen short ribs follow these instructions. Remove the ribs and pour some sauce from the pot on top. Sprinkle with sesame seeds and enjoy.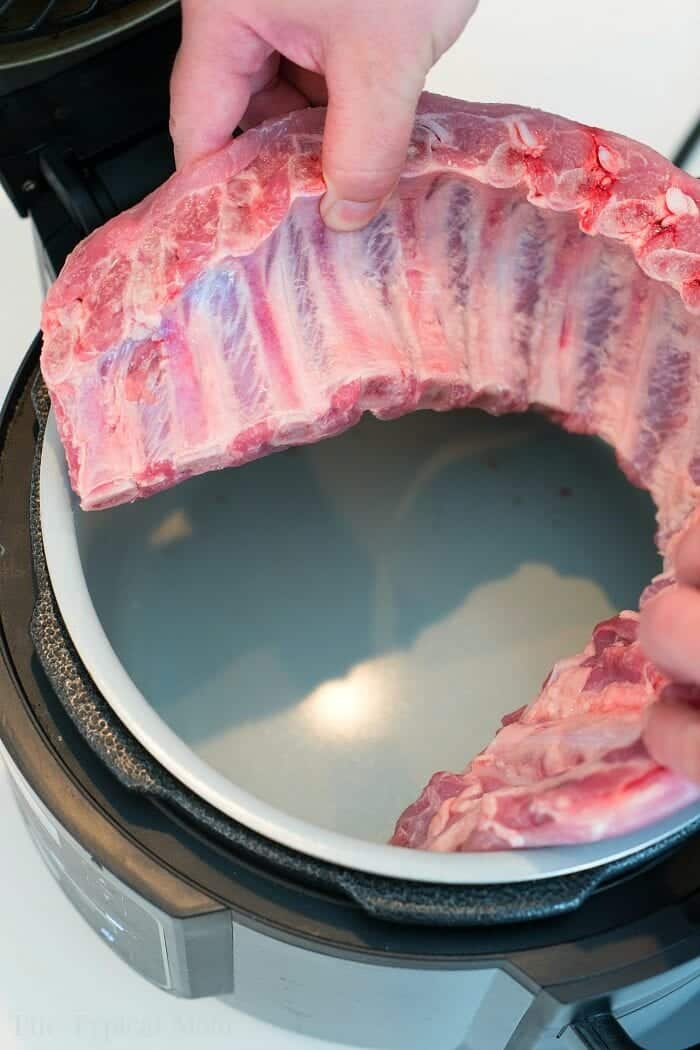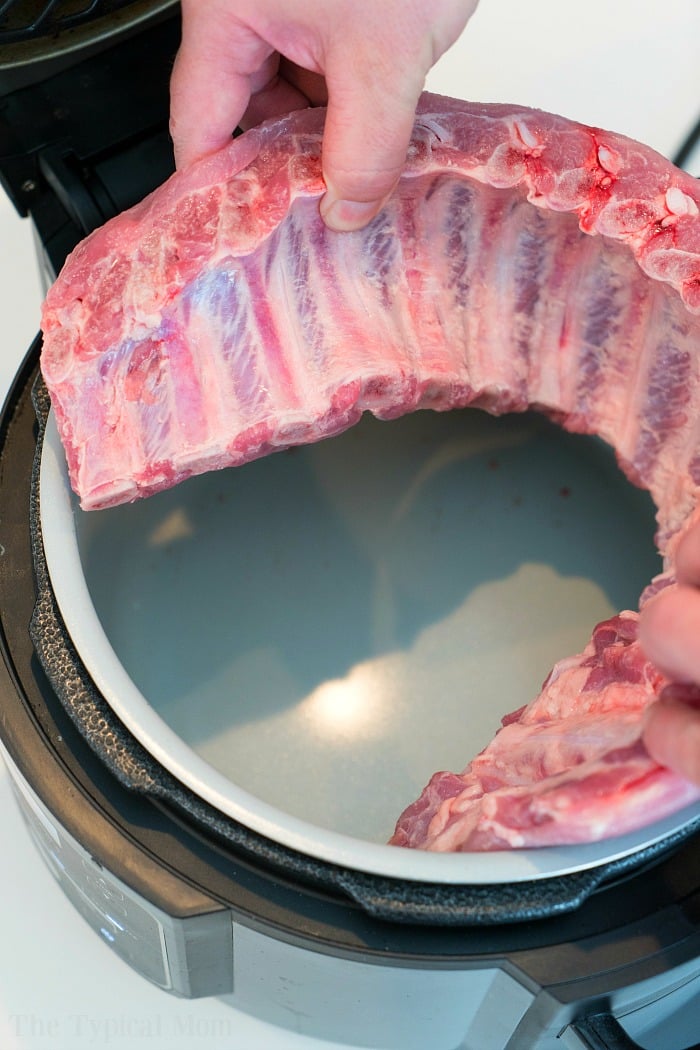 Is pork or beef ribs better?
That depends on whom you ask. For me pork rules any day of the week! I feel it's way more tender and falls off the bone easily. Country style is best if I can find it, spare ribs after that, baby back has the least amount of meat. Our country style pork ribs Instant Pot recipe is amazing too if you prefer that type.
How long do leftover ribs last?
Allow them to completely cool (for about 30 minutes) and then store in airtight freezer bags or wrapped in aluminum foil. Put in the fridge for up to 3-4 days. Reheat in oven at 350 F or in microwave in 30 second intervals, turning in between.
Want to see a few of my favorite things that I am totally obsessed with?? Take a peek and see how many you might already have…twinsies!
Looking for more easy family recipes and tips? LIKE The Typical Mom Facebook page?
Then sign up for my free newsletter, and follow me on Pinterest! 😉
***** If you LOVED this recipe give it 5 Stars below and let everyone know what you thought about it. 😉
Instant Pot Teriyaki Ribs Recipe
This Instant Pot teriyaki ribs recipe is sweet and spicy all rolled into one. Fall off the bone pressure cooker ribs done in 25 minutes and just amazing!
Instructions
Mix all sauce ingredients together well.

If you have a 6 qt. pot cut rack of ribs into pcs. of 3 ribs each piece and place at bottom of Instant Pot or pressure cooker vertically so meat it not laying right on the bottom of the pot. If you have a larger pot you can just wrap in a circle with meat facing sides in one piece.

Pour teriyaki sauce on top.

Close lid, and steam valve.

Set to pressure high for 25 minutes. (if doubling this recipe I would set to 40 minutes for really fall off the bone ribs)

Do a natural release for at least 10 minutes.

If you want a bit of crispy texture on outside put under your broiler for about 4-5 minutes to crisp the outside of the ribs.

Pour some sauce from inside your Instant Pot on the ribs and serve!
Nutrition Facts
Instant Pot Teriyaki Ribs Recipe
Amount Per Serving (4 oz)
Calories 122
% Daily Value*
Sodium 2388mg104%
Potassium 146mg4%
Carbohydrates 24g8%
Protein 4g8%
Vitamin C 5.5mg7%
Calcium 30mg3%
Iron 1.1mg6%
* Percent Daily Values are based on a 2000 calorie diet.