These are some of the most incredible Instant Pot spicy teriyaki chicken thighs I've ever made in my pressure cooker! Moist chicken with a thick sweet and spicy homemade teriyaki sauce you and your kids will love. Healthy dinner loaded with lots of flavor and made in less than 15 minutes!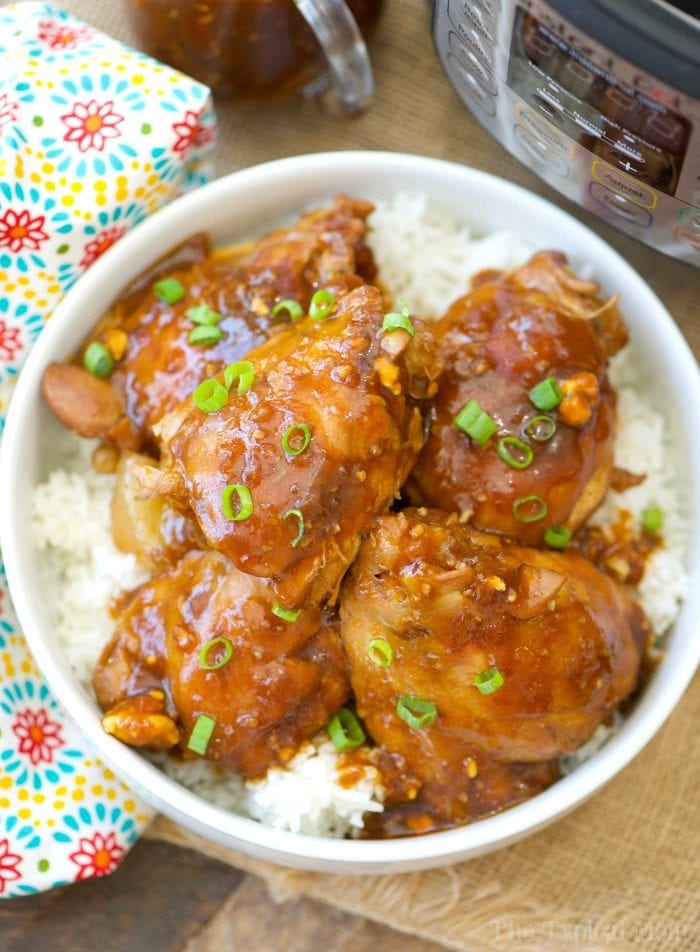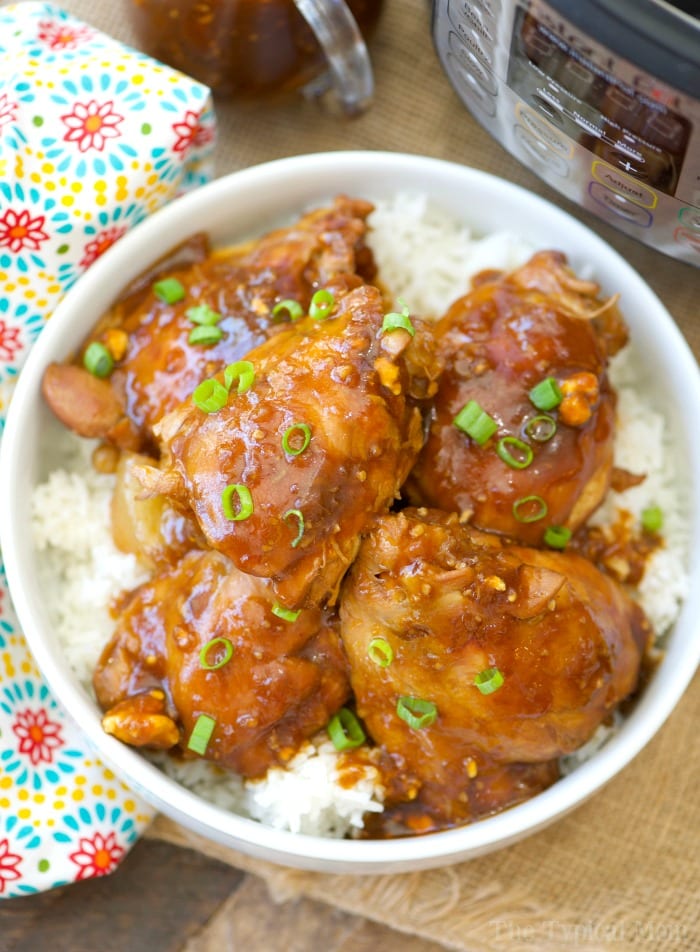 These Instant Pot spicy teriyaki chicken thighs came out SO amazing I am still talking about them! I have created a lot of new Instant Pot recipes here on The Typical Mom since I got my favorite 7 in 1 pressure cooker appliance but this is a favorite. (originally published 5/17, affiliate links present)
Instant Pot Teriyaki Chicken Thighs
You know every once and a while you come up with something you can actually pat yourself on the back for? Well these thighs in the Instant Pot is one of those.
This time I wanted to see if I could come up with a sauce of my own that had some spice to it and they came out so amazing!
FIRST – You should sign up for my free newsletter so you get new posts emailed to you twice a week and never miss out on anything! Now let's start with a few basic tips:
Make sure to Bookmark our InstaPot recipes page. We add new ones each week!
Then PRINT this —–> Instant Pot cooking times cheat sheet that will help you understand how long meat, vegetables and beans take to cook in your pressure cooker.
For reference, this is the pressure cooker I have (a 6 quart) and use for all recipe creations.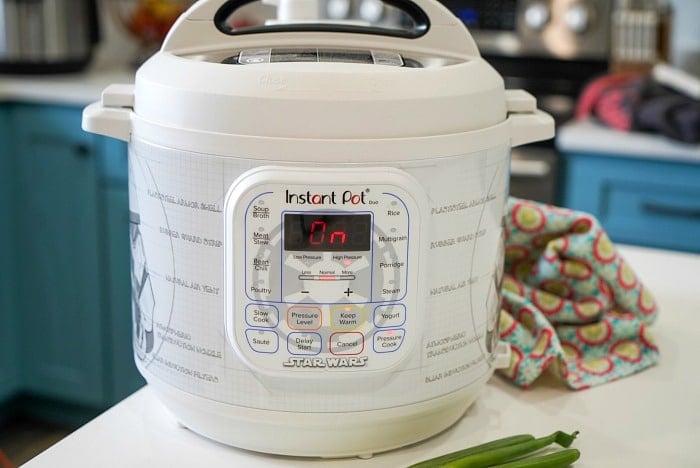 Instant Pot Spicy Teriyaki Chicken
Chicken is a staple in our house and I probably cook it 3-4 times a week in some form. So, I like to have a few great recipes to choose from so things don't get too redundant.
Why do I love chicken thighs vs. other parts?
They are super cheap
Chicken thighs have a ton of flavor compared to breasts
Thighs are so much more tender than chicken breasts
Of course this is my opinion so of course you will have your own preference but typically when I try a new recipe I like to use chicken thighs even if they aren't the traditional cut used.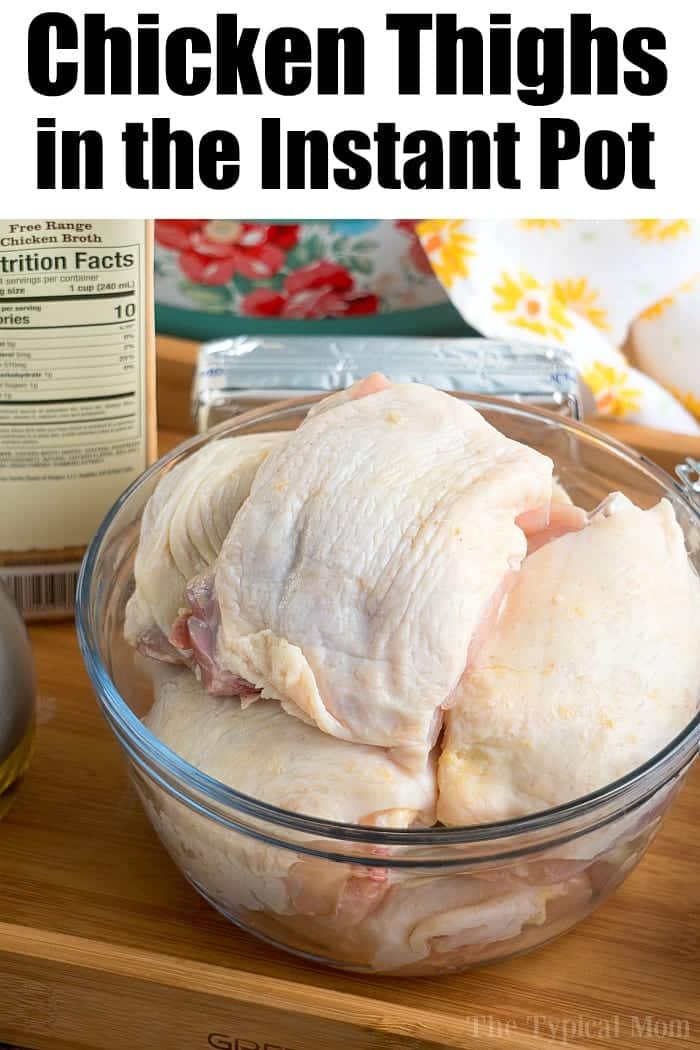 Ninja Foodi Teriyaki Chicken Thighs
Ok…..that's my 2 cents on to a few questions you might have right about now:
What flavors compliment teriyaki?
My first thought is pineapple! I use a small can of tidbits sometimes when I use this type of sauce. Sesame seeds are often found inside or sprinkled on top too. A bit of sweetness like honey is nice too.

Add rice with a one pot Instant Pot teriyaki chicken and rice meal and the flavors will really explode.
Is teriyaki chicken spicy?
Not typically but when you make homemade teriyaki sauce like we did here you can amp up the heat if you want! We like it closer to mild or medium but it is totally up to you. Add more Sriracha if you desire.
That is one of the many great things about this creation. Make it exactly as you wish. Below is a pic of our 2nd time making it, now we have a non stick pot which I highly recommend.
Not only is cleanup easier but it doesn't trigger the burn notice like ever. Most of the time that is false and quite annoying.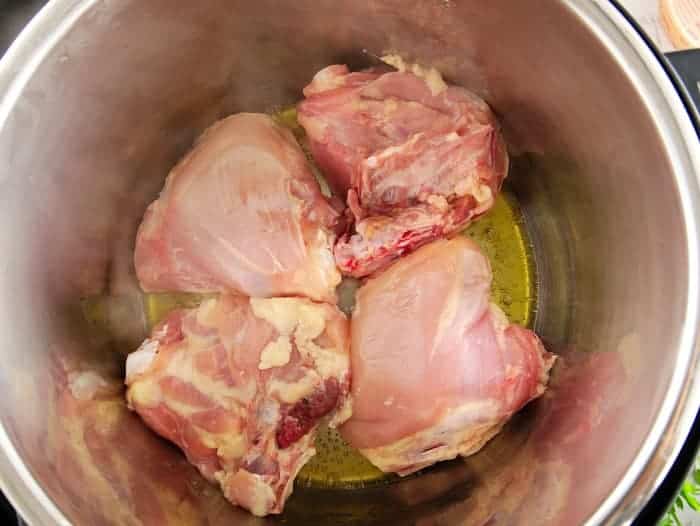 Instant Pot spicy teriyaki chicken thighs
Instant Pot or pressure cooker

I HIGHLY suggest you use this non stick pot

Chicken thighs (mine were skinless, bone in, I've used skin on too)

some have used boneless skinless chicken thighs and it works well too
this is how to make frozen chicken thighs Instant Pot style

Olive oil
Ingredients for spicy teriyaki sauce

Brown sugar
Soy sauce
Cornstarch – thickener
Sriracha – can leave out if you don't want it spicy at all

Salt and pepper to taste
We serve these over a bed of rice or as is with a side of dinner rolls.
This are the steps to take in order to make our spicy Instant Pot teriyaki chicken thighs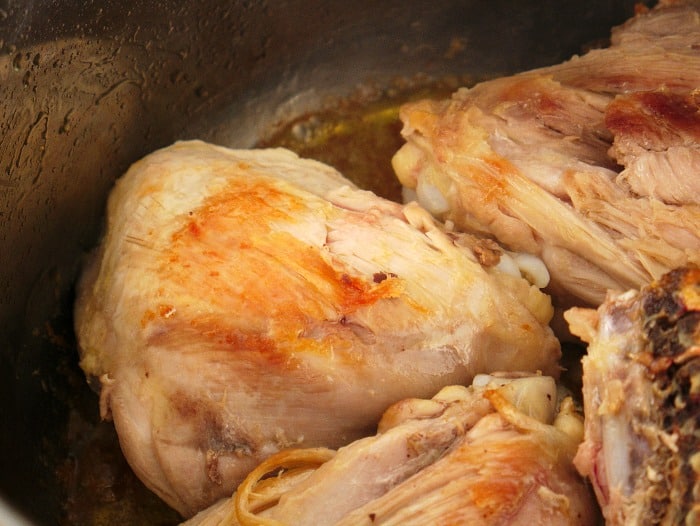 You can use either skin on or off. I prefer skinless but it depends on what I have on hand really so I have used both.
First set pot to saute and add olive oil or a bit of sesame oil.
Then once it is hot add your thighs inside so you can brown the outsides, the inside meat will not be fully cooked yet.
Turn pot off and remove chicken so you can deglaze the pot with a bit of your broth

make sure you get all browned bits off the bottom to avoid burn message
having a non stick pot is very helpful for this too, that pot is not shown above as I bought it later and it's amazing

Add the chicken in the Instant Pot with your onions.
In a bowl whisk together your homemade teriyaki sauce (with only 1 tbsp corn starch) and pour that in too. Taste as you mix. If you want it spicier then add some red pepper flakes into the mix.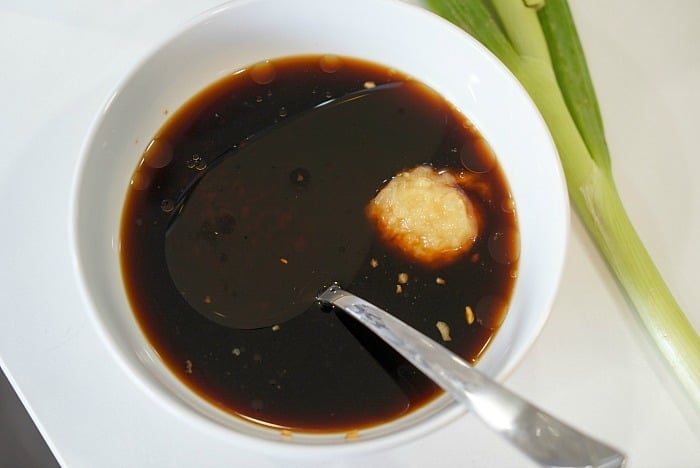 Teriyaki Chicken Thighs Instant Pot
Close lid and steam valve and set to high pressure for 12 minutes.
After your Asian chicken is done I move the steam valve just slightly so the steam comes out really slowly and then lift the lid.
Remove chicken and keep warm.
In a small bowl whisk together some of your hot liquid with remainder of your cornstarch until smooth.
Set pot to saute and pour this in, allow heat to allow it to bubble and thicken the sauce. Then serve it over brown rice or alone.
Then it will look like this, a thick glaze that is sweet, savory and spicy if you want the heat. By all means you can make pressure cooker teriyaki chicken thighs mild too and skip all of the hot elements.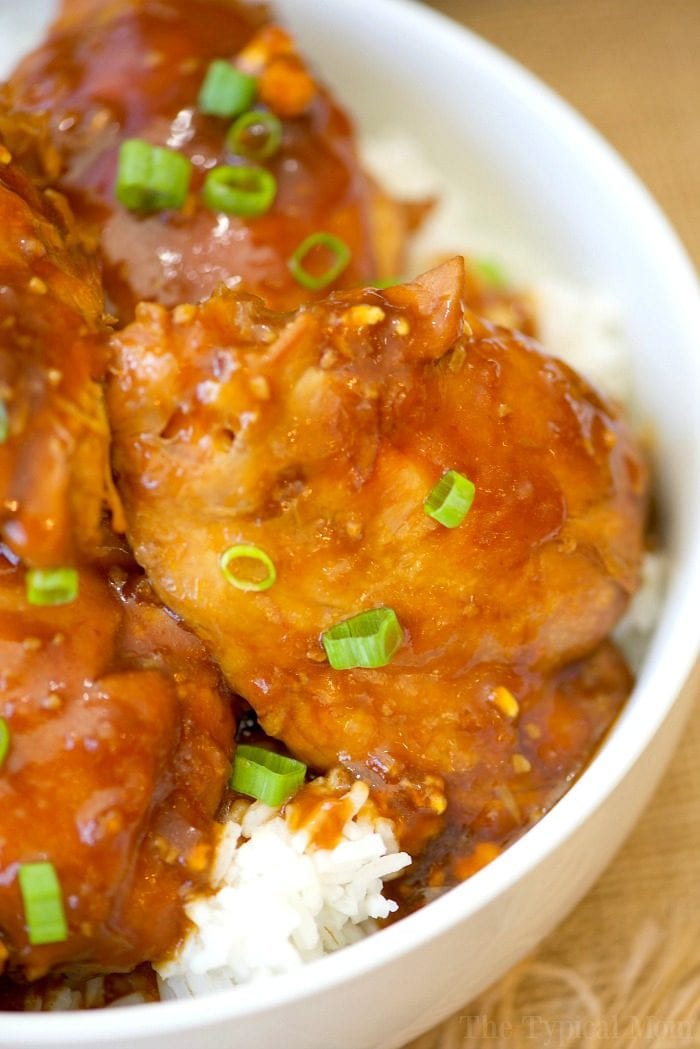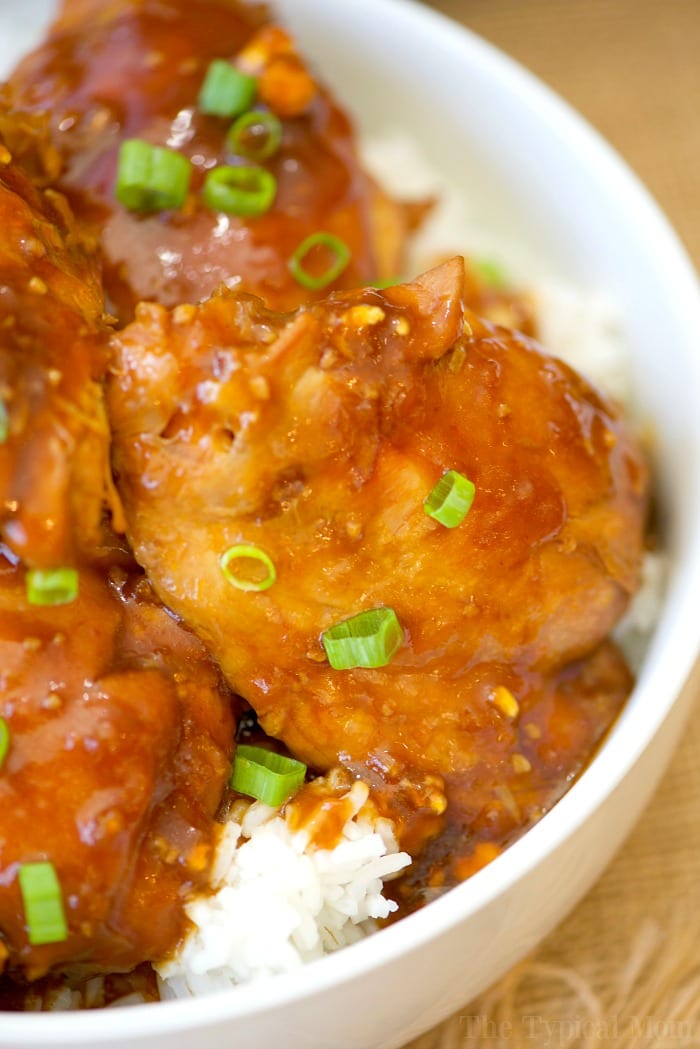 Ninja Foodi Chicken Thighs
Pressure cooking the chicken in the spicy sauce allows it to marinate and soak up all the flavors while it cooks. It's way better than just pouring it on top.
You just brown the chicken on saute function
The sauce can be adjusted to the heat level of your liking

I do not like a lot of spicy foods but this one is just right and my kids loved it too.
Looking for more Instant Pot chicken recipes to enjoy for dinner?
These Instant Pot bone in chicken thighs are great too.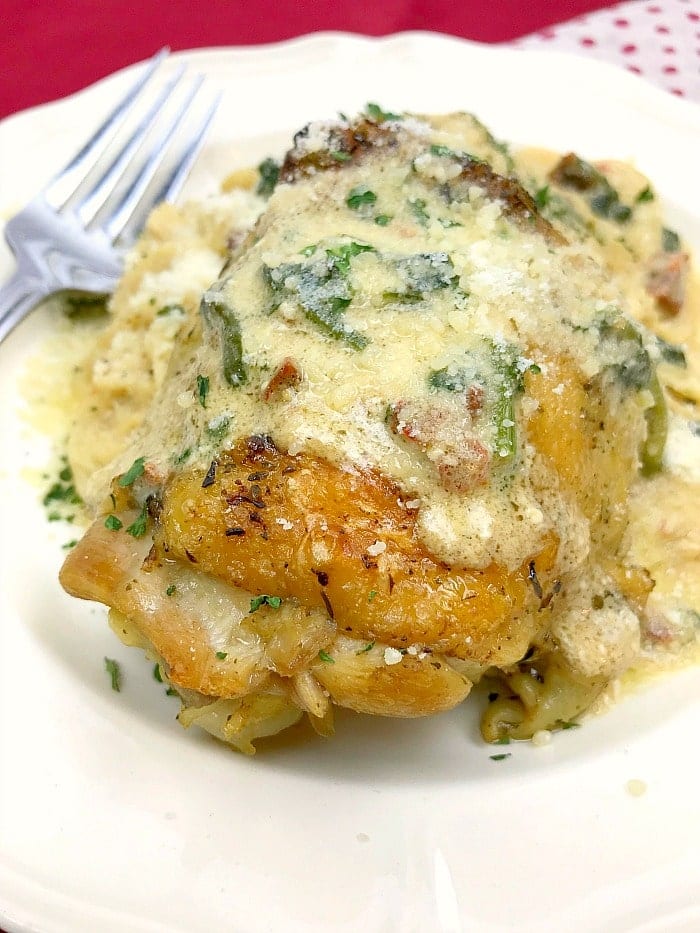 Teriyaki Chicken Recipes in Pressure Cooker
If you love using thighs regularly, you should try baked teriyaki chicken thighs or teriyaki chicken legs in the oven, so good!
The cooking time is quick for this meal vs. a slow cooker so it's my go to method. If you don't have a pressure cooker but looking for amazing chicken thigh recipes, try this chicken thighs recipe or air fryer chicken thighs as well
Easy side dishes that are great served with this spicy teriyaki chicken recipe.
Instant Pot mashed potatoes are simple and very inexpensive to make.
Best green bean recipe is here to try, or whip up some of our lightly breaded and crispy air fryer green beans.
Then try our spicy honey Instant Pot chicken or air fryer teriyaki chicken. The latter is great for little hands because it's cut into bite size pieces initially.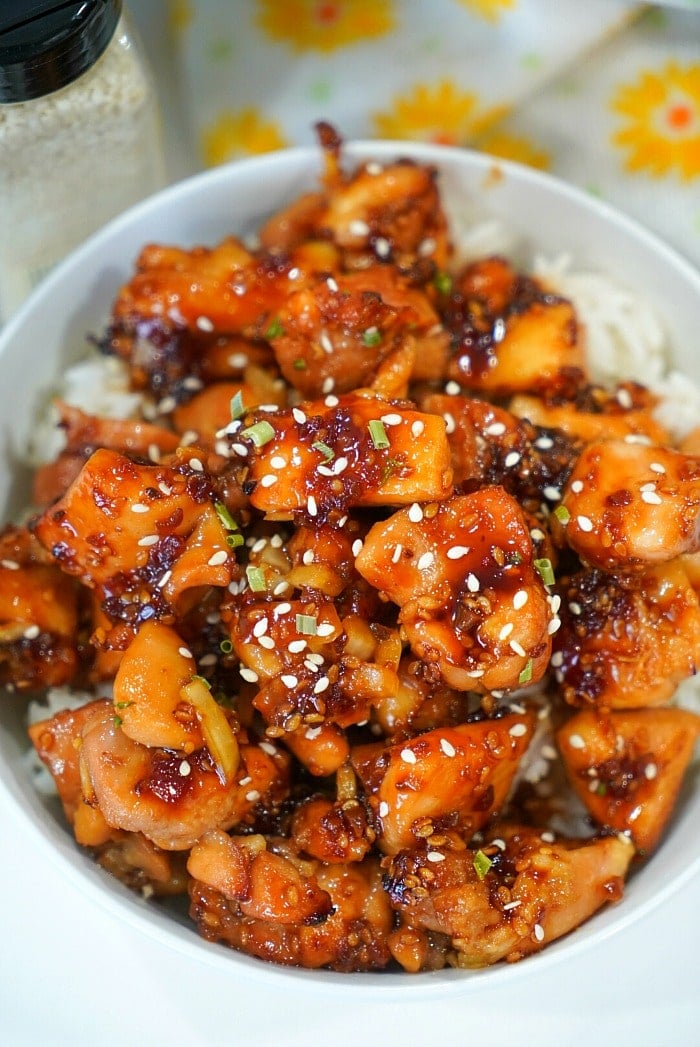 When it's done make sure to spoon the sauce at the bottom of the pot on top of each piece! Here's the printable recipe.
Instant Pot chicken thighs
Want to see a few of my favorite things that I am totally obsessed with?? Take a peek and see how many you might already have…twinsies!
Looking for more easy family recipes and tips? LIKE The Typical Mom Facebook page?
Then sign up for my free newsletter, and follow me on Pinterest! 😉
***** If you LOVED this recipe give it 5 Stars below and let everyone know what you thought about it. 😉
Instant Pot Spicy Teriyaki Chicken Thighs
These are some of the most incredible Instant Pot spicy teriyaki chicken thighs I've ever made in my pressure cooker! Moist chicken with a thick sweet and spicy homemade teriyaki sauce you and your kids will love. Healthy dinner loaded with lots of flavor and made in less than 15 minutes!

Instructions
Remove skin from chicken thighs.

Turn your Instant Pot to saute, low.

Pour a few tbsp of olive oil in and set your chicken thighs inside.

Cook just so outside of thighs are cooked/lightly browned. Turn pot off and remove meat so you can deglaze the pot with a bit of your broth (scrape bottom to get stuck on meat off)

Add your chicken back in the pot, then add diced (or large pcs) of onion.

In a bowl whisk together all other ingredients, (but only use 1 tbsp of cornstarch right now). Remaining 4 tbsp of cornstarch will be used at the end once the chicken is done to thicken sauce.

Pour sauce over chicken and onions in your Instant Pot.

Put lid on Instant Pot, close steam valve and set to manual, pressure, high, for 14 minutes.

When done move steam valve just slightly so steam comes out slowly, then lift lid carefully.

Remove chicken, set Instant Pot to saute, and in a little bowl whisk 4 tbsp of cornstarch with some of the hot liquid in your pot. Pour this into your pot when that liquid is bubbling.

Allow to bubble for 2-3 minutes so it can thicken.

Turn off, sauce will thicken as it sits too. Put chicken back into liquid to coat outside.

Serve over rice with a drizzle of more spicy teriyaki sauce and diced chives if desired on top.
Nutrition Facts
Instant Pot Spicy Teriyaki Chicken Thighs
Amount Per Serving (8 oz)
Calories 421
Calories from Fat 207
% Daily Value*
Fat 23g35%
Cholesterol 133mg44%
Sodium 1919mg83%
Potassium 418mg12%
Carbohydrates 27g9%
Protein 25g50%
Vitamin A 120IU2%
Vitamin C 9.6mg12%
Calcium 36mg4%
Iron 1.8mg10%
* Percent Daily Values are based on a 2000 calorie diet.