Best air fryer chicken thighs ever! Use this dry rub for chicken to make sweet and crispy chicken in an air fryer that's tender and juicy inside. Yum!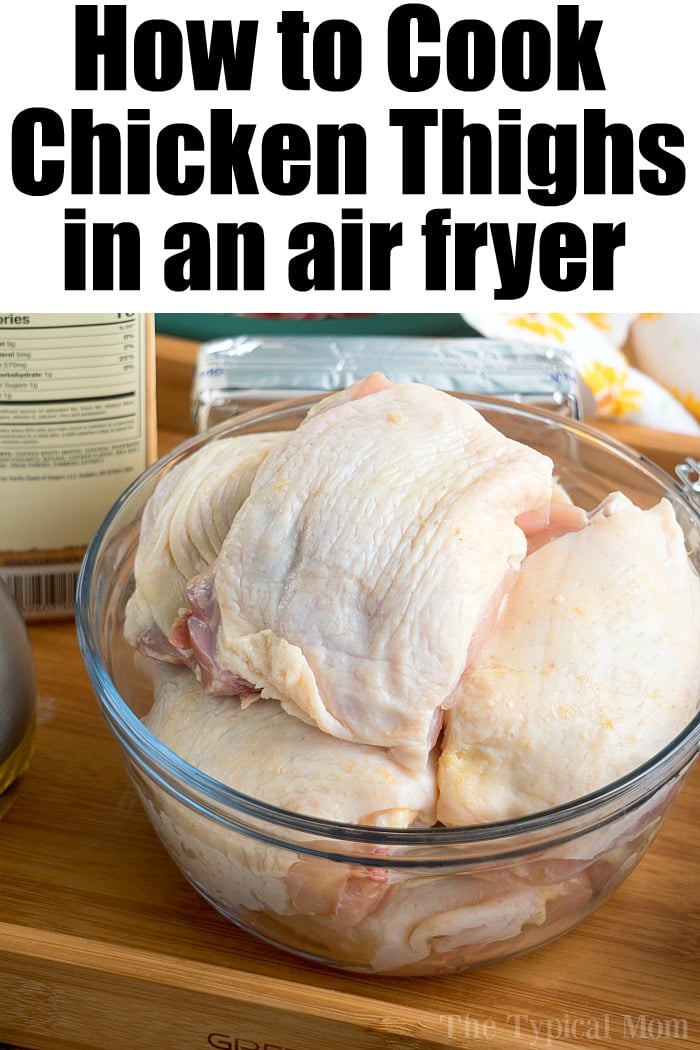 Yes, I have been obsessed with creating easy air fryer recipes lately! For breakfast, lunch and dinner our handy crisping machine comes out and these air fryer chicken thighs were our latest meal. Using our sweet dry rub for chicken thighs everyone gave it a thumbs up. (originally published 4/19, affiliate links present)
Why do we love air fryer chicken thighs??
Thighs are really cheap
The meat inside is super moist
If you use bone-in with the skin on the tops will get deliciously crispy
They're done start to finish in about 30 minutes
This is what we started with here. I bought basic store brand bone-in chicken thighs with the skin on. They are the cheapest cuts of chicken ever and overlooked a lot I feel. Once they're done they'll be packed with flavor, tender on the inside and crispy skins on the outside.
What you'll need to make chicken in an air fryer:
4 chicken thighs – can use more but 4 fit perfectly without overlapping

We used bone-in with the skin on
If using boneless minutes would need to be adjusted for less time

Spices

Use what you normally would use to coat a whole chicken and bake it.
We also have a recipe below for a sweet brown sugar mixture you can try, or use our marinated chicken air fryer sauce.

I love using this air fryer grill pan.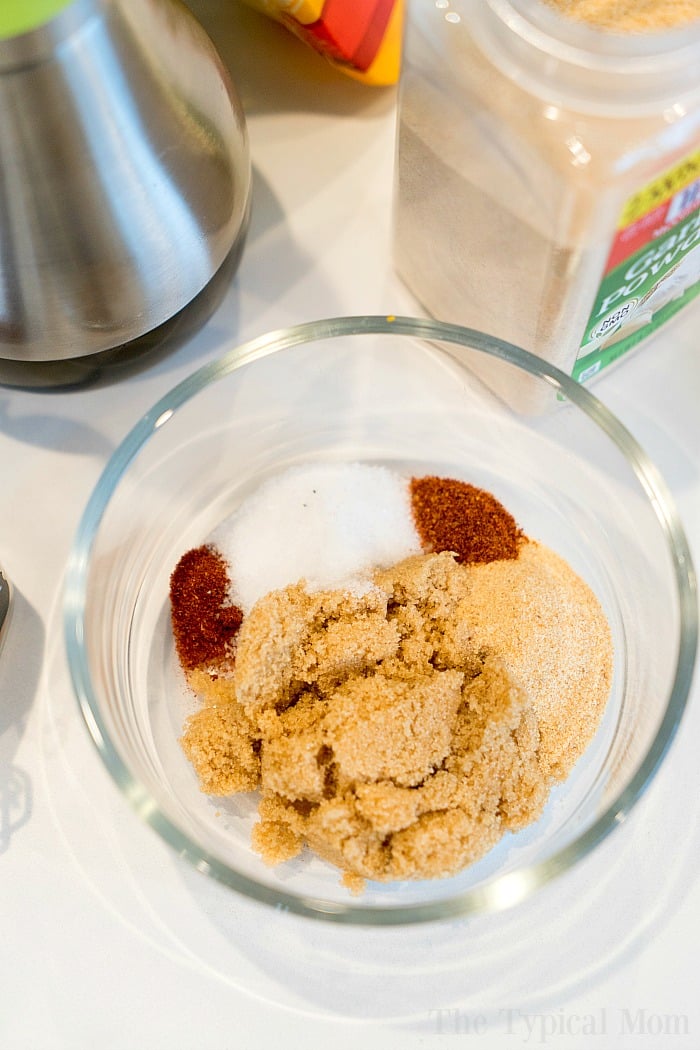 Our dry rub recipe for chicken
Rub thighs with olive oil, then mix:
Brown sugar – optional
Salt
Garlic powder
Paprika
Chili powder
Black pepper can be added too if you like
Other ideas for a dry rub for chicken thighs
Massage chicken thighs with olive oil, then use:
Or mix even amounts of salt, pepper, and garlic powder
Another option is to go simple with a sprinkle of Lawry's seasoning
Marinating is great too. We did this with our sheet pan chicken thighs.

Soak your thighs in your favorite type overnight in the fridge.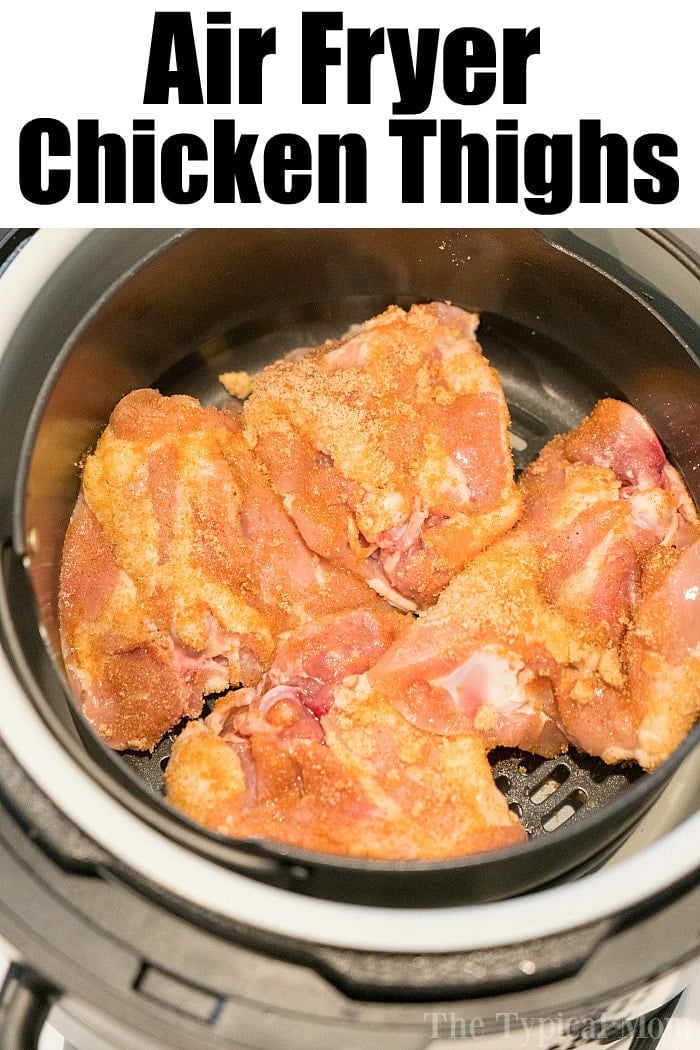 If making our brown sugar chicken rub the top skin will get dark brown because the sugar is going to caramelize. Not to worry. We did 10 minutes time once the skin was facing up and everyone in the house agreed that they were amazing!!
What temperature do you cook chicken in an air fryer? It depends but this one is perfect set to 375 degrees. Other chicken recipes may be set to a bit lower or higher depending on whether the pieces are breaded or not and how thick they are.
Total cook time for our chicken thigh recipe was 25 minutes. Timing will vary slightly depending on how large each piece is. Our total weight for 4 pcs. was 2.3 lbs.
Use this air fryer cook times printable for more info.
You'll cook chicken thighs in the air fryer basket you have.
Always ensure the internal temperature of your piece of chicken is at least 165.
The air fryer cooks fried chicken without oil which we love!
It is important to flip them halfway through so you get a nice golden brown on both sides.
Looking for air fryer side dishes?
Other ways of cooking chicken thighs
If you have a smoker I would make our Traeger smoked chicken thighs with a teriyaki marinade for dinner.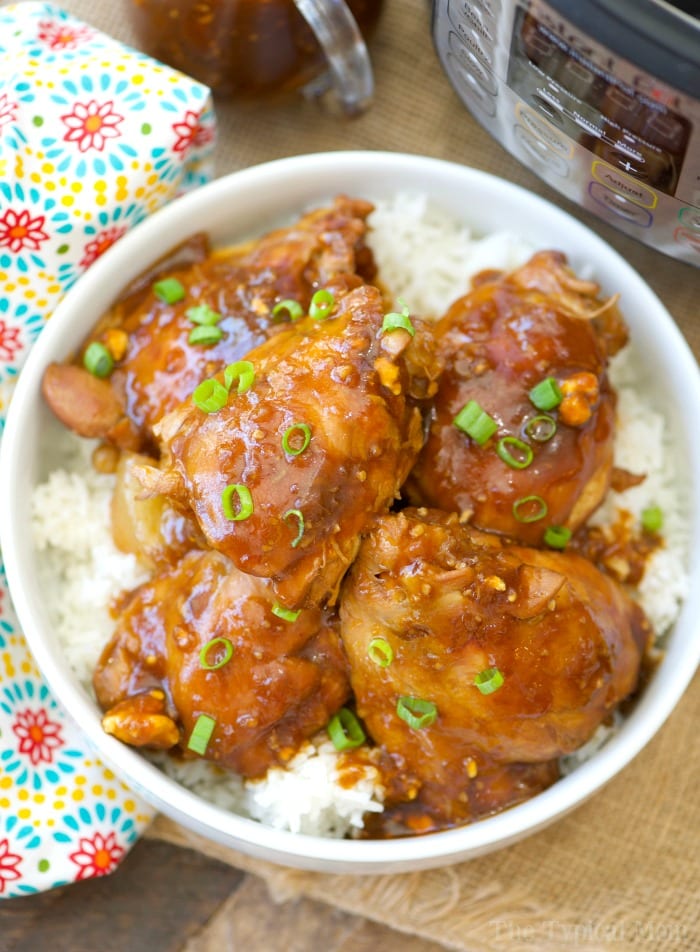 Find more ideas on our Ninja Foodi recipes post and air fryer dinner recipes too.
Here are a few more resources if you have a Foodi:
Always ensure your chicken reaches a safe 165 degrees internal temperature before eating.
Here are printable instructions as well as how to make air fried fried chicken and air fryer egg rolls.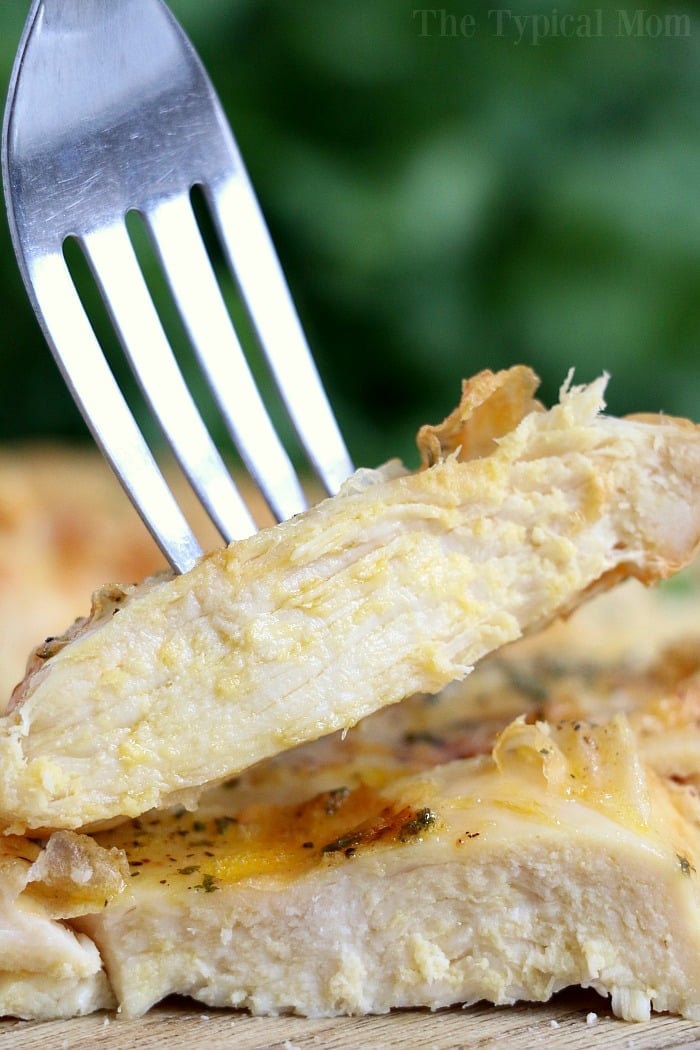 Is air fried chicken healthy? Absolutely! It requires less oil than if you deep fried the pieces or whole bird. This makes the pieces generally healthier than oil immersed counterparts. Using an air fryer to cook bone in chicken thighs can cut calories and fat content.
You won't lose that crispy outside you love though, that is even better than in the oven at 350 degrees yet similar to deep frying.
What are disadvantages of an air fryer? I haven't found many at all myself other than some models have a pretty small basket. I like this large air fryer with shelves, it's perfect for large families.
Want more easy recipes and tips from The Typical Mom blog? Sign up for my free newsletter, and follow me on Pinterest too!
Air Fryer Chicken Thighs
Best air fryer chicken thighs ever! Use this dry rub for chicken to make sweet and crispy chicken in an air fryer that's tender and juicy inside. Yum!
Instructions
Mix brown sugar and all spices together well in a bowl. (or if you want to just sprinkle with salt and pepper, skip this step)

Preheat your air fryer to 375 degrees for at least 5 minutes.

Trim any excess fat hanging off the sides of your chicken thighs (ours were bone-in with skin on).

Rub olive oil on each thigh and put herbs and spices on top and bottom. Any you'd like. If you want to try our brown sugar mixture shown above then:

Pour spice mixture on to a plate. Rub olive oil on outside of each chicken thigh, top and bottom.

Press thigh on to plate so spice mixture sticks, do this on both sides. Place thigh on to trivet that has been sprayed with non stick spray turned upside down, with skin side down.

Do this for all 4 thighs. Try not to overlap in the air fryer.

Set to 375 degrees again and cook for 15 minutes. Then open lid and flip all chicken thighs over so skin side is now facing up. Cook at 375 degrees for an additional 8-12 minutes. Check at 8 minutes to see if you want it browner and/or chicken is done inside.
Nutrition Facts
Air Fryer Chicken Thighs
Amount Per Serving (3 oz)
Calories 368
Calories from Fat 225
% Daily Value*
Fat 25g38%
Cholesterol 110mg37%
Sodium 1260mg55%
Potassium 268mg8%
Carbohydrates 15g5%
Protein 18g36%
Vitamin A 260IU5%
Calcium 20mg2%
Iron 1mg6%
* Percent Daily Values are based on a 2000 calorie diet.