Traeger smoked chicken thighs marinaded in teriyaki sauce are killer! Tender meat with tons of flavor in less than an hour on your pellet grill and smoker.
We made Traeger smoked chicken thighs marinaded in teriyaki sauce the other night and they were amazing! So great that I thought we should share this easy smoker recipe with all of you. (originally published 6/20, affiliate links present)
Smoked Chicken Thighs
We started this journey creating a lot of electric smoker recipes. At first we didn't know if it would be a hit in our house so the first model was inexpensive but still worked better than expected. After a few months we were hookes. I kid you not, everything tastes better on the grate of this or a Traeger pellet grill I tell you.
Here's how we made one of the best meats to smoke ever. It's one of our overall best chicken thigh recipes we've ever made. Yes this dark meat is fabulous baked in the oven but on a grill cooked slow soaking in the flavors of the sauce we used and the apple wood chips, OMG.
Those will work too if you're looking for more ideas.
FIRST – You should sign up for my free newsletter so you get new posts emailed to you twice a week and never miss out on anything!
To get your meats absolutely perfect we have this printable meat smoking chart to refer to so each and every time it will be fork tender.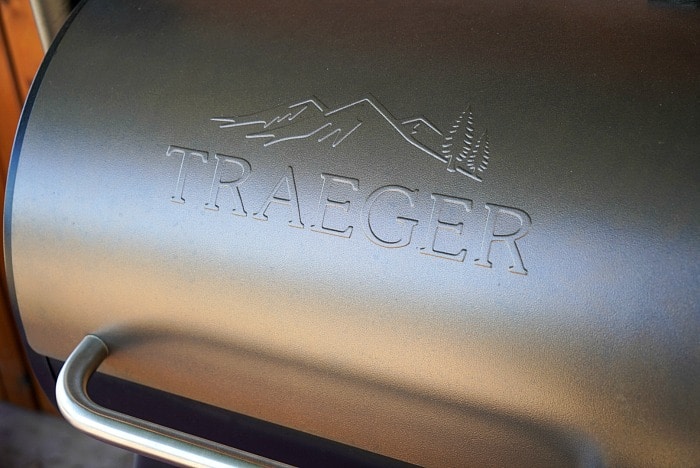 Smoked Chicken Marinade
Let's start with a step by step rundown of how we made these beauties. Of course you can use a different chicken marinade, but the one from our baked chicken teriyaki is our favorite and what was used here.
Sweet is the bomb I tell you. You can use bottled or homemade, whatever. Great if you have a few hours to let it soak it at the beginning.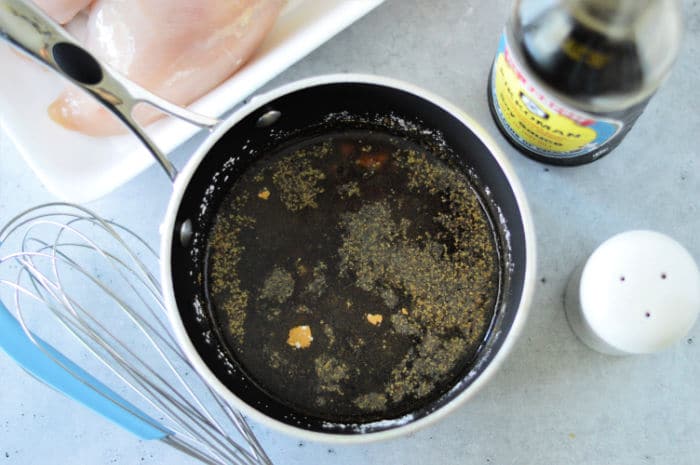 Traeger Teriyaki Chicken Thighs
These need defrosted or fresh meat. If you wake up and realize you forgot to do that, follow our air fryer frozen chicken thighs recipe instead. 😉 Smoking frozen meat isn't so great. I mean you can do it because it will thaw out along the way but it will cook unevenly, take longer, and have a weirder texture when done.
Let's talk about meats we love. Personally we typically use what is in our deep freezer that we bought from local farmers at the beginning of the year.
If we are out I always buy organic because when it comes to poultry there is a big textural difference between free range and not. Just my opinion but I've been experimenting A LOT.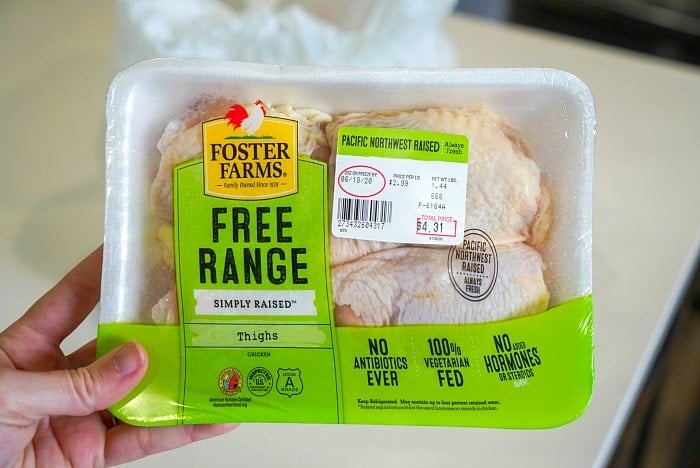 Traeger chicken thighs
Here are a few questions you might have before you go any further. If you have others that you are scratching your head on and don't feel comfortable moving forward until you get an answer, let us know in the comments below.
What temp should you smoke chicken thighs?
We think 300 degrees F is just about right. Higher than that won't make them as tender, and lower than that just takes a lot longer and doesn't seem to make a huge difference.
Do you flip chicken thighs when smoking?
Yes, we do. Initially the skin side is facing down to get a nice grill on them a bit. Then halfway through I flip them over so the top gets a bit more of a glaze on it (if you use a marinade).
How long does it take to smoke legs and thighs?
Time will vary depending on their size, I recommend always choosing medium size pieces. In general, 60 minutes is perfect. 50 minutes is perfect for us to come to a safe internal temp of 165 degrees F.
Now let's get to our meat that is the star of this dish….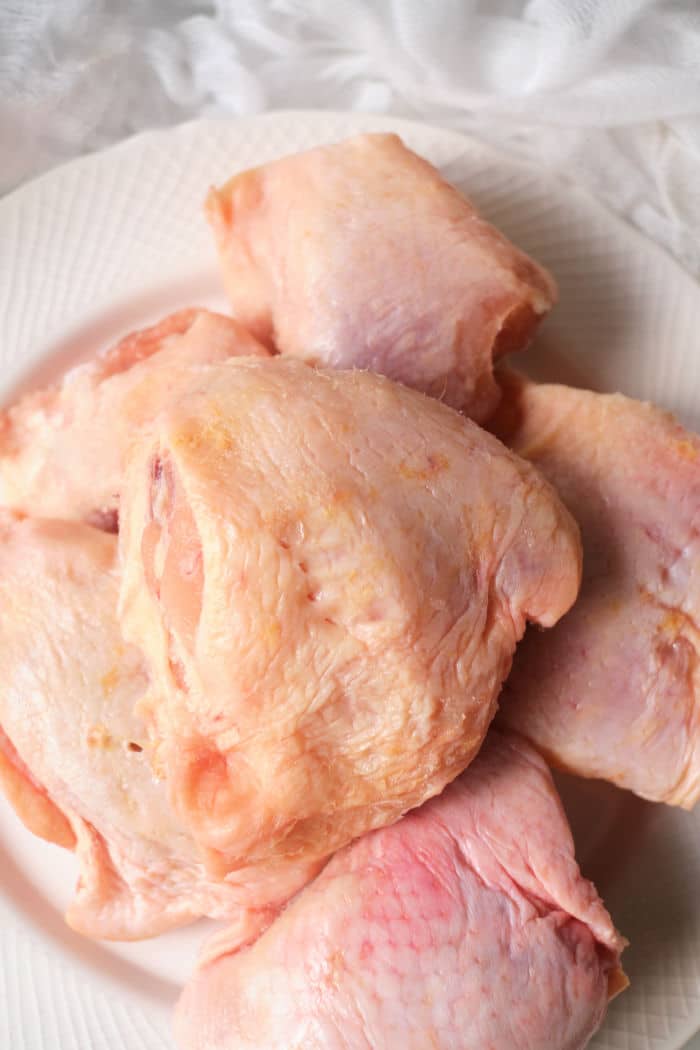 I personally love thighs, over and above chicken breasts. They are one of the cheapest cuts, and brown meat is so much more tender and juicy than white.
If you haven't done the switch just try it for a week and see what you and your family really think. I was hesitant at first too years ago and now that is primarily what I cook with.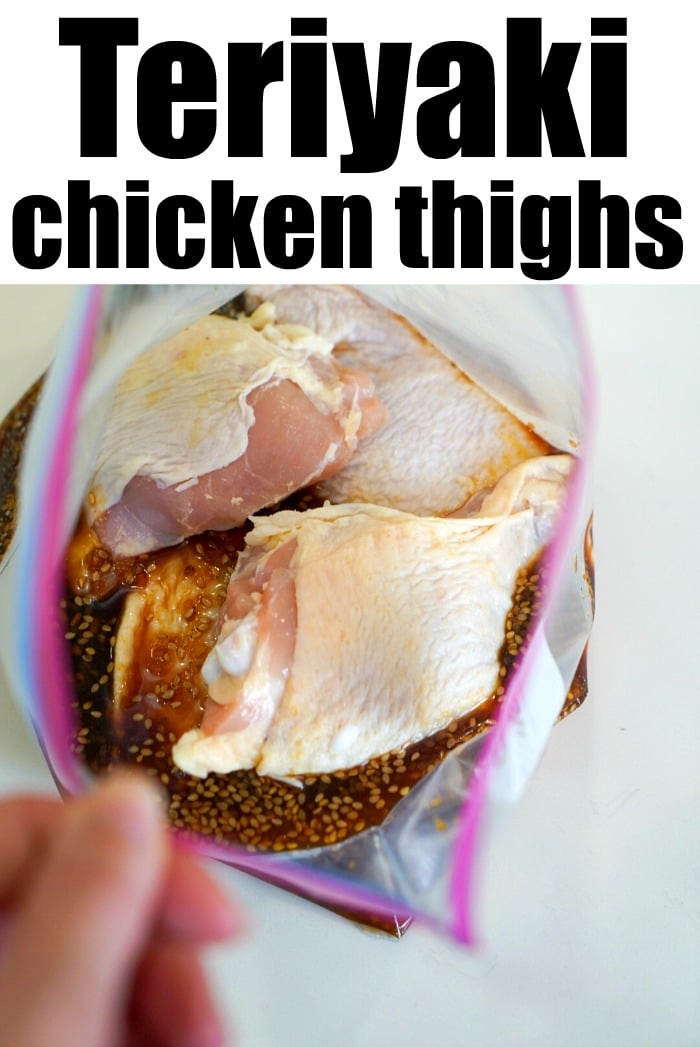 What is the best teriyaki sauce?
My #1 is Veri Veri Teriyaki. We have used this brand for years to make teriyaki chicken all different sort of ways. It is inexpensive with a great sweet and savory flavor.
You can add a bit of heat and make it on a spicy side with a pinch (or more) of red pepper flakes. Easy change to it but will bring a whole new flavor with just a pinch.
How do you make homemade teriyaki sauce from scratch?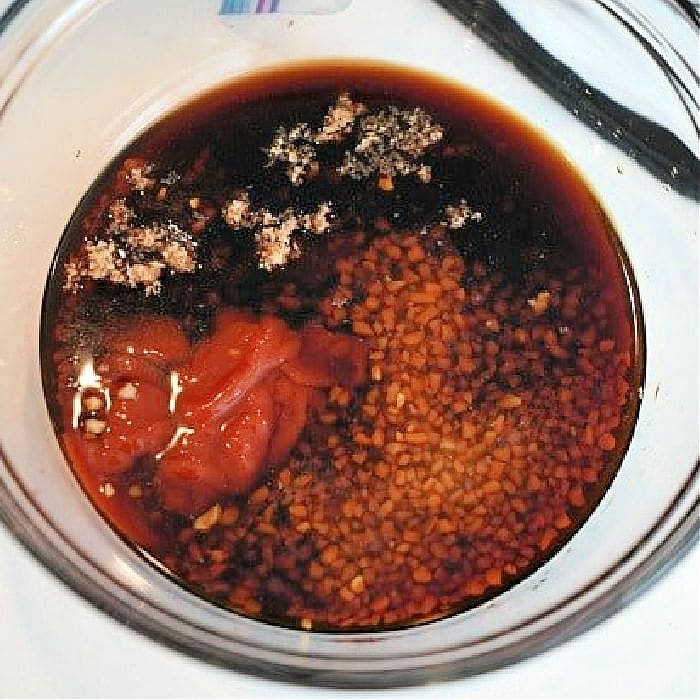 Use our homemade teriyaki sauce recipe here. You can adjust the heat level that way too. Add more Sriracha for sweet and spicy, or omit for a mild YUM.
Sometimes I will make half and half. For myself and one of my daughters we like mild. For my husband and daughter #2 they like spicy with HEAT, makes everyone happy.
How long to smoke chicken thighs
Count on 1 hour 30 minutes total. This will account for the time it will take for your smoker to come to temp. We set it higher at the beginning since when you open the lid a lot of heat escapes. Then once they're in we set it for 300 F for 50 min.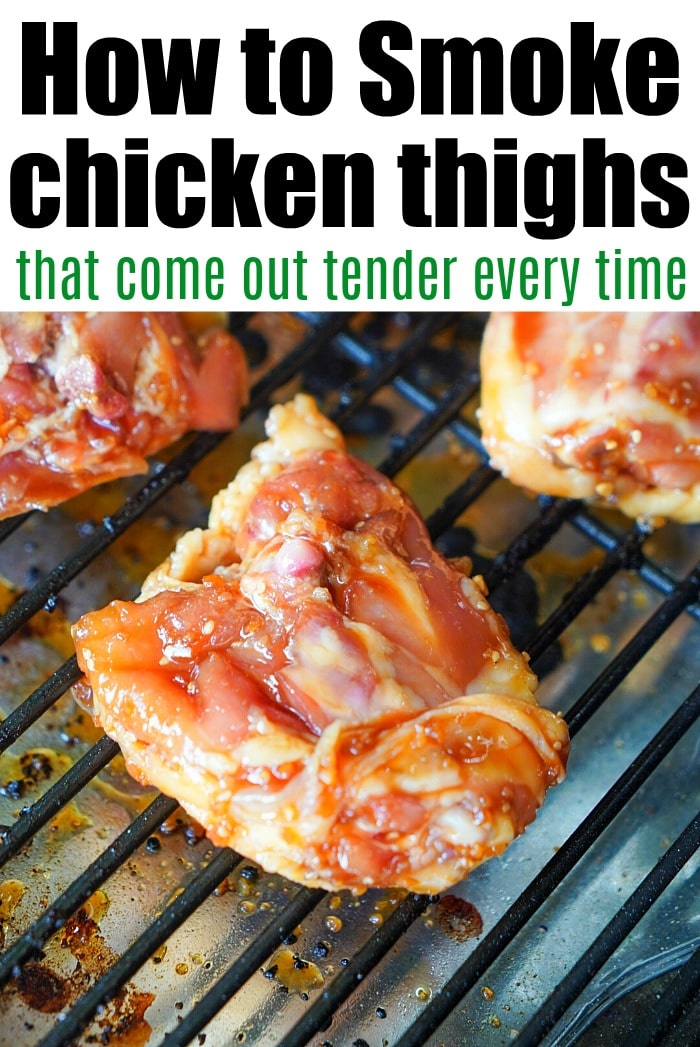 How to Smoke Chicken Thighs
Quick step by step is here but we have a printable recipe card at the bottom of this post as well:
Time needed: 50 minutes
Traeger Smoked Chicken
Marinade chicken

Put chicken in gallon freezer bag with jar of teriyaki sauce and lay flat in your fridge for at least 3 hours. Alternatively you could just coat with a dry rub as well.

Preheat smoker

Add desired Traeger wood pellets and set your smoker to 350 degrees F.

Cook chicken

Put thighs directly on the grate with the skin side down (or bone side up if they're skinless. Slow smoke it for 25 minutes, then flip it over for another 25 minutes.

Cook time for this Traeger chicken will vary within 5 – 15 minutes if pieces are very thick.

Rest

Remove and check to ensure middle of thighs are 165 degrees F, and then allow to rest for 10 minutes before slicing.
Super easy chicken recipe right?? Just 2 ingredients and done. No, you aren't required to use a marinade. You could just use salt and pepper or a dry rub recipe if you'd like.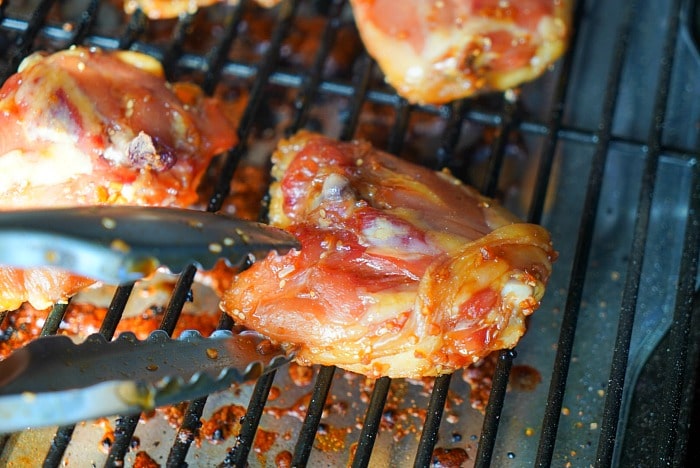 Electric smoker chicken thighs
Can you follow these same instructions if you have an electric smoker too? Of course. Those models typically use wood chips instead of pellets but work similarly.
I love the fact that ours has WiFi so we can check the temperature right on our phones. If you haven't chosen one, or looking to upgrade yours I would highly recommend this upgrade.
We've had ours for years and years, spent like ten bucks on it and it is still going strong without having to swap the batteries inside. It is a must if you are grilling often.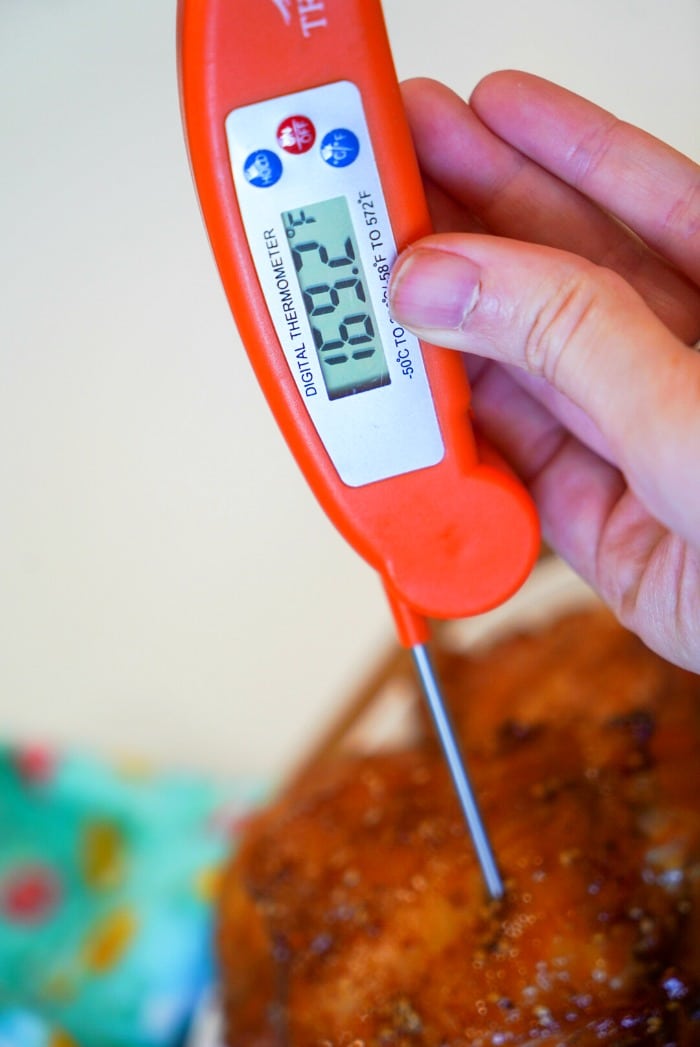 Why is my smoked chicken skin rubbery?
When smoking skin-on chicken, the fat in the skin doesn't get hot enough to for golden brown crispy chicken skin. Unlike grilled chicken, or when you make air fryer chicken thighs the skins will look much different.
With that said these will have an amazing smoke flavor and is some of the most delicious chicken you'll ever taste.
Ways to solve this problem are: to put them on a sheet pan and under the broiler, throw them into the air fryer at 400 for a few minutes, or sear the outsides in a pan.
We don't bother with any of these steps because none of us eat chicken skin. Whether it is crispy or softer like this it gets stripped off either way before consuming.
Many times I will use skinless bone-in thighs for this reason. That way the meat soaks up more of the marinade, and we aren't skin lovers to begin with.
And it really is all about the sauce right?? For us it is, that is why we let it soak for several hours before it ever hits the grill.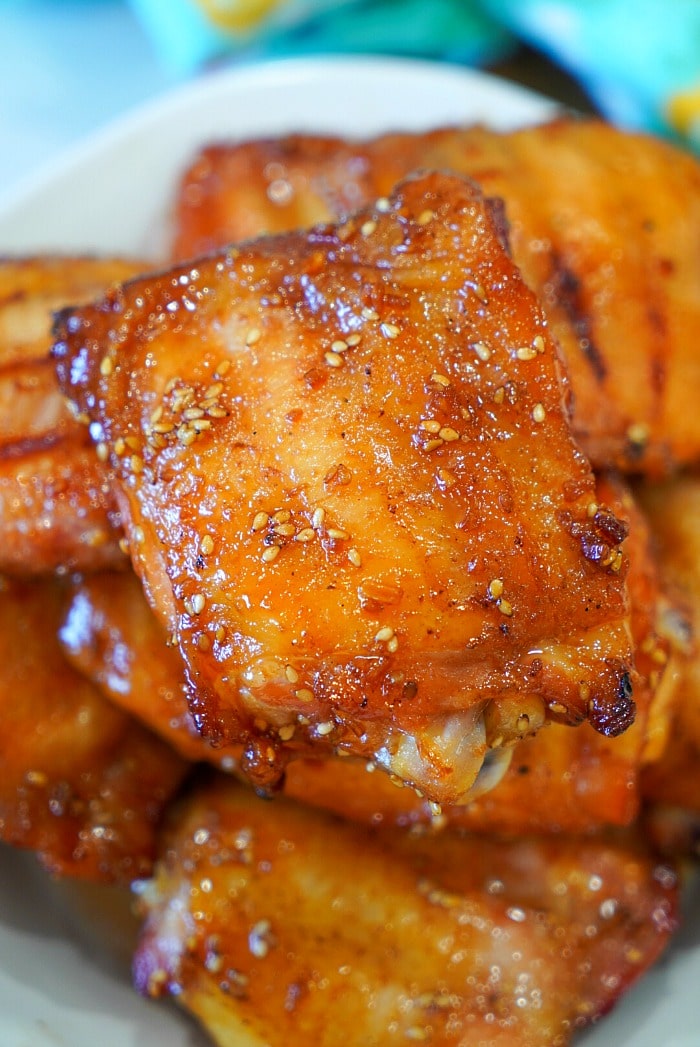 But you shouldn't stop there if you too are obsessed with this new way of cooking. I mean we stretch out our warmer months to the max until winter finally hits. Even then we found an insulated blanket to put around it to steady the heat so it can be used year round when we get the itch.
Looking for other smoked meats?
If you want to make oven baked teriyaki chicken thighs you can follow this recipe instead.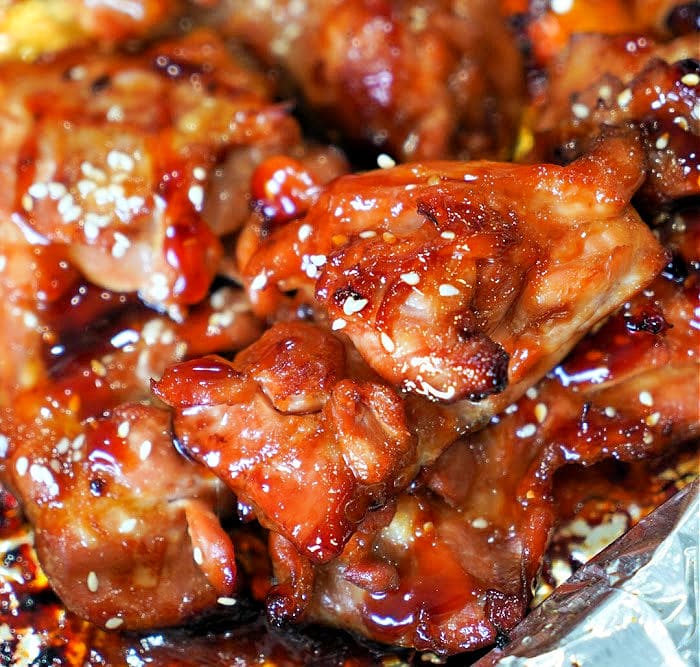 Jump to recipe and get started friends!
Want to see a few of my favorite things that I am totally obsessed with?? Take a peek and see how many you might already have…twinsies!
Looking for more easy family recipes and tips? LIKE The Typical Mom Facebook page?
Then sign up for my free newsletter, and follow me on Pinterest! 😉
***** If you LOVED this recipe give it 5 Stars below and let everyone know what you thought about it. 😉
Traeger Smoked Chicken Thighs
Traeger smoked chicken thighs marinaded in teriyaki sauce are killer! Tender meat with tons of flavor in less than an hour on your pellet grill and smoker.
Instructions
Empty jar of teriyaki sauce into a gallon freezer bag with chicken thighs. Zip closed, move around so all are coated and lay flat in your fridge for a good 3 hours or more.

Preheat your smoker to 350 degrees F.

Once it is up to temp. use tongs to place thighs with bones facing up (or skin side down if they have skin) directly on the grate.

Close lid and then adjust temp. down to 300 degrees F. for 25 minutes.

Open and flip each piece over. Close lid and continue cooking for another 25 minutes or until internal temp when removed from the grate reaches 165 degrees F.

Allow to rest for 5-10 minutes once removed before cutting to maintain juiciness.
Nutrition Facts
Traeger Smoked Chicken Thighs
Amount Per Serving (3 oz)
Calories 497
Calories from Fat 342
% Daily Value*
Fat 38g58%
Cholesterol 222mg74%
Sodium 181mg8%
Potassium 465mg13%
Carbohydrates 1g0%
Protein 37g74%
Vitamin A 177IU4%
Calcium 18mg2%
Iron 2mg11%
* Percent Daily Values are based on a 2000 calorie diet.