The best air fryer wings recipe covered with a dry rub for chicken that is amazing! If you're looking for healthy fried chicken, these naked chicken wings in your Ninja Foodi are the answer. Simple and flavorful without using any oil to cook them.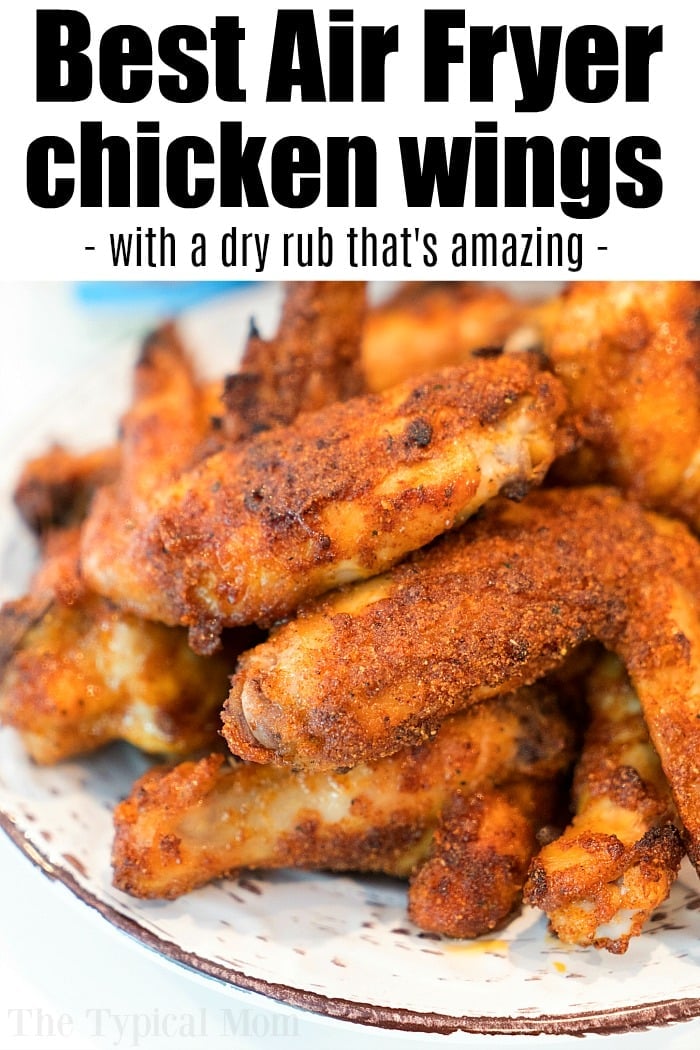 My first attempt was this air fryer wings recipe using a dry rub that is fabulous and not drippy messy like some others. Find this and more easy air fryer recipes here. (originally published 4/17, affiliate links present)
I'm serious when I say these will knock your socks off using our sweet and savory rub.
Ninja Foodi Wings
Yes, you can use any brand you have. We have a Foodi which is a pressure cooker and air fryer but a Cosori is our second favorite.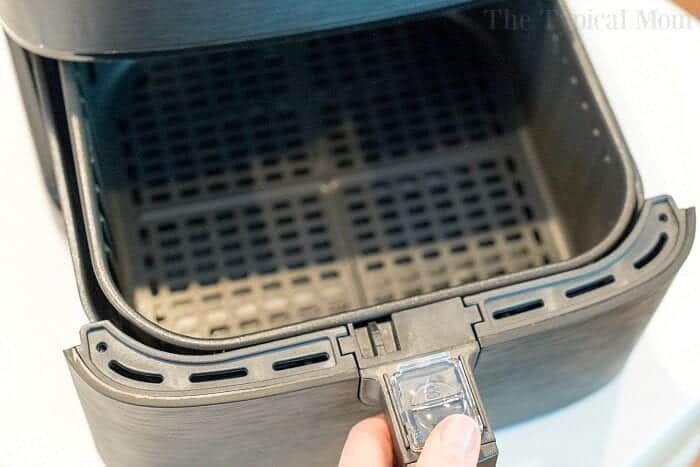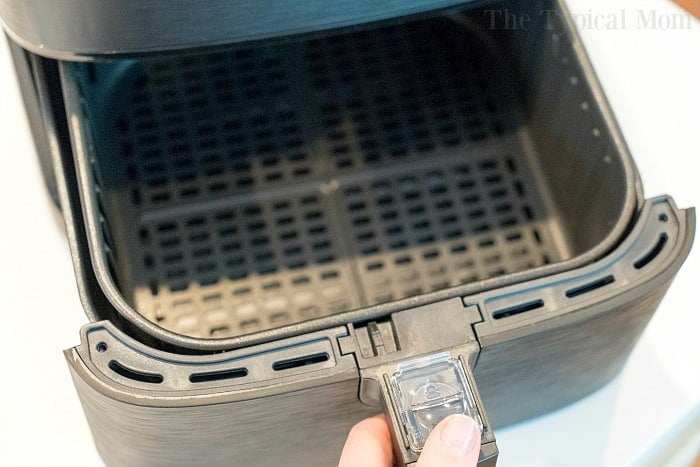 Air fryer chicken wings dry rub
Air frying vs frying is a much healthier way to get food crispy but without any oil needed! Just rub your spices on your wings.
Throw them in the basket and in no time at all you have delicious crispy chicken wings without any oil splatters.
No heavy feeling you get when you eat fried foods anymore. Are you obsessed with air fryer appetizers too??
Here are a few details on the machine I usually use.
Yes you can just sprinkle with salt and pepper and toss with bbq sauce when done but these naked wings are so much better.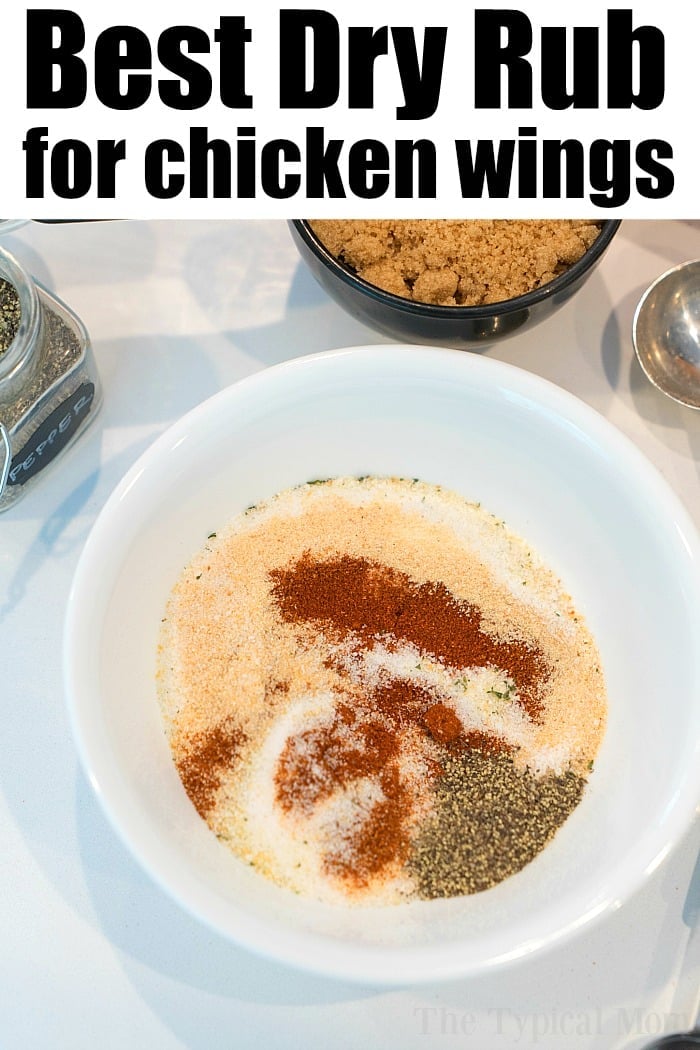 Air fryer wings
This is what you'll need to make our famous rub, beyond that you just need defrosted chicken wings.
Cayenne pepper – Will give these a bit of a kick. I will say that I describe my heat desire as mild so if you want med. or spicy add more.
Pepper – Is kinda' a given along with salt in just about any dry rub.
Paprika – This may be something you only put on top of deviled eggs but it's great for so much more!
Garlic powder – Is something I add to just about everything. In minced, salt and powder form I just can't get enough garlic!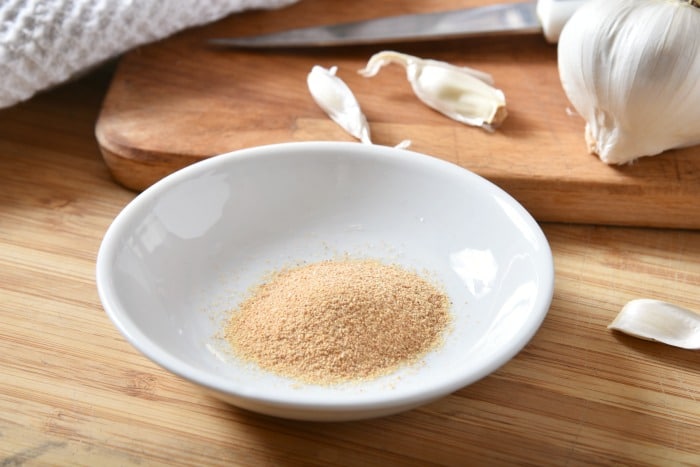 Dry Rub Wings
Chili powder – Adds a little heat as well along with great flavor as well though. As with the cayenne adjust as desired according to whether you want it spicy or not.
Salt – I mean you need this when it comes to seasonings….
Cinnamon is optional
If you're new to this method of cooking it's like eating deep fried chicken but is as healthy as baked chicken.
The best of both worlds I tell you. Before we got this nifty kitchen appliance we used baking powder to make really crispy chicken wings in the oven.
Now we can skip heating the whole house up and make these air fry chicken wings in about 30 minutes flat!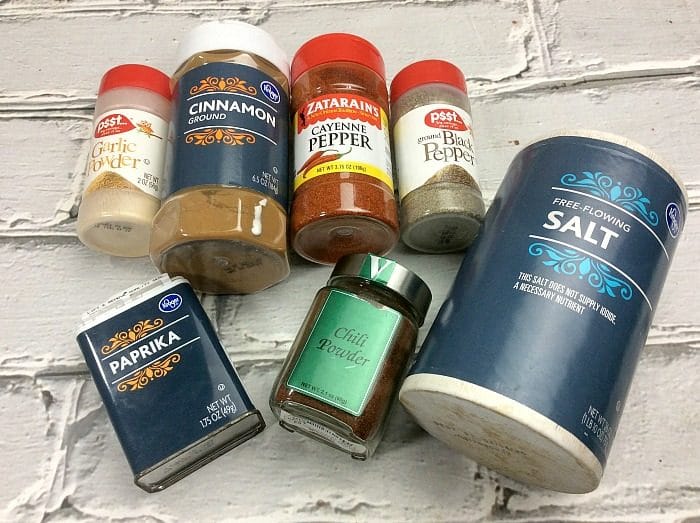 What does dry rubbed mean?
It just means that it isn't a sauce. Using dry spices without any liquid is a great way to really pack on a lot of flavor without being goopy and messy. We use this flavoring method a lot when making most of our smoker recipes.
Believe me, dry rubbed chicken wings are the bomb!!
Of course you can omit or decrease the spice level if you wish but this comes out mild/medium.
To make things easier I just blend them all together, throw them into a gallon ziploc bag and shake!
Adding about half at a time is best so that the outsides get a nice thick and even coat.
How many wings can you cook in an air fryer?
Well, that depends on what machine you have. If I am using my Foodi I can add 6-7 at a time without overlapping them. That is important if you really want the chicken skin to be quite crispy.
Another tip is to spray the inside of your air fryer basket with non stick spray before adding your chicken pieces. That will help with cleanup.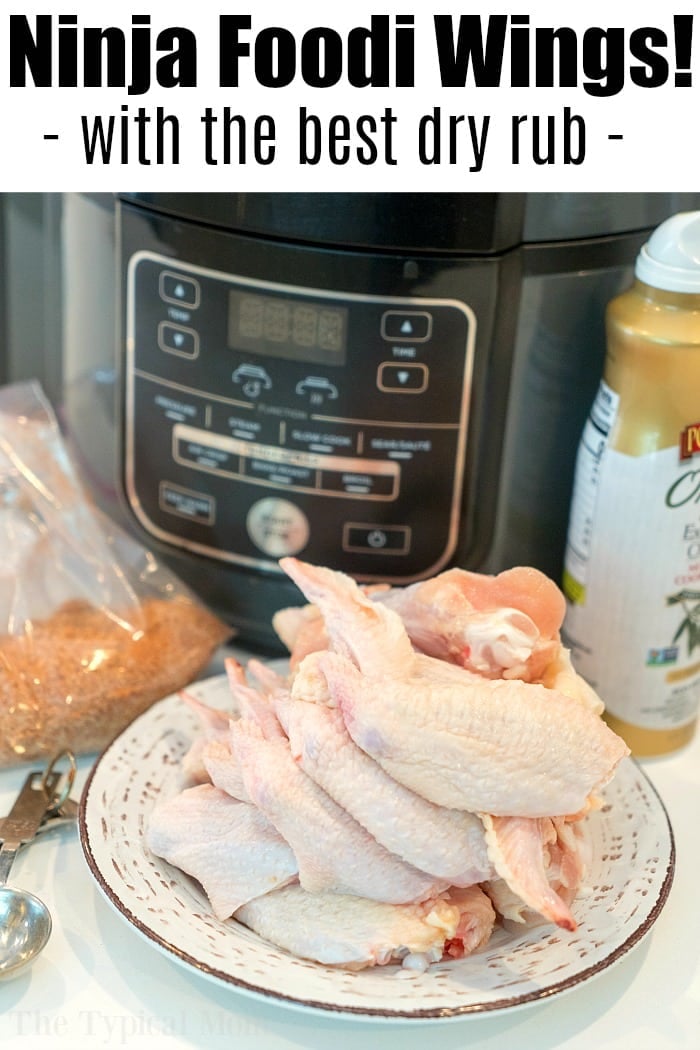 Wings in Ninja Foodi
I also have the Cuisinart air fryer toaster oven (special thanks goes out to them for the gift). We had a toaster oven forever and got rid of our toaster years ago.
Having both in one kitchen appliance was a huge benefit because I don't have a lot of counter space.
This one has a rack as well as an air fryer pan with holes on the bottom that holds about the same number of wings.
I would say that about 6 at a time is pretty common. Just coat and then cook in batches.
Most air fryers work very similarly. They just look different and may have a variety of options but the directions to cook remain the same.
If you enjoy sauce on your wings feel free to add some after they are cooked but this dry rub is plenty and extremely flavorful so it's really not needed.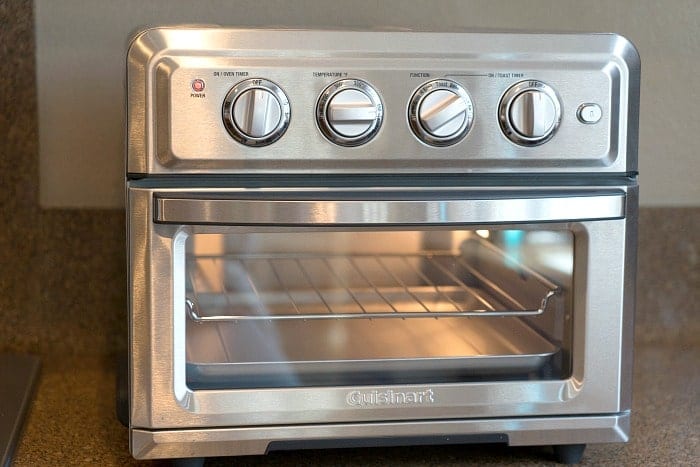 Many of you might have a traditional air fryer that looks like this. The basket is more like a bucket.
No matter which style you use the main rule of thumb for cooking chicken wings is you want to put them in a single layer or the seasonings will stick and come off.
More importantly they won't get that really crispy chicken skin you want.
Another tip is you want to flip the wings halfway through the cooking time.
How do you make wings in the air fryer?
Time needed: 16 minutes
Air Fryer Wings
Prepare

Rinse and pat wings dry with paper towels. Preheat air fryer at 400 degrees for 5 minutes.

Mix dry rub together and pour into gallon baggie or you can just sprinkle with salt and pepper. Alternatively, you can use our lemon pepper chicken marinade.

Lightly spray dry chicken pieces with olive oil spray. Add rub to a baggie. Put 6-7 chicken wings inside bag and shake to coat.

Cook

Spray air fryer basket with non stick spray and place wings inside in a single layer, do not overlap.

Cook for 16 minutes, flipping wings halfway through. Spray top again and add 1 more minute to crisp skin up even more.
Remove and enjoy immediately (put in another batch if desired immediately)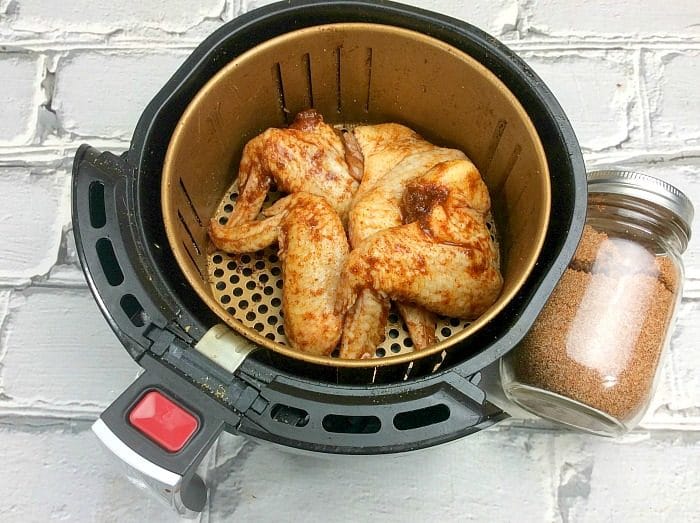 It doesn't matter what brand you have. Phillips works the same as Cosori really. The biggest difference is the size of the air fryer basket. That is why I like my newer one (not shown here).
It has a square basket where I can fit almost double. Something to think about when you're deciding which model you want.
When you're making football party food you always want a lot! Yet if there are just 2 of you at home you can get away with a tiny machine, I get it. Get what works best for you.
If you're looking for the best air fryer chicken wings recipe here ya' go!
Total cook time for one batch is about 20 minutes including the preheating time.
Of course time will vary slightly depending on how large your pieces are.
Range for us has been 16-18 minutes total per batch.
Ninja Foodi chicken wings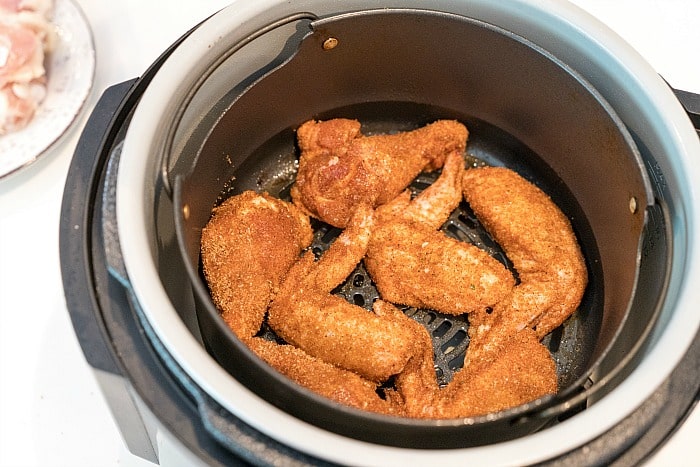 What can I put on wings?
Fry sauce is the bomb!
Ranch dressing is a given
Blue cheese dressing
Soy sauce
You can decide when they're done if you think they need sauce or dip, we think they're amazing as is. If you're having a party though it might be fun to create a dip bar!
Grab some cute dip bowls and platters you can put all your food on. Have a spoon inside each one and paper plates at the end. Allow guests to load up and try them all. A great party idea for sure that will be a conversation starter.
For us they are perfection as is and a great healthy way to get super crispy wings.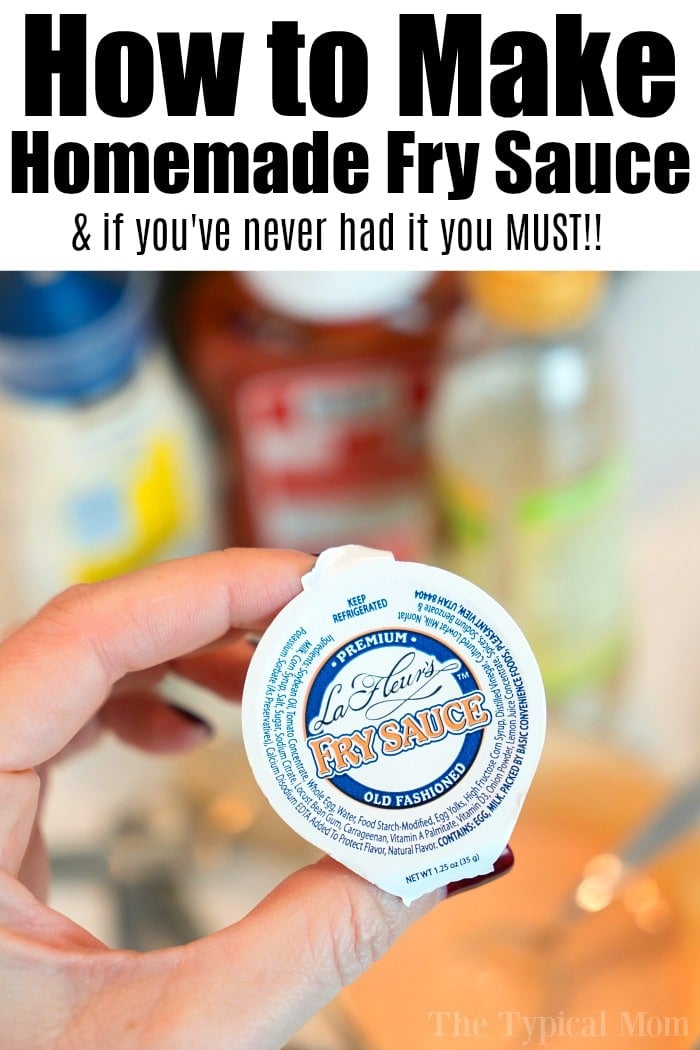 How do you cook frozen wings in an air fryer?
My preferred method is to pressure cook them first to get them nice and tender using my pressure cooker frozen chicken wings recipe.
Then throw them into my air fryer or Ninja Foodi. I have made Ninja Foodi chicken wings many times this way.
Alternatively:
You can preheat your machine to 360 degrees for 5 minutes
Put them into your basket in one layer
Cook for 6 minutes, flip and then 6 minutes again
Negative to this route is they will be plain, dry rub will not stick beforehand. BUT if this is all you have then just use a sauce to coat them at the end and enjoy!
They will also be crispier if they are not frozen. Keep that in mind, but it is always handy to have information for both methods handy in case you forgot to thaw out what's needed for dinner that evening.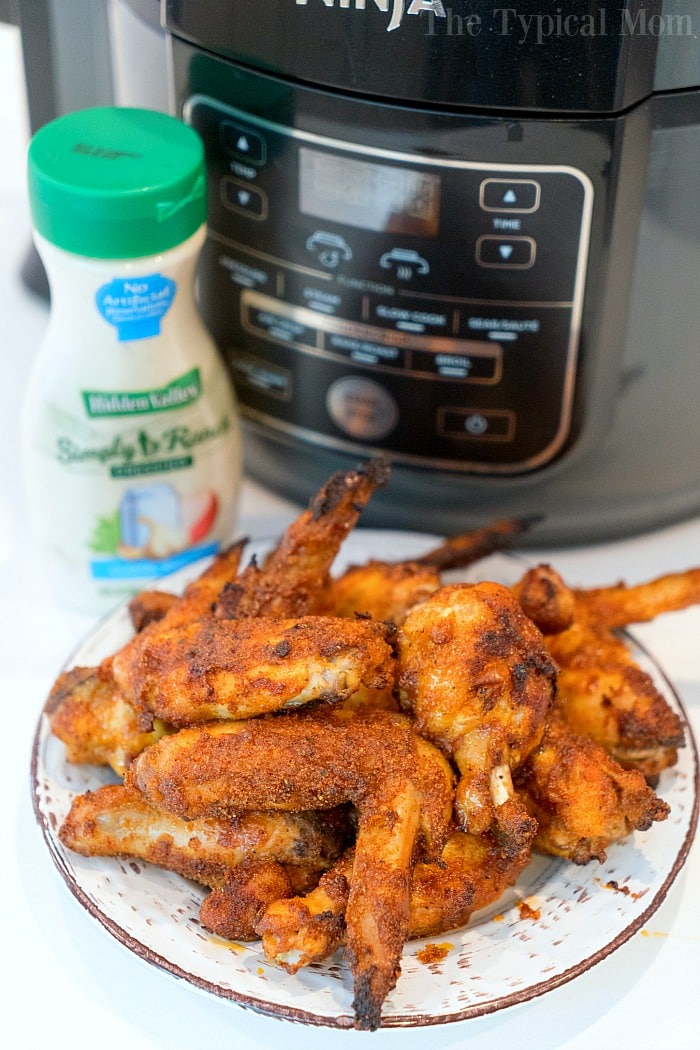 If you're looking for other great chicken and wing recipes here are a few other favorites
Our air fryer chicken thighs are pretty amazing too. You can use this same rub for them.
Want to see a few of my favorite things that I am totally obsessed with?? Take a peek and see how many you might already have…twinsies!
Looking for more easy family recipes and tips? LIKE The Typical Mom Facebook page?
Then sign up for my free newsletter, and follow me on Pinterest! 😉
***** If you LOVED this recipe give it 5 Stars below and let everyone know what you thought about it. 😉
Air Fryer Wings Recipe
Here's an easy air fryer wings recipe and the best rub for chicken wings ever! If you're looking for a healthy alternative to fried chicken with the same great taste these naked chicken wings in your air fryer are the answer. Simple and flavorful without using any oil to cook them.
Instructions
Mix all ingredients except chicken wings in a bowl, combine well. (cinnamon is optional) Preheat your air fryer to 400 degrees for 5 minutes.

Wash and dry your chicken wings using a paper towel to pat dry. Then spray lightly with olive oil.

Use a large freezer bag and pour about 1/2 a cup of your rub into the bag with about 6 wings or so. Shake shake until they are coated.

Spray inside of air fryer basket once it's done preheating with non stick spray and put coated wings inside. Try to not overlap them.

Set to 400 degrees F. for 16 minutes.

To make them as crispy as possible flip your wings half way thru the cooking cycle.

Remove when done, zest with lime juice if desired and enjoy…can dip in ranch dressing or other sauces.

If making another batch, coat them with dry rub and repeat process for another 16 minute round.
Nutrition Facts
Air Fryer Wings Recipe
Amount Per Serving (4 oz)
Calories 409
Calories from Fat 189
% Daily Value*
Fat 21g32%
Cholesterol 99mg33%
Sodium 3614mg157%
Potassium 342mg10%
Carbohydrates 31g10%
Protein 25g50%
Vitamin A 1325IU27%
Vitamin C 1.2mg1%
Calcium 50mg5%
Iron 2.1mg12%
* Percent Daily Values are based on a 2000 calorie diet.