This is how you make tender and delicious pressure cooker frozen chicken wings! Makes a great appetizer or dinner in your Instant Pot using your favorite barbecue sauce. Wings are the best finger food we say and with this trick you can make them often. From freezer to dinner in less than 30 minutes!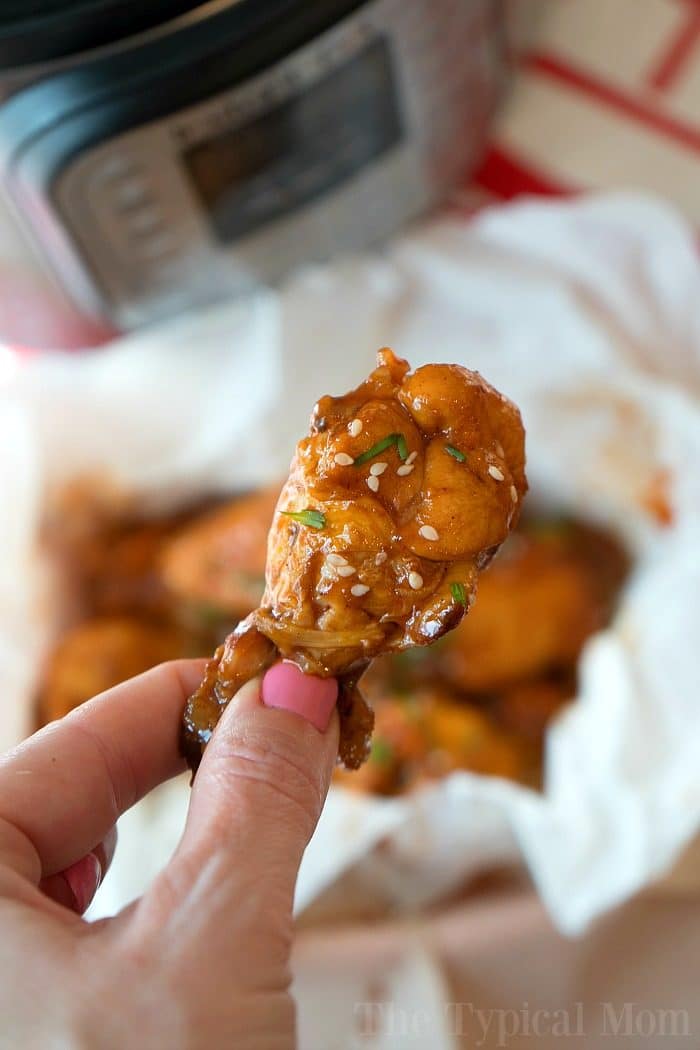 Don't these look delicious! We love chicken wings any way we can get them, but knowing how long to cook frozen chicken wings in the Instant Pot or a pressure cooker can come in really handy! Whether you've forgotten to make something for a potluck, people come over unexpectedly, or you just want a quick yummy meal for dinner with what you have in the fridge, freezer and pantry…this pressure cooker frozen chicken wings recipe is the bomb! Here on The Typical Mom we've come up with a lot of easy Instant Pot recipes and this is one of our favorite pressure cooker appetizers because it is super quick and requires only 2 ingredients really. (originally published 1/18)
I'm serious….just TWO ingredients!!
I always seem to have frozen chicken wings and breasts in the freezer for just in case situations and started with sharing how to cook frozen chicken in the Instant Pot.
That worked really well when preparing shredded chicken to use inside sliders…another great appetizer idea, but then moved on to chicken wings and experimented a bit with the timing until I got it just right!!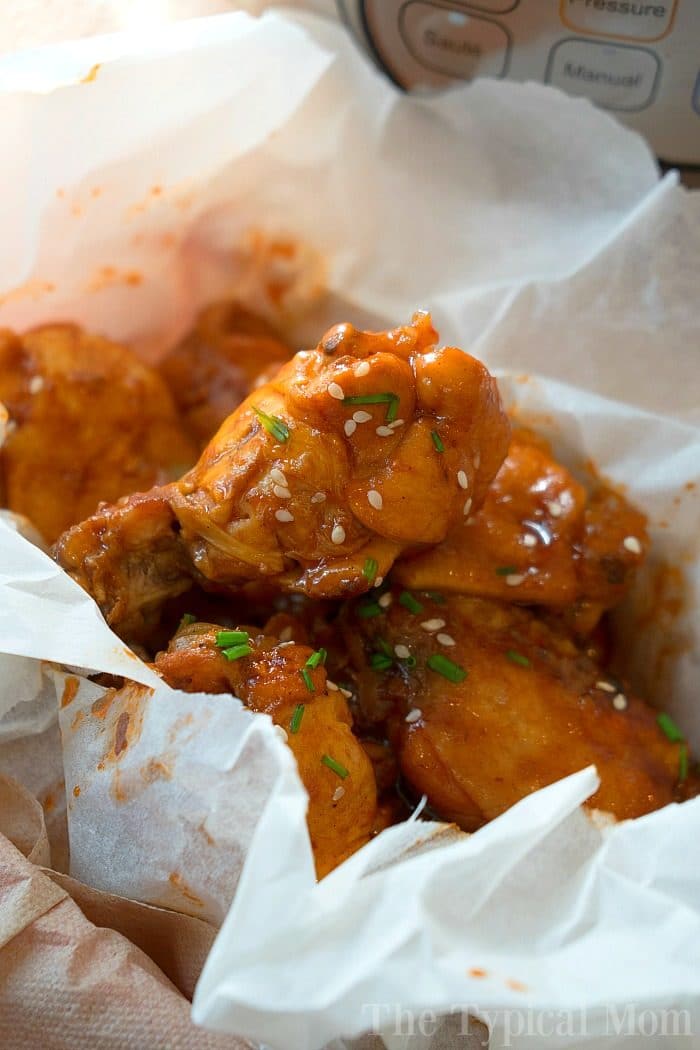 Here they are! Super moist and really almost fall off the bone but I didn't want the meat to just fall off….the fun is eating them off the bone in my opinion. I guess that is the part that is up to you. I cooked mine for 21 minutes and they were perfect. Now if you wanted the meat to fall off the bone I would set for 25 to get closer to that but to me that would just be a pot of bones and chicken pieces so this worked out just right.
The bag of frozen chicken wings I bought from the store had rather large pieces so to reach and not exceed the 3/4 mark inside my 6 qt. Instant Pot I only felt comfortable adding 12.
I think if mine were a bit smaller I could add closer to 15, but you just want to keep it below the 3/4 mark. 1 bottle of bbq sauce was enough once they were cooked down, didn't cover them all when initially put into the pressure cooker but when they thaw it will be plenty so don't worry about that.
Pick any brand of sauce you like, I like whatever is on sale and has a bit of sweet and spicy personally.
You can add a bit of hot sauce in there to give it a kick, some sliced onions if you want, and even some pineapple tidbits are a good add in like I did with our Hawaiian Instant Pot shredded chicken dish…super easy too.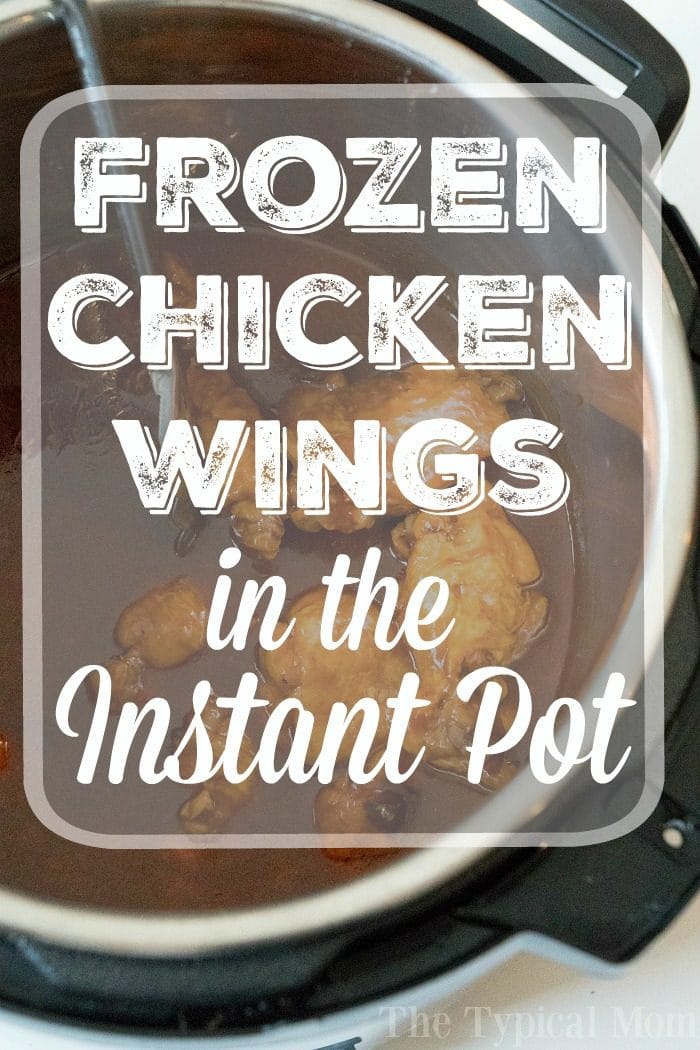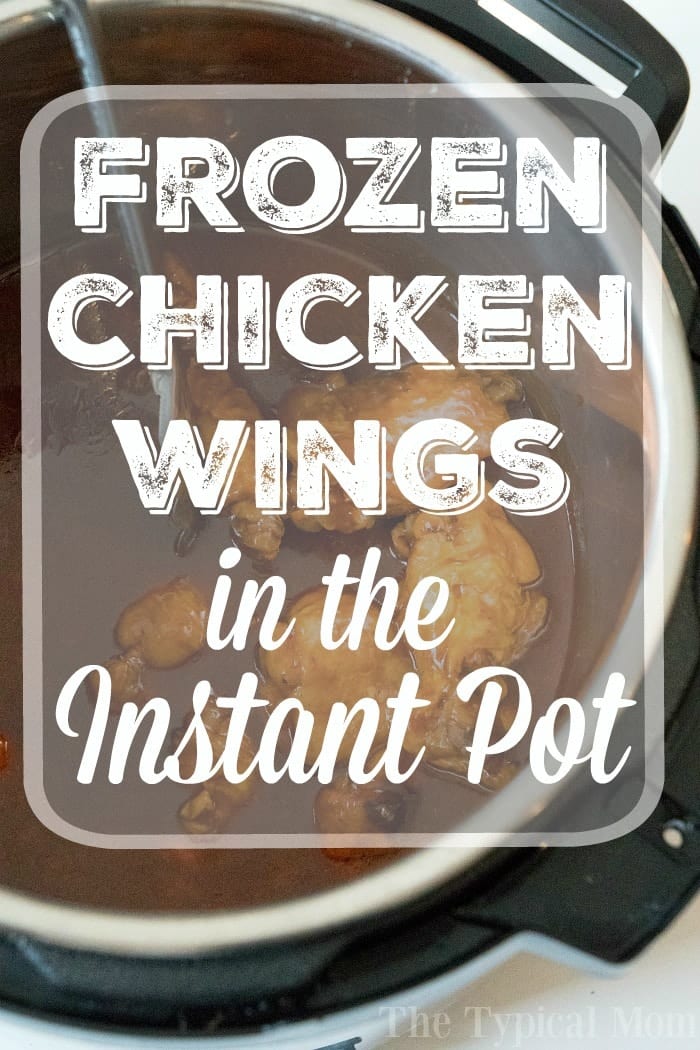 Like I said…..here I used barbecue sauce to cook them in and soak up all those delicious flavors but if you just want to make plain it would work the same way using chicken broth instead of sauce.
If you aren't down for bbq wings then use a teriyaki style sauce like I used in our Instant Pot spicy teriyaki chicken thighs recipe. It is up to you but barbecue sauce is pretty much loved by all and really cheap too. There are so many different types of sauces with a variety of flavors and heat levels too.
If you prefer the skins to be a bit crispy, once these are done you can put them into your convection oven or oven at 375 degrees for a few minutes like we did here with our Instant Pot teriyaki ribs. Or you can use your broiler for about 5 minutes to crisp them up.
We don't eat the skin either way so we are fine with them straight out of the pot.
If you like REALLY crispy chicken wings you can throw them under the broiler for a few minutes and for another trick you should read our post on how to bake crispy chicken wings in the oven!
This is what you'll need to make some bbq pressure cooker frozen chicken wings that are tender and delish in your Instant Pot + a video!
Barbecue sauce – use one that is not super high in sugar (honey style) as those may burn (I like this one) – If you like really spicy buffalo wings use Franks hot sauce
12-15 frozen chicken wings (do not fill your Instant Pot or pressure cooker more than 3/4 full so # depends on size of wings)
Water
Optional additions – pineapple chunks and/or hot sauce
After you try this you should make these others too:
Here's a video showing how we made them:
Here's the printable recipe too!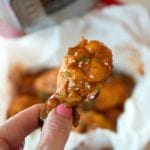 Pressure Cooker Frozen Chicken Wings
This is how you make tender and delicious pressure cooker frozen chicken wings! Makes a great appetizer or dinner in your Instant Pot using your favorite barbecue sauce. Wings are the best finger food we say and with this trick you can make them often. From freezer to dinner in less than 30 minutes!
Course:
Appetizer, Entree, Main Course
Keyword:
barbecue, chicken, frozen, instant pot, pressure cooker, wings
Ingredients
12 - 15

chicken wings

frozen

1

bottle

barbecue sauce

20 oz.

1

tsp

hot sauce

(optional, more or less depending on taste)

3/4

c

water
Instructions
Pour half the bottle of barbecue sauce into your Instant Pot or pressure cooker.

Put your frozen chicken wings on top of your sauce and pour the remainder of your barbecue sauce on top of them. Then add 3/4 c water into your bbq sauce bottle and shake it well to get remaining sauce out. Pour this on top of your wings (this is an important step).

If you choose to add hot sauce sprinkle on top now.

Close the lid and steam valve. Set to manual, pressure, high for 21 minutes. ** Note, if your wings are much smaller or you're using fewer wings than I did (mine were quite large) it will not take this long (set for 18 min. for 10 wings and perfect)

Do a natural release, lift lid carefully and serve!

If you'd like them crispy put your chicken wings on a baking sheet and under your broiler for 3-4 minutes or until as crispy as you'd like.
Nutrition Facts
Pressure Cooker Frozen Chicken Wings
Amount Per Serving (8 oz)
Calories 194
% Daily Value*
Sodium 1196mg 50%
Potassium 262mg 7%
Total Carbohydrates 46g 15%
* Percent Daily Values are based on a 2000 calorie diet.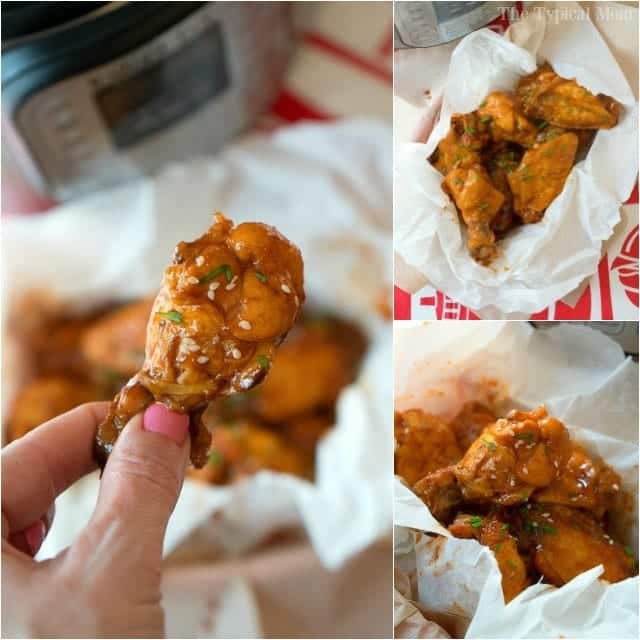 For more easy recipes, tips and free printables please LIKE The Typical Mom on Facebook and follow me on Pinterest! You can also sign up for my free weekly newsletter which is packed with goodies I know you'll love. 😉
Visit The Typical Mom's profile on Pinterest.