This is how to cook a pressure cooker frozen whole chicken! From rock hard frozen to tender and juicy in 1 hour you'll always be able to get dinner done. Get out your Instant Pot or Ninja Foodi and get ready for goodness.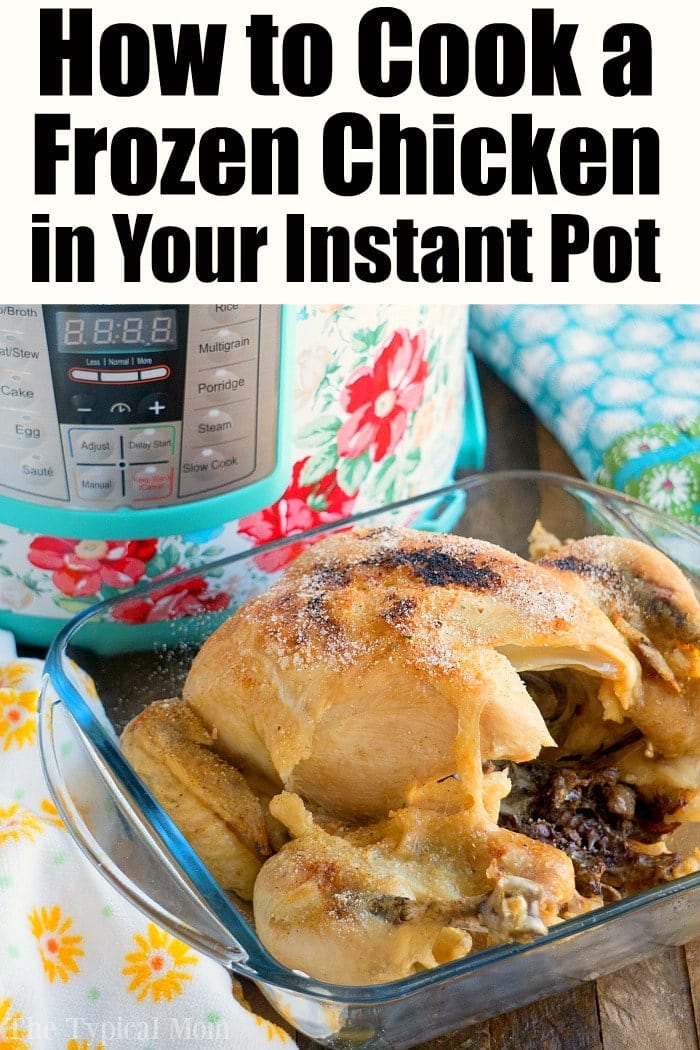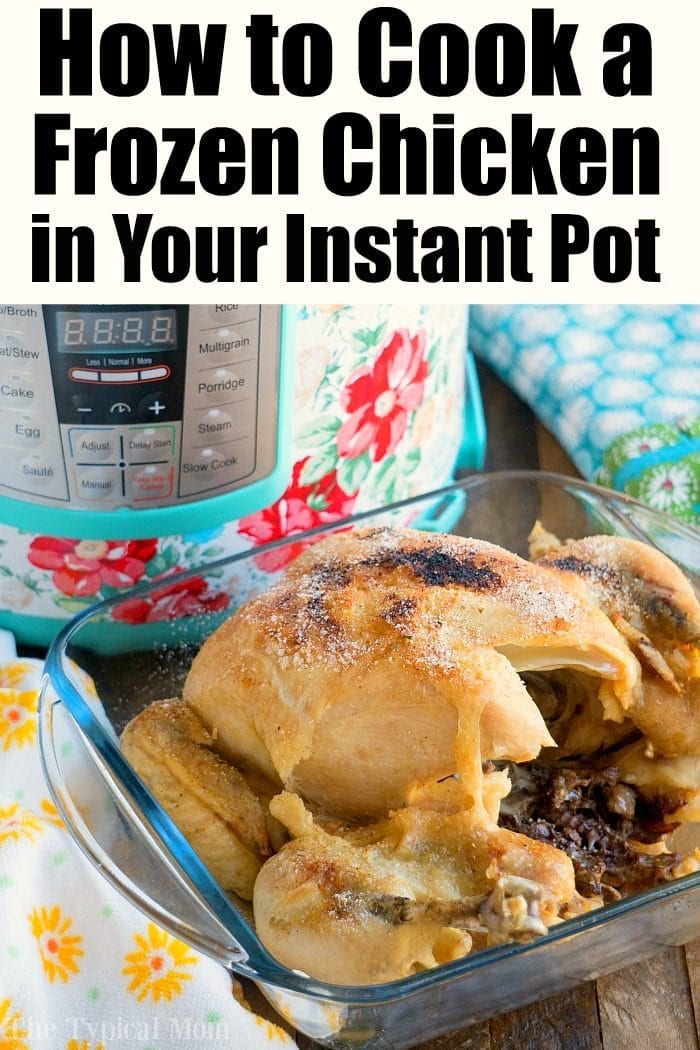 Ever had one of those moments where it's midday and you realized you never defrosted the whole chicken you wanted to make for dinner??!! I have, a lot, that is where this pressure cooker frozen whole chicken recipe comes in really handy! Another tip + recipe added to our long list of easy Instant Pot recipes here on The Typical Mom blog.
I can't believe how well this pressure cooker frozen whole chicken turned out!
Like I always say, use what you have. If you don't have chicken stock, use broth. Or just use water. An onion isn't really a necessity either but I think it adds to the flavor of the chicken. Use your Ninja Foodi if that's the pot you have.
Also when your chicken is fall apart done and you remove it DON'T throw away the delicious broth at the bottom. You can use it to make pressure cooker gravy to pour on top of your chicken if you want.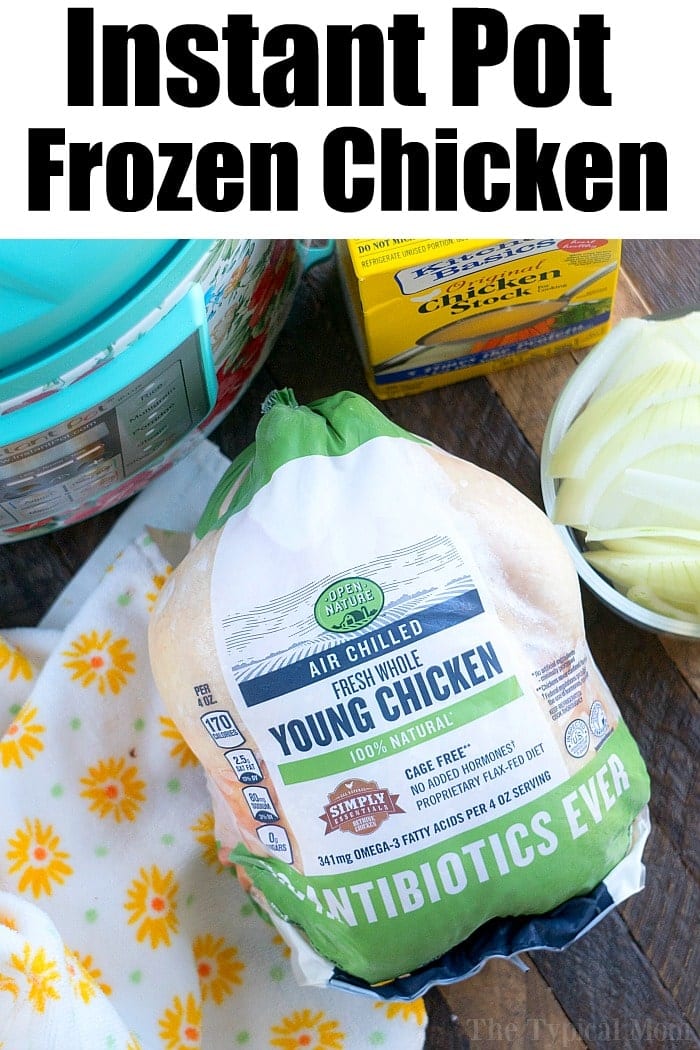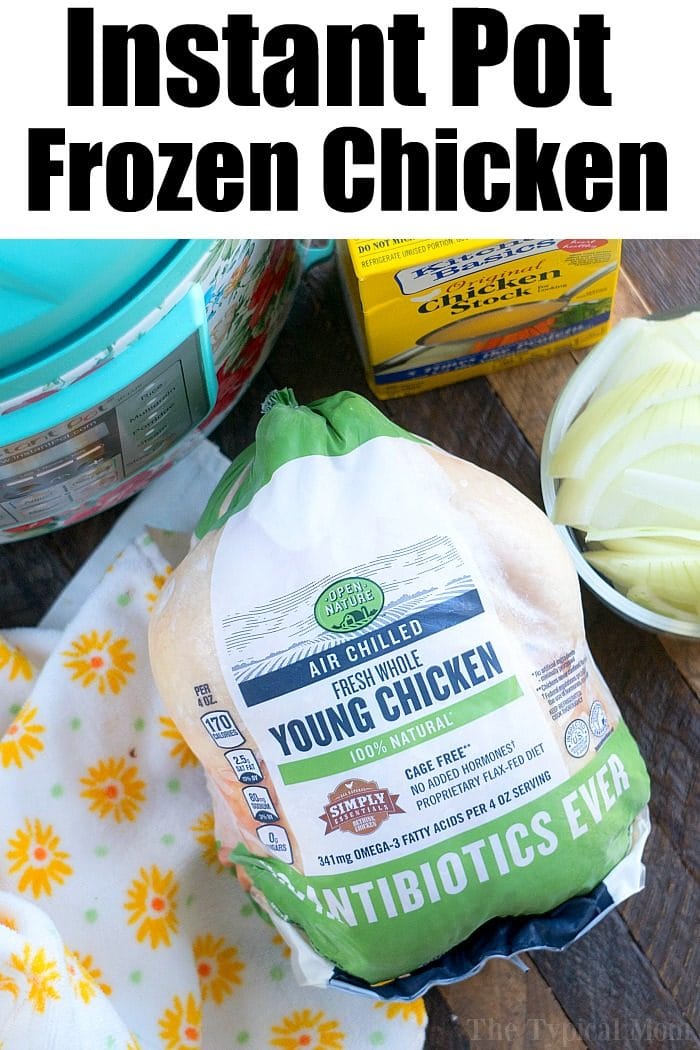 This is not a sponsored post so the brands you see are not a necessity but I will say I buy organic and/or cage free chickens when they are reasonably priced and available in the stores, here's why:
Cage free chickens have less fat on them overall

Which means you can get a smaller chicken with the same amount of meat as a much larger non organic chicken, and size matters when it comes to fitting a whole chicken inside your pot.

The meat is more tender

Of course it depends on a lot of factors but I've purchased a lot of whole chickens of various varieties and will say that cage free are the best
That's my two cents sort a speak, take it or leave it really but thought I'd share my findings.
This chicken I bought fresh, then stuck it in the freezer until it was rock hard, and cooked it about a week after purchasing it. I bought it specifically for this post. I wanted to see how well an Instant Pot frozen whole chicken would turn out.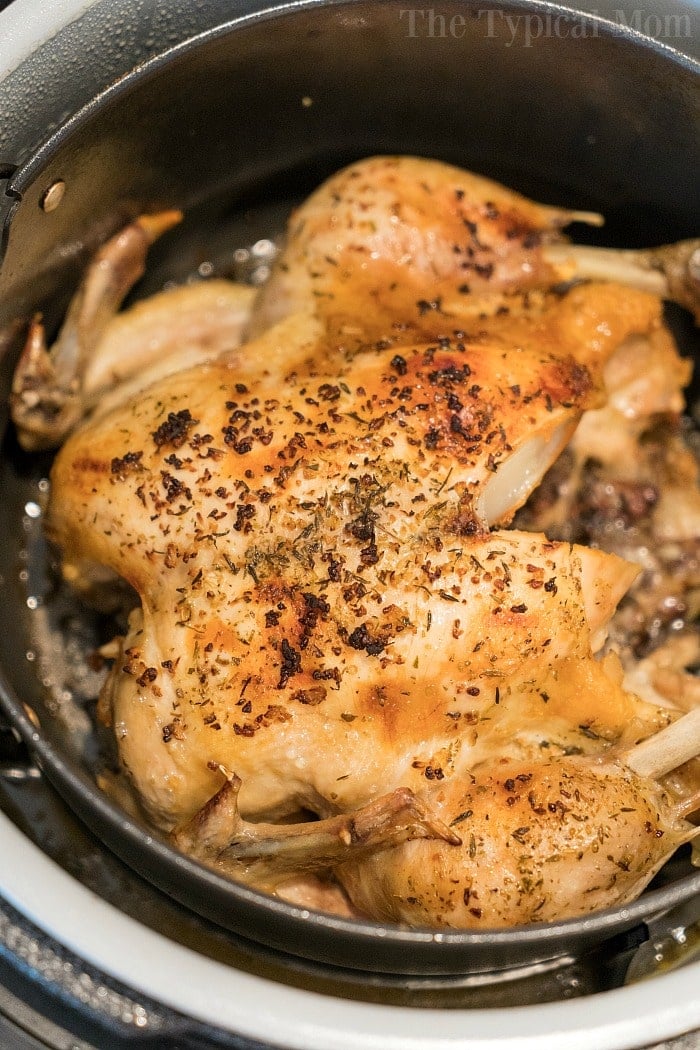 What about the giblet bag?
Some whole chickens do not have a giblet bag inside, so no worries (this one had no bag)
Others contain a bag that is paper which wouldn't do you harm if cooked inside accidentally
If your whole chicken has a plastic giblet bag inside and it is cooked you should discard everything as it is not healthy to eat anything that has come into contact with cooked/heated plastic
How to store your whole chicken

When purchasing a fresh whole chicken

Remove wrapper
Discard giblet bag
Use a food saver bag to remove the air and freeze your whole chicken, or put it into a gallon freezer bag for storage
This method allows you to purchase many whole chickens when they're on sale and freeze them all, making them immediately ready to cook using this method whenever you want

When purchasing a frozen whole chicken

Remove the wrapper
Put into a water bath just long enough to remove the giblet bag inside, if there is one
Follow directions for cooking a pressure cooker frozen whole chicken
I will tell you, I was surprised at how tender and flavorful it was….and like I said, the drippings made for some great gravy to serve on the side.
The next time we made this I followed the same recipe but after putting it under the broiler (below photo) I shredded the meat and we made chicken soft tacos. There was so much meat on this little 4.2 lb. chicken we had enough leftovers for lunch the next day. Like I said, there is a huge difference, hardly any fat at all which I prefer.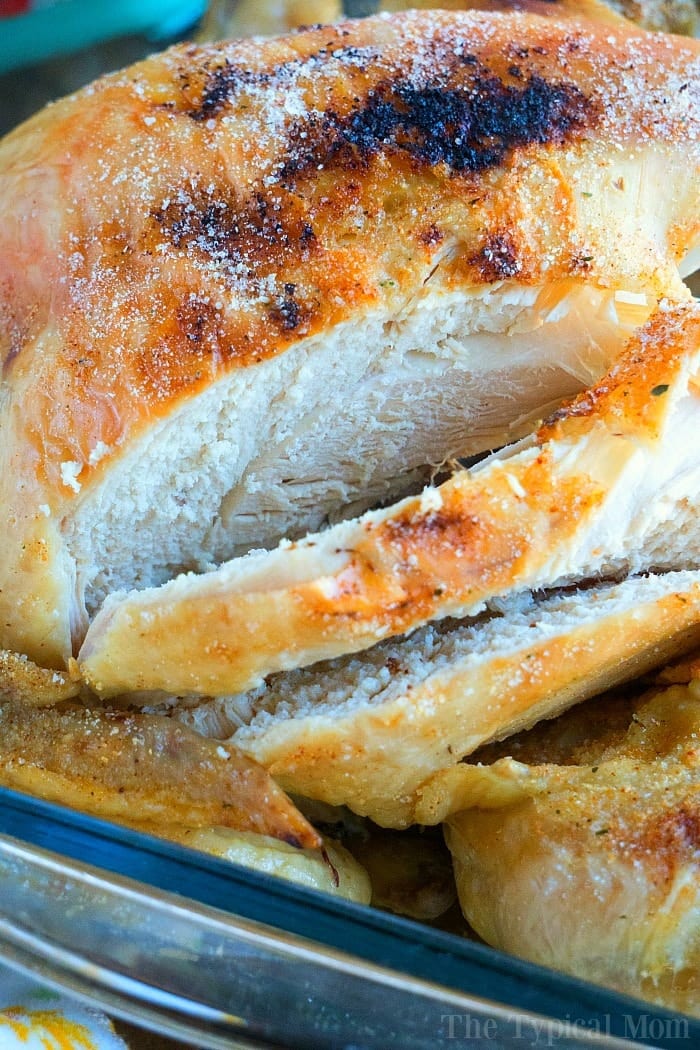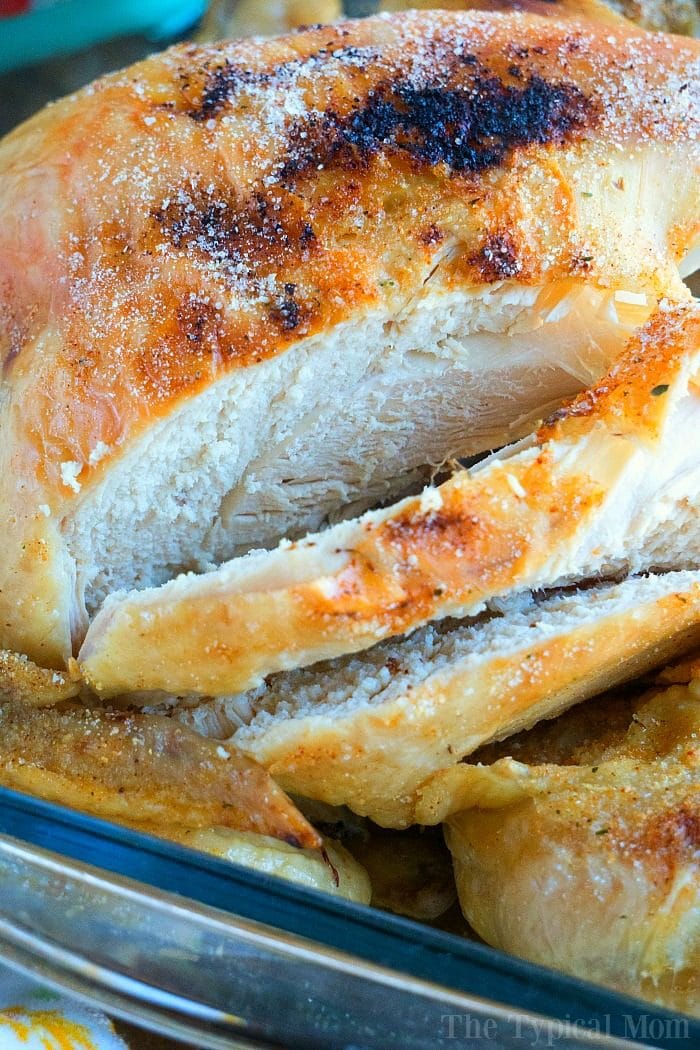 We aren't huge chicken skin lovers, HOWEVER when it is flavorful and crispy thin like this I am up for a bite. After you cook your pressure cooker frozen whole chicken……
An easy way to get crispy chicken skin is:
Cook the chicken thoroughly in your 6 or 8 quart Instant Pot
Use your CrispLid to crisp at 400 degrees for 5 – 15 minutes or until perfectly cooked outside, cooking time depends on how crispy you want it

or put it in a pan, 8×8 usually works well

Sprinkle spices you enjoy on top of it, on legs and wings too. We usually use:

Lawry's
Garlic Salt
Garlic powder
Oregano sometimes

Turn your oven broiler on – some countertop toaster ovens have a broiler setting too
Put chicken in for 3-4 minutes, watch carefully, until chicken skin is crispy enough for your preference
If you're just going to shred it for tacos though you may not bother with these steps as you may just discard the skin anyway.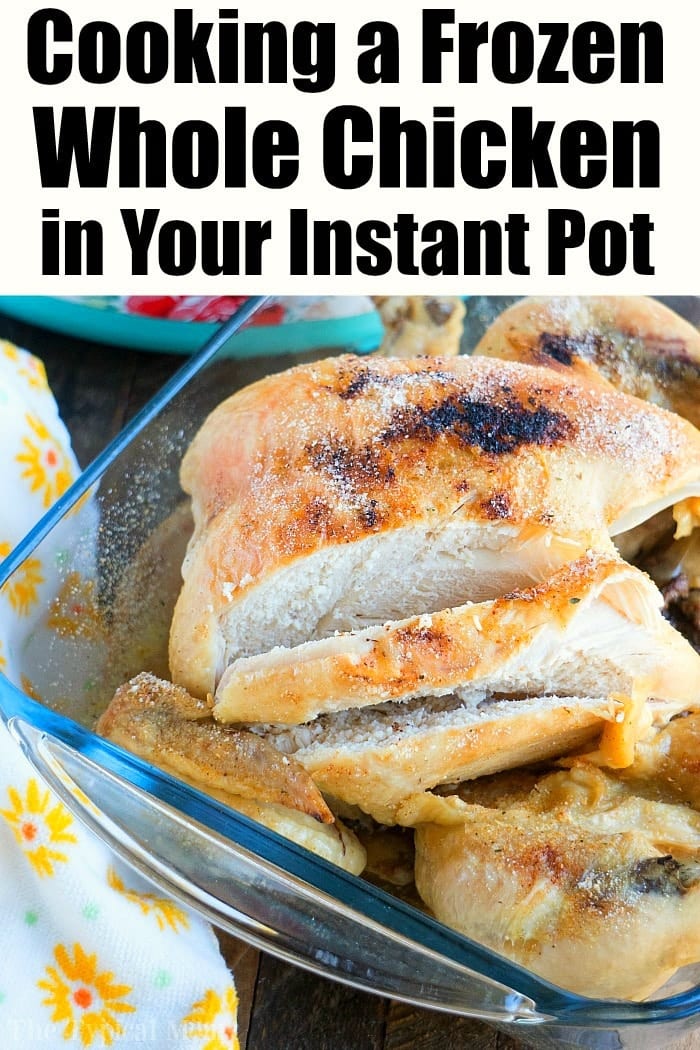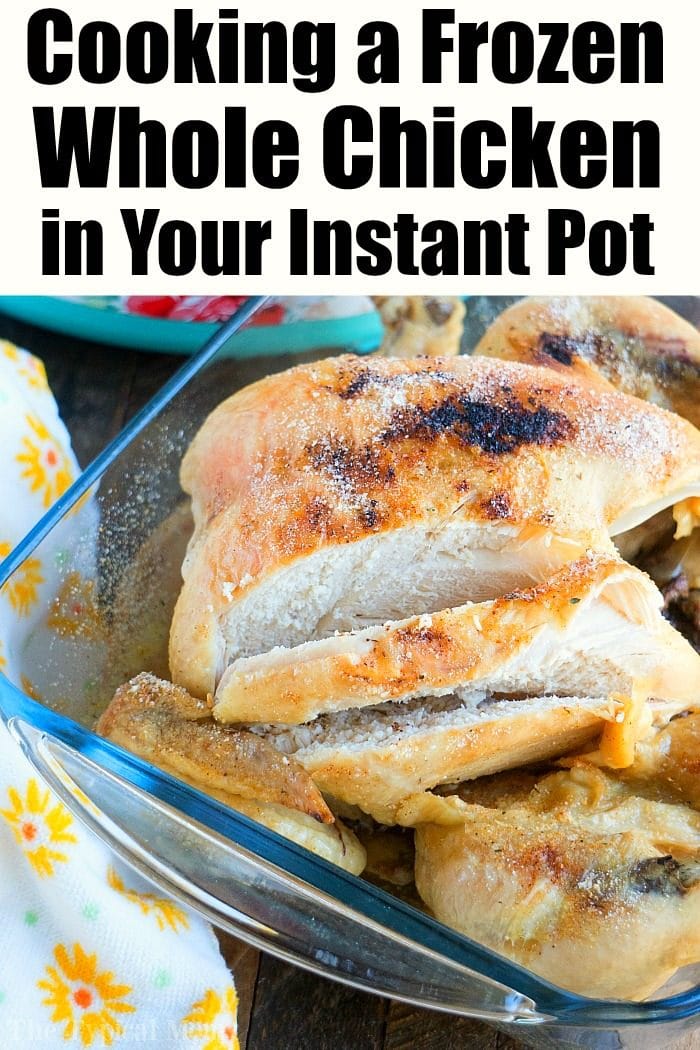 Here's what you'll need to make our pressure cooker frozen whole chicken recipe in an Instant Pot or Crock Pot Express machine
Whole chicken – frozen, if it is thawed you can use our Instant Pot whole chicken recipe instead
Onion
Chicken broth – or stock, or water
Trivet – I like this one with handles on the sides (use the inner basket if using a Ninja Foodi machine)
Instant Pot – okay so I have a few but this one is my favorite
Seasoned salt – I love Lawry's for everything
Garlic salt
After cooking a frozen chicken here are a few other frozen meat and easy Instant Pot chicken recipes to try. Use your Ninja Foodi too or other brand of electric pressure cooker: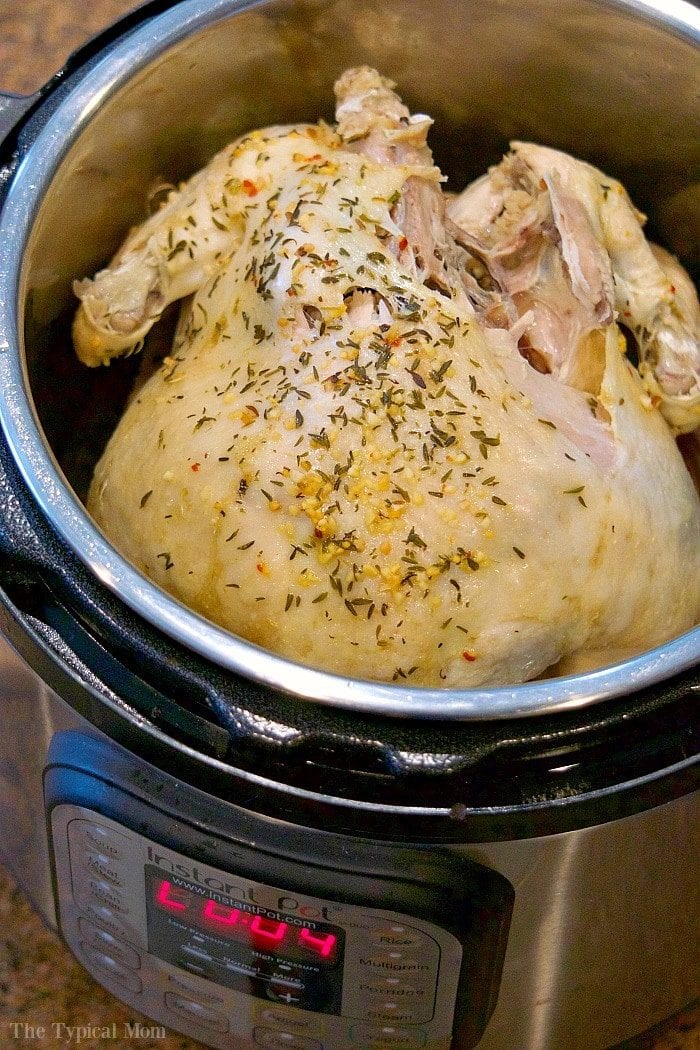 If cooking a pressure cooker frozen whole chicken in a Ninja Foodi pressure cooker and air fryer:
Put 1.5 c water into the inner pot
Place frozen chicken inside the inner basket inside your Ninja Foodi pot, lower into pot
Put pressure cooker lid on (lid that isn't attached)
Close steam valve – set to seal
Push power on button (lower right)
Push pressure button
Adjust temp. to high
Set time to 60 minutes (for a 4.5 lbs. chicken)
Press start

Do a quick release when done

Lift lid, remove pressure cooker lid, replace with air fryer lid (one that is attached)
Push air crisp button
Set time to 8 minutes
Set temperature to 400 degrees
Lift lid and check, if you want it crispier set for a few more minutes
Want to cook frozen slow cooker chicken, or make an air fryer whole chicken?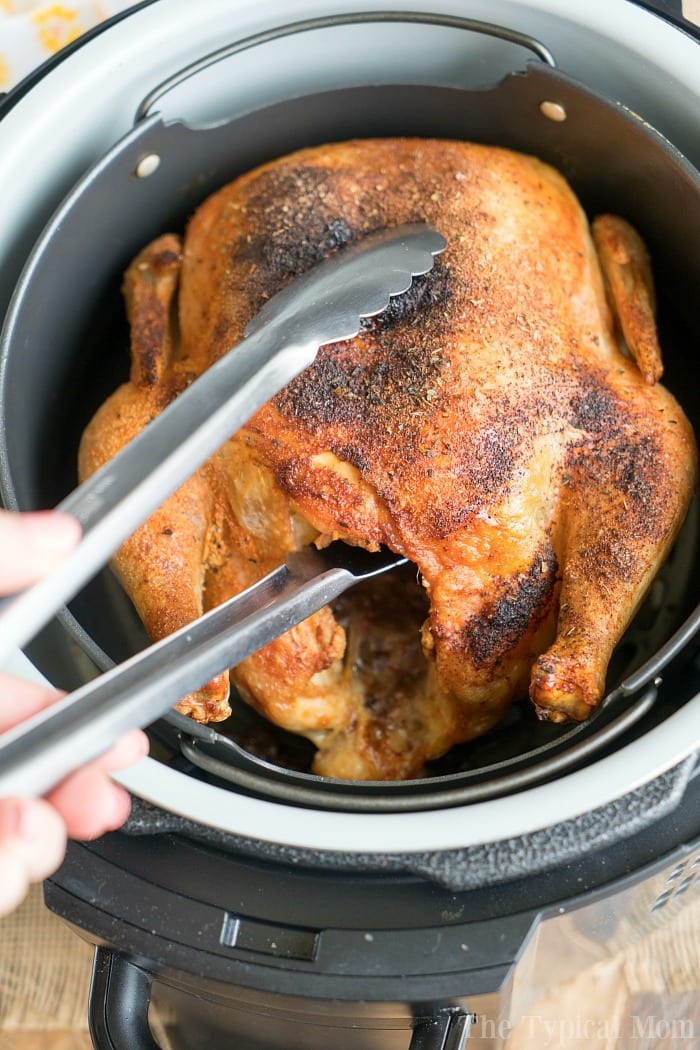 Pressure cooking a frozen whole chicken really is a game changer. Instead of the normal 20 minutes per pound of baking in the oven, you can now get an even more tender bird in about 40 minutes depending on how large your pieces are.
If you're just cooking Instant Pot chicken breasts or wings your meal will be ready in under 30 minutes. That used to be unheard of before these fancy devices came about.
SO, can you put a frozen whole chicken in an Instant Pot? YES!! I show you in the video how it's done. Way easier than you might imagine I'd guess. Try it friends!!
Instructions for Instant Pot and Crock Pot Express below:
Pressure Cooker Frozen Whole Chicken
This is how to cook a pressure cooker frozen whole chicken! From rock hard frozen to tender and juicy in 1 hour you'll always be able to get dinner done.
Instructions
Pour chicken broth or water into your pressure cooker followed by your sliced onions.

Place your trivet on top of that (if it rests on the onions that is okay).

Unwrap your frozen chicken and place it on top of your trivet.

Close your lid and steam valve and set to high pressure for 60 minutes.

Allow to naturally release steam for 15 minutes.

Carefully remove chicken (it will want to fall apart), and put it into an 8x8 dish.

Sprinkle the top with seasoning salt, and/or whatever you usually add on top of your whole chicken when you bake it.

Turn your broiler on and put your chicken in for 3-4 minutes or until skin crisps up as much as you'd like.

Serve!! (we love shredding it from there and making soft chicken tacos)
Video
Nutrition Facts
Pressure Cooker Frozen Whole Chicken
Amount Per Serving (3 oz)
Calories 9
% Daily Value*
Sodium 919mg40%
Potassium 58mg2%
Carbohydrates 1g0%
Vitamin C 4.1mg5%
Calcium 7mg1%
Iron 0.1mg1%
* Percent Daily Values are based on a 2000 calorie diet.
For more easy recipes, tips and free printables please LIKE The Typical Mom on Facebook and follow me on Pinterest! You can also sign up for my free weekly newsletter which is packed with goodies I know you'll love. 😉