This easy Instant Pot teriyaki chicken takes just 3 minutes to cook and is so tender when it's done! It's a really healthy pressure cooker chicken recipe that's inexpensive and flavorful too served with rice. Add a bit of pineapple for extra flavor and your kids will love it too.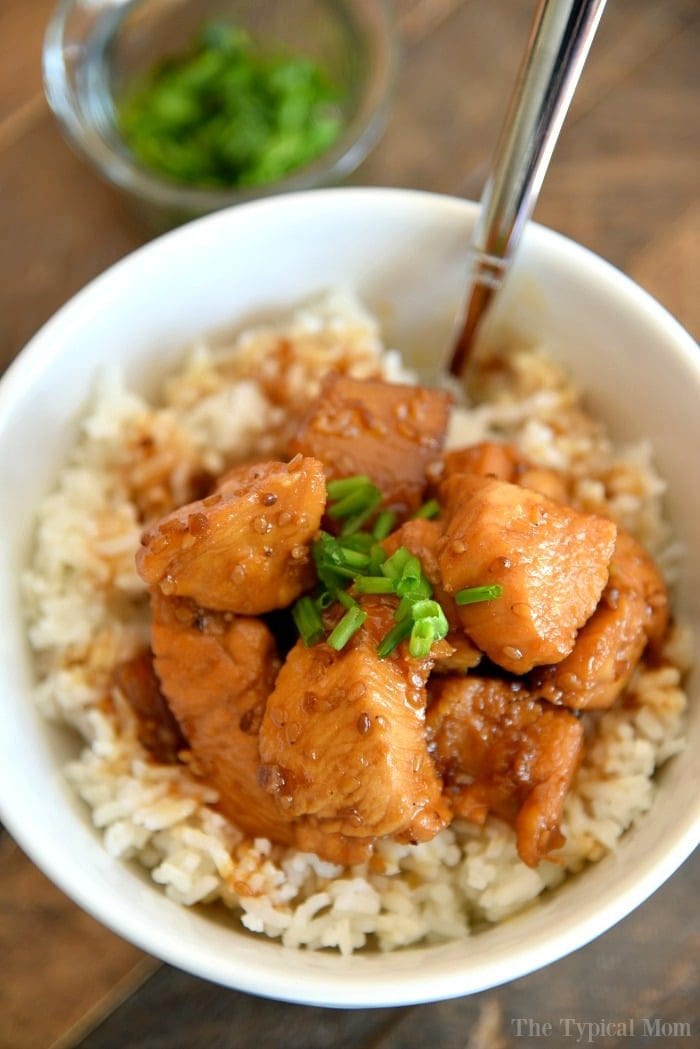 Maybe it is because I was born in Hawaii but I love anything teriyaki! I could put this sauce on just about any piece of meat and it just tastes amazing. When I started developing new Instant Pot recipes one of the first things I tried to make was the best Instant Pot teriyaki chicken and it came out great in just 3 minutes! Make some rice and you are set with a great and healthy meal that everyone in my family enjoys. You could add some onion into the pot too if you desire but we stuck with chunk pineapple and sauce to make ours. It's one of our go to easy Instant Pot recipes we love. This is a sponsored post written by me on behalf of Soy Vay. All opinions are 100% mine. (originally published 3/17)
Just like any other recipe you can add or omit what you love or don't prefer to have added.
I started out simple when making this Instant Pot teriyaki chicken recipe. Adding pineapple chunks, a bit of juice, and the teriyaki was it!
You save yourself a step by cutting my chicken into chunks before adding it to my Instant Pot / pressure cooker too.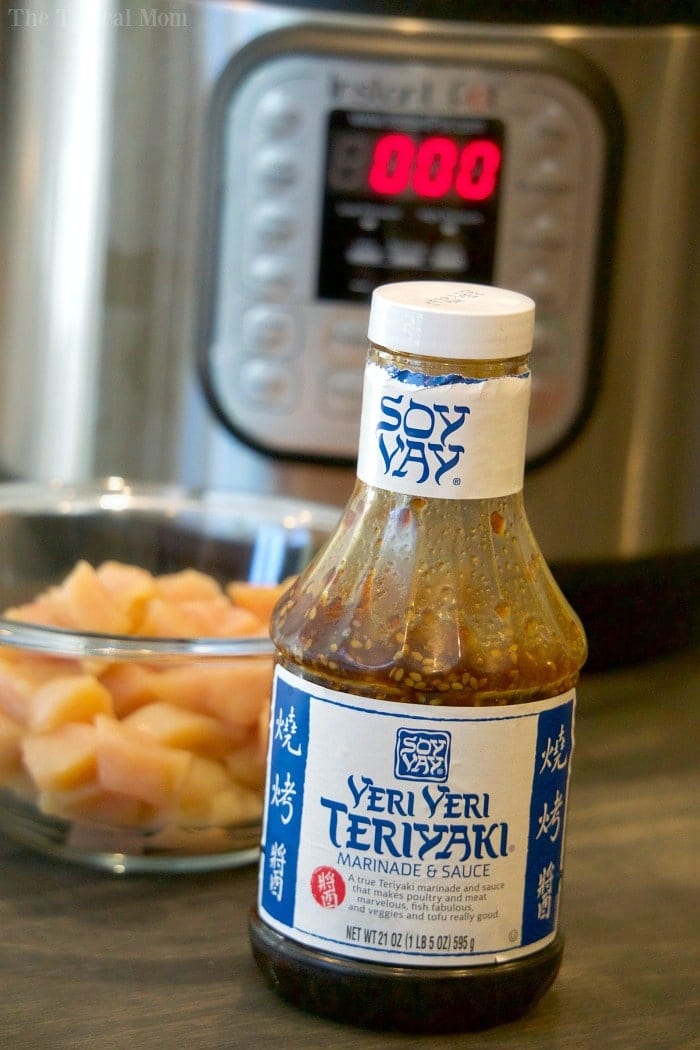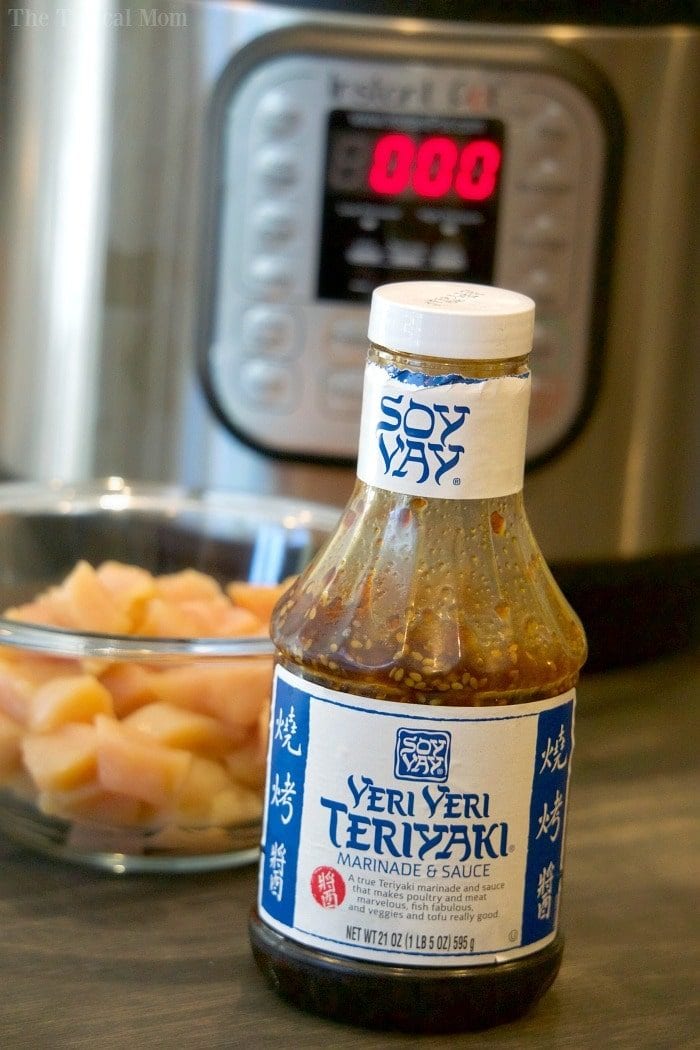 We all need a few recipes "in our pocket" that only use a few ingredients and take less than 15 minutes. You know for those evenings when you only have an hour in between soccer practice and homework….we're there a lot. 😉
What you need to make this quick Instant Pot Teriyaki Chicken
Jar of Teriyaki marinade – this Veri Veri Teriyaki is our favorite, not too thick and great taste (do not use thick sauces in IP, it will burn – what burn on Instant Pot means and how to prevent it)
Chicken breasts – boneless, skinless, diced into bite size pieces
Chunk pineapple – we like this one
Rice – this is how to make the perfect Instant Pot white rice
Cornstarch (optional if you want to thicken sauce at the end)
Of course you could make your own teriyaki sauce using brown sugar and a few other ingredients but if you really need a quick throw together Instant Pot chicken recipes this is perfect because it only takes about 3 minutes to cook.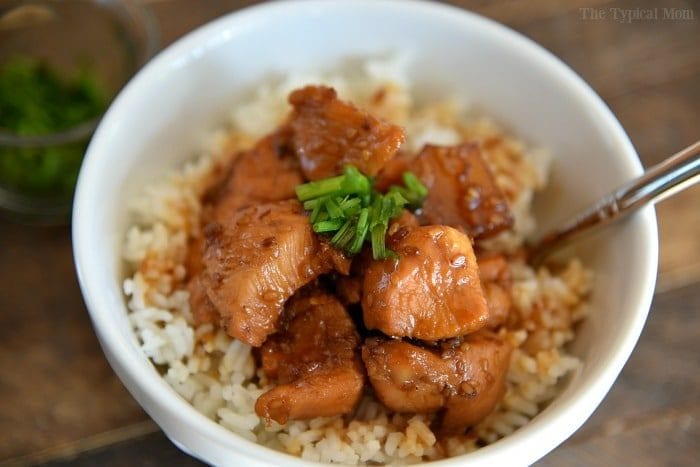 Here are a few other of the best Instant Pot recipes you will love
Here's a video showing you how easy pressure cooker teriyaki chicken is to make
You can see just how much teriyaki sauce the chicken soaked up just by the color of it!
The pressure cooker does all the work for you which is great. If you throw some rice in your rice cooker or on the stovetop your whole meal is done in about 10 minutes total. Great lunch option for me who works at home. If I need a quick meal I know all 5 of us will enjoy this is my go to recipe
Instant Pot Teriyaki Chicken
This easy 3 ingredient Instant Pot teriyaki chicken recipe takes just 3 minutes to cook and is so tender and flavorful! Really healthy pressure cooker recipe that's inexpensive and our whole family loves atop a bowl of rice.

Ingredients
1

jar

Teriyaki sauce

Soy Very Very Teriyaki sauce 15 oz.

2 -3

chicken breasts

boneless skinless, cubed into bite size pcs.

1

c

pineapple

chunk, optional

1 1/2

c

rice

uncooked, cook as usual, serve chicken on top

1

tbsp

cornstarch

optional

1

tbsp

soy sauce

optional
Instructions
Cube chicken and add into Instant Pot or pressure cooker

Pour teriyaki sauce (3/4 of jar or enough to cover cubed pcs. of chicken), pineapple chunks, and soy sauce if you choose to add it into your Instant Pot.

Stir so all chicken pieces are mostly covered with liquid. (usually about 1 1/2 c. sauce or enough to cover chicken, watch video to see- do not use thick teriyaki sauces as those will burn)

Put lid on IP, close pressure valve, and set to manual low pressure for 3 minutes. (if adding 3 chicken breasts set to 4 minutes, 4 chicken breasts diced up set to 5 minutes)

Chicken will absorb yummy teriyaki sauce in just 3 minutes.

When it beeps do a quick release on your steam valve and carefully lift the lid and make sure chicken is not pink (if cut into bite size cubes 3 minutes should be perfect).

If you want the sauce to be a bit thicker remove your chicken, set pot to saute, and put about 4 tbsp. cold water in a small bowl with about 1 tbsp. cornstarch and whisk together until smooth (add more water if needed), then add back into the mix and stir.

Allow to bubble so the sauce thickens a bit. Serve over rice!
Nutrition Facts
Instant Pot Teriyaki Chicken
Amount Per Serving (8 oz)
Calories 95
% Daily Value*
Sodium 252mg 11%
Potassium 185mg 5%
Total Carbohydrates 24g 8%
Protein 1g 2%
* Percent Daily Values are based on a 2000 calorie diet.