Ok I'm beck with another one of my favorite Instant Pot recipes that we made just today! I have made a whole chicken in the crockpot before and I figured I could use the same philosophy but knew it would get done much faster in my new favorite appliance and boy did it! Making this Instant Pot whole chicken took just 25 minutes and came out to perfection! Not only did the chicken turn out moist and delicious but the potatoes were so good I almost didn't want to share. 😉 (affiliate links present)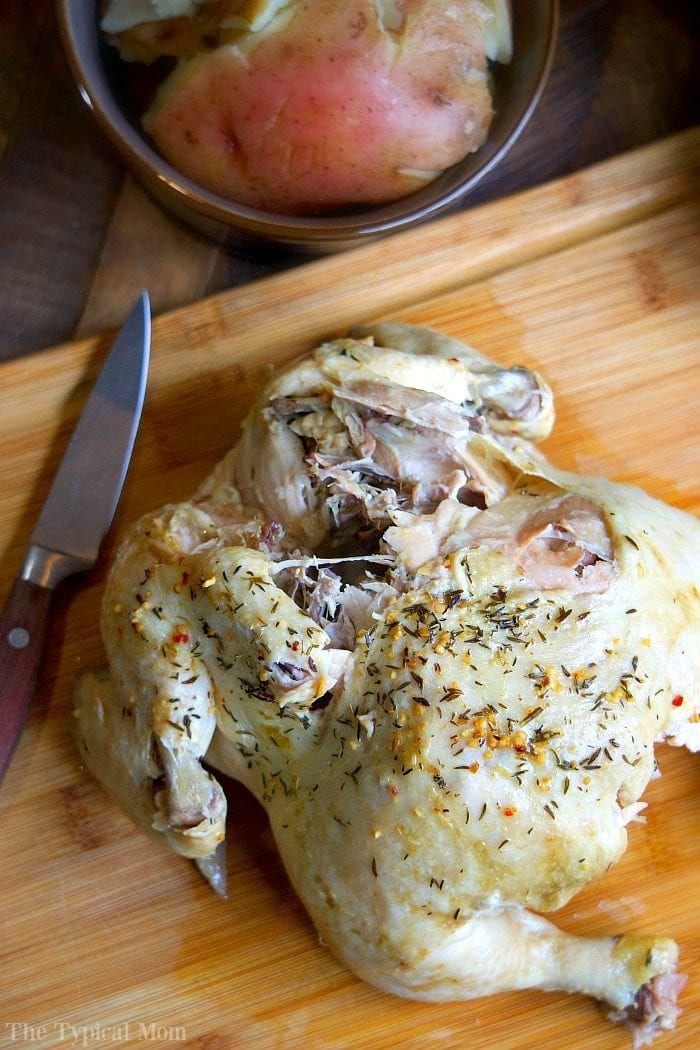 OH yes, I know….you want to try it like tonight!! Such a healthy and inexpensive dinner idea, and from start to finish is done in literally 30 minutes! When you're using a pressure cooker I realize you want to elevate your meat so it isn't sitting in the juices that are going to steam it. I like to use potatoes as my "trivets" because why not??!! They work just as well and they are edible at the end! Better yet they soak up the juices and tastes seriously so amazing you won't believe it until you try it yourself. 😉 You'll need an Instant Pot or pressure cooker to make it this quickly and I highly recommend getting one if you don't have one already.
Instant Pot Whole Chicken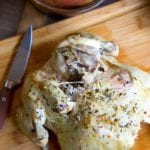 Instant Pot Whole Chicken
The most amazing Instant Pot whole chicken recipe ever! Easy way to make a pressure cooker chicken that's moist and really flavorful in just 25 minutes!
Ingredients
2

tbsp

. olive oil

1 1/2

c

. chicken broth

can use water but broth is much better

3

medium red potatoes

1

whole chicken

pinch of spices to go on top chicken like thyme

oregano, salt, garlic salt
Instructions
Put your Instant Pot on saute low setting. Add olive oil and put chicken inside to lightly cook for about 2 minutes, then flip chicken and cook on other side for 2 minutes. Remove from IP and add your chicken broth and potatoes into your IP so they are close together so your chicken can sit right on top of them (watch video in this post). Place chicken on potatoes in your IP. Close lid, make sure steam valve is secure, and set to poultry, normal setting, for 25 minutes. When it beeps release steam valve. When done releasing carefully lift lid and it is done!
We probably cook a whole chicken every week and either made it in our oven, convection oven, or crockpot. All took a minimum of an hour and a half and in the crockpot it took much longer. When we are in a hurry (or I forgot to put something in for dinner) this is an amazing healthy Instant Pot recipe to make! All 5 of us love it. Served with some rolls and a side salad it feeds all of us perfectly.
Here's a rundown of how you make it:
If you're looking for another easy meal idea check out all of the Instant Pot recipes we have on The Typical Mom and see what else you'd enjoy!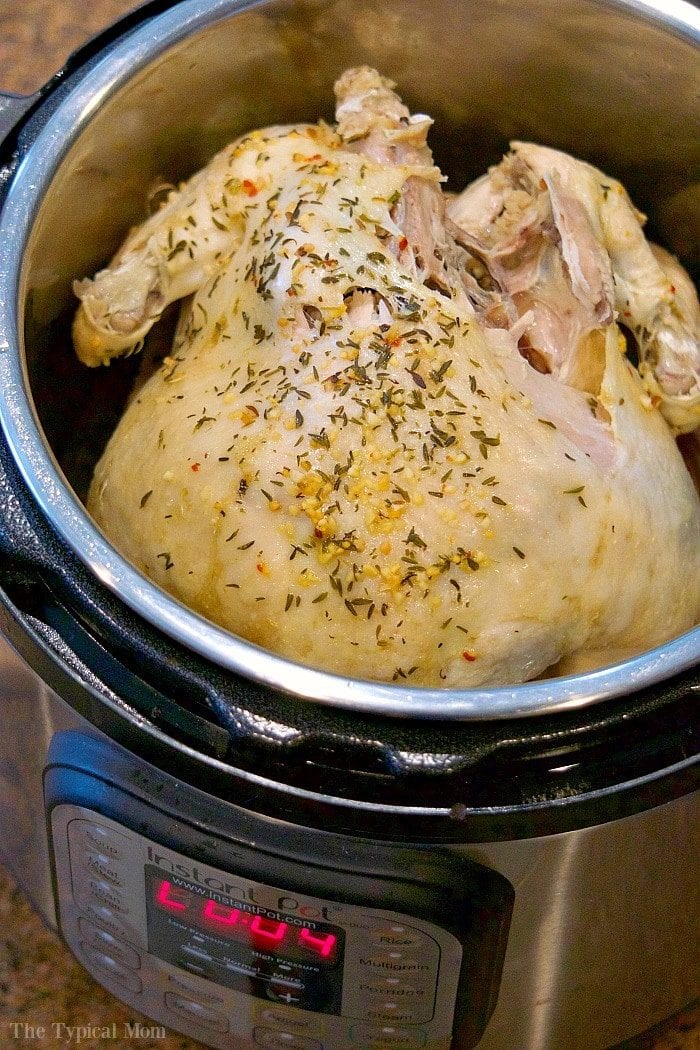 For more easy recipes, tips and crafts please LIKE The Typical Mom on Facebook and follow me on Pinterest! You can also sign up for my free weekly newsletter which is packed with goodies I know you'll love. 😉