Whole chicken Instant Pot recipes are here! Whether you have a frozen chicken or fresh we'll share the best way of how to cook a whole chicken to tender and crispy on the outside. In your Crockpot Express or Ninja Foodi they all work well.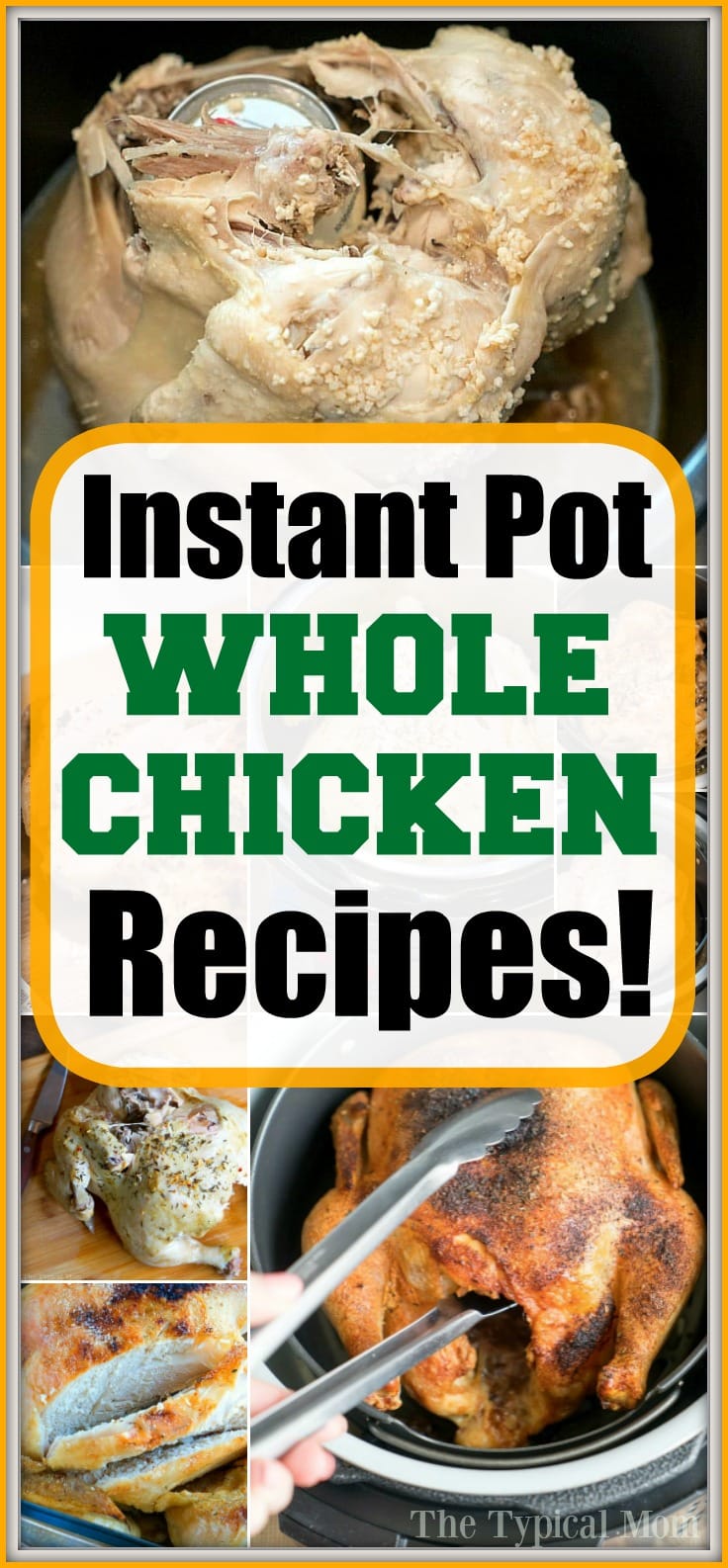 Looking for tender and juicy whole chicken Instant Pot recipes?? We've got a few to try! Using a fresh, thawed or frozen whole chicken we have all the instructions here. Get ready for a few healthy Instant Pot recipe ideas my friends. (affiliate links present, originally published 5/20)
Ninja Foodi Whole Chicken Recipes
With a much faster cooking time than a slow cooker or boiling a whole chicken, you now can make an entire chicken in just 30 minutes! Then if you have an air fryer or Ninja Foodi pressure cooker you can get crispy skin all in one pot. That part is optional of course but it does have both functions in one.
Have a Crockpot express or Mealthy, those will work great as well. You'll just need high pressure function to get all these done so use what you have friends. Oh and you'll want a trivet to keep the meat out of the liquid, that should come with your machine. Potatoes on the bottom will work as well. This is how long to cook a whole chicken this way;
FIRST – You should sign up for my free newsletter so you get new posts emailed to you twice a week and never miss out on anything! Now let's start with a few basic tips:
Make sure to Bookmark our InstaPot recipes page. We add new ones each week!
Then PRINT this —–> Instant Pot cooking times cheat sheet that will help you understand how long meat, vegetables and beans take to cook in your pressure cooker.
For reference, this is the pressure cooker I have (a 6 quart) and use for all recipe creations.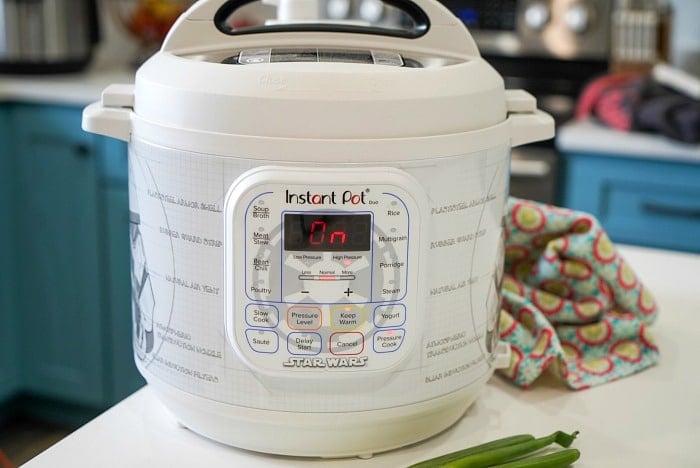 Do you have to use trivet in Instant Pot for Chicken
Yes you do want to keep it out of the liquid so the skin doesn't get rubbery. If you don't have the one it came with that is okay. You can use potatoes on the bottom instead which is what we do. Just wash and set your bird on top to keep it elevated. Or fill cavity like our stuffed whole chicken and set down.
What size pressure cooker should I buy?
That depends on the size of your family

Our 6 quart has always been large enough to feed the 5 people in our house.
Check this out y'all!! Now you can get an Instant Pot air fryer lid too!! That way you can brown the chicken skin right in the pot and not use your oven!!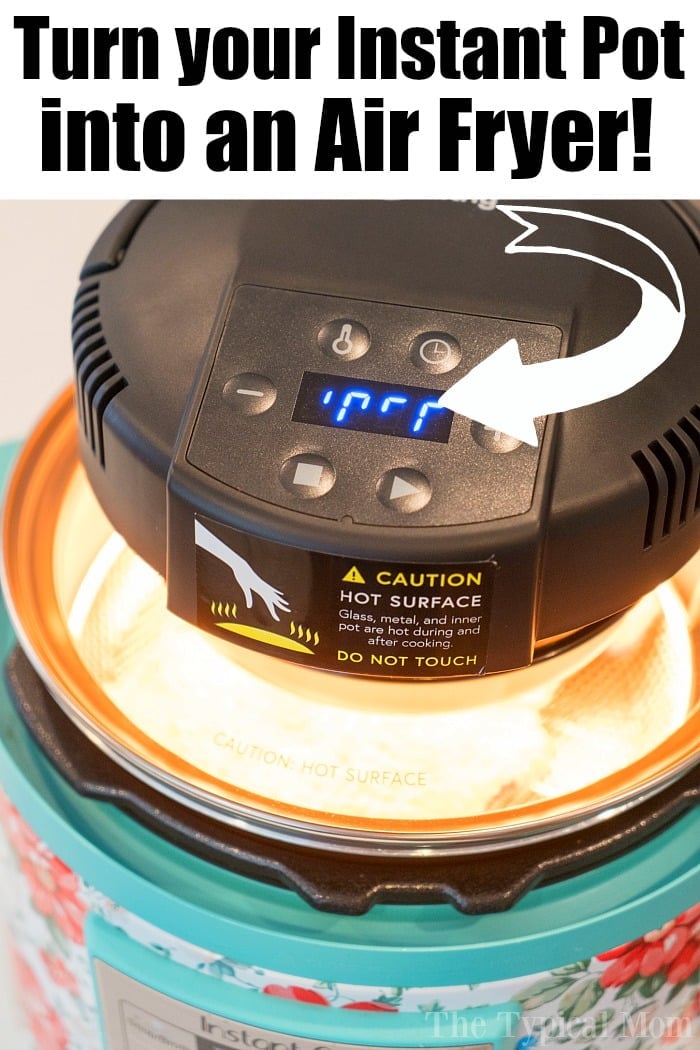 Is it cheaper to buy a whole chicken?
YES! Whether you buy a store brand, name brand, or organic chicken it will be less expensive.
Then you will get all the pieces and then some. Most will come with a bag full of organs. You can discard or use our recipe on how to cook chicken gizzards to make yet another recipe. It makes for a great gravy to serve with your meal.
Do you have to use a trivet in the Instant Pot?
For these recipes, yes I like this one with handles.
Liquid is necessary too. Use broth, water or even beer!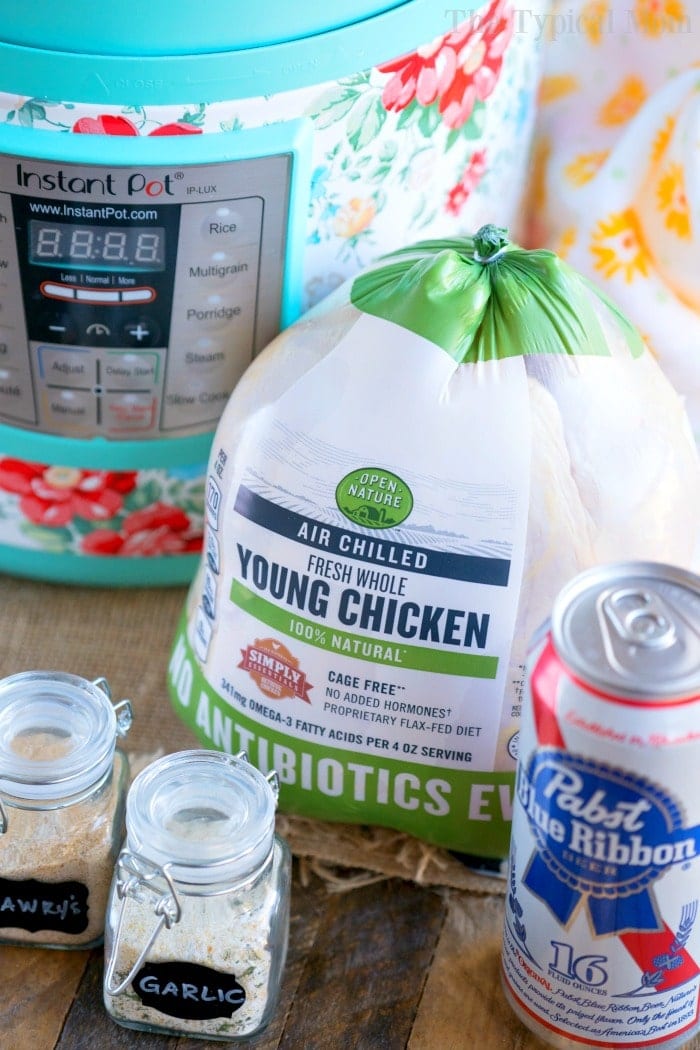 What is a good price for a whole chicken?
The prices above are average and pretty good. I am a frugal person so I always look at what meats are on sale and plan our meals around that.
However, when it comes to whole chickens I will tell you that there is a HUGE difference in quality and it's worth the extra $5 to get leaner healthier chickens. (just my opinion of course)
How much is a whole chicken at grocery stores?
It depends on what brand you buy

Store brand will be the cheapest but not always the best quality

Usually around $5 for a 4/5 lb. chicken

Name brands will typically be more and a bit higher quality

Around $7 for a whole chicken

Organic or Free Range vs. Non Organic chickens

Organic and/or free range – cage free chickens will be the most expensive but the leanest of them all (this is what we buy)
This is our first Instant Pot whole chicken recipe using just basic herbs and spices. It is done in just 25 minutes if you want to eat it right out of the pot and not crisp up the skin.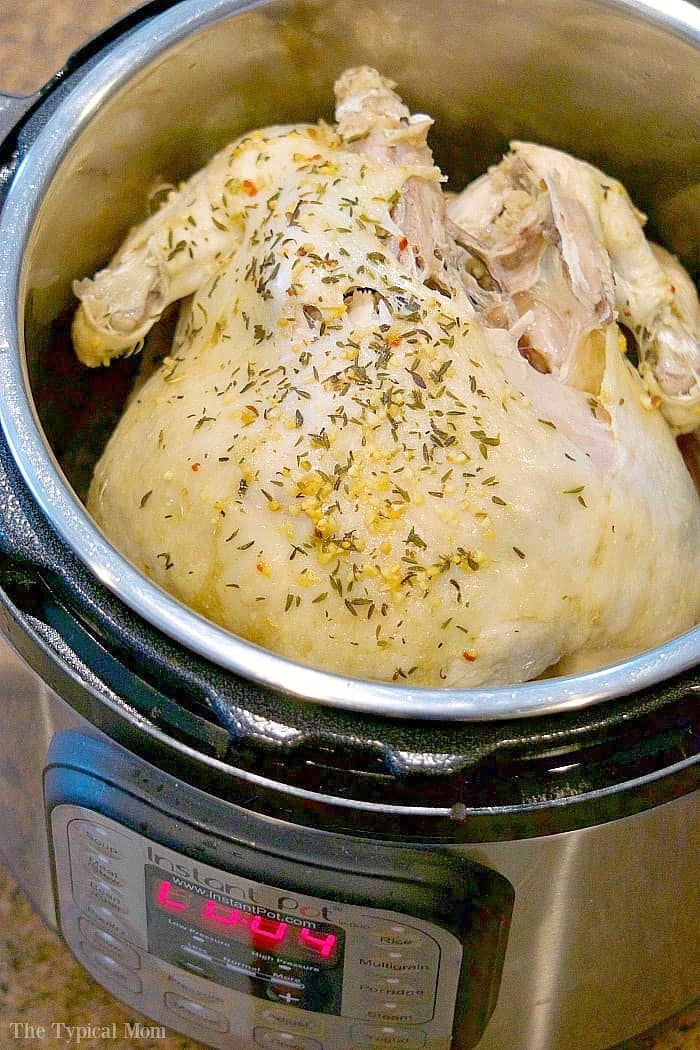 Instant Pot whole chicken recipes
Ok so as far as the seasonings are concerned there are hundreds of possibilities. Use an already made bottle that was already mixed together or create your own in a small bowl. Some will stick at the beginning but you'll likely want to add more at the end, especially if you're air frying to crisp the skin.
Now did you know you could make the best beer can chicken recipe in your pressure cooker?? Why we love this method?
It cooks quickly
There's no need for a barbecue

although if we have time our smoked beer can chicken is amazing too

The beer gives your meat a great flavor (and I'm not a beer drinker myself)
Note: an 8 qt. is necessary to use this method. Smaller pots aren't tall enough when adding the can.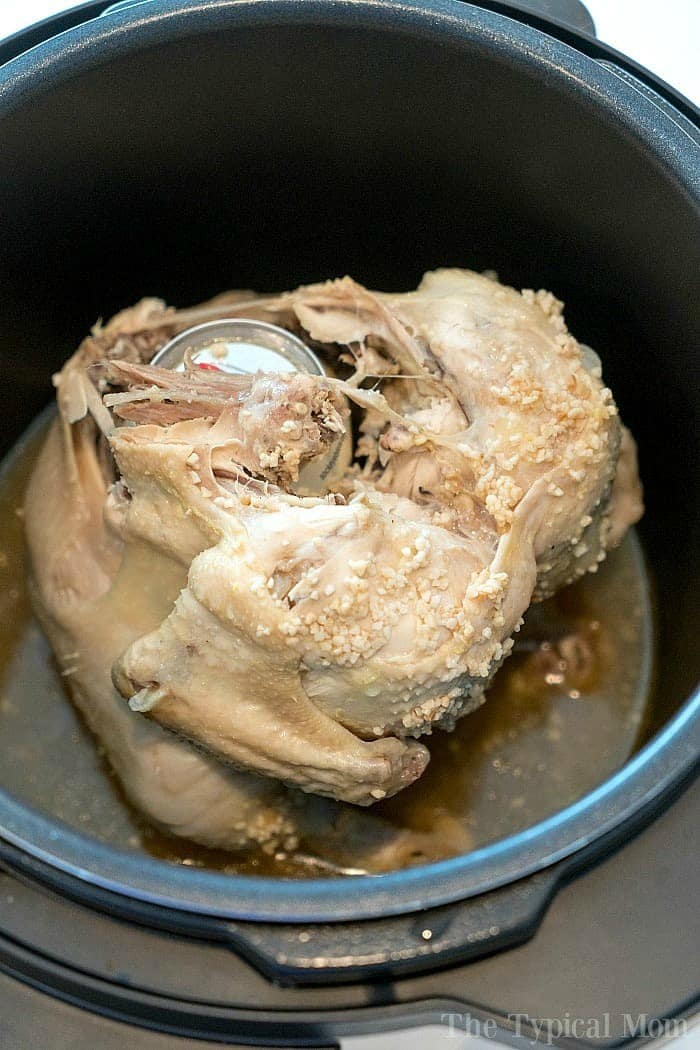 Now what if you forgot about dinner?? Sound familiar?? NO problem!! I share how to make a pressure cooker frozen whole chicken right here. That's right, it goes from rock solid to tender in about an hour.
Can you put frozen meat in a pressure cooker?
YES! The most popular ones are Instant Pot frozen whole chicken and for beef you'd want to make our Instant Pot frozen roast some time.
Before you freeze your whole chicken ensure that there is nothing inside the cavity. If there is, remove it before putting it into your freezer.
Use a trivet so it doesn't sit in the liquid while cooking.
Add seasonings after it's done pressure cooking, and before crisping the skin.
Use a broiler or air fryer to crisp chicken skins to desired color.
If you want Instant Pot frozen wings you can make those too and they're the perfect appetizer. You would never know once done that at the beginning they were rock hard right out of the freezer. There are SO many options, I haven't found anything that doesn't work in this thing.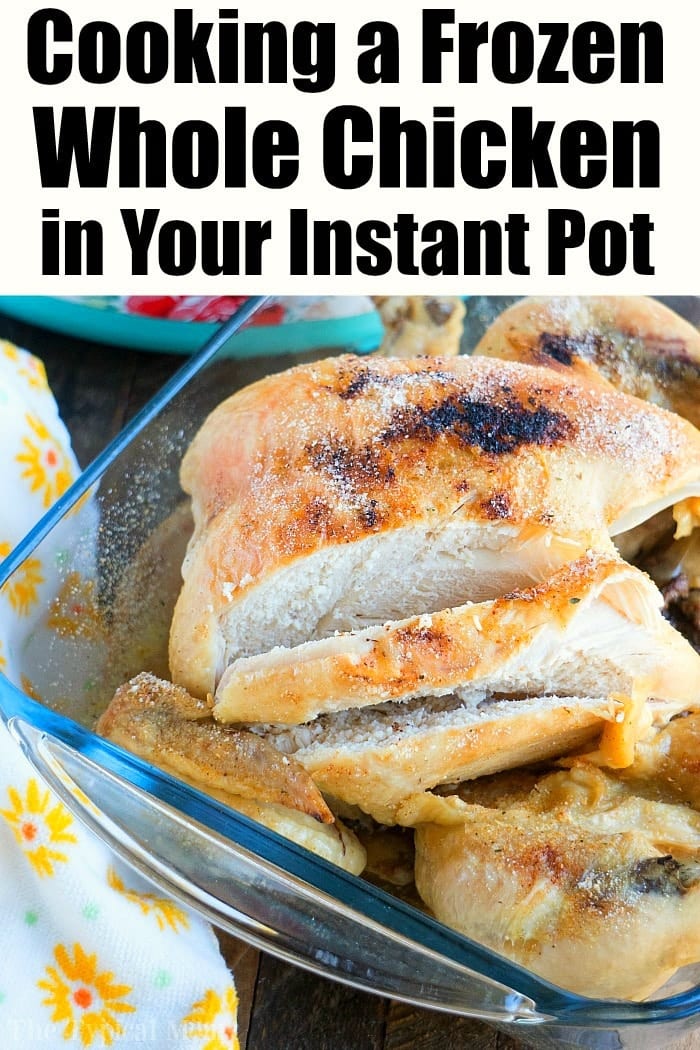 Can You Make things Crispy in the Instant Pot
Yes, and this is now updated to report that they have introduced an air fryer lid that works pretty good! You just pressure cook and then use the lid on top instead at 400 F for a few minutes. Options for getting crispy chicken skin:
Set your broiler to 350 degrees
Put your pressure cooked chicken into a baking dish
Spray olive oil on the skin + add desired spices
Place dish in oven for about 5 minutes
Remove when chicken skin crisps enough for you
2nd option is to put into your air fryer at 400 degrees for about 10 minutes to brown skins. If you have a Foodi we share how you can use their air crisp function to brown it all in the same pot! With that and the airfryer lid you'll want a bit of olive oil and more seasonings added to the top. This will help get that texture you want.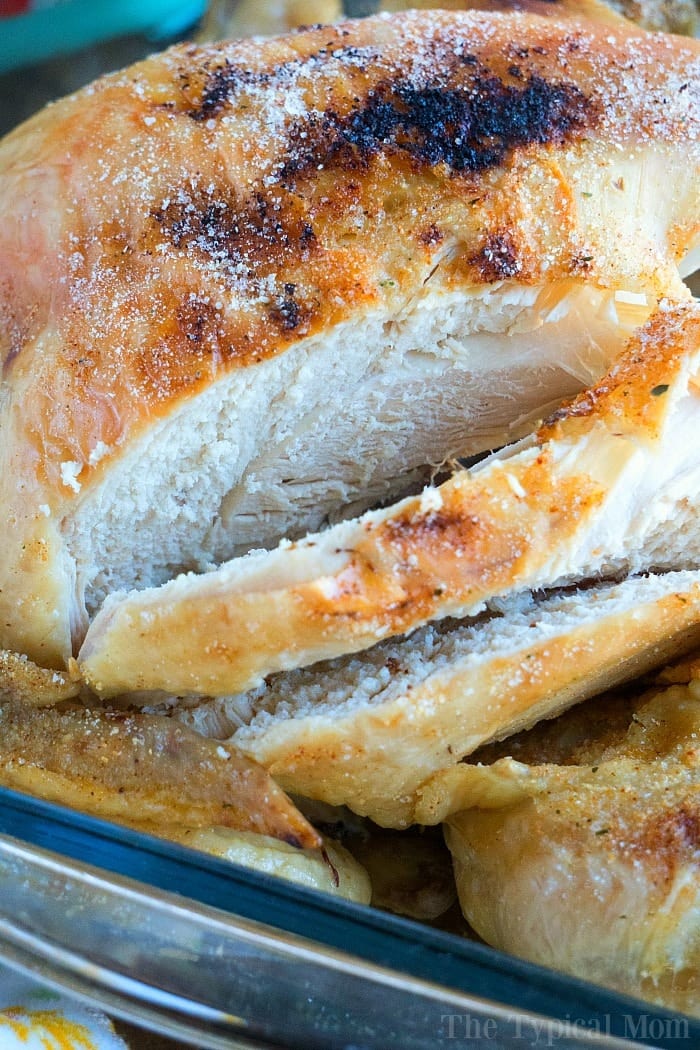 Whole Chicken Recipes Ninja Foodi
Do you have a Ninja Foodi?? If so you can either make an air fryer whole chicken or roasted chicken using the air crisp function at the end.
Benefits of having a pressure cooker and air fryer??
You never have to turn on your oven. (no heating up your house required)
Chicken skins come out extremely crispy in no time.
You can create a one pot meal and dirty just one pan.
I still use both devices but this has been a game changer for us. The ability to pressure cook the meat and get the chicken breast side super crispy has been a game changer!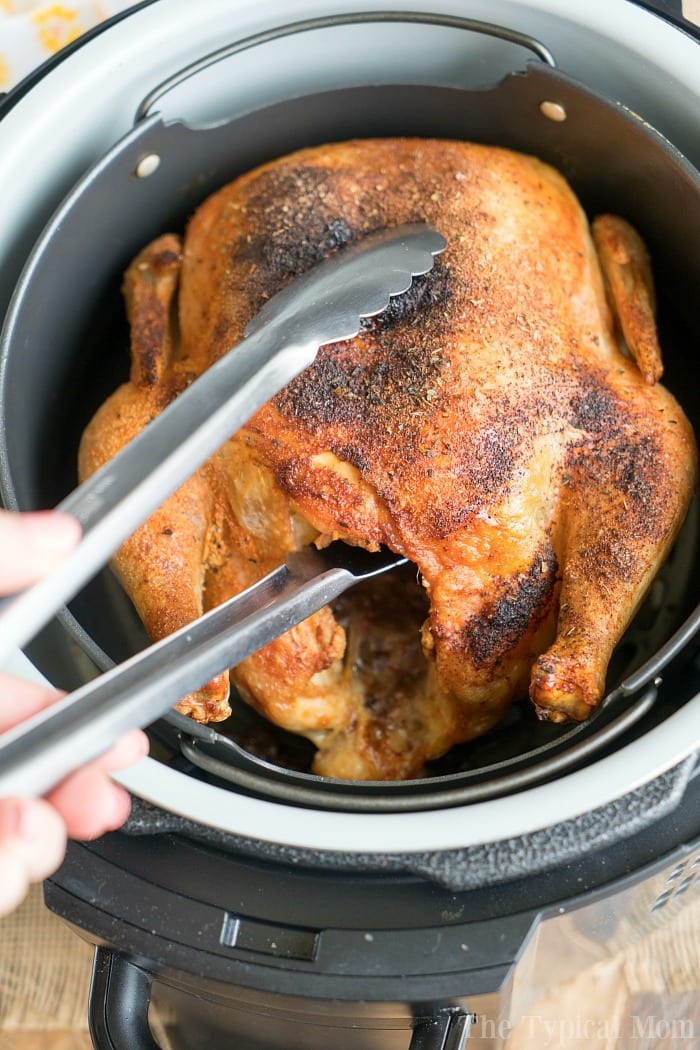 How fast does the Instant Pot cook
It depends on how large your bird is but for an average 4/5 pound chicken it typically takes 22-25 minutes. If you are going to put it into an air fryer once it's done I decrease the time a bit so the meat doesn't dry out in the air crisp process.
If eating straight out of the pot 25 minutes is adequate
Air frying the skin at the end has me decrease the time to 22 minutes
Using a broiler to crisp skin at the end I would stick to 25 minutes

In all cases set valve to sealed and then allow pot to naturally release steam for 5-10 minutes once timer goes off.
Same rules apply if using a Crockpot Express or Mealthy pressure cooker.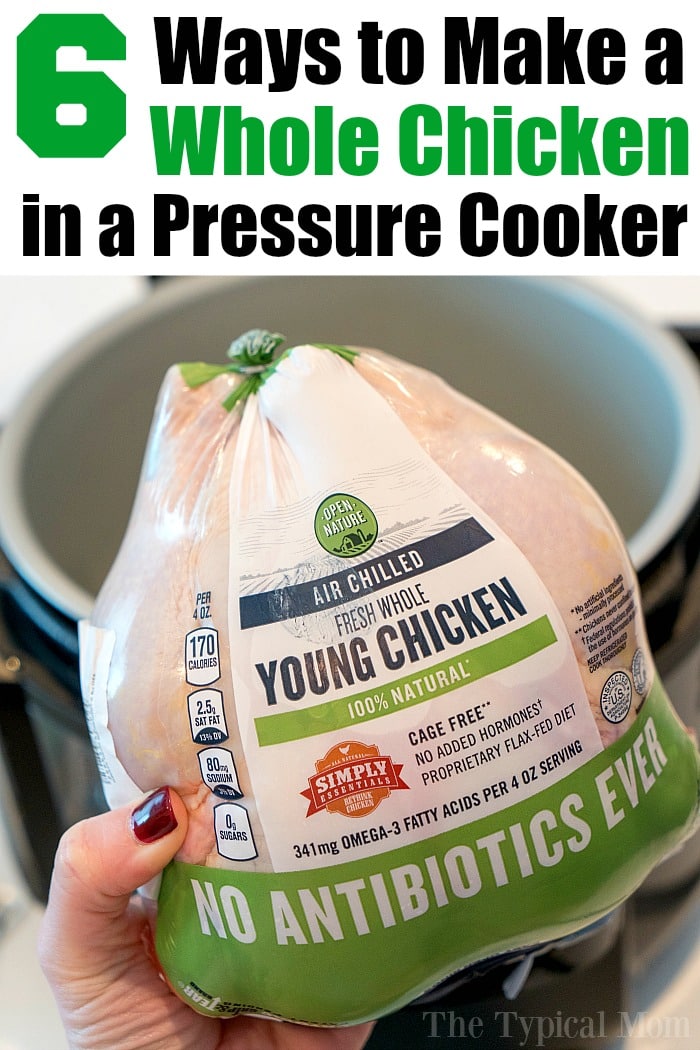 How to Cook Chicken Whole in InstaPot
Looking for more easy Instant Pot chicken recipes??
We have a ton of them, these are just a few focusing on cooking a whole chicken in your Instant Pot. The majority of these one pot meals are done in about 15 minutes so you can be assured dinner will be a snap. I'm all about easy here on The Typical Mom blog. 😉
If you love chicken breasts you can also cook frozen chicken in a pressure cooker. The chicken cooks in no time and goes from rock hard to tender. Perfect if you're making shredded chicken to put on sliders!
We just made this hoisin chicken using diced up chicken breasts. With Asian flavors and served on top of rice in the pressure cooker it was so good!
If you're looking for another way to cook a whole bird try our dutch oven whole chicken recipe. It comes out incredibly moist and is a great way to cook over the campfire.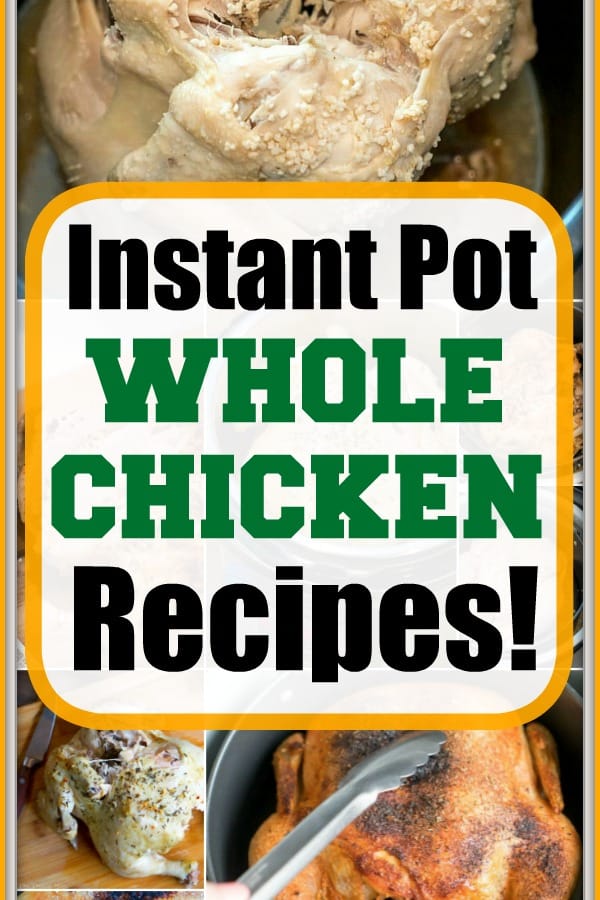 Want to see a few of my favorite things that I am totally obsessed with?? Take a peek and see how many you might already have…twinsies!
Looking for more easy family recipes and tips? LIKE The Typical Mom Facebook page?
Then sign up for my free newsletter, and follow me on Pinterest! 😉
***** If you LOVED this recipe give it 5 Stars below and let everyone know what you thought about it. 😉
Whole Chicken Instant Pot Recipes
Lots of whole chicken Instant Pot recipes you can make in any brand of pressure cooker. How to cook a whole frozen chicken in Instant Pot, fresh, marinated and cut apart.
Instructions
Pour broth into pot, set trivet into pot. Slice onion. Dry chicken skin with paper towels and remove bag from cavity.

Rub olive oil on skin and sprinkle seasonings all over. Set chicken on trivet and close lid and steam valve.

Set to high pressure for 30 minutes and then let steam naturally release completely, about 20 minutes.

Use tongs to remove chicken, ensure temp inside is 165 degrees, set on cutting board and slice to serve.
Nutrition Facts
Whole Chicken Instant Pot Recipes
Amount Per Serving (1 oz)
Calories 390
Calories from Fat 261
% Daily Value*
Fat 29g45%
Cholesterol 116mg39%
Sodium 1183mg51%
Potassium 334mg10%
Carbohydrates 2g1%
Protein 29g58%
Vitamin A 217IU4%
Vitamin C 4mg5%
Calcium 27mg3%
Iron 2mg11%
* Percent Daily Values are based on a 2000 calorie diet.