Want to know how long to cook a whole chicken all different ways?? I will explain how to do it in the oven, smoker and all of your countertop appliances. Not just fresh or thawed though, we even have instructions for cooking frozen whole chicken in a number of different methods as well!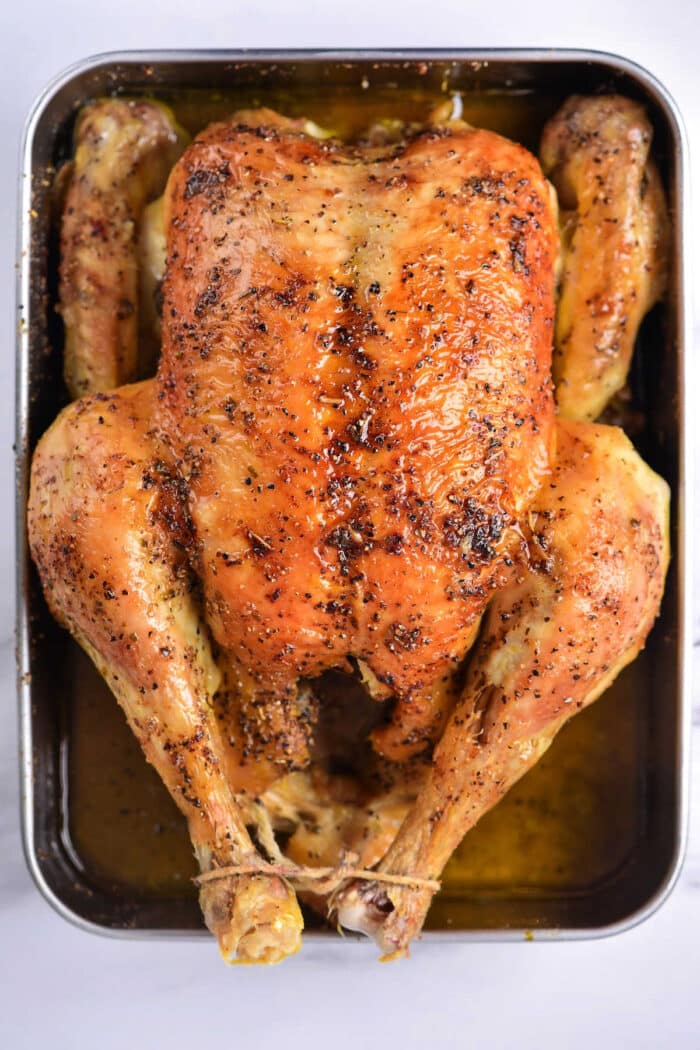 Whole chicken cooking time varies depending on a few factors. We will discuss them all so you can choose the method, texture and timing you prefer. They all have their pros and cons depending on what you're making and how much time you have. (affiliate links present)
How Long Does it Take to Fully Cook a Chicken
Cooking a whole chicken can be a delicious and satisfying meal option for any occasion. Whether you're hosting a dinner party or simply want a comforting family meal, a well cooked and juicy whole chicken can be the centerpiece of a mouthwatering feast.
Reaching the perfect roast and crispy skin though requires careful attention to cooking times and temperatures. HERE we will guide you through the process of determining how long to cook a whole chicken in air fryer, smoker, slow cooker, pressure cooker and beyond.
Cooking Time for a Whole Chicken
Timing can vary depending on factors such as the size of the bird, the cooking method, and the internal temperature you aim to achieve. To be safe 165 degrees F is suggested to be safe to consume, and not over-done and dried out.
The weight of the chicken

will vary the cooking time the most. As a general rule of thumb, you can calculate approximately 15 to 20 minutes per pound in the oven at 350° F or 175° C).

Of course this is just a guideline, and it's always best to use a meat thermometer to ensure the chicken is cooked thoroughly inside the thickest part of the thigh.
If making a stuffed whole chicken it typically doesn't matter as far as getting done.

Cooking temperature

plays a crucial role in determining how long a whole chicken takes to cook. Most recipes call for roasting at 350° F – to 400°F. Cooking at a higher temperature will result in a crispier skin, slightly less cooking time, but meat may not be as moist.
Desired

temperature of the chicken

is subjective and depends on personal preference. For poultry, the USDA recommends an internal temperature of 165°F or 74°C to ensure it is safe to eat.

Some people prefer their chicken slightly more cooked, closer to 170°F or 175°F.
I would suggest removing at 160 degrees when checked in a few locations, covering the top with foil on a cooling rack for 15 minutes, and then it will be perfect. It will continue baking in that time raising the internal temperature several degrees so when you're ready to slice it will be up to 165 and not dried out.
How Long to Cook a Frozen Whole Chicken
Now the biggest factor to consider when it comes to timing is whether your bird is right out of the freezer or defrosted! That is right, you can cook it rock hard and still come out delicious. There are a number of ways you can do this and we will go over all the choices here. Let's start with our frozen whole chicken in air fryer.
Below you will see the start to our frozen whole chicken Crockpot style. I do this ALL the time, like almost every week. In just 6-8 hours you get fall off the bone meat, perfect for chicken tacos.
If you want the same outcome but much faster you can do the same thing with our Instant Pot frozen whole chicken timing, closer to 1 hour.
Believe it or not there really isn't a cook time difference in the last two methods. If you had two side by side when done, one frozen and the other started out fresh you would have a hard time figuring out which was which. Something to try out for sure.
Whole Chicken Cooking Time
Cooking method is the next biggest factor when it comes to timing as far as I am concerned. Let me run down a few we have done in the order from the quickest to the longest. If you have never tried a whole fried chicken it is pretty darn amazing and the fastest by far at just 30 minutes or so.
Second fastest would be a tie between pressure cooker whole chicken with just a bit of chicken broth and using the air fryer (linked at the top of this post). Texture is the biggest difference with those.
Keep in mind that the chicken's internal temperature will continue to rise about 5 degrees more after it's removed from the heat source, so you can take it out a few degrees below your desired doneness.
Is it Better to Bake Chicken at 350 or 400
I link above our whole chicken at 350 degrees, that is ideal if you ask me. Covering with foil at the beginning and removing halfway thru means the meat is moist and skin browns nicely. There isn't a huge time savings by increasing it another 50 degrees but the tenderness of the meat will be more dry.
Preheat your oven

: Preheat your oven to the desired cooking temperature, usually between 350°F and 400°F. Make sure the oven is fully heated before placing the chicken inside.

Prepare the chicken

: Remove any giblets or organs from the chicken cavity and pat the chicken dry with paper towels. Add olive oil, season the chicken with your preferred herbs, spices like onion and garlic powder, or marinade. You can also stuff with aromatics like lemon slices, garlic cloves, or fresh herbs for added flavor.

Place the chicken breast-side up on a roasting rack inside a shallow roasting pan.
The rack allows hot air to circulate around the chicken, ensuring even cooking.

Cook: Calculate the estimated cooking time based on the weight and method you're using.
Check temperature: Insert a meat thermometer into the thickest part of the thigh without touching the bone.

remove once the thermometer reads 165°F. If you prefer a more well-done chicken, you can cook it until the thermometer reaches 170°F.
remember that the temp, will rise another 5 degrees once removed so 160 F will yield the moistest meat.

Rest and carve: Once the chicken has reached the desired temp remove and cover for 10-15 minutes to retain juices inside before slicing.
Remember, these are general guidelines, and variations may exist depending on your specific recipe or preference. It's always best to read your desired recipe carefully and always use a meat thermometer to ensure it is cooked all the way thru before eating.
How long does it take to bake a whole chicken at 400?
About an hour is what you should account for. There isn't a huge difference in cooking time between 350 to 425. Differences depend on how crispy you want your skin, size of the bird and how much time you have. 60 minutes is give or take the cook time for an average size whole chicken.
Should you bake chicken covered or uncovered at 400?
If you want super tender moist chicken meat it is best to cover it for half the cooking time. Then uncover the aluminum foil and continue baking for the remainder of the time. 30 minutes for each is about right for a 3-4 lb. size.
How Long to Cook a Rotisserie Chicken
And if you want to cook to a golden brown WITH vegetables, our bundt pan chicken is a winner for dinner. I will explain those directions below for you as it has been one of our most recent favorite meals. Of course you can cook veggies on a separate baking sheet but this way makes it easier.
The bundt pan acts as a stand of sorts with just a piece of aluminum foil over the whole. When done you can make mashed potatoes out of the diced pieces or serve as is with salt and pepper. It doesn't take long to roast this chicken recipe and serves as an easy one pot meal on busy days.
You once may have only cooked frozen chicken breasts, or fresh, but the whole thing is not only larger but cheaper many times!!
Want to see a few of my favorite things that I am totally obsessed with?? Take a peek and see how many you might already have…twinsies!
Looking for more easy family recipes and tips? LIKE The Typical Mom Facebook page?
Then sign up for my free newsletter, and follow me on Pinterest! 😉
***** If you LOVED this recipe give it 5 Stars below and let everyone know what you thought about it. 😉
How Long to Cook Whole Chicken
How long to cook a whole chicken in air fryer, smoker, slow cooker, oven and on the stove is here! Cook time for fresh or frozen whole chicken
Instructions
Preheat oven to 425 degrees F. Cover middle bundt pan whole with aluminum foil.

Rinse whole chicken, remove anything from inside the cavity and dry skin well with paper towels. In a bowl use the back of a fork to combine softened butter with seasonings. Rub all over the chicken skin.

** If you want to add vegetables into the outside of the pan you can cut up 1 lb potatoes + 1 lb peeled chopped carrots and 1 onion. Melt another 1/2 stick of butter and use the same amount of seasonings listed above into this mixture. Put veggies into bundt pan opening and pour butter mixture on top.

Set whole chicken on top of middle bundt pan to use it as a stand to hold it up. Cover with foil. Put into preheated oven on middle rack for 60 minutes total, 30 minutes covered, then remove foil for another 30 min. or until thickest part reaches 165 degrees F

Remove, allow to rest for 10 minutes before slicing to keep moist.
Nutrition Facts
How Long to Cook Whole Chicken
Amount Per Serving (2 oz)
Calories 363
Calories from Fat 261
% Daily Value*
Fat 29g45%
Cholesterol 122mg41%
Sodium 281mg12%
Potassium 256mg7%
Carbohydrates 0.3g0%
Protein 24g48%
Vitamin A 516IU10%
Vitamin C 2mg2%
Calcium 19mg2%
Iron 1mg6%
* Percent Daily Values are based on a 2000 calorie diet.