Whole chicken crockpot recipe is a dinner you will love! The best way to cook a chicken in the slow cooker because it turns out super moist and flavorful.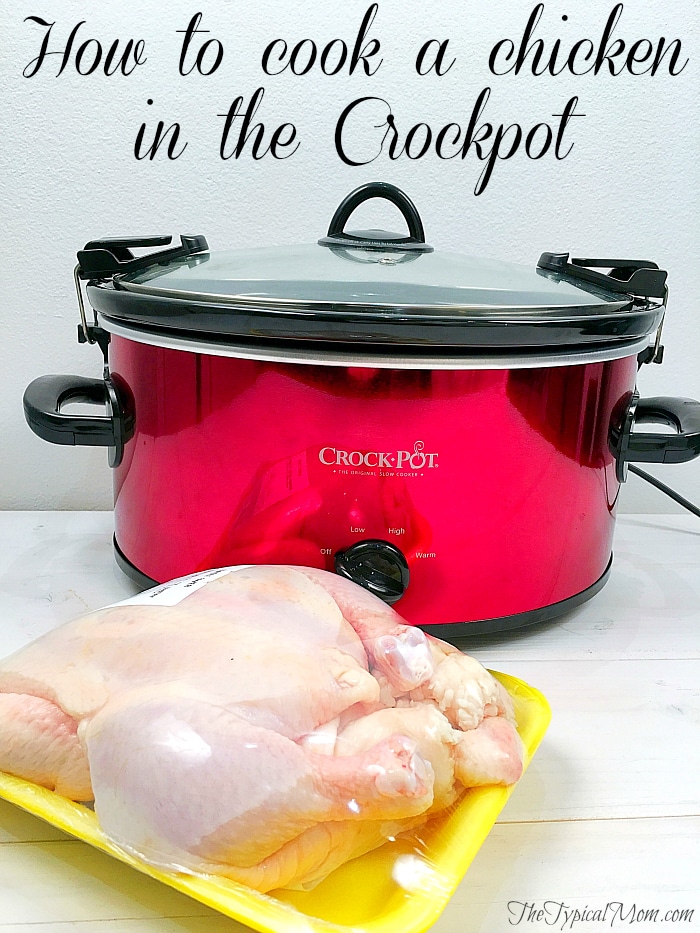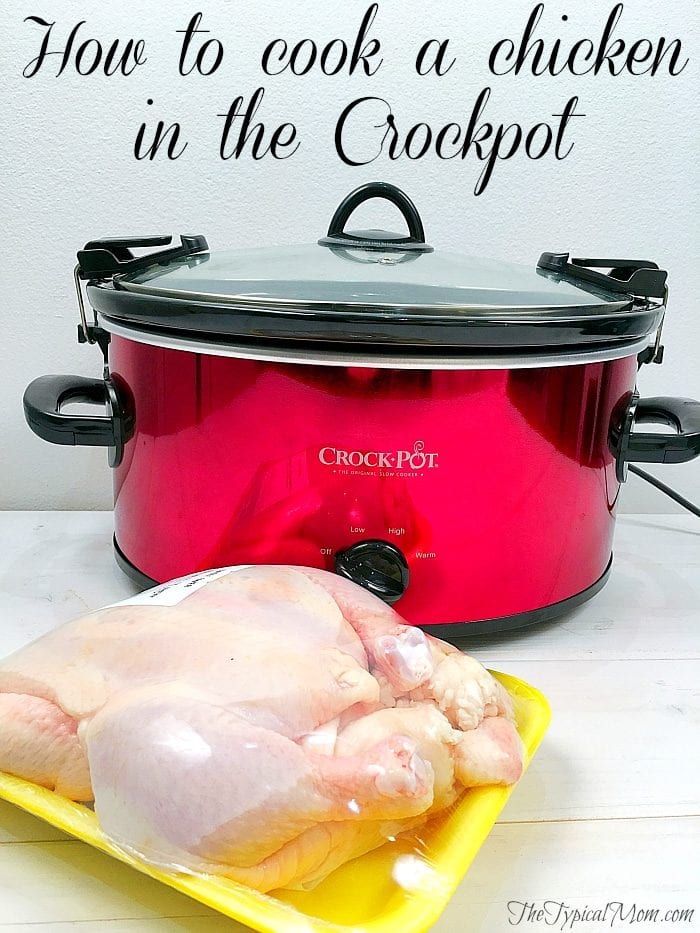 Here is an easy whole chicken crockpot recipe you will love! You just throw it in and it's done in about six hours. Just pair it with some rolls or rice and you have yourself a healthy meal! It's one of our favorite crockpot recipes. (originally published 1/16, affiliate links present)
We eat a lot of chicken in this house! Some nights I don't have an hour or an hour and a half to cook a whole chicken in the oven, and need to use my slow cooker instead.
You literally only need a whole chicken, seasoning, and 4 potatoes or a roll of aluminum foil for this easy chicken recipe.
I like to use Russet or red potatoes but if I don't have a few on hand and I'm not in the mood to go to the store, aluminum foil will work as well.
This is how you make a whole chicken in the crockpot.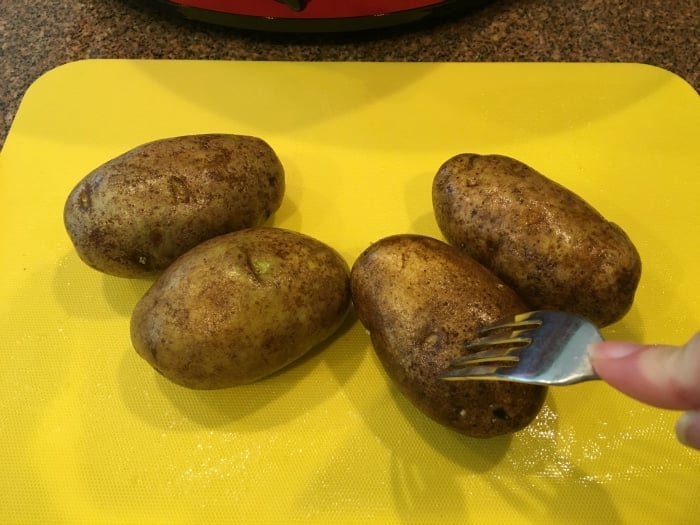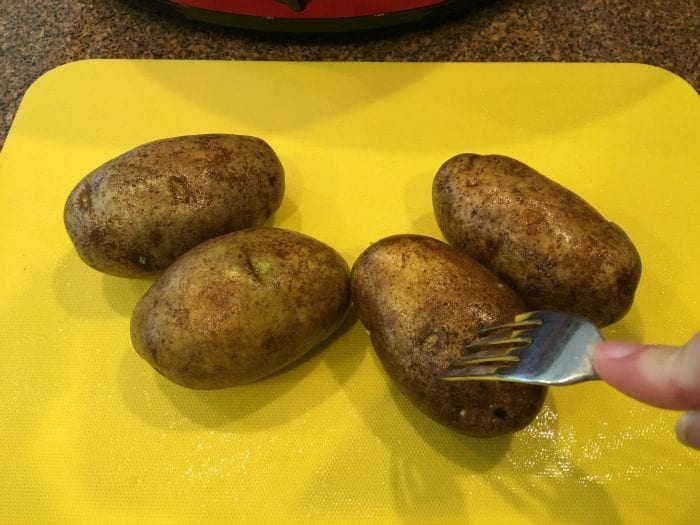 Just wash and poke all 4 potatoes with a fork all the way around so they can get nice and tender.
Try to get them to be somewhat the same size because these will be the trivet for your roasted chicken.
If you don't have potatoes just wad up balls of aluminum foil large enough to have the chicken lifted off the bottom of your slow cooker.
You don't want it to sit in the juices the whole time and get mushy.

Then you'll place your chicken with the breast side facing up on to your taters.

Drizzle olive oil on top and sprinkle all the seasonings you'd usually use if you were baking a rotisserie chicken.

garlic powder
salt and pepper
we like garlic salt
onion powder is good

Put lid on Crock pot and set to low for 5 hours. I wouldn't recommend cooking on high as you want a low and slow cook time in order to get fall off the bone meat.
What if you want to crispy chicken skin on your slow cooker whole chicken?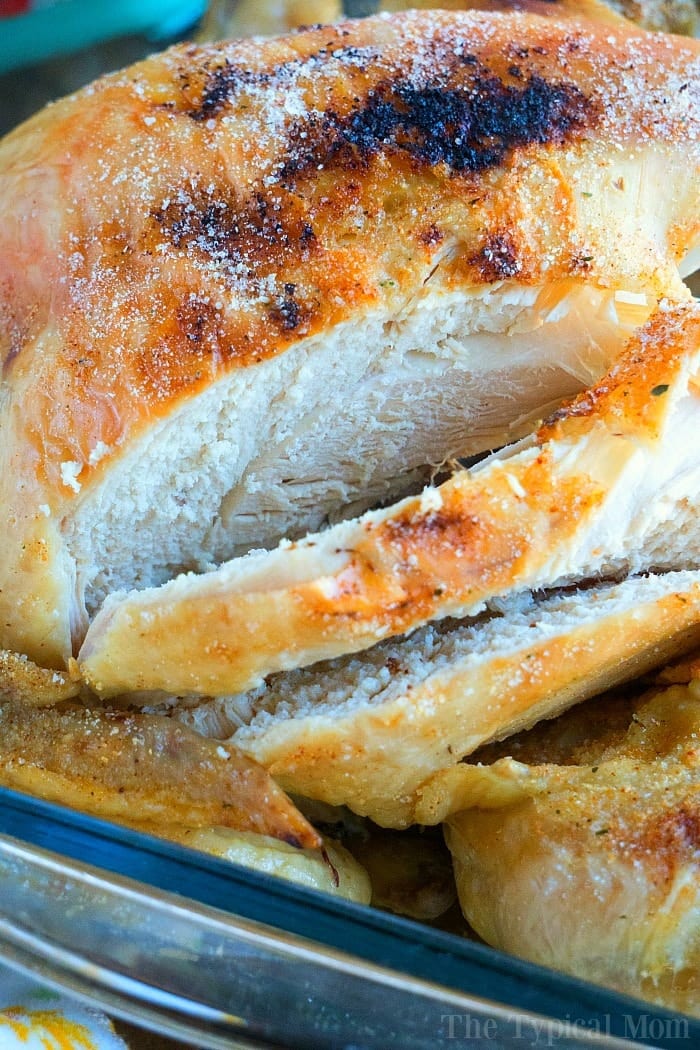 There are a few ways you can do this depending on the appliances you own. Of course first you will want to ensure the meat is done on the inside. If it reaches 165 degrees when the thermometer is inserted into the middle of the breast you're good.
Then to get crispy skin you can:
Put it into a baking dish and into your oven using your broiler setting for 3-5 minutes.
If you have an air fryer this is the BEST way to do it. You'll need a large air fryer or Ninja Foodi in order to accommodate the size.
This is how to crisp chicken in the Crock pot once it's done. 😉
Here's a run down on how you make it:
Whole chicken crockpot recipe
This is what it looks like after you've left it on low for 4.5-5 hours. It is incredibly moist when it is done.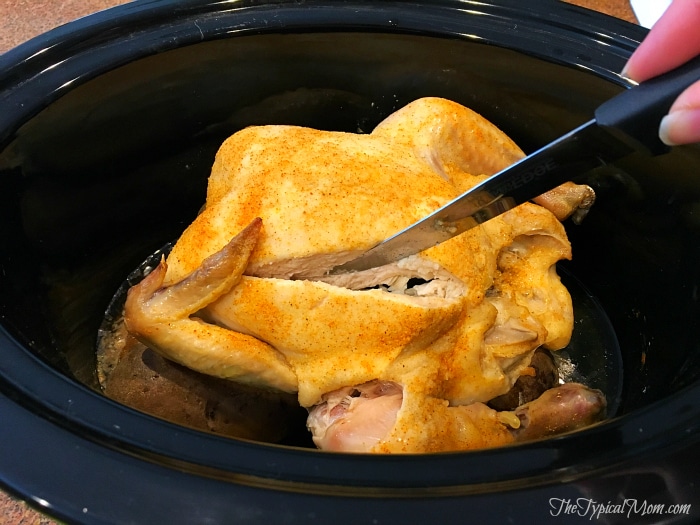 If it's done early just move it to warm. It can sit for a good hour or two until you're ready!
That's how easy cooking a whole chicken in your crockpot really is.
If you love easy crockpot recipes try my 5 ingredient crockpot chili recipe.
After you try this easy slow cooker recipe, try these others using a whole chicken?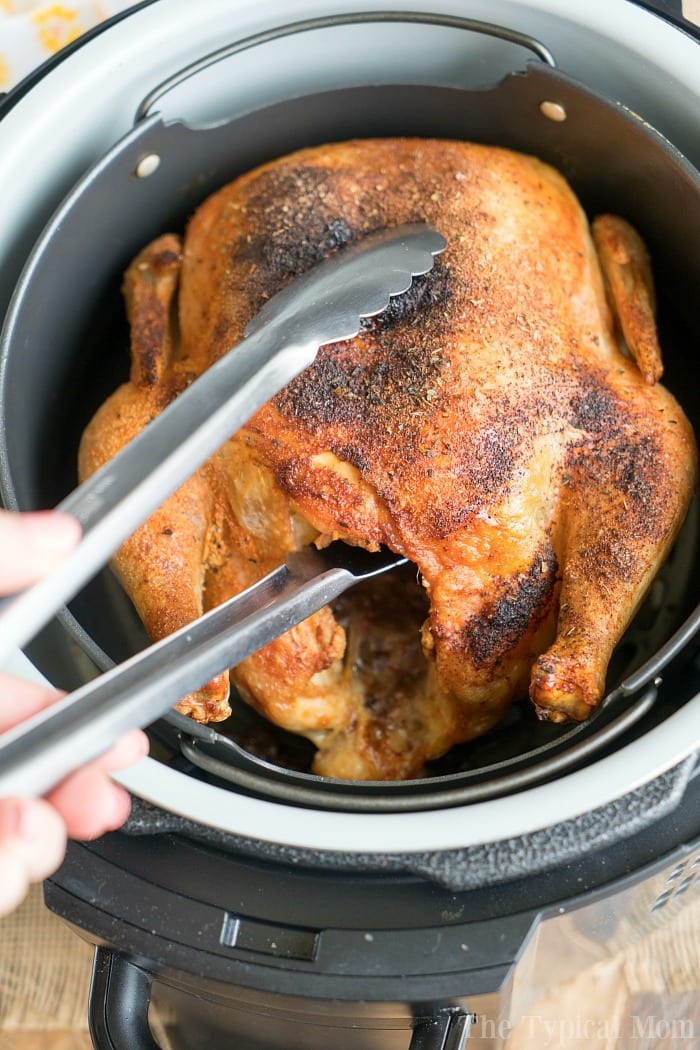 Can you overcook chicken in a slow cooker?
Yes, it is possible! If the meat is cooked too long it could end up dry and not juicy and tender. Also, if you use frozen chicken or more chicken than the recipe calls for, you may need to add additional time.
If you aren't quite ready to eat but time is up, just switch to warm instead of allowing it to continue to cook.
You can remove it and put it into a pan with foil on top to keep warm and not overcook it too.
Tips when choosing a whole chicken:
I'm personally very picky when it comes to buying poultry. I've purchased cheaper or store brand birds and have regretted it big time. I feel like there is a BIG difference when it comes to the quality of chickens.
I am frugal but spending an extra few dollars to get an organic one makes all the difference. If you haven't tried it you should at least once.

In my opinion it is much more tender and never has that stringy texture you sometimes encounter after it's been cooked.

They are a bit smaller for the most part but it is mostly due to the fact that they aren't stuffed with fillers to make them appear larger.
Below is a printable recipe with nutritional information, calories, saturated fat, etc. listed too. For more great tips, recipes like this whole chicken crockpot recipe, and crafts please sign up for my free weekly newsletter & follow me on Pinterest!
Whole Chicken Crockpot Recipe
Instructions
Rinse your whole chicken and take bag out of cavity if it is there.

Rinse 4 potatoes, pierce them with a fork and set them inside your crockpot, this is where you will place your chicken on so make sure they're about the same size and crockpot lid will close. If too large cut in half and place together as your "trivet".

Sprinkle your sliced onion around your potatoes and place your whole chicken on top of your potatoes.

Pour your chicken broth on top of everything and then sprinkle any and all spices you'd normally put on your whole chicken and close your lid.

Set on low for 5 hours. Should be done but slice a breast to ensure it is no longer pink and appropriate temp., if not set for another 30 min. and check.
Nutrition Facts
Whole Chicken Crockpot Recipe
Amount Per Serving (3 oz)
Calories 15
% Daily Value*
Sodium 1654mg72%
Potassium 95mg3%
Carbohydrates 2g1%
Vitamin C 6.8mg8%
Calcium 9mg1%
Iron 0.2mg1%
* Percent Daily Values are based on a 2000 calorie diet.