I came up with this 5 ingredient crockpot chili recipe a while ago, and it works well on a day when I will be away (since it cooks by itself in the crockpot), and it's great when it's "chilly" outside! 😉 This is literally the easiest slow cooker chili recipe you will find. You dump in, and the only thing you need to "cook" is the ground beef (if you don't like meat in your chili just leave it out). Here's our most popular crockpot recipes. (originally published 12/12)
Enjoy and like The Typical Mom for more great recipes and tips too!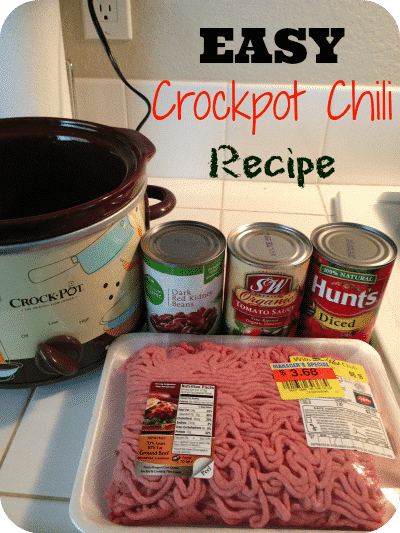 Even when it is warm outside this is our go to meal! It's actually pretty healthy and inexpensive to make…not to mention it tastes great and I love it because it is really a dump and go meal we all enjoy! Here is what you will need and just how easy it is to prepare this easy crockpot chili recipe in your slow cooker / crockpot. You can serve it over rice or we have even put a few potatoes in the microwave (make sure to pierce them first) and served this easy chili recipe over that with some shredded sharp cheese on top!
If you're in a real hurry you can make this 5 ingredient chili in your Instant Pot too in just 15 minutes!
5 ingredient crockpot chili recipe
5 Ingredient Crockpot Chili Recipe
Ingredients
1 Can of diced tomatoes
1 Small can of tomato sauce
1 Can of kidney/red beans
3/4 lb. cooked ground beef (omit if making vegetarian)
1 packet of "chili seasoning" (any brand, I get what's on sale)
* If you don't have the packet just add 1 tsp. Lawrys + 1 tsp. dehydrated onions
1/3 c. water (if you like it thicker omit the water)
Instructions
Cook the ground beef or turkey in a pan and if you like onions I would add diced onions to this mix. Add this cooked meat, the can of diced tomatoes, kidney beans, and small can of tomato sauce to your crockpot / slow cooker. Mix. Add packet of "chili seasoning" or 1 tsp. Lawry's and dehydrated onions (optional) to the mix and cook on low all day.
6.6.15
https://temeculablogs.com/5-ingredient-crockpot-chili-recipe/
Here's a quick rundown of how easy this is to throw together!

First brown the meat and empty into the crockpot, then dump all the other ingredients into the crockpot on top of that (shown is a lg. can of tomato sauce because that's all I had so I used half the can, I usually use a smaller can), with 1/4 a can of water as well and stir. Let it cook all day long on low which makes the means really soft and flavorful as they, and the meat, soak up the good juices from the sauce.  It's a great meal and quite healthy too! If you don't like meat just make it vegetarian.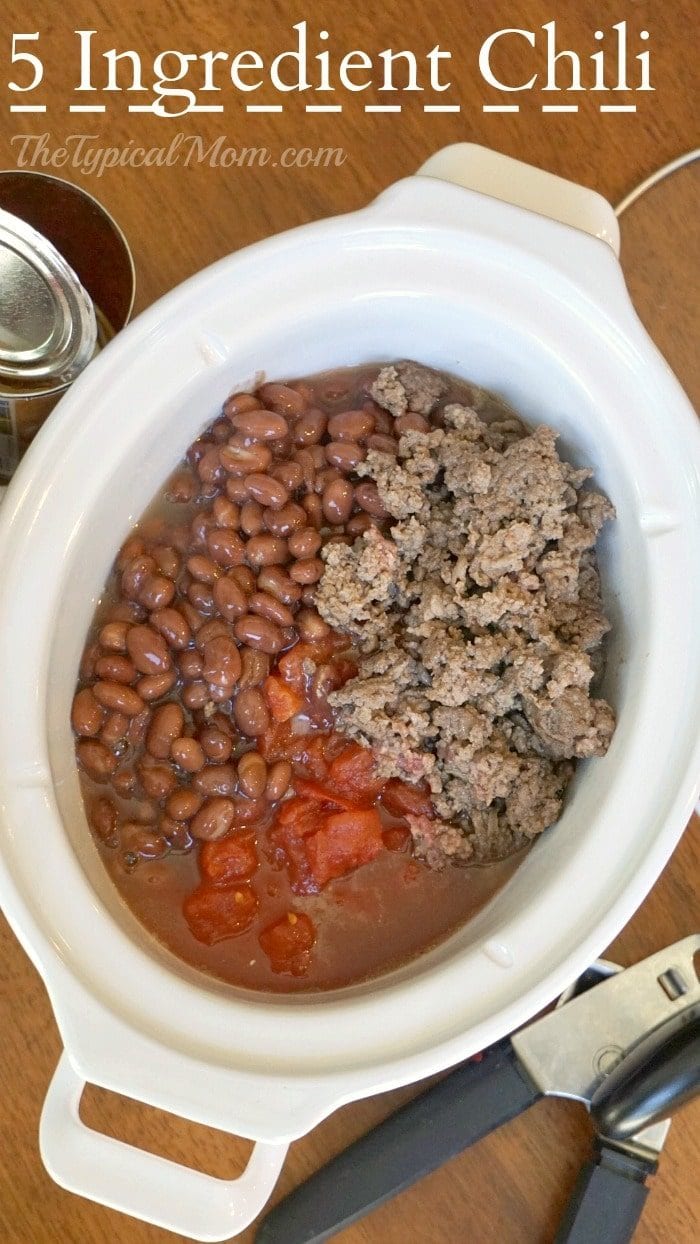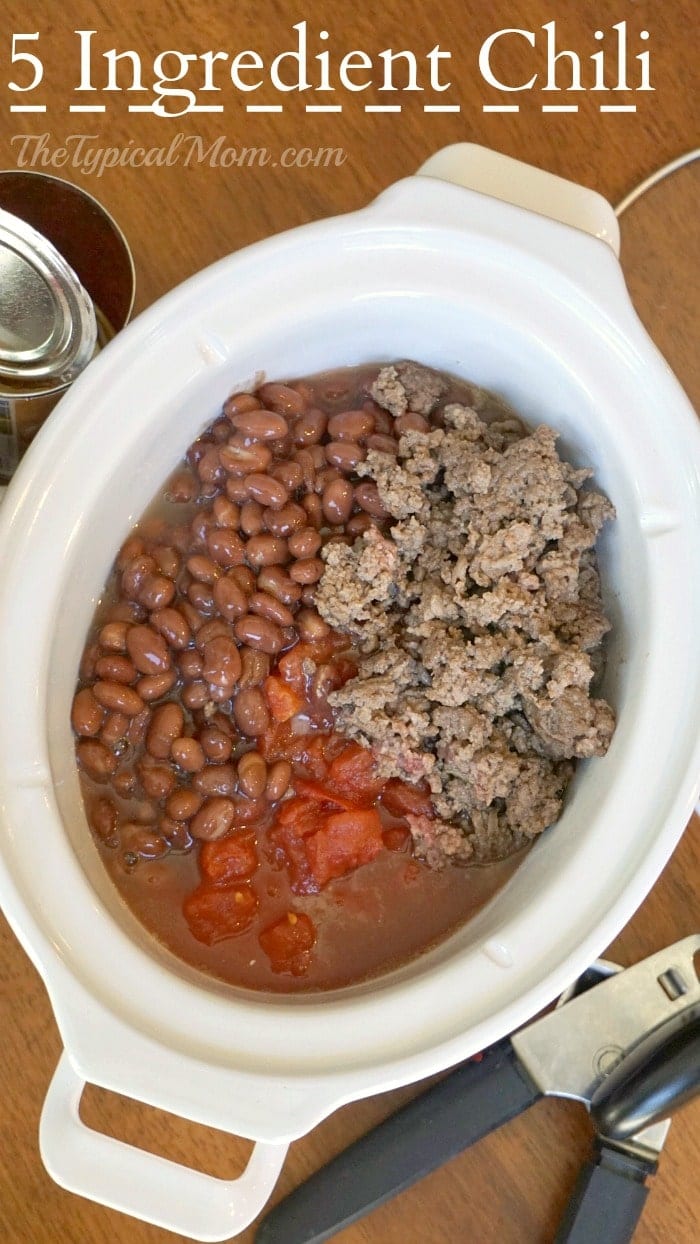 I like to use a smaller crockpot for this one, smaller meaning it still feeds the 5 of us with leftovers for lunch the next day…about a 2 quart size crockpot, like the one you see here (affiliate link). I swear by my rice cooker too!! If you don't have one I would HIGHLY suggest picking one up! They aren't expensive and last forever. I still have and use the one I got for a wedding present 9 years ago and it is still going strong. It has a basket on top too where you can put veggies which makes my life a lot easier as I put the rice in, cut veggies and put them in the basket, start the thing and all of that is done in about 20 minutes. You can get your own rice cooker + steamer here like mine if you don't have one already….wouldn't be without mine!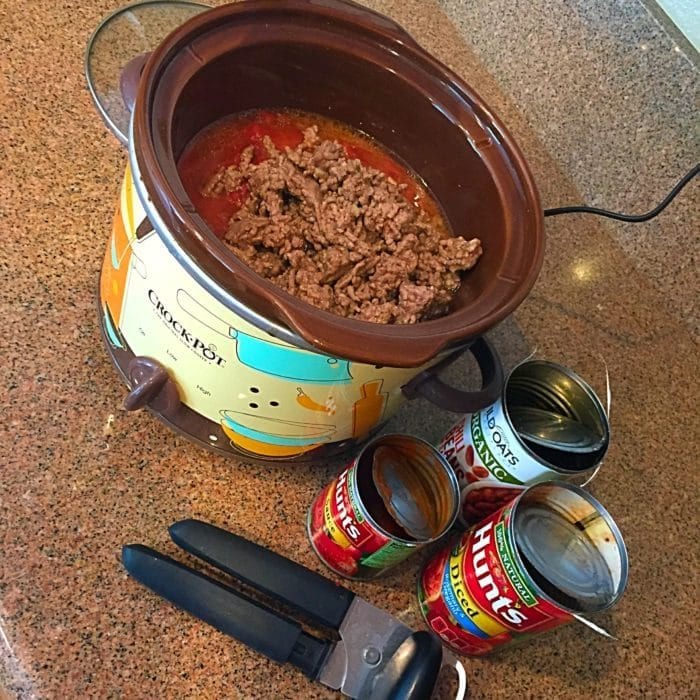 If you love this quick 5 ingredient crockpot chili recipe here are 2 other quick and inexpensive recipes you will love! My 3 ingredient sloppy joe recipe is a real winner with everyone (especially kids), and there is nothing left when I cook my chicken enchilada soup in the crockpot either!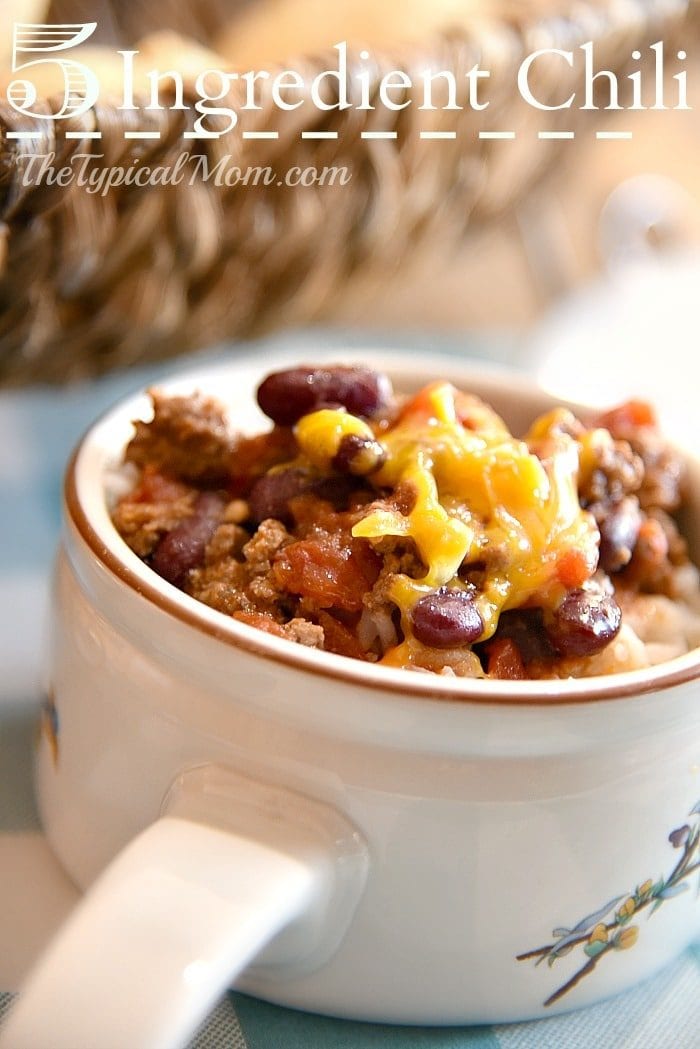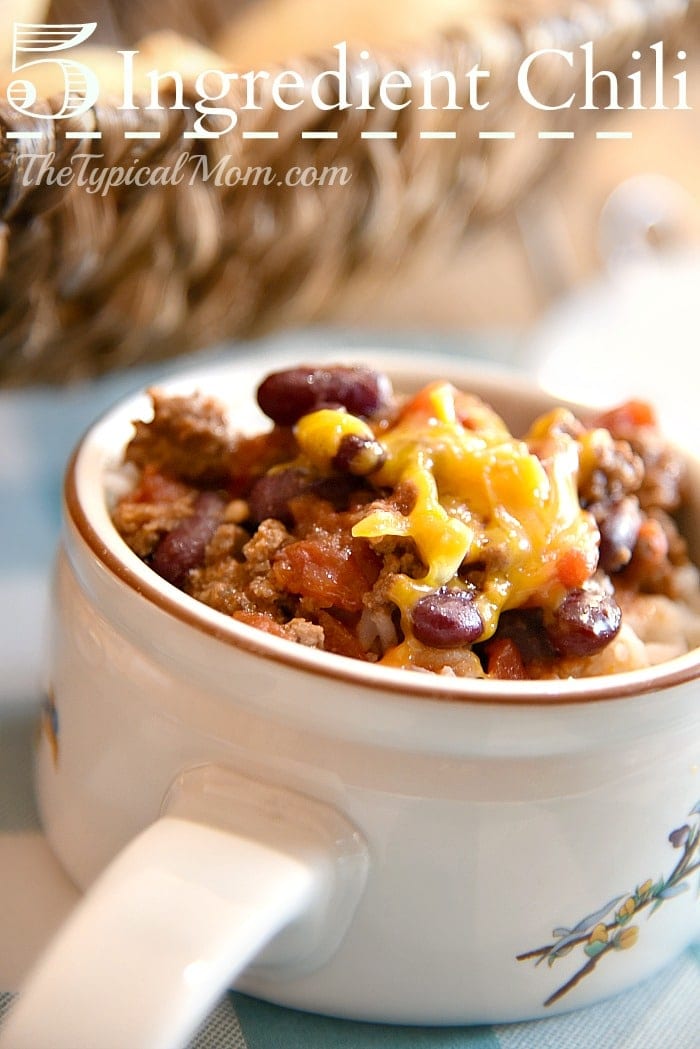 For more easy recipes and crafts please LIKE The Typical Mom on Facebook, sign up for my newsletter, and follow me on Pinterest!