The easiest Instant Pot chili recipe ever and costs less than $10 to make. Healthy Instant Pot recipe that even my kids go crazy over!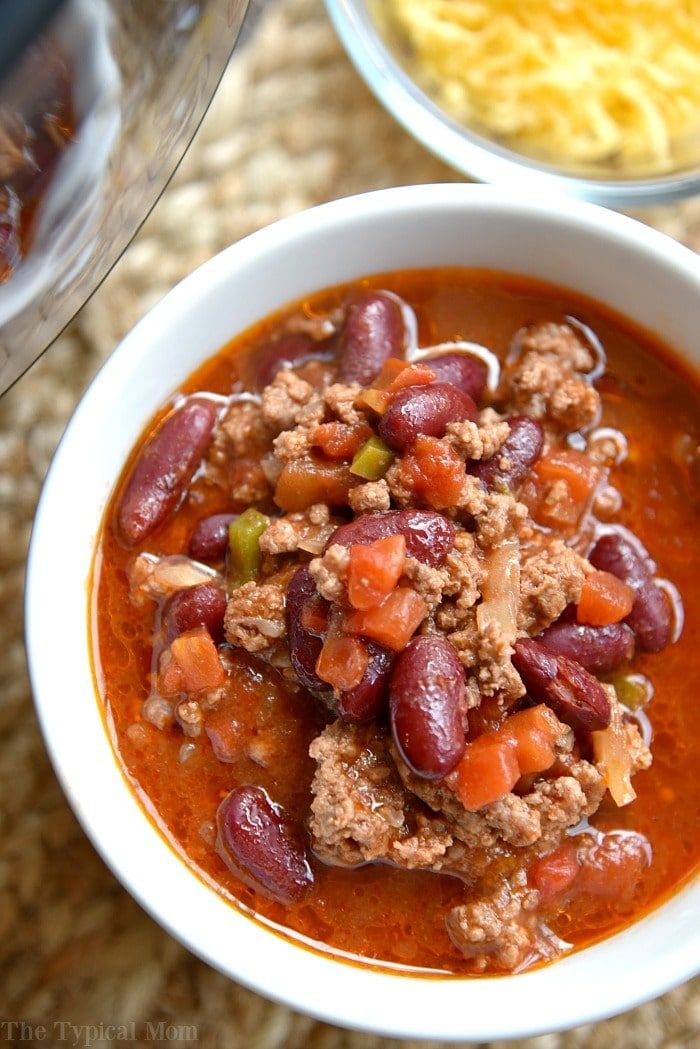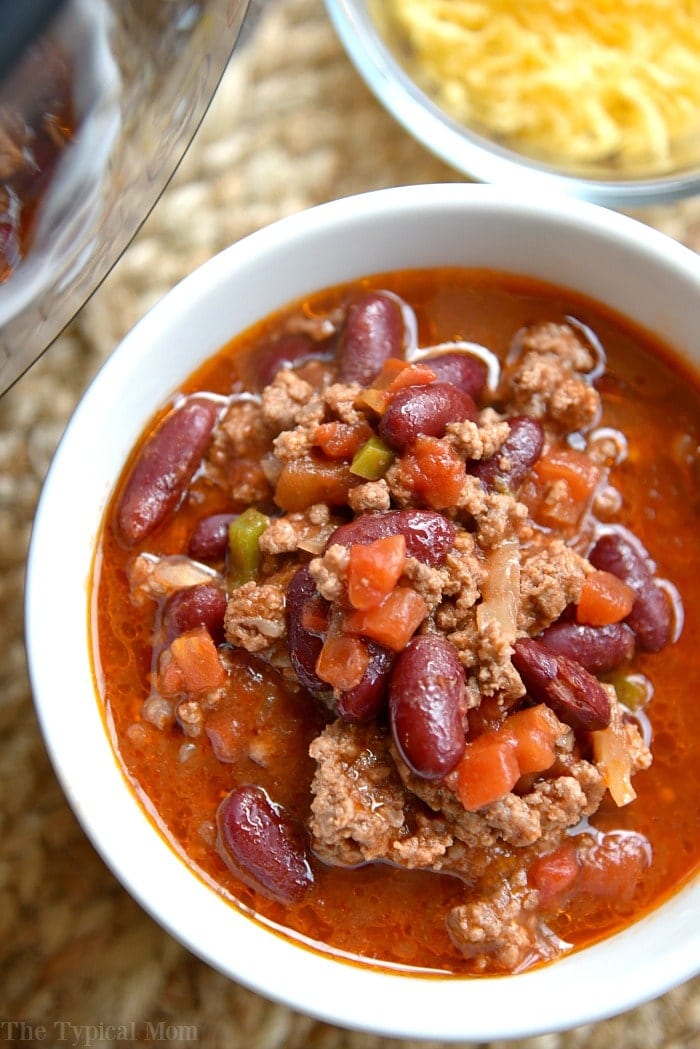 I've been obsessed with my crockpot for years and my site is filled with tons of crockpot recipes but when I saw this new thing called the Instant Pot it got me curious. I use my rice cooker, slow cooker, and steamer on a weekly basis so having all 3 and more functions all in one appliance got my attention!! The first thing I cooked was some Instant Pot chili, well because it's one of my most popular crockpot recipes and we just love it so much. It came out amazing and is now one of our favorite instant pot recipes, so easy too. Here's how you make it. (affiliate links present)
So this was my first attempt making an Instant Pot recipe but it really is very user friendly. If you don't have an Instant Pot you can find one here. I first set it to sauté and when it beeped I put my lb. of ground beef in + some diced onions and in about 4 minutes it was browned with a bit of breaking up and flipping over. Then I added my other 4 ingredients and pushed bean/chili, secured the lid and in 45 minutes literally it was done. I released the pressure valve at the top and once it was about done I opened the lid. It really did cook it well in just that short amount of time and softened the can of beans inside quite well.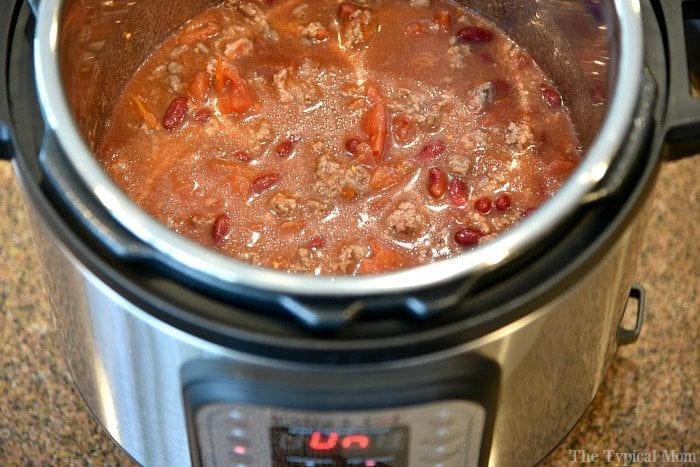 I have also not had much time and cooked this pressure cooker chili in just 15 minutes using the manual, pressure, high setting and set it to 15 minutes. It was great too, just left the beans a bit more turgid than leaving in for the whole 45 minutes but they are already softened since they are canned beans so it was still great. If you need to set it for the day and go the slow cooker setting automatically sets to 4 hours total so it is still shorter than cooking in a traditional crockpot AND you don't have to dirty a pan on the stovetop to cook the meat beforehand. You can also easily leave out the meat and make an easy vegetarian instant pot chili too with this. Either way, the fast or slower version tastes great, depends on how much time you have.
Here's a quick rundown of how we make it:
Instant pot chili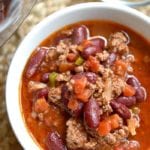 Instant Pot Chili
Easy Instant Pot chili recipe that can be made quickly in your pressure cooker or cook it a bit longer for softer beans. Either way it's a hearty dinner that can be spiced up or left plain.
Ingredients
1

lb

ground beef/turkey

or omit if making it vegetarian

1

can diced tomatoes

1

can red or kidney beans

1

small can of tomato sauce

pinch of Lawry's seasoning

pinch of minced onion

or 1/2 c. fresh diced onions, this is optional

1/2

bell pepper diced

optional

1

tsp

chili powder

can omit or increase depending on spice level desired
Instructions
Set instant pot to sautee and brown meat, add onions and bell peppers if desired.

Then empty cans of ingredients on top and stir. Add seasonings.

If you have a bit of time to let it simmer hit the chili/beans setting and it will finish in 45 minutes, this will make beans soft.

If you are in a hurry set it to manual, pressure-high for 15 minutes, the beans will be a bit more turgid this way but still soft.

Done! Serve by itself with cheese on top or on top of rice or potatoes.
Nutrition Facts
Instant Pot Chili
Amount Per Serving
Calories 195
Calories from Fat 135
% Daily Value*
Total Fat 15g 23%
Cholesterol 53mg 18%
Sodium 59mg 2%
Potassium 230mg 7%
Protein 13g 26%
* Percent Daily Values are based on a 2000 calorie diet.
It is really really easy to make and a healthy dinner option too. We cook this at least 2-3 times a month, sometimes weekly. It is a cheap chili recipe too as all the ingredients run you under $10 and feed all 5 of us with usually 1 lunch left for the next day…now that is a huge win! If you love this, you should try a few of these other easy Instant Pot recipes:
Here's a little help with what you'll need:
For more easy recipes, tips and crafts please LIKE The Typical Mom on Facebook and follow me on Pinterest! You can also sign up for my free weekly newsletter which is packed with goodies I know you'll love. 😉