The easiest 5 ingredient Instant Pot chili recipe ever and costs less than $10 total to make. Healthy pressure cooker one pot meal my kids go crazy over! Make as Instant Pot vegetarian chili if you want too. If you love our 5 ingredient crockpot chili recipe this will save you lots of time.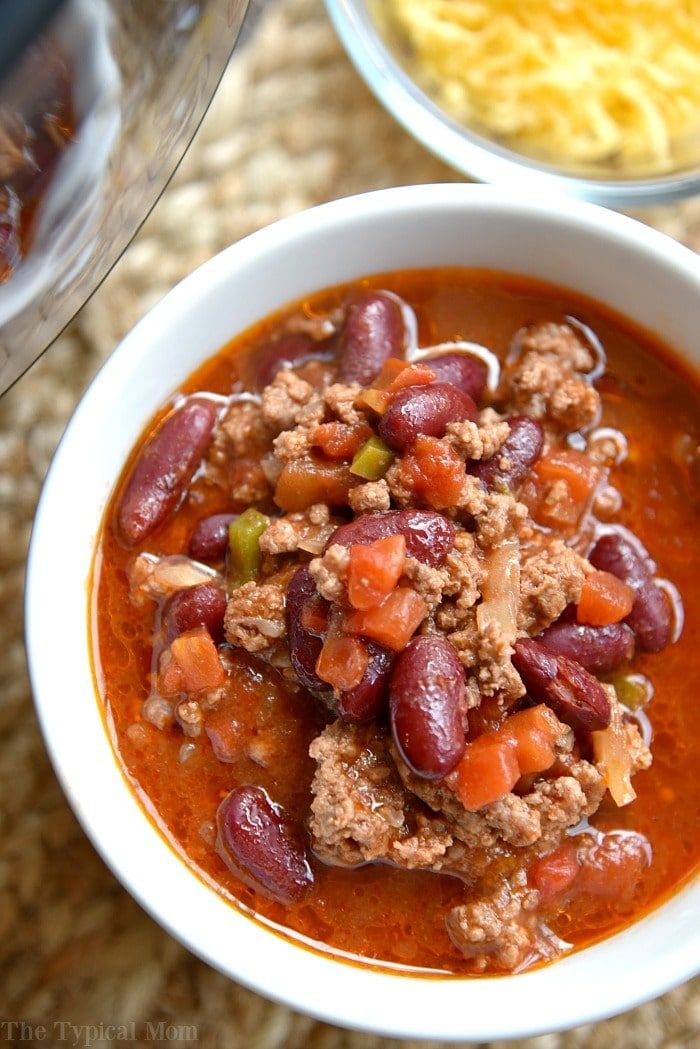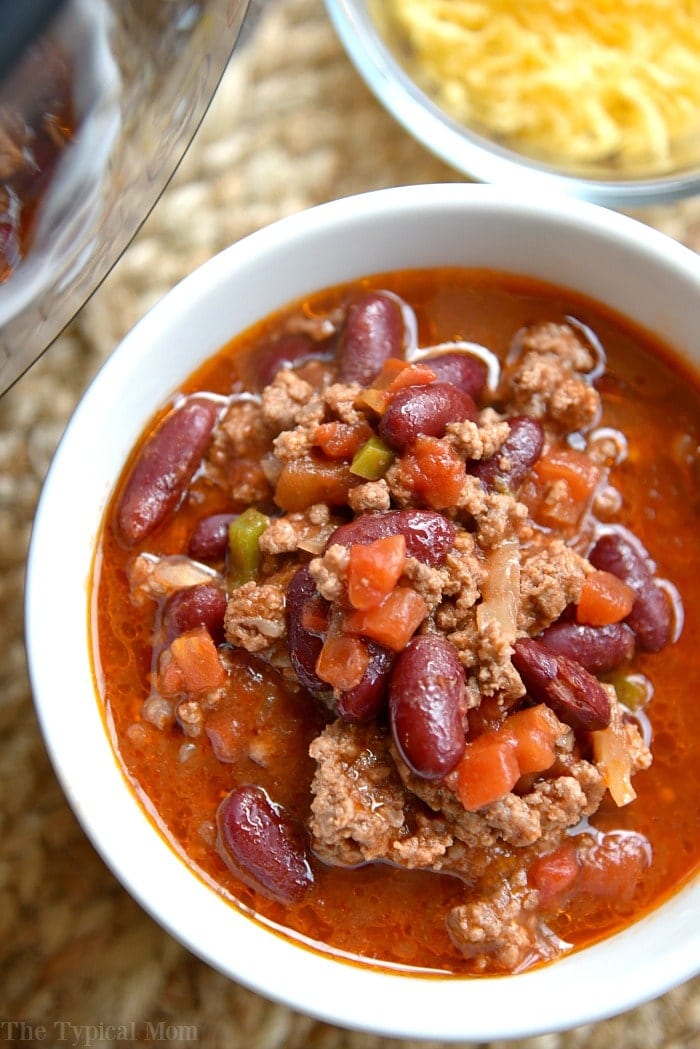 I've been obsessed with my crockpot for years but when I saw this new thing called the Instant Pot it got me curious. The first thing I cooked was some of the easiest Instant Pot chili ever. It came out amazing and is now one of our favorite Instant Pot recipes, so easy too. (originally posted 1/17, affiliate links present)
Ninja Foodi Chili
You can certainly use your Crockpot Express or Ninja Foodi pot to make this as well. You just need the high pressure function for about ten minutes and all electric pressure cookers have that. We only use 5 ingredients but it is a great base to add a bunch of other things into the mix too.
Love spicy Instant Pot chili? Then by all means add some Sriracha or red pepper flakes, this one is mild but full of flavor. I typically use a chili seasoning packet but have an alternative listed below too if you don't have one of those on hand.
FIRST – You should sign up for my free newsletter so you get new posts emailed to you twice a week and never miss out on anything! Now let's start with a few basic tips:
Make sure to Bookmark our InstaPot recipes page. We add new ones each week!
Then PRINT this —–> Instant Pot cooking times cheat sheet that will help you understand how long meat, vegetables and beans take to cook in your pressure cooker.
For reference, this is the pressure cooker I have (a 6 quart) and use for all recipe creations.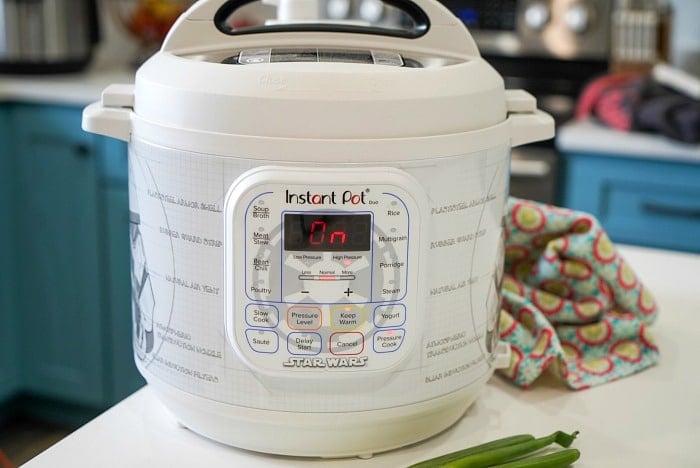 Easy Instant Pot chili
This was my first attempt at any recipe in this new pot of mine. I just got it and really wanted to try our favorite meal from our slow cooker in it. Knew it should take a whole lot less time from what I had heard so it was worth a shot. Used the same 5 ingredients and held my breath. OMG did it go beyond my expectations.
If you don't have an Instant Pot you can find one here.
I first set it to sauté and when it beeped I put a bit of olive oil and my ground beef inside
Then added some diced onions and in about 4 minutes it was browned
Next, I added my other 4 ingredients, secured the lid, and pushed bean/chili button

I have used high pressure too
This easy chili is so good it's been on the top 10 most popular Instant Pot ground beef recipes TWO years in a row! And it is versatile so you can make it without the meat, with ground turkey for lower fat, or spicy ground sausage is one of our favorites.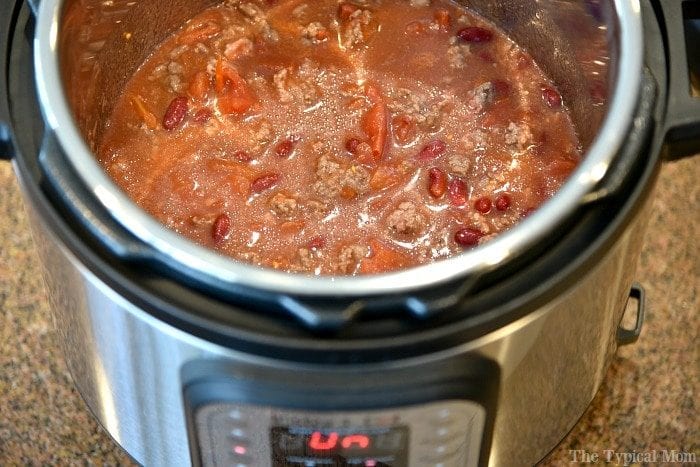 Instant Pot 5 Ingredient Chili
I released the pressure valve at the top and once it was about done I opened the lid. It really did cook it well in just that short amount of time and softened the can of beans inside quite well.
You can still set it for a longer time if you're going to be gone all day and use the slow cooker function on it but using the pressure cooker function makes it done really fast!
Instant Pot chili packet
Set your Instant Pot to saute
Add ground beef and onions
Brown until most of pink is gone
Add all other ingredients
Put lid on, close steam valve
Push pressure button
Push pressure button again so it is on high
Set time to 10 minutes (use + and – buttons to adjust)
When done allow to naturally release (takes about 15 min.)
In this post there is a video showing you how easy Instant Pot chili is to make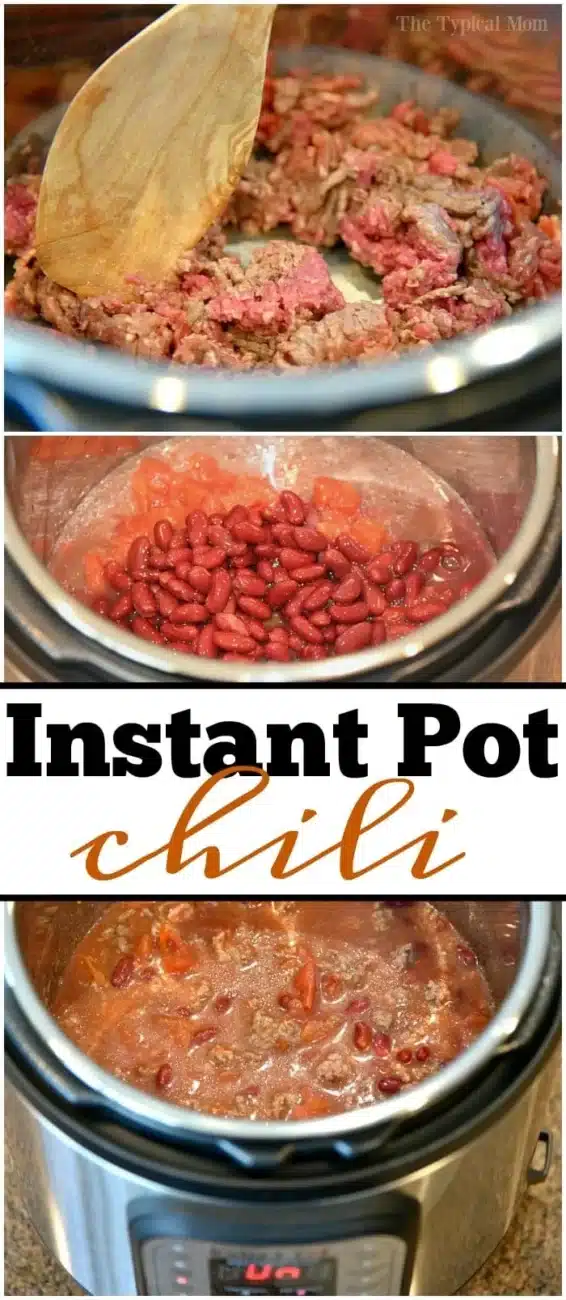 If you need to set it for the day and go follow the directions above but push the slow cooker setting instead of manual and pressure. It should automatically set to 4 hours total so it is still shorter than cooking in a traditional crockpot AND you don't have to dirty a pan on the stovetop to cook the meat beforehand.
You can also easily leave out the meat and make an easy vegetarian Instant Pot chili too with this. Either way, the fast or slower version tastes great, depends on how much time you have.
Instant Pot chili
Lean ground beef

can use ground sausage or ground turkey too

Kidney beans or red beans some cans say
Diced tomatoes (I like these)
Tomato sauce – or I have even used red enchilada sauce before for an added kick
Onion (optional)
Spices
Rice – here's how to make the perfect Instant Pot white rice

or serve inside pressure cooker baked potatoes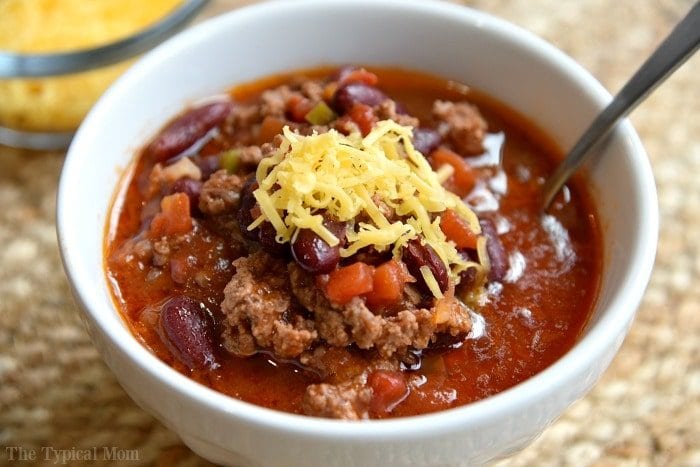 Instant Pot Chili 5 Ingredients
Tips for making the BEST pot of pressure cooker chili
Use 1/2 lb. of spicy sausage and 1/2 lb. of regular sausage instead of ground beef. I'm telling you, this makes it amazing if you're okay with ground sausage
Load it up with diced onions and bell peppers

they will soften as this cooks and brings a great flavor and texture to your chili

Use a packet of chili seasoning – it creates a lot of flavor
Put a wollop of cheese on top when your chili is done
Can you double this recipe? YES! Here it is with twice the ingredients but the same pressure cook timing.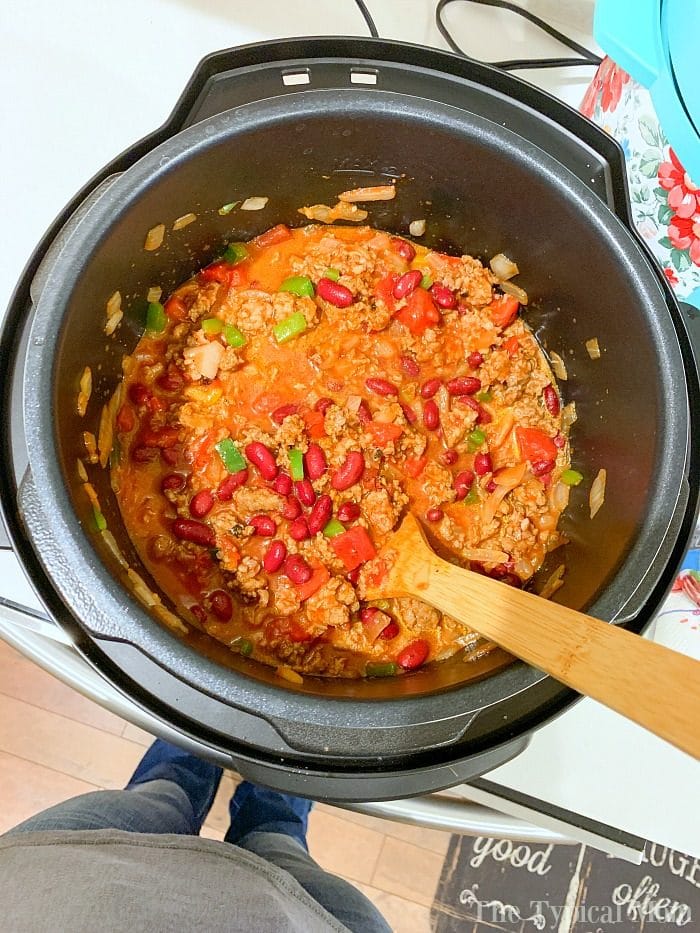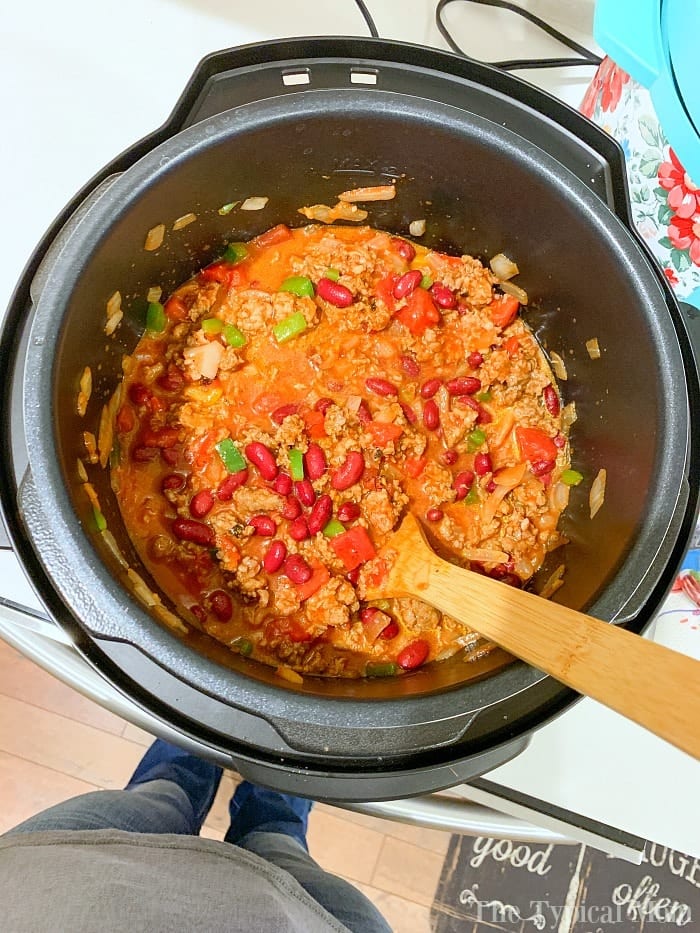 Instant Pot Chili Easy
Once you've got that covered you can move on with this printable recipe for Instant Pot chili with beans recipe
This recipe can easily be doubled as you see here above
I HIGHLY suggest you get a non stick pot as you see here!

Directions for Crockpot Express chili are almost identical

Press the manual pressure button – if you have one
Cook for 15 minutes
Do a quick release

If you don't have a manual pressure button use the bean/stew button for 20 minutes
Quick release

I suggest using 1 lb. of spicy ground sausage and 1 lb. of regular sausage if you double this recipe
Make sure you get brown bits of meat off bottom of the pot after saute setting or you may get the burn on Instant Pot notice.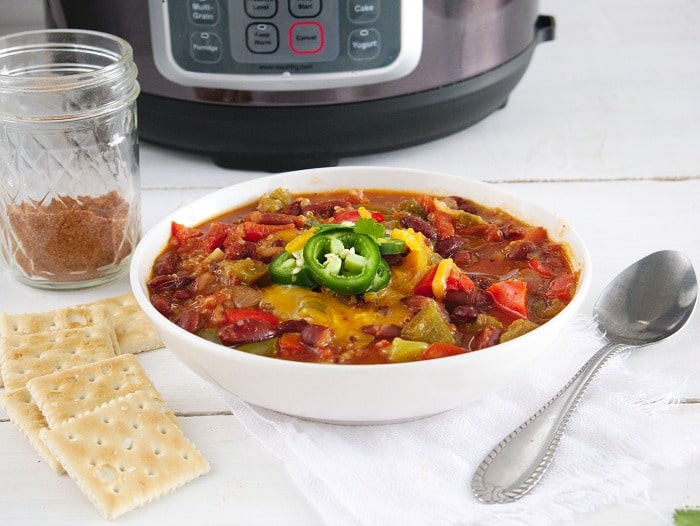 Can you substitute chicken for beef in chili?
Yes just cut boneless skinless breasts in half
Add this and all other ingredients into pot
Set to high pressure for 10 minutes
Shred chicken and serve (of course check to ensure meat is done in the middle)
What if you want to make Instant Pot vegetarian chili?
We have a recipe for that too! This is also a delicious recipe using black beans or any style you like. Let us share this meatless hearty chili recipe below with you.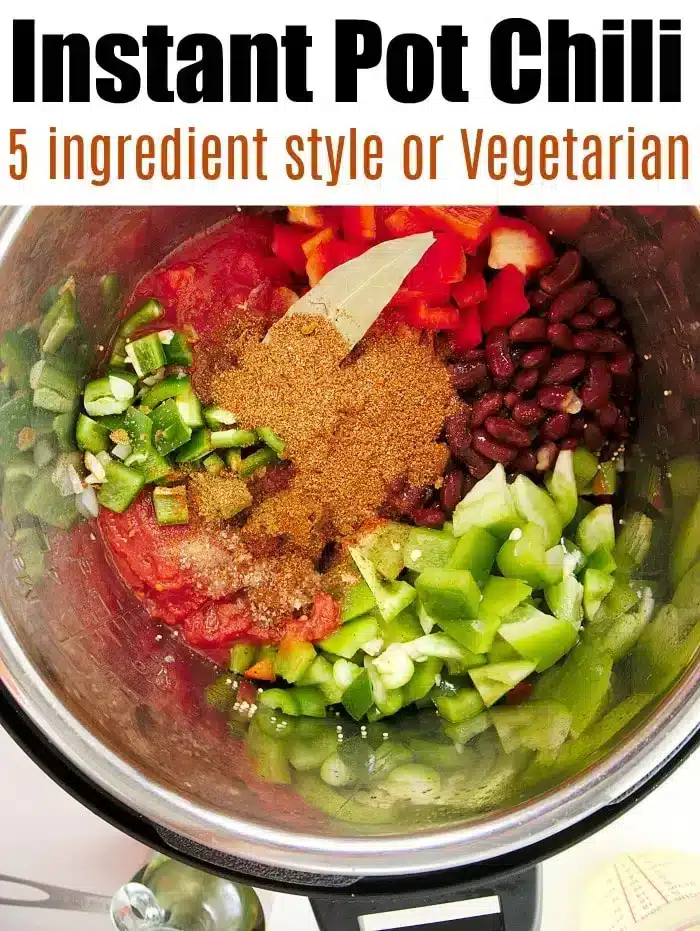 Instant Pot chili without meat
2 tbsp olive oil
1 onion, diced
2 tbsp minced garlic
1/3 cup quinoa
30 oz. canned kidney beans, drained
A green and red bell pepper diced
One jalapeno, seeds removed and diced finely – optional for heat
15 oz can crushed tomatoes
1 tsp cumin
Tsp. salt
3 Tbsp. chili seasoning, dry mix
2 1/2 c. vegetable broth

if you just wanted a meatless chili you could use beef broth

A bay leaf is optional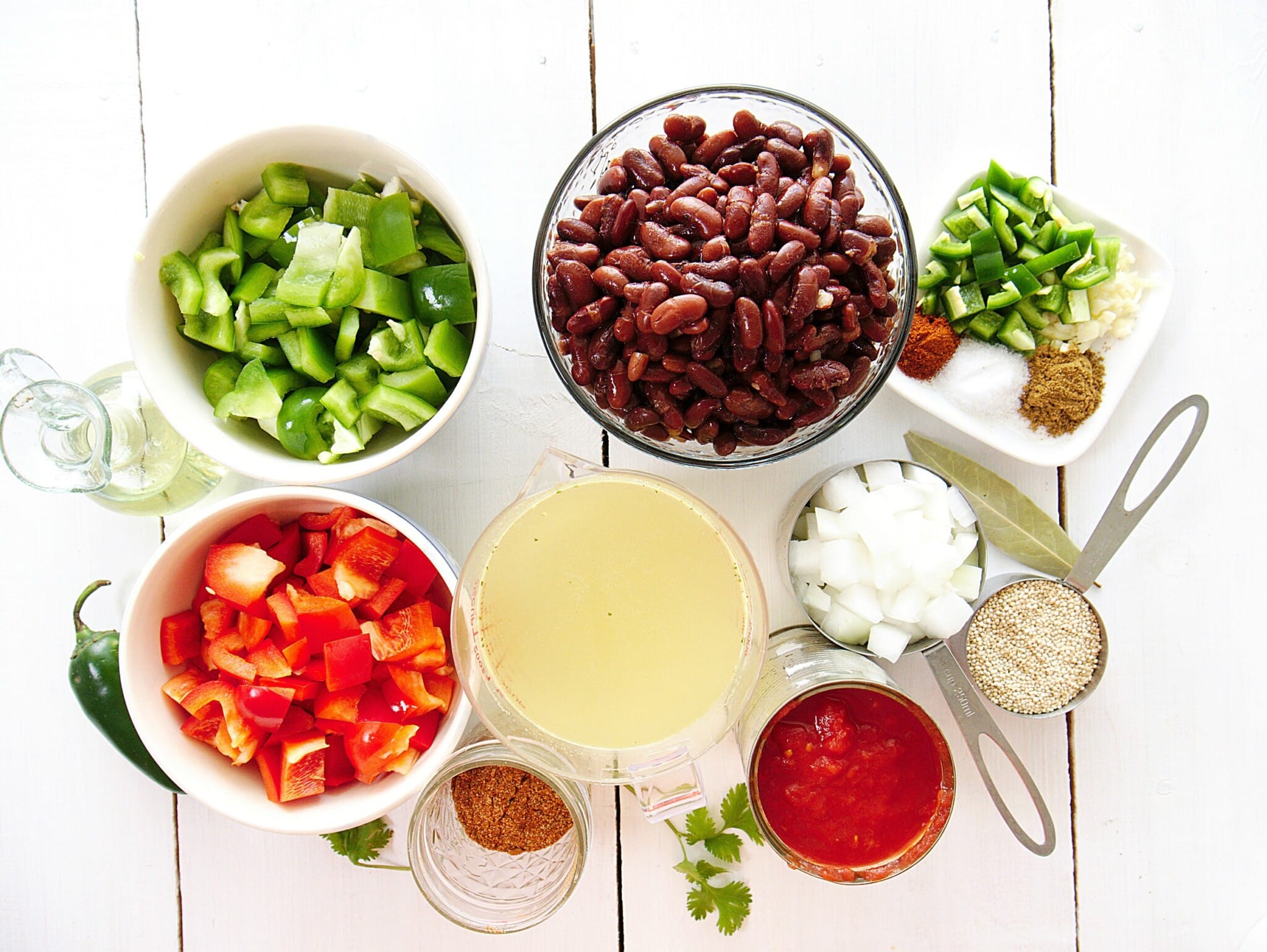 5 Ingredient Instant Pot Chili Vegetarian
Directions to follow for this vegetarian chili. You can just leave the meat out of the printable recipe card at the bottom really, so it's really only 4 things needed.
First you'll want to prep all of your ingredients and have them ready to add in to your pressure cooker. These are both easy recipes with as few steps as I can create so you can eat together more often. 😉
Set pot to saute and add olive oil, onion and cook until they're translucent.
Add minced garlic and quinoa now stirring to combine well. Cook until quinoa becomes lightly browned.

turn Instant Pot off at this time.

Pour all other ingredients into your pot at this time and stir.
Close lid and pressure release valve and set to pressure cook chili on high for 15 minutes.
Do a quick release, remove lid carefully. Discard bay leaf if you added one.
It will be hot, add to bowls with cheese on top if desired.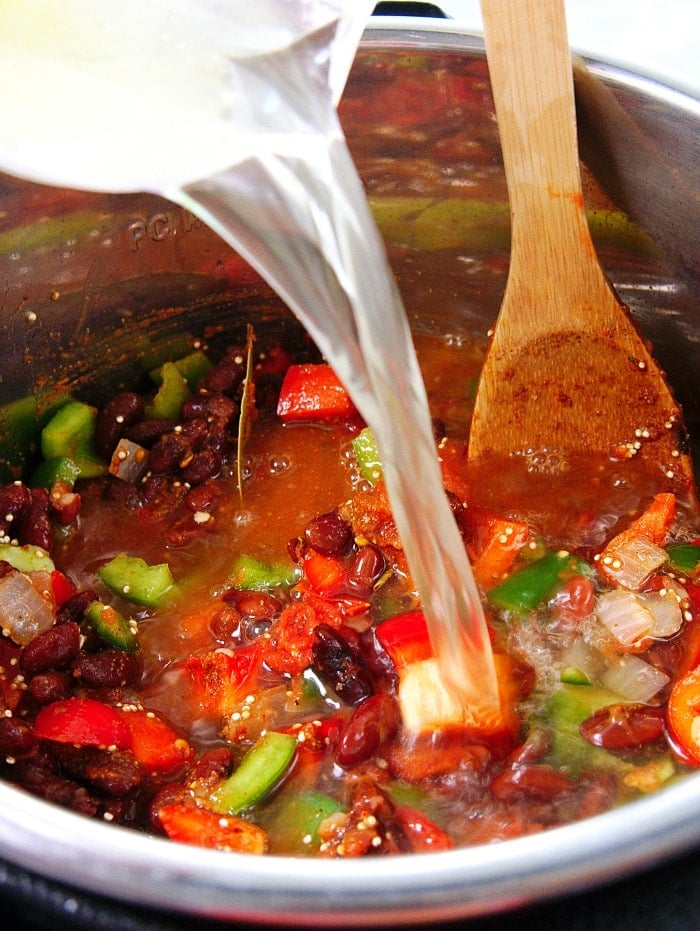 Love lots of chili toppings and ideas, or want to make a chili bar for a get together??!!
Shredded cheese is a given, we love sharp the best
Sliced avocado is a must if I can find them in season
Some people like sliced olives on top
Additional chopped tomatoes can be added
Crush some tortilla chips on top to give it a little crunch and texture
Salsa is great for a bang!
If you want to add some real heat, add a few slices of jalapeno y'all!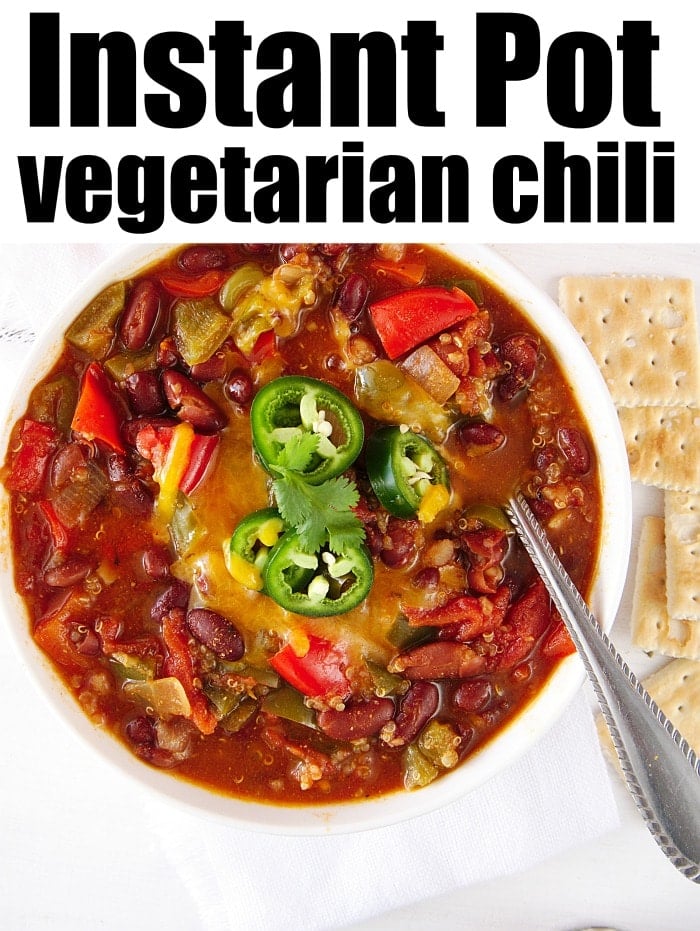 If you are in need of Ninja Foodi chili instructions refer to the post here. We cook our pressure cooker chili at least 2-3 times a month, sometimes weekly.
It's one of our cheap Instant Pot recipes as well because all the ingredients run you under $10 and feeds all 5 of us.
If you love this, you should try a few of these other easy Instant Pot recipes
Instant Pot chili recipe
Want to see a few of my favorite things that I am totally obsessed with?? Take a peek and see how many you might already have…twinsies!
Looking for more easy family recipes and tips? LIKE The Typical Mom Facebook page?
Then sign up for my free newsletter, and follow me on Pinterest! 😉
***** If you LOVED this recipe give it 5 Stars below and let everyone know what you thought about it. 😉
Instant Pot Chili
Easy Instant Pot chili recipe that can be made quickly in your pressure cooker or cook it a bit longer for softer beans. Either way it's a hearty dinner that can be spiced up or left plain.
Instructions
Set instant pot to saute add a few tbsp of olive oil and brown meat, add onions and bell peppers if desired. Cook until onions soften a bit. Drain if desired, I do not drain.

Empty cans of beans, tomato sauce, and diced tomatoes on top (do not drain cans before adding).. Add packet of chili seasoning and stir everything together.

Set it to manual, pressure, high for 10 minutes. Do a natural release for 5 minutes followed by a quick release of steam.

Done! Serve by itself with cheese on top or on top of rice or potatoes.
Video
Nutrition Facts
Instant Pot Chili
Amount Per Serving (3 oz)
Calories 242
Calories from Fat 135
% Daily Value*
Fat 15g23%
Cholesterol 54mg18%
Sodium 653mg28%
Potassium 756mg22%
Carbohydrates 11g4%
Protein 15g30%
Vitamin A 963IU19%
Vitamin C 28mg34%
Calcium 54mg5%
Iron 3mg17%
* Percent Daily Values are based on a 2000 calorie diet.