This is the best 5 minute Instant Pot chili mac recipe that you and your kids will love! A classic old fashioned goulash style dinner packed with ground beef and noodles. Dump all the ingredients into your Ninja Foodi or Crock Pot Express pressure cooker for a complete meal done in less than 15 minutes.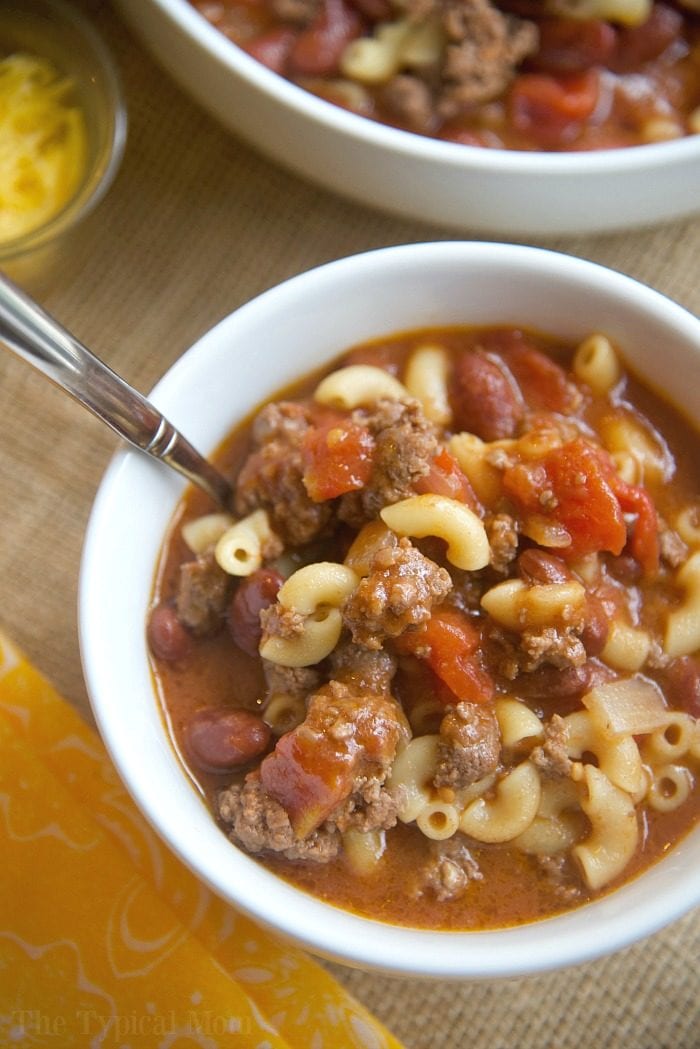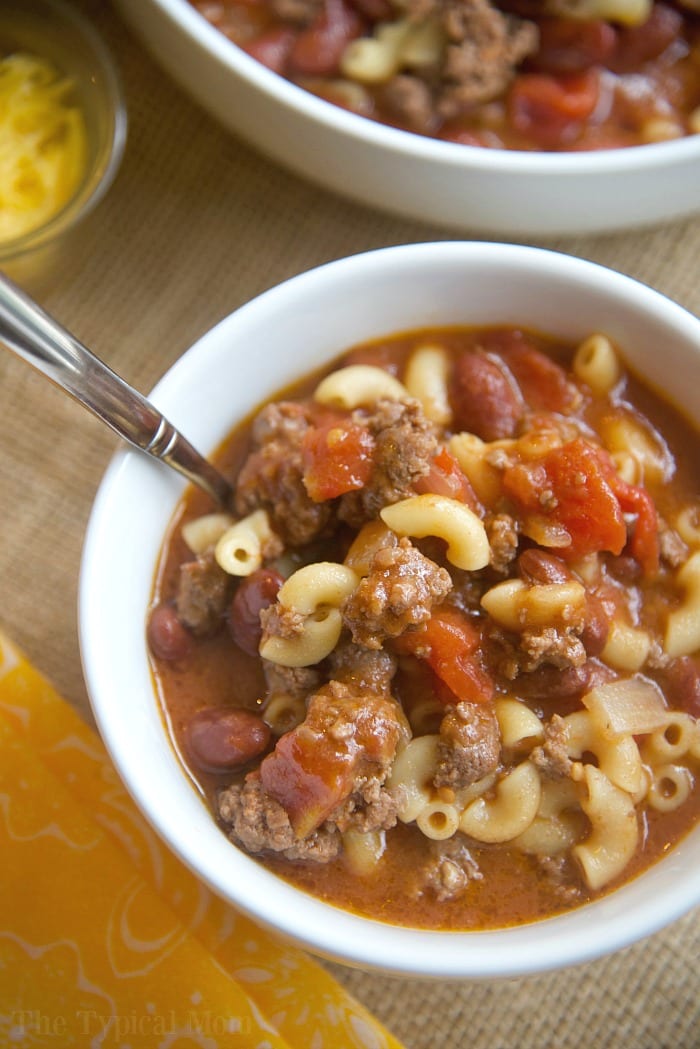 Our easy 5 minute Instant Pot chili mac recipe rocks! Chili mac and cheese is so easy to do and a perfect addition to our long list of Instant Pot recipes. (originally posted 3/17, participant in the amazon program, affiliate links present)
Instant Pot Chili Mac
We have three kids which means macaroni is always in the house. We're also huge Instant Pot chili lovers so it would only be reasonable to combine the two to make an easy dinner idea. That's what we did and made this! You can add cheddar to make it cheesy or leave it as is.
You can use any brand you have at home too. I have a few of them so I can ensure they all cook the same. Plus to making this in your Ninja Foodi is you can melt and brown a layer of cheese on the top at the end if you want to.
FIRST – You should sign up for my free newsletter so you get new posts emailed to you twice a week and never miss out on anything! Now let's start with a few basic tips:
Make sure to Bookmark our InstaPot recipes page. We add new ones each week!
Then PRINT this —–> Instant Pot cooking times cheat sheet that will help you understand how long meat, vegetables and beans take to cook in your pressure cooker.
For reference, this is the pressure cooker I have (a 6 quart) and use for all recipe creations.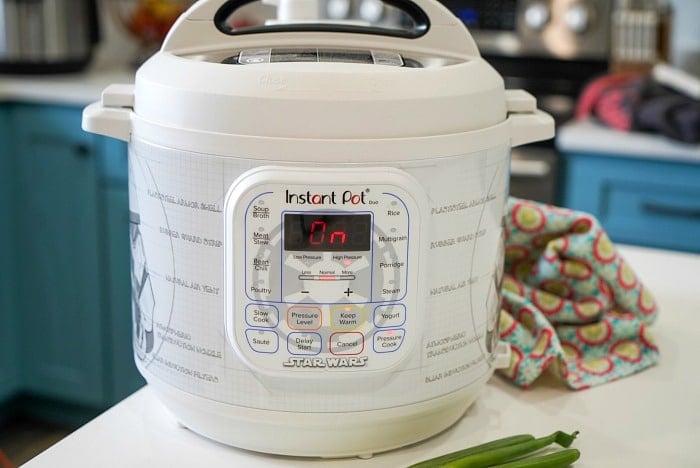 5 Minute Instant Pot Chili Mac
Seriously, this recipe for chili mac cooks in just this short of time. Now it does take a bit to reach pressure so you have to account for that no matter what you pressure cook, but you know what I mean. Of course we add cheese to the top when it was done. That part is totally up to you though. We think everything is better with lots of cheese though y'all! 😉
We have made this 5 ingredient dump chili recipe for years and years you'll have to make this week too. There are many ways to tweak it beyond the standard items added. I will share a few here and below in the list such as; using red enchilada sauce instead of tomato, diced onions can go in there or some bits of chiles. And heat can always be added for it to become spicy.
If you do like hot I suggest either red pepper flakes or chili powder. You can find hot enchilada sauce too or use a roll of spicy ground sausage instead of ground beef. That will do the trick well, we like half spicy sausage and half beef.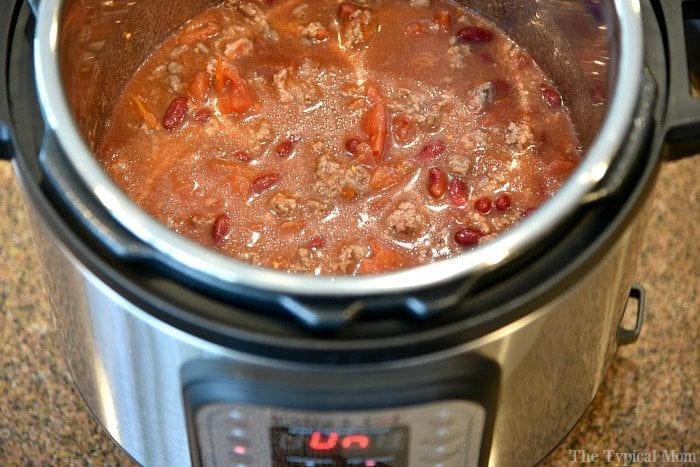 Instant Pot Chili Mac No Beans
Yes this is another variance, if you don't like beans just skip them. To us that wouldn't make it right but you do you. 😉 If you don't have this multi cooker kitchen appliance it is genius I tell you and I use it every night. That's why I have so many recipes to share. lol It is so simple and perfect to use in this cheesy chili mac recipe.
I just added macaroni noodles and enough water for them to cook all together in the Instant Pot and it only took 5 minutes to cook!!!
Seriously the easiest Instant Pot pasta recipe you will ever make.
You can use the ingredients you love, make it spicy or mild so you love every bite.
Enjoy pinto beans more than kidney beans? Use those! Have a lot of ground turkey you want to use? That's a great protein choice to use too!
Love diced bell peppers in anything called chili? Throw those in with everything else! I always say "use what you have on hand"!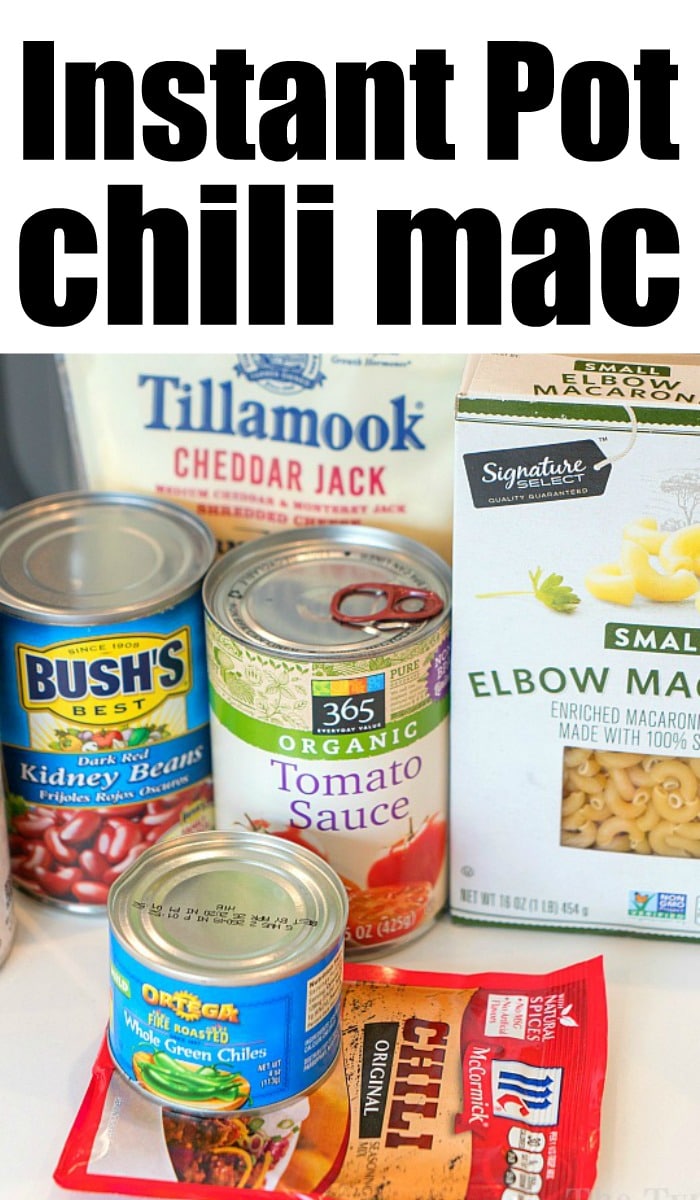 Instant Pot Chili Mac Frozen Ground Beef
Ok so let's talk about what you need to get out. I do suggest that your meat is thawed, but there is instructions for cooking it from frozen first, then proceeding too. A seasoning packet just makes everything easier. If you don't have that you can add Lawry's, dehydrated onions and a bit of chili powder. Ingredients in chili
Pressure cooker

If you have an Instant Pot I HIGHLY suggest you get a non stick pot for this and future recipes.

Ground beef

this is how to defrost Instant Pot frozen ground beef in case you need it.
I often times use 1/2 lb. beef and 1/2 lb. spicy ground sausage for LOTS of flavor and a bit of heat

Onion
Diced tomatoes
Tomato sauce
Kidney Beans
If I have a small can of diced green chiles I will usually add those too. Not to make it spicy but just add flavor. You can find them from hot to medium and/or mild for your chilimac.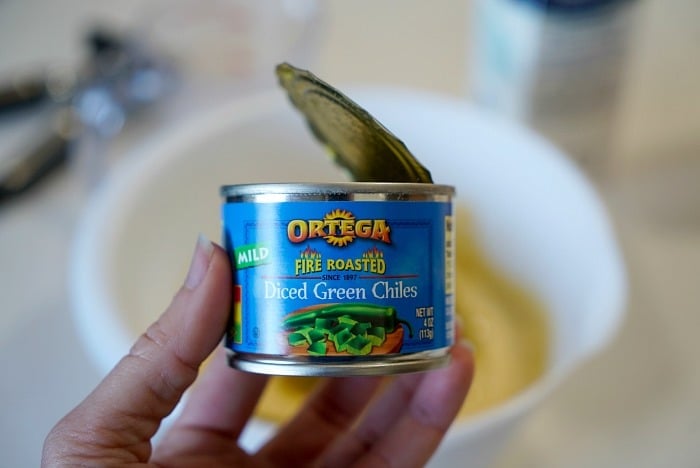 Chili Mac in Instant Pot
I've used all sorts of small pasta shapes with it too. Those squiggly ones, shells are fun, and the classics you see here. I will be honest that what goes in there is what I have in the cupboard which is usually whatever was on sale when I was at the store. What can I say, I'm frugal.
Elbow macaroni noodles

or any small pasta works, I use what I have on hand really

1 pkg. chili seasoning (can use a pkg. of taco seasoning instead…still great)
Chili powder

just a bit for some heat, if you use spicy sausage I would omit this

Cheese

to top with, optional but so yummy
we like Mexican blend

Salt and pepper optional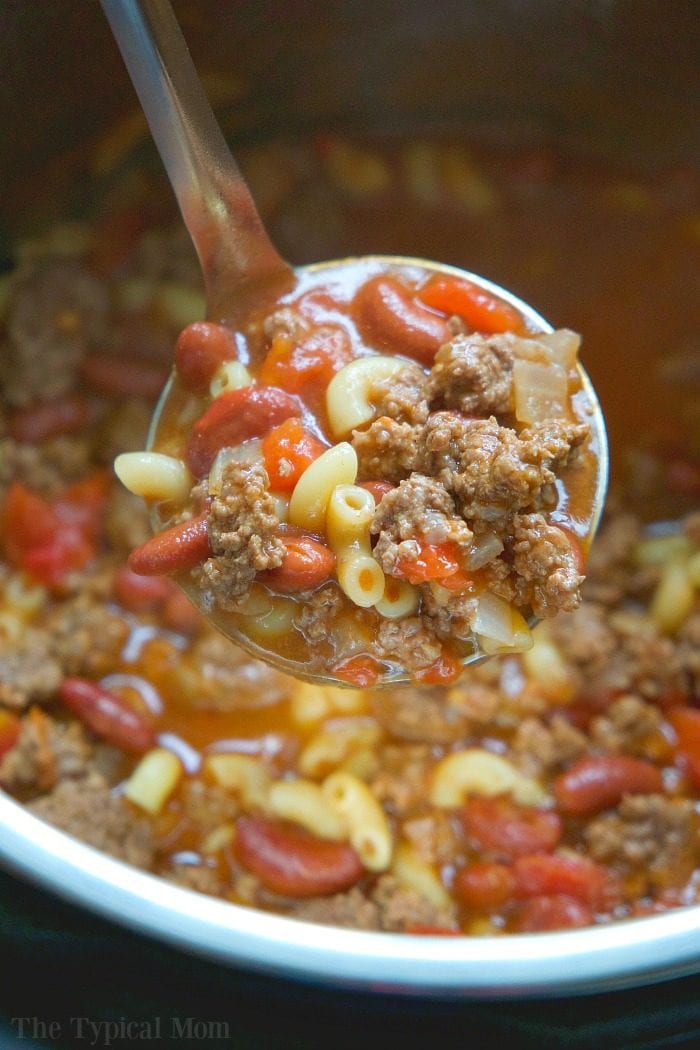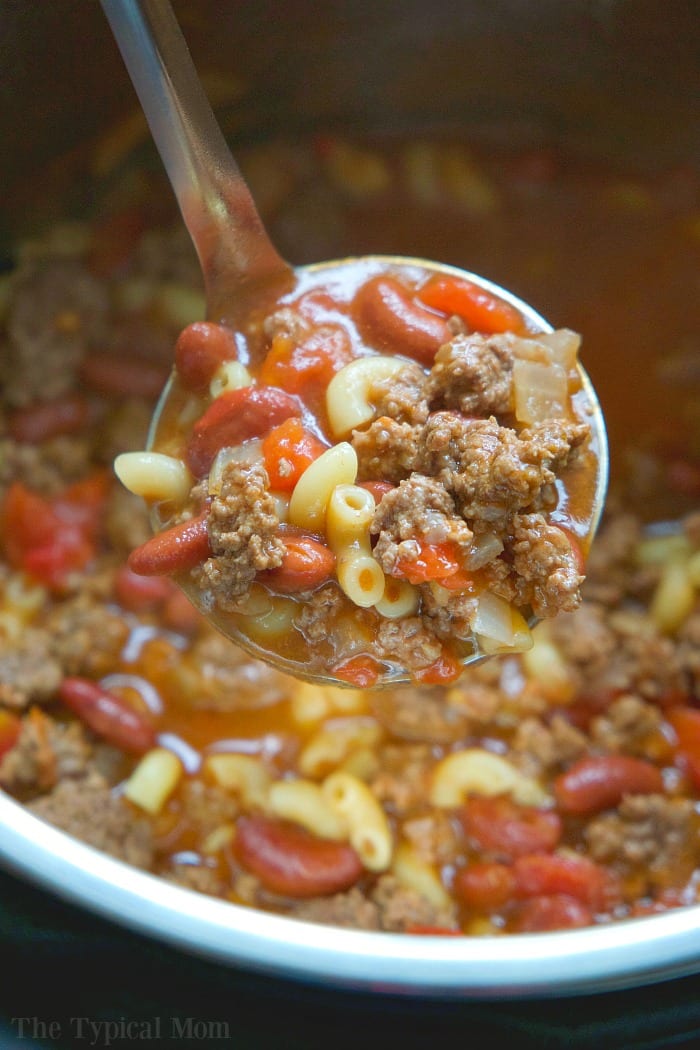 Easy Instant Pot chili mac
You can spice it up or add as much seasoning you'd like once you add the ground beef. Alternatively, you could use spicy ground sausage or 1/2 lb. of each for a medium spice level!
Another version we've made is to make this cheesy chili mac too in our Ninja Foodi!
If you only have an Instant Pot you can do something very similar by just stirring 1 cup of cheese in at the end.
For EXTRA cheesiness, you can then sprinkle another 3/4 of a cup of shredded cheese on to the top, put lid on ajar for 5 minutes so it can melt on top.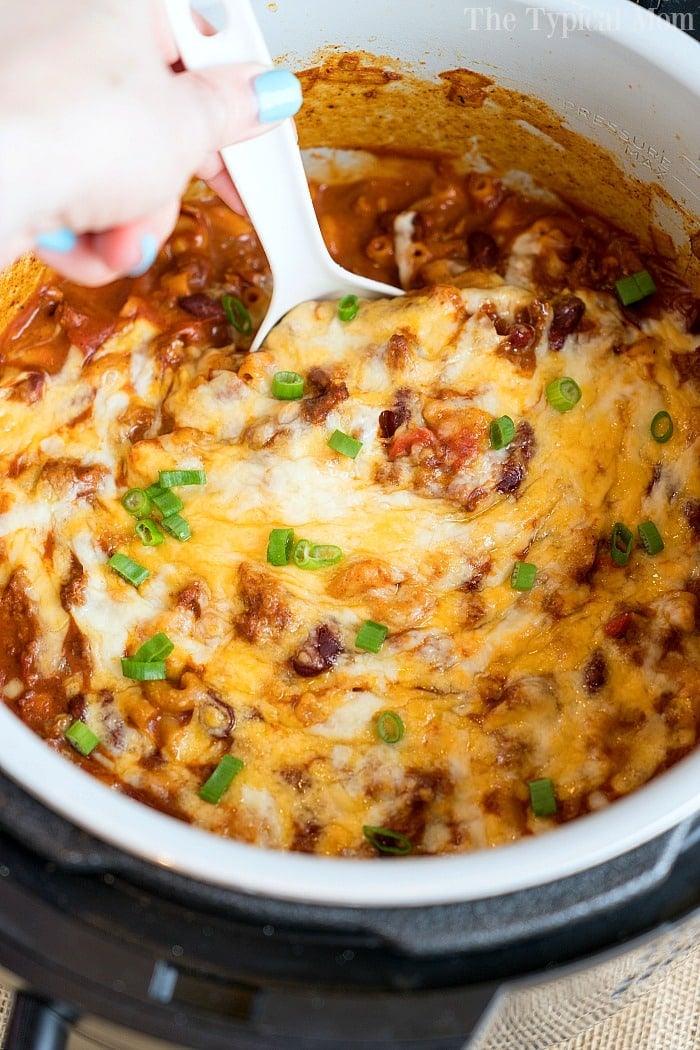 For us one packet of chili seasoning is just right! Of course you could use your own spice combinations but this makes it easy. My kids love it and it is a warm comfort food that's perfect when it's "chilly" outside or really year round.
I love easy recipes like this especially during the summer when the last thing I want to do is turn on my oven when it is 100 degrees outside!
Looking for more cheap Instant Pot recipes?
Want to make Crockpot chili mac?? We do that too!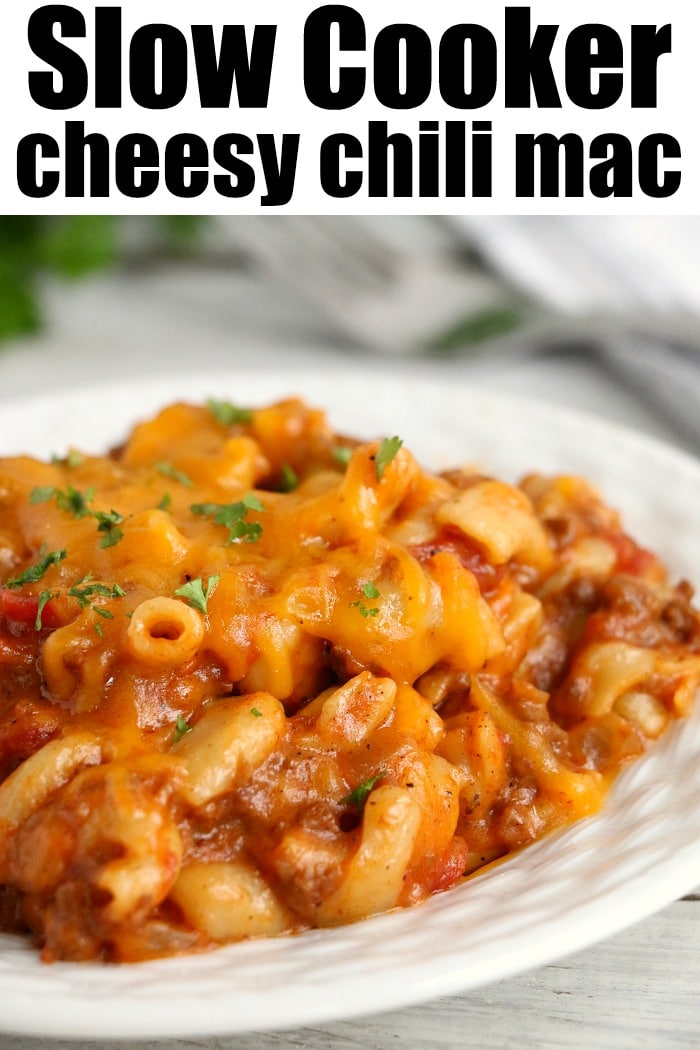 If you like your noodles more al dente then set the time to 3 minutes, a bit softer for 4-5 minutes.
Note – I have NEVER had issues with stirring everything (other than noodles) together. Others have had false burn notifications.

If your pot is super sensitive like this I highly suggest you get a non stick pot for this and future recipes.
It is a game changer and you will likely never get the burn notice again.
And as always, when removing the lid face it away from your face so you aren't overheated by the steam.
Want to see a few of my favorite things that I am totally obsessed with?? Take a peek and see how many you might already have…twinsies!
Looking for more easy family recipes and tips? LIKE The Typical Mom Facebook page?
Then sign up for my free newsletter, and follow me on Pinterest! 😉
***** If you LOVED this recipe give it 5 Stars below and let everyone know what you thought about it. 😉
Instant Pot Chili Mac Recipe
The best 5 minute Instant Pot chili mac recipe that you and your kids will love! A classic old fashioned goulash dinner packed with flavor.

Instructions
Turn Instant Pot to saute and add olive oil, onions, and ground beef.

Brown meat until cooked. Turn off IP.

Pour in your can of red beans (undrained), diced tomatoes, sprinkle in packet of chili seasoning, tomato sauce and stir together. Pour in your broth, then sprinkle noodles on top but do NOT stir!! Just gently push down to submerge noodles into the liquid but keep on top. (if you stir, you may get burn notice)

Turn IP to manual, pressure, high, for 4 minutes (3 if you like noodles more al dente). Close steam valve.

When done do a quick release and carefully open lid. Stir. Serve topped with cheese!!
Nutrition Facts
Instant Pot Chili Mac Recipe
Amount Per Serving (8 oz)
Calories 363
Calories from Fat 180
% Daily Value*
Fat 20g31%
Cholesterol 53mg18%
Sodium 662mg29%
Potassium 782mg22%
Carbohydrates 27g9%
Protein 18g36%
Vitamin A 705IU14%
Vitamin C 15mg18%
Calcium 57mg6%
Iron 3.7mg21%
* Percent Daily Values are based on a 2000 calorie diet.