Cheesy Crockpot chili mac is the ultimate comfort food that kids love! No boiling required when you cook this or our Ninja Foodi chili mac either. A one pot meal that's full of flavor.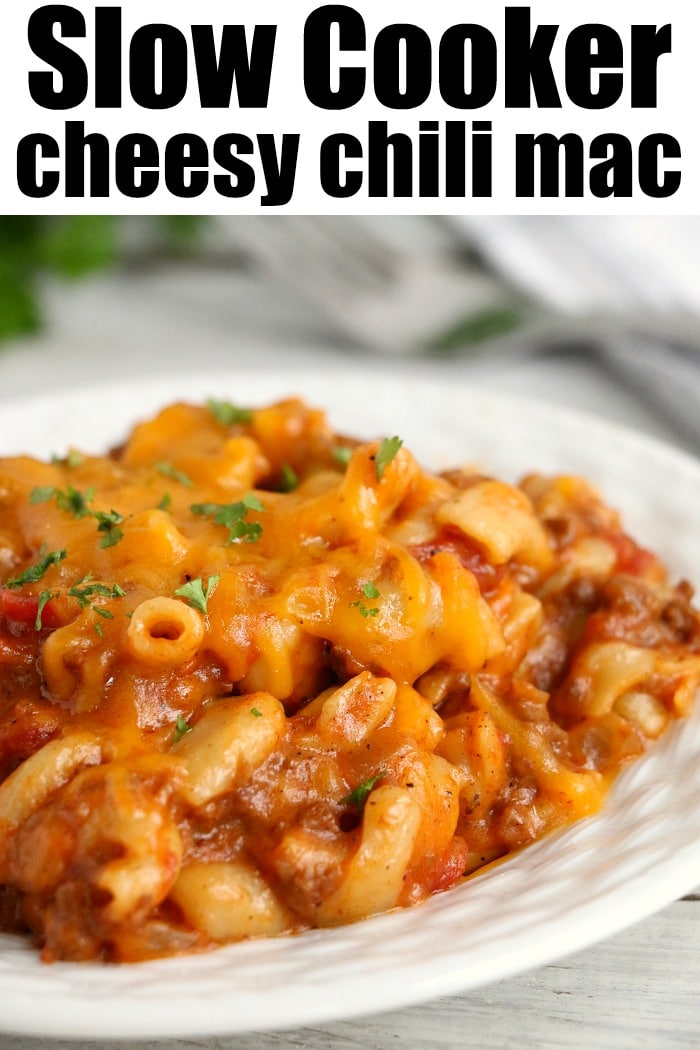 This Crockpot chili mac is one of our favorite easy slow cooker recipes here on The Typical Mom blog. With tender ground beef and noodles you don't even have to boil beforehand, it's easier than ever to throw together. (originally published 10/19, affiliate links present)
Crockpot Chili Mac no Beans
If you're a busy Mom like me, you love easy Crockpot recipes too. You really can tweak this one to your liking. If you love spicy you can add red pepper flakes or keep it mild for the kiddos. I love some kidney beans in the mix but you could omit those if you wanted too.
When it snowy outside all I can think of is comfort foods. Filling up my belly with warm goodness is all that. Add a layer of cheese on top is even better. You have got to try this one. Yes, I love my pressure cooker too but if we're going to be gone all day these are great.
FIRST – You should sign up for my free newsletter so you get new posts emailed to you twice a week and never miss out on anything! Let's talk a little bit about slow cooking shall we?? First off I have a few different varieties and I love them all. Each one has an occasion to be used like….
This is my favorite 6 quart programmable one with a locking lid so it's great for bringing to a potluck too.
If you just want to serve a few appetizers you should get this one that sit side by side one another.
I prefer not to use liners, but rather just spray olive oil inside before adding my food for easier cleanups.
Let me give you a peek of my pretty thang I bought recently. It goes with my kitchen so I can just leave it out on the countertop all the time. 😉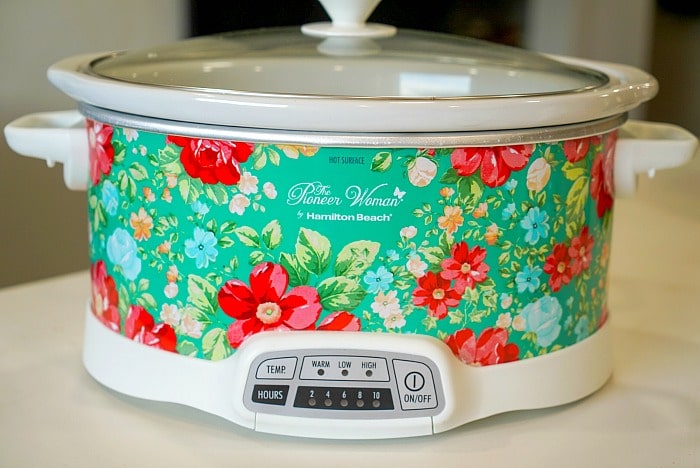 Slow Cooker chili mac
These two names mean the same thing. Low and slow is the name of the game. For years I made this 5 ingredient Crockpot chili recipe. It was something that was just thrown together with meat and beans and a packet of seasonings.
Then when I first got my pressure cooker we made this Instant Pot chili mac recipe and that was great too! Now it was time to kinda' combine the two things that we loved and do it in our crock! If you're ready to make this hearty chili mac slow cooker recipe, this is what you'll need:
Chili Mac Recipe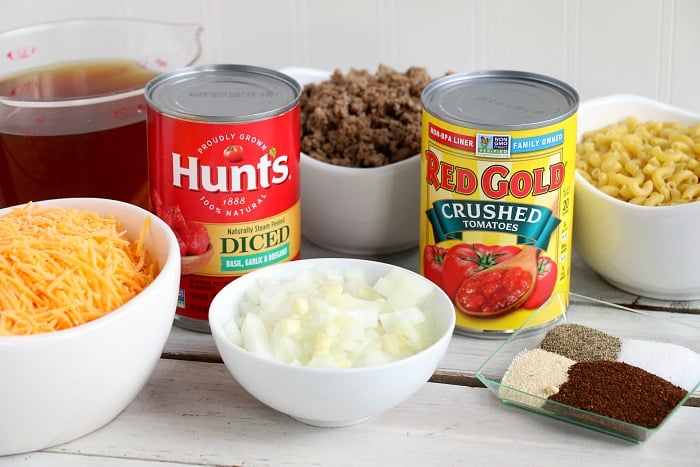 Crockpot chili mac
You could make this vegetarian and not add the meat at all, we love the heartiness of it in there. I will switch it out though with half beef and half ground sausage with a bit of heat in it. Depends on what is on sale really.
Lean ground beef – or spicy ground sausage is amazing

here's how to cook Crockpot ground beef

Elbow macaroni noodles – uncooked
Crushed tomatoes
Diced tomatoes
Beef broth is best – chicken broth or water could be used
Salt and pepper
Onion powder
Minced garlic
Shredded cheddar cheese is what we use
This is made as a mild chili recipe.

Of course you can always amp up the spice if you like. Just add some chili powder and/or Sriracha seasoning
Optional add ins:
You could add 1 can of kidney or black beans that have been rinsed if you wanted to as well. A dollop of sour cream at the end is nice to make it creamy. You could include a diced can of green chiles into the mix when cooking. Those add a great flavor but not necessarily a lot of heat.
Here are some questions you might have before you get started on this:
Should you put noodles in chili?
Noodles or crackers may be added if the diner so desires. Typically though noodles should NOT be added before the chili comes out of the pot. They'd have to be boiled separately and then added. If so, they'd become mush since chili takes a while to cook. You would need to do this when making Instant Pot chili.
We usually keep that plain though and stuff potatoes with it or just top with cheese. If you want to make a Crockpot chili recipe with noodles there's no need to pre-boil them. They can be cooked at the end with everything else, and come out perfectly.
Can you keep pasta warm in a Crockpot
?
I would not. If you have leftover chili mac I would take it out of your pot and transfer it in to a bowl. Allow it to cool completely before covering and storing it in the fridge.

Pasta can turn too soggy and soft when kept on warm in your slow cooker for any length of time.
If you're just cooking noodles by themselves in a slow cooker, add a small amount of oil and liquid (preferably sauce, but water will do). You can keep pasta warm and moist without overcooking this way.
Can I freeze chili mac
?
Of course! You can store leftovers in the fridge too. Wait until it cools and then seal chili mac and cheese in freezer safe containers. Make sure you label them with the current date, and freeze them for up to 3 months.

When reheating allow them to come to room temperature, then pour into a pot on the stove over medium heat until warmed
What is chili with noodles called?
We call it slow cooker chili mac as you see here, others refer to it as Cincinnati chili. The latter traditionally uses a Mediterranean-spiced meat sauce.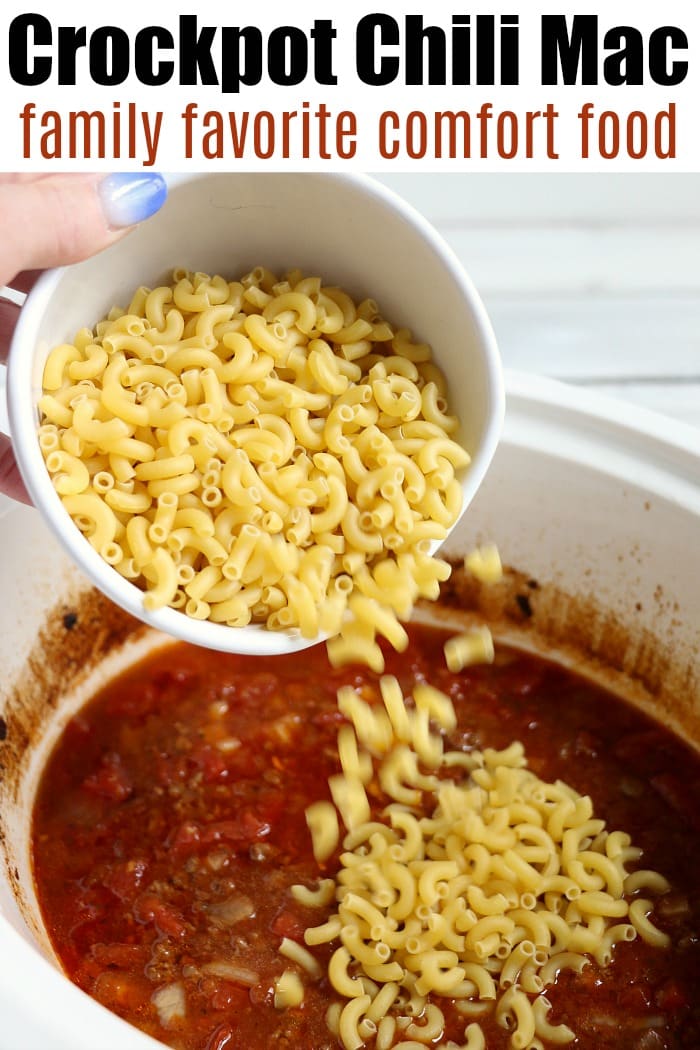 Can you put uncooked pasta in a slow cooker?
It works great if you throw it in about 30 minutes before you want to eat. Any earlier than that and they will overcook and become mushy. In that sense, cooking pasta in a slow cooker can be tricky. Cooking pasta directly in the sauce creates very flavorful noodles you will love.
If you've never done this before you may be surprised at how much you like it! We do this too when making Crock pot spaghetti and meatballs with a tomato sauce base and it's fabulous.
Slow cooking time for noodles of course depends on how al dente you like your macaroni. We think half an hour is just about right.
Just throw them in, submerge into the liquid, cover and cook on high for 20 minutes and check to see if you want them softer the first time around.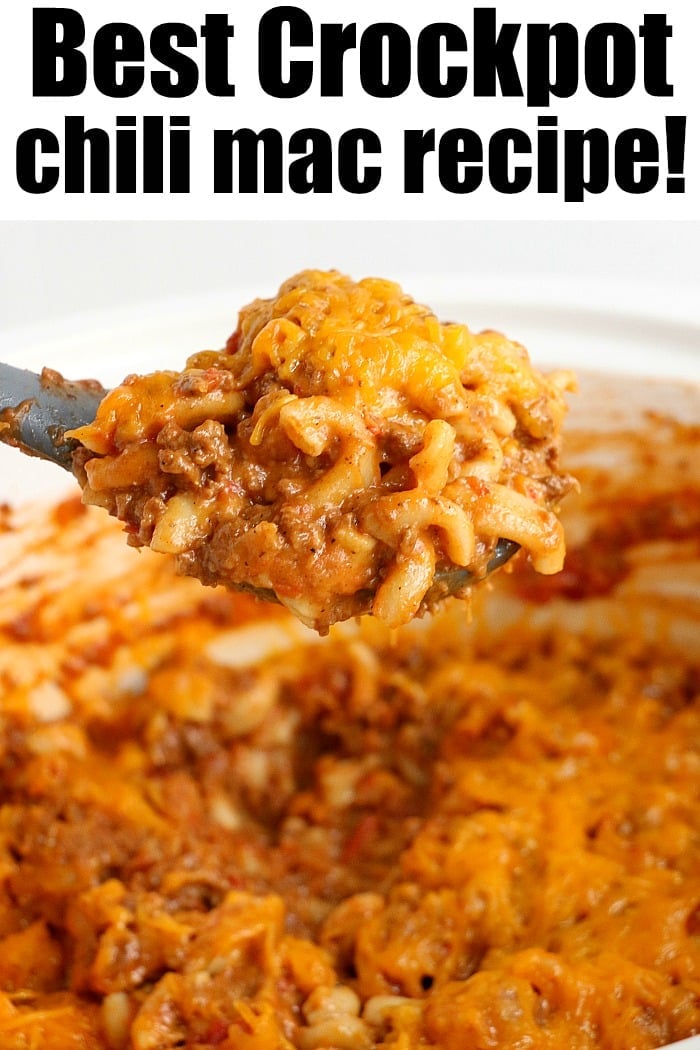 Slow Cooker Chili Mac and Cheese
Quick step by step is below but I also have a printable recipe card at the bottom of this post as well for you.
In a pan on the stovetop ground your hamburger until it is no longer pink.
Add meat, chili beans and all other ingredients EXCEPT uncooked noodles and cheese into your pot. Stir together.
Put lid on and cook for 6-8 hours on low
30 minutes before you want to eat add the pasta (I like elbow macaroni) and submerge into the liquid.
When noodles are as tender as you'd like them to be stir in your shredded cheese, it will melt quickly and serve.
Looking for more Crockpot hamburger recipes? We have a lot of them since this is the protein we typically have on hand. I will buy a bunch of it when it is on sale, freeze, and defrost when I am ready to make it.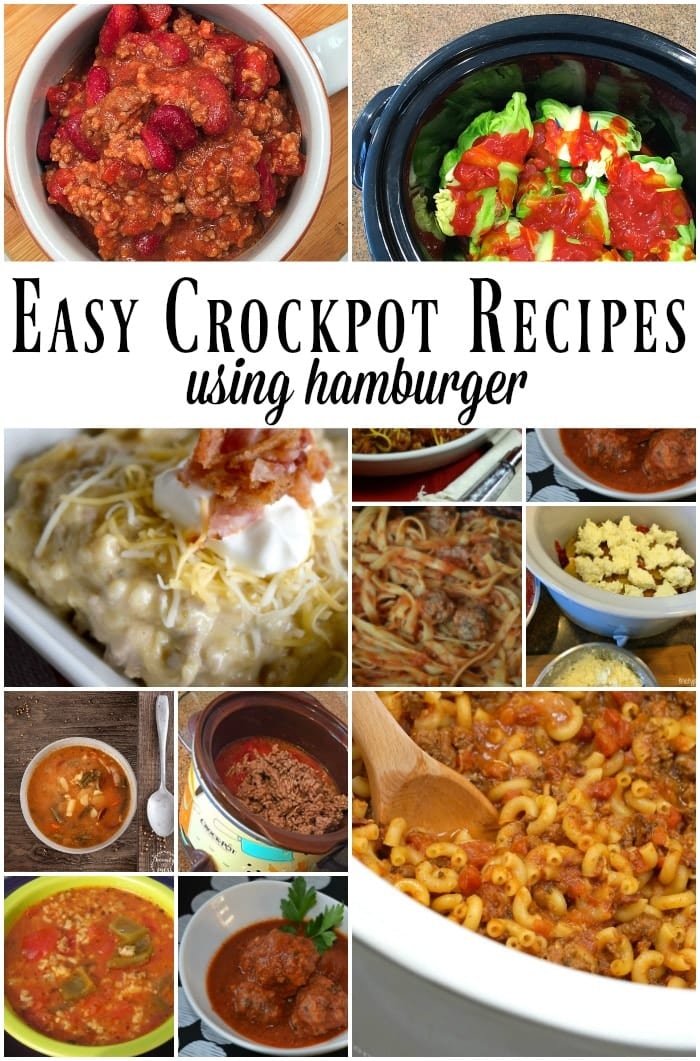 This Crockpot hamburger casserole recipe is the bomb.
Crockpot hamburger helper is always a winner.
Slow cooker stuffed cabbage soup is something even my kids love.
Round it out with some Crockpot lasagna casserole with NO boiling required either!
Have a pressure cooker? Try our easy Instant Pot mac and cheese recipe next. To make this delicious chili with noodles recipe, follow the directions below.
Want to see a few of my favorite things that I am totally obsessed with?? Take a peek and see how many you might already have…twinsies!
Looking for more easy family recipes and tips? LIKE The Typical Mom Facebook page?
Then sign up for my free newsletter, and follow me on Pinterest! 😉
***** If you LOVED this recipe give it 5 Stars below and let everyone know what you thought about it. 😉
Crockpot Chili Mac
Cheesy Crockpot chili mac is the ultimate comfort food that kids love! No boiling required when you cook this either. A one pot meal that's full of flavor.
Instructions
Brown ground beef on stovetop and add into crockpot.

Add in all other ingredients EXCEPT cheese and uncooked noodles, stir together.

Close lid and cook on low for 6-8 hours ideally, or high for 2-3 hours.

30 min. before you want to eat sprinkle in uncooked small noodles and submerge into the liquid.

Once done stir in cheese. Serve when noodles are as tender as you'd like and cheese is melted.
Nutrition Facts
Crockpot Chili Mac
Amount Per Serving (3 oz)
Calories 459
Calories from Fat 234
% Daily Value*
Fat 26g40%
Cholesterol 85mg28%
Sodium 909mg40%
Potassium 572mg16%
Carbohydrates 30g10%
Protein 26g52%
Vitamin A 896IU18%
Vitamin C 10mg12%
Calcium 366mg37%
Iron 3mg17%
* Percent Daily Values are based on a 2000 calorie diet.