The night before Christmas box tradition is so much fun! Here's how you make one and why my kids look forward to it every year no matter how old they are.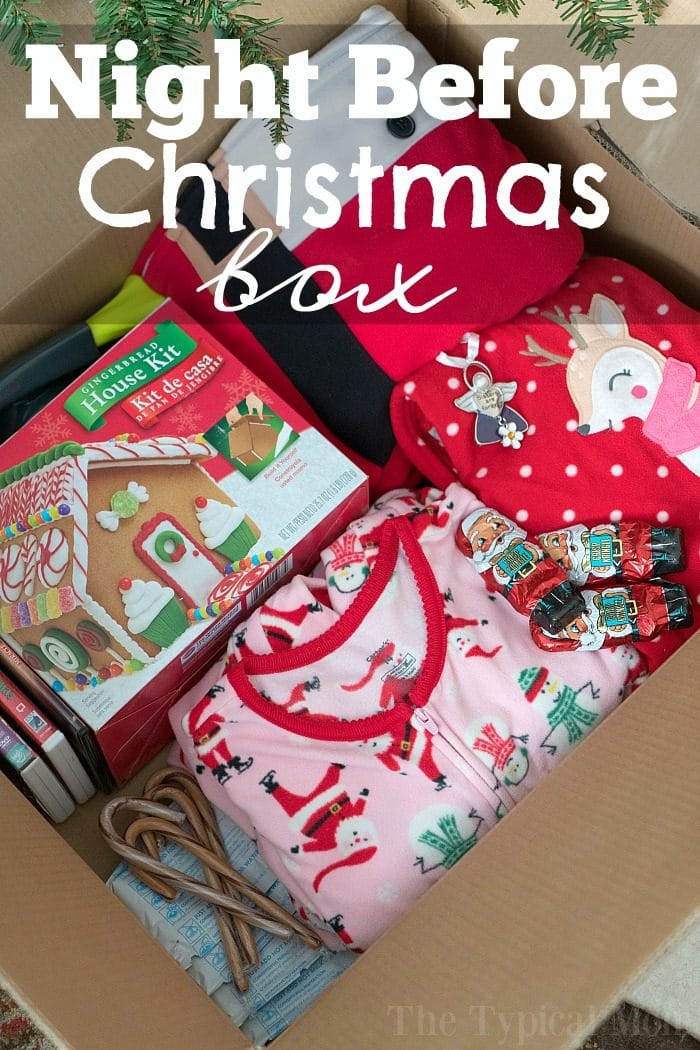 Have you started the night before Christmas box tradition yet?? I started it when my youngest was about 2 and it's been a family tradition ever since then. Even now that my oldest is almost 17 (mom cries) they still look forward to "the box" each and every year and are so excited to see what is inside! I actually love searching for items they will love to put inside too, and include some of the same things each year (but in larger sizes as they grow of course). Let me share our special holiday tradition with you so you can try it in your house…I promise it will be a huge hit and you'll look forward to it too year after year. This post is sponsored by Kohl's. I received the included pajamas as compensation. (originally published 12/17)
So our box looks a little like you see here!
I made it a bit early this year because my kids wanted to share why they love it with all of you (lucky them because I will now have to make a new one for our actual night before Christmas box to surprise them). 😉
You really can include anything you like inside but you want to keep it pretty consistent with the same type of items, and use variations and different sizes from year to year from there. Of course different patterns will be offered each year and it is always fun to find a totally different item that they may not expect but for the most part I keep the same categories below.
Things to include in The Night Before Christmas box
Pajamas

– every child LOVES a new pair of pjs (ok, I do too) and finding a "totally cute" and comfy pair is key. For my "little ones" you see here I love Carter's pajamas, they're comfy and offer footed pajamas in larger sizes! Their favorite are the "footed jammies" they call them. This year I chose Christmas themed pairs and since they go up to a size 14 (seriously….I bet you didn't know that) my 11 year old can still fit into them comfortably! Footed jammies are the best because they have non-skid soles (perfect for tile floors), safety tab keeps the zipper in place, and elastic back heels to keep footies on. 😉

Ornament

– I choose a new personalized ornament for all of them to share for the year or occasionally find one for each child, depending on what I find. This year I chose one that said "sisters are forever" because I thought that would be special. I write the year on the back with a permanent marker so we can remember that night before Christmas box moment year after year when we hang them on the tree.

Treat

– Ok so I usually include a few little things, enough for all 5 of us to enjoy that night.

Hot cocoa

– I either include packets of ready to make cocoa or a jar of homemade hot chocolate mix to scoop out….a small bag of marshmallows can be included too.

Something to bake

– This year I choose a gingerbread house they could all put together on the night before Christmas, but I have also included a box of oooey gooey brownie mix to make together too.

A game

– This is fun. If your kids don't really play board games or games in general they will really get a kick out of it if you get something age appropriate and play it WITH them that night! Last year I found a unique game even my older kids would like, but make sure it is something that even the youngest child in the family can partake in…it is really fun to play together!

A letter

– If you have really little kids you can include a letter from Santa or you can write a letter yourself to each one of your children telling them why you're so proud of them this year. It's a good time to reflect and believe me….they'll love it!

A movie

– I include a DVD, usually off our Christmas movies list that is holiday themed, to watch that night together. Sometimes it's a cartoon of sorts and other times it's a classic Christmas movie that I remember as a child and want to share it with them….musicals are our favorite!
Pet owners – Don't forget your pooch or kitty, include a personalized adorable collar for them too!
Finding things your children will love is key. Of course each child is different and your night before Christmas box will evolve over the years as they get older, but seriously….who doesn't love footed jammies??!!
You really can't go wrong with these year after year and since they offer them at Kohl's from sizes 2T-14 you can find new styles each year to surprise them!
How to put together you Night Before Christmas Box
Find a box large enough to fit all your items.
Pack it all in and wrap it with holiday paper.
Put a note on top saying "Do not open until the night before Christmas", you can use our free printable Christmas labels and write that on top with their names on it.
Leave it under the tree 2 nights before Christmas and let your children find it in the morning.
That evening (do it several hours before they go to bed) let them open the box up and discover what is inside.
Watch the movie together wearing their new pajamas, hang their ornament(s), bake a treat, play your new game together, and read the letter(s) inside together!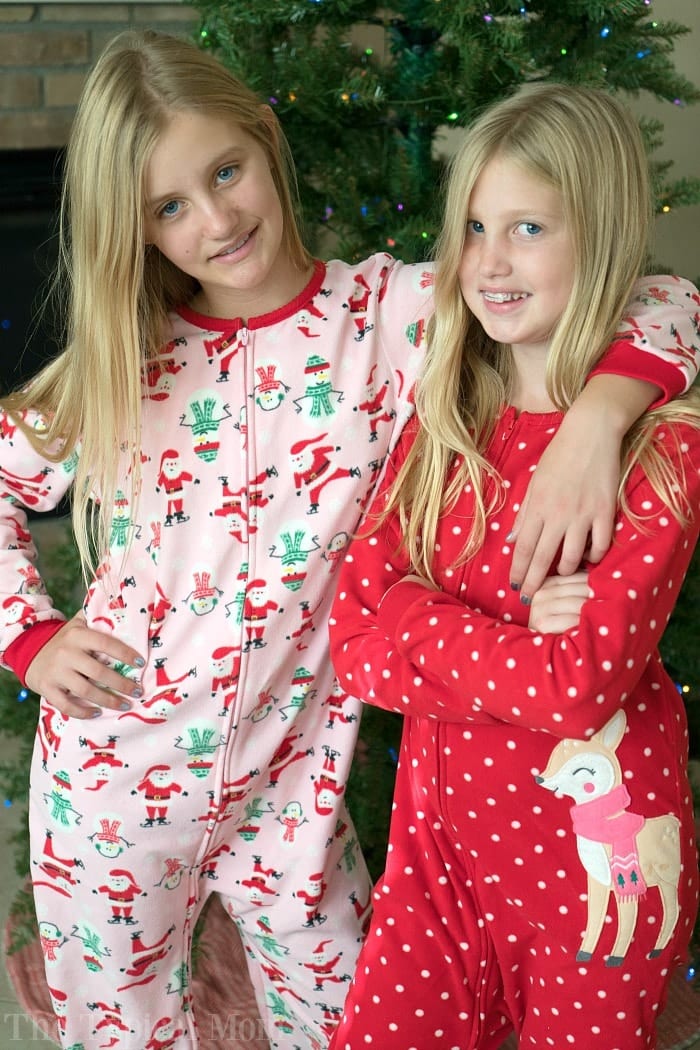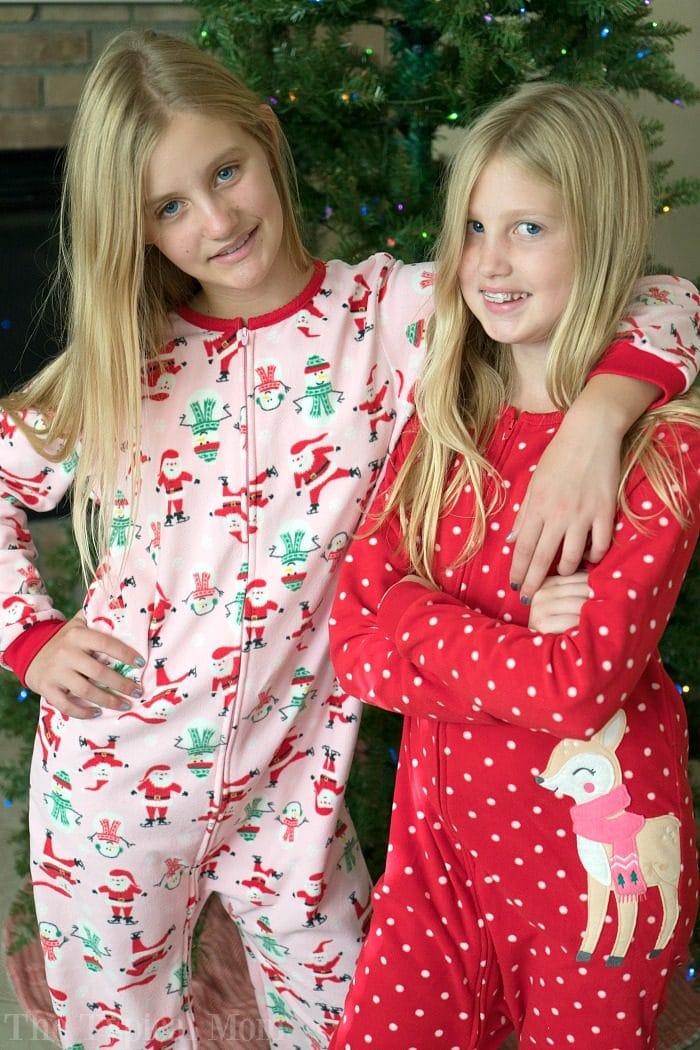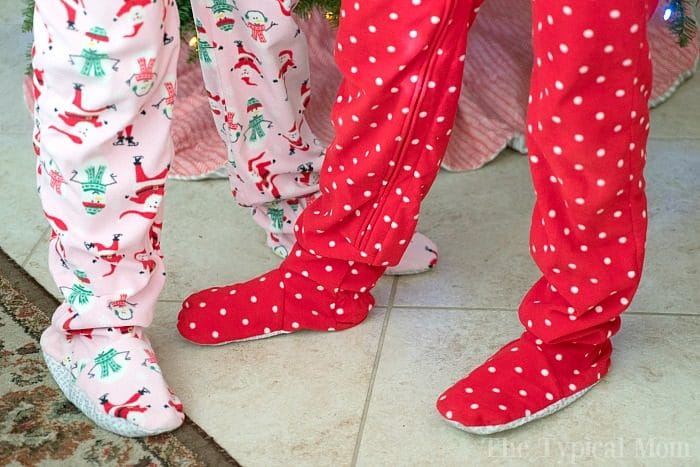 Things we like doing during the month of December before the night before Christmas arrives that you may enjoy too are:
If you have never made a night before Christmas box before I really encourage you to do so.
It's a fun tradition that all ages enjoy (myself included) and brings your family together before the big day arrives.
What's something special you do year after year around the holidays that your family loves??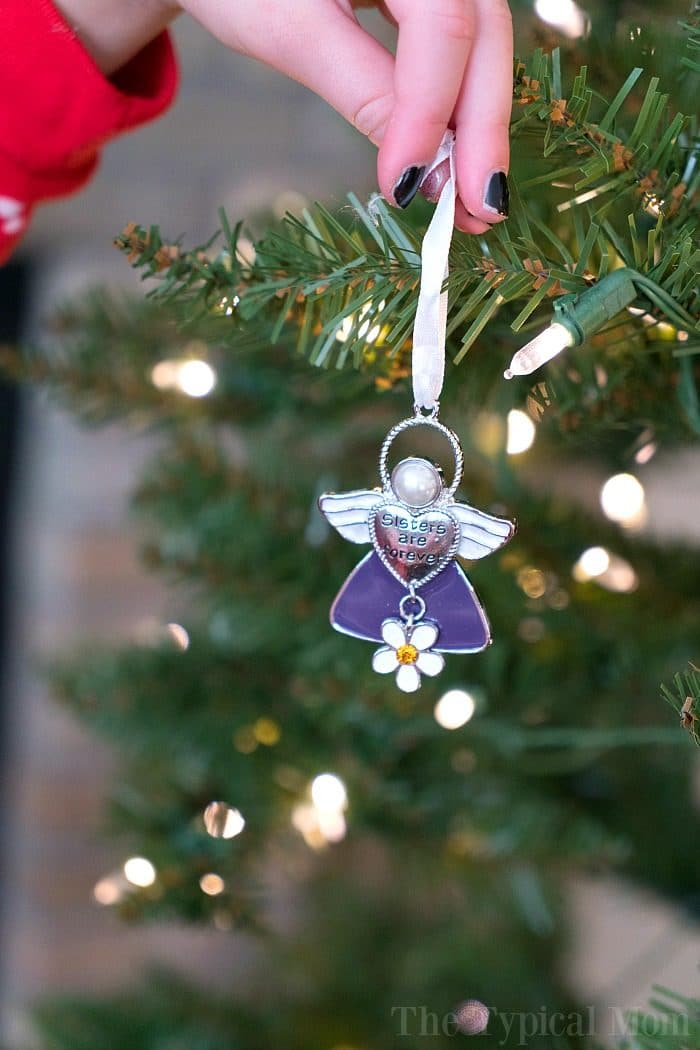 My blog may contain links to other websites. I am not responsible for the privacy policies of those other websites. When you click on a link, your information may be collected by those websites so I encourage you to read their privacy policies.  These affiliate links are not associated with Kohl's.
For more easy recipes, tips and free printables please LIKE The Typical Mom on Facebook and follow me on Pinterest! You can also sign up for my free weekly newsletter which is packed with goodies I know you'll love. 😉