Here's the 2022 Hallmark Holiday Movies schedule so you won't miss any free movies they show on television this year! Countdown to Christmas has begun!
Are you a sucker for Hallmark Holiday Movies on television every year?? Me too! I look forward to the watching classic Christmas movies each year with my girls, and original tear jerkers on the Hallmark Channel too are so good! Here is the Hallmark holiday movies 2022 you can use as reference. (originally published 12/15, updated each year)
Hallmark Movies Schedule
Why is the Hallmark Christmas movies 2022 list so great?
Movies are free to watch!
They get you in the mood for the holiday season.
Hallmark movies always have a great message.
They are all family friendly holiday movies appropriate for the whole family.
There's always something new.
I love the free part because going to the movies can be expensive when you have a family of 5, and when it is cold or snowy outside the last thing I want to do is get out of my jammies!
Here's a printable Christmas movies list so you don't miss any of the classics.
Hallmark holiday movies
THE 11TH ANNIVERSARY OF HALLMARK CHANNEL'S 'COUNTDOWN TO CHRISTMAS':
All premieres are at 8/7 p.m. CT
You can see the image with everything the entire schedule offered this year here. (image provided via. their website)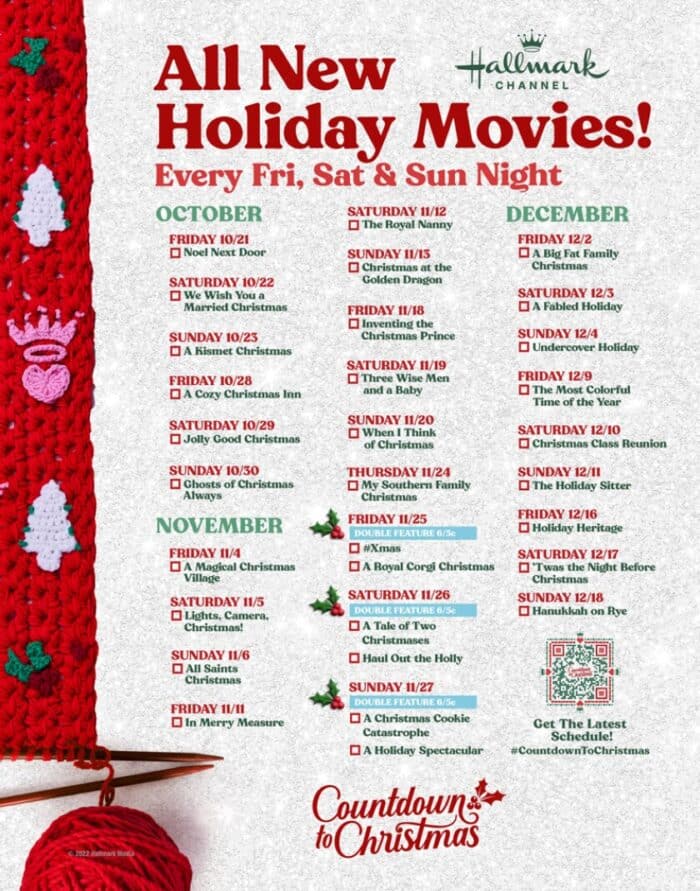 25 Days of Christmas Movie Schedule
After watching all fo the Hallmark Holiday Movies 2022 you want you may want other fun or free Christmas movies and activities??
Make some crockpot hot apple cider when you're watching your Christmas movies on tv.
Here are a bunch of free holiday printables like Christmas bingo and word searches.
For fun create a night before Christmas box for your kids!
You can find more about the Hallmark Christmas movies and they're channel here, enjoy!
Do you have something else we should add to our list? Let us know!
This is what was on the schedule in 2021!
For more easy recipes, tips and free printables please LIKE The Typical Mom on Facebook and follow me on Pinterest! You can also sign up for my free weekly newsletter which is packed with goodies I know you'll love. 😉