Air fryer cauliflower bites or cauliflower steaks are really easy to make in your Ninja Foodi or other machine. Healthy and full of flavor it's a great vegetable side dish or snack.
We are obsessed with this air fryer cauliflower recipe! Do you have an air fryer machine? We got ours recently and use it every day now. It's the best way to make healthy gluten free side dishes with no oil required. (affiliate links present)
Cauliflower in Air Fryer
We have cooked a whole cauliflower pressure cooker style before, but wanted to make a healthier version in our new machine. OH MY was it even better than I could have even imagined. Cut into bite size florets tossed with Old Bay and other seasonings makes this a healthy side dish we all love.
This one is simple but you could add some heat to make it spicy with our buffalo cauliflower bites recipe too. Both are great and I rotate between them rather often to change things up for dinner.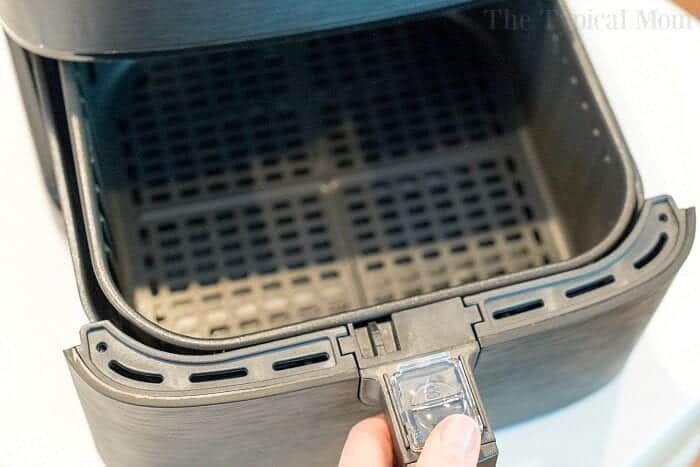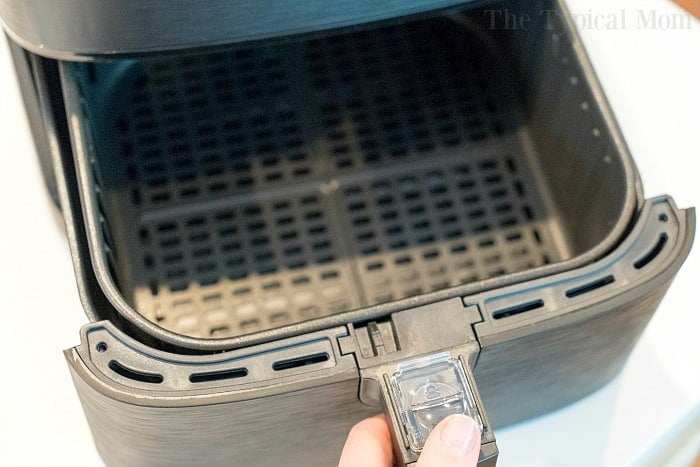 Air Fryer Cauliflower Bites
If you have never cooked this veggie before this way it brings YUM to a whole new level. Yes you can slather butter or make cheesy cauliflower but really simple can be delicious too if you make it right.
What good is cauliflower?
Here are some questions you might have before you get started with this:
A head of cauliflower is a vegetable that is naturally high in fiber and vitamin B. It provides antioxidants that can protect against cancer which is great. The fiber enhances weight loss and healthy digestion. It contains choline as well which is essential for learning and memory, as well as other important nutrients.
Is cauliflower a keto food?
Yes. It has 1.5 grams of net carbs per half a cup so you can eat a decent amount and not fall out of ketosis. It's a low carb vegetable you'll love. This is just one of our easy Ninja Foodi recipes, you can find on our keto food list but you can use any brand to make this!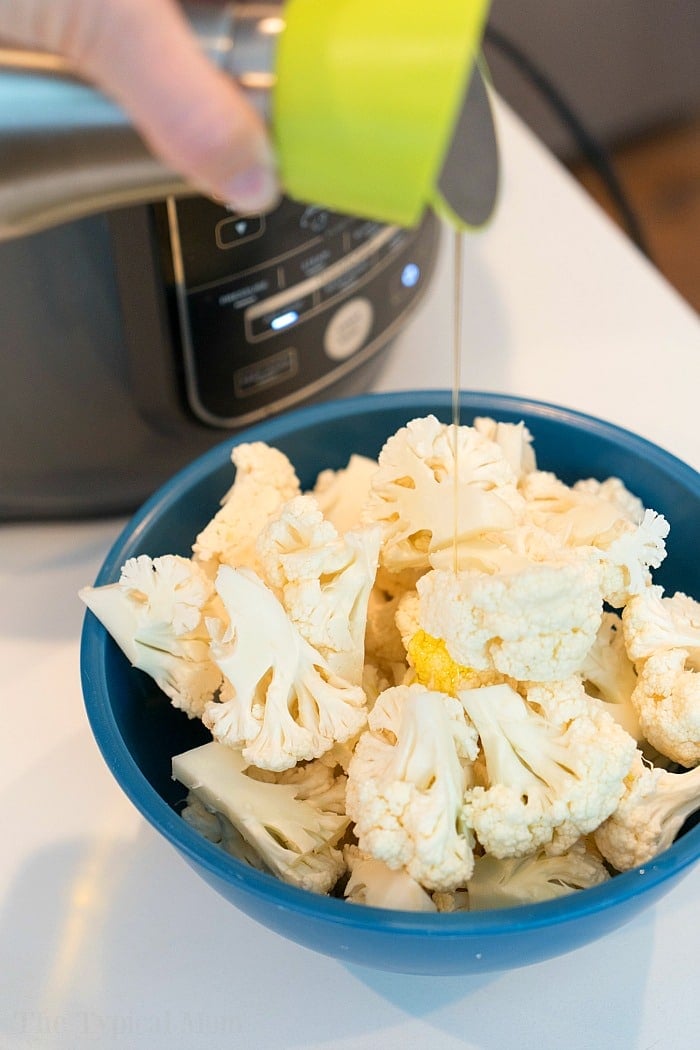 How do you prepare cauliflower?
You'll want to remove the green leaves and hard stem first. Then use a knife and cut the florets off. The smaller the pieces the more tender they will get. When it is fork tender you can just sprinkle with salt and pepper or smother with homemade cheese sauce.
What can you cook in an air fryer?
The answer is, you can air fry everything!!
You'll find a lot of easy air fryer dinner recipes here
Then you should go a step further with air fryer cauliflower, air fryer corn, and air fryer zucchini chips recipes for healthy sides.

They're definitely healthy snacks for kids that are full of flavor. You might be surprised to find out they actually like veggies. AHHHHhhhh!
You'll need to use your hands for this one to make sure the olive oil and seasonings are well distributed.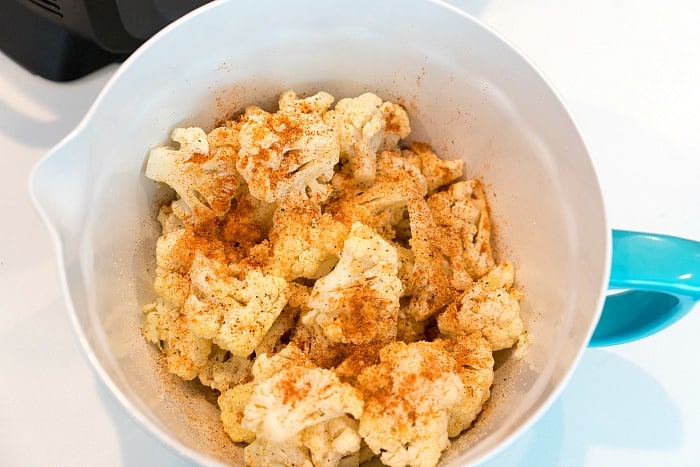 Can you air fry frozen vegetables?
I prefer fresh for sure but yes, you can. Just: For some you would want to use higher heat so they don't have a chance to get soggy. Choose olive oil spray as opposed to bottled because it will stick better. Then season accordingly.
We have made air fryer frozen cauliflower before out of the bag and it's quite delicious. The seasonings don't stick quite as well as they do with fresh but you can add more halfway thru as well.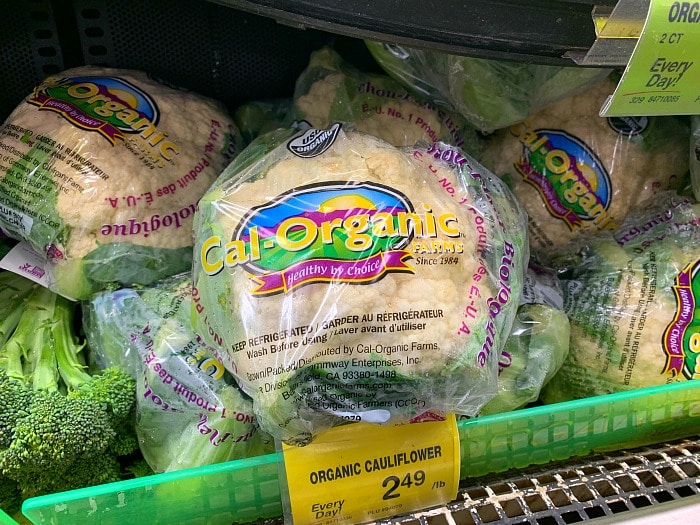 Ingredients needed
Head of cauliflower
Olive oil

avocado oil is a good alternative too

Garlic salt
Minced garlic
Salt and pepper to taste
Paprika
This is by far one of our favorite low carb air fryer recipes we've made. I mean yes, Instant Pot side dishes are great too but you don't get those crispy edges on your vegetables that I love.
Ninja Foodi Cauliflower
Tip for making air fryer vegetables: Gently shake or use a wooden spoon to flip pieces over every 5 minutes or so. This will give all sides and areas to get nice and crispy. Cut head into bite size cauliflower florets. Equal sizes is helpful to cook evenly.
Preheat and set air fryer to 400 degrees for 5 minutes.
Put florets in a mixing bowl and rub olive oil on all pieces.
Sprinkle seasoning and mix. Using your hands is helpful so it's evenly distributed.
Put half of what's in your bowl inside your air fryer basket making sure they don't overlap.
Set for 15 minutes and shake/toss or shake the basket every 5 minutes.
Add cauliflower left and follow same steps, then Enjoy! Entire process and cook time will take 30 minutes to make an entire head of salt and pepper roasted cauliflower.
Are air fryers good for you?
If you don't have an air fryer you can make oven roasted buffalo baked cauliflower.
Compared to deep frying, using an air fryer reduces the amount of fat and calories in your food. So, I'd say a resounding YES to this question. This is a way to get the same crunchy crispiness to all foods with NO oil required. It's been a game changer for us.
Cauliflower recipes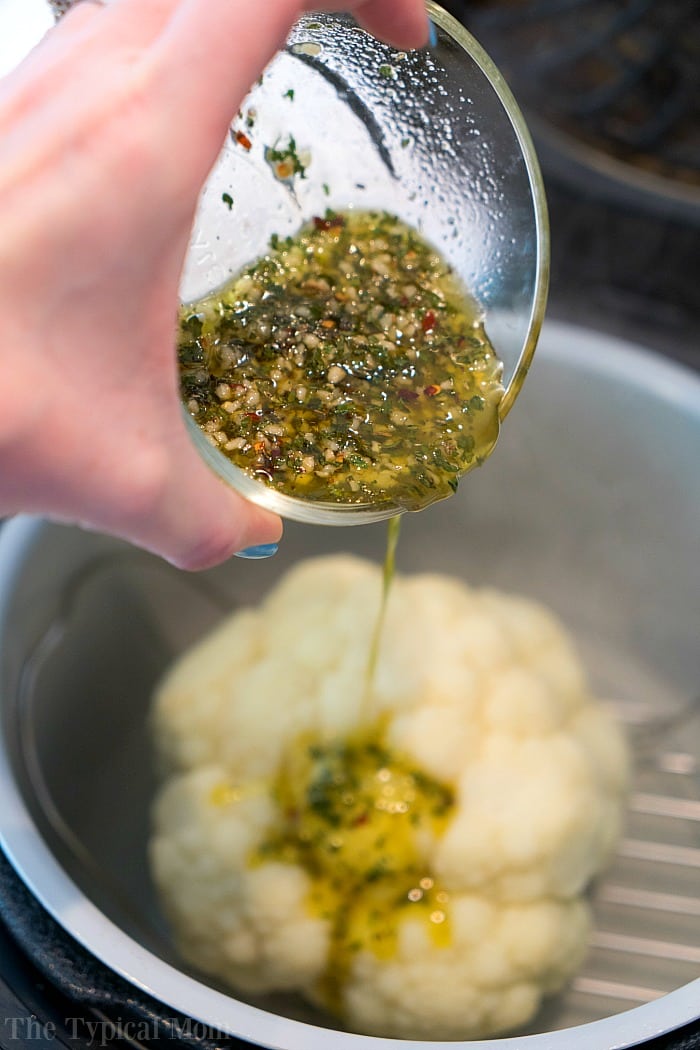 What can I do with an air fryer?
Just about everything!! I hope we have shown you that in this post. Not only should you now understand how to air fry cauliflower, but a bunch of other ideas too. From vegetables, to steak, and even frozen foods like tater tots, they always come out better without oil. There are lots of keto friendly dishes to make too like air fryer fried green tomatoes and more.
Can you lose weight eating cauliflower?
It does have several properties that may help with your weight loss journey, but on it's own wouldn't be a complete diet. Very low in calories with only 25 calories per cup, you can eat a lot of it. As a good source of fiber, cauliflower slows digestion and promotes feelings of fullness as well. This means it will make you feels satiated without having to eat a bunch of it.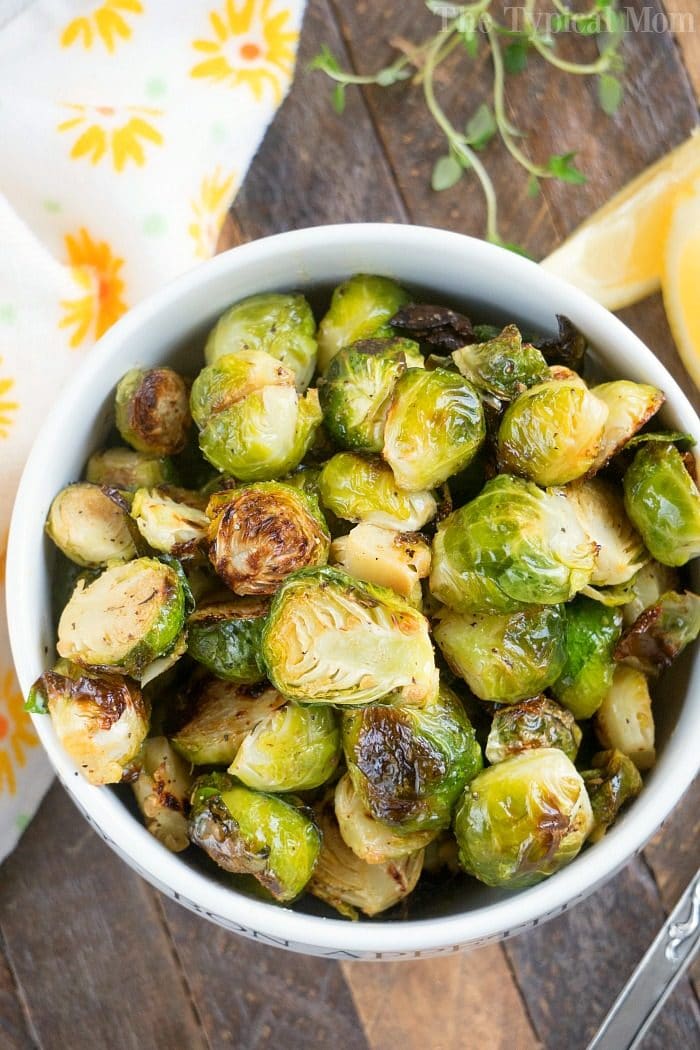 Want to see a few of my favorite things that I am totally obsessed with?? Take a peek and see how many you might already have…twinsies!
Looking for more easy family recipes and tips? LIKE The Typical Mom Facebook page?
Then sign up for my free newsletter, and follow me on Pinterest! 😉
***** If you LOVED this recipe give it 5 Stars below and let everyone know what you thought about it. 😉
Air Fryer Cauliflower
Air fryer cauliflower is easy to make in your Ninja Foodi or other machine. Healthy and full of flavor it's a great vegetable side dish or snack.
Instructions
Preheat air fryer to 400 degrees. Cut cauliflower into bite size florets and put into a bowl. Pour 1.5 tbsp of olive oil on top and mix/rub on with hands, then pour on remaining oil and continue to rub it on every piece so they're lightly coated.

Sprinkle on all seasonings and again mix/massage the florets gently with your fingers so every piece is coated.

You're air fryer should have preheated for at least 5 minutes at this time. Put half your cauliflower into your air fryer basket, so they're not overlapping and set time for 15 minutes.

Every 5 minutes lift the lid and use a wooden spoon to flip pieces gently so the other side can crisp up as well.

After 15 minutes is up and you've flipped them twice serve as is or with some dipping sauces!
Nutrition Facts
Air Fryer Cauliflower
Amount Per Serving (2 oz)
Calories 106
Calories from Fat 81
% Daily Value*
Fat 9g14%
Sodium 733mg32%
Potassium 344mg10%
Carbohydrates 6g2%
Protein 2g4%
Vitamin A 55IU1%
Vitamin C 55.9mg68%
Calcium 28mg3%
Iron 0.6mg3%
* Percent Daily Values are based on a 2000 calorie diet.