Air fryer cauliflower is easy to make in your Ninja Foodi or other machine. Healthy and full of flavor it's a great vegetable side dish or snack.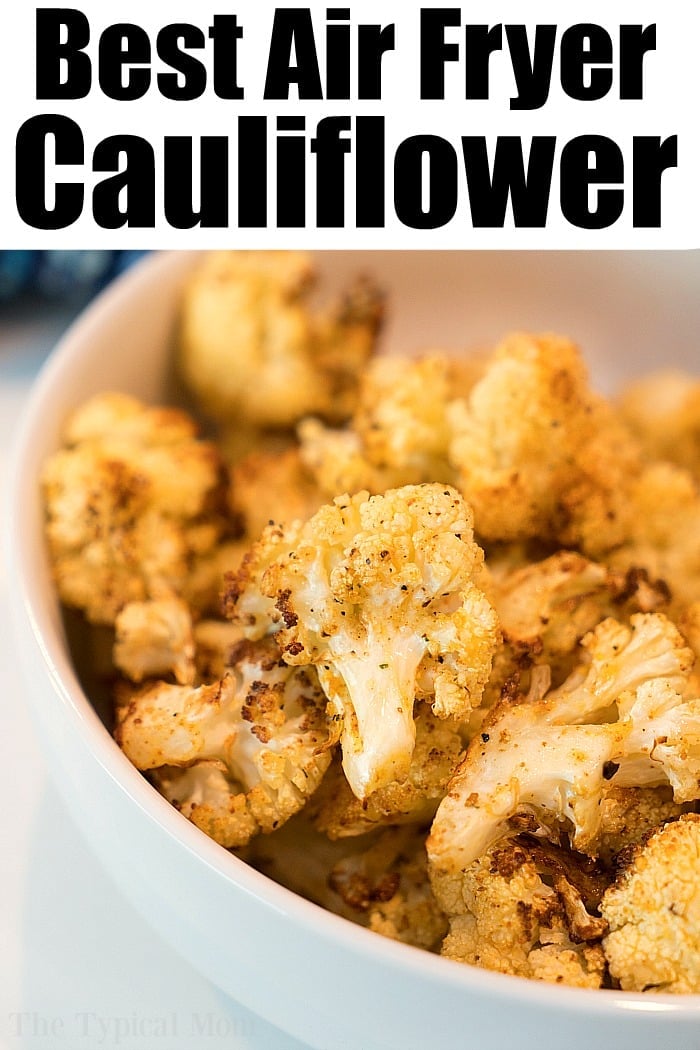 Do you have an air fryer machine? We got ours recently and are obsessed with this air fryer cauliflower recipe amongst other dinner ideas. It's the best way to make healthy gluten free side dishes with no oil required, but still tons of flavor!
Let's start off with what we're using to cook this:
This is just one of our easy Ninja Foodi recipes, but you can use any brand to make this!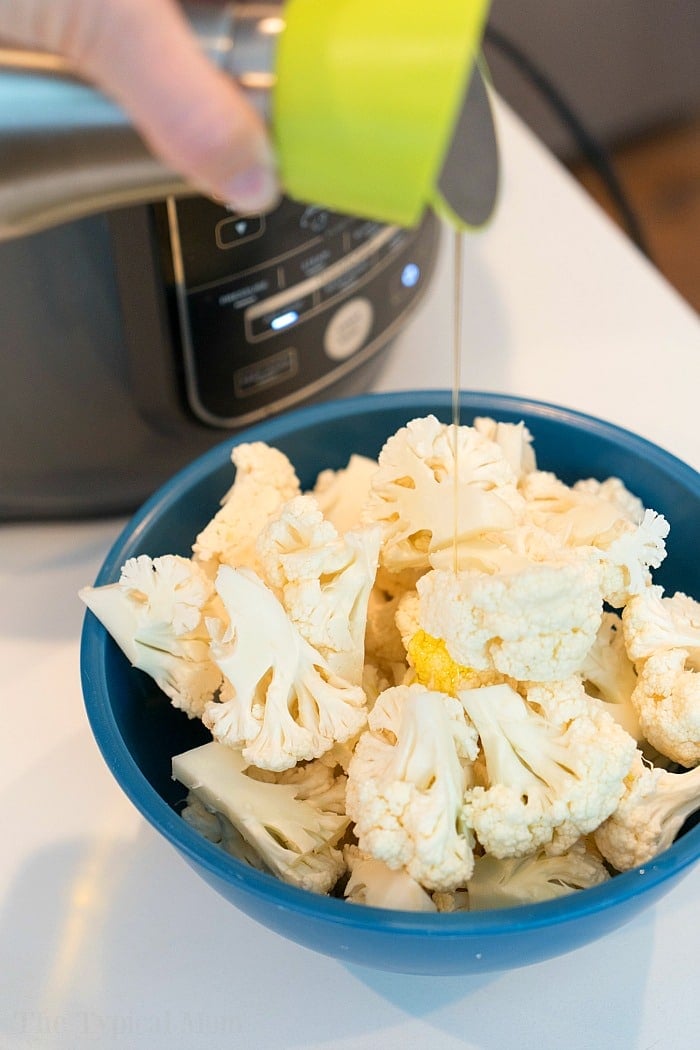 If you're new to this whole new world you might ask what can you cook in an air fryer?
The answer is, just about everything!!
You'll need to use your hands for this one to make sure the olive oil and seasonings are well distributed.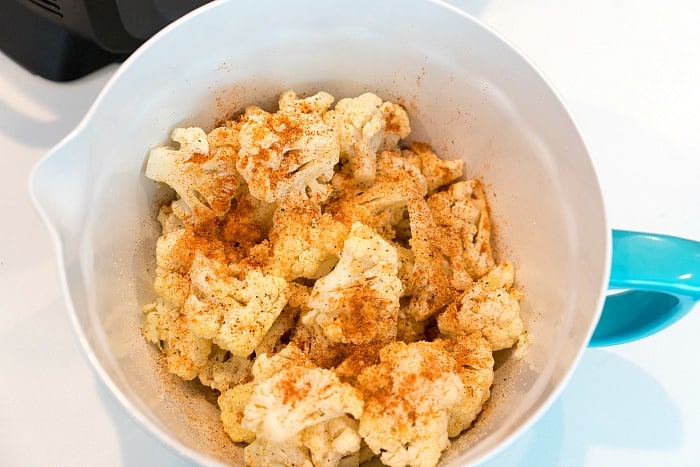 Can you air fry frozen vegetables?
I prefer fresh for sure but yes, you can. Just:
Use higher heat so they don't have a chance to get soggy.
Choose olive oil spray as opposed to bottled because it will stick better. Then season accordingly.
Ingredients needed
Head of cauliflower
Olive oil

avocado oil is a good alternative too

Garlic salt
Minced garlic
Pepper
Paprika
Tip for making air fryer vegetables: Gently shake or use a wooden spoon to flip pieces over every 5 minutes or so. This will give all sides and areas to get nice and crispy.
Steps to follow
Cut head into bite size cauliflower florets. Equal sizes is helpful to cook evenly.
Preheat and set air fryer to 400 degrees.
Put them in a mixing bowl and rub olive oil on all pieces.
Sprinkle seasoning and mix. Using your hands is helpful so it's evenly distributed.
Put half in your air fryer basket making sure they don't overlap.
Set for 15 minutes and shake/toss or shake the basket every 5 minutes.
Add cauliflower left and follow same steps, then Enjoy!
Entire process and cook time will take 30 minutes to make an entire head of salt and pepper roasted cauliflower.
If you don't have an air fryer you can make oven roasted buffalo baked cauliflower.
Wondering are air fryers good for you?
Compared to deep frying, using an air fryer reduces the amount of fat and calories in your food. So, I'd say a resounding YES to this question. This is a way to get the same crunchy crispiness to all foods with NO oil required. It's been a game changer for us.
Looking for more cauliflower recipes?
Next we will be sharing how to to make air fryer whole cauliflower so stay tuned. Sign up for my free newsletter here so you'll get this and more emailed to you!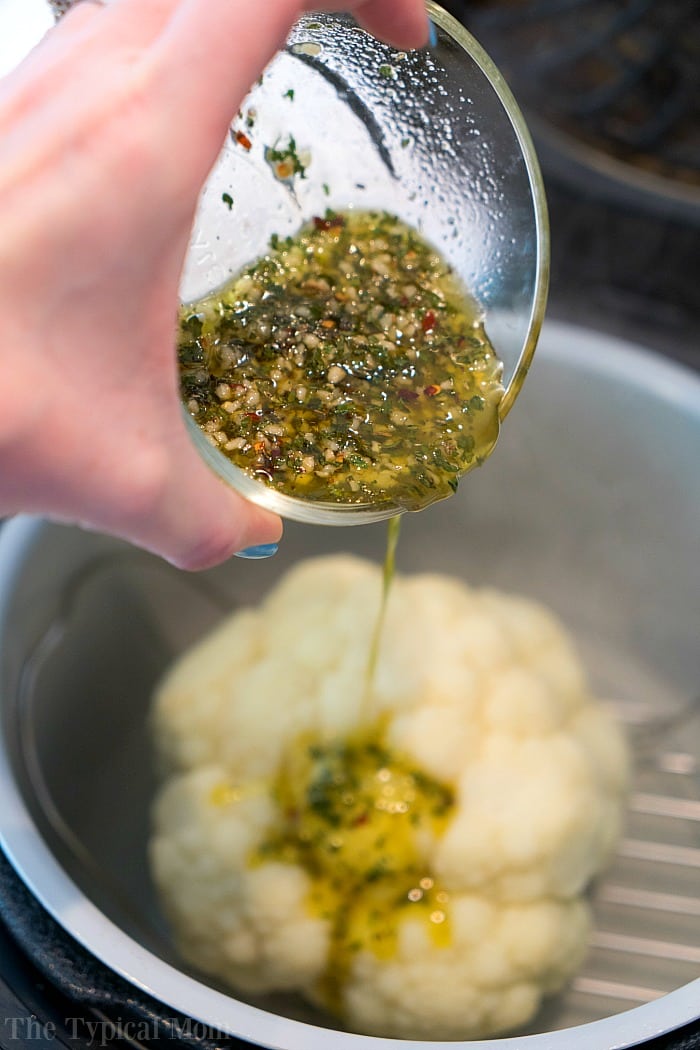 Want other healthy vegetarian air fryer recipes?
Air fryer baked potatoes are always a good option.
You can top these with:
Then throw in a batch of brussel sprouts in the air fryer for a healthy snack or side dish.
SO, if you were wondering what can I do with an air fryer we've answered that!
Just about everything!!
From vegetables, to steak, and even frozen foods like tater tots, they always come out better without oil.
Air Fryer Cauliflower
Air fryer cauliflower is easy to make in your Ninja Foodi or other machine. Healthy and full of flavor it's a great vegetable side dish or snack.
Instructions
Preheat air fryer to 400 degrees. Cut cauliflower into bite size florets and put into a bowl. Pour 1.5 tbsp of olive oil on top and mix/rub on with hands, then pour on remaining oil and continue to rub it on every piece so they're lightly coated.

Sprinkle on all seasonings and again mix/massage the florets gently with your fingers so every piece is coated.

You're air fryer should have preheated for at least 5 minutes at this time. Put half your cauliflower into your air fryer basket, so they're not overlapping and set time for 15 minutes.

Every 5 minutes lift the lid and use a wooden spoon to flip pieces gently so the other side can crisp up as well.

After 15 minutes is up and you've flipped them twice serve as is or with some dipping sauces!
Nutrition Facts
Air Fryer Cauliflower
Amount Per Serving (2 oz)
Calories 106
Calories from Fat 81
% Daily Value*
Fat 9g14%
Sodium 733mg32%
Potassium 344mg10%
Carbohydrates 6g2%
Protein 2g4%
Vitamin A 55IU1%
Vitamin C 55.9mg68%
Calcium 28mg3%
Iron 0.6mg3%
* Percent Daily Values are based on a 2000 calorie diet.