Slow cooker cheesy cauliflower recipe that is easy to throw together and the best vegetable side dish cooked in a Crockpot. Creamy and delicious, even your kids will ask for seconds of this.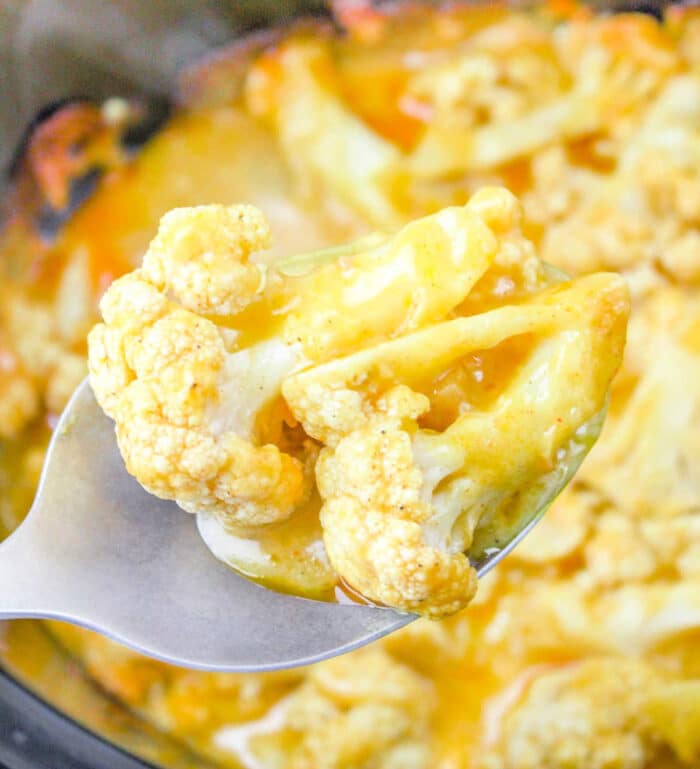 You have got to try this slow cooker cheesy cauliflower recipe! If your kids will only eat vegetables with cheese on top they are going to love this side dish. Swimming in a creamy sauce, give this quick and easy Crockpot recipe a whirl. (affiliate links present, originally published 3/22)
Slow Cooker Cauliflower
Ok so we made this Instant Pot cheesy cauliflower recipe years ago and it was such a hit. This week I thought we'd make a version in the Crockpot and OH SO good y'all. Both are really cheap side dishes to liven up dinnertime from basic to amazing.
This one only takes about 10 minutes to prep and then you can let it go for a few hours. In that time you can get your main dish cooked, rested, and ready to serve all together. That is always the goal and doesn't always work out well, until now.
FIRST – You should sign up for my free newsletter so you get new posts emailed to you twice a week and never miss out on anything! Let's talk a little bit about slow cooking shall we?? First off I have a few different varieties and I love them all. Each one has an occasion to be used like….
This is my favorite 6 quart programmable one with a locking lid so it's great for bringing to a potluck too.
If you just want to serve a few appetizers you should get this one that sit side by side one another.
I prefer not to use liners, but rather just spray olive oil inside before adding my food for easier cleanups.
Let me give you a peek of my pretty thang I bought recently. It goes with my kitchen so I can just leave it out on the countertop all the time. 😉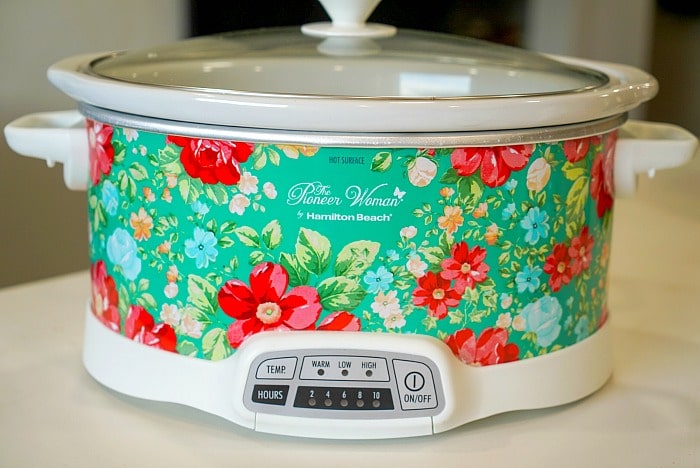 Cheesy Cauliflower Bake
We're going to use two cans of condensed soup for this one. You can mix and match them but in this batch cream of chicken and cheddar cheese soup were used. We use the latter to make Instant Pot nacho soup and cheeseburger macaroni so I buy it in bulk. You could use sour cream instead of cream of chicken too.
You can usually find a bunch of varieties at the grocery store. If you wanted to go with cream of mushroom instead of chicken you totally could. This is what you're going to get out to get started.
Cream of chicken condensed soup
Head of cauliflower

fresh, I have not tested this with frozen cauliflower

Lots of cheese
Onion powder
Paprika
Salt and pepper
Let's talk about the best cheese with cauliflower. Mozzarella and sharp cheddar mix is great. Or I have use already shredded and bagged Mexican blend before.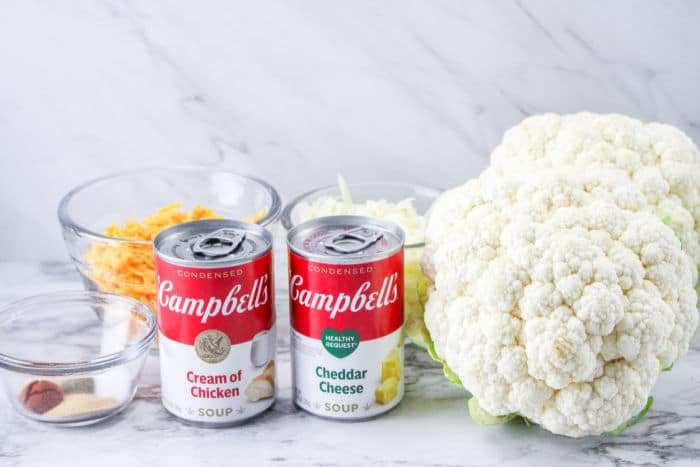 Crockpot Cheesy Cauliflower
What is the best way to cut cauliflower? First you want to rip the green outer leaves and hard stem off. The base will be thick so you'll want a sharp knife to get that baby off. Then I first pick it up and just use your hands. Break off the cauliflower florets and sit them on a cutting board. Some will be quite large and others will be small.
If they are the right size right off the bat you can throw them right into your Crock. If they need to be sliced in half or thirds leave them on the board. Using a knife cut each one so that each piece is of similar sizes. This is important so they all cook at the same pace and are the same tender texture when done.
Then it's best to blend the soups together to combine flavors well before pouring that on top of everything. Only half of the shredded cheese is incorporated into the sauce and the remaining goes on top.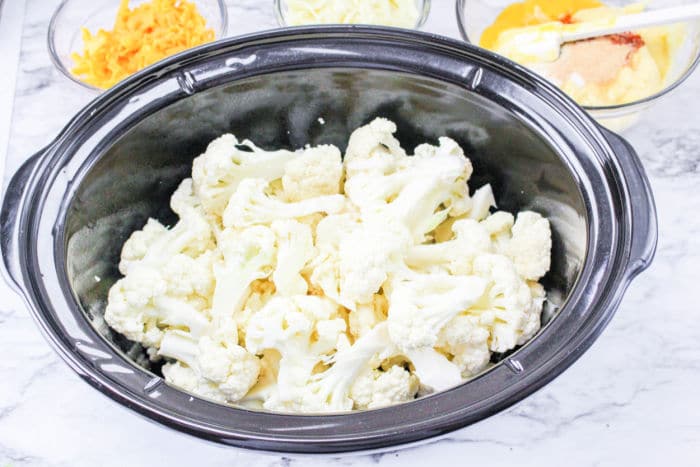 Best Cheesy Cauliflower
I don't like to add a lot of seasonings because there is enough sodium in the soup cans already, unless you choose the healthy version. Those have a lower sodium content and I prefer them if I can find them in stock. Into the cheese sauce you could add more cheese and bacon bits, diced green onions, chives, etc….
Eat with your main dish or spoon into smoked baked potatoes for dinner. It's an easy recipe with a really short Crock pot cook time when you cook on high. If you wanted it to take longer you could certainly use low and double the timing.
Want to start eating more of this veggie? You can transform it into all sorts of things like these cauliflower pancakes too so buy an extra head.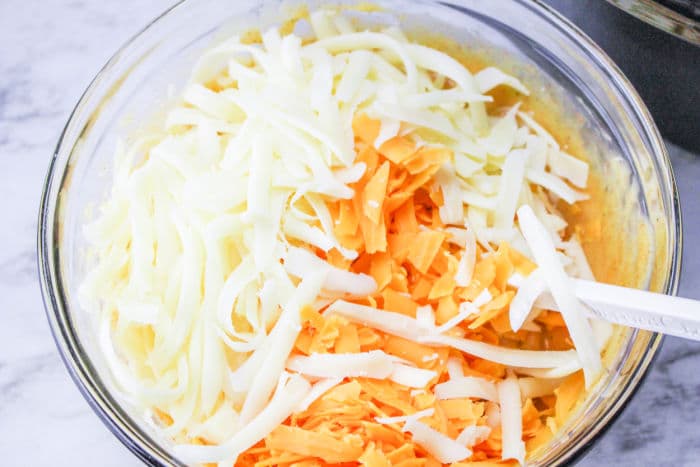 Ready to get started on this? You can jump to recipe below. The nutritional information is listed below with calories, saturated fat, etc… If you use cream cheese to thicken it up at the end you'd need to add more fat etc…to the stats. It only accounts for exactly what is listed using a medium size head.
Let's talk about how to save leftover cauliflower. This is easier than if you just made air fryer cauliflower with salt and pepper tossed in. Since there is a creamy sauce element to it this will stay moist a lot better than the other. First you always want to allow your food to cool completely before transferring anything to a container.
This will help prevent bacteria growth going from hot/warm right into a cold fridge. Close the lid tightly and make sure you have quite a bit of homemade cheese sauce inside the bowl too. Enjoy within a day or two of storing it. You can reheat it by transferring to a microwave safe dish and warming for about 1 minute, stirring halfway thru.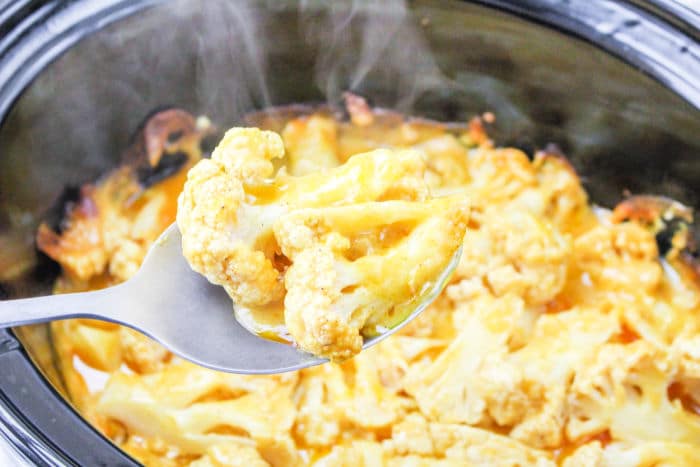 What do you eat with cauliflower cheese?
If you have two pots you could make Crockpot frozen chicken in one and this is the other. When that is done, toss with some bbq sauce and serve on slider buns. Both are very popular with my kids and likely will with yours too.
Our air fryer fried chicken breast is yummy and can be made as a finger food for a meal too. Plus to these is that kiddos can dip their pieces into the cheese as a sauce as well as ketchup to change things up a bit.
You could use this cheese mixture with just about any other veggie too. Timing may vary, like if you used broccoli instead but would likely work the same way adding a ton of flavor to an otherwise bland side.
Want to see a few of my favorite things that I am totally obsessed with?? Take a peek and see how many you might already have…twinsies!
Looking for more easy family recipes and tips? LIKE The Typical Mom Facebook page?
Then sign up for my free newsletter, and follow me on Pinterest! 😉
***** If you LOVED this recipe give it 5 Stars below and let everyone know what you thought about it. 😉
Slow Cooker Cheesy Cauliflower
Slow cooker cheesy cauliflower recipe that is easy to throw together and the best vegetable side dish cooked in a Crockpot.
Instructions
Spray inside of slow cooker with non stick spray. Lay cauliflower florets into pot.

In a mixing bowl stir together all other ingredients EXCEPT only stir in half of both cheeses. Pour this mixture over the top of your vegetables.

Top with the remaining cup of cheeses. Close lid and cook on high for 2 hours or until it is as tender as you'd like.
Nutrition Facts
Slow Cooker Cheesy Cauliflower
Amount Per Serving (1 oz)
Calories 202
Calories from Fat 108
% Daily Value*
Fat 12g18%
Cholesterol 30mg10%
Sodium 976mg42%
Potassium 653mg19%
Carbohydrates 14g5%
Protein 11g22%
Vitamin A 582IU12%
Vitamin C 69mg84%
Calcium 223mg22%
Iron 1mg6%
* Percent Daily Values are based on a 2000 calorie diet.