Best Ninja Foodi beef recipes are here. Use your pressure cooker or air crisp air fryer function to make flank steak, a roast, fajitas, chuck roast and everything else. Tender and delicious with a bit of crisp on the outside.
Whether you are new to using this pressure cooker air fryer machine or are a pro but looking for JUST Ninja Foodi beef recipes we have a list for you. Now you can work thru this and eat your way thru the cow one night at a time. Just one of many easy Ninja Foodi recipes we have on our blog. (affiliate links present)
Ninja Foodi Beef
We have already shared how to cook a bunch of different pressure cooker beef recipes as well as air fryer beef recipes, but this is special. That is because this machine can do both functions in one so you don't have to cover your countertop with a few different ones.
That means more counter space, fewer machines, and less pots to clean. All a win in my book. Most times I will cook one thing at a time unless I cook a casserole or our Ninja Foodi steak and potatoes dish.
If you love pasta you can make a one pot meal that way with veggies and meat combined with rice or noodles. We love those. Take a peek.
FIRST – You should sign up for my free newsletter so you get new posts emailed to you twice a week and never miss out on anything!
If you too are obsessed with your Ninja Foodi pressure cooker air fryer machine, here are a few resource to start with:
You can

bookmark

our Ninja air fryer recipes page, we add to that weekly.

Here's a printable air fryer cooking times chart here for your fridge.
Be sure to save this link to Instant Pot recipes for beginners too. You can use any of those in your pot too.
Grab a set of wooden utensils to work with. They are great so your pot doesn't get scratched!
Then join our

Ninja Foodi EASY Recipes

– Facebook group where you can share and find more ideas you'll love. Thousands of others share both pressure cooker and air fryer recipe ideas there daily and you can too!
If you need to know how to cook frozen meat in a pressure cooker, we have information on that. NO, you aren't the only forgetful one. 😉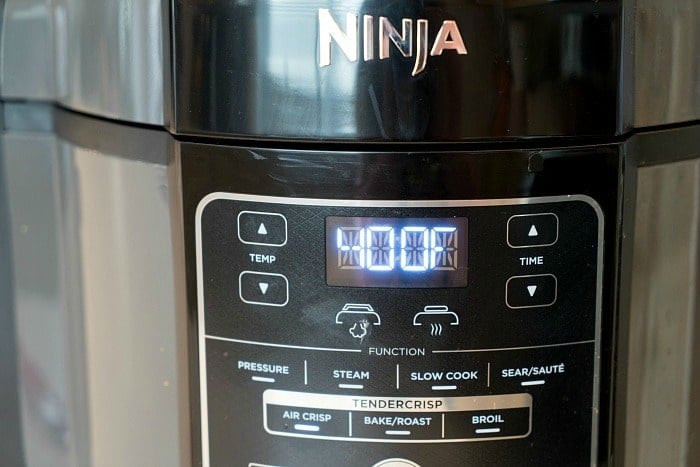 Beef Recipes for Ninja Foodi
You probably bought this pot to cook everything all at once, you can certainly do that if you'd like. Our favorite way to do just that is to make one of our Ninja Foodi casseroles. Using pieces from the cow specifically I will narrow them down from there….
How long does it take to cook beef tips in Ninja Foodi?
I mean you can make a ton of recipes with stew meat in this thing for a meal. Just make a batch of Ninja Foodi mashed potatoes and pour over the top for a real feel good meal.
Our favorite and most popular one is probably Ninja Foodi beef tips you see here.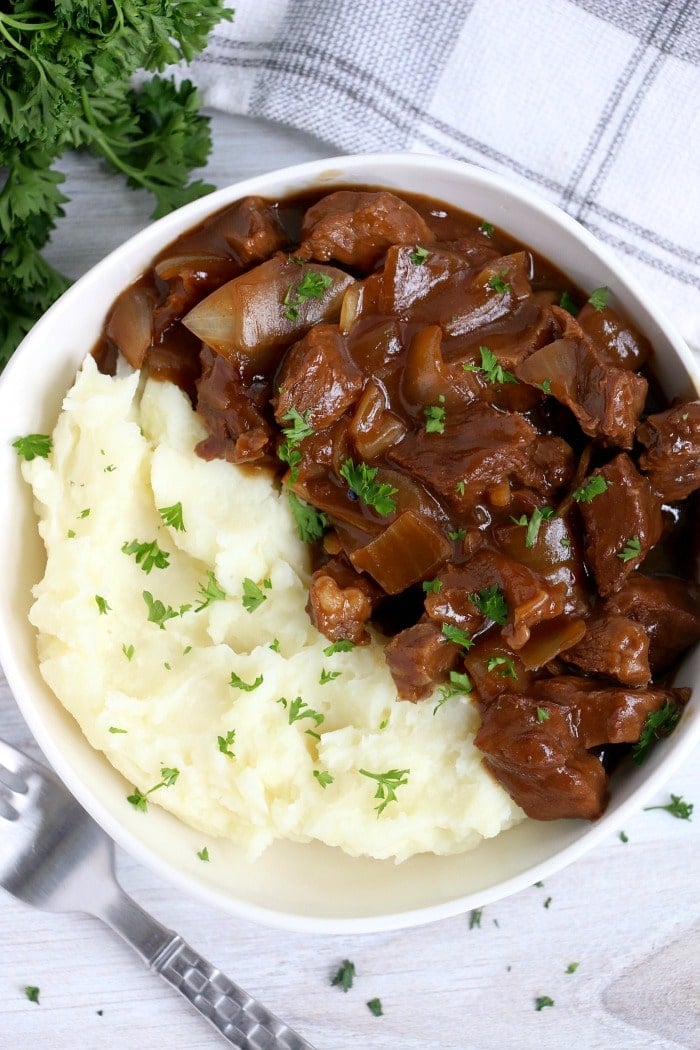 For any of these you could choose to use one of our dry rub recipes too. Those bring a ton of flavor without the messiness of sauce. We use the tri tip one to make Ninja Foodi sirloin tip roast, so good. Here are a few questions you might have:
How Long does it take to Cook Beef in a Ninja?
That is a big question. That depends a lot on what piece you are working with. Large thick cuts take the longest but nowhere near the cook time it would take in the oven, stovetop or grill.
Using pressure cook your beef will turn out fork tender and delicious every time.
Can the Ninja Air Fryer cook steak?
Oh yes, and it comes out incredibly moist with a bit of crisp to the outsides. We love steak bites with a dry rub because they're bite size but we make bacon wrapped steak in the Foodi too.
Speaking of time, the largest and unthawed type would take the longest but does turn out incredible still. If you haven't made frozen roast in Ninja Foodi yet you are in for a real surprise. You'd never know it was rock hard about an hour before when you taste it.
Thawed, you can follow our pressure cooker Mexican pot roast or Ninja Foodi roast beef recipe. They pair with carrots and baked potatoes you'll have an easy dinner made in no time.
How do I make Steak Pieces in Ninja Foodi?
I am telling you, our Ninja Foodi steak bites are killer for sure. My kids are obsessed with these because there is no cutting required on their part and every inch is packed with flavor. I use our dry rub to toss the pieces in at the beginning and cook to medium inside.
What else can you do with this cut other than just cook them as is. Like I said, I like to slice beef thin. Four reasons for this; it cooks faster, soaks up more of the marinade, gets more tender, and is easier to eat. That is a lot of pluses if you ask me.
Others you should try if you're on the same wavelength is our Chinese pepper steak, beef and broccoli and/or Ninja foodi fajitas. Those have bell peppers and onions included so just serve with some small tortillas and you're set.
Low Carb Ninja Foodi Recipes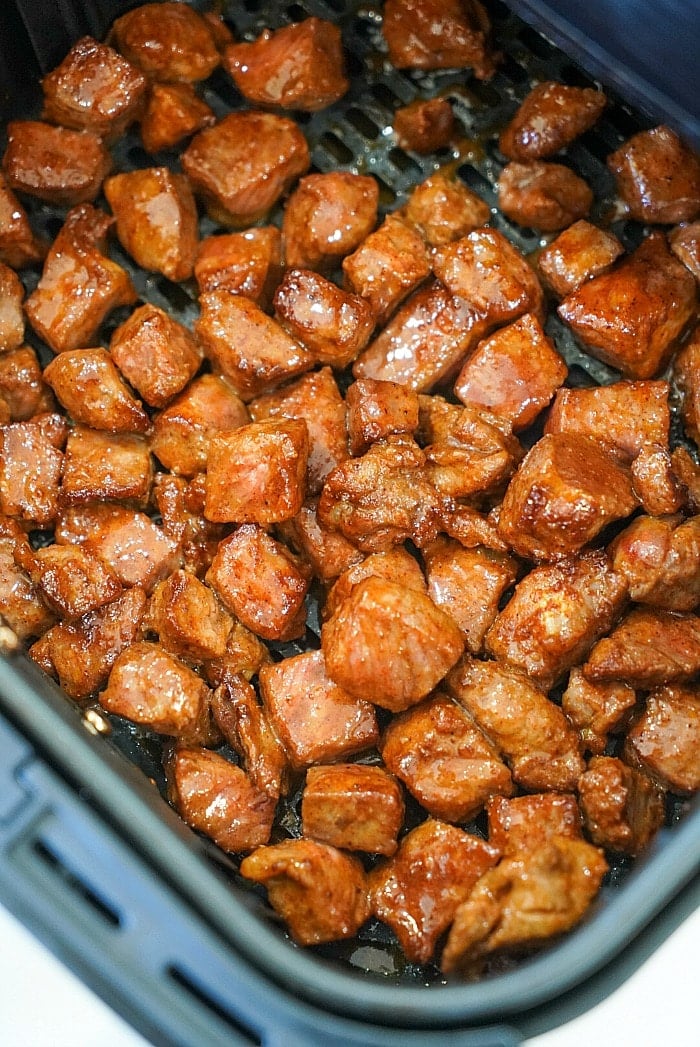 Beef in Ninja Foodi
Let me share a few tips with you too. First off you can use any of our Instant Pot recipes in this machine too. We have a lot of those including a pot roast, ground beef recipes and more. That pot can't air fry so if you chose this model you can do it all.
Secondly, when cooking proteins you will want to allow for a natural release at the end, not quick release. That will keep the moisture inside the meat. That means leave the steam valve in the sealing position for 15 minutes to 30 minutes.
Typically you'll always cook on high too. If it doesn't say either way, high is assumed for pressure cooking. Air crisp has a lot of leeway when it comes to temp, like if you're making beef jerky it is super low for a long time.
Last but not lease, do NOT use the slow cooker function. It doesn't work well friends, just use your old fashioned Crockpot for those types of recipes.
How can you brown meat in a Ninja Foodi?
Simple, this is just one of many functions it offers. Just press the saute button and keep the lid open. I always add a bit of olive oil before the meat so it doesn't stick to the bottom of the pot. Then you can go on to make one of many Ninja air fryer recipes or pressure cook it to tender.
You don't always need to do this. When I make Ninja foodi corned beef I don't do that at all, it can be skipped. If cooking from frozen you wouldn't do this either. That would come into play if you were making a few Ninja Foodi frozen steak pieces too. Instead just pop those babies in, cook, sprinkle with salt and pepper when done.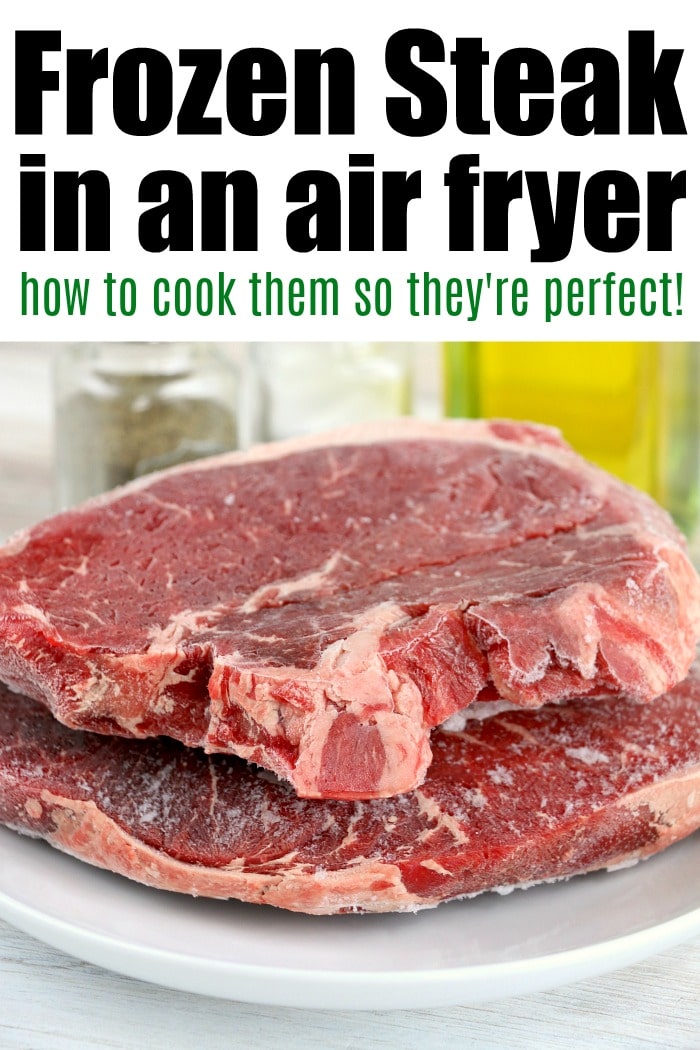 Now let's talk about other easy beef recipes you will want to try, and how to cook chuck roast below too. You don't need any accessories really to make any of these other than the basket it came with to air crisp. If yours needs a replacement you can find another one here.
This is how to cook frozen stew meat.
Tender roast beef in air fryer is amazing
A bowl of beef noodle soup when it is cold we love.
Now if you're at a loss as to how to cook beef arm roast we have an answer here that has been a hit, and last but not least there is a printable dinner recipe to try below.
Want to see a few of my favorite things that I am totally obsessed with?? Take a peek and see how many you might already have…twinsies!
Looking for more easy family recipes and tips? LIKE The Typical Mom Facebook page?
Then sign up for my free newsletter, and follow me on Pinterest! 😉
***** If you LOVED this recipe give it 5 Stars below and let everyone know what you thought about it. 😉
Ninja Foodi Beef Recipes
Ninja Foodi beef recipes using pressure cooker or air fryer turn out tender and moist. This chuck roast in air fryer is a great choice.
Instructions
Preheat Ninja on air crisp mode to 390 degrees F for 5 minutes.

Blot dry the outside of your meat with a paper towel. In a bowl mix together olive oil and seasonings. Brush on all sides of meat, keep remainder on the side for later.

Spray inside of air crisp basket with non stick spray and lay meat inside. Place basket inside of machine. Close attached lid to air crisp for 15 minutes.

Then lift lid, remove meat and basket. Place meat into a air fryer pot without holes on the bottom (so liquid stays inside). Pour remaining olive oil seasonings on top and place back into foodi pot.

Lower temperature to 320 degrees F and cook an additional 35 min. (depending on thickness) until it internally reaches 145 degrees F.

Remove, allow to rest for 10 minutes in the pot. Slice and serve.
Nutrition Facts
Ninja Foodi Beef Recipes
Amount Per Serving (2 oz)
Calories 520
Calories from Fat 315
% Daily Value*
Fat 35g54%
Cholesterol 183mg61%
Sodium 520mg23%
Potassium 895mg26%
Carbohydrates 1g0%
Protein 51g102%
Vitamin A 60IU1%
Vitamin C 1mg1%
Calcium 47mg5%
Iron 6mg33%
* Percent Daily Values are based on a 2000 calorie diet.