Best air fryer beef jerky is here! Ready to make tender beef in your Ninja Foodi or electric air fryer? We have an easy way to try your first batch. Just one of our favorite easy air fryer beef recipes we have made with flank steak and top sirloin.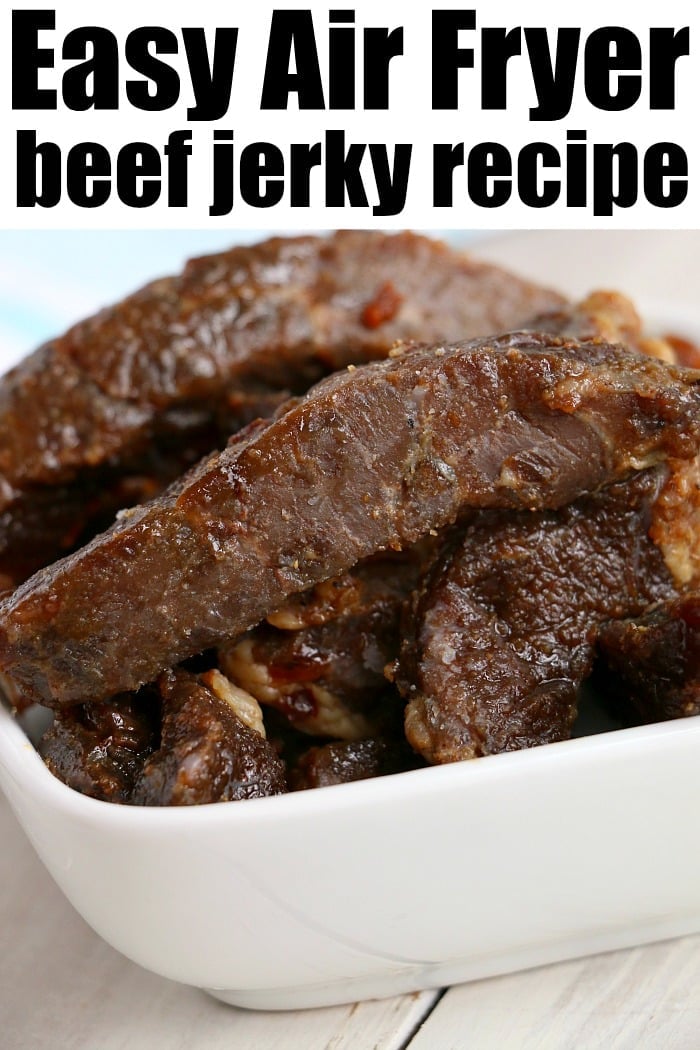 Air fryer beef jerky is amazing! This and many other air fryer recipes shared here on The Typical Mom blog. Super high in protein, can just be lightly seasoned or marinated in your favorite sauce like teriyaki. Let us know which one is your fave! (affiliate links present, originally published 1/20)
Ninja Foodi Beef Jerky
If you love this keto protein packed snack, you might be ready to make it yourself this year. I know, it can get really expensive if you eat this on a regular basis, I get it. Get ready to save a ton of money with this recipe by making it homemade. You can make it spicy too if you want which is killer.
You do not have to have the dehydrator function on your machine either y'all, we didn't. This will share what temperature and cook time you will need to dry it out low and slow perfectly. No tough teeth breaking pieces, the middle will remain tender and the flavor amazing.
FIRST – You should sign up for my free newsletter so you get new posts emailed to you twice a week and never miss out on anything! If you love air fryer recipes too, here are some resources to start with: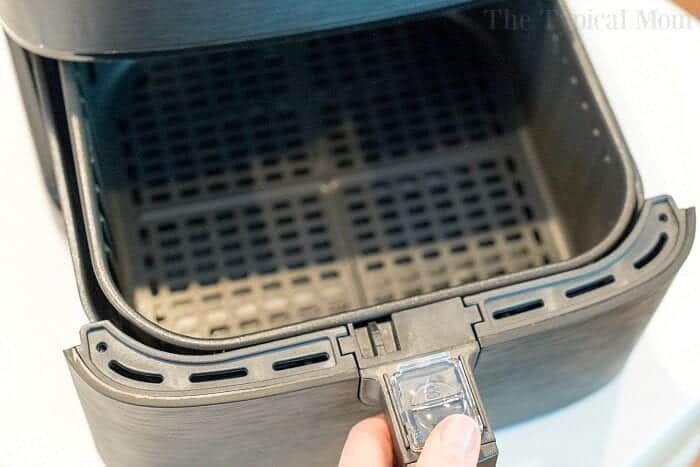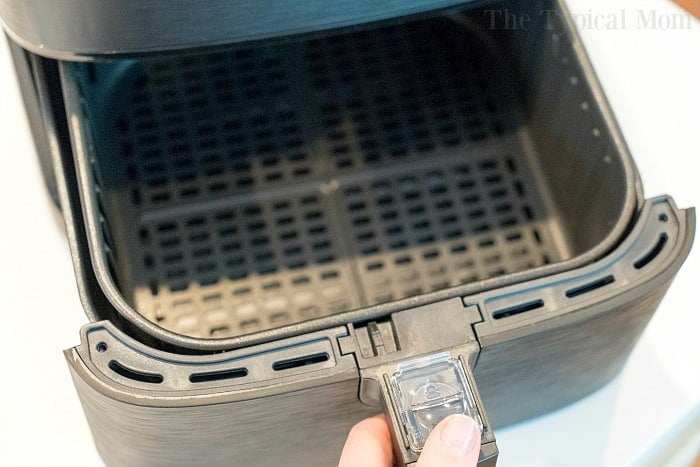 Beef Jerky Air Fryer vs Dehydrator
Yes we do have one of these big machines too. It does make great slices of apples and bananas. If you want to let it go all day long you can dry slices of beef in it too. I will say that the biggest difference between the two is the texture, this way is better. Plus if you have little counter space you likely don't have the room for both either.
Air Fryer Beef Jerky Ninja
Some of the newer models of this machine have both functions so you could use either and see which you like better. If you have a Cosori or AirWave you don't have that option so just use our specifics below.
What is the best cut of meat for beef jerky?
Top round and bottom round are lean, flavorful and really the best cuts for making homemade beef jerky. Beyond the type I think the sauce you use makes the biggest difference really. Teriyaki marinade is by far our favorite to use and gets the most compliments.
Sirloin tip is extremely lean too but not as tender, and a bit more expensive.
Flank steak is lean as well, but can be tough if it's sliced with the grain.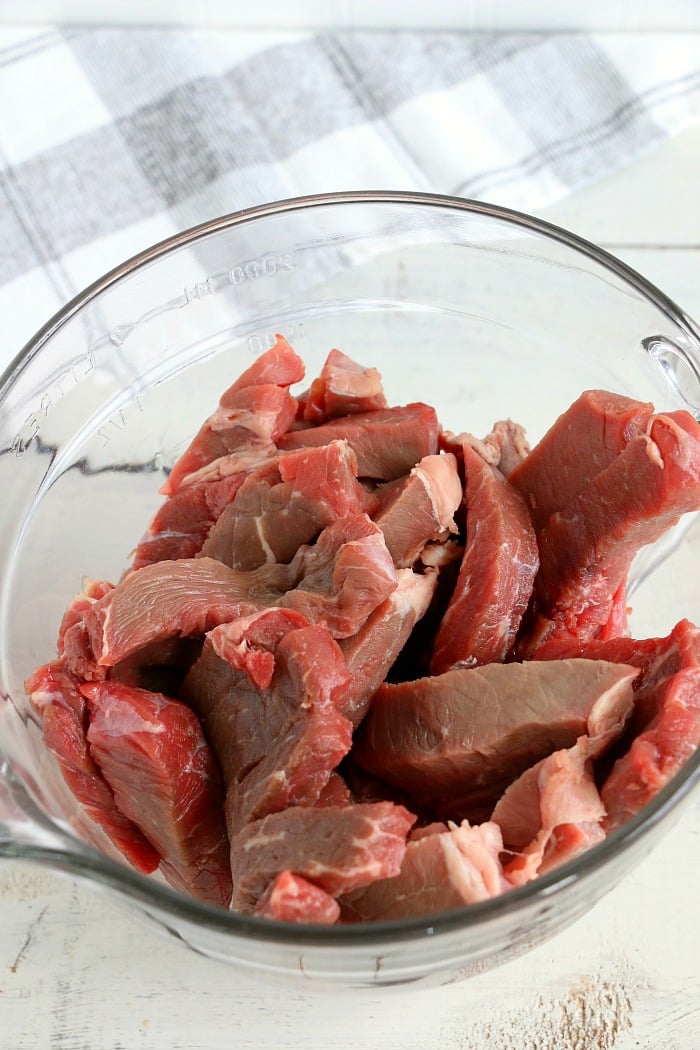 Gourmia air fryer beef jerky
First you'll want to whisk together your marinade. Below is a very simple and mild sauce to soak it in, you could use our spicy Asian steak marinade instead too. If you'd rather use a bottled type that would work too.
Ninja Foodi or electric air fryer machine
Beef – round steak cut into thin strips
Brown sugar
Soy sauce
Onion powder
Garlic powder
Red pepper – amount of this is subjective according to your desired heat level
Pepper
Is it cheaper to make your own beef jerky? Yes, especially if you buy meat in bulk like we do. If you're buying your beef at full retail price, the savings will be minimal. The only true advantage at this point is you can make your jerky taste however you want.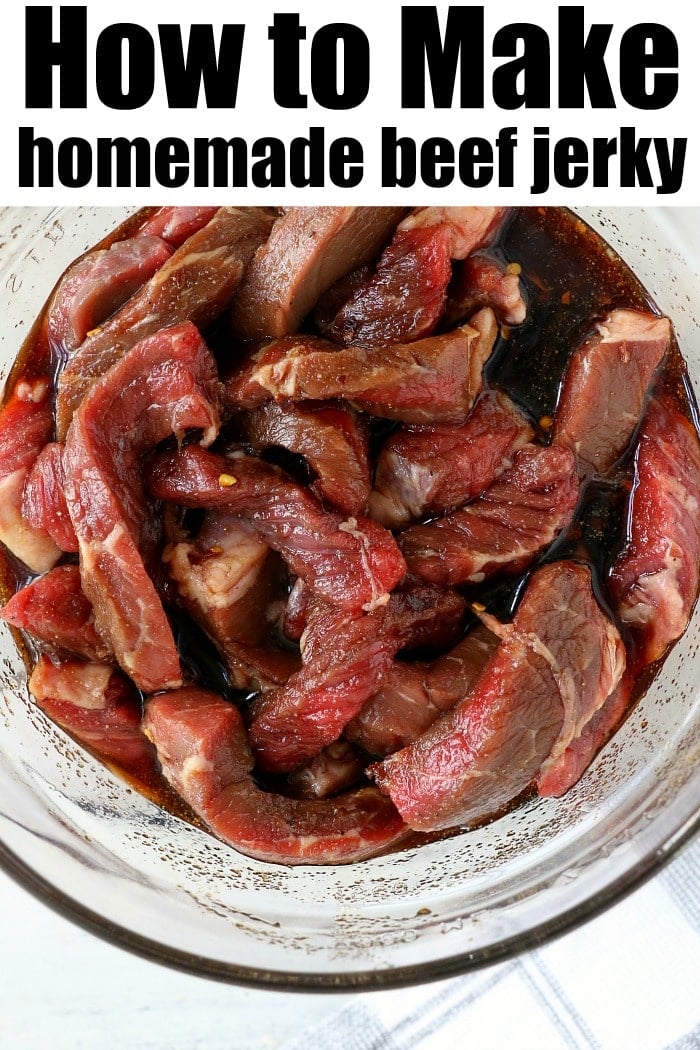 This is what ours looked like, 1 pound was used. If you wanted to make a large batch and store it you could double or quadruple this air fryer beef recipe.
How much jerky will 5 lbs of meat make?
It depends on how moist you like your it. A typical jerky loses half of its starting weight in moisture, so keep that in mind. Low moisture jerky can actually be 1/3 the starting weight, at a 3 to 1 ratio.
With all that said, if you double this to a starting weight of 2 ish pounds of beef, you will make about 1 pound of prepared ready to eat jerky.
Now it's time to take a trip inside your air frying basket to go from raw meat, to a high protein salty snack. This is a great hiking meal to take with you!
Here's what you do:
Whisk together your beef jerky marinade. Slice meat into thin strips and submerge them into the sauce.

Allow this to sit and soak up in your fridge for 2 hours

Preheat your air fryer to 180 degrees.
Take meat out and pat dry with a paper towel to remove excess moisture and place into your air fryer basket. Do not overlap the pieces for even cooking / drying / dehydrating.
Close the top or drawer and allow to cook at 180 degrees for 2 hours. Yes, that's right, 120 minutes is what it takes for them to be perfect.

Of course timing will vary just a bit depending on how large and/or thick your pieces are sliced.
How thick should I slice meat for jerky?
To make it really good, the meat needs to be the same thickness. One fourth of an inch thick is standard. It is sometimes tough to cut top round by hand consistently at 1/4″ but you may get your butcher to do it for you using a slicer. Just ask!
Enjoy warm or allow to cool!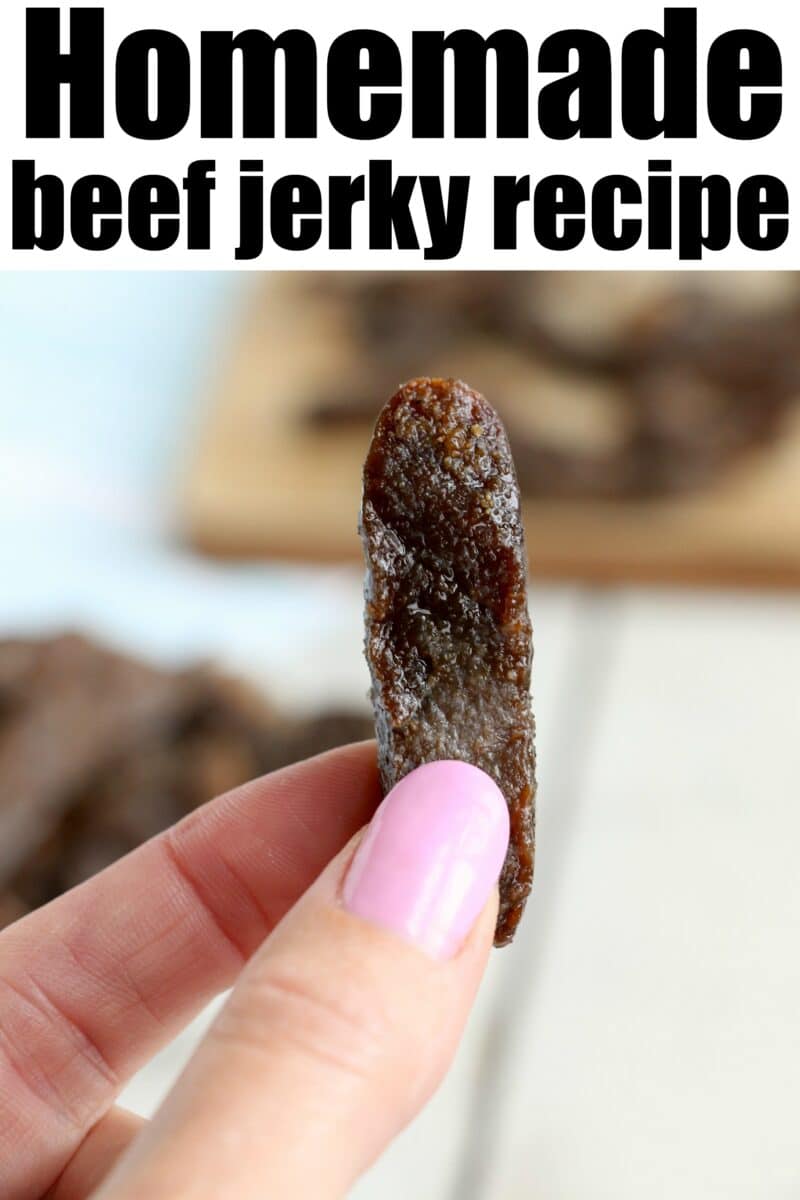 How to Save Homemade Beef Jerky
You will want to store in a freezer bag sucked with all the air out of it if you don't have vacuum sealed bags and a machine to do that for you. Keep it out of the sunlight and in a cool dark place like your pantry. Once you open the container you want to make sure that all the air is removed once again before zipping closed. It will last up to 2 months this way.
If you're like me you love your new hot air fryer and now want to learn how to air fry everything! Here are a few other things we've made recently too you may enjoy:
Want to see a few of my favorite things that I am totally obsessed with?? Take a peek and see how many you might already have…twinsies!
Looking for more easy family recipes and tips? LIKE The Typical Mom Facebook page?
Then sign up for my free newsletter, and follow me on Pinterest! 😉
***** If you LOVED this recipe give it 5 Stars below and let everyone know what you thought about it. 😉
Air Fryer Beef Jerky
Best air fryer beef jerky is here! Ready to make tender beef in your Ninja Foodi or electric air fryer? We have an easy way to try your first batch.
Instructions
Slice round steak into thin strips, then into 1/2 inch strips and set aside.

Combine rest of ingredients into a large bowl and whisk together. Add strips of steak into the bowl, submerge and cover.

Marinate meat for 2 hours in the refrigerator.

Place strips into air fryer basket without overlapping pieces for 2 hours on 180 degrees F.
Nutrition Facts
Air Fryer Beef Jerky
Amount Per Serving (1 oz)
Calories 154
Calories from Fat 72
% Daily Value*
Fat 8g12%
Cholesterol 35mg12%
Sodium 610mg27%
Potassium 187mg5%
Carbohydrates 8g3%
Protein 13g26%
Vitamin A 27IU1%
Calcium 11mg1%
Iron 1mg6%
* Percent Daily Values are based on a 2000 calorie diet.