Air fryer fish sticks are the bomb! WAY better than cooking them in your oven, this way you'll get ultra crunchy crispy battered fish in just a few minutes.
Have you tried making frozen air fryer fish sticks yet?? The crunch you get in this machine is over the top compared to baking them in your oven. Air fryer recipe game changer y'all! (affiliate links present)
Fish Sticks in Air Fryer
Ready for something that's going to blow your mind?? Seriously I will never bake these again. They are way better than heating up your oven, and whole house, and take way less time too. Just like at a restaurant, great texture and ready for crunching.
I mean if you are anything like me that is a game changer and you're ready to see for yourself. When we have had a really busy day and all I have time for is frozen food for dinner this is what my kids ask for, every time.
If you love air fryer recipes too, here are some resources to start with: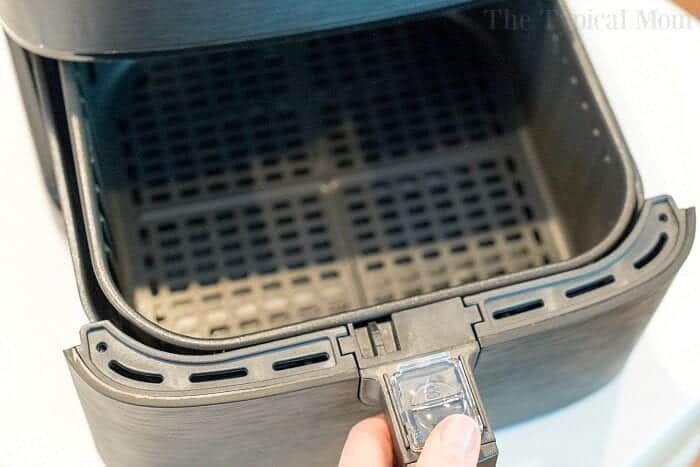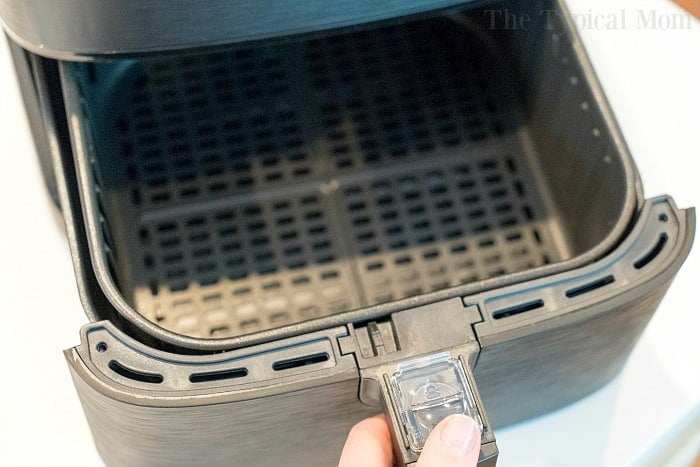 How Long to Air Fry Fish Sticks
This may seem silly. You might think "why would I bother, I've always made these on a baking sheet and they're just fine."
Let me convince you otherwise. I thought the same exact thing at the beginning of this whole journey. My husband was super into trying this new hot air appliance and I was not sure I really needed something else on my countertop. He made me believer and I will show you as well…….Okay?
Then we went on to make frozen mozzarella sticks in air fryer that day and they were way better than even those at the fair that I love!
We just kept going after we made both of these and made things like air fryer corn dogs and onion rings.They're MUCH better "baked" this way because it's faster and the overall crunch is amazing.
From there I was hooked and just kept on going. Now it is not just for cooking snacks but making entire dinners and even desserts from time to time. From morning until night this baby is running.
Ninja Foodi Fish Sticks
You know the difference between making them at home and getting them at a restaurant? The texture is the biggest difference right? I mean the flavor is all pretty much the same, unless you make them homemade. Right out of the box most brands all taste the same. It is the CRUNCH that makes you want seconds and thirds.
Well, using a hot air machine will get you pretty close to that…and like I said, won't heat up your entire house when it is hot outside already.
First you'll want to print out our free air fryer cooking times chart.
This lists many of your favorite frozen foods and what temperature and cook time you need to make them all perfectly.
Another important thing to remember when cooking these is to make sure they do not overlap. If they do they won't get really crunchy because not all sides will "feel" the hot air on every side.
I love this square basket because it has enough space to spread everything out properly. It's plenty big enough for the 4 of us too.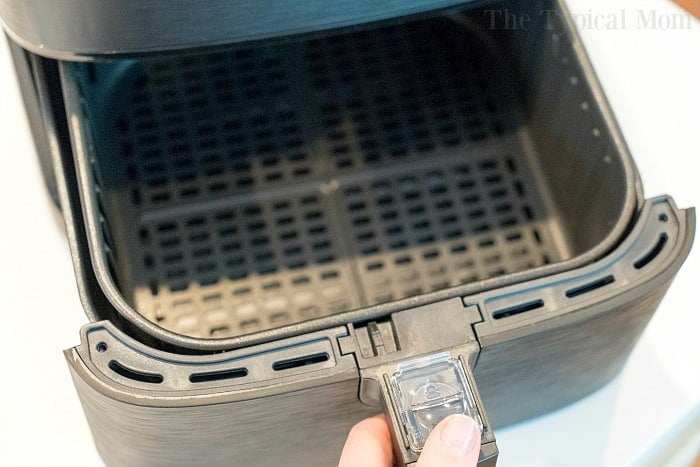 Air Fryer Frozen Fish Sticks
Of course it doesn't have everything listed, but it goes beyond just packed foods like this and includes info. on air fryer shrimp too.
Box of regular sized fish sticks that are frozen

Air fry timing varies based on whether you're using larger beer battered versions or not because they are thicker
This is based on "regular" sizes you see here

I didn't bother with any olive oil cooking spray to make these
Here's a peek of that free air fryer printable I was talking about above. Seriously it is so helpful. You can laminate it so if splatter occurs, or messy fingers, you can wipe it off easily. Or just use a magnet to fasten it to your fridge so you can just look up and refer to all the info. you need that day.
How long do you cook fish sticks in an air fryer?
You can see here that fried fish takes 10 minutes total at 400 degrees. I like to always pre heat my machine beforehand.
How do you cook frozen fish sticks?
I have a recipe card at the bottom of this post for you to print out and/or refer to but also have a quick peek at how we did it below as well. It's easy enough for a teen to do as well which I love. Here are the basic steps below:
Preheat your air fryer to 400 degrees for 5 minutes

If you have an older less non stick version, spray the basket with non stick spray

Pour a single layer into your air fryer basket

It is always best to NOT overlap food so the hot air can really do it's job and get contents nice and crispy crunchy.
Repeat with remaining fish if you want more than 1 batch

Close the drawer and set to 10 minutes total
It is best after 5 minutes flipping them gently, or use a spatula to turn as many pieces over as you can
Continue to cook for another 5 minutes and then check.
If you want them even crunchier add another minute and check again.
Sprinkle with salt and pepper and serve with tartar sauce
Ketchup is another fave, with some kids it is the only thing they use on all the things.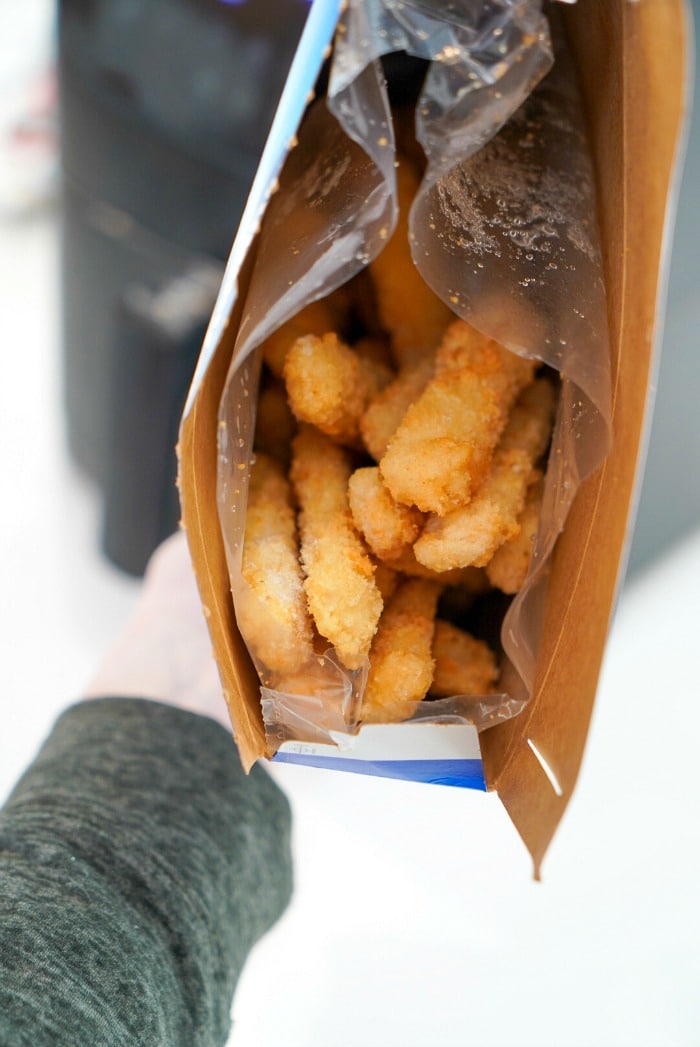 Are fish sticks healthier than chicken nuggets?
Well they're both prepackaged, processed and breaded foods and fresh is always best.
It depends a lot on what brand you purchase and how large each piece is to really compare the two but typically the chicken is a bit better.
With 30 fewer calories than the traditional piece of breaded fish you might be better off with the nuggets.
All in moderation when it comes to food if you ask me.
If you're looking for healthier versions I would suggest trying a few of our pressure cooker fish recipes. Those aren't breaded though and you may not get thumbs up from your kids if you make this substitution.
If you're looking for a few quick air fryer Costco recipes, this is a good one though.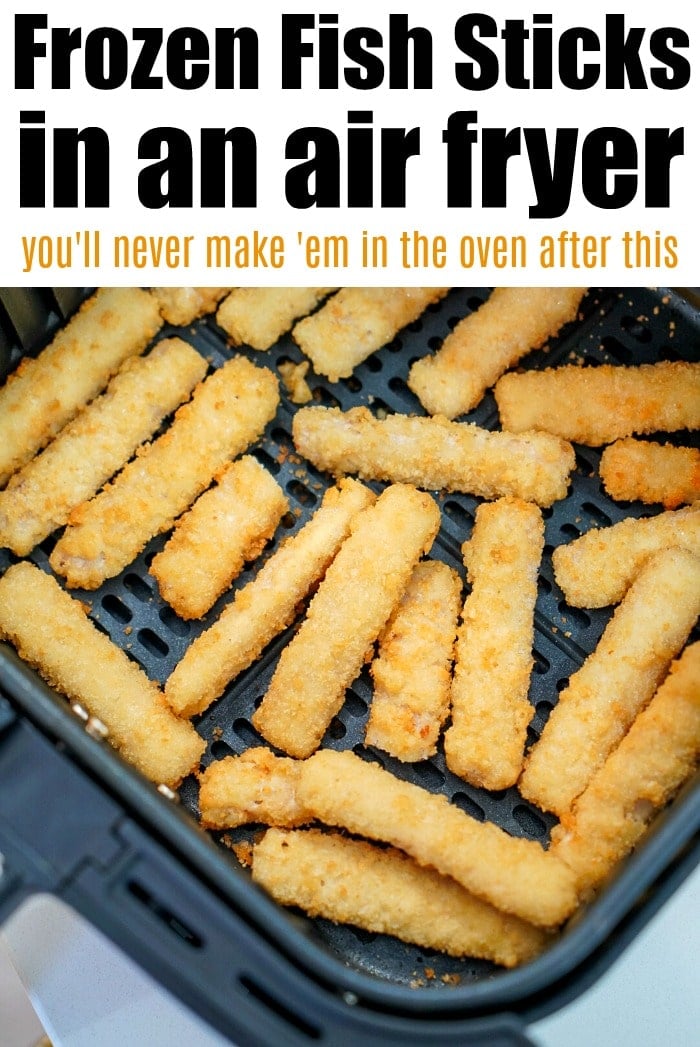 Is fish sticks fish real?
The majority of brands uses a whitefish such as cod, hake, haddock, tilapia or pollock, which has been battered or breaded. The fish inside is real but there are fillers inside as well.
What are the best fish sticks?
That probably depends on whom you ask really, but when a questionnaire was thrown out there these were the results:
The best were Van de Kamp's crunchy style which is what we used.
Gorton's came in 2nd and we really like their beer battered versions
Trident Seafoods has an ultimate style that ranks high as well
Honestly, I grabbed what was on sale but typically I won't buy the store brand when it comes to frozen meats.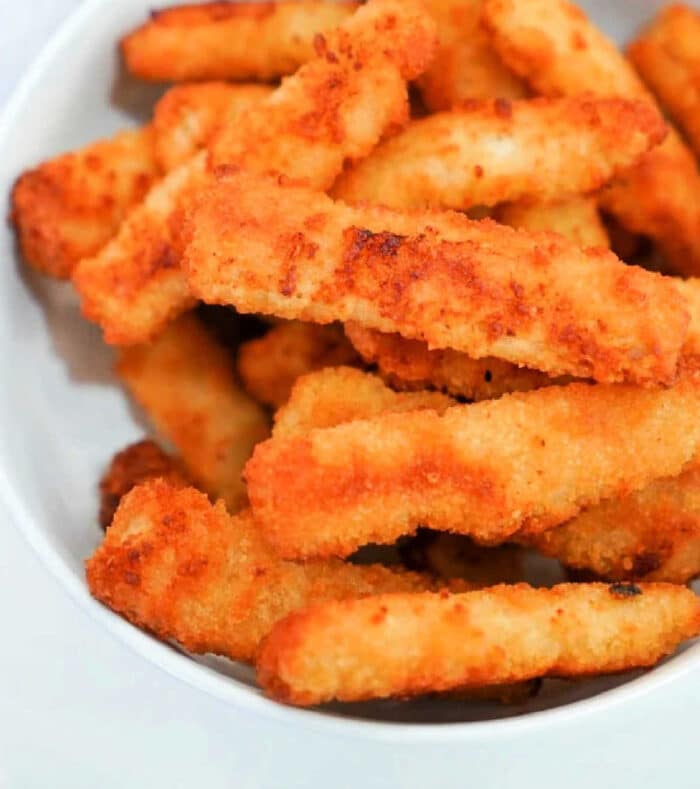 How do you make fish sticks from scratch?
You can slice thawed fish into strips and then follow our air fryer tilapia or air fryer catfish recipes from there. We used a light breading on these that turned out quite tasty.
They're really quite simple to make with almond flour or a simple flour mixture. Alternatively you can combine breadcrumbs and seasonings in a bowl and whisk together.
Slice fish, dry with paper towels to remove moisture
Dip into a bowl with a whisked egg in it
Press bread crumbs on the outside
Air fry it for 4-6 minutes and done!
This is a great way to make it gluten free if that is important to you, and healthier than packaged too. Then serve inside air fryer fish tacos!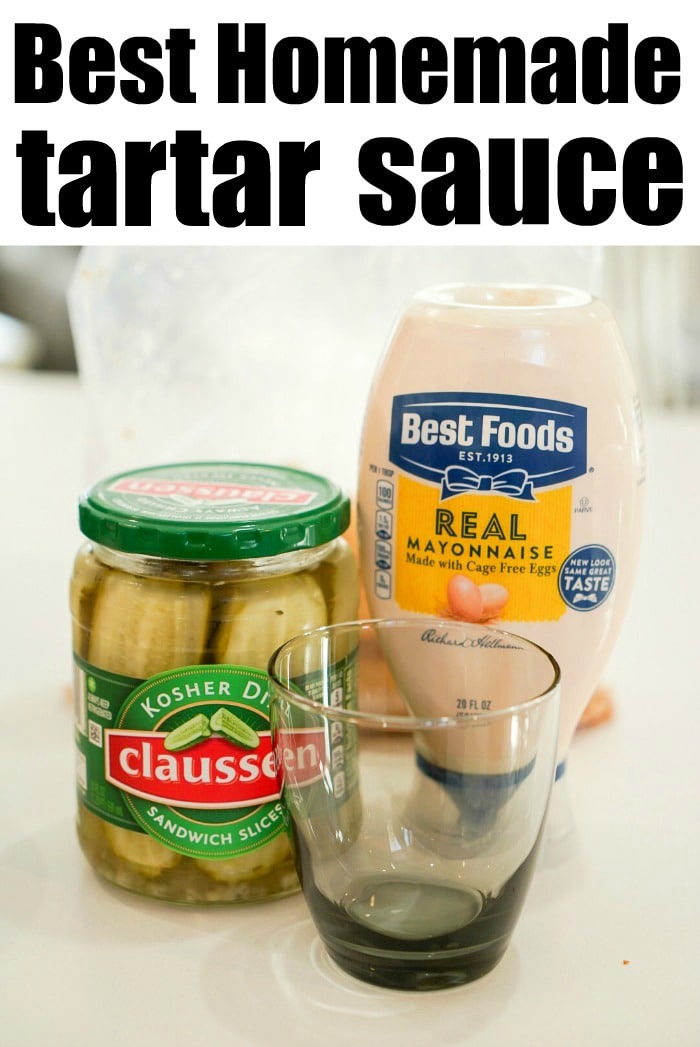 How do you make tarter sauce?
It is quite simple actually, and I think it is better than pre-made jarred versions personally. Next to our white sauce for fish it's a fave. You just combine:
2 whole dill pickles, finely diced

put on a paper towel when done so the liquid gets absorbed and doesn't make it soupy
best choice is Claussen which is refrigerated vs. ones on the store shelves

1/4 cup mayonnaise

I prefer Best Foods vs. Miracle Whip

1/8 tsp seasoned salt like Lawry's
Mix together with a spoon and ideally it is best if you can refrigerate it for an hour prior to serving it with these or homemade air fryer fish nuggets. Printable recipe card with nutritional information included is below.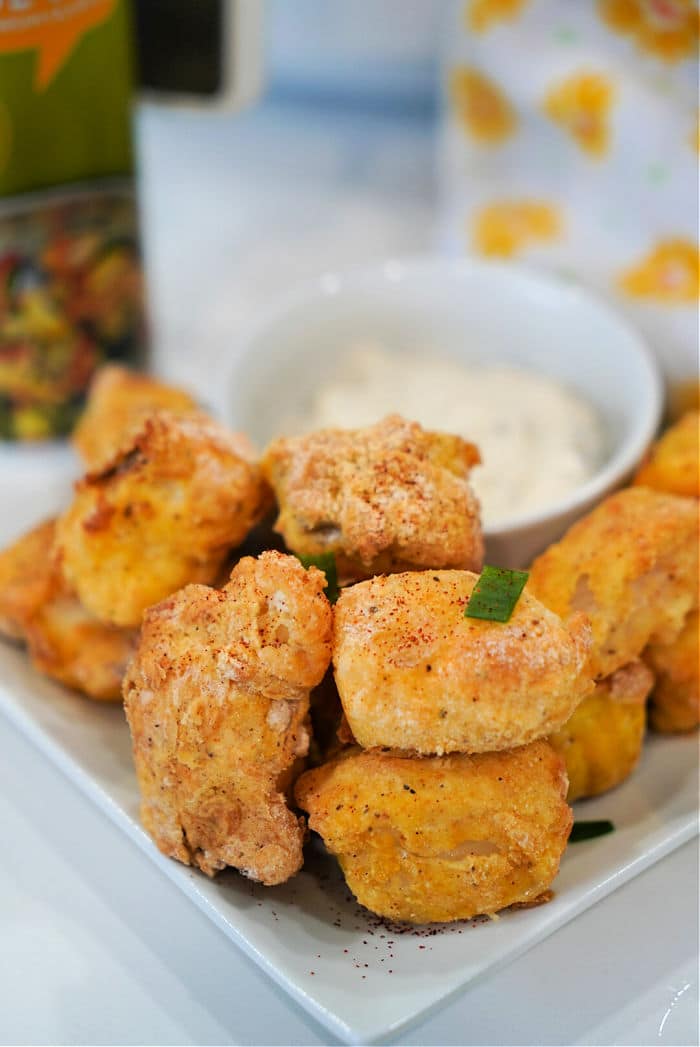 Want to see a few of my favorite things that I am totally obsessed with?? Take a peek and see how many you might already have…twinsies!
Looking for more easy family recipes and tips? LIKE The Typical Mom Facebook page?
Then sign up for my free newsletter, and follow me on Pinterest! 😉
***** If you LOVED this recipe give it 5 Stars below and let everyone know what you thought about it. 😉
Air Fryer Fish Sticks
Air fryer fish sticks are the bomb! WAY better than cooking them in your oven, this way you'll get ultra crunchy crispy battered fish in just a few minutes.
Instructions
Preheat air fryer to 400 degrees for 5 minutes.

Pour frozen fish sticks into air fryer basket in one layer so they aren't overlapping

Cook for 5 minutes, gently shake basket or flip pieces over. Then continue cooking for 4-5 minutes until they're as crispy on the outside as you'd like.
Nutrition Facts
Air Fryer Fish Sticks
Amount Per Serving (3 oz)
Calories 111
* Percent Daily Values are based on a 2000 calorie diet.