Boiled fish on the stove is a fast way to get fork tender salmon, cod, tilapia or other fillets. If you enjoyed boiled meat earlier this week, boiling fish in broth is another easy healthy dinner.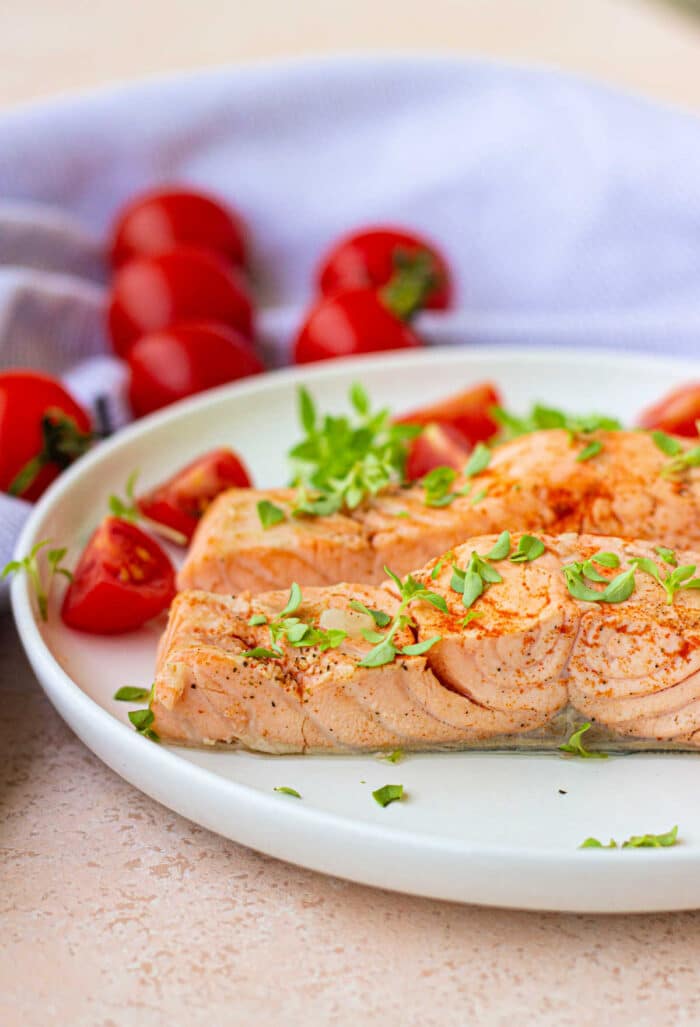 If you want to try a boiled fish recipe, it is easier than you might think. Super duper moist fillets or salmon bites that soaks up up the seasonings in the pot in just a few minutes. If you're using your stovetop to make the rest of your meal this works quite well. (affiliate links present)
How to Boil Fish
Now we explained a bit ago how to cook frozen mussels a bunch of different ways, including boiling in your liquid of choice. A great way to infuse flavor if you use broth that has been seasoned. For fillets you can really use any variety you choose. We love this vibrant pink fish you see here but others like cod, flounder and catfish work well too.
The thing you want to remember when choosing your variety is that submerged in boiling water makes it want to fall apart more than baking or air frying. That is why this type works the best because it is a bit more firm. You can marinate the fish first, or leave as is. It should be defrosted too. Cooking frozen fish is a bit trickier.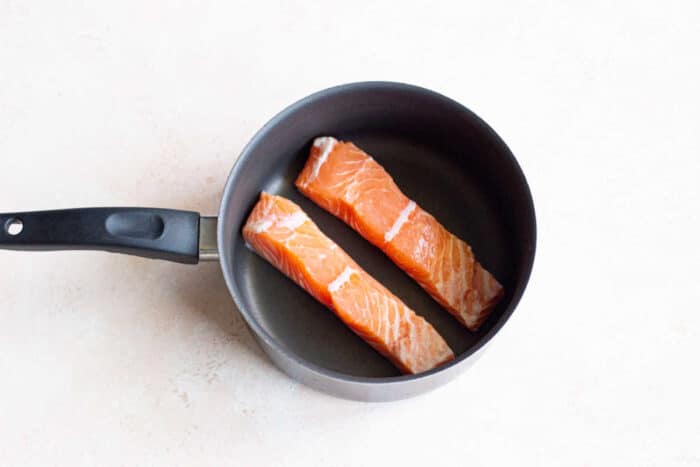 Fish Boil
Boiling fish is a simple and healthy cooking method that can help retain the natural flavors and nutrients of the fish. Whether you want to cook a whole fish or fish fillets, here's a step-by-step guide on how to boil fish:
Select fresh or defrosted salmon fillets (or other variety) suitable for boiling. Fish varieties such as cod, haddock, sockeye salmon, tilapia, or trout work well for boiling. Ensure that the fish is properly cleaned and scaled, if necessary.
To enhance the taste of the fish, you can start by preparing a flavorful poaching liquid like bone broth. You can use ingredients like water, herbs, spices, onions, garlic, celery, carrots, and lemon slices to create a tasty broth. Simmer the broth for a few minutes to allow the flavors to meld together.
If you're not using a separate broth, you can season the boiling water directly. Add ingredients like salt, peppercorns, bay leaves, lemon juice, or other herbs and spices to the water to infuse flavor into the fish.
Place the broth or seasoned water in a large pot and bring it to a rolling boil over medium high heat.
Boiling Fish
There are two ways to do this; Poached fish is cooked for longer in liquid at 140 F to 180 F vs. boiling is faster at 210 F or so. Your choice. A poached salmon recipe will yield a bit more flavor.
Gently place the fish into the boiling liquid. Ensure that the pieces are fully submerged. If you're using whole fish, you can wrap it in cheesecloth or a cooking mesh to prevent it from falling apart during boiling.
Reduce the heat to a gentle simmer. You want the liquid to maintain a low simmer throughout the cooking process. Cooking fish this way too vigorously can cause it to break apart or become overcooked.
The cooking time will vary depending on the thickness and type of fish. As a general guidelineyou cook salmon fillets or steaks usually take about 5-10 minutes to cook

Boiled whole fish may take 15 – 20 minutes or more. The fish is done when it turns opaque and flakes easily with a fork.

Use a fork to gently flake a small section of the fish off. It should easily separate into flakes and appear opaque throughout. If it is still translucent or slightly translucent in the center, continue boiling for a few more minutes.
Once cooked, carefully lift it out of the liquid using a slotted spoon or spatula. Be gentle to avoid breaking it apart as it will be very tender. Place on a plate or platter and serve with your favorite sauces, garnishes, lemon wedges, or sides.
How to boil fish is a simple and healthy cooking method that allows the natural flavors of the fish to shine. With just a few ingredients and careful attention to cooking time, you can enjoy a tender and flavorful boiled fish dish.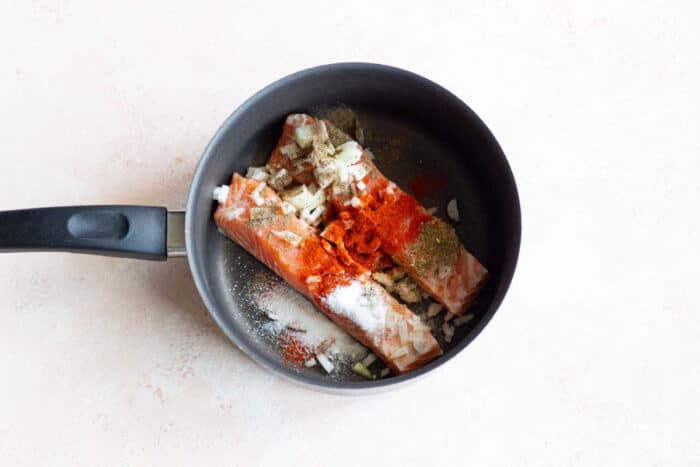 Boiled Salmon
For this example we are using pink salmon cut into individual portions as you see here. It is very delicate once cooked so I recommend slicing into portions at the beginning as it cooks more evenly this way and serves up quickly this way as well.
1 lb salmon
Paprika
Chopped parsley
1/2 onion sliced
3 c water or broth
salt and pepper to taste

adding a sichuan pepper will add heat for sichuan boiled fish
I like having a metal slotted spoon to lift it out. Using a fork or tongs can press it together which will flake it into a bunch of little pieces which isn't ideal at all. GENTLE is the key here. White fish is best using a brine or fish stock. It's a good idea to cook fatty fish such as salmon and mackerel in a flavored liquid.
You can add a bit of dry white wine like Pinot Grigio for fattier choices too to add a bit of acidity. I will sometimes do that when boiling a whole chicken.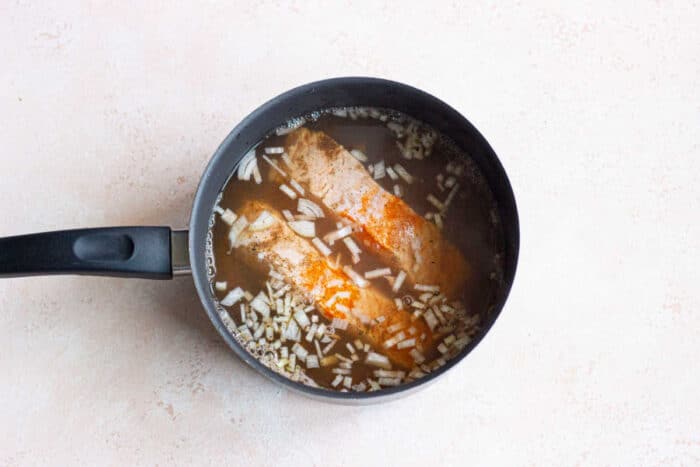 Boiled Cod
White fish will be more delicate, point blank. For that reason you might want to leave the skin on to keep it together better and just peel it off when you're ready to eat. If you want it to cook really fast I would opt for making fish nuggets which are pretty great for kids since they are already bite sized. You just;
Pour water with seasonings and slices of onions into your pot on the stove over medium high heat and bring to a boil.
Slice your fillet into 2-3 smaller pieces so they submerge well. Lower down carefully with a spoon. Bring to a low rolling boil again for 4-5 minutes until fish is as done as you would like.
Bite size pieces will be closer to 2 minutes or so depending on their size. To check either one use a slotted spoon to lift it out. Use a fork to cut off one end to see if it is still translucent at all. If so lower it back down for another minute and check again.
What to serve with poached salmon are endless but a bed of rice, our 4 ingredient basic biscuits and stir fried vegetables is usually our choice.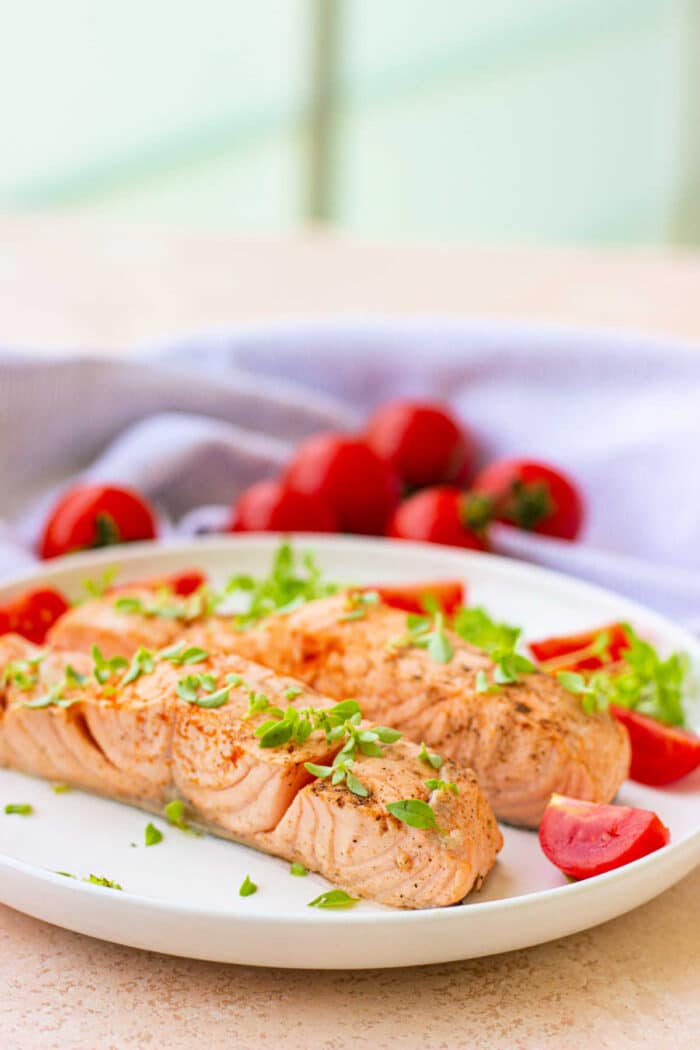 Want to see a few of my favorite things that I am totally obsessed with?? Take a peek and see how many you might already have…twinsies!
Looking for more easy family recipes and tips? LIKE The Typical Mom Facebook page?
Then sign up for my free newsletter, and follow me on Pinterest! 😉
***** If you LOVED this recipe give it 5 Stars below and let everyone know what you thought about it. 😉
Boiled Fish
Boiled fish on the stove is a fast way to get fork tender salmon, cod, tilapia or other fillets. Boiling fish in broth adds flavor too.
Ingredients
Instructions
Pour water with seasonings (or broth) and slices of onions into your pot on the stove over medium high heat and bring to a boil.

Slice your fillet into 2-3 smaller pieces so they submerge well. Lower down carefully with a spoon. Bring to a boil again for 4-5 minutes until as done as you would like.
Nutrition Facts
Boiled Fish
Amount Per Serving (1 oz)
Calories 336
Calories from Fat 135
% Daily Value*
Fat 15g23%
Cholesterol 125mg42%
Sodium 119mg5%
Potassium 1174mg34%
Carbohydrates 3g1%
Protein 45g90%
Vitamin A 586IU12%
Vitamin C 2mg2%
Calcium 47mg5%
Iron 2mg11%
* Percent Daily Values are based on a 2000 calorie diet.