How to fry a whole fish on the stove or deep fried perfectly is here! Get flaky flesh on the inside and crispy fish skin seasoned well or battered. Pan fried fish makes a delicious and healthy meal for dinner that is family friendly.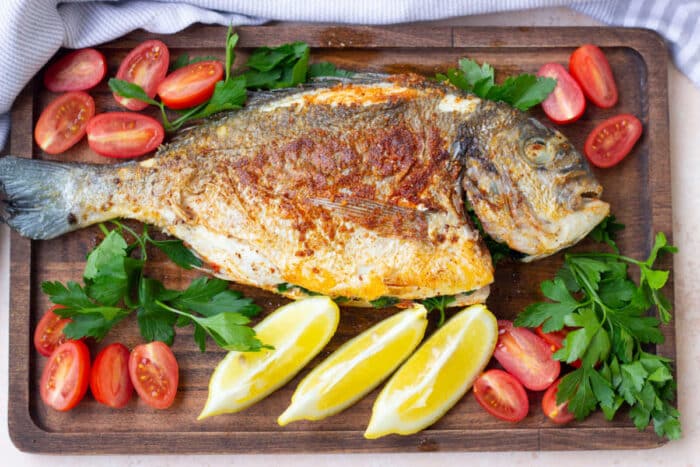 We will talk about frying a whole fish in a pan or deep fried right at home. The best whole fish to fry with seasoned skin or battered discussed so you can make the best choice to begin with. We have a lot of fish recipes on our site but in fillets so this was a first but a fave! (affiliate links present)
How to Pan Fry a Whole Fish
Snapper, porgy, mahi mahi as we will show you here, perch and trout can fit in a skillet so they are good choices for pan-frying whole fish. Of course you will need to keep in mind size if you are using a cast iron skillet or pan. 10 inches seems to work well for us as you can see here.
If you had a deep fryer you wouldn't have to be as concerned with this aspect and would be done similar to our whole fried chicken recipe.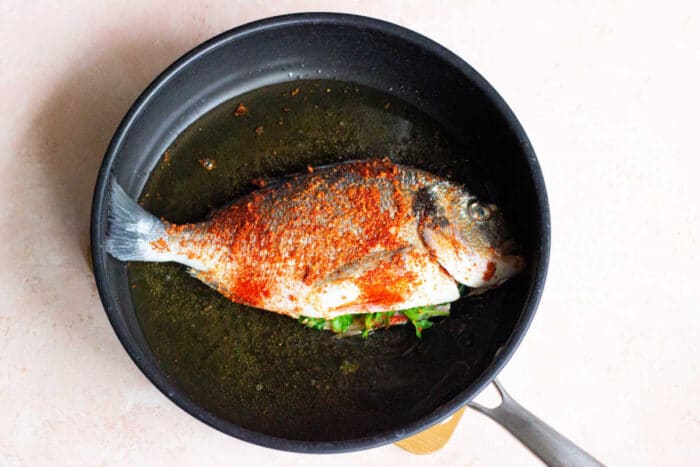 Best Fish to Deep Fry Whole
When it comes to deep frying a whole fish, there are a few things you want to consider. You want a one that is firm enough to hold up during the frying process but also has a mild delicate flavor. Cod, tilapia or catfish are the top three that are the most popular. Let's talk about these choices and how they differ from one another.
Tilapia is a firm, white fleshed fish that is mild in flavor and widely available.

It holds up well to frying and can be seasoned in a variety of ways.

Red snapper is a popular fish for frying because of its firm texture and sweet nutty flavor that makes it a great choice for deep frying.
Sea bream is what we used with our air fryer whole fish because of it's size.
Trout is a smaller piece of seafood that is often fried whole in a deep fryer because it has a mild, delicate flavor.

high in omega 3 fatty acids means it is great for controlling cholesterol levels

Catfish is what you are going to find in the deep South, deep fried usually in a cornbread batter.
Sea bass is a meaty fish often served whole in Asian restaurants

it holds up really well and can be heavily seasoned on the outside.
Ultimately, the best one will depend on your personal preferences and the availability of different types of fish in your area. Also consider the size of your deep fryer or pan when choosing one.
How to Cook a Whole Fish
Yes you could bake this whole thing in the oven like this but that takes longer and doesn't get quite as crispy as this method. We like to share our favorite cooking methods so this is what we are discussing in depth here.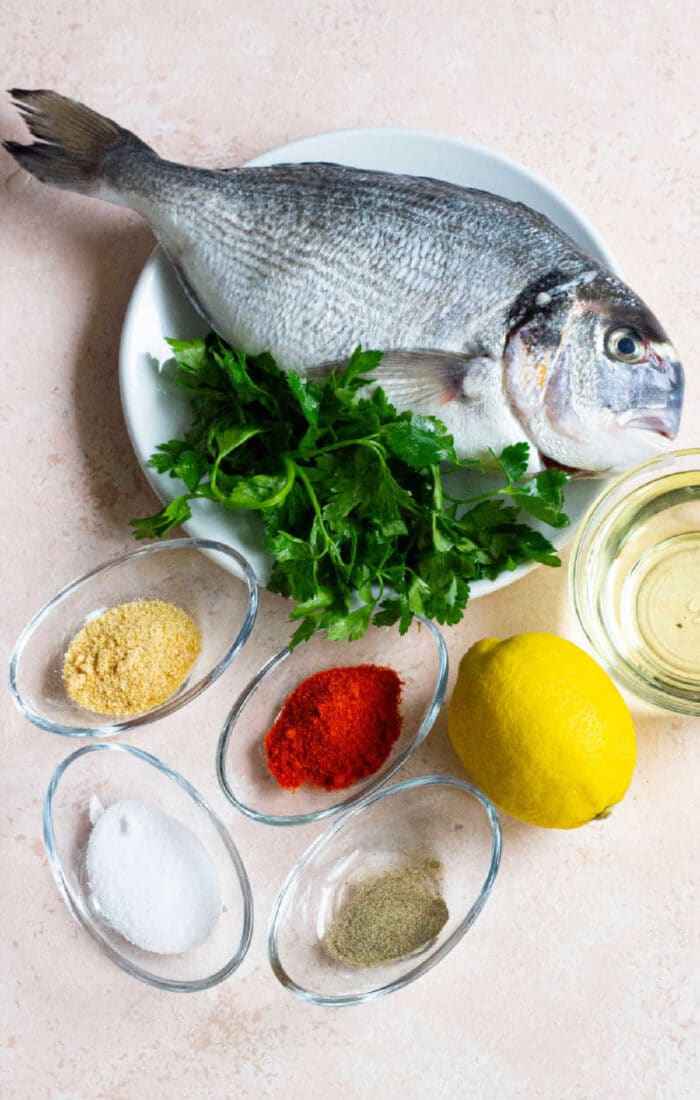 Best Fish to Fry Whole Without Bones
Whitebait are super small and can be eaten whole without any prep. Not as common in the states than in Britain we typically suggest frying whole sole, swordfish, mahi mahi, grouper, whitefish, or perch. These are most commonly chosen because they are virtually bone-free, flaky and fry up well.
Best Fish to Fry in Batter
You will want a white fish for best results. Choices such as snapper, barramundi, cod, flathead, tilapia or haddock are common ones because of their texture and holding up when dredged into a thick coating. It isn't as though you couldn't use another variety but firmer is better.
If you really wanted to use other varieties like the pink variety (which we love too) I would suggest that you instead make salmon bites which are smaller but can be breaded or lightly battered. Not whole but you still get a crisp on the outside but you won't risk it falling apart and ruining dinner.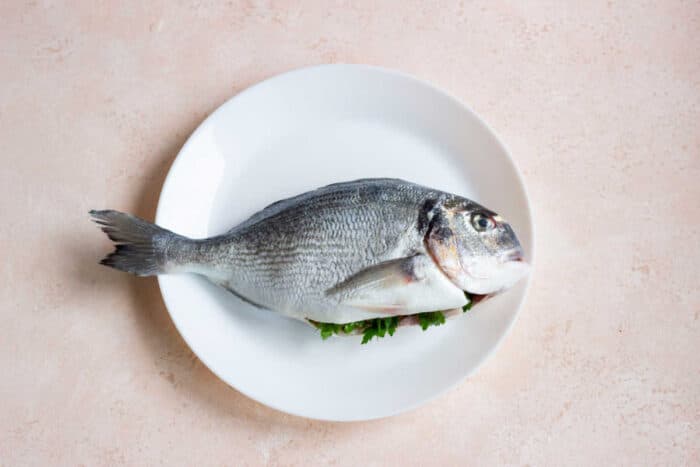 Best Batter for Fish
Frying fish in batter is a great way to get a crispy, delicious crust around the outside while keeping the flesh moist and tender.
This is what you're going to need to make a simple coating, or use our tempura batter for a lighter coating. Here's a simple recipe for frying fish in batter;
1 whole fish, scaled and gutted

or fillets could be used as you see below, timing for both is listed below

One cup of all purpose flour
1 tsp salt
1/2 tsp ground black pepper, garlic powder, paprika and cayenne pepper
1 cup of beer or really any liquid works
Vegetable oil for frying
Lemon wedges, for serving
Whether you use skin off filets or the whole thing you would basically do the same thing, the timing is just longer with larger pieces.
Both are fun but with kids sometimes smaller pieces of beer battered fish is more appetizing to them. You could really make both one after the other so everyone gets what they like.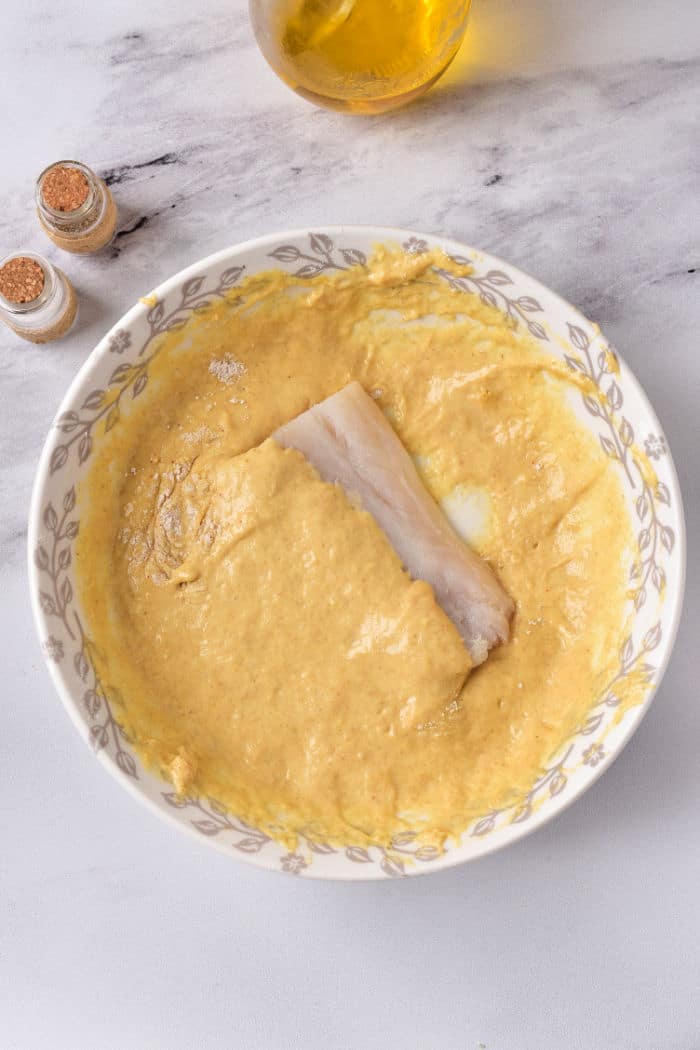 How to Fry Fish in Batter
Make sure the oil is hot enough before adding the fish, as this will ensure that the batter stays crispy and doesn't absorb too much oil. Also, be careful when handling hot oil and make sure to use a thermometer to monitor the temperature.
Rinse the fish under cold water and pat it dry with paper towels.
Use a sharp knife to make a few diagonal cuts across both sides of the fish.
In a large mixing bowl, whisk together the flour, salt, pepper, garlic powder, paprika, and cayenne pepper.
Gradually whisk in the beer or other liquid of choice until the batter is smooth with no lumps.
Heat about 2 inches of vegetable oil over medium high heat in a large pan (I love cast iron myself) or in a deep fryer to 350 degrees to 375 degrees F.
Dip the fish into the batter, coating it completely.
Let any excess batter drip off before carefully lowering the fish into the hot oil.
How long to fry battered whole fish = 8-10 minutes, turning it over once, until it is golden brown and crispy on both sides.
How long to fry battered fish fillets = 3-4 minutes per side.

Remove the fish from the oil using a slotted spoon or tongs and transfer it to a wire rack or paper towels to drain off any excess oil.
Serve the fish hot with lemon wedges on the side or as fish and chips with fries on the side is fun. If you feel like you need some sort of sauce or dip of course the obvious would be tarter. You can make that with half mayonnaise and half relish. Another one we do sometimes is just dip in soy sauce, seriously.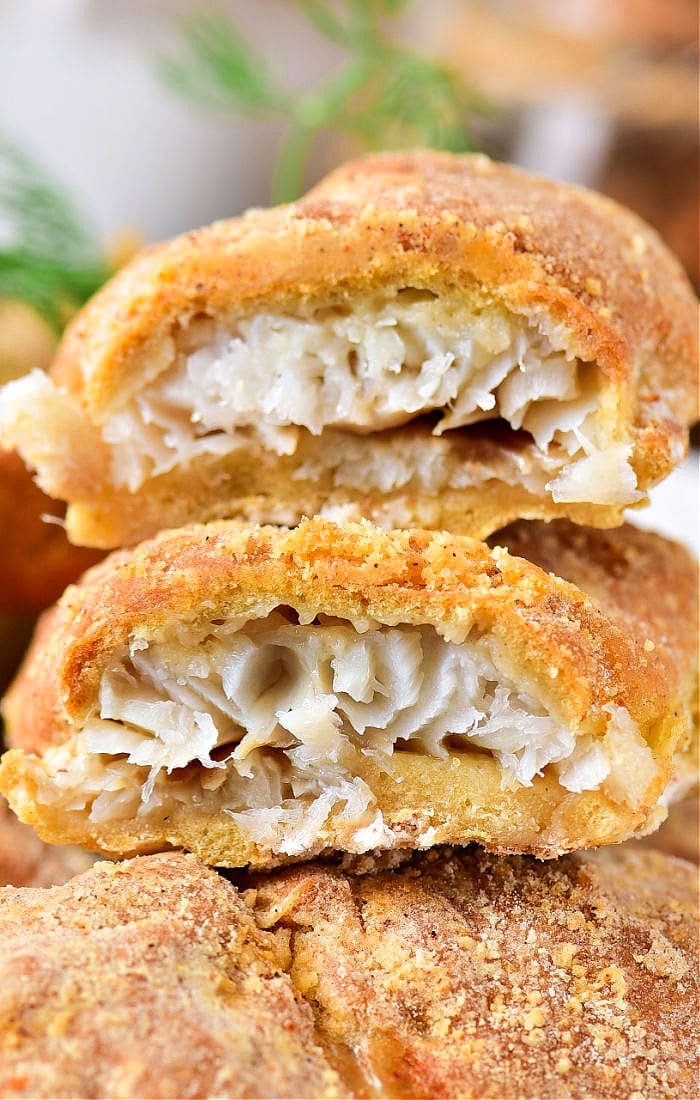 Healthy Fried Fish
Ok so there are a lot of options when it comes to the coating on the outside. If you are really trying to be good but still want that crispy crunch on the outside it is possible with our oven fried fish! Again, you can use it with a whole or pieces of your choice of white fish.
As always you want to make sure, especially with this one, that you dry the outside before dredging into the whisked egg and breadcrumbs. If not they will get wet before baking and the texture will just get weird. Some will sluff off too so it won't be as crusted so you won't get the outcome you want.
This style doesn't work well submerged in oil or cooked in oil because of that same reason. You will lose the coating in the process of cooking so instead just use a baking sheet in the oven, comes out incredibly moist on the inside and kinda' "fried" like you're craving.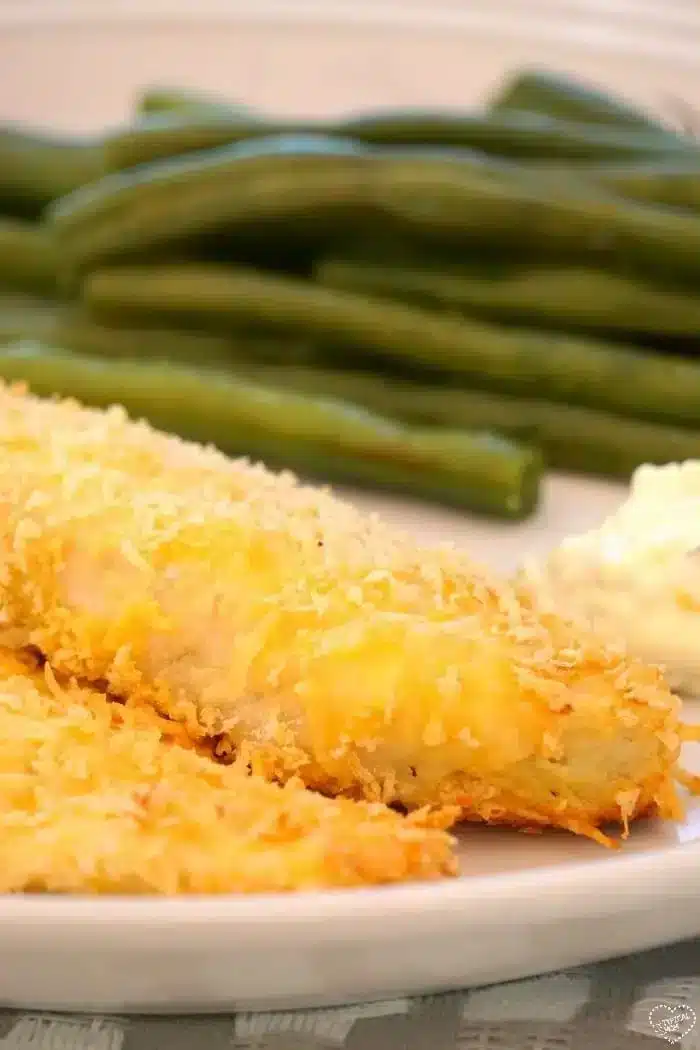 How to Fry Mahi Mahi
In the recipe card below is a step by step of how to pan fry a whole fish in a skillet without batter. It is also another healthy way to cook it if you do not want to use your oven.
How long are you supposed to fry fish?
It depends on whether you want to fry a whole fish or fillets in a pan on the stove or deep fryer. Timing will range from 4-10 minutes typically. The larger the pieces the longer they will take until the internal fish temperature reaches 145 degrees F.
How do you know when mahi mahi is done?
The flesh should be white and no longer translucent in color. It should be warm to the touch and using a fork it should pull away from the bones easily and flaky in texture.
Want to see a few of my favorite things that I am totally obsessed with?? Take a peek and see how many you might already have…twinsies!
Looking for more easy family recipes and tips? LIKE The Typical Mom Facebook page?
Then sign up for my free newsletter, and follow me on Pinterest! 😉
***** If you LOVED this recipe give it 5 Stars below and let everyone know what you thought about it. 😉
Fry a Whole Fish
How to fry a whole fish on the stove or deep fried perfectly is here! Get flaky flesh and crispy fish skin seasoned or battered.
Equipment
1 pan

or cast iron skillet
Instructions
Remove scales from fish, we left head on. Rinse the outside and blot dry with paper towels to dry the skin so it can crisp up nicely.

Mix seasonings together (or use your own blend). Lightly spray outside with olive oil and coat skin with seasoning blend. Double if you want a thicker coating.

Heat about 2" of vegetable oil over medium high heat in pan until it reaches 360-375 degrees F and stays there consistently. Carefully lay fish in oil and cook for about 5 minutes, then flip over for another 5 minutes.

Internal temperature when done should be 145 degrees F. Remove, use thermometer to test thickest portion, if it hasn't reached this, fry for 1 more minute on each side and test again.

Remove, set on paper towels to absorb oil, serve on a platter to enjoy family style.
Nutrition Facts
Fry a Whole Fish
Amount Per Serving (2 oz)
Calories 5
Calories from Fat 1
% Daily Value*
Fat 0.1g0%
Polyunsaturated Fat 0.05g
Monounsaturated Fat 0.01g
Cholesterol 0.1mg0%
Sodium 582mg25%
Potassium 25mg1%
Carbohydrates 1g0%
Protein 0.3g1%
Vitamin A 248IU5%
Vitamin C 0.01mg0%
Calcium 3mg0%
Iron 0.2mg1%
* Percent Daily Values are based on a 2000 calorie diet.