If you haven't tried cooking air fryer frozen fish yet it's a game changer. We will show you how to cook frozen tilapia air fryer style right here!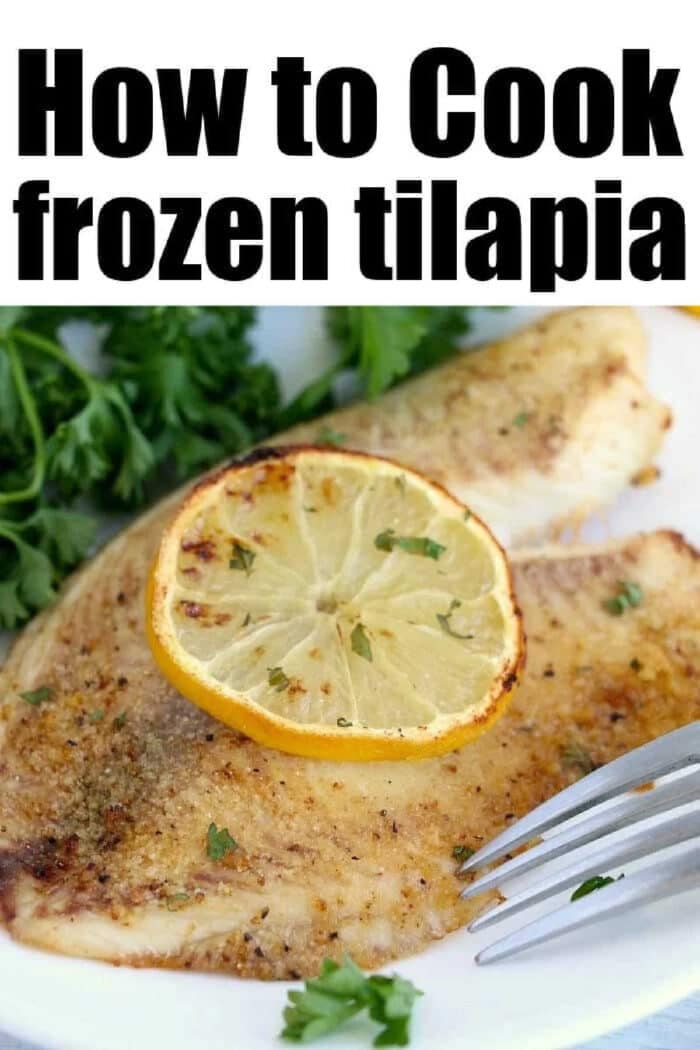 Frozen tilapia air fryer style comes out amazingly well. Your family may never suspect you forgot to defrost fish the day before. Yes you can make it thawed too which we'll share but when you're forgetful this air fryer recipe is great. (affiliate links present, originally published 8/22)
Cooking Frozen Tilapia
We do air fry frozen meat quite a bit, this time we went for some rock hard white fish. This is typically much cheaper and you can find bags of them year round. That is great because if you too live in a smaller town you rely on how to cook frozen meat a lot.
SO if you can't cook air fryer tilapia defrosted and lightly breaded, this is a close second. You will not be able to add breadcrumbs on the outside this time but just add seasonings and WOW! It's a healthy dinner idea that even my kids love once a week.
FIRST – You should sign up for my free newsletter so you get new posts emailed to you twice a week and never miss out on anything! If you love air fryer recipes too, here are some resources to start with: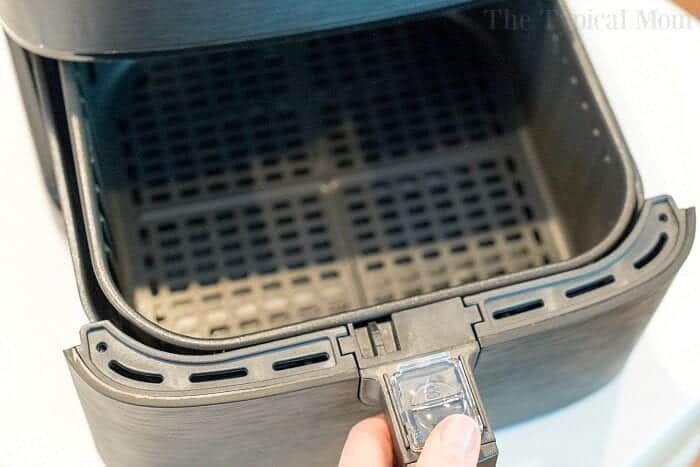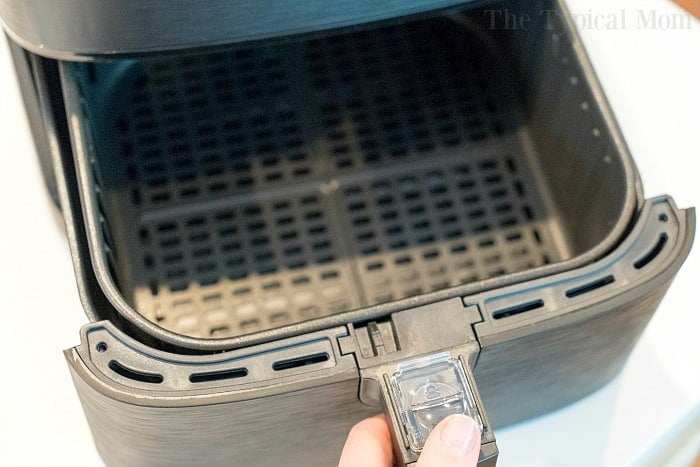 Ninja Foodi Frozen Tilapia
You can have any brand of this machine really. I make a lot of Cosori air fryer recipes, basket seen above. Ninja Foodi works too, you can pressure cook fish in that pot as well if you wanted to. It's kinda' hard to believe that meat can be cooked from rock hard to fork tender, but it can.
I mean I would suggest that it was defrosted beforehand but that isn't always possible, I get it. We're a busy family with mountain bike practice, we both work, and I am not always on my game first thing in the morning. If I'm not, dinner will be an afterthought and sometimes needs to be saved with tips like this.
The biggest difference between the two comes down to seasoning. You can get some to stick if it is in this state but not nearly as well as if it were soft. Marinating doesn't work if it is hard either, but surprisingly the cook time isn't a whole lot different.
Air Fryer Frozen Tilapia
That is right, comparing fresh white fish to rock hard and how long each takes to cook until tender the only difference is a few minutes. Now there is a huge range when it comes to how large your fillets are. I suggest 1 lb. or so to fill your basket. Larger varieties like frozen salmon in air fryer need to be cut down.
You wouldn't be able to cook the whole fillet since that fish is rather large. You'd either need to buy them sliced down into 2″ pieces or so, or buy it yourself and cut it down before freezing. I will do this if I find our favorites on sale. We have a deep freezer so as long as your meat is prepped beforehand you can do this more often.
We just use our pieces, slices of fresh lemon and seasonings. Salt and pepper are easily thought of but I personally prefer some garlic salt instead. You can season again when served too.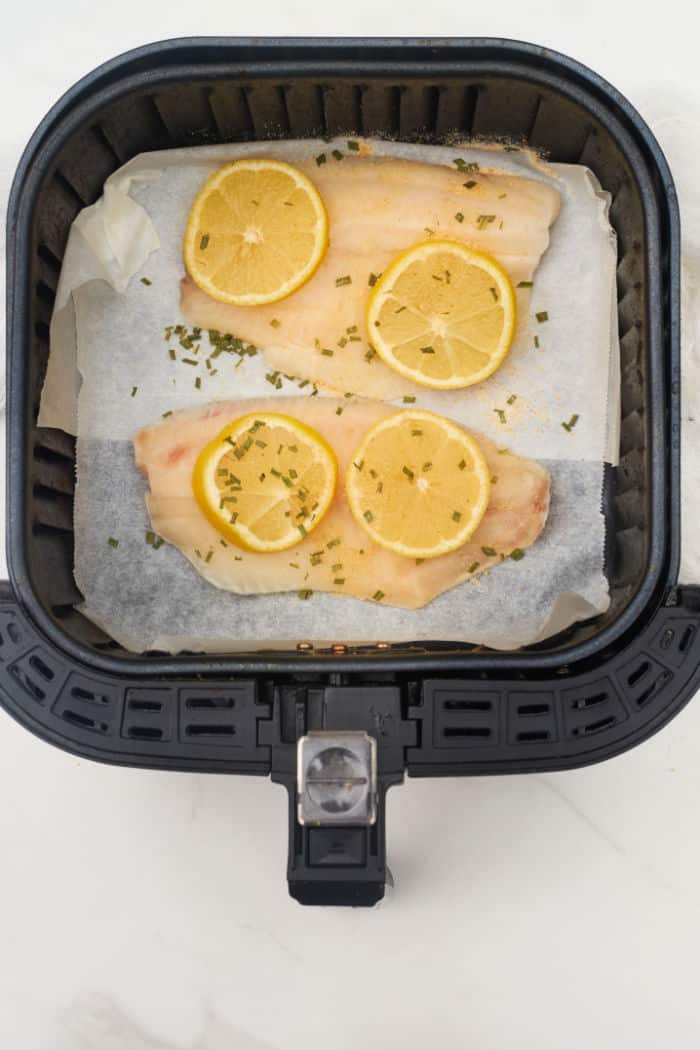 How to Cook Frozen Tilapia in Air Fryer
Oh another difference if your fish filets are hard is that you cannot make them breaded. Not a huge deal in our house as we like it "naked" I'd say more often but worth noting. You'd need to leave these in the fridge to loosen up in order to add a coating like we did with our air fryer catfish.
You always want to start off by preheating your air fryer to 375 degrees F for 5 minutes.

For this one you'll want to place a piece of parchment paper into bottom of air fryer basket, or spray with olive oil spray
Place your fish on top.

Sprinkle whatever seasonings on top you want with lemon slices on top of that.
Air fry fish for 12 – 14 minutes or until fish is cooked thru and fork tender.

timing will vary depending on the size of each piece and how thick they are
145 F is said to be the perfect internal temperature for this fish recipe so it is not dried out. Then you can enjoy as is, with side dishes like on top of a bed of rice, and/or with a bit of our cilantro lime white fish sauce drizzled over the top. Season again if desired with garlic powder and salt and pepper and enjoy.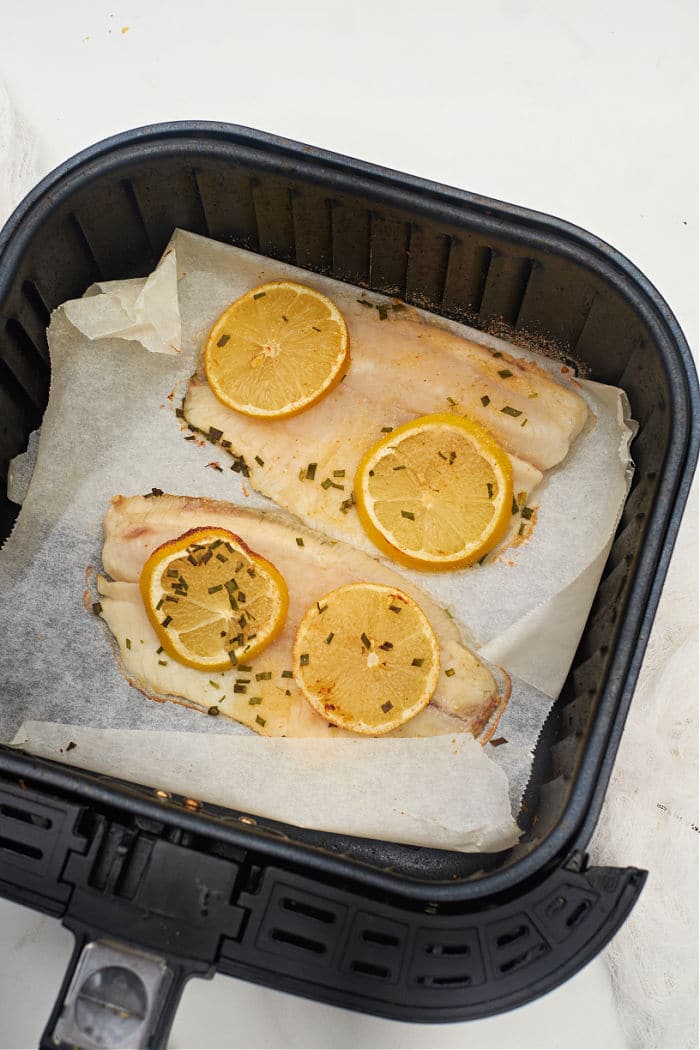 How do you freeze Fish in a Ziploc?
If you want to do this more often you'll want some freezer bags on hand. When your favorite choices are on sale, buy bunches because they save for up to 3 months if packaged up properly. You do NOT want to leave it in the package if it is laying in a styrofoam tray with plastic wrap on top, it will be ruined.
Instead think of how you're going to want to cook it, if you forget to defrost it ahead of time. If this method is likely the way you'll want no longer than 3 inches wide when it comes to long fillets like salmon.
Remove from packaging (unless it is already vacuum sealed)
Slice into single size portions
Slide into a freezer bag with parchment paper in between the pieces if you have more than one in a bag
Zip 90% closed and then suck the rest of the air out of the bag.
Use a permanent marker to mark the date on the outside, cook within 3 months (either defrosted or from frozen)
This way you can look for sales and eat this more often! Fish is great for you, low in fat and healthy for your heart so go all out as often as you can.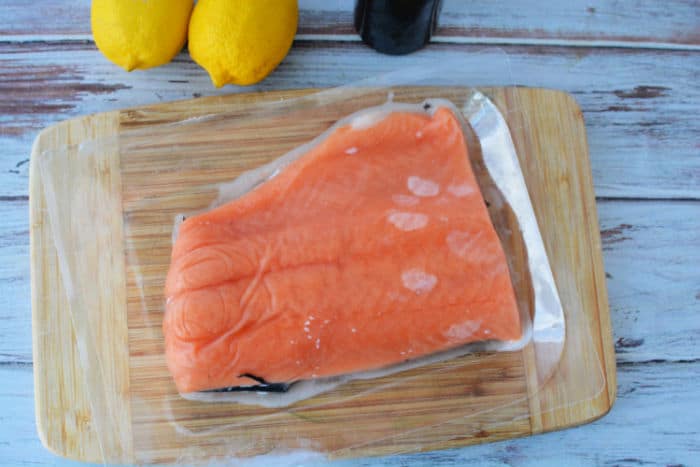 Can you Cook Frozen Fish in Air Fryer from Frozen
Actually, this is how to cook frozen tilapia all the ways. If you want to try in the microwave and baked in the oven too read this article and see which you like best.
Yep, I think we have answered that question here. Our frozen air fryer tilapia recipe will not only defrost / thaw your pieces slowly inside your machine, but also crisp the edges perfectly. You can do this with other varieties too. I have shared many of them above so they can be tried as well.
Click on the blue link you're interested in and that recipe will open up for you to follow. Once you get the hang of this you'll likely do it often and not worry about remembering to defrost the day before.
Do I need to thaw frozen tilapia before cooking it in the air fryer?
No you don't. We will share how to air fry frozen tilapia here right out of the freezer to tender. Great hack to cooking frozen fish perfectly. You just need to preheat the machine, use a bit of olive oil to keep it moist and cook a bit longer at a lower temperature until to temp.
What are some tips for cooking frozen tilapia in the air fryer?
1. Brush with olive oil and season the frozen tilapia with salt, pepper, and any other desired seasonings.
2. Do not overcrowd the air fryer basket.
3. Cook the frozen fish in air fryer until it is cooked through, but not overcooked.
4. Let the fillets rest for a few minutes before serving
Want to see a few of my favorite things that I am totally obsessed with?? Take a peek and see how many you might already have…twinsies!
Looking for more easy family recipes and tips? LIKE The Typical Mom Facebook page?
Then sign up for my free newsletter, and follow me on Pinterest! 😉
***** If you LOVED this recipe give it 5 Stars below and let everyone know what you thought about it. 😉
Frozen Tilapia Air Fryer
Frozen tilapia air fryer style is incredible. Just 12 minutes gets you fork tender and flaky fish for dinner. A healthy meal we all love.
Instructions
Preheat air fryer to 375 degrees F for 5 minutes. Place a piece of parchment paper into bottom of basket with fish on top.

Lightly spray tops and sprinkle seasonings on fillets with lemon slices on top of that. Air fry for 12 – 14 minutes or until fish is cooked thru and fork tender. (timing will vary depending on how thick your fillet is)
Nutrition Facts
Frozen Tilapia Air Fryer
Amount Per Serving (1 oz)
Calories 4
% Daily Value*
Fat 0.05g0%
Polyunsaturated Fat 0.02g
Monounsaturated Fat 0.01g
Cholesterol 0.3mg0%
Sodium 437mg19%
Potassium 20mg1%
Carbohydrates 1g0%
Protein 0.2g0%
Vitamin A 3IU0%
Vitamin C 7mg8%
Calcium 4mg0%
Iron 0.1mg1%
* Percent Daily Values are based on a 2000 calorie diet.