How to cook frozen tilapia fish in oven, Instant Pot, air fryer frozen fish or microwave is here. We will share how long to bake tilapia at 400 or 375 until it's moist and fork tender.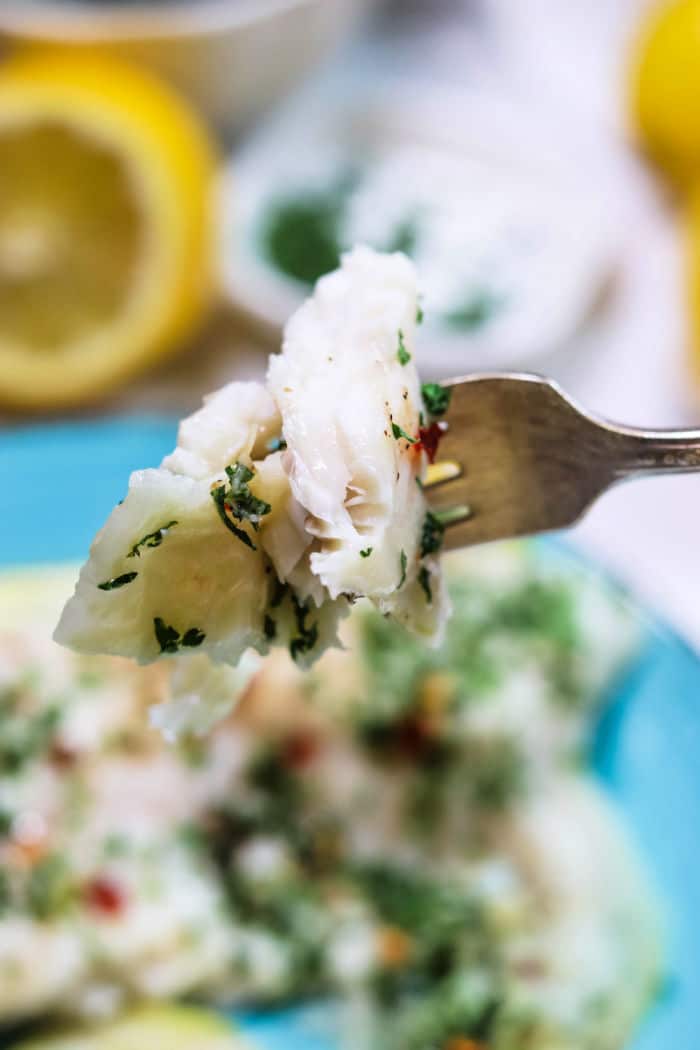 This is how to cook frozen tilapia perfectly. Our family loves seafood of all kinds but can' always find fresh year round. That is when cooking frozen meat to tender comes in really handy. (affiliate links present)
How Long to Bake Tilapia at 375
Cooking frozen fish turns out better than you may ever imagine. A healthy dinner we all love. Whether it is rock hard to defrosted, it can be baked in less than 25 minutes flat.
When it comes to all the things in the sea this is one of the least expensive I would say. We have shared how to cook frozen salmon before too but that definitely costs more than this white fish variety. That being said we do treat ourselves to them all, just not quite as often if it isn't on sale. 😉
Costco Frozen Tilapia
If you do shop at this big box store you can find some great deals, if you do I would load up. Keep an eye out in that mailer that comes out as to what is on sale. I've found it now and then super cheap and just store them in freezer bags to cook for later.
Cooking Frozen Tilapia
Cook time will vary depending on the size filets you have of course. Sometimes they are whole like you see here, others have been cut in half so keep that in mind. If you are staying in a small space without a lot of appliances you can actually cook frozen fish in a microwave! We will start with that method.
How to Microwave Frozen Fish
This is totally possible!! If you need a quick rv meal or are in a hotel room where this is the only way to cook I will show you how to nuke fish perfectly. Unwrap your fillets to begin with and you'll want a microwave safe dish with higher sides or a shallow bowl.
Put 1 lb. frozen fish fillet(s) in your dish (there will be liquid so make sure there's room to catch that)
Pour 1/2 cup diced tomatoes + 2 tbsp olive oil + + 2 tsp lemon juice + 2 tbsp water or broth over the top with any seasonings you'd like
Cover your dish with a plate so it can steam
Heat for 6 minutes or until it is flaky and tender (timing will vary depending on how thick your pieces are)
You'll be surprised at how well this works y'all! You'll just need a lemon, fillets, salt, black pepper and any other desired seasonings.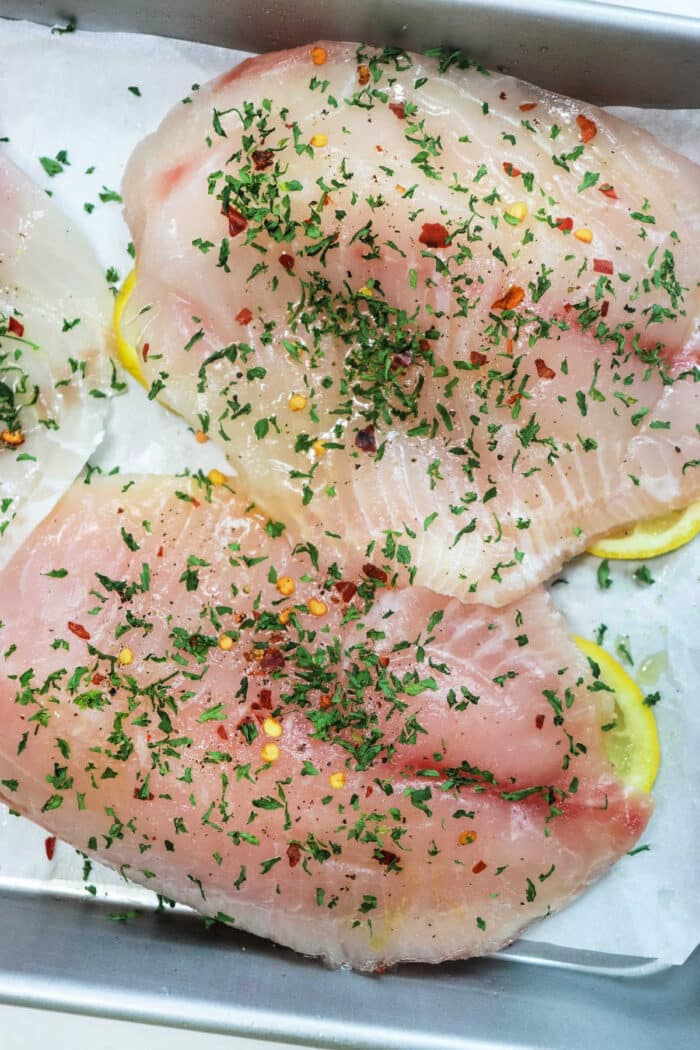 Instant Pot Frozen Fish
If you wanted to use your pressure cooker you could do that too. It really doesn't matter whether your pieces are fresh or frozen for this. Kinda' crazy but the same goes for cooking frozen shrimp too. You just set on a trivet seasoned and follow our Instant Pot fish directions to perfection.
How to Air Fry Tilapia Frozen
If you want to cook tilapia in air fryer lightly breaded you'll want to defrost it first in a bowl of cold water for a bit. Still rock hard and it is almost dinner time? NO problem, we have air fryer frozen tilapia directions here for you too.
How to Bake Frozen Tilapia
Baking frozen fish actually turns out really well. It isn't just for this type of white fish either, you can do it with any type of fillet.
What temperature should frozen tilapia be cooked to?
You do not want to overcook fish, that is my worst pet peeve. The thickest part should reach a safe 140 degrees F and remember that when it rests it will rise another 5 degrees or so too. Using a meat thermometer is helpful to get it just right.
How long does frozen tilapia take to cook?
That depends on how large your pieces are. The typical cook time will range from 20-25 minutes or so until the middle is white and can be cut easily with a fork. Flaky and tender is ideal.
Now we are going to talk about frozen fish baked in the oven. Most of us have one of these in our houses and unless it is super hot outside it is my method of choice for this.
Baked Frozen Tilapia
Line a baking sheet with a piece of parchment paper so it doesn't stick and lends to an easier clean up too. You only need a few ingredients and seasonings of your choice to make this healthy meal. You could easily add another baking sheet on another rack to make side dishes to serve with this.
I will share a few ideas we love to pair with fish recipes in general below. Of course there are many others, just choose those that cook at 375 for about 20 minutes too.
First set your oven to 400 degrees F. Slice lemons and place 3 lemon slices under each frozen tilapia fillet. Drizzle melted butter on the tilapia fillets with a sprinkle of chili pepper flakes, salt, pepper, and parsley.
Cook fish for about 20-25 minutes or until oven baked tilapia is cooked thoroughly into the center and fork tender. Timing will vary depending on how thick yours are.
Need a healthy side dish to pair with this that is right out of the freezer too? Read up on how to cook frozen brussel sprouts, or how to cook frozen asparagus for success!!
How to Save Leftover Cooked Fish
If you have been following The Typical Mom blog for any length of time you know I hate wasting food. Almost everything will reheat nicely the next day if done right, including this baked tilapia recipe. You'll just want a sealable container or freezer bag to get it right.
Allow your pieces to cool down first to room temperature first. Then transfer into a container with the air sucked out as much as possible. If you do have any drippings, especially melted butter, include that inside too to keep it moist.
Best way to reheat fish in microwave is to add a pat of butter to the top, or 1 tbsp olive oil. Heat for 30 seconds at a time and test. Remove as soon as it is warmed thru to the center. Cooking it one more rotation too long will dry it out so keep an eye on it. Serve with some jasmine rice for a fast 2nd meal.
Want to see a few of my favorite things that I am totally obsessed with?? Take a peek and see how many you might already have…twinsies!
Looking for more easy family recipes and tips? LIKE The Typical Mom Facebook page?
Then sign up for my free newsletter, and follow me on Pinterest! 😉
***** If you LOVED this recipe give it 5 Stars below and let everyone know what you thought about it. 😉
How to Cook Frozen Tilapia
How to cook frozen tilapia fish in oven, Instant Pot, air fryer or microwave is here. Cook until moist and fork tender from a frozen fillet.
Ingredients
Instructions
Set oven to 375°. Line baking sheet with parchment paper. Slice lemons and place 3 slices under each frozen fillet on sheet. Drizzle on melted butter. Top the tilapia fillets with chili pepper flakes, salt, pepper, and parsley.

Bake approx. 20-22 minutes or until tilapia is cooked thoroughly into the center and fork tender. Timing will vary depending on how thick yours are, check at 18 minutes if they're on the smaller side.
Nutrition Facts
How to Cook Frozen Tilapia
Amount Per Serving (2 oz)
Calories 140
Calories from Fat 18
% Daily Value*
Fat 2g3%
Cholesterol 64mg21%
Sodium 367mg16%
Potassium 477mg14%
Carbohydrates 5g2%
Protein 26g52%
Vitamin A 245IU5%
Vitamin C 30mg36%
Calcium 31mg3%
Iron 1mg6%
* Percent Daily Values are based on a 2000 calorie diet.