Air fryer tilapia is easy to make! Using fresh, frozen, or previously frozen fillets you can make tasty fish that's crunchy on the outside and flaky within. Grab your Ninja Foodi or other brand and get to air frying!
Do you love fish for dinner?? Us too!! We'd eat it every night for dinner if we could. When I got my new kitchen appliance I couldn't wait to make air fryer tilapia. It came out better than I thought and even my youngest said "wow, this is really good!". Just one of our favorite low fat air fryer recipes you too can enjoy right at home now. (affiliate links present)
Let's start with the basics shall we?
You can use any brand really, I just like to share what I'm using for reference and/or in case you want a change.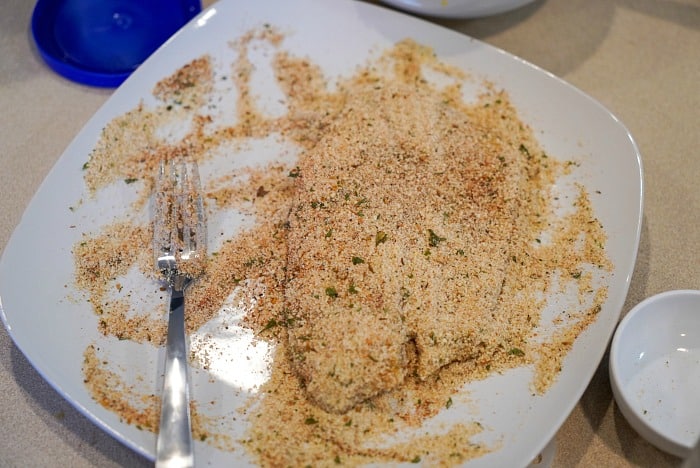 If you wondered too; can fish be cooked in an air fryer?
It can!!
You won't be able to use tempura batter, but breadcrumbs and seasonings work great.
With a bit of an egg wash, a dip in some coating, and a brief stay in your Ninja Foodi, I bet you'll love this oven fried fish too.
What's the best part??
You don't have to turn your oven on at all, and there's NO deep frying required to make it this crispy!
I like to use basic, simple ingredients to make air fryer tilapia:
Tilapia fillets – mine were previously frozen and defrosted
Italian breadcrumbs
Old Bay seasoning – I use this stuff for everything
Egg
Olive oil spray – this is my favorite one, necessary to get that great CRISP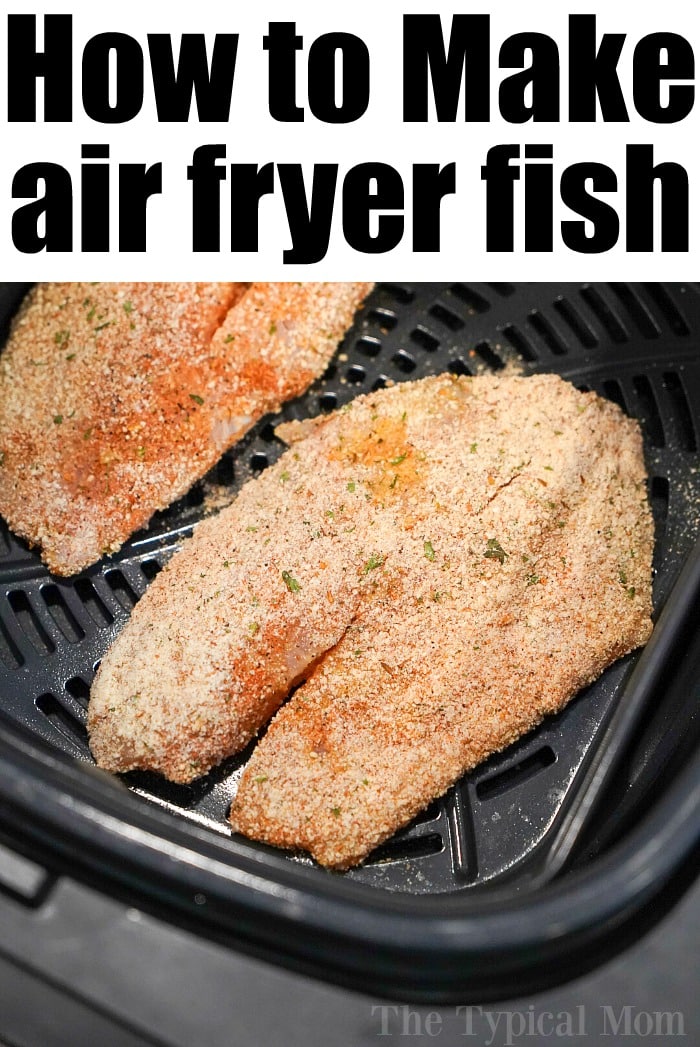 This is probably one of our favorite air fryer dinner recipes. Yes, even my kids love it. We used to live in California so fish was what you ordered all the time and it was great. Now that we live in Idaho it isn't like that. SO I started making it on my own to satisfy my cravings.
I started with this Instant Pot fish recipe which is great, but not crispy. You could use the CrispLid after it's done but without breading it isn't even close to this texture.
So, how long does it take to cook fish in an air fryer?
First off it depends on the size of your fillet, of course. Using our air fryer cooking time chart it takes about 10 minutes, that wasn't true in our case.
The key to making the best air fryer tilapia is to not overcook it.
It's fish people!! That means you don't need to bake it until it's gray (no good).
If you want it to flake easily inside you need a line in the middle to be barely done, almost still light pink.

Think of it like a steak, not a piece of pork or chicken that can't have any pink inside or it's dangerous.

People eat sushi which is completely raw for goodness sakes, so save the fish people!

This is how long it takes for frozen fish in air fryer too.
There's no harm in opening or lifting the lid up to check it during the last few minutes, that's what I do. Every piece you buy is going to be slightly different so there's no set cook time but below is a good guide.
Can you fry battered food in an air fryer?
We covered that above but no. Use a dry bread crumb coating with an egg wash to get it to stick well instead. Believe me it will satisfy that need for crunchy crispy fish.
Can you air fry frozen fish?
I personally wouldn't unless they were frozen fish sticks.
For those you just need to take them out, put them into your air fryer basket and cook for about 9 minutes flipping halfway through.
Take out when they're as golden brown as you'd like.
Preheat your air fryer to 390 beforehand for best results.
If you insist on using frozen fillets though here's: How do you cook frozen fish in an air fryer instructions.
Spray the air fryer basket with olive oil cooking spray so the fish fillets don't stick.
Preheat the air fryer to 390 F
Add the frozen fish fillets to the air fryer basket.
Cook for 9 minutes, flipping them after 4 minutes.

downsides to this is they won't come out as flaky and you cannot add breading.
Only have a pressure cooker and want to make Instant Pot tilapia?? We have directions for that too.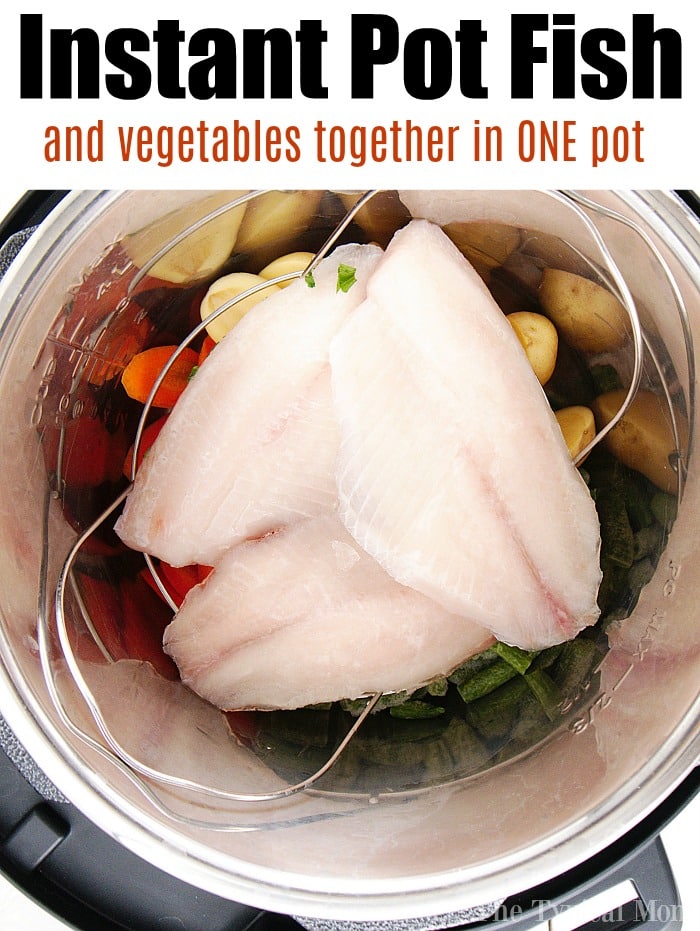 Tips for making the best air fryer fish
Preheat your air fryer for about 4 minutes
Use fresh or defrosted fillets
Follow step by step recipe for air fryer tilapia below using flavorful coating
Check frequently to ensure it doesn't overcook

we do this often with our salmon in the air fryer so it's flaky when done

Then serve with something like air fryer tater tots and enjoy!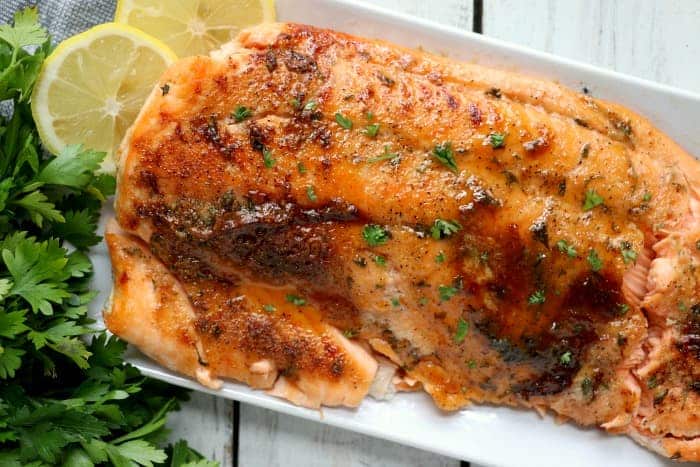 How do I preheat my air fryer you ask?
Mine has a button that says PRE. I turn my Cosori air fryer on, press PRE, set temperature and then start. It generally runs for 3-4 minutes and then stops.
With the Philips Viva Air fryer the timer button lets you preheat the device by adjusting the timer to five minutes and waiting until the warm-up light goes out. Fill the basket after that and turn the timer knob to the required cooking time.
Preheating plus cook time will be approximately 12 minutes total.
If you're using a Ninja Foodi, just turn it on and set to the temp you want for 3 minutes. Once it stops you can add your food to the air crisp basket.
Air Fryer Tilapia
Air fryer tilapia is easy to make! Using fresh, frozen, or previously frozen fillets you can make tasty fish that's crunchy on the outside and flaky within.
Ingredients
4

fish fillets

tilapia, previously frozen and defrosted

1

c

Italian bread crumbs

1 1/2

tbsp

Old Bay

or seafood magic seasoning

1

egg

whisked
Instructions
Preheat air fryer to 400 degrees. Dip fish fillet in egg, then press both sides into bread crumb mixture that has been combined with seafood seasoning on a plate.

Place inside air fryer basket. Do the same for your 2nd fillet. Do not overlap pieces.

Close lid and cook at 400 degrees for 4-6 minutes depending on the thickness of your tilapia and how well done you like it. 4 minutes was plenty for ours.
Nutrition Facts
Air Fryer Tilapia
Amount Per Serving (3 oz)
Calories 109
Calories from Fat 18
% Daily Value*
Fat 2g3%
Cholesterol 33mg11%
Sodium 334mg15%
Potassium 77mg2%
Carbohydrates 17g6%
Protein 5g10%
Vitamin A 129IU3%
Vitamin C 1mg1%
Calcium 62mg6%
Iron 2mg11%
* Percent Daily Values are based on a 2000 calorie diet.