Air fryer tilapia is easy to make! Using fresh, defrosted, or cooking frozen fish fillets you can make tasty fish that's crunchy on the outside and flaky within. Grab your Ninja Foodi or other brand and get to air frying!
Do you love fish for dinner? I couldn't wait to make air fryer tilapia when I got my hot air machine. It came out better than I thought. Even my youngest said she loved it. One of our favorite low fat air fryer recipes you too can enjoy. (originally published 10/19, affiliate links present)
Air Fryer Tilapia Thawed
If you want to learn how to cook all different types of air fryer fish, we're here to help! This uses white fish and is quite cheap for dinner. There are many different varieties though. From cod to grouper, snapper and catfish they all cook basically the same.
This type is one of our favorite fish recipes though, so we'll start here. We started out with a few pieces that were previously frozen but defrosted ahead of time. This is ideal and the only way to get them breaded nicely. We will explain both though so you have a choice.
FIRST – You should sign up for my free newsletter so you get new posts emailed to you twice a week and never miss out on anything! If you love air fryer recipes too, here are some resources to start with: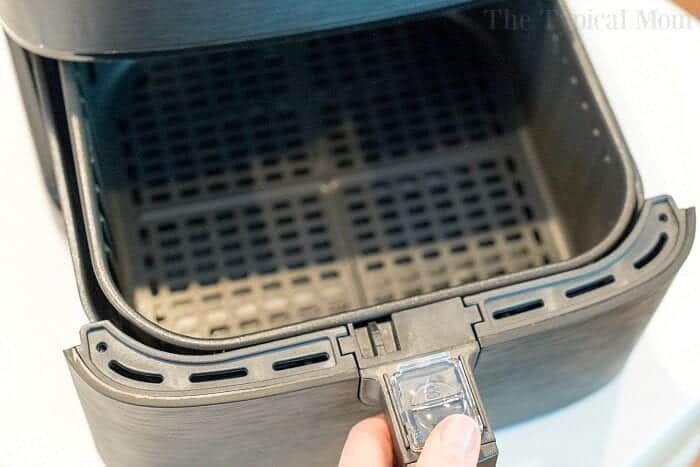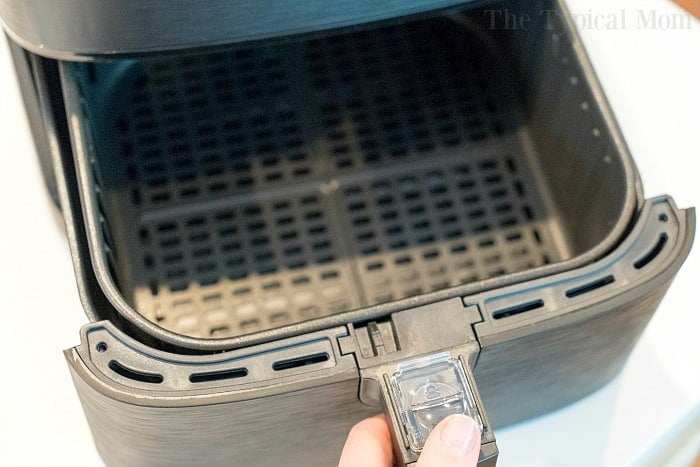 Air Fryer Tilapia No Breading
If you wanted it to quality under our air fryer fish recipe no breading category that is possible too. You can just spray with olive oil, sprinkle with seasonings and make this same way as directed below without the breadcrumbs. Timing would not really vary, the only big difference would be the size and thickness of your fillets.
You can use any air fryer brand really. I make Cosori air fryer recipes all the time. You can see that basket above. What I like about that one is the basket is square, the only way to go.
My AirWave works just as well too though. Honestly I bought that one because it was white and matched my kitchen decor the best. 😉 Any way you go I just like to share what I'm using for reference and/or in case you want a change.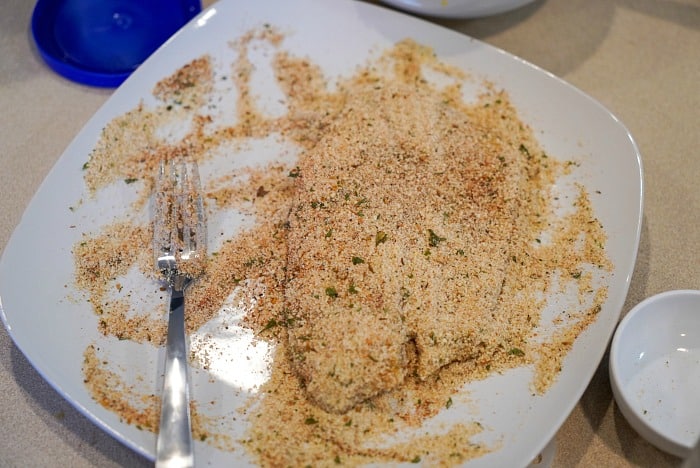 Air Fryer Tilapia Frozen
Tilapia fillets – mine were previously frozen and defrosted, any type of white fish works such as air fryer catfish etc…
Italian breadcrumbs
Old Bay seasoning – I use this stuff for everything
Egg
Can fish be cooked in an air fryer?
What's the best part?? You don't have to turn your oven on at all, and there's NO deep frying required to make it this crispy!
It can!!
You won't be able to use tempura batter, but breadcrumbs and seasonings work great.
With a bit of an egg wash, a dip in some coating, and a brief stay in your Ninja Foodi, I bet you'll love this oven fried fish too.
Olive oil spray – my favorite one to use, necessary to get that great CRISP on the outside.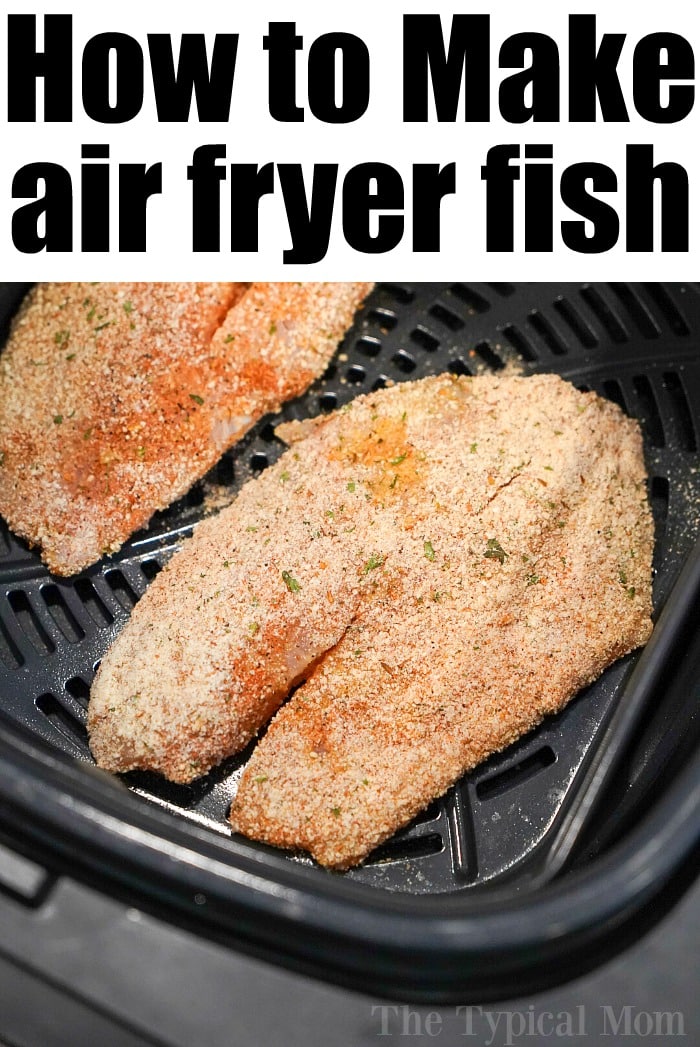 Air Fry Tilapia Recipe
This is probably one of our favorite air fryer dinner recipes. Yes, even my kids love it. We used to live in California so fish was what you ordered all the time and it was great. Now that we live in Idaho it isn't like that. SO I started making it on my own to satisfy my cravings.
I started with this Instant Pot fish recipe which is great, but not crispy. You could use the CrispLid after it's done but without breading it isn't even close to this texture.
How long does it take to cook fish in an air fryer?
First off it depends on the size of your fillet, of course. Use our air fryer cooking time chart (linked above) it takes about 10 minutes, that wasn't true in our case.
The key to making the best air fryer tilapia is to not overcook it.
It's fish people!! That means you don't need to bake it until it's gray (no good).
If you want it to flake easily inside you need a line in the middle to be barely done, almost still light pink.

Think of it like a steak, not a piece of pork or chicken that can't have any pink inside or it's dangerous.

People eat sushi which is completely raw for goodness sakes, so save the fish people!

This is how long it takes for frozen fish in air fryer too.
There's no harm in opening or lifting the lid up to check it during the last few minutes, that's what I do. Every piece you buy is going to be slightly different so there's no set cook time but below is a good guide.
Can you air fry frozen fish?
I personally wouldn't unless I was making air fryer fish sticks.
For those you just need to take them out, put them into your air fryer basket and cook for about 9 minutes flipping halfway through.
Take out when they're as golden brown as you'd like.
Preheat your air fryer to 390 beforehand for best results.
How do you cook frozen fish in an air fryer
You can read specifics in our post explaining using frozen fish above.
Spray the air fryer basket with olive oil cooking spray so the fish fillets don't stick.
Preheat the air fryer to 390 F
Add the frozen fish fillets to the air fryer basket.
Cook for 9 minutes, flipping them after 4 minutes.

downsides to this is they won't come out as flaky and you cannot add breading.
Only have a pressure cooker and want to make Instant Pot tilapia?? We have directions for that too.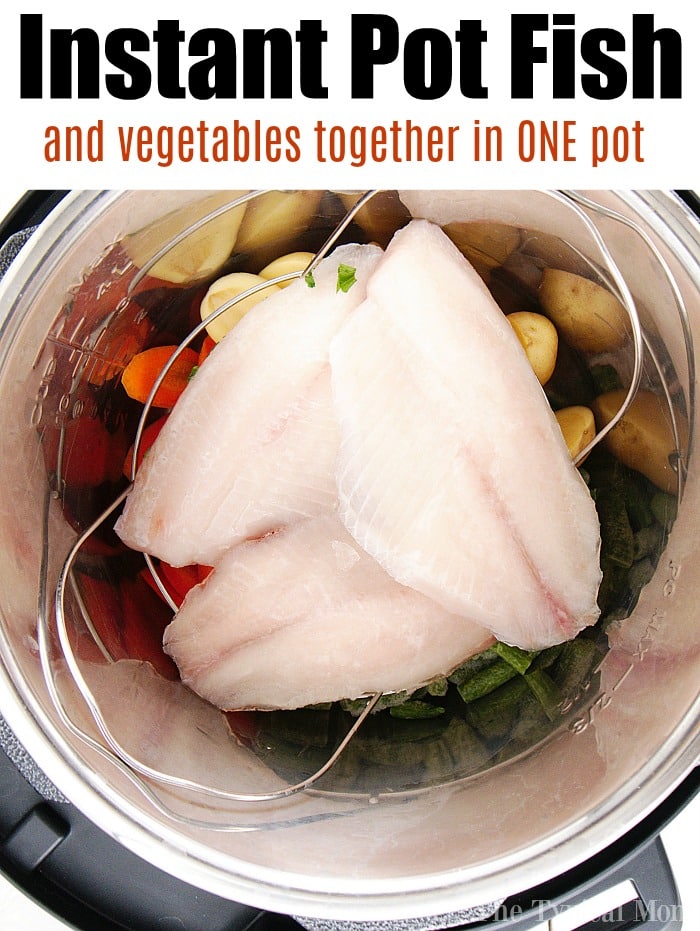 Ninja Foodi Tilapia
Here are quick step by step directions but there is a printable recipe card at the bottom of this post as well. Preheat your air fryer for 5 minutes at 400 degrees F.
Rinse fillets that are fresh or defrosted and pat dry with paper towels.
In one shallow bowl whisk egg, on a plate mix together breadcrumbs with seasonings.
Dip each fillet into egg, allow excess to drip off. Then press both sides into bread crumb mixture.
Place fish into air fryer basket and cook for 4-5 minutes until outside is very lightly browned. Check frequently to ensure it doesn't overcook.
We do this often with our salmon in the air fryer so it's flaky when done.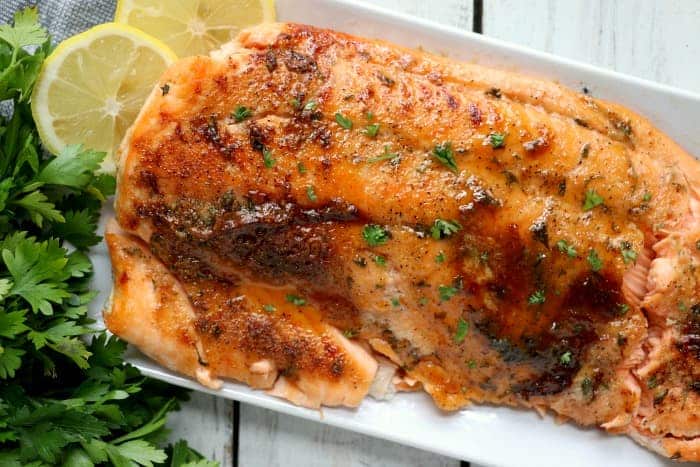 How do I preheat my air fryer?
Mine has a button that says PRE. I turn my Cosori air fryer on, press PRE, set temperature and then start. It generally runs for 3-4 minutes and then stops.
With the Philips Viva Air fryer the timer button lets you preheat the device by adjusting the timer to five minutes and waiting until the warm-up light goes out. Fill the basket after that and turn the timer knob to the required cooking time.
Preheating plus cook time will be approximately 12 minutes total.
If you're using a Ninja Foodi, just turn it on and set to the temp you want for 3 minutes. Once it stops you can add your food to the air crisp basket. Once you've enjoyed this, try this recipe for air fryer calamari too!
Want to see a few of my favorite things that I am totally obsessed with?? Take a peek and see how many you might already have…twinsies!
Looking for more easy family recipes and tips? LIKE The Typical Mom Facebook page?
Then sign up for my free newsletter, and follow me on Pinterest! 😉
***** If you LOVED this recipe give it 5 Stars below and let everyone know what you thought about it. 😉
Air Fryer Tilapia
Air fryer tilapia is easy to make! Using fresh, frozen, or previously frozen fillets you can make tasty fish that's crunchy on the outside and flaky within.
Ingredients
4

fish fillets

tilapia, previously frozen and defrosted

1

c

Italian bread crumbs

1 1/2

tbsp

Old Bay

or seafood magic seasoning

1

egg

whisked
Instructions
Preheat air fryer to 400 degrees. Use paper towels to pat fillets dry. Dip fish fillet in egg, then press both sides into bread crumb mixture that has been combined with seafood seasoning on a plate.

Place inside air fryer basket. Do the same for your 2nd fillet. Do not overlap pieces.

Close lid and cook at 400 degrees for 4-6 minutes depending on the thickness of your tilapia and how well done you like it. 4 minutes was plenty for ours.
Nutrition Facts
Air Fryer Tilapia
Amount Per Serving (3 oz)
Calories 109
Calories from Fat 18
% Daily Value*
Fat 2g3%
Cholesterol 33mg11%
Sodium 334mg15%
Potassium 77mg2%
Carbohydrates 17g6%
Protein 5g10%
Vitamin A 129IU3%
Vitamin C 1mg1%
Calcium 62mg6%
Iron 2mg11%
* Percent Daily Values are based on a 2000 calorie diet.