Here's an easy recipe for tempura batter that just needs 3 ingredients! You can make shrimp tempura, fried green beans and tempura chicken at home. It's a great way to make a crunchy side dish the kids will definitely love.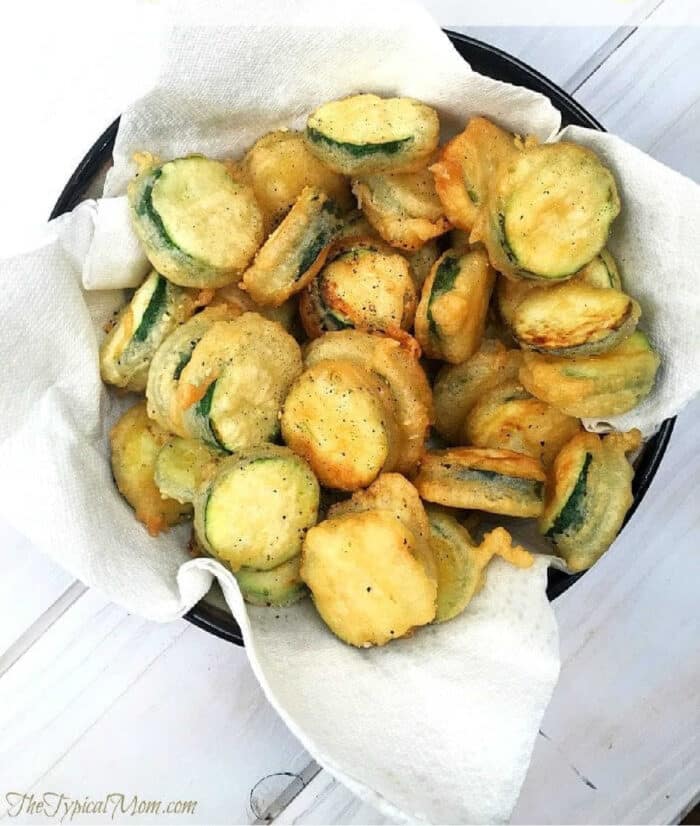 Just 3 ingredients are all you need to make this easy recipe for tempura batter. Use it for shrimp or veggies and either way it tastes amazing. It's a great way to integrate more veggies into your dinners. (affiliate links present)
Tempura Batter
Great for making side dishes crispy and delicious like our favorite salt and pepper zucchini chips. Our whole family loves perfect tempura shrimp and vegetables when we go to our favorite sushi place. I thought there had to be a way to bring that great taste home and there is.
Easy Tempura Batter
I mean 3 ingredients means simple right? One is water so I don't even really count that one but is needed for sure. NO more spending five bucks on a bag at the store because it is just pennies when you make it homemade right at home.
How do you make tempura batter from scratch?
We will show you how with just 3 ingredients! It is so easy you'll kick yourself for not making it earlier. AND may not order it out anymore.
Starting with zucchini chips was a given because they're my favorite thing to order at Carl's Jr. Thick slices of this cheap green vegetable are best because they won't get too soft and still have a "bite" to them. You could use yellow squash as well.
Easy Japanese Tempura Batter
That is when I started experimenting and came up with this easy tempura mix. Of course some people like a bit thicker breading, we like it light and not heavy. Then you can eat more veggies.
It is a great way to get your kids to eat more vegetables and a more fun way to create your own Tempura Chicken Nuggets too.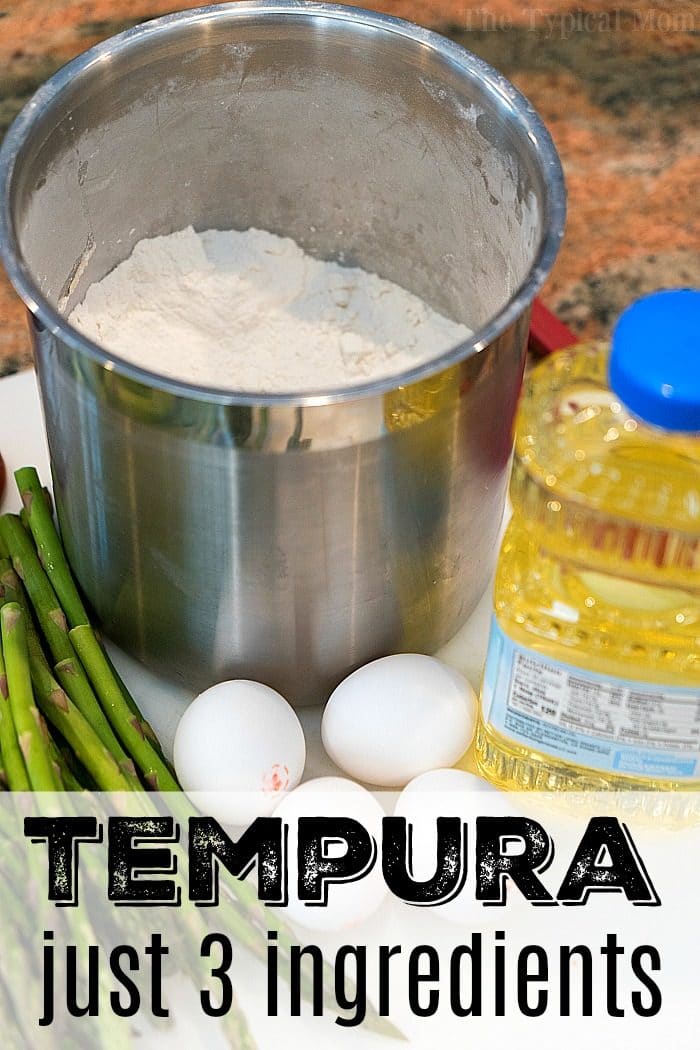 Recipe for Tempura Batter
Ok so easy y'all, the seasonings are up to you so that isn't part of the 3. You do want some since it is rather plain without anything, and you will want some salt and pepper after fried as well.
Egg whites
All purpose flour

haven't tried cake flour as of yet
this is how to measure flour properly

Ice cold water
Salt and pepper is great to add too
Hot oil
Large bowl
Any dipping sauce you want like fry sauce or ranch
Adding seasonings into the batter itself is good but really it gets a bit diluted so you will likely need to add it at the end too. Use what you like but Lawry's seasoned salt before serving is probably our favorite choice.
Tempura Batter Recipe for Chicken
Then of course you want the meat or side dishes you want to dip in it. As for proteins shrimp and chicken are the most popular. Veggies that are popular are sweet potato, zucchini, carrots, onions or other stiffer choices.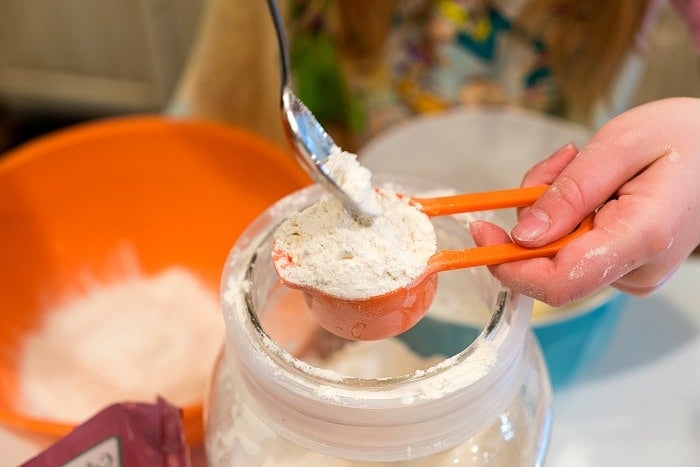 Crispy Tempura Batter Recipe
You'll need vegetable oil and a pan over medium heat to deep fry vegetables this way as well.
The last ingredient(s) are what you're going to dip, like vegetables and seafood.
I like to add the seasoned salt when it is all done but you could add a bit into the batter as well.
That is it really. Fool around with it a bit.
If you like it slightly thicker breading then add more flour.
If you want it crisper then make your oil temperature hotter before adding items. It is really easy!! I have used it on many vegetables with success. I have even used it for fish to make a crisp outer layer instead of traditional fish sticks. It works great for that too!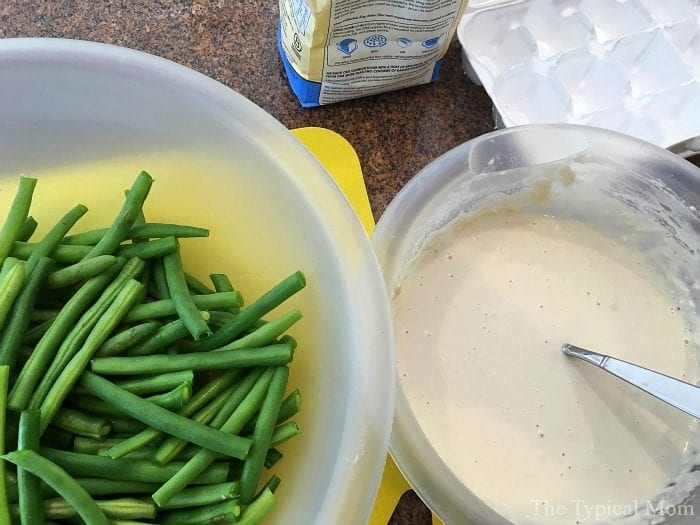 What makes tempura batter different?
Add as little or as much salt and seasonings as you like once they come out to cool but a sprinkle of garlic salt and Lawry's seasonings is great. You can add salt to the batter but really you'll want to re season once it is done for the best outcome.
If you're wondering how it varies from a breadcrumb coating:
It is lighter and fluffier.

TIPS

: To get this light consistency you want to first sift the flour.
Make sure to keep the batter as cold with ice water as possible! Add ice cubes for 15 minutes beforehand to get it really cold.
DO NOT over mix the batter.
Have layered paper towels ready so once you batter and deep fry to a golden brown you can set them there. This will absorb the excess oil and make a lighter taste. If you do not follow these suggestions, the coating will result in a more chewy and dough like fried foods.
Tempura Batter Recipes
Yes we love eating traditional green beans cooked on the stovetop with butter, but this takes them over the top delicious. You can try our air fryer fried green beans too.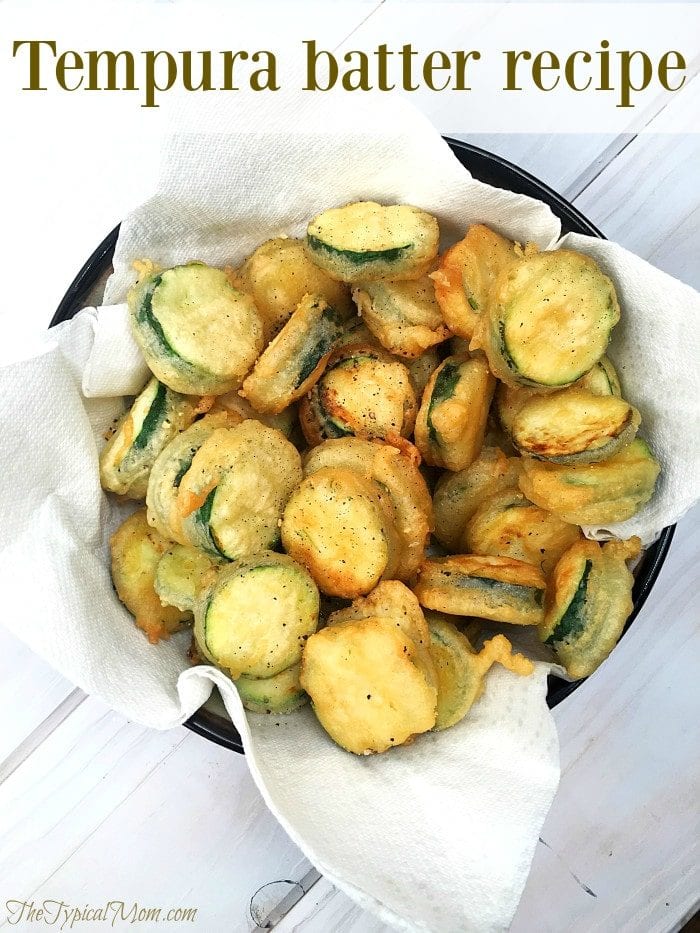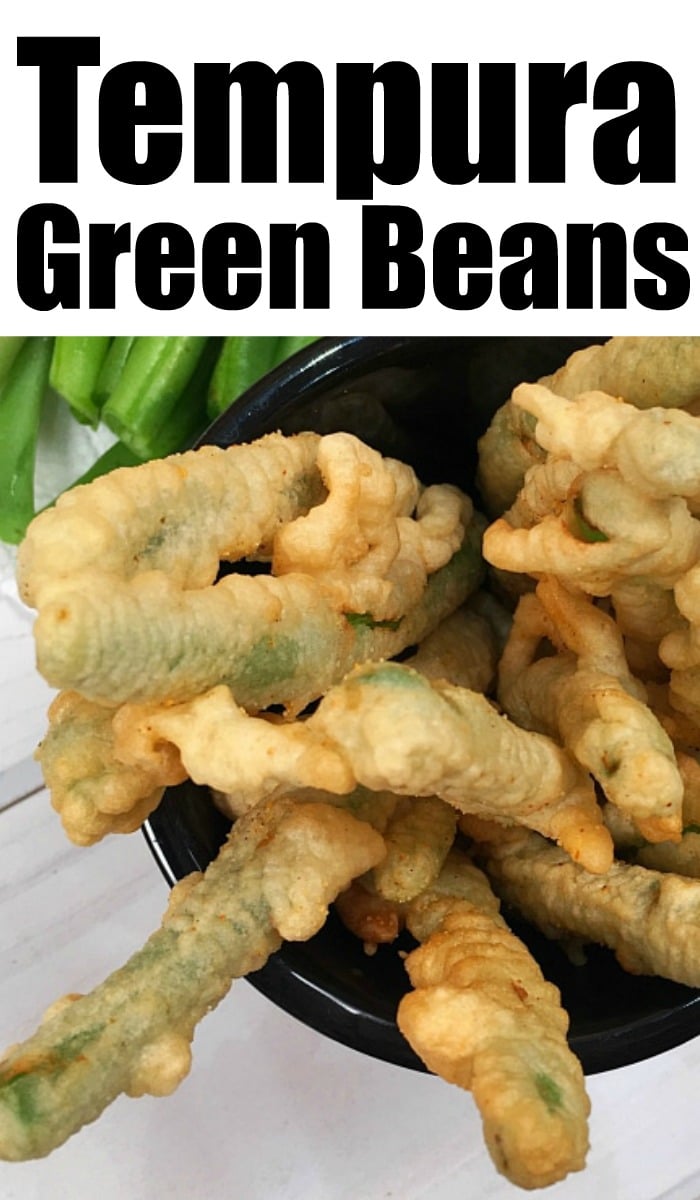 Want to see a few of my favorite things that I am totally obsessed with?? Take a peek and see how many you might already have…twinsies!
Looking for more easy family recipes and tips? LIKE The Typical Mom Facebook page?
Then sign up for my free newsletter, and follow me on Pinterest! 😉
***** If you LOVED this recipe give it 5 Stars below and let everyone know what you thought about it. 😉
Recipe for Tempura Batter
Here's an easy recipe for tempura batter that just needs 3 ingredients! You can make shrimp tempura, fried green beans and tempura vegetables at home. It's a great way to make a crunchy side dish the kids will definitely love.
Instructions
Whisk together egg whites, flour and cold water. Lay your rinsed and prepared shrimp and/or veggies on the side, on a paper towel to absorb water from rinsing.

Heat a pan of oil until it is hot enough to bubble when a small drop of batter is put in. 360 degrees F is ideal.

When batter is smooth use a fork to dip your shrimp or veggies into the mix and place in hot oil to fry to perfection.

Place on paper towel when out of oil and nicely browned to absorb the excess oil. Serve!
Nutrition Facts
Recipe for Tempura Batter
Amount Per Serving (2 oz)
Calories 122
% Daily Value*
Sodium 27mg1%
Potassium 62mg2%
Carbohydrates 24g8%
Protein 4g8%
Calcium 5mg1%
Iron 1.5mg8%
* Percent Daily Values are based on a 2000 calorie diet.