Lawry's Seasoned Salt ingredients are here so you can make it homemade yourself! Save money and adjust to your liking with this copycat recipe.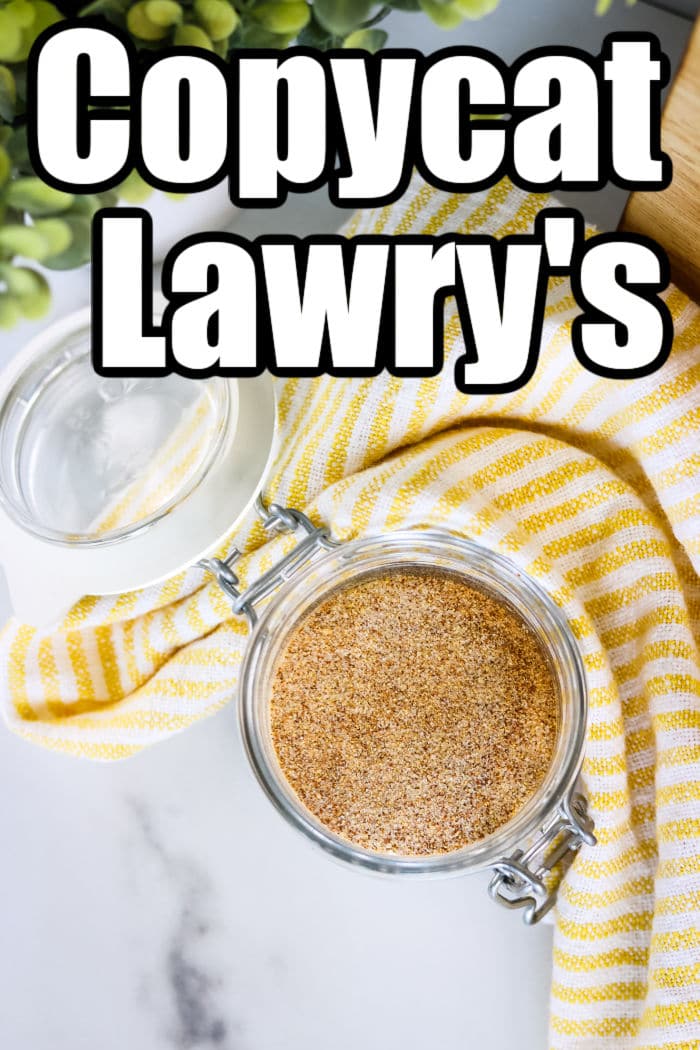 You can mix these copycat Lawry's Seasoning Salt ingredients up in a jiffy. I use this stuff so much that it was time to figure out how to make this homemade already. It was easier than I thought it would be and sharing it here for you to try too. (affiliate links present)
Copycat Lawry's Recipe
Ok so I grew up on this bottled seasoned salt. It was on the table instead of it's white counterpart and it went into everything my mom made for dinner too. I thought this was totally normal but as I got older I realized it was less common than I had imagined.
Not because it isn't loved by millions but I think it is not thought of as often as we did growing up. Let me tell you ALL the things this is great in and how to make it yourself if you're a huge lover like we are.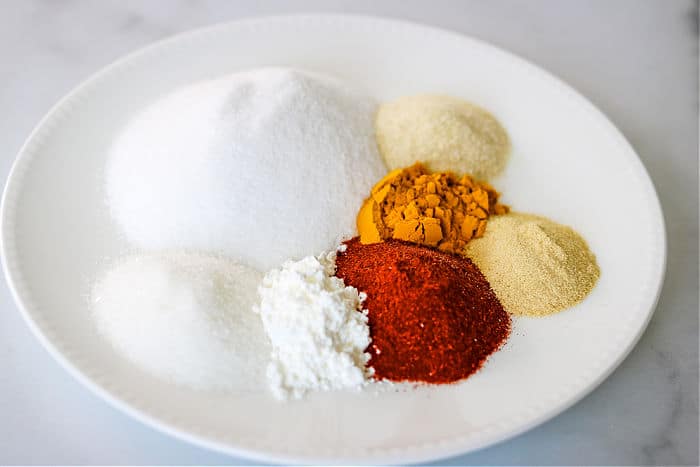 Lawry's Seasoned Salt Recipes
I mean what is this not good on?? No idea, I use it on and in all the things we make. It just makes it easier since all of the greatness is already mixed together and you don't have to get 7 different bottles out when you're cooking. Seriously, you can transform a very plain frozen chicken breast in Instant Pot to amazing, just with this on top.
This batch will make 1/3 of a cup. If you want to double or triple you definitely could and store it in these spice jars for later use. They come with chalkboard stickers so you can label what is in each and the date you packed them up.
Literally this is all you need to get started. If you don't have a whisk a fork will do just fine too. It is seriously that easy y'all.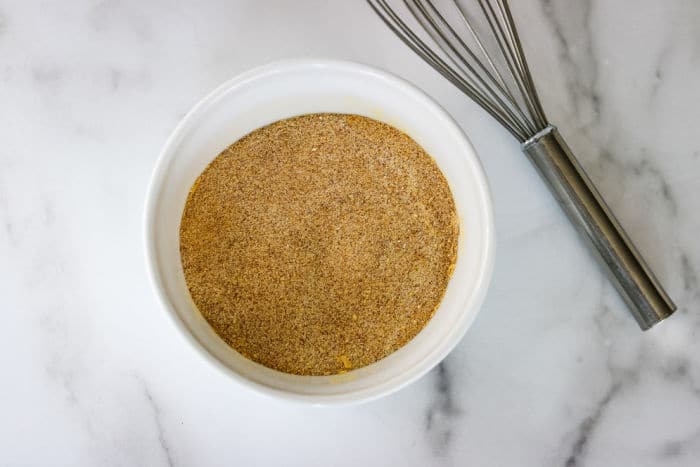 What is Lawrys Seasoned Salt Made of?
There are 7 ingredients you will need. It is highly likely you have them all in your spice cabinet already, but didn't know how much of each was needed.
Cornstarch is in it believe it or not
Regular salt is needed
White sugar
Paprika
Garlic powder
Onion Powder
Turmeric may be something you need to order

some swear by adding 1/8 tsp of celery salt too but I typically don't
NO longer will you need to buy the store bought version. Just whisk all of this together in a small bowl. The paprika, turmeric, onion powder, salt and sugar will become that iconic color you know best. Best spice blend if you ask me that is a gluten free blend of herbs and spices. No need for a spice grinder as it is smooth as is.
Just break up any clumps with the back of a fork. Sprinkle on top of any recipe like Ninja Foodi meatballs side dish and/or your rather otherwise bland rotisserie chicken and on top of French fries or chicken in air fryer.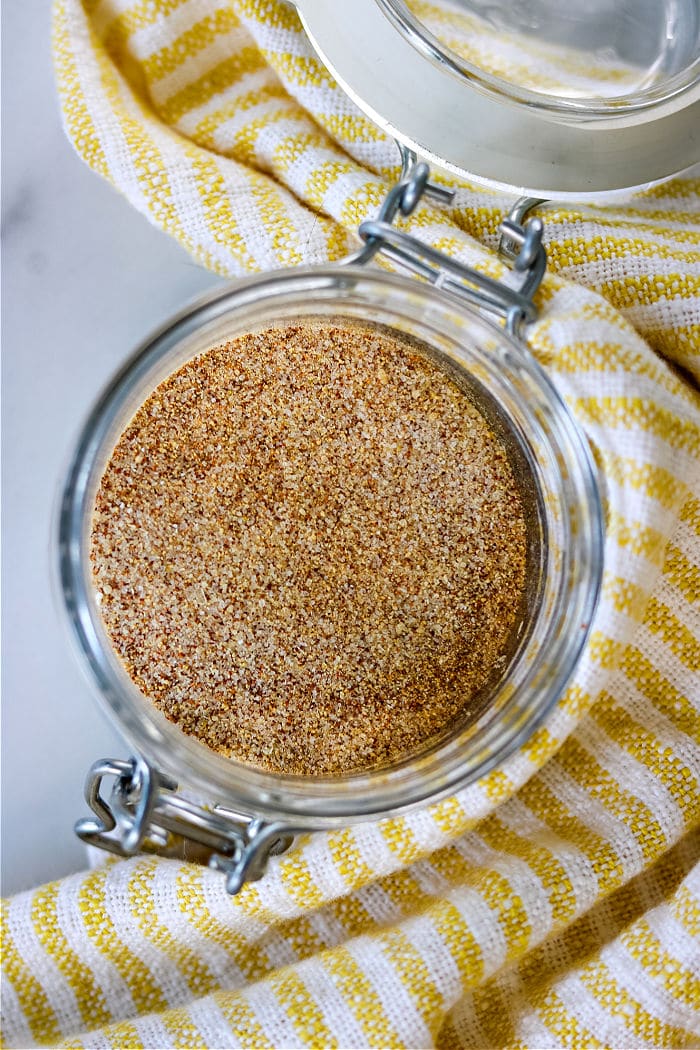 How to Make Lawrys
THAT is how to make this homemade seasoning salt that will likely replace the table salt you use now. Now, how long will this last? I mean it's just like any other sort of seasoning, it's like years. I would suggest you do mark on the outside of the bottle you store it in what it is. Then add the date it was bottled so you can keep track.
You are good for a good 1, almost 2 years before the flavors will start to wane and not be as delicious. There isn't anything in it that will necessarily spoil so you don't need to worry about that. You don't need to go thru the mess of canning food with hot water or anything either since the ingredients aren't going to spoil in that way.
Once you have it all done you can go crazy with it and make all sorts of things like our Instant Pot frozen pork butt. This shreds nicely, is fork tender in no time and makes for a healthy and cheap dinner idea. Packed with flavor we love it served on small slider buns. Any leftovers can be reheated with some of this sprinkled on the top.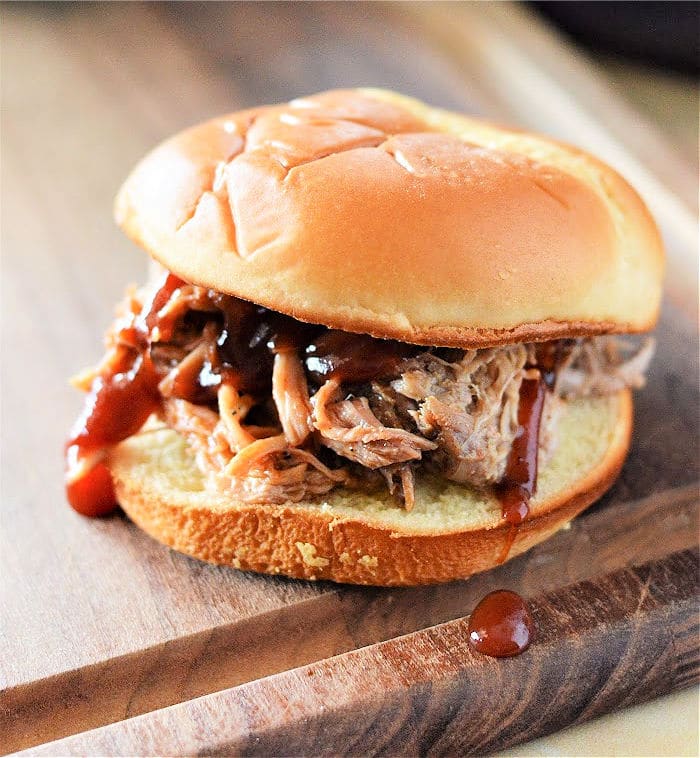 Love other copycat seasonings? You can make French onion soup mix yourself too. Save money and packaging instead of buying it at the store.
Want to see a few of my favorite things that I am totally obsessed with?? Take a peek and see how many you might already have…twinsies!
Looking for more easy family recipes and tips? LIKE The Typical Mom Facebook page?
Then sign up for my free newsletter, and follow me on Pinterest! 😉
***** If you LOVED this recipe give it 5 Stars below and let everyone know what you thought about it. 😉
Lawry's Seasoned Salt Ingredients
Lawry's Seasoned Salt ingredients so you can make it homemade yourself! Save money and adjust to your liking with this copycat recipe.
Instructions
Whisk all ingredients together until there are no clumps. Season recipes and save in sealed container for future use.
Nutrition Facts
Lawry's Seasoned Salt Ingredients
Amount Per Serving (0.5 oz)
Calories 5
Calories from Fat 9
% Daily Value*
Fat 1g2%
Sodium 1179mg51%
Potassium 12mg0%
Carbohydrates 1g0%
Protein 1g2%
Vitamin A 144IU3%
Vitamin C 1mg1%
Calcium 2mg0%
Iron 1mg6%
* Percent Daily Values are based on a 2000 calorie diet.