Best meatballs in air fryer that drains the fat and creates a crispy outside you will love. If you love tender bite size ground beef or ground turkey bites, make these. Both homemade frozen meatballs are low carb and keto friendly so everyone will give them a thumbs up.
Meatballs in an air fryer may not be on your radar or you might ask what's the point. Let me tell you they are so yummy!! I love how the meat is tender on the inside but has a nice crispy texture on the outside. Find this one and many more on our easy air fryer recipes page. (affiliate links present)
Air Fryer Meatballs for Spaghetti
We first made frozen meatballs in air fryer, but homemade is always best! You too should try them both ways and see which you prefer. Any brand of fryer will work with these instructions. You can throw them into a pot of spaghetti when done or toss with a sauce and serve as an appetizer too.
The biggest difference between all the different types is the size of the basket really. If you have a larger family you'd want a big one so you can fit more in each batch.
Ninja Foodi Meatballs
FIRST – You should sign up for my free newsletter so you get new posts emailed to you twice a week and never miss out on anything! If you love air fryer recipes too, here are some resources to start with: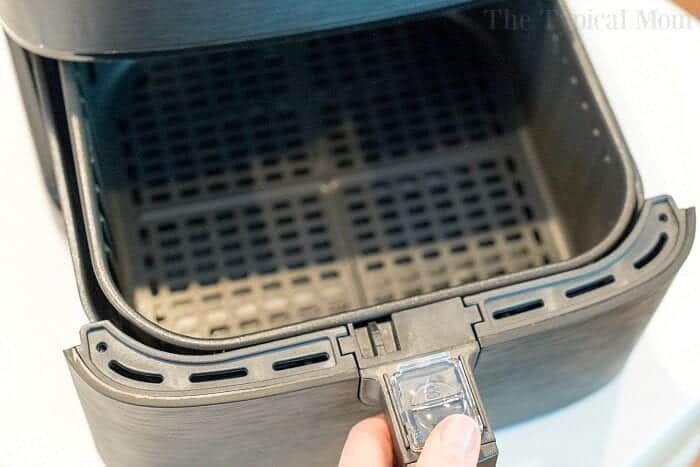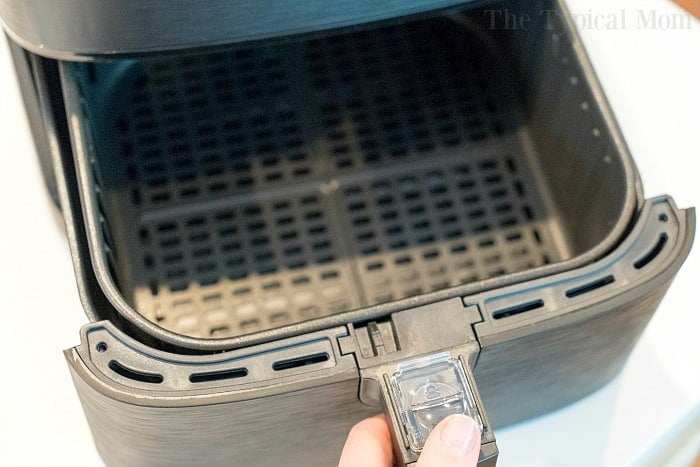 Air Fryer Meatballs Ground Beef Only
This time we only used beef since that is what we have on hand. I would suggest 80/20 as a little bit of fat will help it bind together so they don't fall apart. Here are a few questions you might have before you get going. If you have any others just let me know.
Can you put raw meat in an air fryer?
Of course, we do it all the time. Our favorite are these meatballs with ground beef. You can use other proteins though like air fryer chicken meatballs and those work the same way. Add raw wings without an issue, with or without sauce. You can even put rock hard frozen chicken breast in air fryer too!
What makes a great meatball?
You definitely need a binding agent. Most use breadcrumbs with egg where others use crispy fried onions or oats. We love our basic meatball recipe, you should really try it too.
Is it better to bake or fry meatballs?
We love meatballs in air fryer personally. It gets the meat tender inside with a crunchy outer layer that's great. Then add it to a pot of spaghetti and oh WOW!
Homemade Air Fryer Meatballs
Of course if you have a favorite quick meatloaf recipe of your own, by all means use that. I have been using this mixture for years and it was just what my mom threw together when I was a kid. Guess I am just used to it, think it is great and find no need to sway from it.
If you do have your own family recipe for the mixture then by all means use that. I think everyone has "their mom's meatloaf" they love and surely brings back memories for you. 😉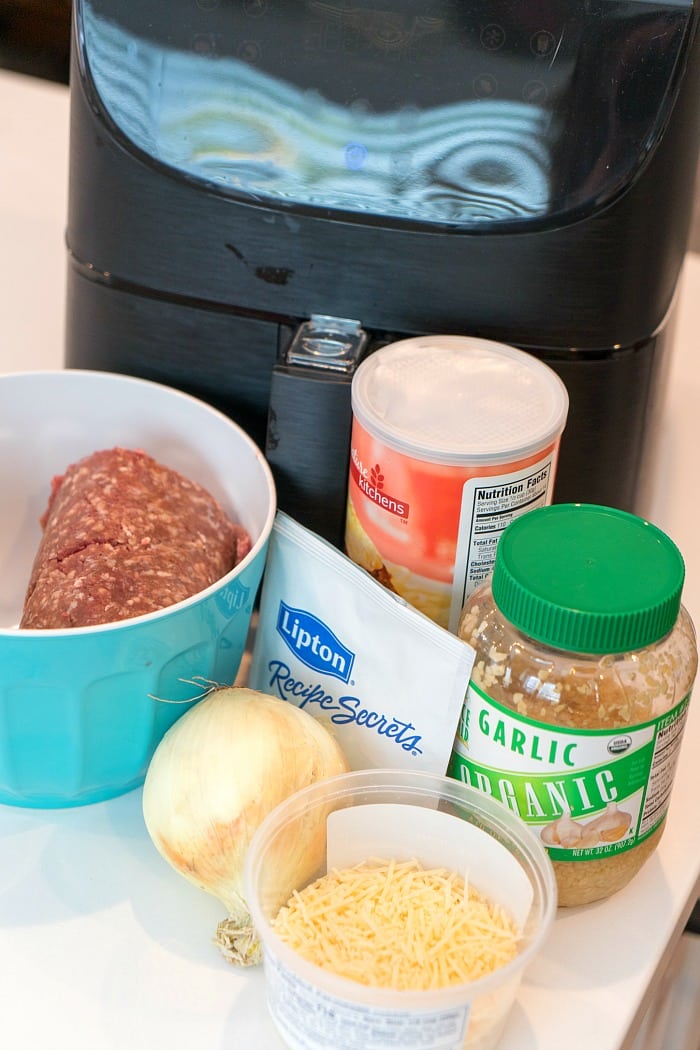 Air Fryer Meatballs
I make the same mixture and then just roll it into meatballs that are a bit bigger than golf balls. The larger they are the more tender they will be inside, but may take an extra minute. The biggest thing to remember is to make them all the same, or very similar, size so they're all done at the same time.
This is what I use in my ground beef mixture.
Ground beef
Onion
Italian breadcrumbs
Egg
Parmesan cheese
Minced garlic
Onion soup mix

or make your own
Add or omit what you want but this is my go to for meatballs in the air fryer. If you have seasonings of your own that are musts then by all means go with that. This is literally what I use to make my family meatloaf, and I just portioned them out into smaller balls.
How Long to Cook Large Meatballs in Air Fryer
Now it is time to mix. Please, just use your hands!! It is so much easier to really really incorporate all the ingredients together if you just take off your rings and knead it all together.
I use the measurements below but honestly, I normally don't even measure the bread crumbs.
What I do is add all the other stuff and add some from the container, mix, add a bit more if it is still sticky.
When it reaches this consistency you see here I know I have enough added.
If your meatballs are really tacky you probably need a bit more. I use the same mixture for this and porcupine meatballs Instant Pot style, but add rice to those too.
The biggest thing is to make sure each piece is about the same size as the others. This is important so that they cook evenly and all come out just as moist on the inside and crispy on the outside as it's "neighbor". I don't like huge, but medium like a small cookie scoop size is perfect.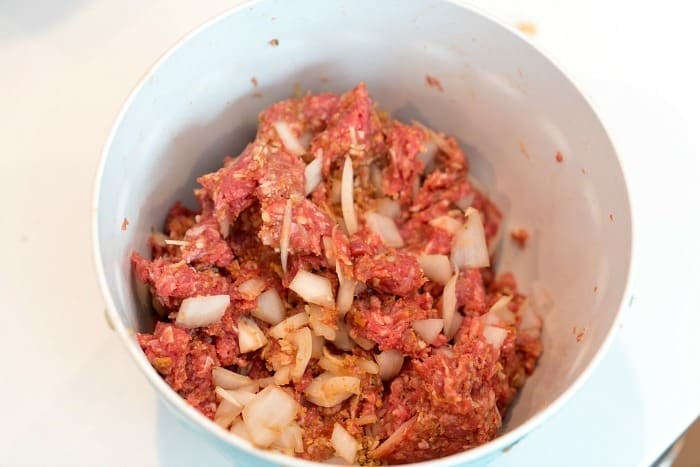 Things to remember when forming and the sizing of these babies is: The larger they are the longer they will take to cook thoroughly, obviously. However, if you don't like your hamburger well done then larger is probably the best size for you.
I prefer a golf ball size meatball so there isn't really any pink inside and the outsides are nice and crispy!
Meatballs in the air fryer
Because how crispy they get AND the fact that the fat automatically drains away from the meat. You see the grates underneath have a space so while they cook the saturated fat just drains away from the meat.
It's great! There's nothing worse than cooking a meatloaf in the oven, take it out, and see that it's been sizzling in the fat and there's tons to drain away before cutting it.
Of course there is a difference depending on what % ground beef you purchase. Honestly I prefer 80/20 over 90/10 because the fat does give it great flavor. I just don't like it bathing in it while it cooks.
The hamburger we use now, and for the past year, came from a local organic cow. Yes, we have a huge freezer packed with it so it is quite lean, you can buy meat in bulk here too!
Give them a bit of space in a single layer in your air fryer basket, close the drawer or crisp lid and let them sizzle away until lightly browned. It is so quick and easy with such a fast cook time.
In under 30 minutes you can have this and a side of air fryer cauliflower and butter noodles!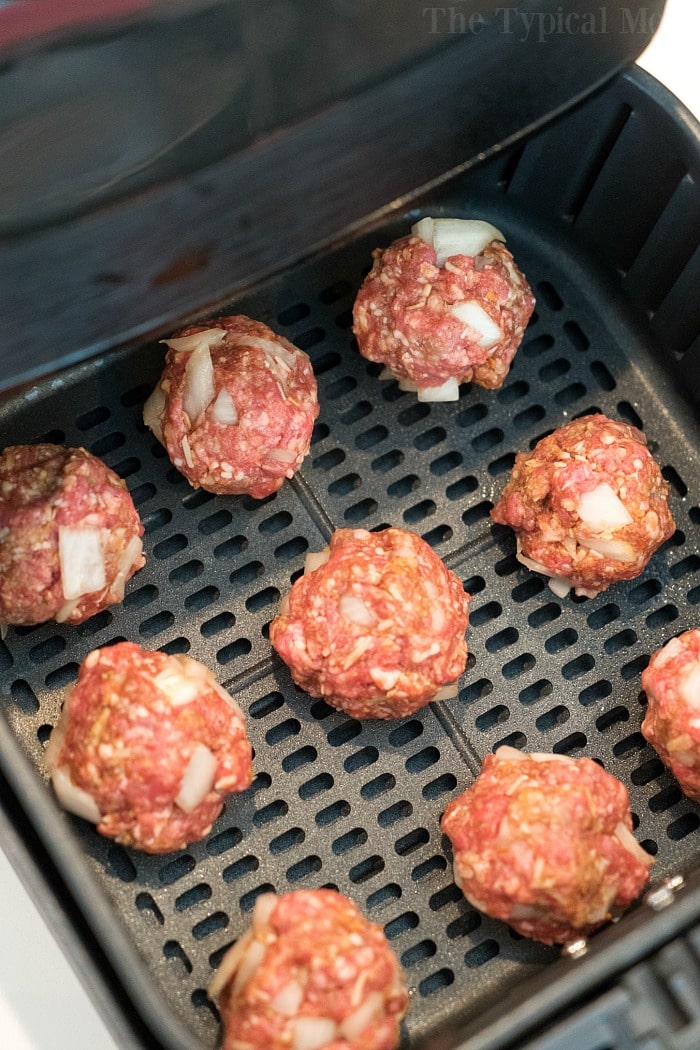 OR pour a sauce over them like our cranberry meatballs or just toss with some barbecue sauce or spaghetti sauce and serve as an appetizer!
Air Fried Meatballs
They're super versatile for sure. On a keto diet you can keep them as is and each one is super high in protein and low carb. You really don't need sauce because there's tons of flavor inside each one. Pop a few in your mouth as a meal or take them for on the go.
They save well when cooled inside freezer bags in the fridge. Reheat in the microwave or air fry them the next day for about 3 minutes.
Looking for other easy recipes for your air fryer and Ninja Foodi:
When cooking meatballs this way it is best to preheat your air fryer to 350 degrees just for a few minutes. If you forget don't worry, it will just take a few more minutes.
Want to see a few of my favorite things that I am totally obsessed with?? Take a peek and see how many you might already have…twinsies!
Looking for more easy family recipes and tips? LIKE The Typical Mom Facebook page?
Then sign up for my free newsletter, and follow me on Pinterest! 😉
***** If you LOVED this recipe give it 5 Stars below and let everyone know what you thought about it. 😉
Meatballs in Air Fryer
Best meatballs in air fryer that drains the fat and creates a crispy outside you will love. If you love tender bite size ground beef bites, try these.
Instructions
Mix all ingredients together. Preheat air fryer for 4 minutes at 350 degrees.

Form meat mixture into golf ball size balls and put into preheated air fryer, leave a bit of room in between each one.

Cook for 8-10 min. total (depending on the size of your meatballs), flipping them halfway through the cooking process.
Nutrition Facts
Meatballs in Air Fryer
Amount Per Serving (2 oz)
Calories 259
Calories from Fat 162
% Daily Value*
Fat 18g28%
Cholesterol 87mg29%
Sodium 224mg10%
Potassium 259mg7%
Carbohydrates 6g2%
Protein 17g34%
Vitamin A 97IU2%
Vitamin C 1mg1%
Calcium 73mg7%
Iron 2mg11%
* Percent Daily Values are based on a 2000 calorie diet.