We have talked about how to cook frozen meatballs a few different ways. This is how long to cook meatballs in oven specifically. Whether they are pre-made or homemade with ground beef or turkey they come out tender and delicious every time.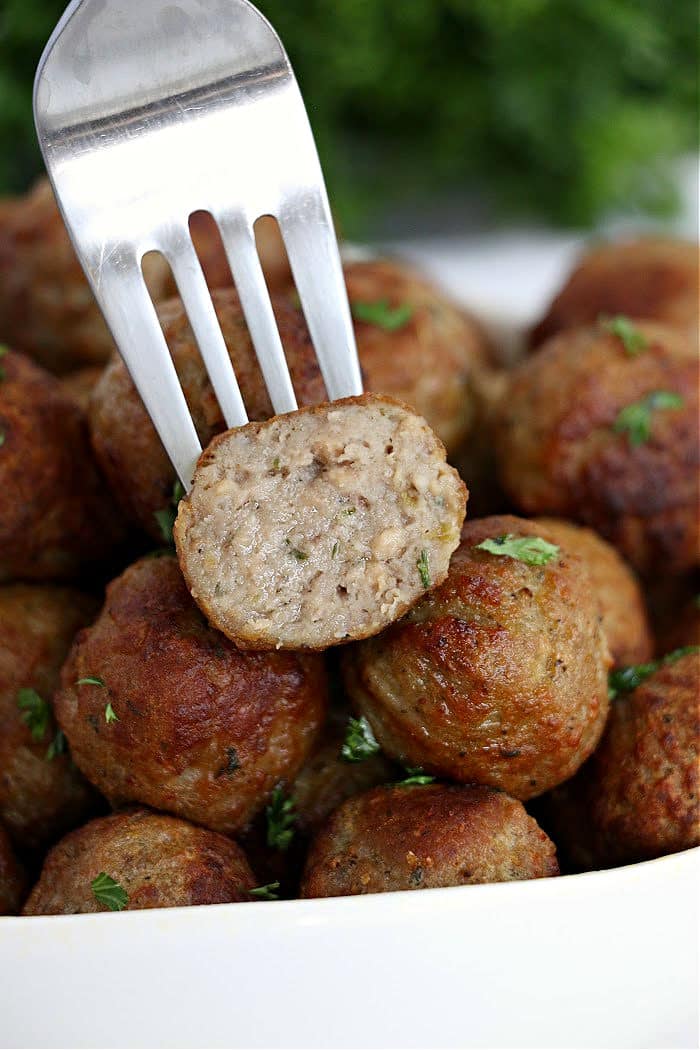 This is how to cook meatballs in oven perfectly. You can make them homemade with ground beef, turkey, pork or a mixture of them. If you have time those are best but we will go over bagged right out of the freezer as well. All make a great appetizer or thrown into spaghetti. (affiliate links present)
How Long to Cook Meatballs in Oven at 350
Whether you want to cook frozen or our homemade meatballs without bread crumbs, it's basically the same. Of course timing will vary depending on how large they are. I would suggest no more than 1 heaping tbsp of mixture each with space between them. 15-20 minutes is about right.
You want the outsides to be a nice golden brown, I like them on a bit on the crispier side like air fryer meatballs. If using beef the very center could be a bit pink. For pork or chicken meatballs recipe you would need a safe internal temperature before consuming. Use a digital thermometer for that.
Homemade Meatballs in Oven
If you want to make these from scratch, I don't blame you. I will say that the frozen processed versions do have a more rubbery texture that isn't super great but they are convenient. The best way to go about this honestly is to use a quick meatloaf recipe like this one. Instead of cooking it in a loaf just scoop it out with a small ice cream scoop.
You likely have a passed down ground beef version of your own. Just make that if it is your fave and break it up into smaller pieces. I mean that is all it really is right?? I've done this too when making meatloaf muffins.
When they are fresh you will get a decent amount of grease on your pan, depending on the fat content. Use some foil underneath for an easier cleanup but spray it with non stick spray first so they don't stick. If you want the grease to drain away from the meat you can set them on a cooling rack on the baking sheet too.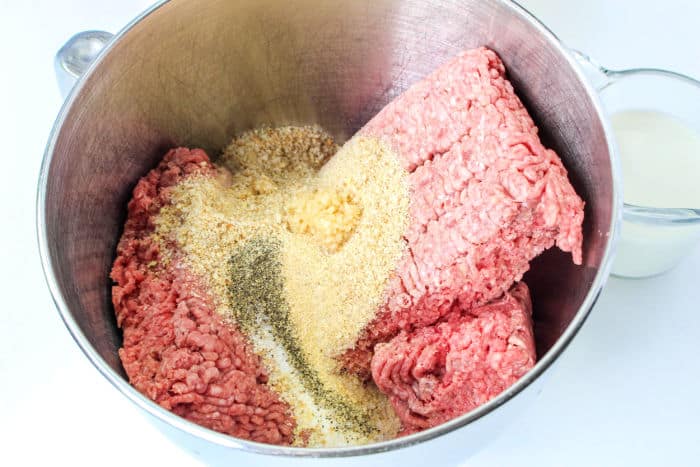 How to Cook Meatballs in Oven
So you will need a baking sheet for this baked meatball recipe. If you are making them yourself a bowl would be necessary as well as a spoon or spatula. Either way you want them to be in a single layer, not overlapping, and with a bit of space between them. If not you won't get browned all the way around. No need to really move them around mid cook time.
Preheat oven to 350 degrees Fahrenheit and place desired number of meatballs in a single layer on a baking sheet.

if making homemade mix meat mixture and form into 1.5″ balls
line with non stick foil or parchment paper for an easier cleanup

How long to bake meatballs will depend on their size but typically 15-20 minutes is right

or until outside is browned and insides are cooked thru

Remove from oven and serve with your favorite sauce.
How Long to Bake Meatballs
If you are throwing them into a pot of Instant Pot spaghetti meatballs then you wouldn't need to do anything further. I would just make your pot of noodles and sauce and then fold these in at the end. Of course you can just cook them in the same pot too but you won't get a crisp to them at all that way.
Baked Meatballs No Sauce
There are pluses and minuses to baking meatballs without sauce. The texture is way better on the outside when the hot air can get all the way around them. You may not want to add extra flavors if you are adding these to another dish entirely either. BUT if you are serving these as a meatball appetizer it is great.
Barbecue sauce or teriyaki would probably be the most common. If you want it to kinda' caramelize on the outside I would brush it all over the last five minutes. Another option is to pour them into a metal bowl after 15 minutes with the sauce. Toss to coat, pour back on to the sheet and bake another 3-5. This way it will bake on thick.
Alternatively you can just use sauce as a dip when done. We do this with all of our sausage balls dip recipes. Sometimes it is fun to offer them all with guests so they can try them all.
Oven Baked Meatballs in Sauce
With frozen balls 😉 you could toss in marinara like Instant Pot meatballs and go. That way when they cook it will soak up some of those flavors, then add more on top of your delicious meatballs when done. If you were to pan fry these first you would want to just crisp the outsides. Then keep in your oven safe skillet into the oven at 400 degrees Fahrenheit for about 10 min.
From start to finish you're looking at about a 20 minute meal, or snack. If you do have leftovers they save really well. Wait until they are completely cool and then transfer into a freezer safe container if you want to keep up to 3 months. I would only do this for from scratch, frozen has already been in the freezer so they need to be stored in the fridge for up to 3 days.
When you are ready to enjoy them again move into a microwave safe dish. Put a plate or paper towel on top and heat for 1 minute stirring halfway thru. Toss with as much sauce as you have left to keep them nice and moist. You could add 2 tbsp of spaghetti sauce if you don't have enough stored in your container.
How Long to Cook Meatballs in Oven Celcius
You'd want to set your oven to 177 C. for this and it would still take about 17 minutes to bake. If you have another favorite meat mixture you think works really well for this let us know so we can try your recipe too!
Want to see a few of my favorite things that I am totally obsessed with?? Take a peek and see how many you might already have…twinsies!
Looking for more easy family recipes and tips? LIKE The Typical Mom Facebook page?
Then sign up for my free newsletter, and follow me on Pinterest! 😉
***** If you LOVED this recipe give it 5 Stars below and let everyone know what you thought about it. 😉
How Long to Cook Meatballs in Oven
This is how long to cook meatballs in the oven homemade or frozen so they come out tender with a little crisp on the outside.
Instructions
Preheat oven to 350 F and place desired number of meatballs in a single layer on a baking sheet. Bake for 15-20 minutes until outside is browned and insides are cooked thru. Remove from oven and serve with your favorite sauce.
Nutrition Facts
How Long to Cook Meatballs in Oven
Amount Per Serving (1 oz)
Calories 298
Calories from Fat 216
% Daily Value*
Fat 24g37%
Cholesterol 82mg27%
Sodium 63mg3%
Potassium 325mg9%
Protein 19g38%
Vitamin A 8IU0%
Vitamin C 1mg1%
Calcium 16mg2%
Iron 1mg6%
* Percent Daily Values are based on a 2000 calorie diet.