Instant Pot meatballs can be made 4 different ways with frozen meatballs from the store! Get ready for the best pressure cooker dinner or appetizer.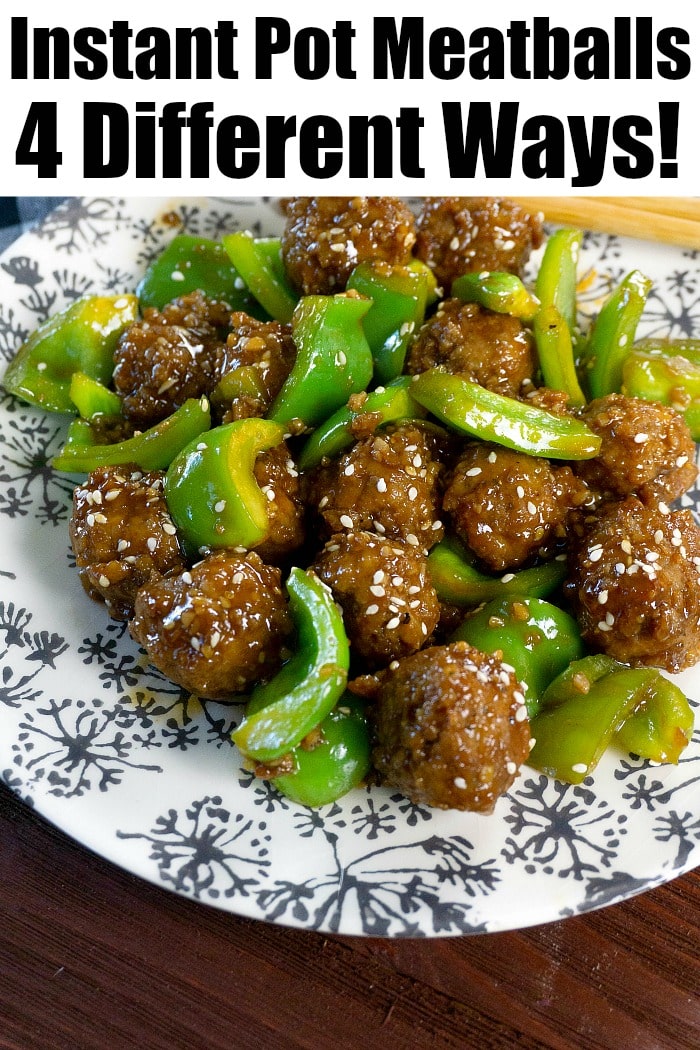 Once you've made your first batch of Instant Pot meatballs your life will be changed. lol. Ok maybe not to that extent, but you will know how to throw together a tasty appetizer in no time at all. If you love easy Instant Pot recipes then this one, well actually four, are for you! (affiliate links present, originally published 1/20)
Insta Pot Meatballs
We will start with a few basics when it comes to cooking meatballs in your Instant Pot. 99% of the time they'll be in a bag and frozen. That is the easiest and fastest way to make any of these. Of course homemade is best but are more time consuming and need to be sauteed first so they don't break apart.
I described here how to cook pressure cooker frozen meatballs here. That's where this whole thing started… Those can be manipulated and flavored all sorts of different ways and in general are the cheapest and fastest way to make any of these.
FIRST – You should sign up for my free newsletter so you get new posts emailed to you twice a week and never miss out on anything! Now let's start with a few basic tips:
Make sure to Bookmark our InstaPot recipes page. We add new ones each week!
Then PRINT this —–> Instant Pot cooking times cheat sheet that will help you understand how long meat, vegetables and beans take to cook in your pressure cooker.
For reference, this is the pressure cooker I have (a 6 quart) and use for all recipe creations.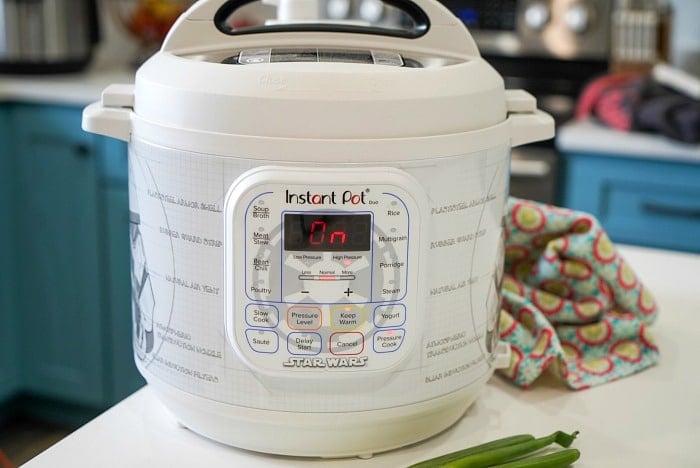 Instant Pot Meatball Recipes
It's great to know how to defrost these so you can use them in a multitude of recipes like our Crockpot spaghetti and meatballs with pasta sauce. You can of course use your microwave to thaw beforehand but that isn't even really necessary. If you just use hot steam or a sauce of your choice they will cook to tender without that step!
Within that post I share how to make these grape jelly meatball recipe too. They're the best appetizer seriously. You just need a few ingredients to create a sort of sweet and savory sauce with a kick. You can of course add more heat and make them spicy too with Sriracha or red pepper flakes as well.
In the past when I had a bunch of people over I would bake meatballs in oven. Those are great too but take much longer. The biggest difference between the two is baked will get the outsides crispy. Try both and see which is your favorite from then going forward.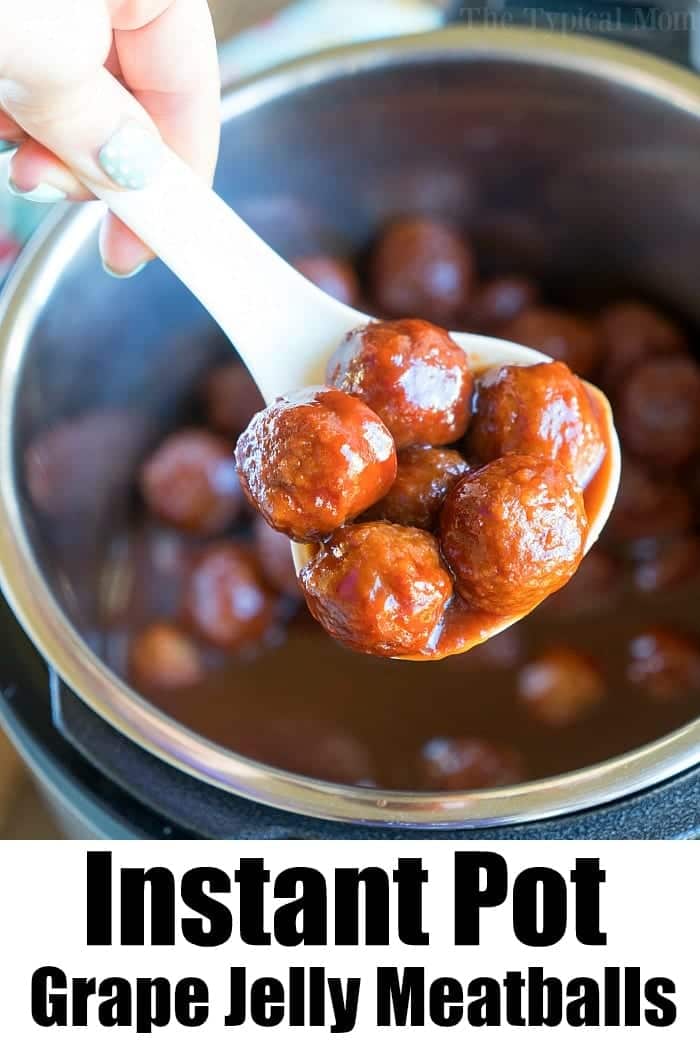 Instant Pot Meatballs No Sauce
NO sauce is necessary if you want to add into another dish. You will need a steamer basket like this one so the hot water can thaw and cook them in just a few minutes. Now if you want to make a heartier Instant Pot side dish sort of meal, try these Asian meatballs here. This could almost be a main dish though really.
Can you use these same instructions if you have a Ninja Foodi? Absolutely! If you haven't figured it out yet, they're interchangeable.
You can use any and all pressure cooker recipes in either pot. Making this as a Crockpot Express recipe or in your Mealthy would work the same way too.
Instant Pot accessories you will need: just this vegetable steamer! You're essentially just steaming them so they're tender before adding sauces and other ingredients.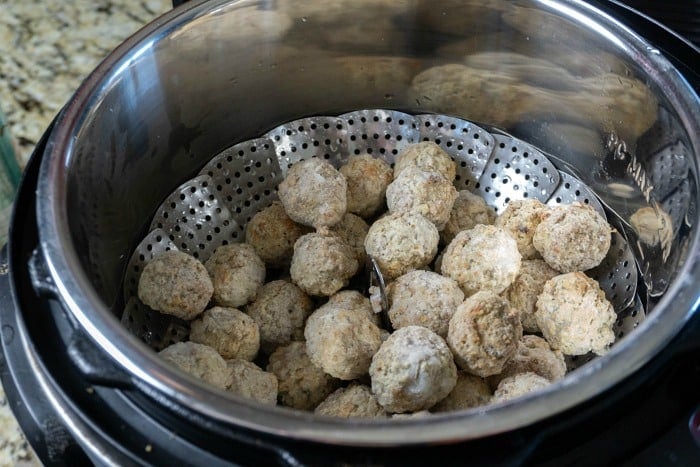 Pressure Cooker meatballs
I do offer a printable recipe card at the bottom of this post. There are a few choices as I stated above so first decide if you want to cook in the sauce, or not. If you want to then choose which flavors you want to focus on. Below is a quick rundown if you just want to steam meatballs in pressure cooker.
Pour a cup of water into your inner pot.
Place basket inside and open it up.
Dump frozen meatballs inside and close your lid and steam valve.
Cook on high pressure for 6 minutes followed by a quick release.
Drain water and dump tender meatballs into your pot.
Then if you want to add our sauce listed you would continue on to;

In a separate bowl whisk together your sauce ingredients and pour that inside with your bell peppers.
Set pot to saute and allow to bubble. This will allow the veggies to soften and meat to soak up a bit of this yummy Asian sauce. There are a ton of variations for this though. If you just want an appetizer with toothpicks you might want to omit the peppers entirely. Want a bit of heat? Add some chili powder into the mix.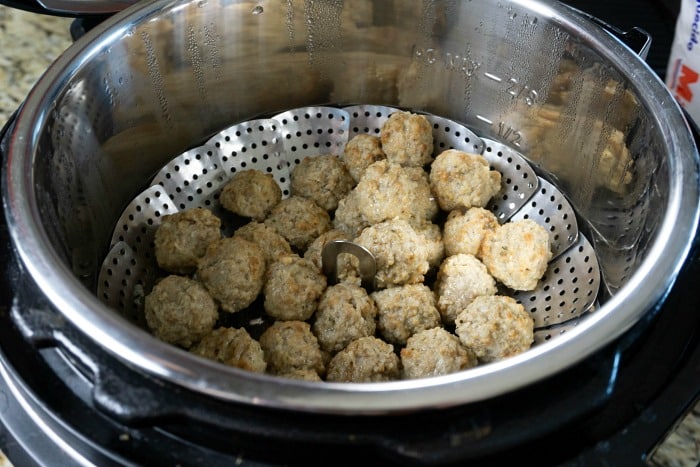 Instant Pot Meatballs with Sauce
Once you have them defrosted and nice and tender you can choose the sauce. If you're in a hurry a bottle of barbecue sauce, grape jelly and chili sauce will do the trick. That is right, this one can be cooked right inside the inner pot itself. Just like if you were to throw it all in a pot on your stovetop or make Crockpot frozen meatballs.
You don't even need to close the lid for this one. That is right, just use the saute function to mimic a pan on your stovetop where the hot sauce cooks the meat until they are the softer texture you want.
Just set to saute, whisk these 3 items together in the pot until smooth and then add your meatballs. Allow to bubble for a few minutes and you're set.
Another easy one are our cranberry meatballs with a homemade tangy bbq sauce perfect for the holidays. If you want to make something more from scratch with an Asian flare, this one is great below. Sweet, tangy and with as much heat as you desire, people will surely fall all over these Instant Pot meatballs.
Meatballs in an Instant Pot
If you do want to make this sauce with sliced bell peppers and onions listed below this is what we put together. There are bottled sauces you could use too. I have seen sweet and sour sauce blends that are already made, and teriyaki styles too.
We use one bag of frozen meatballs in a bag
Bell peppers
Onion is great too
Water or broth
Soy sauce
Brown sugar
Minced garlic and ginger
Hoisin sauce
Sesame seeds are a nice touch
Toothpicks are needed if serving as a football party food. Just unplug the pot with the lid ajar and a spoon ready for people to lift as many out as your guests would like.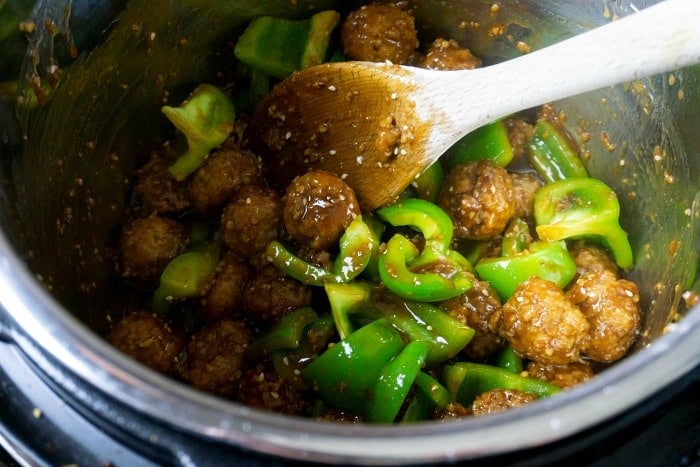 Ninja Foodi Meatballs
Looking for more great finger foods to serve your guests?
Want to cook meatballs in an air fryer too? I prefer fresh ground beef for these but they're super amazing and keto friendly too. If you're looking for a low carb meal this one is delicious.
Our final recipe you can try are our Instant Pot Swedish meatballs which use a homemade sauce everyone goes crazy for.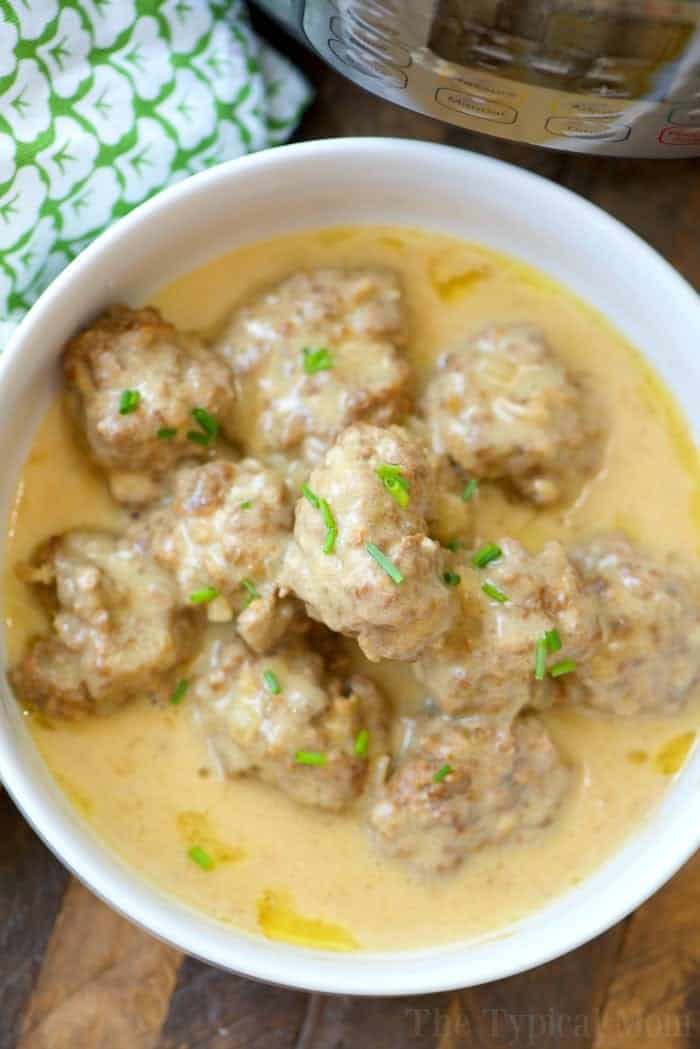 Instant Pot Meatballs and Gravy
I made homemade ground beef meatballs for this recipe using bread crumbs, egg, and a few other ingredients. You could use your own recipe for those and saute in the pot first.
If you make homemade you need to make sure you deglaze the pot after cooking them in order to avoid the burn notice.
This might be a better option if you need a gluten free recipe, that way you know exactly what's inside the meat mixture.
If you aren't keen on this sauce you could from there cook them in spaghetti sauce, gravy or a mixture of your own tomato sauces. Pressure cook for just a short cooking time and serve with 1/2 cup of parmesan cheese on top. An easy meal for sure.
Once you're done you can keep any of these Instant Pot meatballs versions inside a slow cooker on warm. A great option if you're having a party with multiple people.
Want to see a few of my favorite things that I am totally obsessed with?? Take a peek and see how many you might already have…twinsies!
Looking for more easy family recipes and tips? LIKE The Typical Mom Facebook page?
Then sign up for my free newsletter, and follow me on Pinterest! 😉
***** If you LOVED this recipe give it 5 Stars below and let everyone know what you thought about it. 😉
Instant Pot Meatballs
Instant Pot meatballs can be made 4 different ways with frozen meatballs from the store! Get ready for the best pressure cooker dinner or appetizer.
Instructions
Pour water into pot and place trivet inside. Pour frozen meatballs inside and close lid. Close steam valve as well.

Set to pressure high for 6 minutes followed by a quick release.

Take meatballs out and drain water. Put meatballs back into pot.

In a separate bowl whisk together soy sauce, brown sugar, minced garlic and ginger as well as your hoisin sauce. Pour this into your pot over your meatballs. Add bell peppers if you're adding those.

Set pot to saute. Gently stir together so sauce coats veggies and meatballs. Allow to slowly simmer so sauce thickens and bell peppers slightly soften. Serve with a sprinkle of sesame seeds on top!
Nutrition Facts
Instant Pot Meatballs
Amount Per Serving (2 oz)
Calories 268
Calories from Fat 162
% Daily Value*
Fat 18g28%
Cholesterol 61mg20%
Sodium 745mg32%
Potassium 341mg10%
Carbohydrates 9g3%
Protein 16g32%
Vitamin A 931IU19%
Vitamin C 39mg47%
Calcium 26mg3%
Iron 1mg6%
* Percent Daily Values are based on a 2000 calorie diet.