Instant Pot Dr Pepper barbecue meatballs are the perfect appetizer! This is how to cook Instant Pot frozen meatballs with a sweet and tangy sauce as well as other quick snacks you can serve!
Do you love getting together with friends and/or watching the big game with tasty appetizers you can snack on all day long?? Who doesn't right??!! Well when you have kids sometimes it is easier to let's say homegate rather than tailgage, and these Instant Pot Dr Pepper barbecue meatballs are the perfect snack!! It's one of our favorite side dish Instant Pot recipes. This post is sponsored by Farm Rich. All thoughts are my own. Visit your local grocery store to pick up Farm Rich snacks for game day. (originally published 11/17)
Let's say it's football season and you need the best Super Bowl appetizer ever.
Now let's make it an Instant Pot appetizer on top of that so you can spend less time in the kitchen and enjoy your football party too!
This is basically what you will need to make these Instant Pot Dr. Pepper Barbecue Meatballs
Farm Rich Meatballs – frozen, we used Italian style
Farm Rich Mozzarella Sticks

As an added appetizer on the table

Toothpicks
Football field tablecloth to jazz things up for your football party
Ingredients to make this homemade Dr Pepper barbecue sauce + 1 can to drink!
Of course you could use prepackaged barbeque sauce but you may not realize just how easy it is to make homemade Dr Pepper barbecue sauce right at home! It's sweet with a bit of spice to it and pairs with meatballs perfectly! There is something totally unique about Dr Pepper as it is a blend of 23 flavors and makes every sip and recipe you make with it truly unique!
Since we are focusing on quick and easy (totally my style) we are going to use Farm Rich Italian style Meatballs and mozzarella sticks found in the frozen food section, and we're not even bother to defrost them first!!
The ooey gooey Mozzarella sticks come out perfectly crispy in the oven after only about 8 minutes, and putting these meatballs into our pressure cooker makes this yummy appetizer even quicker to make!
Another great benefit is that the flavor is really locked in while they bubble and simmer for their 5 minute trip inside our pot. 😉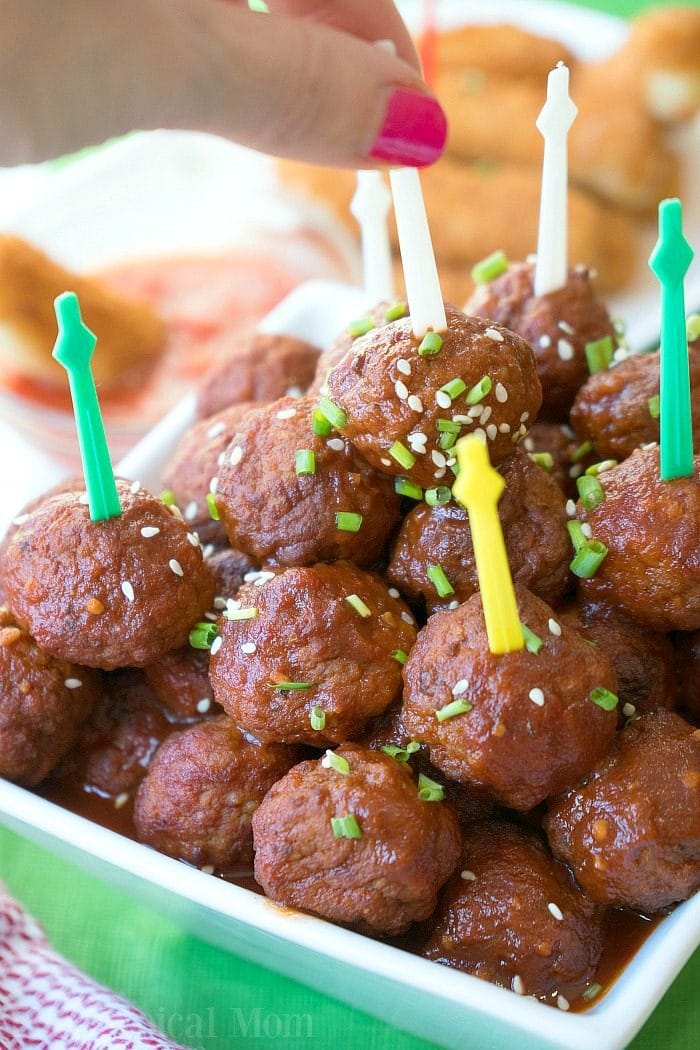 If you're like us your family is BUSY, so anything that makes my life easier I'm all about….that's why Farm Rich snacks are perfect for busy weekdays and get togethers!
Ready made and just waiting for you to warm them up in the oven (or the Instant Pot in our case), it's no wonder they're America's favorite snacks and appetizers brand.
If you don't have an Instant Pot or pressure cooker….
…..you can still make these Dr Pepper barbecue meatballs on your stovetop!
Just add your frozen meatballs into a pot
Whisk your sauce together and pour in it
Stir so meatballs are covered
Set to low/medium heat
Allow to boil until meatballs are as tender as you'd like them
Serve
** Here's how you make pressure cooker frozen meatballs with 2 other types of delicious sauce too!
Here is the entire recipe for Dr Pepper Meatballs, now added to our long list of cheap Instant Pot recipes to enjoy.
Instant Pot Dr Pepper Barbecue Meatballs
The perfect Instant Pot Dr Pepper barbecue meatballs are here for your next big party or the big game! How to prepare the quick & easy snacks at home.

Instructions
Add your can of Dr Pepper to a large bowl.

Add all other ingredients into your bowl (except your frozen meatballs) and whisk together until well combined (can double recipe if you are making a large batch of meatballs).

Pour your Dr Pepper barbecue sauce into your Instant Pot or pressure cooker.

Pour your frozen Farm Rich meatballs on top and gently stir so all meatballs are coated with sauce.

Set Instant Pot - pressure cooker to manual, pressure, high, for 5 minutes or low for about 8 (times vary according to how tender you like and how large your meatballs are, them but this works for us).

Check meatballs and make sure they are cooked thru (if very large may need to put on saute just until done but 5 min should be adequate to cook most frozen meatballs in a pressure cooker).

Allow to cool so sauce thickens a bit, serve!

** Link to 2 other sauces you can use to make other pressure cooker meatballs above this recipe card.
Nutrition Facts
Instant Pot Dr Pepper Barbecue Meatballs
Amount Per Serving (4 oz)
Calories 231
Calories from Fat 126
% Daily Value*
Fat 14g22%
Cholesterol 48mg16%
Sodium 146mg6%
Potassium 329mg9%
Carbohydrates 13g4%
Protein 12g24%
Vitamin A 135IU3%
Vitamin C 5.4mg7%
Calcium 22mg2%
Iron 1.1mg6%
* Percent Daily Values are based on a 2000 calorie diet.
Of course if you're sitting down to watch the game, and/or having people over you need more than one thing to snack on…..so these Mozzarella sticks are a great duo. Just pop them in the oven and they are perfectly crispy on the outside and ooey gooey on the inside after only about 8 minutes!
I preheat the oven once I set the time on my pressure cooker which makes everything done around the same time. Eat as is or serve with a side of marinara sauce or ranch dressing….oh they are so good!
For more homegating ideas from Farm Rich visit their site and have a blast friends!
For more easy recipes, tips and free printables please LIKE The Typical Mom on Facebook and follow me on Pinterest! You can also sign up for my free weekly newsletter which is packed with goodies I know you'll love. 😉