Frozen mozzarella sticks in air fryer are so easy to make and crunchier than cooking them in your oven! Love fried cheese? This will be your favorite snack.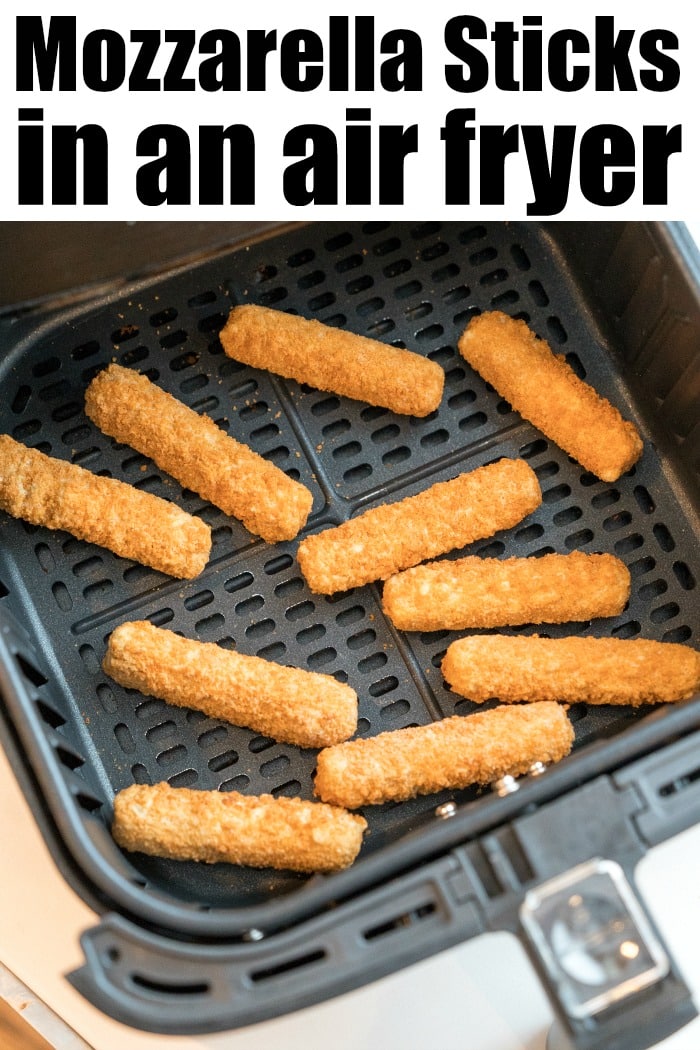 Frozen mozzarella sticks in air fryer are so good!! Since we got this air fryer I've been tinkering with cooking all the things in it. These cheese sticks are no exception to the rule that everything is better air fried!
If you too are obsessed with how to air fry everything, we have a few tips for you here.
Cooking frozen foods in an air fryer was a surprise to me to be quite honest. I thought "why bother" until I tried it with these air fryer frozen chicken nuggets.

We will NEVER cook them in the oven again after this.
They just don't come out nearly as crispy, and the cook time is so much faster. Game over.

Now before you move on, LIKE our easy air fryer recipes page to get new ideas for meals and snack ideas daily!
Then we moved on to making air fryer mozzarella sticks and we were convinced. This little kitchen appliance is pure magic y'all.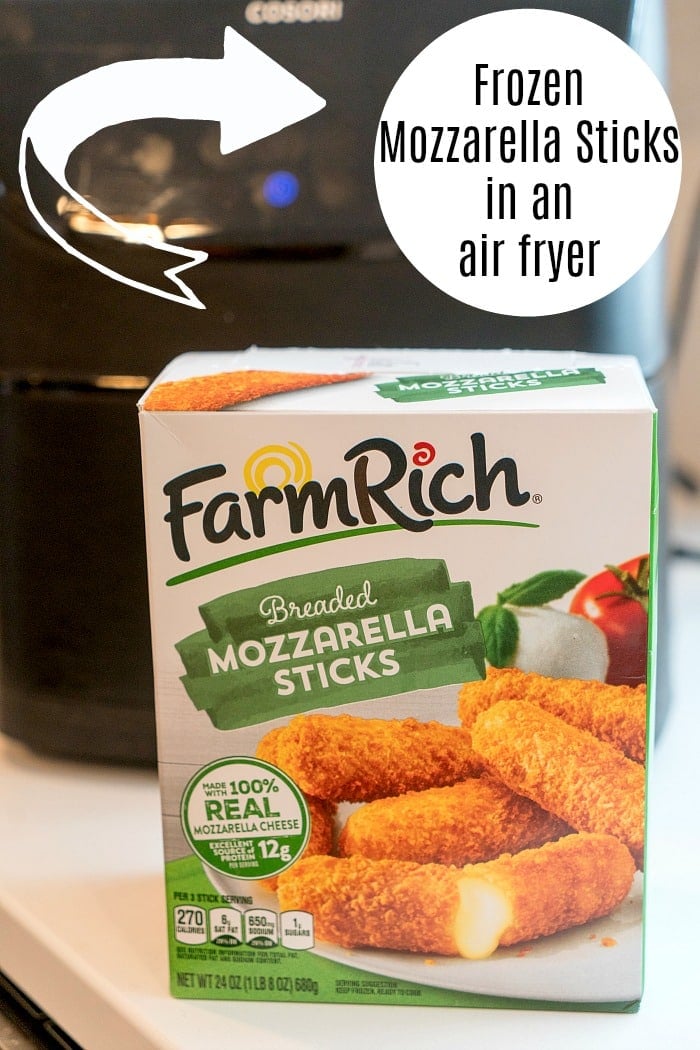 Are Farm rich mozzarella sticks good? Yes!! They're just one of many brands we've tried and the cheese comes out nice and gooey inside. Rarely does the outside break while cooking, only if you mistakingly overcook them. 😉
Let's talk about the machines we have and use. The one you see here in the photos is our Cosori machine. We also have a large air fryer if we want to make a large batch of something, that's handy.
The final air fryer and pressure cooker we have, the Ninja Foodi works great too! If you're looking for both of those functions I'd suggest this model.
It is a bit larger than the other 2 but you do get a multi function appliance and can even replace your rice cooker with this. Take your pick, they all work great.
Let's talk about the biggest tip when it comes to air frying food: Do NOT overlap pieces! You need all areas to have a bit of space so browning and crisping can occur. Now for me the exception to this rule is when I'm cooking air fryer vegetables. There's no breading on those so it doesn't matter as much.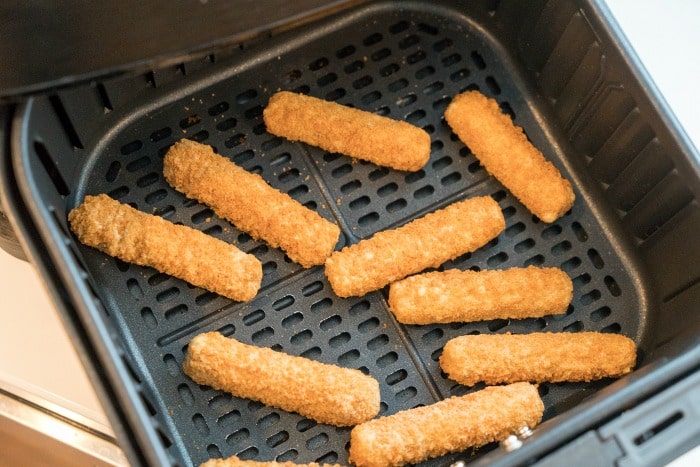 When it comes to frozen foods in an air fryer it is very important to only have one layer in your basket though.
How do you know how long to cook each item though?? Well this air fryer cooking times printable is a huge help! Go ahead and print this out now and tape it to your fridge. I will wait. 😉
Now let's get to a few quick instructions:
You'll want to preheat the air fryer to 400 degrees for 5 minutes

this will provide an even cook so they're not sitting in there while it heats up

You can spray your air fryer basket with non stick cooking spray if you'd like.

not totally necessary but if a bit of cheese oozes out it can help with cleanup.

Place frozen cheese sticks in 1 layer without overlapping them.
How long do you air fry frozen mozzarella sticks? Cook frozen mozzarella sticks for 6 minutes.

timing will vary depending on how thick the brand you use is, and how crispy you want the outsides but this timing works well for us with every type we've used

Eat immediately as is or dipped in marinara sauce!
What are mozzarella sticks made of?
This popular once deep fried appetizer consists of long slices of mozzarella cheese coated in seasoned bread crumbs and cooked until golden brown and cheese is melted inside.
In the past we made mozzarella cheese sticks on a baking sheet in the oven. With the time it took to preheat and cook it took 3 times as long. I also feel like this uses a lot less energy but the most important difference is how crispy these get!
Once you try them for yourself you will see the difference I tell you. Then you can go on to see the difference when air frying snack foods of other kinds.
Below are a few other favorites we make pretty often.
Our air fryer quesadilla recipe, air fryer grilled cheese, and frozen french fries in air fryer are probably our go to's! Try our air fryer fish sticks for dinner too.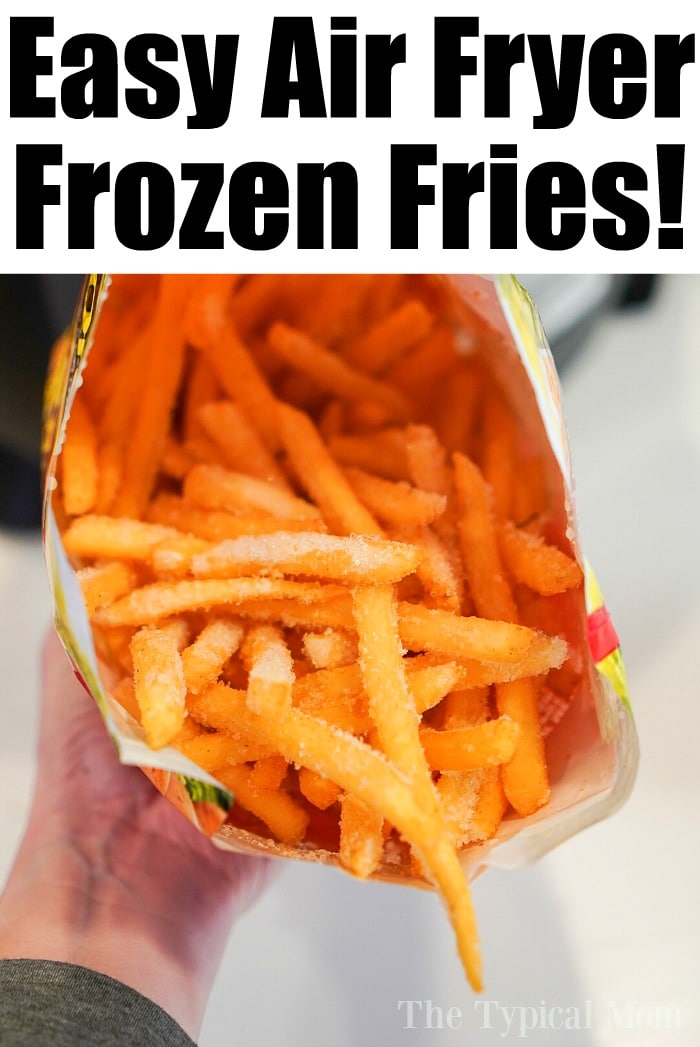 What sauce do you use for mozzarella sticks?
Of course you can use whatever you wish but if you're new to this cheesy snack here are a few suggestions:
Fry sauce is probably top on our list
Marinara sauce is what is usually served on the side in restaurants

Is ranch good with mozzarella sticks? But of course!

Blue cheese dressing can be an option
Ketchup goes on anything really
Honey mustard is my husband's favorite
Here is the printable recipe below. Nutritional information will vary depending on brand and how many each person consumes.
Want more easy recipes and tips from The Typical Mom blog? Sign up for my free newsletter, and follow me on Pinterest!
***** If you LOVED this recipe give it 5 Stars below and let everyone know what you thought about it. 😉
Frozen Mozzarella Sticks in Air Fryer
Frozen mozzarella sticks in air fryer are so easy to make and crunchier than cooking them in your oven! Love fried cheese? This will be your favorite snack.
Ingredients
1

bag

mozzarella sticks

frozen
Instructions
Preheat air fryer to 400 degrees for 5 minutes.

Add as many as you like into your air fryer basket without allowing them to overlap.

Close drawer and cook for 6 minutes or until as crispy as you'd like. Enjoy immediately for best results.
Nutrition Facts
Frozen Mozzarella Sticks in Air Fryer
Amount Per Serving (2 oz)
Calories 216
Calories from Fat 9
% Daily Value*
Fat 1g2%
Cholesterol 1mg0%
Sodium 1mg0%
Carbohydrates 1g0%
Protein 1g2%
* Percent Daily Values are based on a 2000 calorie diet.