How to make crispy grilled cheese in air fryer instructions so they come out ooey gooey with crunchy buttery bread outside. Perfect using slices of store bought or air fryer bread loaves for lunch, dinner or just a snack.
Did you get one of these fancy appliances this year and now you're ready to crisp ALL THE THINGS??!! Making grilled cheese in air fryer is probably one of my kids' favorite things to make themselves. It might be mine too. 😉 Find this and more air fryer recipes here on The Typical Mom blog! (originally published 1/20, affiliate links present)
Ninja Foodi Grilled Cheese
You can make this in any brand you might have at home. There are obviously two main ingredients, plus butter on the bread if you like that.
There is a trick to making sure this comes out perfectly though. Hot air can cause issues so we are here with a kitchen hack to make it come out perfect every time. Can you make grilled cheese in an air fryer? We're here to show you that yes it's possible and you may never use a pan again.
FIRST – You should sign up for my free newsletter so you get new posts emailed to you twice a week and never miss out on anything! If you love air fryer recipes too, here are some resources to start with: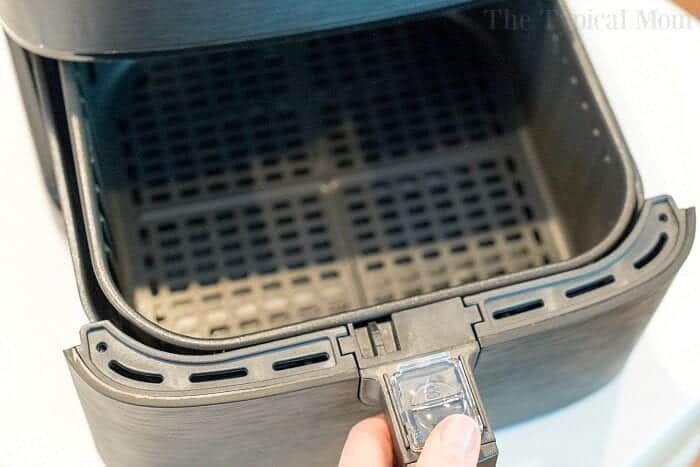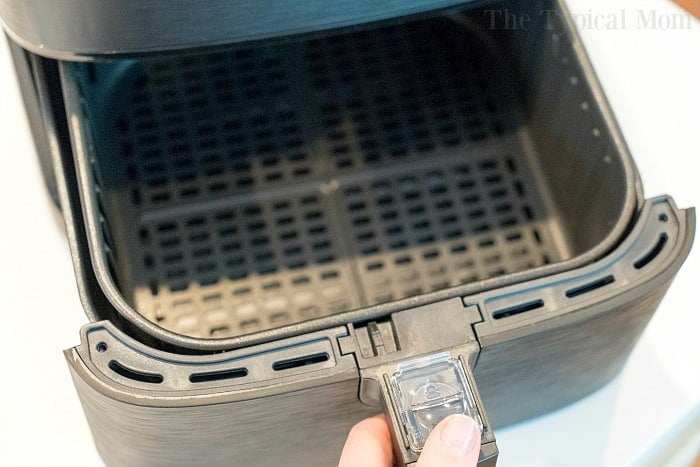 Air Fryer Grilled Cheese and Ham
How do you toast a sandwich in an air fryer?
Use the same instructions for any sort of heated / grilled sandwich. 350 degrees F for 4-6 minutes does the trick to get the perfect texture on the inside and outside. Ham and cheese is fabulous too.
Can you grill in an air fryer?
Well, if you have the Ninja Foodi grill you can! It comes with a grill plate so that's the closest you'll get to that.
Air Fryer Grilled Cheese with Bacon
You can first make Ninja Foodi bacon until super crispy, then wipe out the basket just a bit. Leave a little brush of it so you won't need non stick spray and this will offer a lot more flavor for your sandwich anyway.
How do you make grilled cheese in an air fryer?
This is the ONLY way to make it for us nowadays. Game changer for sure! The bread gets nice and crispy with melty cheese inside in 5 minutes! Air fryer quesadillas are a close second.
I chose to use this one because it has shelves you can pull out and it would hold more than 1 or 2 sandwiches at a time. Of course it depends on how large your slices of bread are, but use what you have. 😉
How to make air fryer grilled cheese
This air fryer sandwich is a great one you can add meat into or leave just as is with one cheese. Using a few different types is fabulous as well, I like spicy Jack and cheddar.
Bread

this loaf was made with love by my aunt
you can surely use store bought, sliced sourdough bread, or make bread in a bag together and use that!

Cheese

I like to shred both sharp cheddar cheese and Monterey jack

if you want a thicker inside make slices thin and pile them on, they'll melt easier that way

honestly though I use what I have on hand
some like American cheese slices (Kraft style but I prefer the real stuff)

Butter

room temperature makes it easier to spread
you could sprinkle a bit of garlic salt on top of that if you like those flavors too

Olive oil spray is handy for easier cleanup
A mix of LOTS of cheese is awesome. Now get an assembly line going on if you are making quite a few grilled cheese in air fryer this afternoon.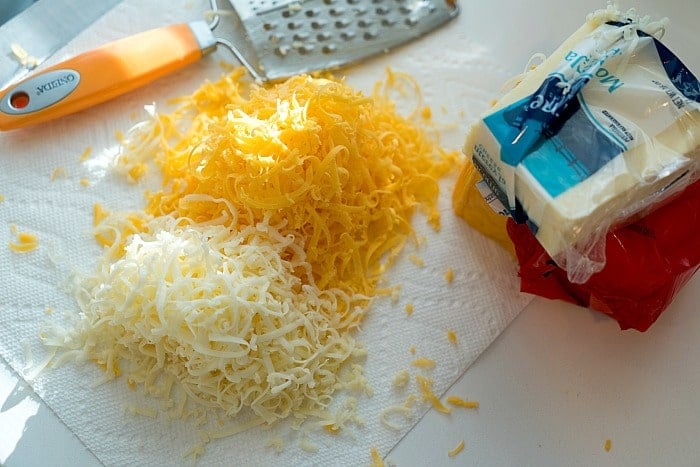 Air Fryer Grilled Cheese with Mayo
Once you have your cheese grated and ready you'll need to prepare your slices of bread. On each of the sides facing out you'll want to spread some butter, or use mayonnaise y'all. I guess you could use margarine but we don't use that in our house.
Preheat air fryer to 350 degrees F for 5 minutes. Spray basket or shelves with non stick cooking spray.
Coat one piece of bread and lay it in your power air fryer basket, or on one shelf in our case. Put the buttered side facing down.
Sprinkle cheese on the top of that, try not to let it lay on the rack or it will stick a bit. You can add a piece of lunchmeat too.
Lay second slice of bread on top of that with the buttered side facing up this time.
Air fry for 4-6 minutes to melt the cheese and crisp bread. Timing depending on how crisp you want the outside of your bread.
If using racks, put them on the lowest level in your machine so they don't get too too crispy before cheese melts. Ours typically doesn't brown but still becomes crispy on the top and bottom, feel it rather than looking for browning.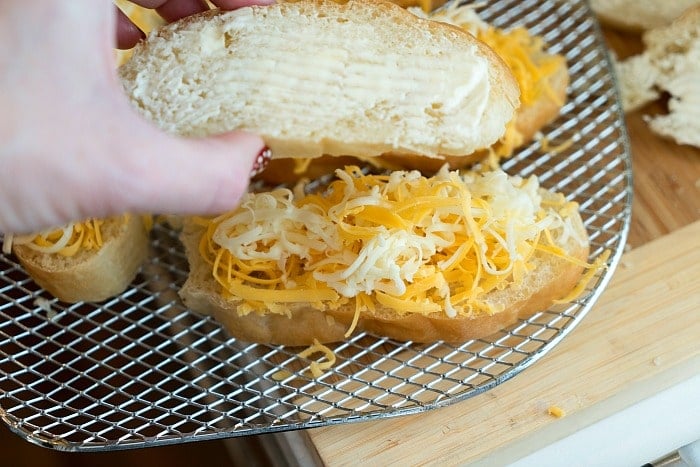 What can you add to a grilled cheese sandwich?
The possibilities are endless really! I wouldn't add ingredients that you don't want to be warm, like lettuce or anything but beyond that go for it! My girls most favorite version would be Grilled Cheese Pizza Toast with all your favorite toppings like pepperoni and olives on top.
Precooked bacon is great
Slices of tomato go quite well
Thin slices of leftover ham
Brie with thin slices of apples
Caramelized onions and/or sauteed mushrooms
Other cheeses
Is Gouda good for grilled cheese?
3 other great cheeses for cooking a grilled cheese sandwich when melted are; gouda, gruyére or manchego. If you're looking for the BIG ooey gooey cheesy pull try adding these!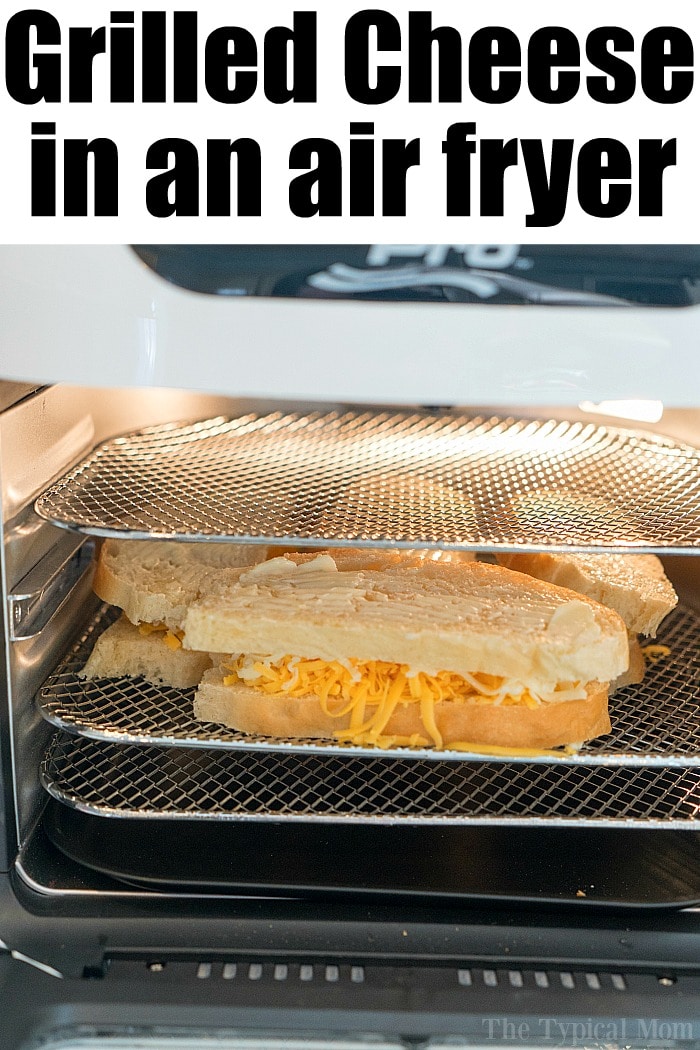 Only have a convection oven? Yes you can make this in there too at about 425 degrees for the same time frame. Follow the same directions as instructed here, just set it a bit hotter and ensure rack is on the lowest level.
What is a good side for grilled cheese?
Well Instant Pot tomato soup is just a given if you ask us. You can't go wrong with that or the Crockpot creamy tomato soup we make.
A salad goes well with just about everything

Mixed vegetables in your air fryer are always a healthy side dish for any meal
Ready to air fry everything now? Here are some other dinner recipes you should try next! My girls cook air fryer frozen chicken nuggets themselves all the time, WAY better than in the microwave.
You can of course make Ninja Foodi grilled cheese like this using the same timing and temperature.
But wait….we have other air fryer snacks you are going to want to try out next like: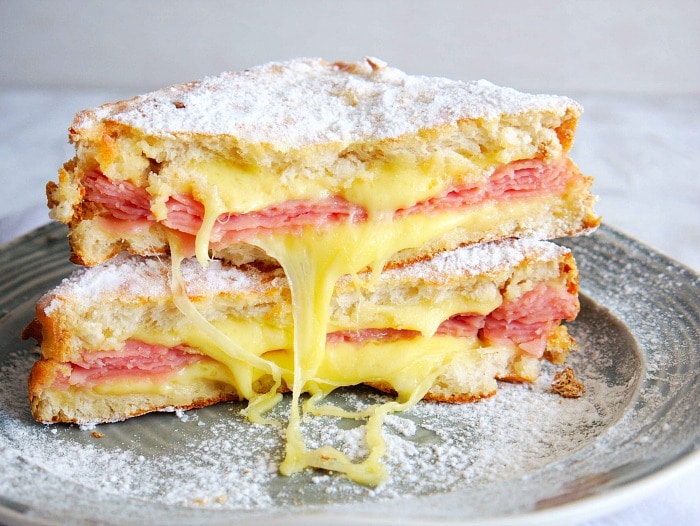 Want to see a few of my favorite things that I am totally obsessed with?? Take a peek and see how many you might already have…twinsies!
Looking for more easy family recipes and tips? LIKE The Typical Mom Facebook page?
Then sign up for my free newsletter, and follow me on Pinterest! 😉
***** If you LOVED this recipe give it 5 Stars below and let everyone know what you thought about it. 😉
Grilled Cheese in Air Fryer
Air Fryer grilled cheese instructions so they come out ooey gooey with crunchy buttery bread outside. Perfect for lunch, dinner or just a snack.
Instructions
Preheat air fryer to 350 degrees.

Butter one side of 4 pieces of bread. Lay with butter side down on air fryer rack or basket. (if you have a small machine you may only be able to do one at a time)

Sprinkle cheeses on non buttered side, then lay 2nd piece of buttered bread with butter side facing up on to your sandwich and close your basket.

Cook for 4-6 minutes depending on how thick your cheese is. After 1 minute, open basket and check as top piece may have blown off. If it did put back on and press in center to make it stick with melted cheese in middle.

Also timing will vary according to amount of cheese and other added ingredients you include inside, and how large your bread slices are.
Nutrition Facts
Grilled Cheese in Air Fryer
Amount Per Serving (2 oz)
Calories 472
Calories from Fat 279
% Daily Value*
Fat 31g48%
Cholesterol 85mg28%
Sodium 718mg31%
Potassium 152mg4%
Carbohydrates 28g9%
Protein 20g40%
Vitamin A 853IU17%
Calcium 495mg50%
Iron 2mg11%
* Percent Daily Values are based on a 2000 calorie diet.