Bacon in the air fryer is a game changer! Grease drips away and it get crispy in no time at all for breakfast. Try Ninja Foodi bacon this morning and see.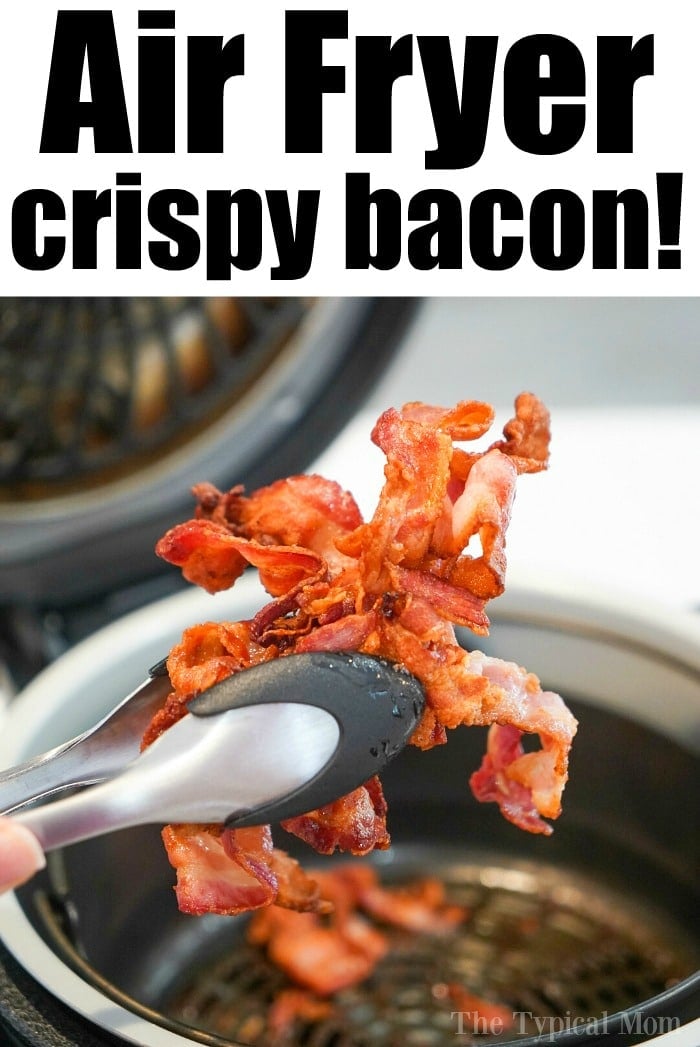 Bacon in the air fryer is the way to go y'all! If you love this keto friendly low carb food you can now make it super crispy without it laying in all that grease. Let us explain why cooking bacon in air fryer is our new favorite air fryer recipe.
Let's start with a few resources:
The other morning I wondered; can you cook bacon in an air fryer? I figured I would try a few pieces and if it didn't work I would just use a pan. OH boy I should've tried this so much earlier y'all!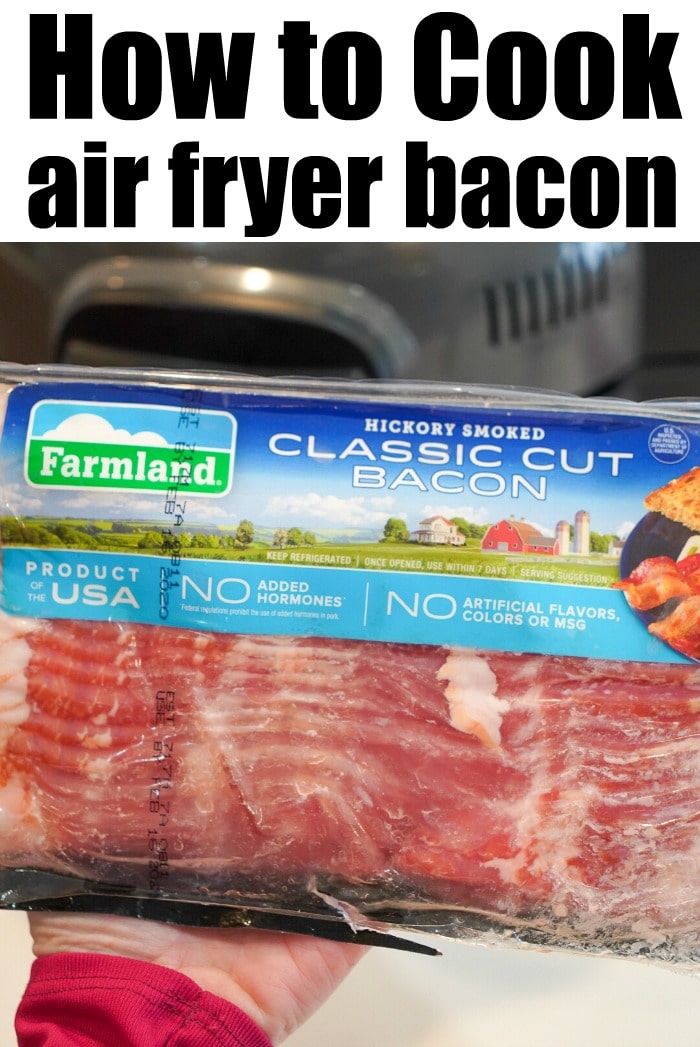 Cooking bacon in air fryer is so much easier in my opinion because you don't have to stand there and watch it. A BIGGER plus is there is NO splattering on your hands!
This is the brand and style I picked up at the store. I personally do not like thick slices because I like it to get really really crispy and that style stays softer.
The BEST bacon I've ever eaten I actually got from ButcherBox (you can get free bacon + $15 off your order too here). It is uncured with an amazing flavor.

If you can get uncured meat of any kind in the store I'd recommend it because there's TONS of flavor.
What are different types of bacon?
Smoked bacon. Yes you can smoke your own bacon on the grill, or buy smoked bacon in the supermarket for added flavor.
Turkey bacon is usually much lower in fat than traditional pork cuts. Keep in mind it has a different taste and texture.
Canadian bacon
Pancetta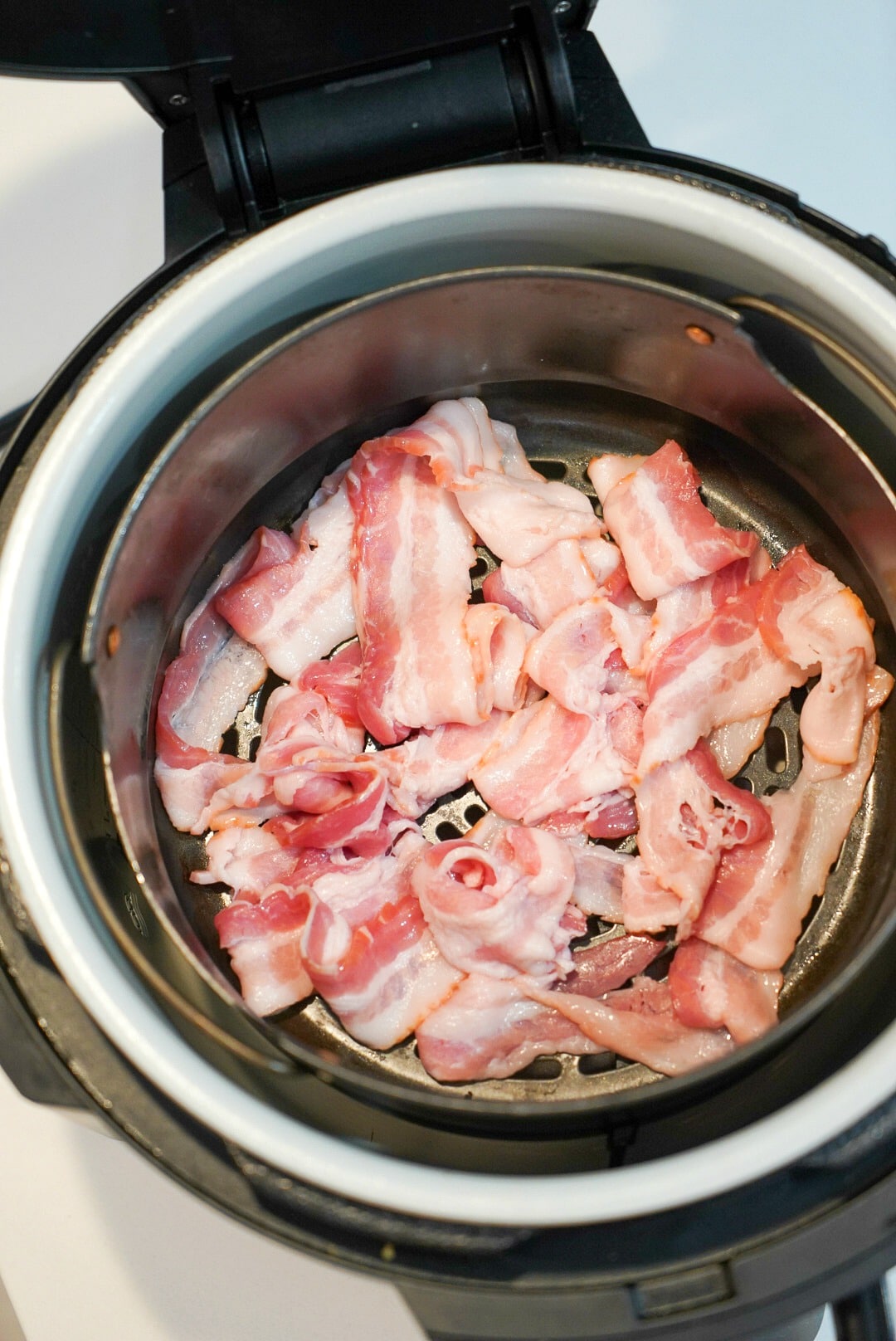 I started with 6 slices so they weren't overlapping too too much. You can see how I set them in here. I didn't lay them flat, rather plopped them in on to themselves.
What's the most important part of cooking bacon in air fryer? Moving it around every 5 minutes is key!

Just like crisping it in a pan it is necessary to make sure all edges get crispy.
I think using a pair of tongs is easier than trying to flip it with a spatula. Air fryer baskets are typically not square and spatulas sometimes are awkward to fit in and grab anything.
How long do you cook bacon?
Bacon in the oven

: Arrange bacon on baking sheet, on top rack so they're evenly spaced apart and don't overlap. Bake at 400 degrees F for 15 minutes. Works in a large convection oven too.

Flip over every 5 minutes and cook until the bacon is golden in color and as crispy as you want.
Timing will depend on whether it's a thick cut or regular, and the amount of high fat content.

On the stovetop

: Heat skillet, lay slices down in a single layer, flip every 3-5 minutes until they're as crispy as you'd like. Put on paper towels to absorb grease and serve.

Air frying

: Put slices into preheated air fryer without overlapping them too much. Cook at 390 degrees with the circulating hot air for 15 minutes, flipping every 5 minutes until you have crispy bacon.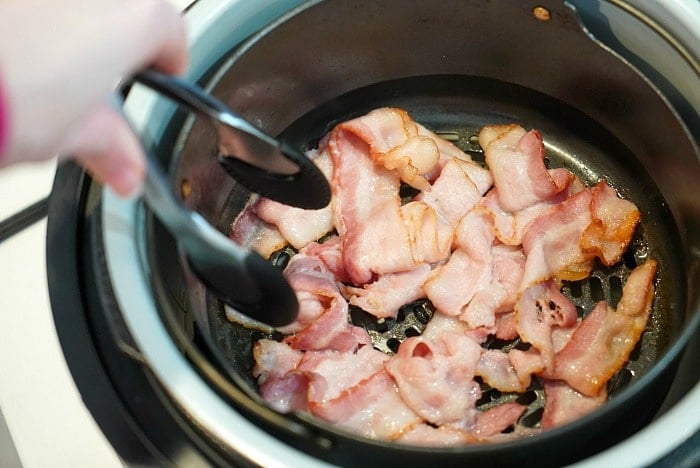 This is what you need to make bacon in the air fryer
Package of bacon
Air Fryer basket and machine
What is the best way to cook bacon?
Depends on whom you ask but not THIS is my go to. You want to know the biggest reason I love cooking air fryer bacon?
Other than not getting splattered on I love that all the bacon grease drips away from the meat!
When using an air fryer, the basket has holes in the bottom which means it's perfect for cooking fatty meats like this and air fryer pork chops.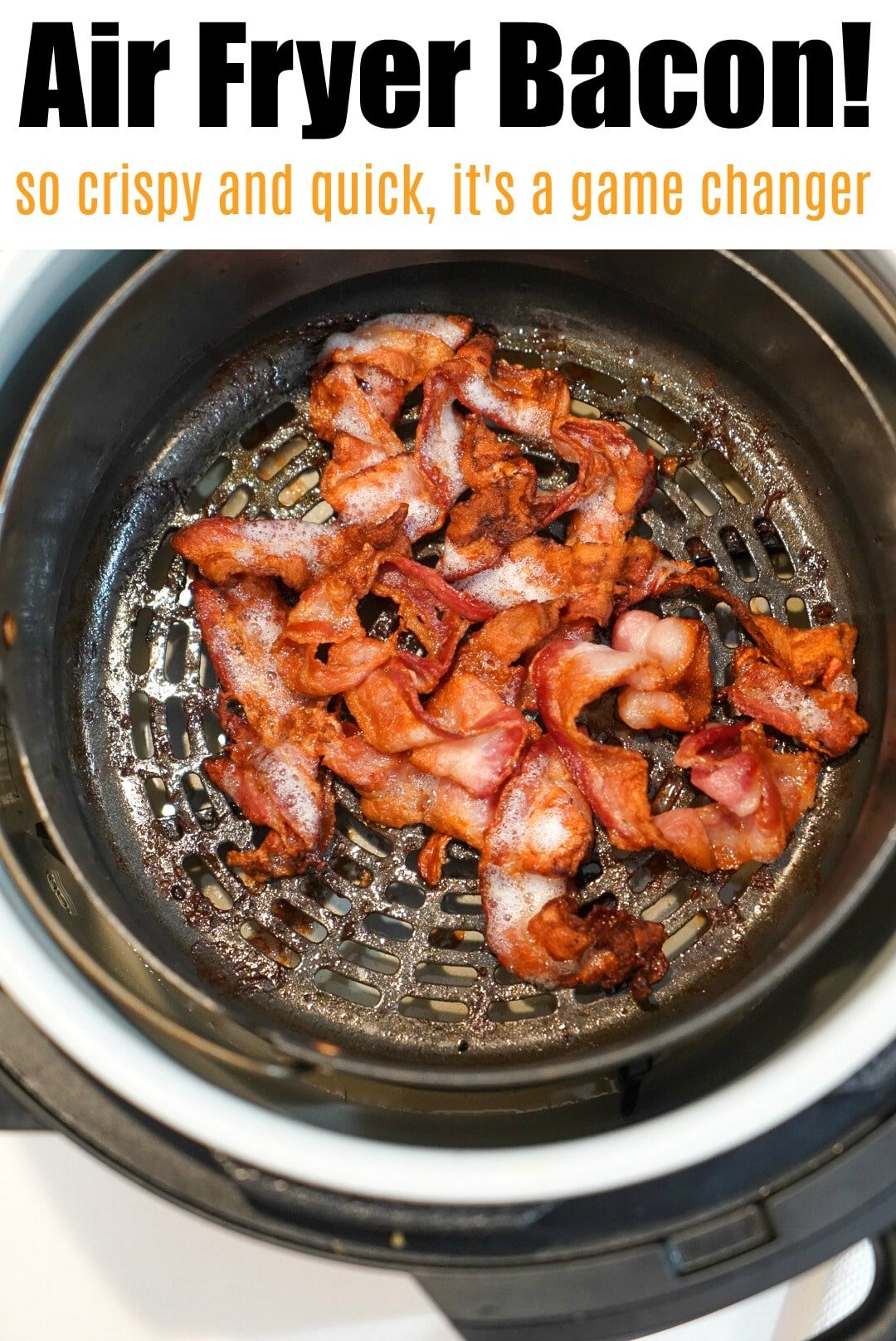 Looking for more of the best bacon recipes?
We love these smoked bacon wrapped pork chops here.
Bacon in the Air Fryer
Instructions
Preheat air fryer at 390 degrees for 5 minutes.

Place 6 pieces of bacon into your air fryer basket, trying not to overlap pieces.

Set air fryer for 15 minutes. Use tongs to move bacon around, flip to other side every 5 minutes. Remove when they're as crispy as you'd like.
Nutrition Facts
Bacon in the Air Fryer
Amount Per Serving (2 oz)
Calories 4
Calories from Fat 9
% Daily Value*
Fat 1g2%
Cholesterol 1mg0%
Sodium 7mg0%
Carbohydrates 1g0%
Protein 1g2%
* Percent Daily Values are based on a 2000 calorie diet.