This smoked bacon recipe is amazing! If you're looking for smoky crisp bacon with lots of flavor for breakfast or wrapped inside a meatloaf, try this!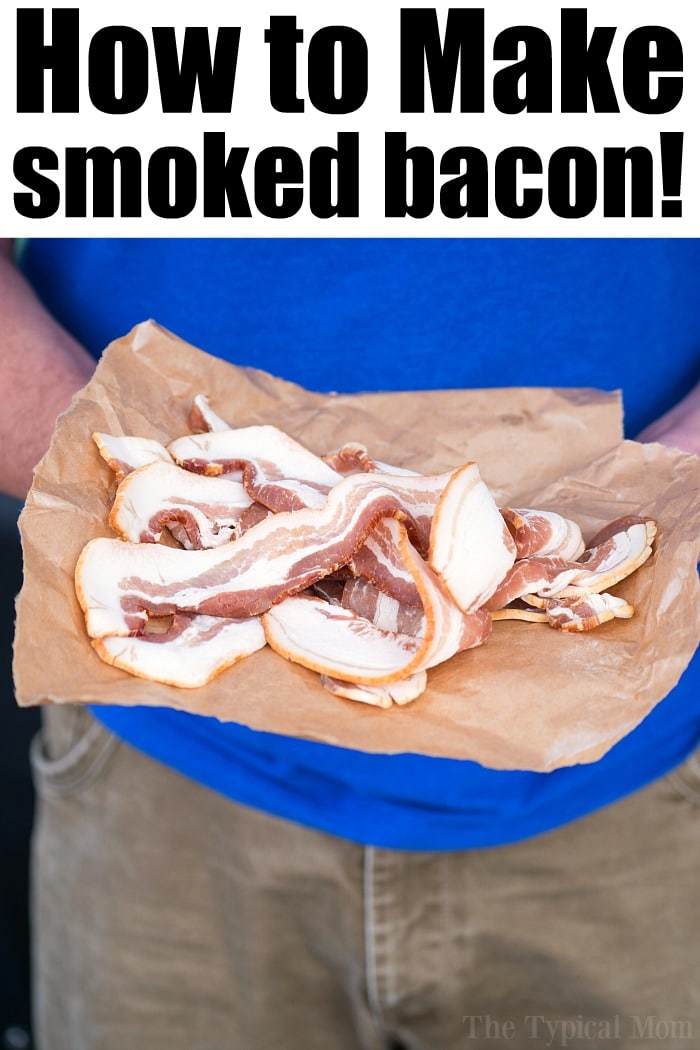 Have you tried this smoked bacon recipe yet??!! You may think that prepackaged bacon with the words "smoked" on the package is about as good as it gets but NO! You will be amazed when you smoke bacon yourself at home. It is a game changer. One of our favorite easy smoker recipes.
We'll show you how we stuffed meatloaf with this smoked bacon below too!! OH MY is all I have to say.
Let's start with what type of bacon you should use.
Note: We are not making bacon from scratch out of a pork belly here. Rather we are using bacon from the butcher and smoking it ourselves to give it a richer smokier flavor.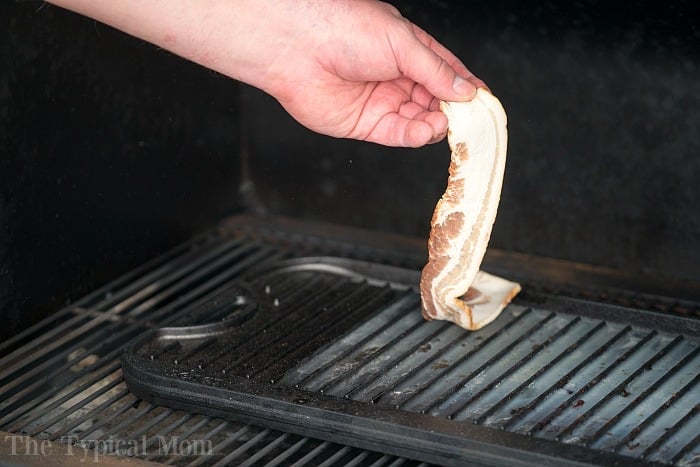 Skip the refrigerated section next to the cheese and keep walking to the butcher counter.
Better yet, if you have a butcher store in your area GO THERE!! There's a HUGE difference and it's well worth the drive. If you go buy a big package and then separate it out into freezer bags and pull one out on the weekends.
That is what we do. Actually, that's not true. When we moved to Idaho we bought half a pig! The butcher processed it and packaged it into quarter hams, spicy sausage, bacon and more. That's when we got hooked and could tell the difference between this and packaged.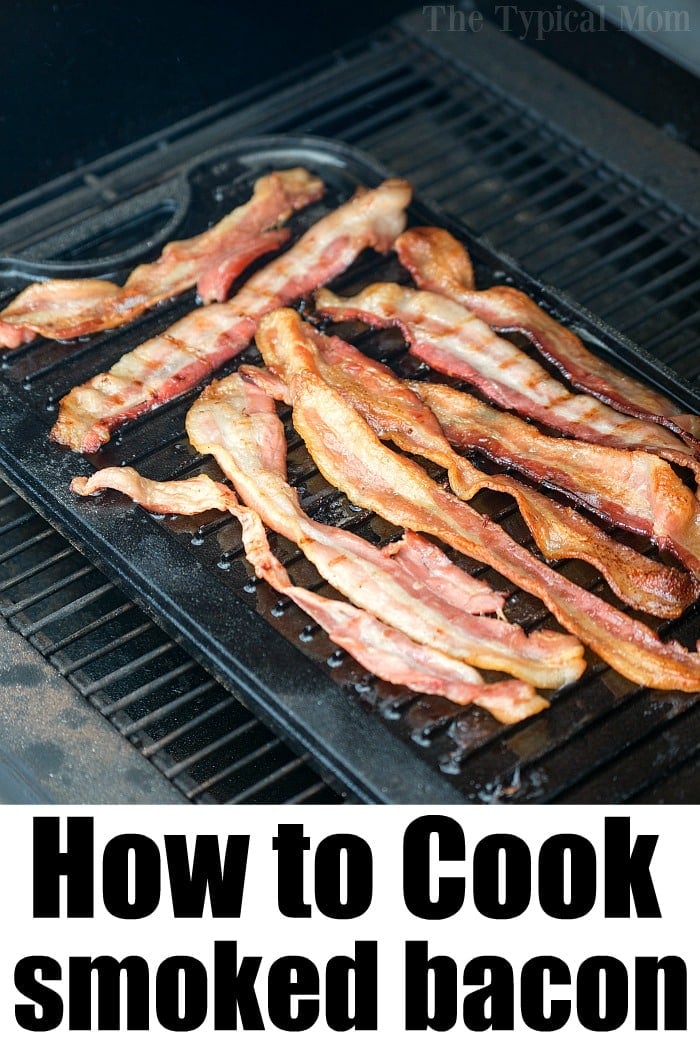 One other important thing that helps when you're making this smoked bacon recipe.
Preheating your smoker to 150 degrees is important.
You need a cast iron grill grate / griddle pan you see here above, or a cast iron skillet would work. I like this one though because it's nice and big, rectangular, and flat on the other side to make pancakes.
Have you jumped on the cast iron train yet?? Most come pre seasoned and make just about any meat you cook in it that much more amazing. They last forever too.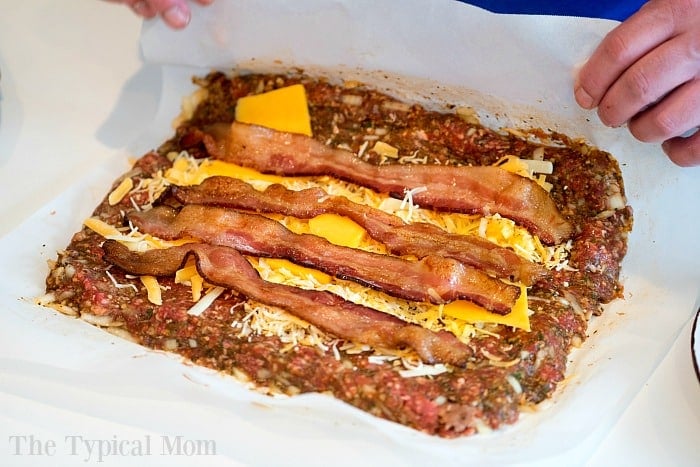 I promise you, you'll love this smoked homemade bacon.
This is what you need:
Bacon

from the butcher is best vs. packaged
remove the skin first if it is on the outside when you get it
slice with a sharp knife if it isn't already sliced thick

Pellets or wood chips
Grill grate is very helpful and saves a lot of mess

you could use a rimmed baking sheet if that's all you have
If you want sticky sweet smoked bacon you could roll each piece in a mixture of brown sugar, Kosher salt and even a pinch of black pepper. We used the bacon as is and loved the natural flavors.
Put bacon on paper towels after removing from grill
Store leftovers in a plastic bag. (we never have any left).
THEN roll it up with cheese into our smoked meatloaf recipe!
Our smoked bacon wrapped pork chops and bacon in the air fryer are incredibly amazing too.
Smoked Bacon Recipe
Ingredients
4-10

slices

bacon

from the butcher is best vs. packaged bacon
Instructions
Add pellets or chips into your smoker. We used a pellet grill and smoker with apple pellets.

Preheat your smoker to 150 degrees, then move to 350 degrees and place bacon on cast iron grill plate, cast iron pan, or directly on your grate. (directly on your grate will make for a very messy cleanup). Do not overlap slices.


Close your lid and allow to cook for approx. 30 minutes and then check to see how much crispier you'd like it. Add more time for more well done bacon. Remove from pan and enjoy immediately.

Timing will vary greatly depending on how thick your slices are and if you have a brown sugar coating or not.
Nutrition Facts
Smoked Bacon Recipe
Amount Per Serving (2 oz)
Calories 61
Calories from Fat 45
% Daily Value*
Fat 5g8%
Cholesterol 9mg3%
Sodium 97mg4%
Potassium 29mg1%
Protein 1g2%
Iron 0.1mg1%
* Percent Daily Values are based on a 2000 calorie diet.