Here are a few easy garage organization ideas and a free garage organization printable to help you purge and a list to keep you on track! What to do with seasonal items and what should be donated now. Let's get your garage organized so you can find everything again and fit your cars inside!
I don't like clutter. For the most part I leave the garage to my husband. About twice a year it really needs a good purge though. We have moved several times during our marriage. We are no stranger to the idea of "if you haven't used it in a year, give it a new home and donate it," That's our philosophy anyway. This post brought to you by Glad. (originally published 2/17, affiliate links present)
Garage Organization List
It helps to have a printable checklist with you while you're in the process. We will share what we've used for years with you as well below. Here are a few garage organization ideas that is part of our series of organization printables on our site.
Yes, after 6 months or so the garage kinda' looks like this. Bikes are thrown everywhere. Something is used and gets thrown on whichever shelf is closest. Things that should've been thrown away like broken sand buckets you see here are kept.
Twice a year is usually good enough to evaluate what you have. Decide whether you've actually used it in the past year. Be honest with yourself now and purge the things that don't fit or aren't needed any longer. This is where we start.
Garage Organization Ideas
Purge – For some people this is easier than others. I am an extreme purger, my husband still has the baby teeth he lost as a child in a jar. I'd say we are quite the opposite. I have rubbed off on him a bit though over the years.
Through many moves, and he now agrees that less is more when it comes to saving a lot of things. Start by getting 2 Glad Kitchen Pro Trash bags. They will hold A LOT so you can pack them full.

Donate – Fill 1 bag with items others could use, but are not needed by you any longer.
We have a lot of sports equipment that no longer fits or my kids' aren't interested in any longer.

Ski clothing and boots that no longer fit, and holiday decor that I'm willing to get rid of in order to free up some space too.
Trash – Fill 1 bag with things that are ruined like ripped rags, damaged shoes, broken toys. Don't forget to purge your car(s) while you're at it. If you have kids you know you have some "treasures" hidden in there that should be trashed).
Garage Organization Printable
We did this just today and we had a trunk full of stuff to donate. With 3 kids (and a husband who is into multiple sports himself) it is easy to fill up 4-6 bags full of stuff! Once you've rid your garage of things that are no longer needed, and trash, you can get to organizing what is left.
Hooks on the walls – Hang equipment like shovels and brooms. This is extremely helpful in getting those things off the floor and shelves.
Hang a rack from the ceiling – We have one that we've taken with us from house to house that stores all of our camping equipment and snow/ski gear.

Since we don't need it too often we don't need to really get to it. A rack hung from the ceiling keeps it out of the way. You can see ours here on the top left.
It can hold a lot! If all of that gear wasn't up and out of the way it would take up a lot of space. I highly recommend one of those!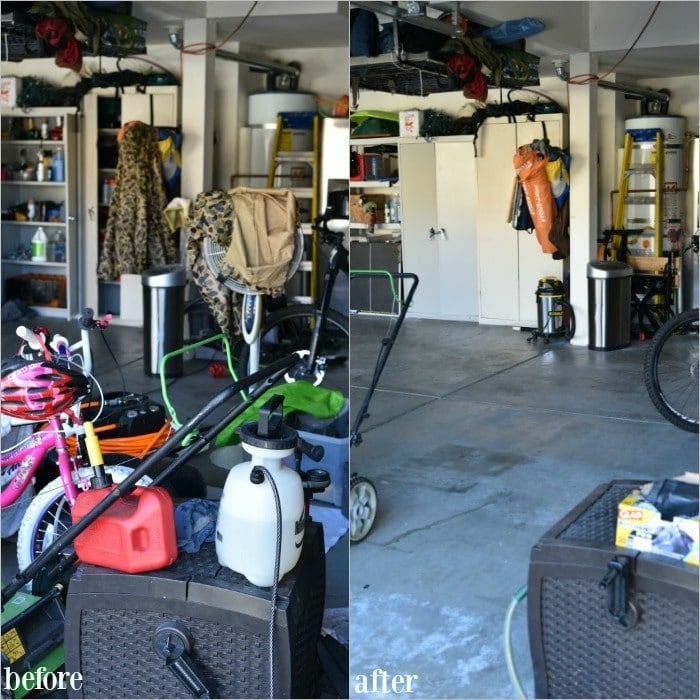 How to Organize your Garage
Store items that are rarely used in bags – Ski jackets, bibs, boots, and camping equipment can be stored in Glad Kitchen Pro Trash bags. Secure the end with a knot, then with a zip tie, and put a sticky label on the outside reminding you of what is inside.

This will keep your items free from dust, critters, and ready for you to wear when it's time for some snow.

Use a garage organization checklist printable to help you organize too. Sometimes it is nice to have a list to remind you of things that need to be purged and organized.
Having everything checked off at the end makes me feel like I haven't forgotten anything! There's a black and white printer friendly garage organizing checklist here too if you'd prefer.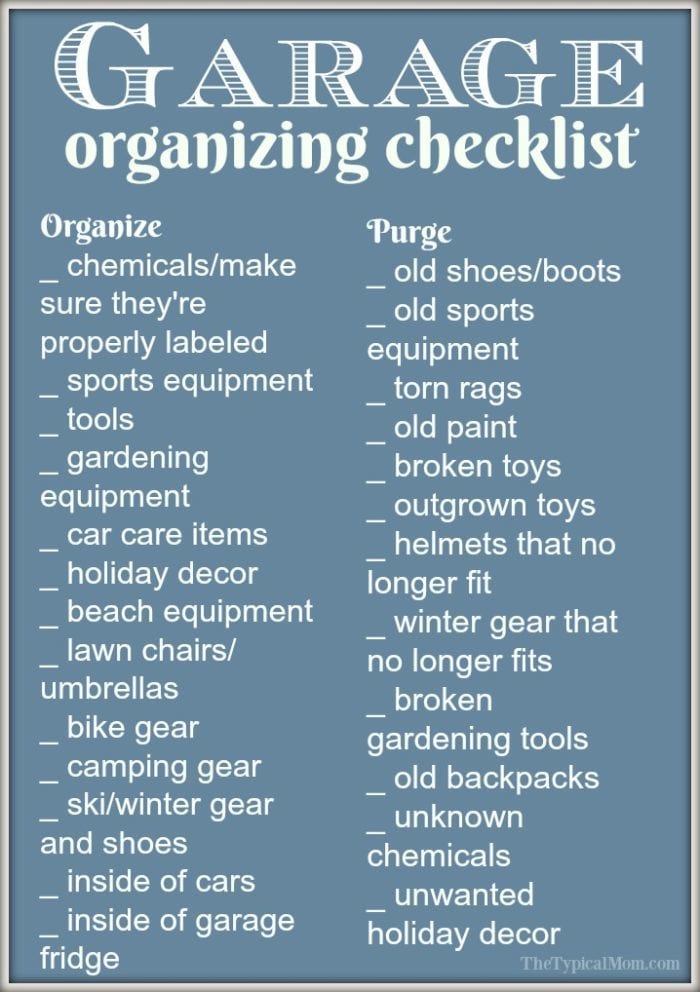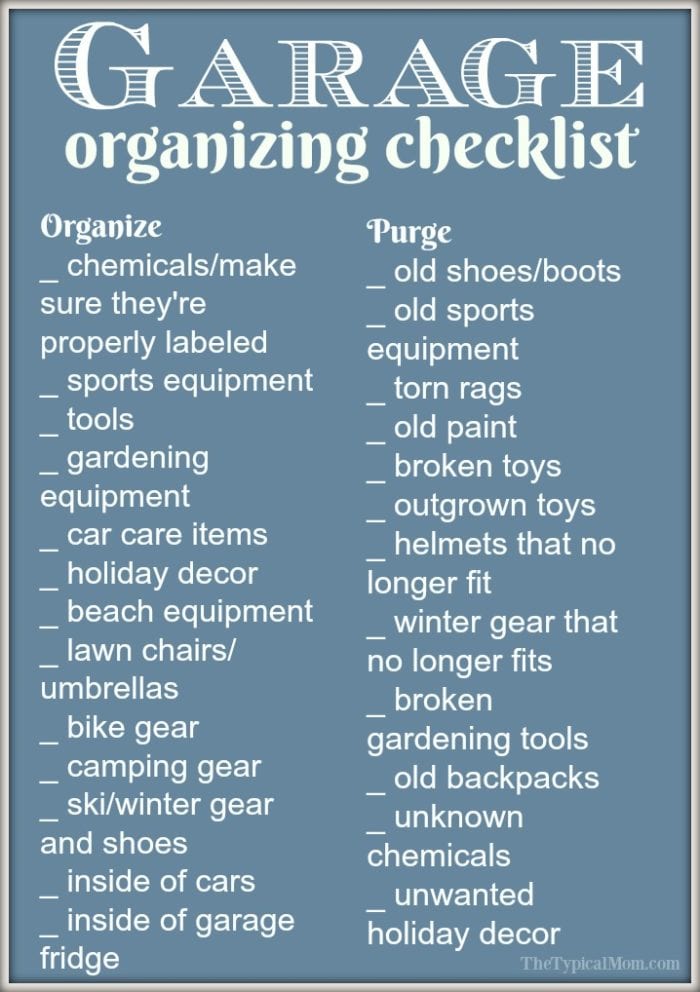 How to Purge your Garage
It only took the 2 of us about 2 hours to finish. You can see the before and after above. It feels SO good to have a clean area where you can find everything easily again!
Haul off your unneeded items to your local donation center. You'll know you're helping someone else too, it's a win win.
These strong Glad Kitchen Pro Trashbags are available at Target. They're perfect for storage and getting rid of what you no longer need. I hope these garage organization ideas help you as well. 😉
Want to see a few of my favorite things that I am totally obsessed with?? Take a peek and see how many you might already have…twinsies!
Looking for more easy family recipes and tips? LIKE The Typical Mom Facebook page?
Then sign up for my free newsletter, and follow me on Pinterest! 😉
***** If you LOVED this recipe give it 5 Stars below and let everyone know what you thought about it. 😉