Printable Instant Pot cooking times so you know exactly how long meat, vegetables and dry beans take to cook perfectly in your pressure cooker.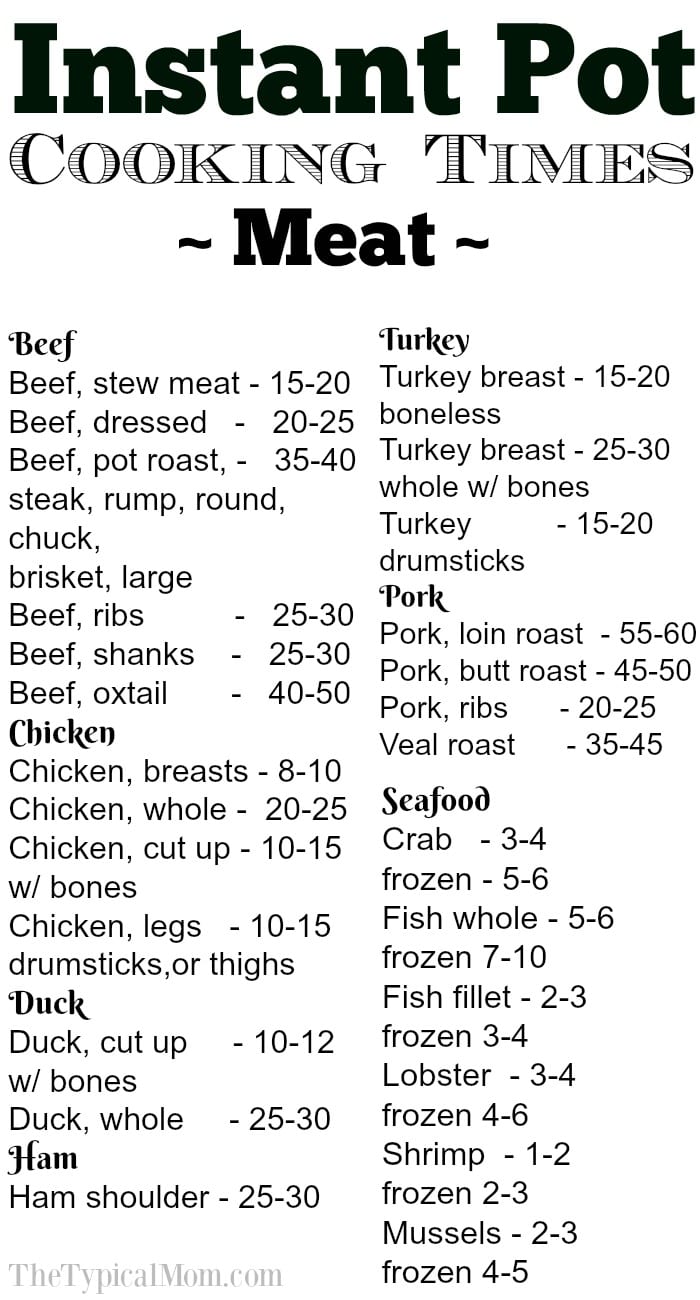 Yes I am one of many people who are now believers in the Instant Pot! Making my life so much easier, and helps us eat together more often and healthier too! I am working on creating new pressure cooker recipes as we speak but another thing I needed was a free printable Instant Pot cooking times sheet for meat to keep handy when I was going to cook something new, I created one for you to use here too! Once you take a peek at these give a few of our easy Instant Pot recipes a try! (originally published 1/17, affiliate links present)
Instant Pot Cooking Times
If you don't have an Instant Pot you can buy one here. You won't be disappointed. I will help you along the way creating easy pressure cooker recipes for you to try.
You could use these for the pressure cook function on your Ninja Foodi pot too or Crockpot Express cook times. They all work basically the same as far as that goes. I actually have both of these including a Mealthy too. If I have a lot of people over during the holidays I use them all.
Yes that is right, I have cooked an entire turkey with mashed potatoes and vegetables all at once without turning on the oven. If you live in warmer climates you will definitely appreciate that aspect. There's nothing worse than sweating and having to cook all at the same time.
FIRST – You should sign up for my free newsletter so you get new posts emailed to you twice a week and never miss out on anything! Now let's start with a few basic tips:
Make sure to Bookmark our InstaPot recipes page. We add new ones each week!
Then PRINT this —–> Instant Pot cooking times cheat sheet that will help you understand how long meat, vegetables and beans take to cook in your pressure cooker.
For reference, this is the pressure cooker I have (a 6 quart) and use for all recipe creations.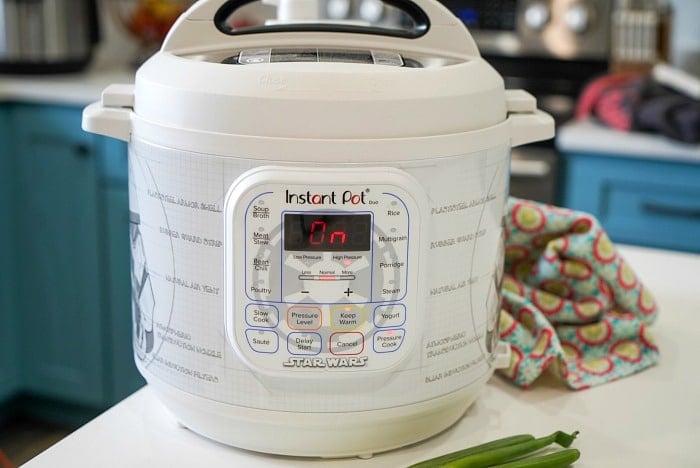 Instant Pot Cooking Times Printable
I used the conversions given on the Instant Pot website directly so everything would be as accurate as possible. Really, I just needed a printable version to keep in my drawer and not have to find my phone to look things up constantly.
I am all about free printables and we offer a lot of them here on The Typical Mom blog.
If you are still unsure whether this fancy pressure cooker is right for you I will say it takes a bit of adjusting to get the hang of it. After a few easy recipes though, it will click and you'll realize why everyone says they love it!
I wrote this post on how to use an Instant Pot to help you in the beginning too. I wish I had something like this when I took mine out of the box to just tell me the basic information regarding what to do with the steam valve, tips, and simple recipes to start with.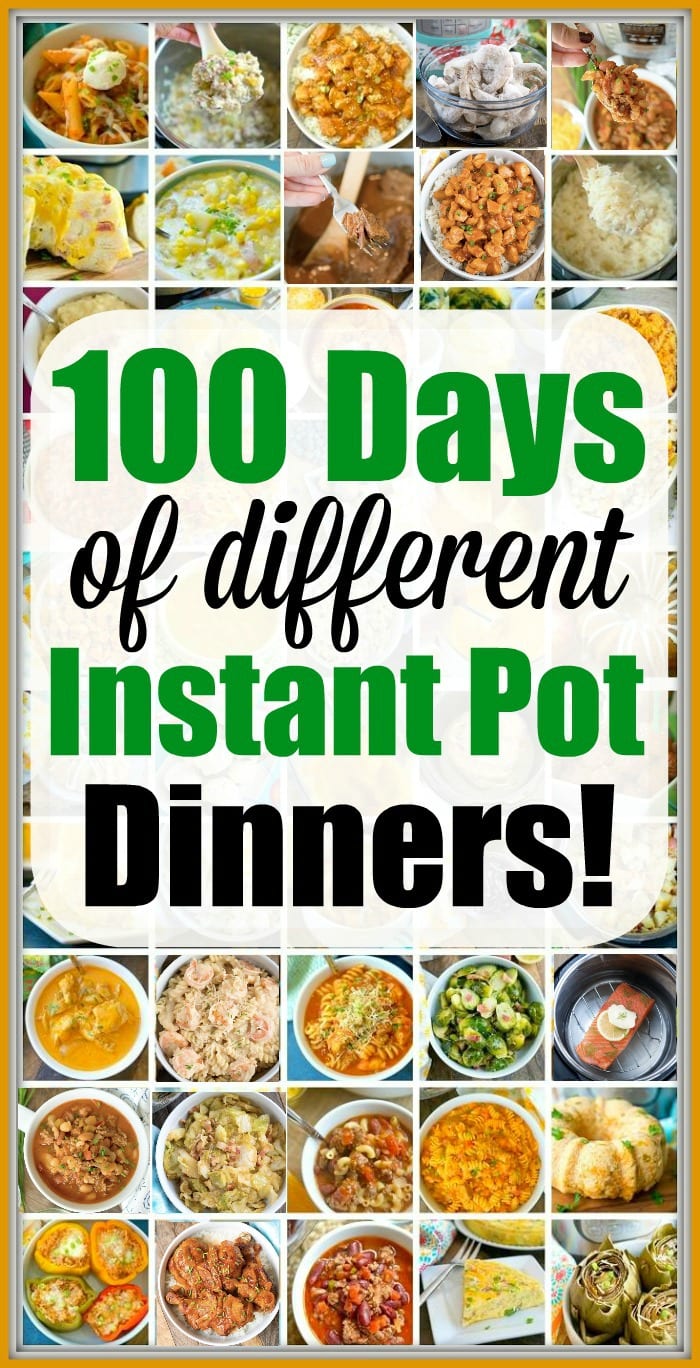 Instant Pot Cheat Sheet
It kinda' is like a bit of a cheat, but we won't tell. lol. When I was brand new to this I wasn't sure where to start. I mean it came with a book with a few recipes but I really wanted to create my own. When I have meat in the freezer I don't want to always use someone else's creation.
I know what flavors we love and want to go with that. Biggest thing was figuring out how long to cook a chuck roast in Instant Pot, chicken legs, all the things.
You want it to reach a safe temperature but not overcook to the point where it may dry out or completely fall apart. If you keep this on hand or put it on your fridge you will then never have to guess again.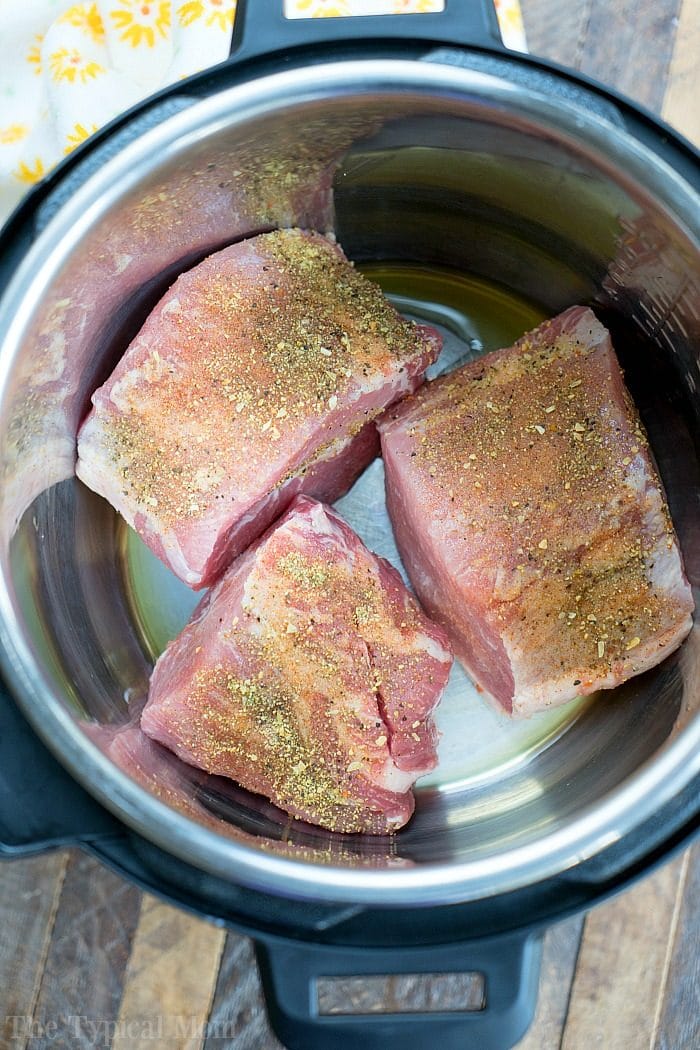 Instant Pot Printables
Of course you can make just about anything in it and it is significantly quicker than a crockpot or in the oven. THIS is why we love it. Sometimes you just want something basic to cook like chicken legs or ribs, so this Instant Pot printable comes in handy for that.
Even after a year of using mine and creating new recipes I still refer back to these basic times when creating something new like my Instant Pot teriyaki ribs recipe.
I hadn't done ribs yet and this gave me a general time they should take. It was right on the money at 25 minutes for fall off the bone pork ribs!
Beef would be similar but I think pork comes out a lot more tender so I choose that variety every time.
That is what I do now that I have all the appliances in my house.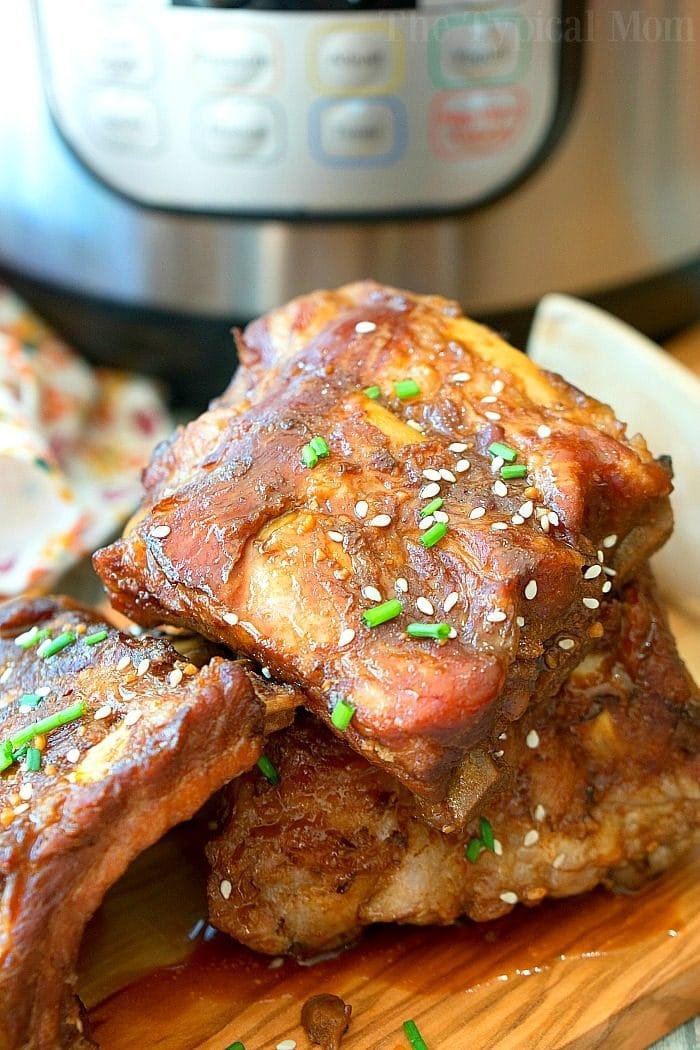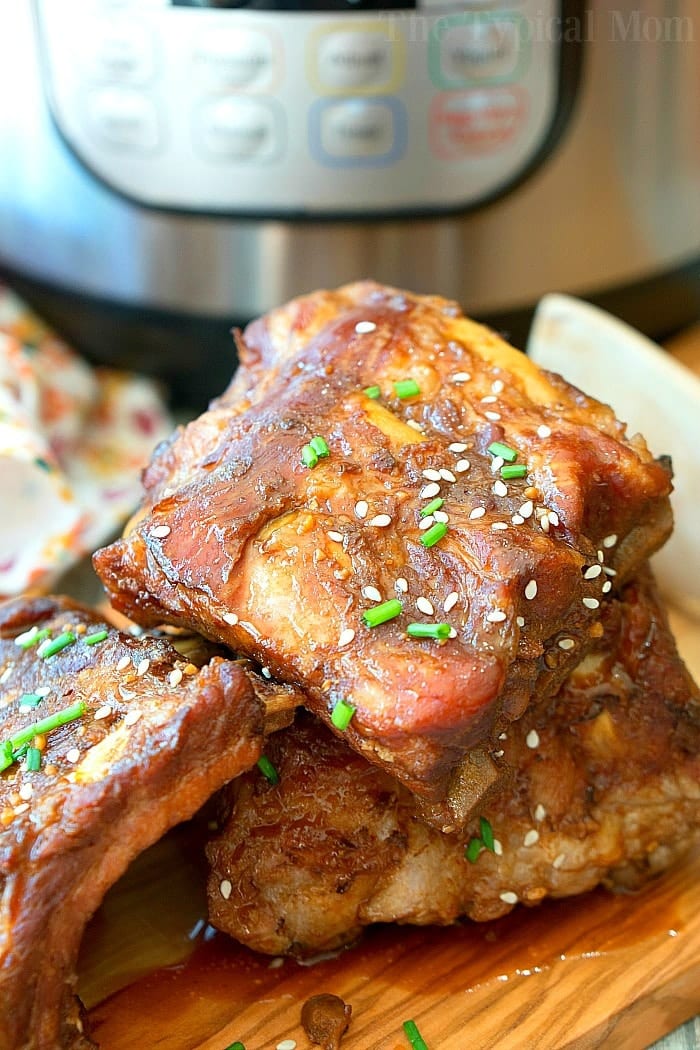 Instant Pot Cooking Times Cheat Sheet
All times on sheet are pressure high and approximate depending on the thickness of your piece of meat. It is a very helpful guide going forward though to help you create new recipes.
It has helped me create a ton of easy Instant Pot recipes that I now share with all of you.
I encourage you to come up with your own creations too though. When you find a cut of meat on sale think of your favorite flavors and go with those. Use the pressure cooker meat times and the liquid you prefer.
Remember that thin sauces can be substituted for water.
Broth is recommended over water because it lends a lot more flavor to your dish.
A bottle of teriyaki sauce is probably my favorite, that is what I used for our Instant Pot teriyaki chicken recipe.
I created all the things for you over the years and you can download one or all of them below.
I have a few different Instant Pot cook times printables below, one for meat, beans and veggies.
These cooking times work for either your 6 or 8 quart pot. We have the first 6 quart pressure cooker that came out so it may look a bit different than yours. If it is newer it works the same. I say the basic version works just great vs. the more expensive version in my opinion.
Of course tastes will vary, so timing will differ depending on how tender you like your meat, and the amount of food added. However, for the most part this free printable Instant Pot cooking time sheet will help. Then you'll understand how long each meat will take to cook.
Frozen food does affect the cook time when you pressure cook. The difference depends on the cut of meat you're using of course. If you're looking for how to cook frozen chicken in your Instant Pot it will take about 12 minutes. Defrosted is closer to 5.
All of these work the same for easy Ninja Foodi recipes you want to make too. Both pots work the same under pressure. I have another Ninja Foodi cook times printable here that is specific to air frying.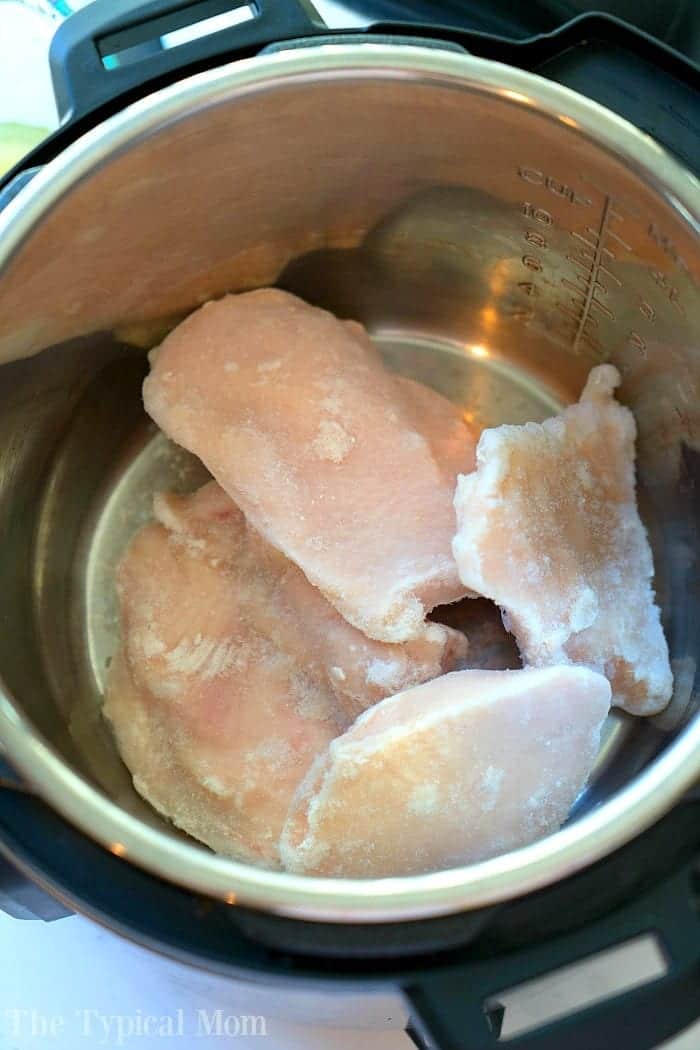 Tip when cooking beef is to use a natural pressure release vs. quick release. This will keep it tender and there is no pre heating required. Of course a cup of liquid is needed to reach pressure. That is different than if you were to slow cook it, but is so much quicker.
Looking for more Instant Pot recipes?
Instant Pot shredded chicken breasts recipe that was hugely popular on The Typical Mom Facebook page
Our Instant Pot pork shoulder is great for sliders
Sweet Instant Pot shredded chicken – just 3 ingredients!
Instant Pot Cooking Times Printable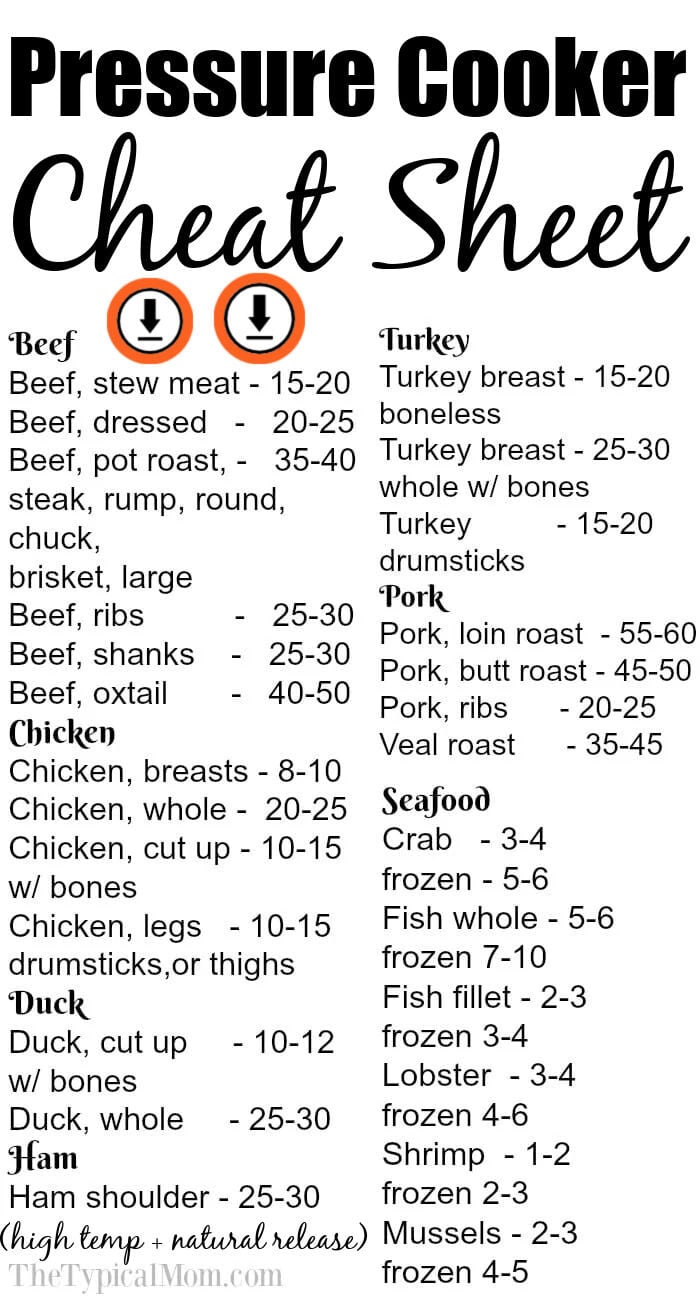 (all times are for pressure high setting)
Choose natural release when cooking beef and I do a quick release typically with chicken. Follow the recipe if you have one but if you're on your own this is what's best.
Filling in the form below will automatically get you this printable. Then you will be added to my free weekly newsletter too.
Add it to your home organization binder if you have one or you can see how we made one ourselves and it's been really handy, great place to keep it so it doesn't get lost.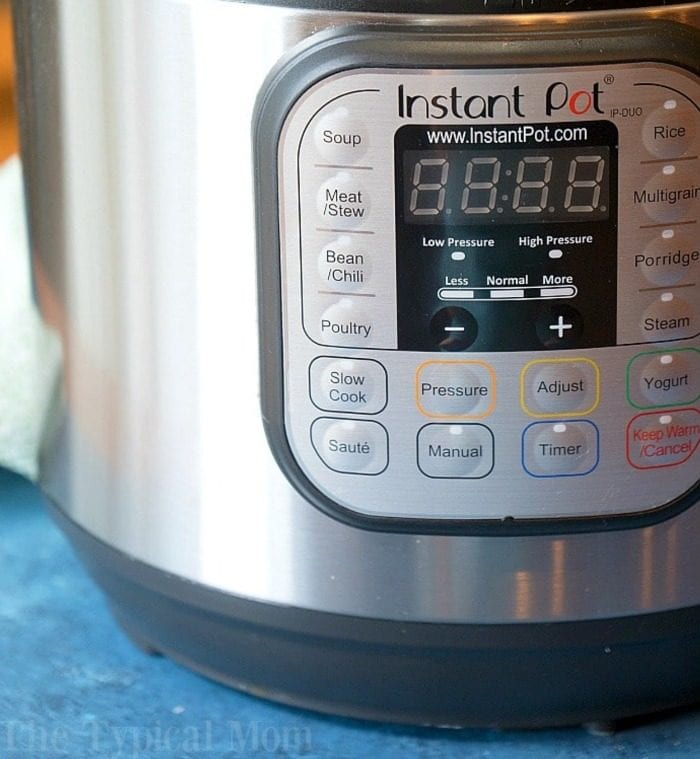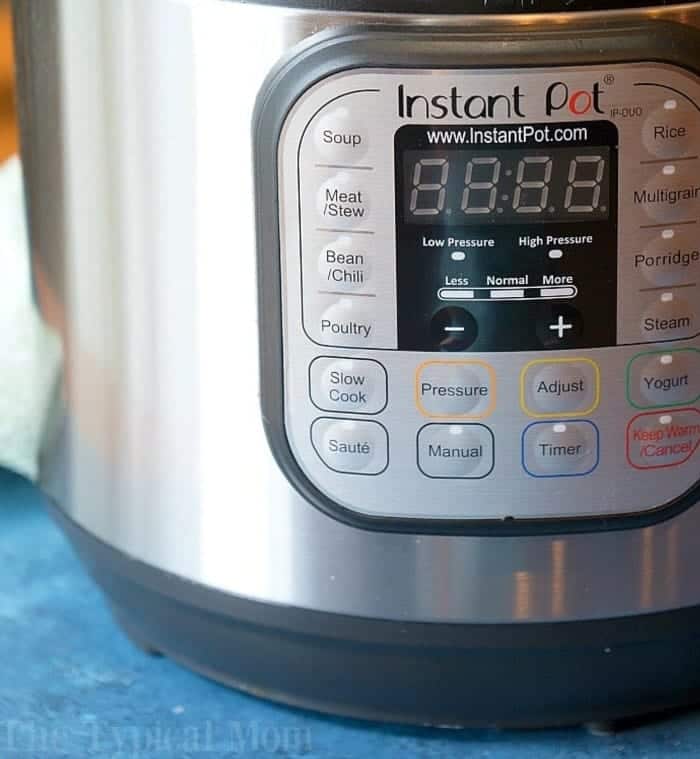 Want to see a few of my favorite things that I am totally obsessed with?? Take a peek and see how many you might already have…twinsies!
Looking for more easy family recipes and tips? LIKE The Typical Mom Facebook page?
Then sign up for my free newsletter, and follow me on Pinterest! 😉
***** If you LOVED this recipe give it 5 Stars below and let everyone know what you thought about it. 😉