If you're wondering how to use an Instant Pot I have some easy Instructions for you! If you've never used a pressure cooker and you're wondering what all those buttons mean I'm here to help plus 101+ easy Instant Pot recipes to try.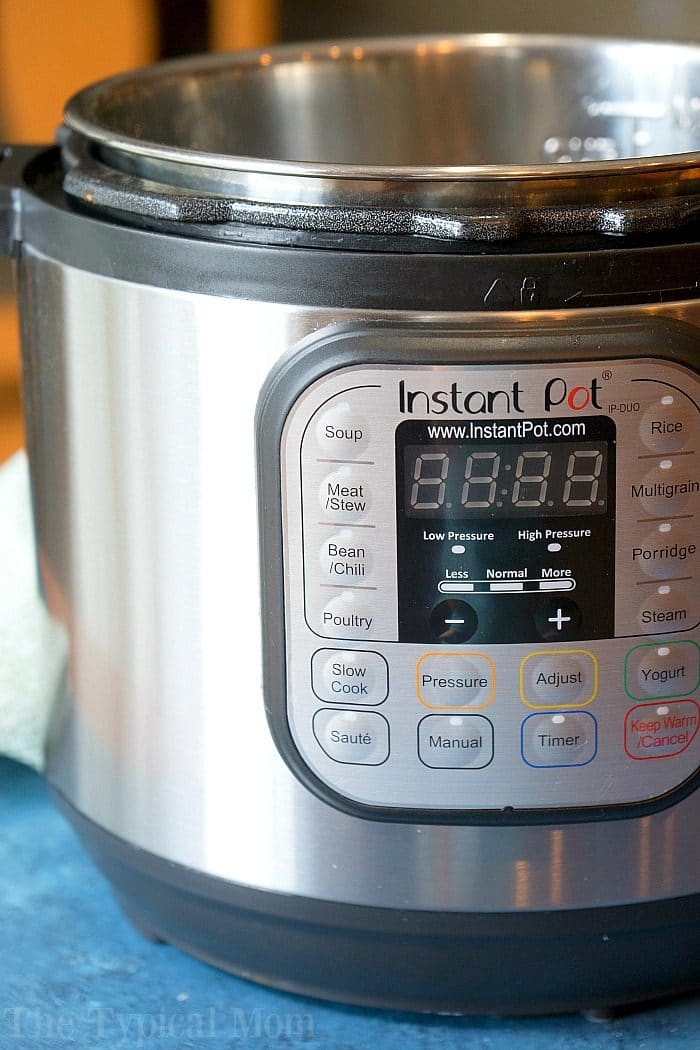 I am a food blogger and I will admit that when I got my Instant Pot I left it in the box for a few months not knowing how to use an Instant Pot or pressure cooker. My husband wondered why and I kept saying ok I got my Instant Pot, now what do I do with it?? Now 2 years later I have tons of Instant Pot recipes you can try. (originally published 9/17, affiliate links present)
How do you use the Instant Pot Step by Step
I am pretty experimental for the most part but this "fancy" appliance was a little like a space ship to me.
Pressurizing, naturally releasing the steam, and how long to cook everything were totally foreign to me. If you are a bit confused I will show you what each button means. I have even added how to use a Ninja foodi that includes an air fryer function since then for your convenience.
FIRST – You should sign up for my free newsletter so you get new posts emailed to you twice a week and never miss out on anything! Now let's start with a few basic tips:
Make sure to Bookmark our InstaPot recipes page. We add new ones each week!
Then PRINT this —–> Instant Pot cooking times cheat sheet that will help you understand how long meat, vegetables and beans take to cook in your pressure cooker.
For reference, this is the pressure cooker I have (a 6 quart) and use for all recipe creations.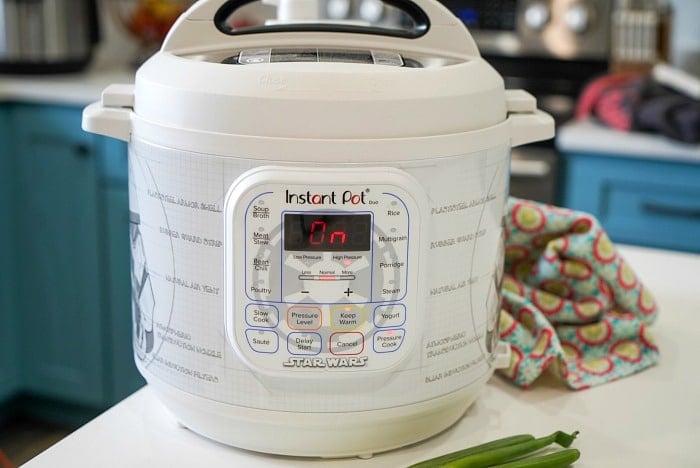 How to Use an Instant Pot for Beginners
My mom didn't have anything even remotely like this when I was a kid so I was at a loss but still determined to give this thing a whirl.
It had to be amazing because people who used them raved about how incredible they were. I'M NOW A TOTAL BELIEVER!!
Well, I started with the most simplest of ideas and recipes and went from there. These are the two I made at the beginning!
Then I created a roundup of the best Instant Pot recipes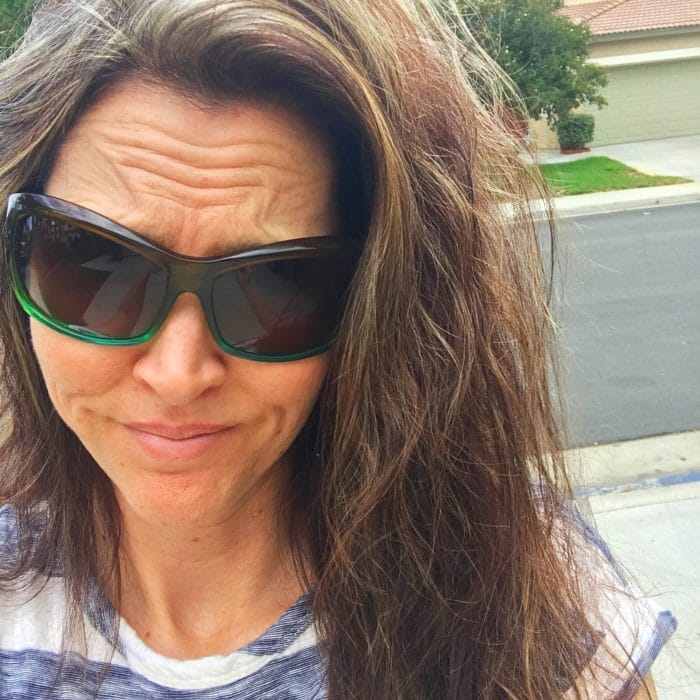 Instant Pot Instructions
I explain briefly where the buttons are and how to adjust the time and heat levels here.
I figured these had to be somewhat simple. If they didn't work I could just add a bit more time and tinker with it until it finally worked.
I had made a one pot spaghetti easy pasta dish so I gauged the timing on that. Surprisingly it worked the first time around! It is now the only way I cook spaghetti because it turns out great, in just 10 minutes! Plus there's only one pot to wash.
How to use an Instant Pot video
When learning how to use an Instant Pot I would stick with these 3 buttons (saute, manual, pressure)…..I use them 90% of the time. (manual button now only exists on the oldest versions)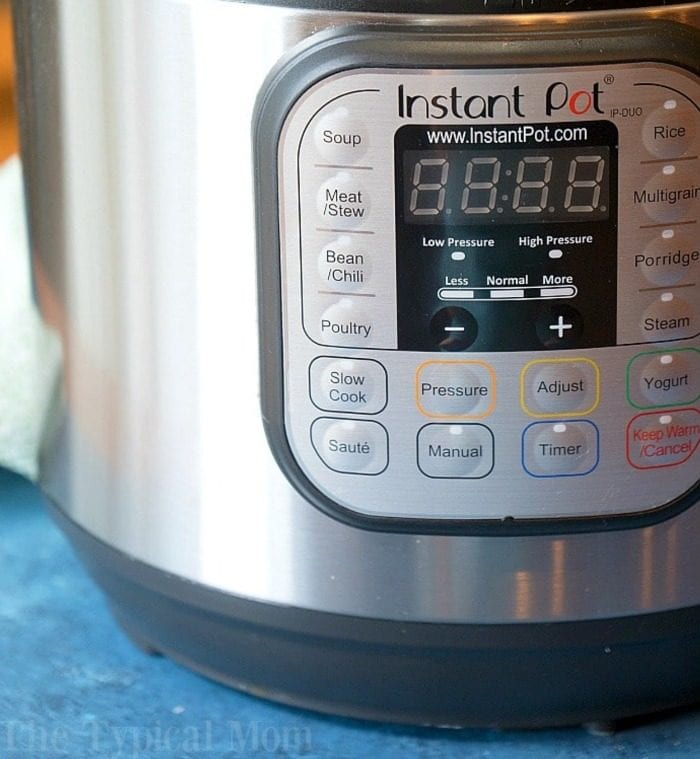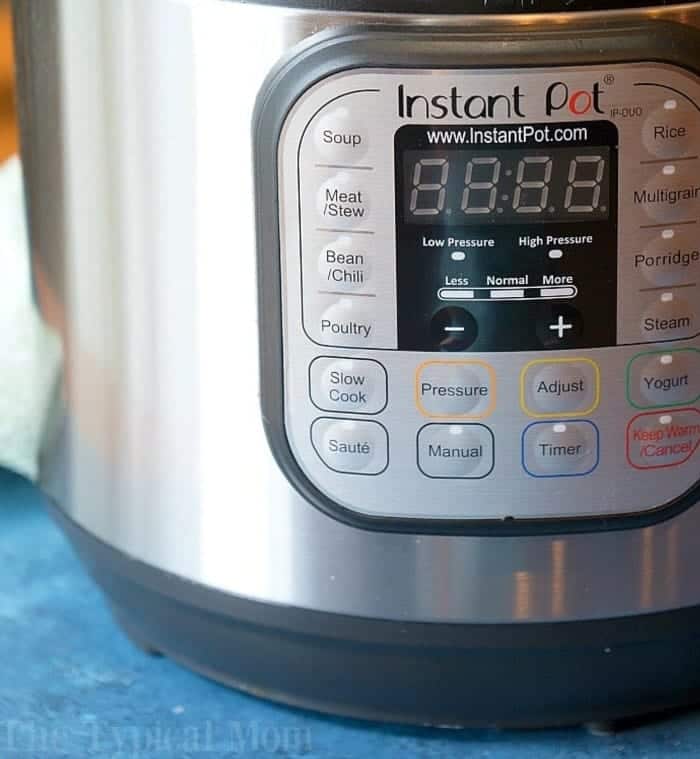 This is my Instant Pot. I bought the 6 qt. version because I figured it was plenty big for the 5 of us and I was right, if you have an 8 qt. these instructions remain the same.
Saute is great if you want to precook something like the ground beef in my spaghetti recipe above, and manual pressure buttons allow you to adjust from low to high pressure yourself and adjust the time you need.
How to Use My Instant Pot
Basic (first generation) model instructions are:
Put your food into your pot
Close your steam valve
Press manual (if yours has that button)
Press pressure
Then if you want high pressure click the pressure button again and it will move the light from low pressure to high pressure as you see here
When you want to set the amount of time you press your finger on the + or – buttons as you see and move the minutes up and down until you get it to the correct amount of minutes you need for that recipe. Then this is how long does Instant Pot take to preheat answered so you can time appropriately.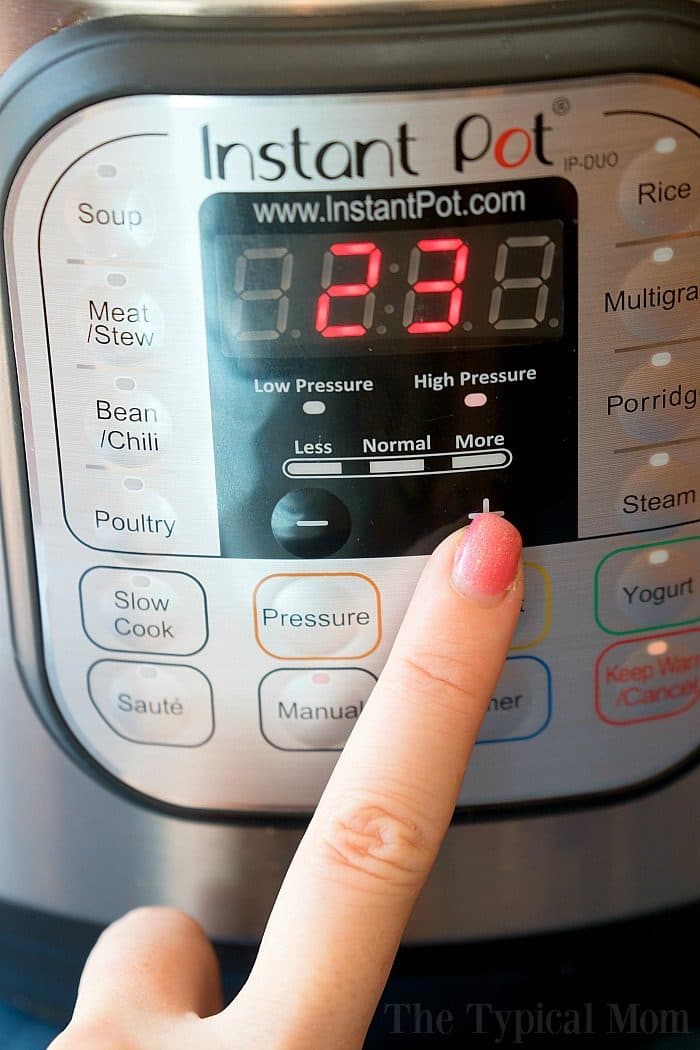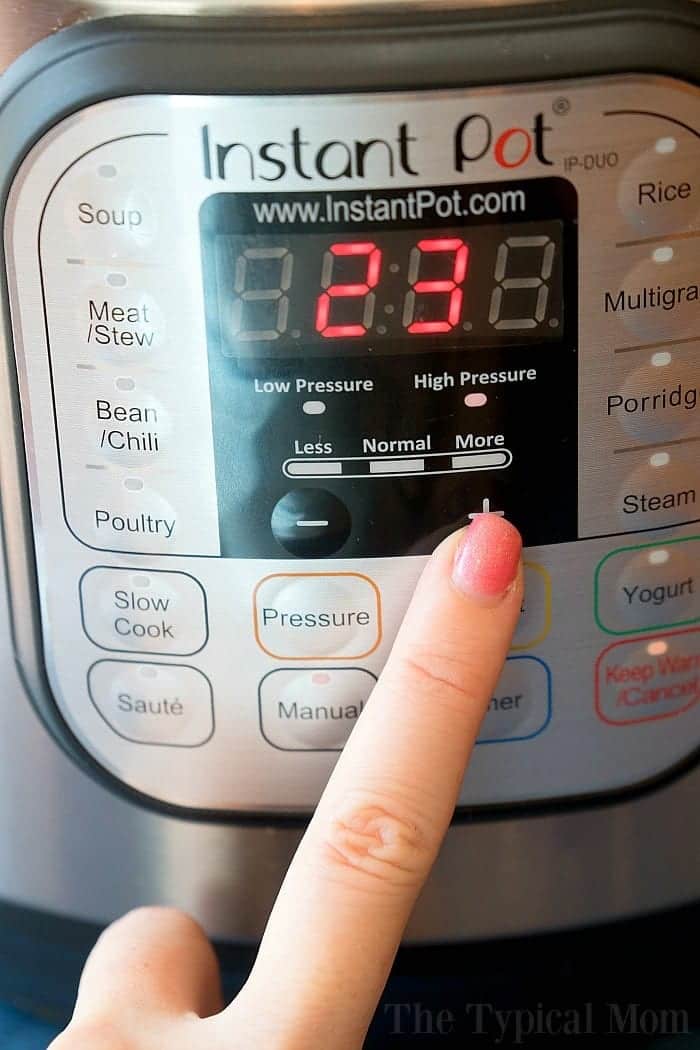 How to use an Instant Pot IP-LUX model
Works for Instant Pot Duo as well
Put food inside the pot
Close the lid and steam valve
Press manual (if yours has that button)
Press the – or + to adjust the time
How to use an Instant Pot Ultra model
Put food inside
Close lid and steam valve
Press pressure cook (if the recipe doesn't specify another button to use like stew or soup etc…)
Should automatically set to high (will tell you at the top of the screen, if not use dial at bottom to adjust)
Set cook time
Press start to begin pressurizing and cooking food.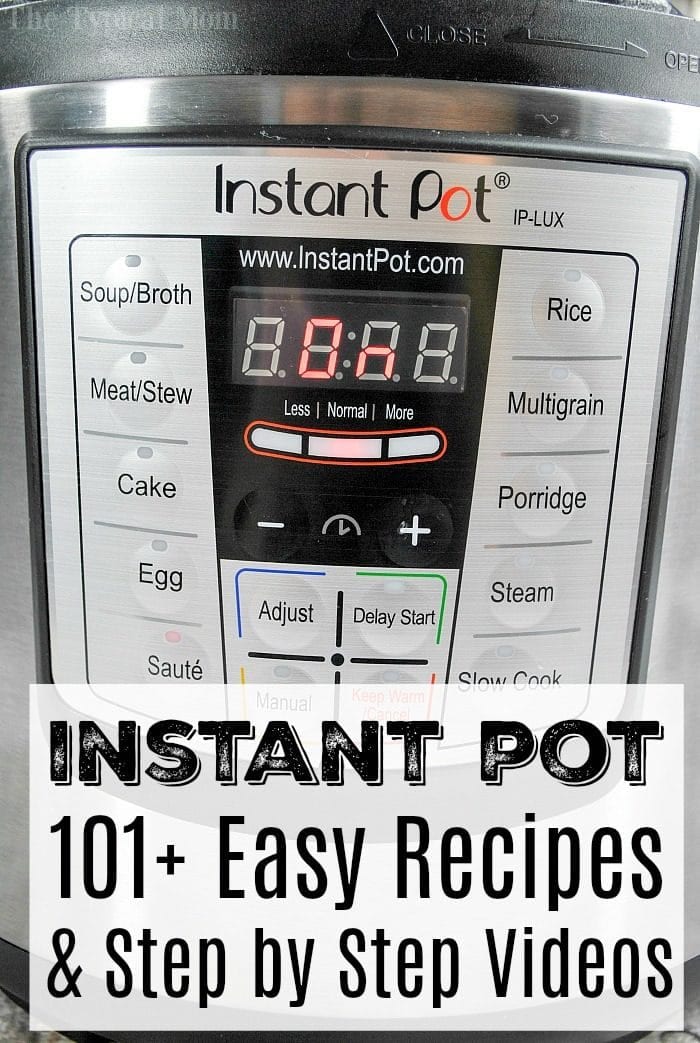 How to use a Instant Pot
Wash and dry the pot
Try a recipe that is VERY easy and doesn't cost a lot of money (try my spaghetti or macaroni and cheese)
Follow the directions step by step
Close the steam valve (see picture below)
Follow the recipe instructions regarding whether it's high or low pressure. When you push pressure (or manual then pressure on my older version it will go to low, press pressure button again to make it flip to high)
Push the + or – buttons to set the time for cooking (see photo above)
Walk away and wait for the beep that it is done
When done do a NPR (natural pressure release which means you don't move pressure valve at all), or a QR (quick release which means you move the pressure valve down so the steam comes out very quickly)
Carefully open your lid when pressure is gone and face lid away from you so steam doesn't hit you in the face.
Instant pot float valve not going down
If the metal piece is still at the top after the steam is all gone just move the lid side to side and it will fall down, it's jut kinda' stuck.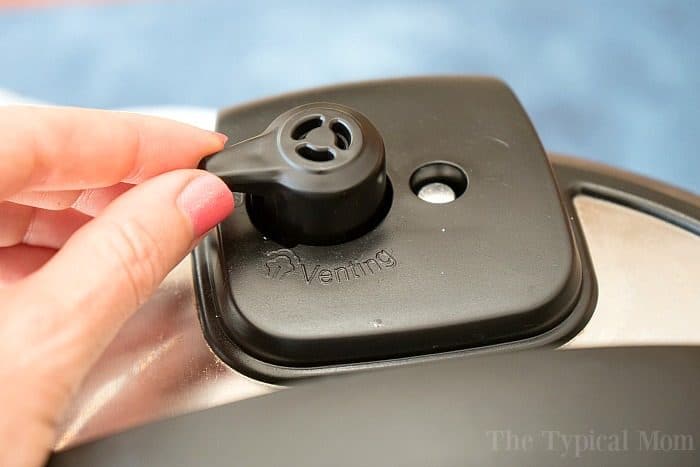 Here are the Instant Pot accessories that make my life easier:
6″ springform pan – Allows you to bake cakes and other desserts when you do the pot in pot (PIP method)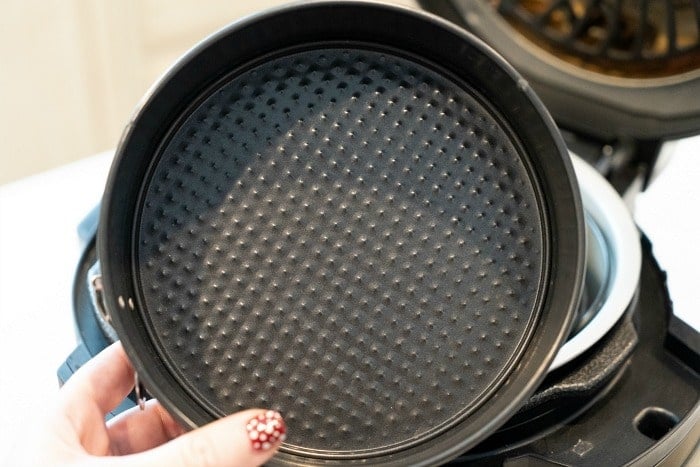 Troubleshooting Instant Pot
Here are a few things that you might have issues with and how to fix them;
It doesn't reach pressure

– Either the rubber sealing ring inside your lid isn't in place, you need to replace your rubber seal if it's older, or you don't have enough liquid in the pot to build pressure. Typically a cup of liquid is required, except with meats since those will release some juices in the cooking process.

You will know it has reached pressure when this little metal piece to the right of the steam valve you see above is at the very top and no steam (or sound) is coming out anymore.
You see in the photo above that the metal piece is at the bottom still because it hasn't reached pressure.
As it's building pressure the float valve will rise up and eventually reach the top which means the sealing position has been reached the time on the clock on the front will now start to count down. (it takes approximately 5 – 15 minutes to reach pressure)
The burn notification comes on – sometimes this means nothing, sometimes something may be burning, and other times you need to deglaze your pot (link below).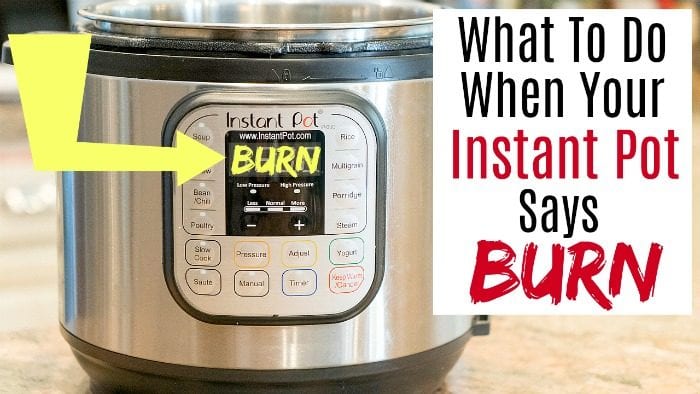 Release the pressure, lift the lid on and look. If there isn't enough water then add some more liquid. If you used the saute function first and then are on to the next step of pressure cooking then you probably didn't deglaze the pot.

Deglazing your Instant Pot is a necessary step to take especially after using the saute setting to get all the stuck on food off the bottom of the inside of your pot before it pressurizes and cooks your meal.

People have had this occur when making my Instant Pot stuffed cabbage casserole. Reason is, they didn't follow the steps to turn the pot off after sautéing the ground beef and deglaze it.
The slow cook function doesn't work – Let me tell you now, never use this as a slow cooker because it doesn't work well at all for that. Instead just stick to your good old fashioned Crock for those recipes.
Last but not lease check your power cord if it doesn't seem to be turning on. Yes it may be plugged in but the end situated into the back of your machine may not be pushed in hard enough to get it going. Check both ends until your control panel lights up and she's ready to cook again.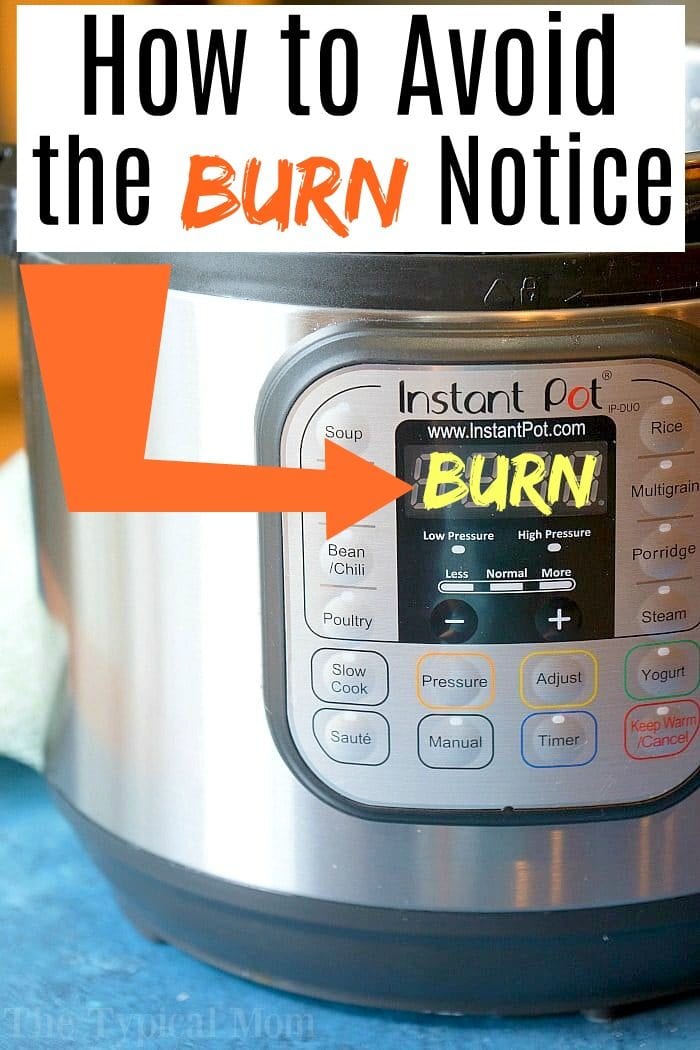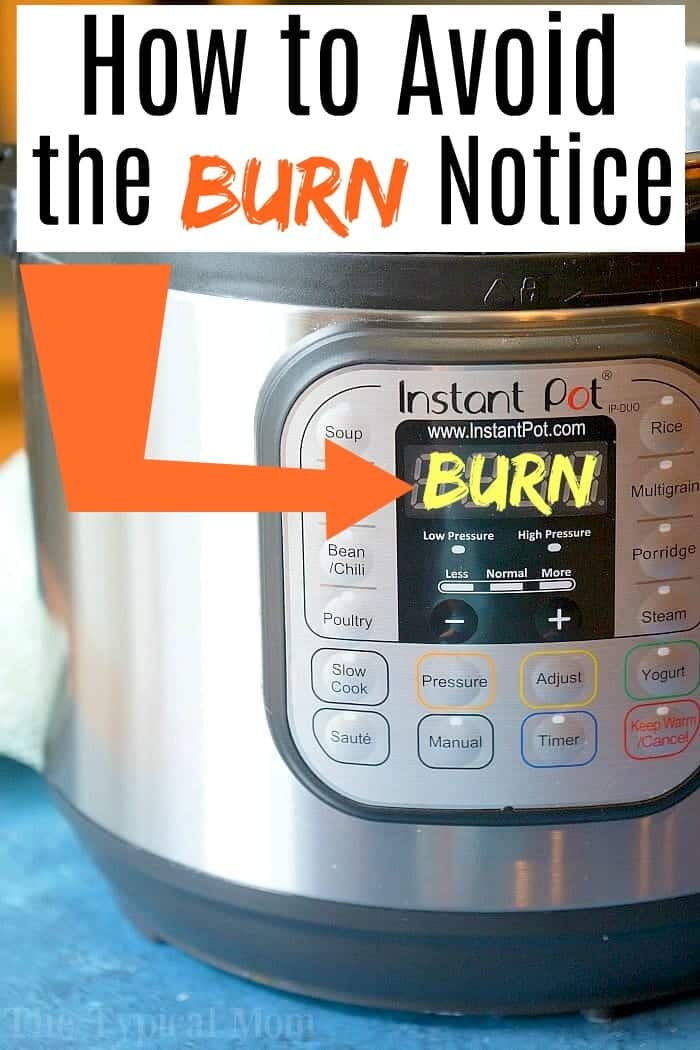 How do you use an Instant Pot for Beginners
Tips to remember:
Close your steam valve after you secure the lid so it is horizontal as you see here
Walk away and wait for your machine to beep
Do NOT, did I say Do NOT try to open the pot before releasing the steam
Also, do NOT put your fingers or any body parts over the steam valve when you release it
Do not be alarmed if you're cooking a large piece of meat like our Instant Pot frozen roast and it takes upwards of 30 minutes to start the cooking process. Sometimes this happens if there is a lot of food inside.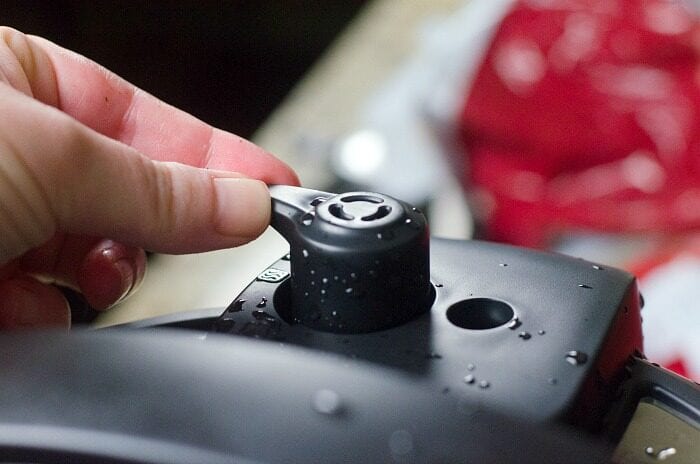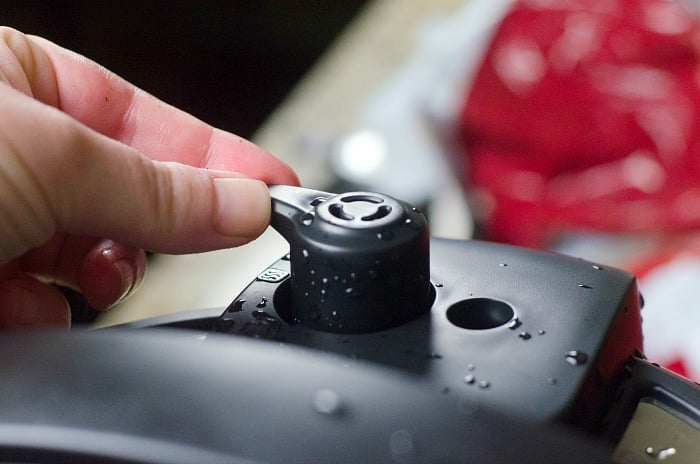 What does Quick Release Mean
Quick release means to move the steam valve to the side or flick it open quickly
If you want a slow release move the steam valve just slightly so the steam comes out slowly
Natural release means to not touch that valve at all and the steam will eventually leave (takes about 20 min.)
Unlock by twisting the lid, and carefully open it away from you
When the lid is lifted off of the pot pull it up and turn it away from your body.

as if you had a shield in your hand
Here's how to clean your Instant Pot which will be helpful if you use it daily like I do.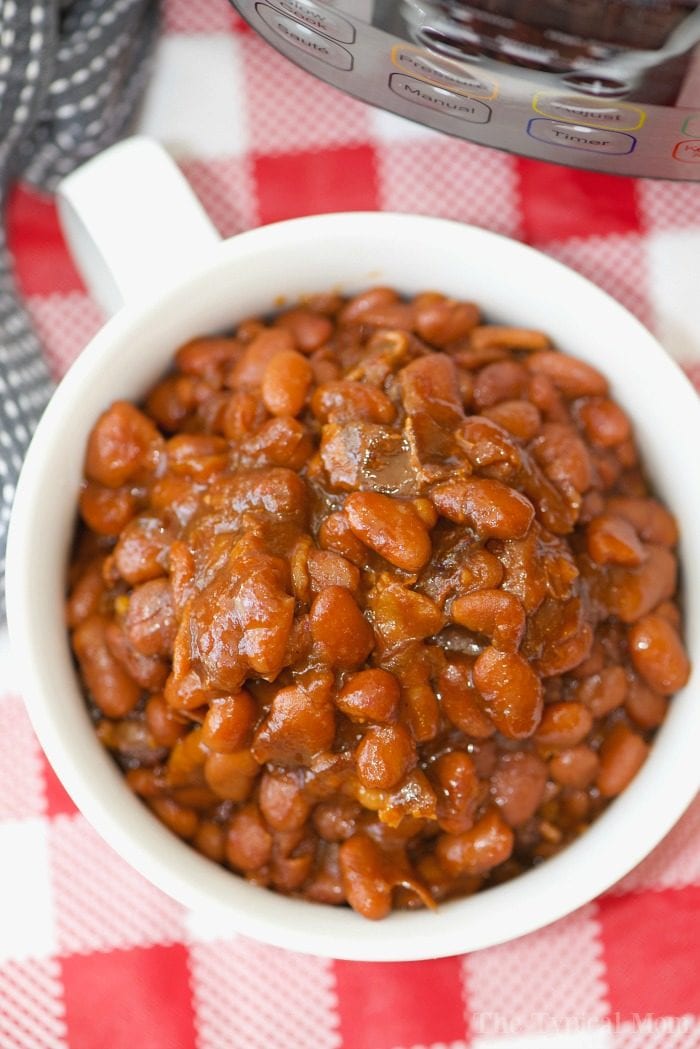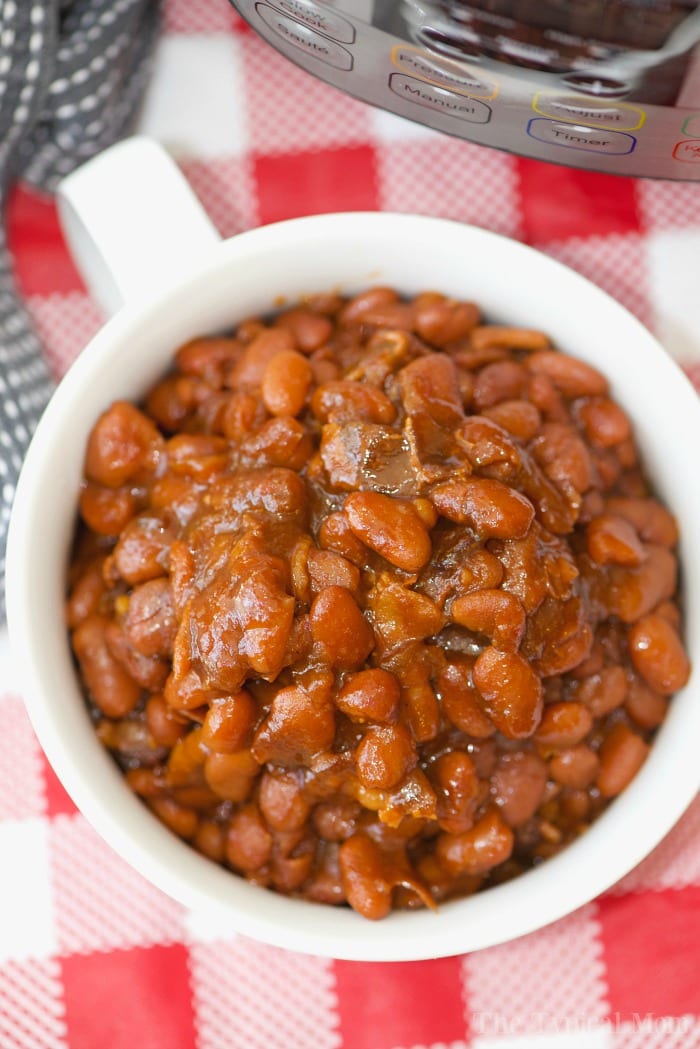 Using these basic Instant Pot cooking times for meat and Instant Pot cooking times for beans you can see how long it will take for the major item(s) in your dish and go from there.
This is what I used to make the most amazing no soak Instant Pot baked beans!
The basic timing for a purely pasta dish in my opinion is manual, pressure, high for 3 minutes like you do in my Instant Pot macaroni and cheese. It makes it not too al dente and not mushy either.
Those three basic cooking time schedules are really all you need to try any type of dish you want.
Want to see a few of my favorite things that I am totally obsessed with?? Take a peek and see how many you might already have…twinsies!
Looking for more easy family recipes and tips? LIKE The Typical Mom Facebook page?
Then sign up for my free newsletter, and follow me on Pinterest! 😉
***** If you LOVED this recipe give it 5 Stars below and let everyone know what you thought about it. 😉