Great pressure cooker fish recipes! When you're looking for a healthy dinner prepared in no time at all in your Instant Pot, Crockpot Express or Ninja Foodi like this pressure cooker salmon recipe. There's no need for an oven anymore!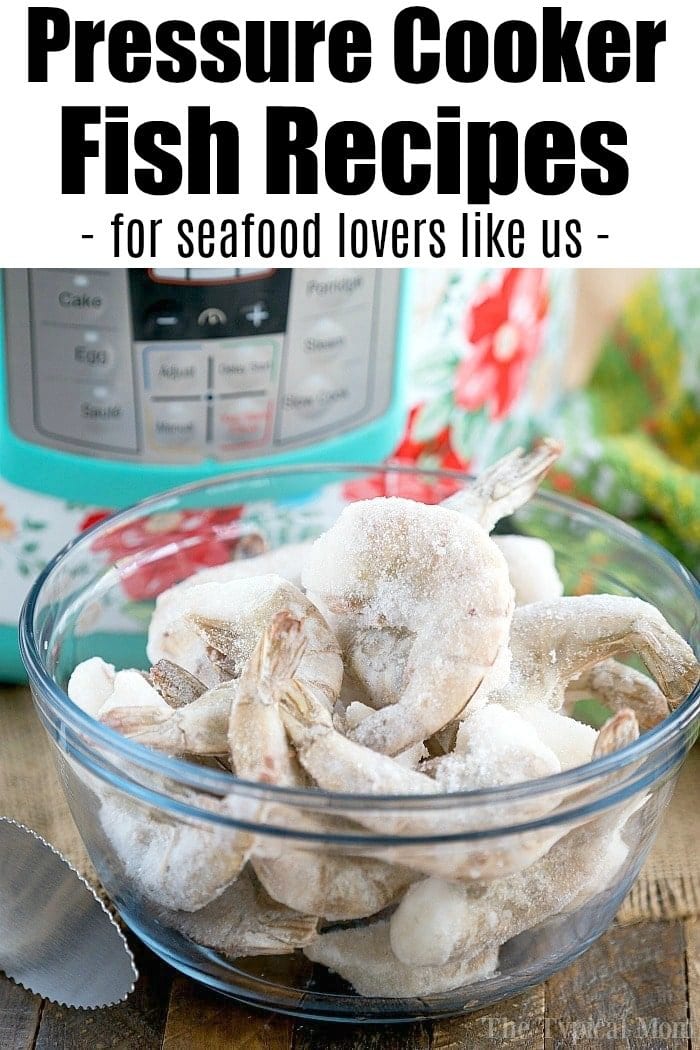 We love fish!! Any kind, I don't think there is anything out of the ocean we don't like. Yes, even my 3 girls beg for fish if we give them a choice of what to eat. Sushi is actually their favorite dinner! So, since we've created so many easy Instant Pot recipes it was only right to put together a collection of easy pressure cooker fish recipes for everyone to enjoy. (originally published 12/19, affiliate links present)
Well we love anything that swims, and every type we've tried using this method has come out tender, flaky, and moist as ever! When I first got my machine I wondered if it would be too much pressure and might dry it out. Not true. I am very particular when it comes to seafood in Instant Pot so you can believe me.
Ninja Foodi Fish Recipes
Whether you are using an Instant Pot, Ninja Foodi, a Crockpot Express, or some other brand it really doesn't matter. Most of these all use high pressure and all electric versions have that just the same. You can use a trivet or stackable pans like we will show you below too.
FIRST – You should sign up for my free newsletter so you get new posts emailed to you twice a week and never miss out on anything! Now let's start with a few basic tips:
Make sure to Bookmark our InstaPot recipes page. We add new ones each week!
Then PRINT this —–> Instant Pot cooking times cheat sheet that will help you understand how long meat, vegetables and beans take to cook in your pressure cooker.
For reference, this is the pressure cooker I have (a 6 quart) and use for all recipe creations.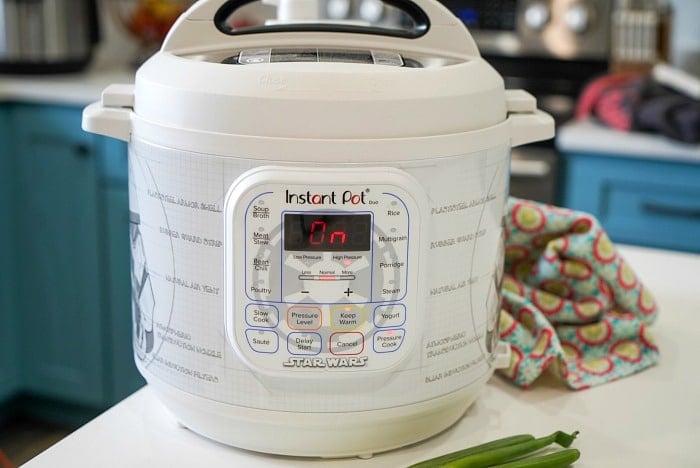 How to cook fish in Instant Pot
Let's start off with a helpful printable shall we? Years ago when there weren't any recipes out there for this little machine I got to jotting things down. How long each food took to cook was key.
Then I wanted to keep it all handy so I came up with a few Instant Pot printables to keep on hand.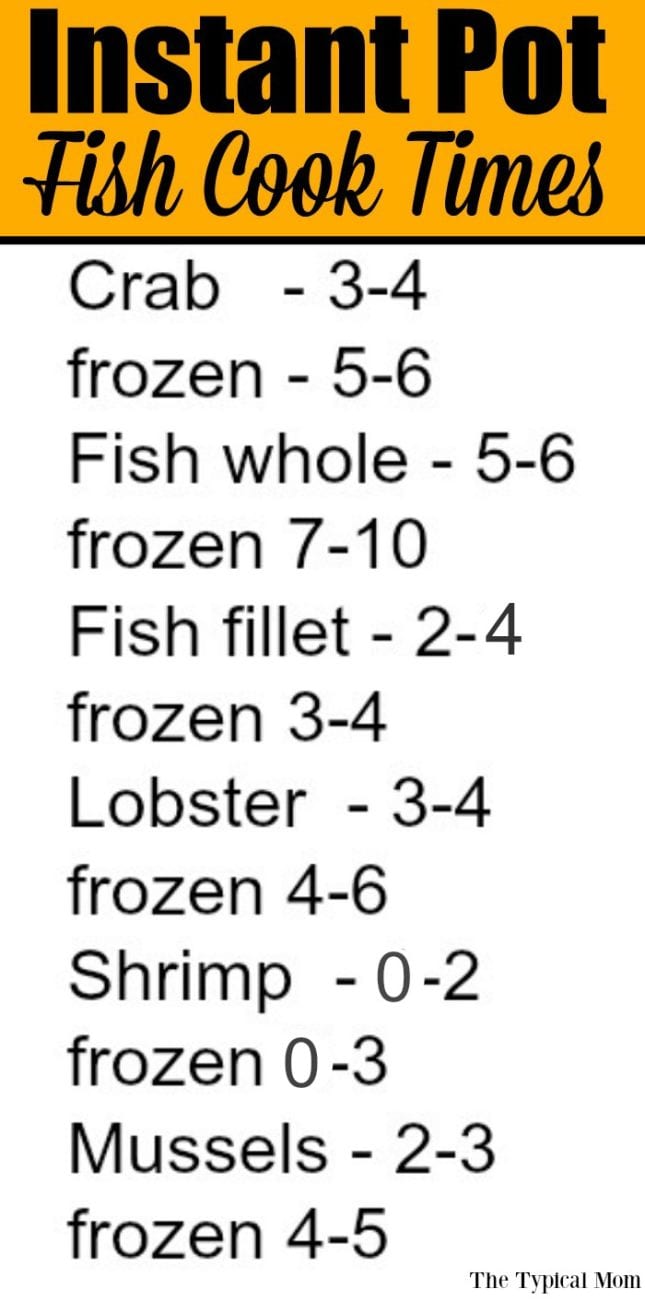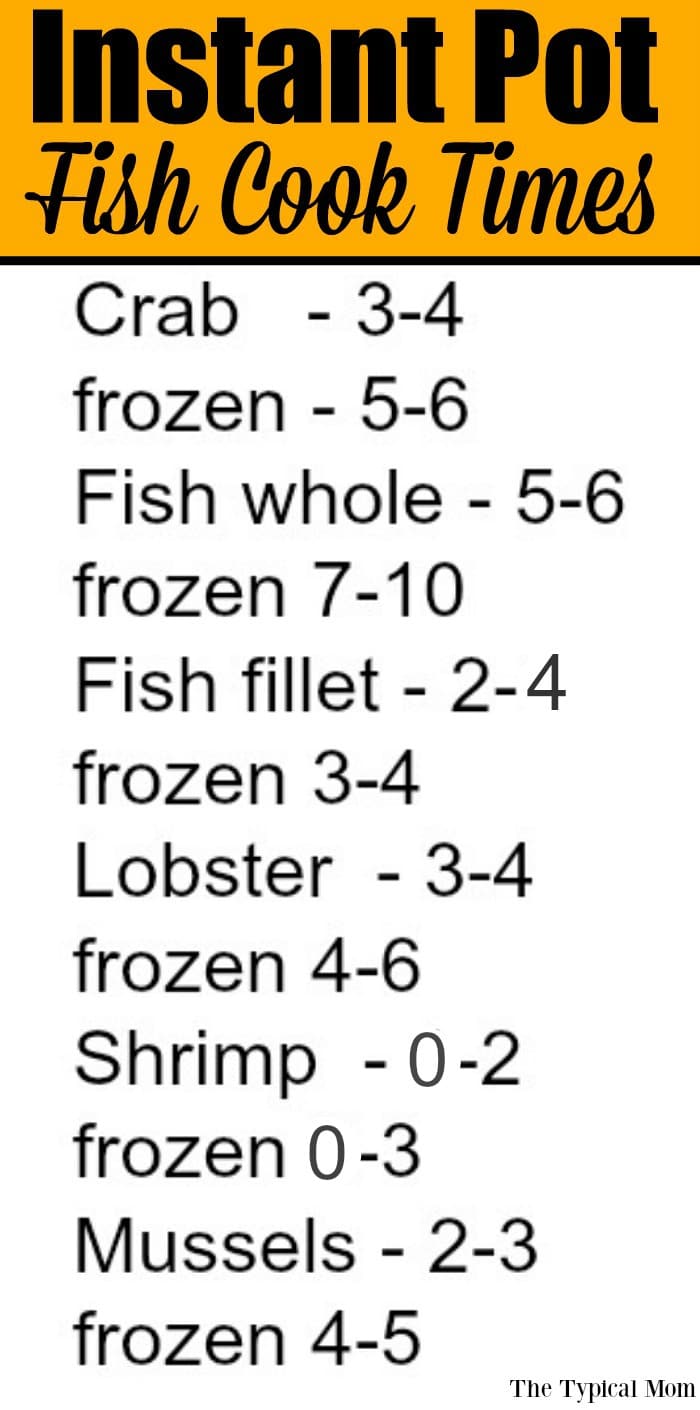 Instant Pot fish recipes
Like our Instant Pot salmon here. I started in the middle cooking it for 3 minutes on high pressure. It was a bit underdone for my liking so the next piece I put in for 4 minutes and it was perfect!
We got our salmon from ButcherBox (you can get free chicken for life here ). It's a great way to have quality meats delivered right to your door too! Special thanks goes out to them for sending us this box so we could show you how we used their salmon in a pressure cooker!
If there is a sale on seafood I really go all out because we love fish of all kinds. Sometimes you will find shrimp and or crab on special and that makes me really excited because our Instant Pot crab boil is killer.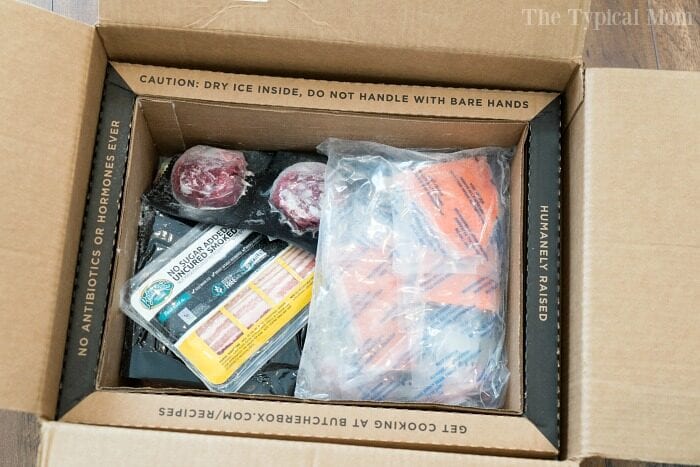 Fish and Rice Instant Pot
Recently I forgot to defrost a few fillets so I threw them in my pressure cooker anyway. Guess what?? Our pieces of Instant Pot frozen salmon came out flaky and delicious with just 1 more minute of cook time!
That is a great tip to remember when you have a forgetful moment too.
Salmon is such a great food with Omega 3 that we all need. If you live in an area where fish is hard to come by this is a great option since it's delivered to your door.
This is what the package we received. Freshly caught in Alaska and ready to cook right out of the bag if you use our directions above. 😉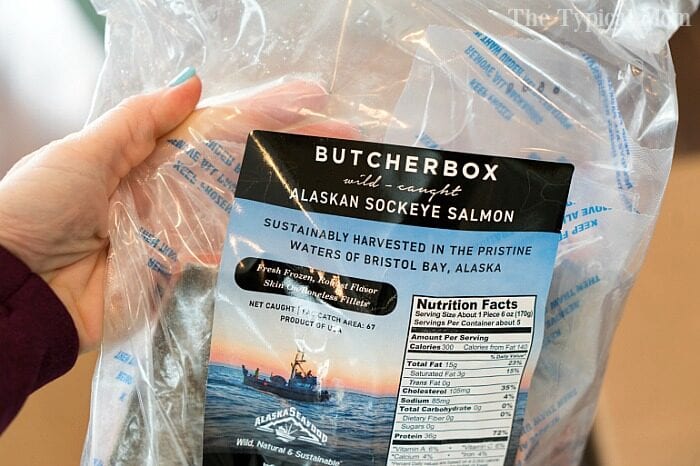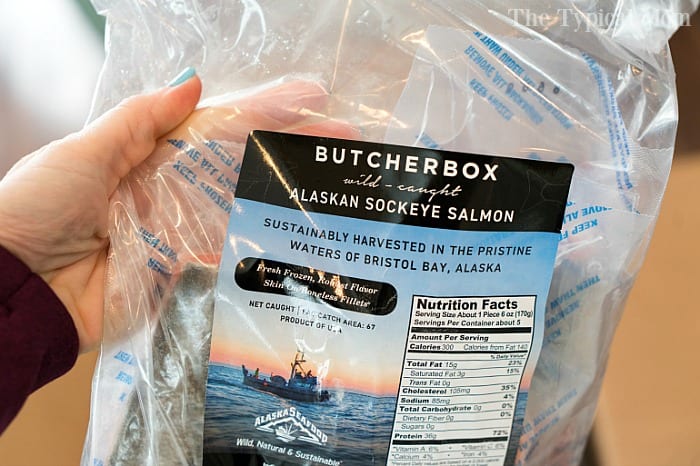 How long to cook fish in the Instant Pot
Timing will depend on the following factors:
The size of the fillet

of course a 1/2 lb. piece is going to cook quicker than a 3/4 lb. fillet

The thickness of the piece of fish you've chosen

if you buy an entire fillet like we did the middle section(s) are going to be thicker than the end pieces so they will take a minute or so longer to cook all the way through
If you add other ingredients like our Instant Pot shrimp boil the timing will change a bit too. Keep in mind there isn't a huge variation and it is still really quick but alone vs. amongst other items adds a minute or two.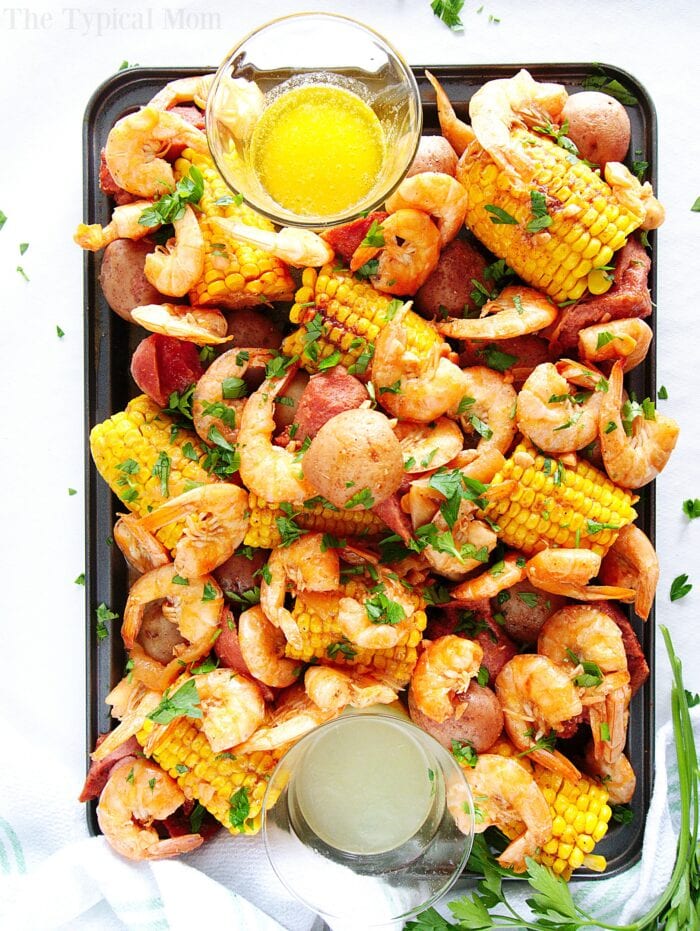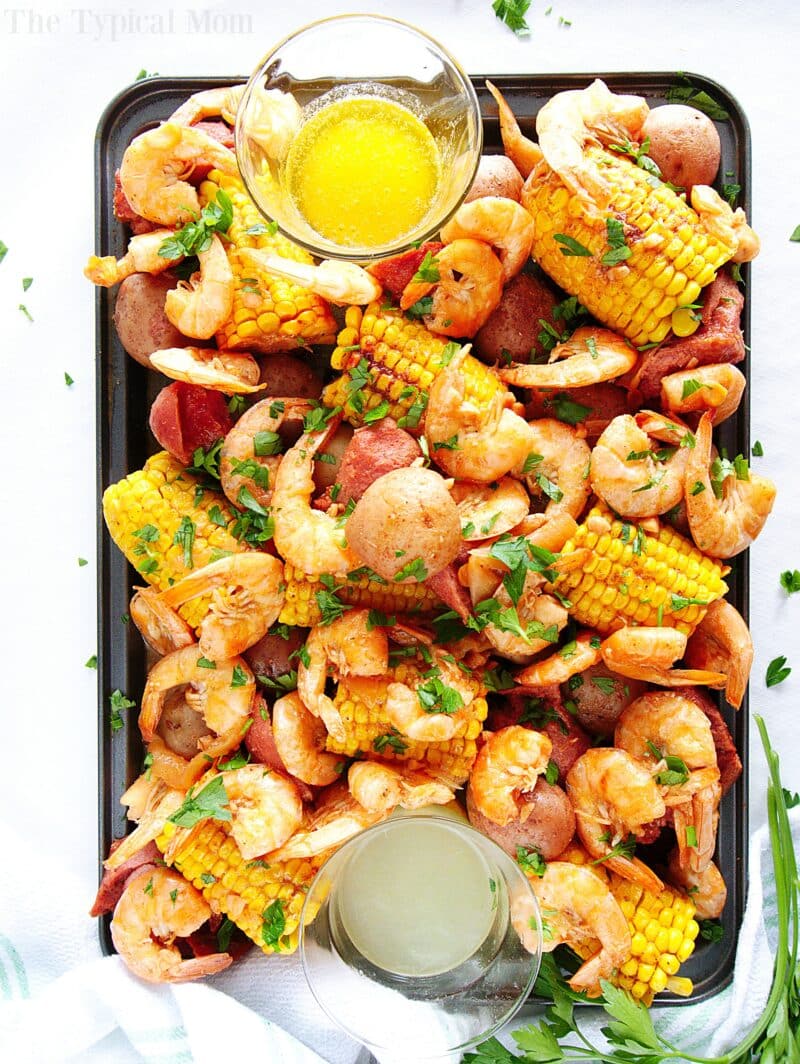 Fish in Ninja Foodi
How long fish takes to cook in a pressure cooker doesn't fluctuate a lot but can slightly depending on a few factors like;
How well done you like your fish

This is a biggie. My husband would prefer to barely have his fish seared on both sides and eat it just like that. I prefer it cooked thru but not overcooked where it begins to turn gray

The method in which you cook it

We are talking all about pressure cooker fish recipes here but I have cooked Instant Pot fish using enclosed stackable pans as well as on a trivet like you see here.
The latter (below) takes a fraction of the time to cook
How to Steam Fish in Ninja Foodi
Like I said before, you can use all the same instructions for an InstaPot or this brand of machine. We are talking about pressure cooking here but you can also air fry with this model if you like. Whether it's fresh or frozen changes by about a minute. our Instant Pot tilapia was frozen but came out perfect using this method.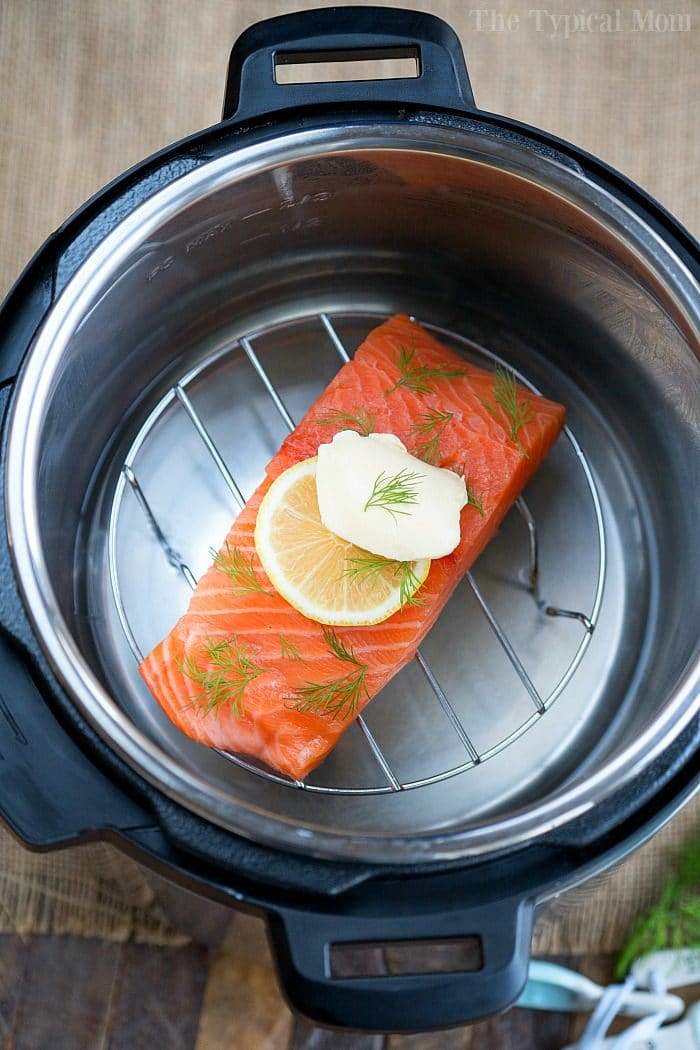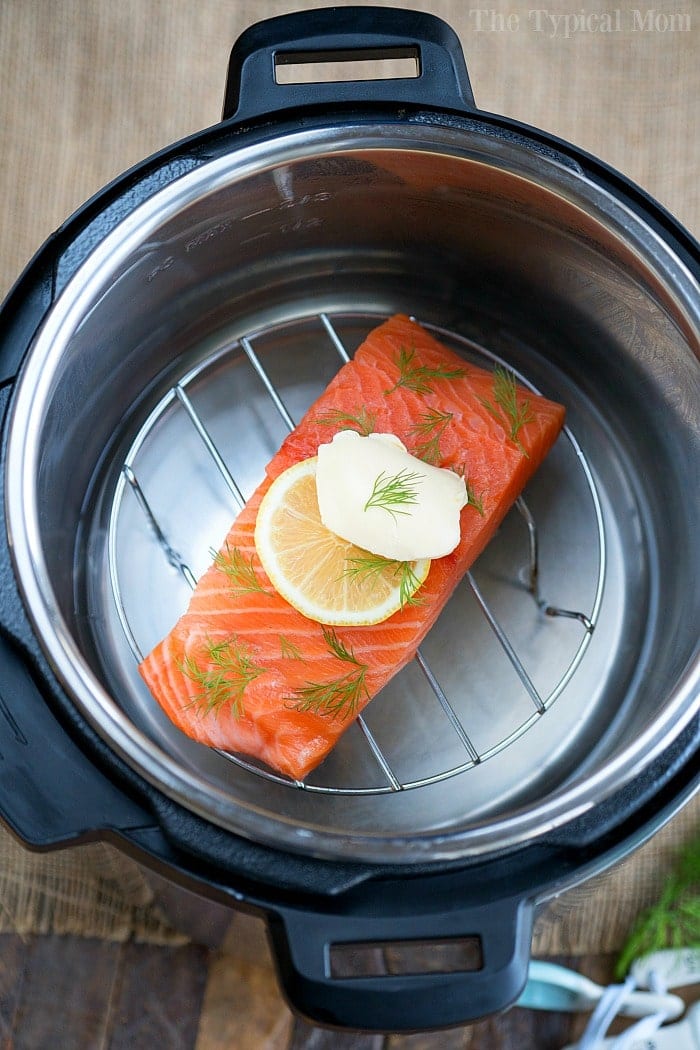 Pressure cooker fish recipes
We will share a bunch of ideas below but if you want to make Instant Pot salmon you'll need this:
Fillet – we used a 3/4 lb. piece, timing below is appropriate for that size
Squeeze of lemon juice – totally optional, a few lemon slices on top can be used
Butter or I Can't Believe it's Not Butter we used on top – about 1 tbsp, olive oil could be used
Dill – fresh is best, feel free to use dried if that's all you have
Salt and Pepper – or anything else you like to season fish with
Tinfoil – so you can make a foil "bowl" like we show you in the video, you can alternatively spray the trivet
Trivet – this one with handles attached is the best
All of these are great with a side of air fryer hush puppies ….. just sayin'
Great healthy Instant Pot recipes and pressure cooker side dishes to serve with your salmon or fish
Perfect quinoa in your pressure cooker
Electric pressure cooker mashed potatoes
Salmon InstaPot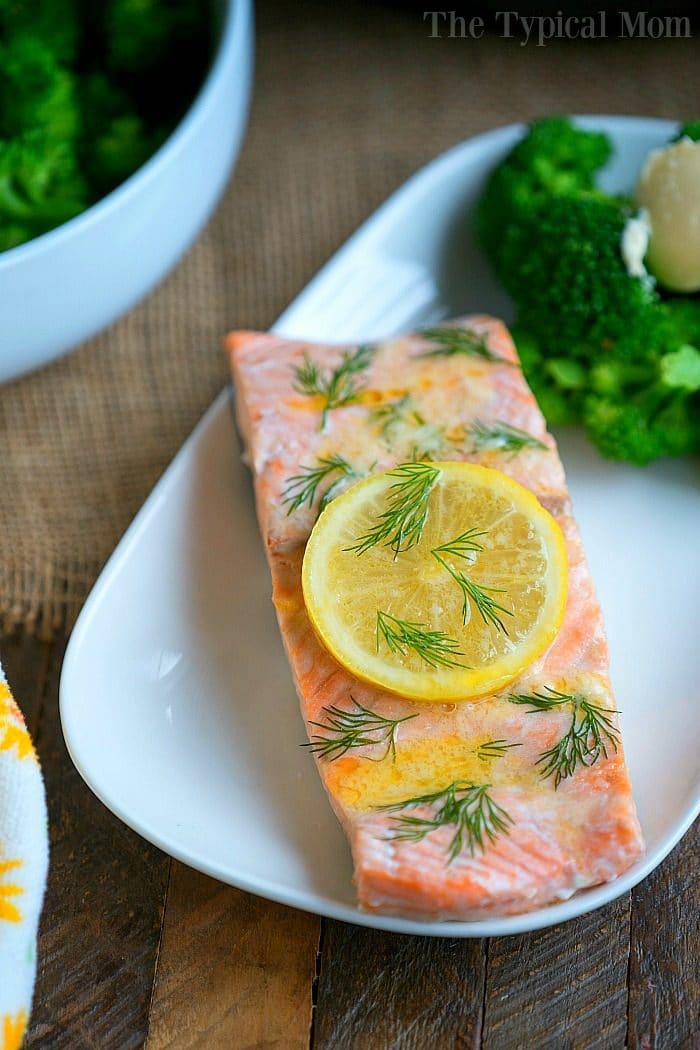 Pressure Cook Fish From Frozen
Here are the simple steps to follow to get it to a perfectly flaky fillet of salmon you see here: We are going to assume you have defrosted your pieces beforehand. If not follow our directions for Instant Pot frozen salmon which are the same but adding 1 extra minute to your cook time.
Pour your water into the inner liner. You can add slices of lemon into it too if you'd like an added boost of that flavor and scent.
Place a trivet in the middle and your fillet(s) on top. Do not overlap your pieces.
Sprinkle any and all seasonings you'd like on top with a slice of lemon and I like a pat of butter as well. These options are up to you depending on the flavors you desire.
Close your lid and steam valve.
Set to high pressure for 4 minutes.

timing will vary slightly depending on how thick your pieces are and how "well done" you like your fish to be (it's best to have it a bit underdone vs. overdone so it's nice and flaky)
with the time it takes to reach pressure the total time will be about 15 minutes

Release the pressure once done, this is called a quick release.
Use a spatula to lift out. Sprinkle with additional seasonings if desired and enjoy immediately.
Instant Pot Salmon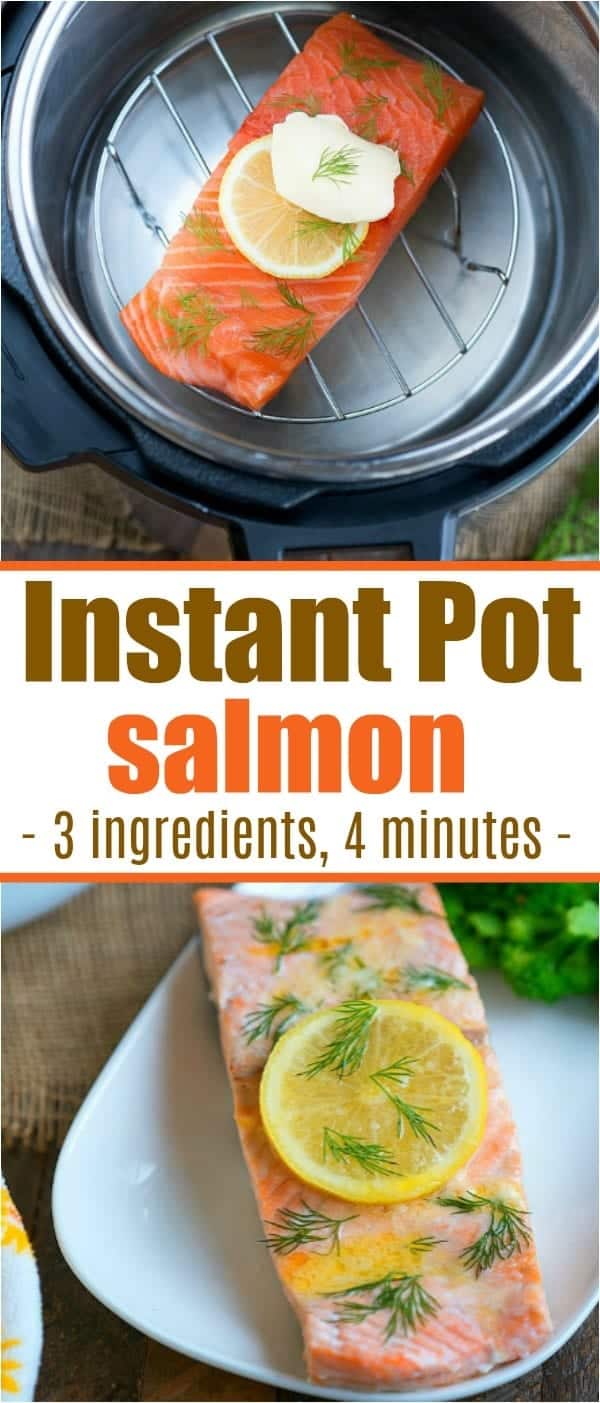 Instant Pot fish recipes
Our Instant Pot shrimp alfredo was a hit with the kids!
We used canned clams for this Instant Pot clam chowder as well but fresh could be used if you preferred.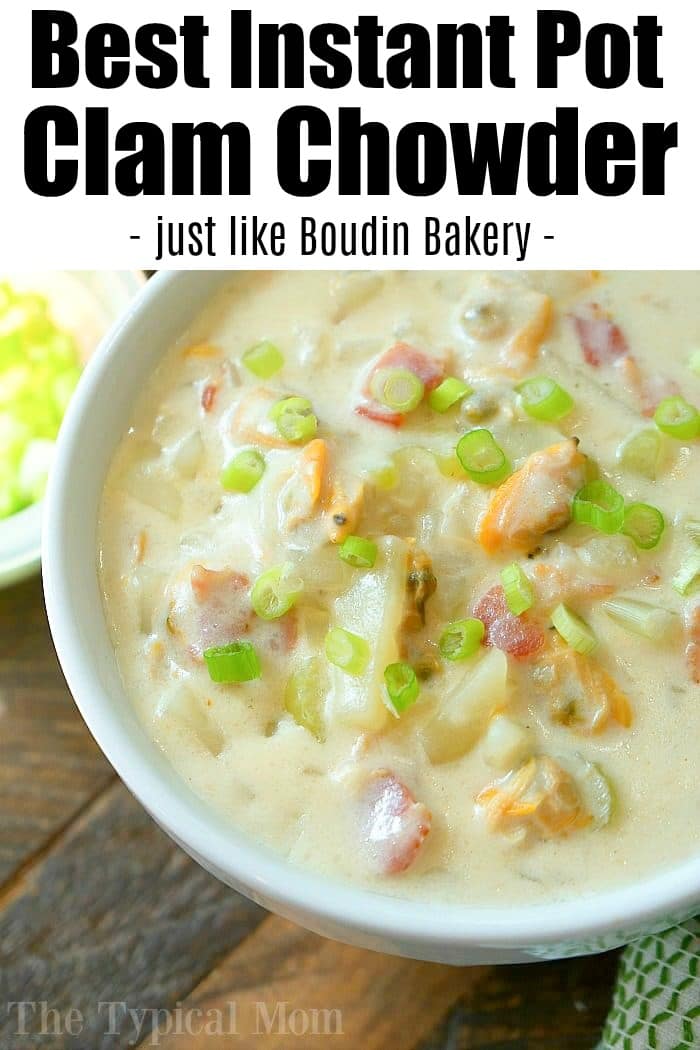 Want to try salmon in the air fryer too? Do it!! We have a bunch of air fryer fish recipes like air fryer catfish and more you can try here.
Ninja Foodi Salmon
Instructions for cooking salmon in your pressure cooker is below. This method works great with just a cup of water!
Want to see a few of my favorite things that I am totally obsessed with?? Take a peek and see how many you might already have…twinsies!
Looking for more easy family recipes and tips? LIKE The Typical Mom Facebook page?
Then sign up for my free newsletter, and follow me on Pinterest! 😉
***** If you LOVED this recipe give it 5 Stars below and let everyone know what you thought about it. 😉
Pressure Cooker Salmon
Great pressure cooker fish recipes! When you're looking for a healthy dinner prepared in no time at all in your Instant Pot. Like this Instant Pot salmon recipe. No need for an oven anymore.
Ingredients
Instructions
Pour 1.5 c water into your pressure cooker and lower down a trivet.

Make a "boat" using foil (watch video in post for a demonstration) so butter doesn't drip down into your inner pot. Put your piece of salmon on your foil "boat" skin side down.

Put a slice of lemon (optional) and tbsp. of I Can't Believe It's Not Butter on the top of your salmon filet. (you can alternatively squeeze the lemon on at the end, if you put lemon slice on now the salmon will not be cooked through as much under the lemon itself – personal preference, my husband likes it this way, I prefer a squeeze of lemon after it is done)

Sprinkle fresh pcs. of dill (or dried) on top as well as a pinch of salt, garlic salt, and pepper.

Close lid and steam valve and set to high pressure for 4 minutes (for 3/4 lb., 3 min. for smaller pieces or if you like it under done and quite pink). Do a quick release.

Lift out fish, use a spatula to remove from foil boat or trivet and enjoy!
Nutrition Facts
Pressure Cooker Salmon
Amount Per Serving (3 oz)
Calories 293
Calories from Fat 144
% Daily Value*
Fat 16g25%
Cholesterol 108mg36%
Sodium 145mg6%
Potassium 833mg24%
Protein 33g66%
Vitamin A 245IU5%
Vitamin C 1.9mg2%
Calcium 20mg2%
Iron 1.4mg8%
* Percent Daily Values are based on a 2000 calorie diet.