This is how to make the perfect Instant Pot white rice in your pressure cooker. How long to cook it, what liquid to use, and tips on serving the best tasting rice are here. Whether you are a beginner or use your machine daily this basic recipe will become your go to for dinnertime. Works the same for Ninja Foodi rice too.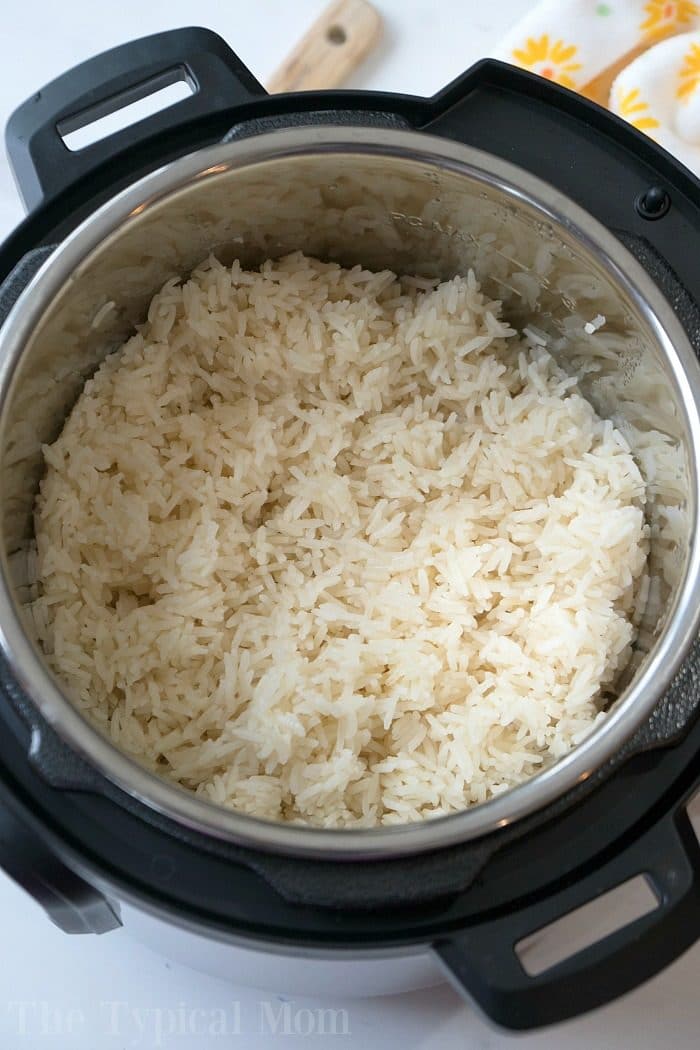 Ok so I have been busy creating a ton of easy Instant Pot recipes since I got mine Christmas of 2016. I neglected to share the most basic one, Instant Pot white rice so here we go with the side dish we eat the most often with dinner. (originally published 1/18, affiliate links present)
Instant Pot Rice
We make rice several times a week. You can use an IP, make Ninja Foodi white rice or Crockpot Express too. Almost all pressure cookers have the programmed timing for rice nowadays. If not we will explain how to do it without one too. A cheap and easy side dish everyone in your family will love. This goes with everything I tell you.
Maybe because I'm from Hawaii and it's something we ate every day there, or what but I can't get enough of it. You can add sauce to the top, enjoy it plain or mix it with meat and veggies for an entire meal. A naturally gluten free grain that is versatile enough for all the things. We have also added instructions to make Instant Pot jasmine rice too.
FIRST – You should sign up for my free newsletter so you get new posts emailed to you twice a week and never miss out on anything! Now let's start with a few basic tips:
Make sure to Bookmark our InstaPot recipes page. We add new ones each week!
Then PRINT this —–> Instant Pot cooking times cheat sheet that will help you understand how long meat, vegetables and beans take to cook in your pressure cooker.
For reference, this is the pressure cooker I have (a 6 quart) and use for all recipe creations.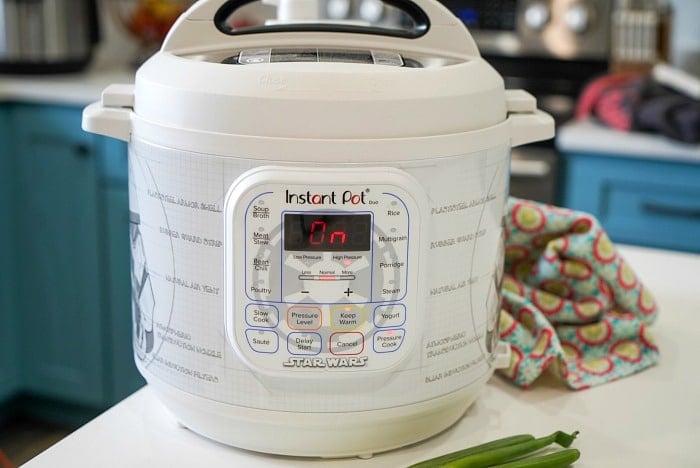 White Rice in Instant Pot
I guess you just assume it is easy but I remember the first time making it I had to adjust the amount of liquid a bit. What we use for liquid to achieve what we consider to be the best recipe for rice in the pressure cooker is a bit different too.
If you were using another brand like a Ninja Foodi would not make a difference. Remember that this is a grain that will more than double when it soaks up the liquids in that pot so you don't want to scrimp on it. You can use water or any sort of broth for this depending on your preferences.
We eat this a lot, like probably every other day. When I was growing up this was just a staple so I guess I assumed it was for everyone else too.
For those in the midwest I've heard their go to is potatoes with just about everything. Ours is white rice for sure. I used to use my good old fashioned rice cooker that I got at my wedding, the same one my mom had back in the day, but this is better. There IS in fact a difference in how fluffy it becomes when it is cooked correctly.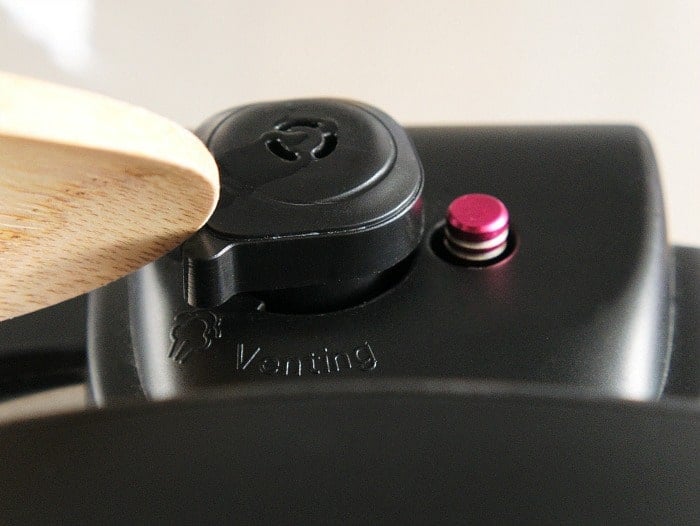 Instant Pot White Rice 2 Cups
So there are 5 of us with one who left or college, so 4 left in the house. When we are all eating, 2 cups of dry grains is just about rice for all of us to be full. Of course this would be served with a main dish, not just alone as a snack. If you have very large hungry boys you might need more, adjust accordingly.
White Rice to Water Ratio
I've had a rice cooker ever since I was a kid. I watched my mom cook it night after night this way or on the stove top.
In that machine it was always a 2:1 ratio of water to rice (it isn't the same for the IP).
She always just used water and I never thought twice about it as a kid.
When I got married the first thing I put on my wedding registry was a rice cooker…a big one. That is how engrained white rice is in my life. lol. Later on I got to love pressure cooker wild rice but it does take a lot longer to cook this so I don't do it as often.
How to Cook Rice in Insta Pot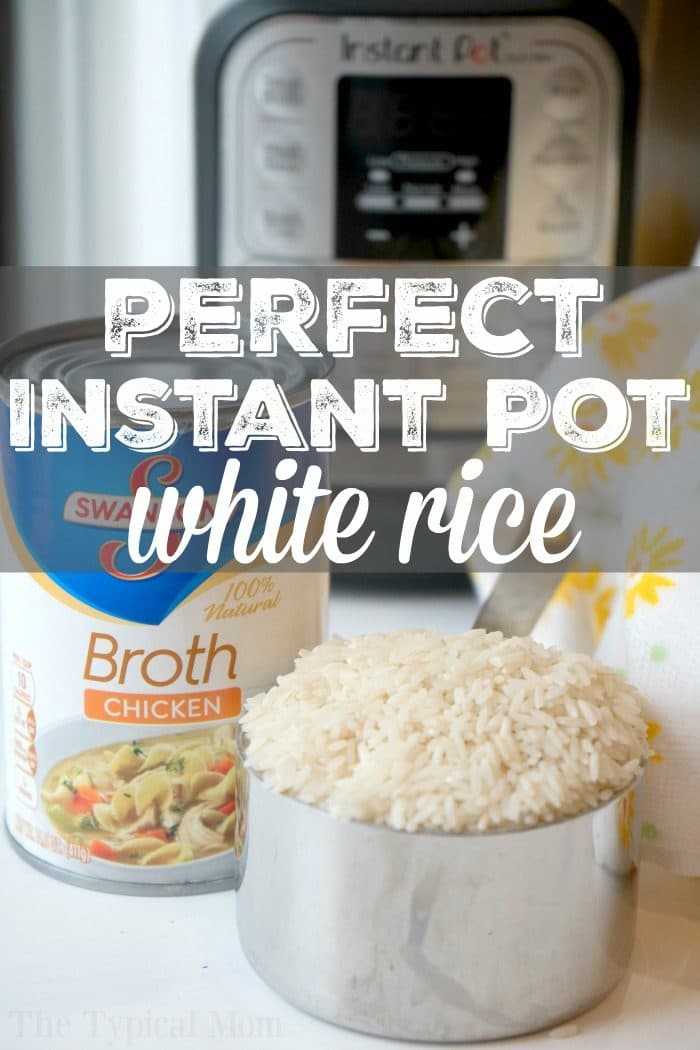 How to Make Rice in Instant Pot
At first it was a learning curve for sure and I made rice several times before I figured out the perfect rice recipe, then I wrote this post on how to use an Instant Pot to help everyone else out too!
Why I love pressure cooker rice
It's inexpensive to make
Everyone in my family enjoys it
It's a healthy side dish (if you aren't watching your carb intake)
White rice really goes with every protein
Is Instant Pot good for cooking rice?
There's no better way! It's quick and turns out perfect every single time. When I had a family and started cooking rice night after night I never thought differently, but once I got my Instant Pot it didn't turn out quite the same. I made different versions of white like Jasmine, Instant Pot Arborio rice, etc in order to figure out the exact ratio of liquid to rice I needed. This was it!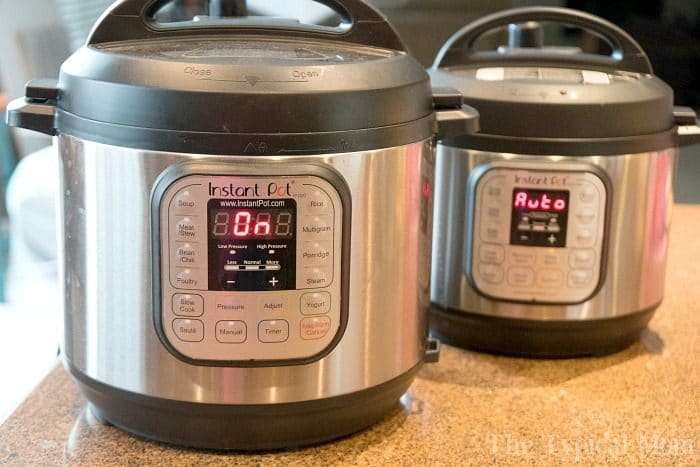 We make 2 cups of uncooked rice for the 5 of us, you could cut this recipe in half if you needed to.
I got tired of swapping liners, or cooking my rice, emptying the pot, and then cooking my main dish in my Instant Pot so last month I broke down and bought this Instant Pot mini 3 qt. Now I can have the entire dinner done and on the table in under 30 minutes flat…I love it….so worth it!
Rice in Instant Pot
Put the rice in a strainer and rinse it under some running water Jasmine is our favorite kind of rice. Add rice into your Instant Pot or pressure cooker. Use a little more than a 1:1 rice to water ratio when making white rice in your pot.
We prefer to use a combo of water and a can of chicken broth + uncooked white rice. 2 c. uncooked rice + 2 1/2 cup of water seems like the perfect ratio for us to make the perfect Instant Pot rice.
Use the rice setting or button (should automatically set the time to 12 minutes) & close steam valve. Allow to naturally release steam for 2 minutes, then quick release.
Fluff and enjoy immediately for best results.
I have a recipe for how to make the perfect quinoa in your Instant Pot here too!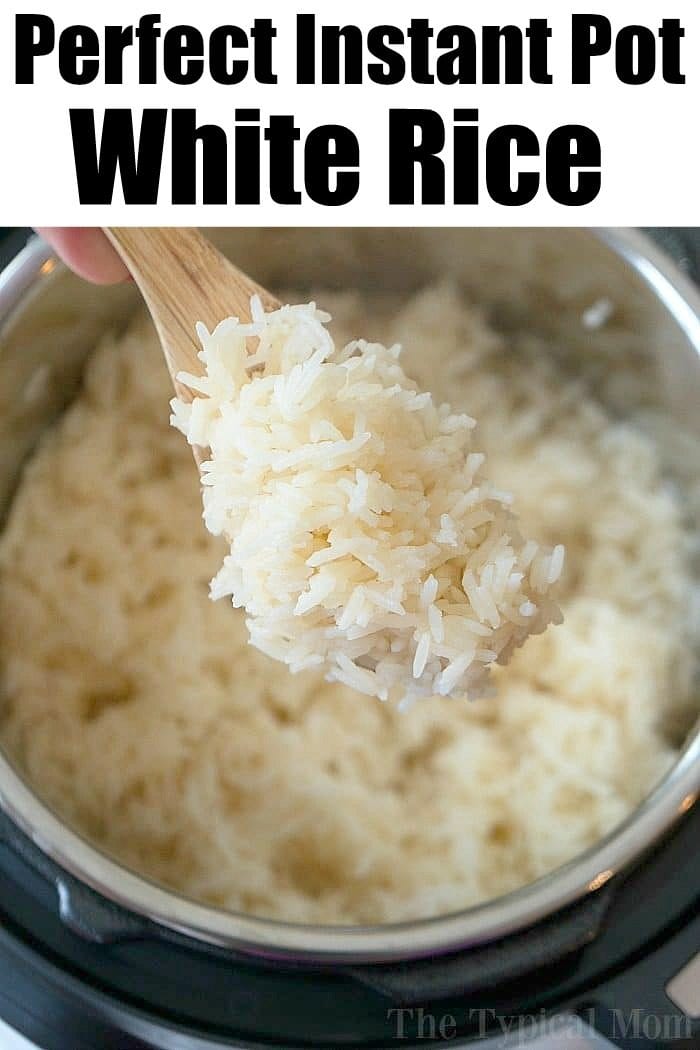 Like I said I make my rice now in my Instant Pot mini while my main dish is being cooked in my 6 qt. Instant Pot. I use my Instant Pot almost every night and make something new to add to The Typical Mom every single week.
White rice in Instant Pot
However, I HIGHLY suggest you get a non stick pot because it's 1,000 times easier to clean! I do recommend a few Instant Pot accessories such as a veggie steamer basket but nothing is necessary to make this one. If you're looking to make Instant Pot brown rice, follow these instructions
Rinse your rice, we still cook 2 cups at a time
Dump rice into your Instant Pot
Add 2.5 c. of water with your 2 cups of uncooked brown rice
Set to high pressure for 20 minutes
Allow to naturally release pressure for 10 minutes
Release rest of pressure
Fluff and serve
** Note – cook times differ depending on how you like the texture of your rice and your altitude, this timing works well for our tastes.
Rice and Peas Instant Pot
If you wanted to throw in 1/2 cup of frozen vegetables you could at the very beginning. Best choices would be firmer varieties, not broccoli. Reason being is it will be in there under high pressure for quite a bit of time so whatever you throw in needs to be able to withstand the heat and not turn to mush.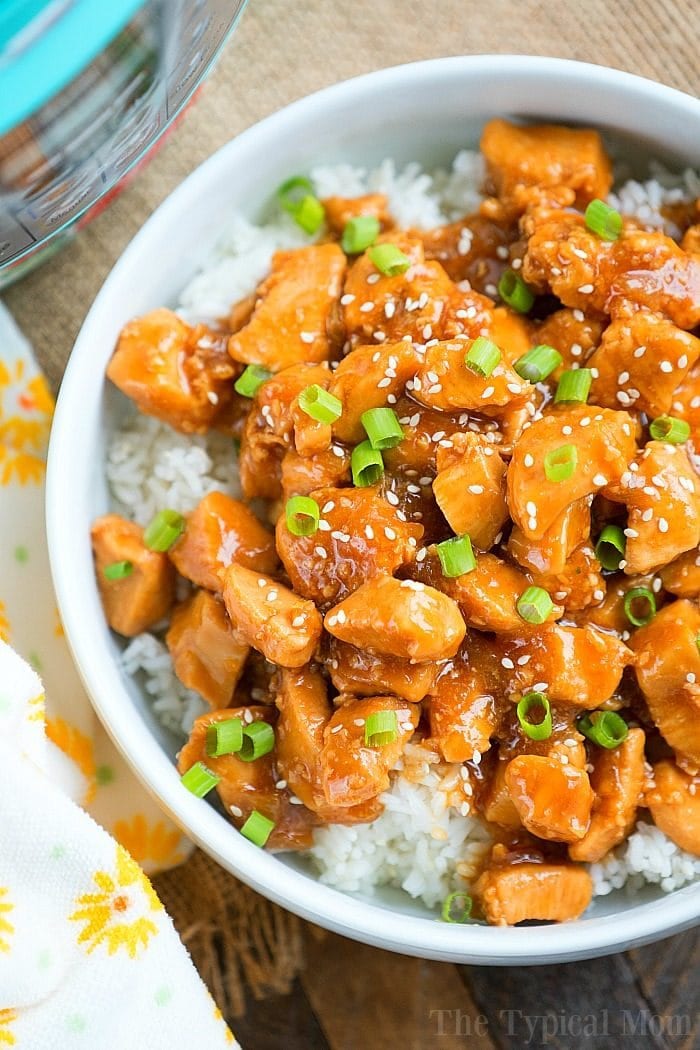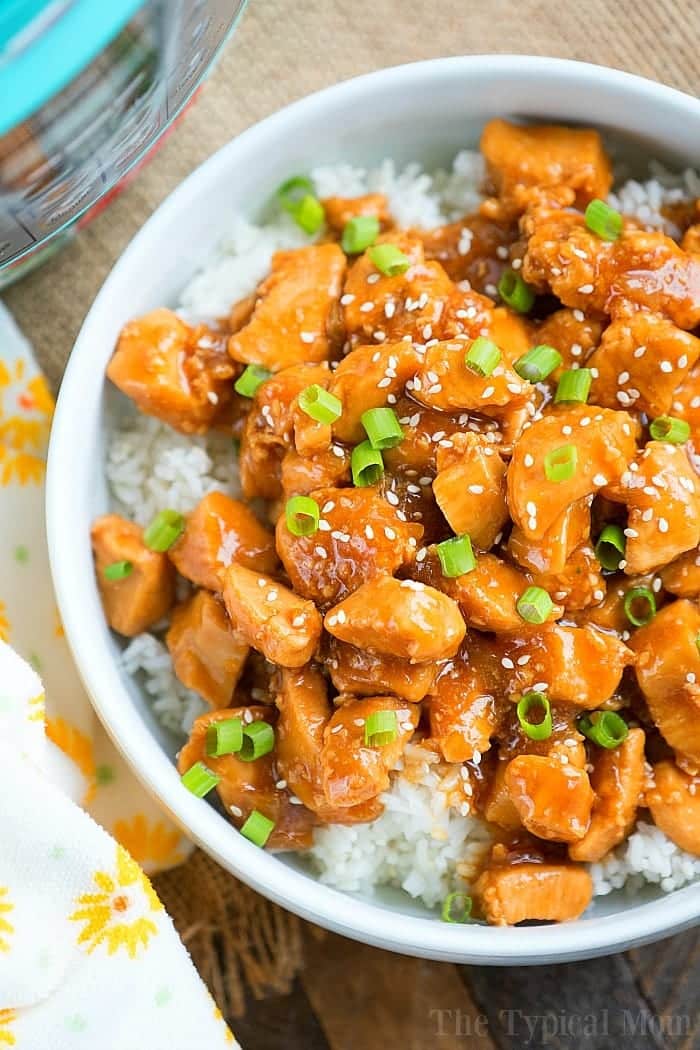 Instant Pot Rice Cooker
Instant Pot white rice goes with Instant Pot recipes such as the following dishes below, like;
After you make your perfect Instant Pot rice you may want to make this just by itself, as a snack between meals. Topped with some soy sauce it is one of our faves.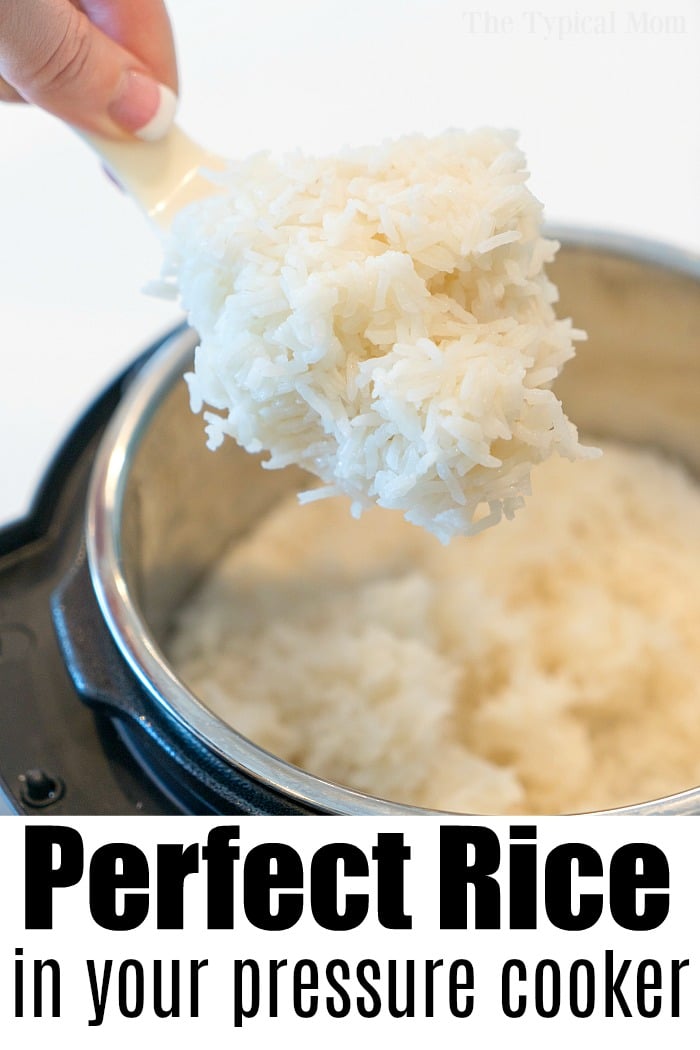 Is the rice setting on Instant Pot Low Pressure?
If you don't have an automated button that says RICE you can still make this well. You just need to use manual setting (older pots have this button you need to push), low pressure for 12 minutes. Some models don't have the low option, that is okay just cook for 10 min. on high with a 2 minute natural release.
I always recommend spraying the inside of your pot with non stick spray. Or put a bit of olive oil on a paper towel and rub the inside so it doesn't stick.
Better yet purchase a non stick pot if your pot didn't already come with one. They're life savers!!
There may be slight variations of the amounts of water you use but 2 cups rice to 2 1/2 cups water works for us every time.
My mom on the other hand who lives at a higher altitude says she needs to use close to 3 cups of water to get the same result we have. So…the first time you can decide if you need a tad more liquid or not and then enjoy! Here is a recipe for Instant Pot Spanish rice and Instant Pot mushroom rice too!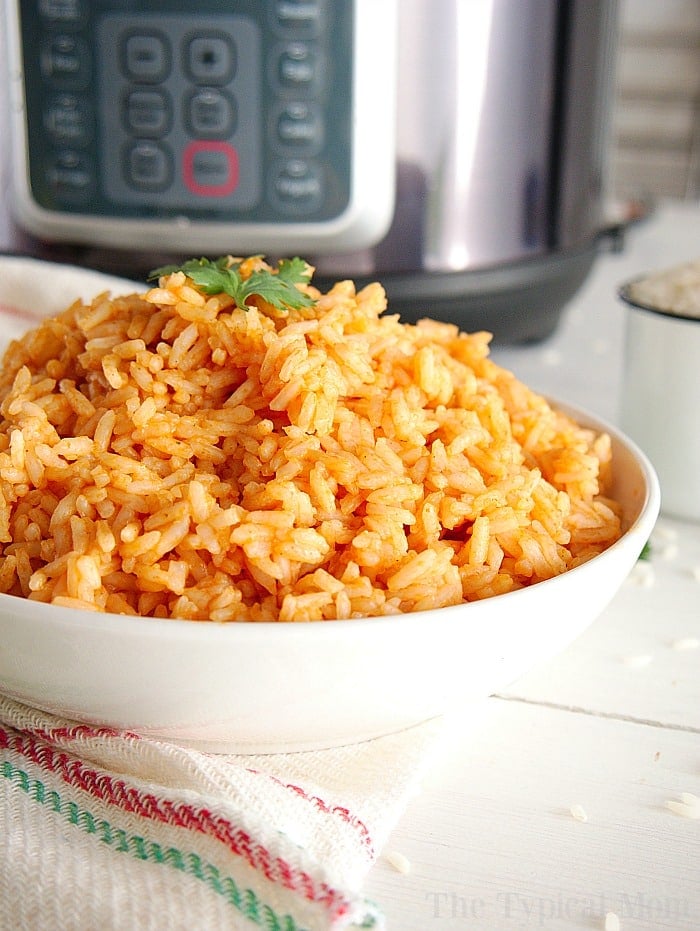 How many cups of rice can you cook in an Instant Pot?
It depends on how large your pot is.
Rule of thumb is to follow the ratio below and do NOT go above the max fill line inside your pot.
Looking to make Ninja Foodi rice?
You can cook this in any brand of electric pressure cooker like we did when we made this Ninja Foodi white rice. The directions for that particular pot are different though so follow these directions.
Perfectly cooked rice
Want to try our Instant Pot brown rice recipe too? It's just as fluffy but has fiber that's great for you.
Want to see a few of my favorite things that I am totally obsessed with?? Take a peek and see how many you might already have…twinsies!
Looking for more easy family recipes and tips? LIKE The Typical Mom Facebook page?
Then sign up for my free newsletter, and follow me on Pinterest! 😉
***** If you LOVED this recipe give it 5 Stars below and let everyone know what you thought about it. 😉
Foolproof Rice Instant Pot
Instant Pot White Rice
This is how to make the perfect Instant Pot white rice in your pressure cooker. How long to cook it, what liquid to use, and tips on serving the best tasting rice are here. Whether you are a beginner or use your Instant Pot daily this basic recipe will become your go to for dinnertime.

Ingredients
2

c

white rice

not instant rice, long grain

2 1/2

c

liquid

you can use water or half chicken/beef broth half water, may need to increase to 2 3/4 c. for higher elevations
Instructions
Use a strainer and rinse your rice.

Pour rinsed white rice into your Instant Pot or pressure cooker.

Pour water or broth on top of your rice.

Close lid and steam valve, push rice button and wait until it beeps when done. (if you don't have that button set to low pressure for 12 minutes)

Allow steam to naturally release for 2 minutes, then do a quick release and fluff rice with a fork

Best when served and eaten immediately.
Nutrition Facts
Instant Pot White Rice
Amount Per Serving (3 oz)
Calories 225
Calories from Fat 9
% Daily Value*
Fat 1g2%
Sodium 222mg10%
Potassium 71mg2%
Carbohydrates 49g16%
Protein 4g8%
Calcium 17mg2%
Iron 1mg6%
* Percent Daily Values are based on a 2000 calorie diet.